What the teams said – Qualifying in Great Britain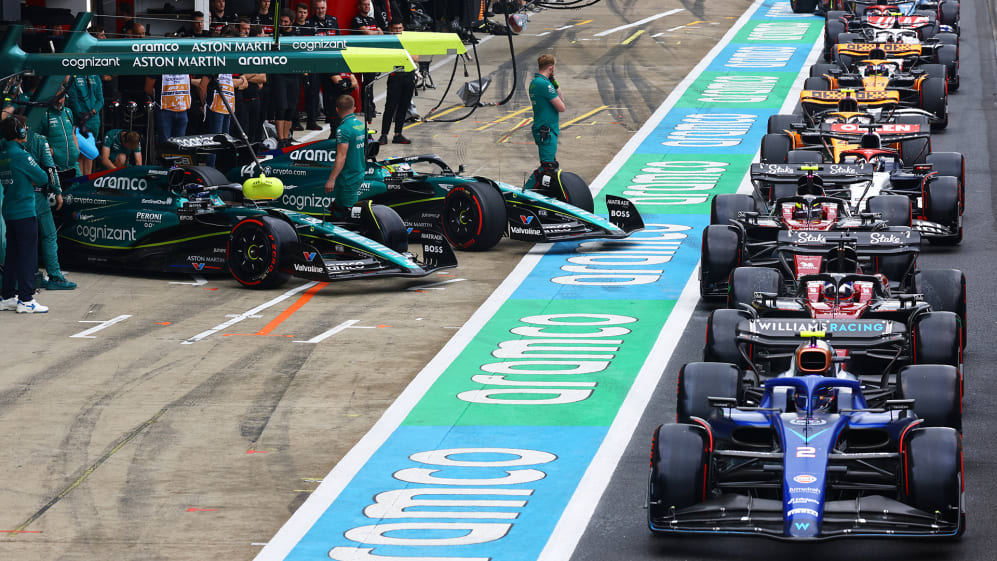 Red Bull
It was a mixed day at Red Bull, for while Max Verstappen charged to yet another pole position – his fifth in a row and seventh of the season so far – team mate Sergio Perez dropped out in Q1 to continue his painful qualifying run. The Mexican later gained a position after Valtteri Bottas was disqualified. It means Verstappen is likely to be fighting the McLarens of Lando Norris and Oscar Piastri by himself during Sunday's Grand Prix.
Max Verstappen, 1st, 1:26.720
"It was quite a crazy qualifying, very hectic and slippery in some places. I had a little 'inchident' in the pit lane, I understeered as I turned and the car just went straight - I think there was quite a bit of damage. That aside, very happy. Equally, I'm very happy for McLaren, you could see how excited everyone was in that garage, they've worked so hard, it's also great for the British fans too. I'm expecting the Ferraris and Mercedes to be more competitive during the race. As for us, we know that we have a good race car and I'm already looking forward to it. I don't mind if it's wet tomorrow, in FP3 we were very fast in the wet so I don't think we need to worry."
Sergio Perez, 15th, 1:29.968
"Today was quite disappointing. The red flag lasted a lot longer than we initially thought it would so we lost some heat on the tyres and couldn't get enough temperature back into them. We also struggled with the weather. The changing conditions made things a lot trickier, so we ended up having a poor qualifying. We had a good session yesterday so, for now, we need to look forward to tomorrow and just aim to get any many points as possible. It's going to be difficult to come through the field but we will try our very best."
Christian Horner, Team Principal
"A mixed bag from qualifying today. The weather was about as British as it gets; raining while sunny. This complicated things for us slightly but it looks like the race will be dryer so we won't have to flip flop between inters and slicks as we have done today. The change in conditions means we won't be able to take a lot of the data from practice with us but we will certainly take the pole from qualifying.
"It was another great performance from Max, his 5th pole in a row. Conversely, another tough quali for Checo but remaining confident for a good run tomorrow with plenty to race for."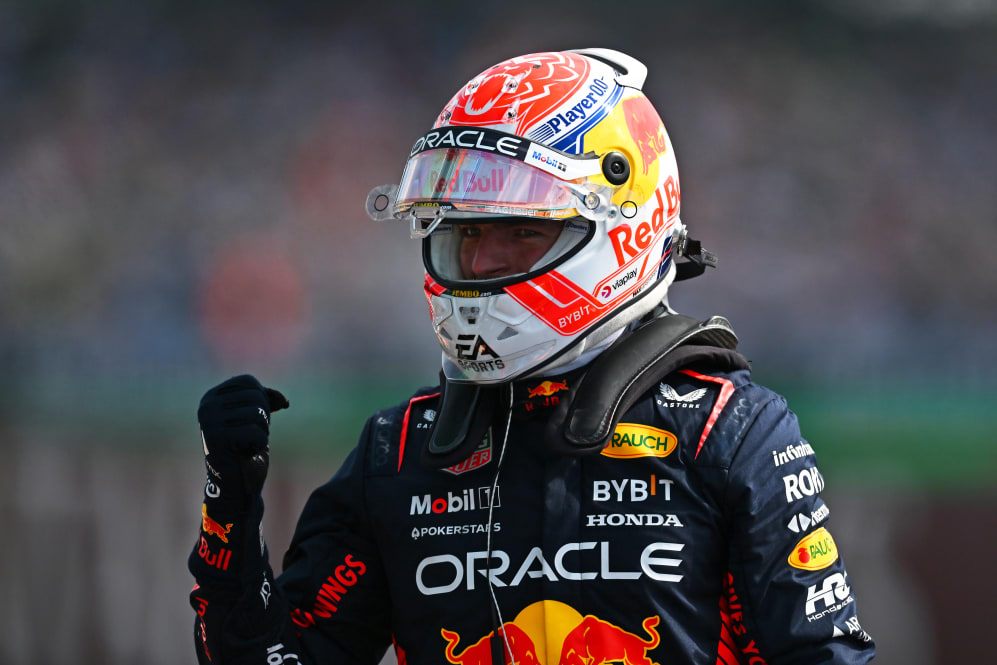 Mercedes
Mercedes had a quiet start to their British Grand Prix weekend, and while qualifying brought an improvement, George Russell and Lewis Hamilton (after a wild spin in Q1) had to settle for sixth and seventh on the grid. Starting just behind the Ferraris, there could be quite a battle between the red and black cars on race day.
Lewis Hamilton, 7th, 1:27.211
"We weren't quite quick enough today unfortunately. The conditions were tricky out there but there was still an element of fun to it, as we tried to get on top of the tyres. There were some moments where it looked like we had the potential to challenge further forward, but then we fell back a little. We seem to struggle on the single lap more than we do on the race pace, so we will see what we can do tomorrow. If we can progress forward, then that would be amazing. Hopefully we can put some pressure on the cars ahead and get into a battle with them."
George Russell, 6th, 1:27.155
"It was an exciting session; I really enjoy these conditions. I'm always confident that I can do a good job and put the laps in when needed. It was stressful at times, but I felt comfortable with our pace in Q1 and Q2. My last lap in Q3 was strong, but it was frustrating to see how close we were to being a couple of positions further forward. I was a little bit disappointed not to achieve this but we're in a decent place for tomorrow. The Team did a good job of improving the car overnight and I'm excited to see what we can do in the Grand Prix. We believe we have stronger race pace than on the single lap, so I'm confident that we can move forward.
"Once again, the energy from the fans today has been amazing. You really feel the support from the stands and it's incredible to see how they are backing the Team and us as drivers. It's a special weekend and we can hopefully do a good job tomorrow and challenge for the podium."
Toto Wolff, Team Principal and CEO
"It was an interesting session today, with the gap between P2 and P7 only a few tenths. We were more competitive than we thought we might be in terms of lap time, and the gap to the front-row is small. That is not an excuse though and P6 and P7 are the positions we are in. The question for us now is how much pace differential you need in order to overtake. There are several cars ahead of us but we're hopeful we can make some good progress.
"Whilst it's frustrating in one sense, it's also encouraging to see the lap time gains that others have found, including McLaren recently. It's a good example of how you can add performance during the season. We've been able to do so ourselves and we're focused on continuing to do that. This will help us compete on both Saturday and Sunday, and ultimately close the gap to the front."
Andrew Shovlin, Trackside Engineering Director
"Qualifying wasn't an easy session; there were a few bands of rain coming through that kept us on our toes. In those conditions, it's easy to get a car knocked out along the way but we have both well in the top 10. It's frustrating to be on the wrong side of a tight bunch today, but the gap to pole is a big improvement on Friday.
"Our long run pace looked good yesterday, so we're hoping to be able to push forward. We also haven't made any changes to the car that should hurt that race pace. We'd prefer to be starting further up as it would certainly help our chances of getting on the podium, but there are still opportunities on strategy that will allow us to offset. Whether McLaren have the race pace to match their qualifying speed will influence the strategy significantly. It's going to be an interesting Grand Prix as there could be plenty of cars in the battle for the podium."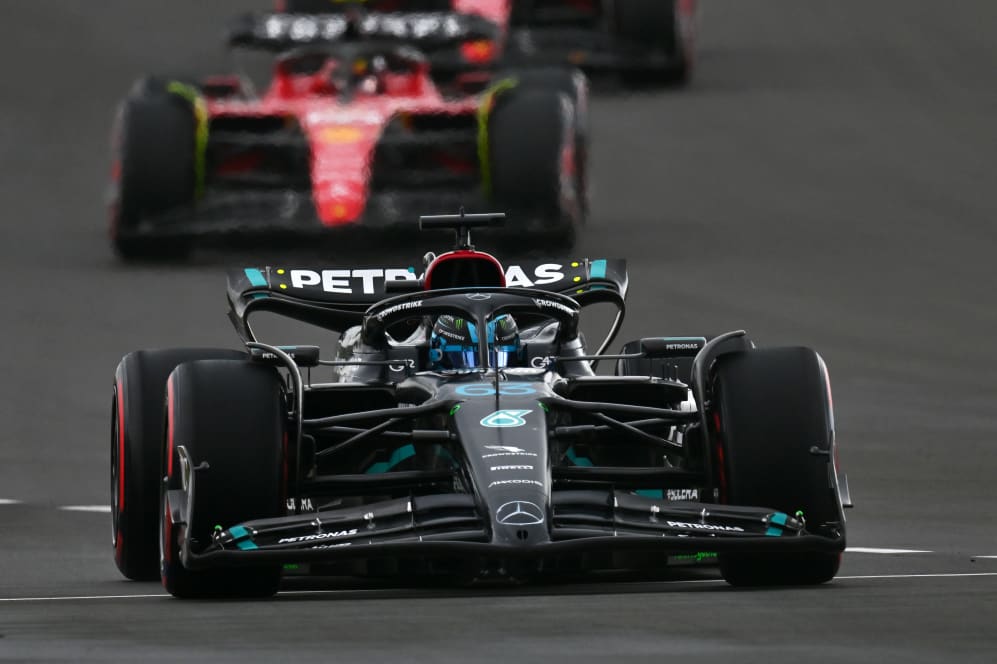 Aston Martin
After dropping down the order in Austria, it was more of the same for Aston Martin during qualifying at Silverstone, with Fernando Alonso making it through to Q3 and placing ninth, while Lance Stroll dropped out in Q2 en route to 12th, having been involved in a squabble for track position with Alpine rival Esteban Ocon.
Fernando Alonso, 9th, 1:27.659
"It's not the Qualifying we wanted in what was a challenging session in drying conditions. There is still a long race ahead of us tomorrow and our Sunday pace is normally a strong point of this car.
"We still achieved another Q3 result, but we need to keep understanding our car at different circuits. The weather tomorrow may also be changeable, as it was today, so we need to remain focused and see what we can do in race conditions."
Lance Stroll, 12th, 1:28.935
"I think more was possible in Qualifying today. The red flag forced us to run a third set of tyres in Q1, which meant we didn't have a new set in Q2 and that put us on the back foot in comparison to others.
"It's a long race tomorrow and the AMR23 is feeling good, so I'll be doing my best to fight through the pack and put on a good show for the home fans."
Mike Krack, Team Principal
"One of the most challenging Qualifying sessions of the year so far with a drying track, the constant threat of rain, and a red flag just before the end of Q1.
"Overall we missed the absolute pace to be fighting for the top positions today so we need to review things, understand where we can find more performance, and take those learnings going forward. We will try to come back stronger tomorrow in front of the passionate British fans who will be out in force."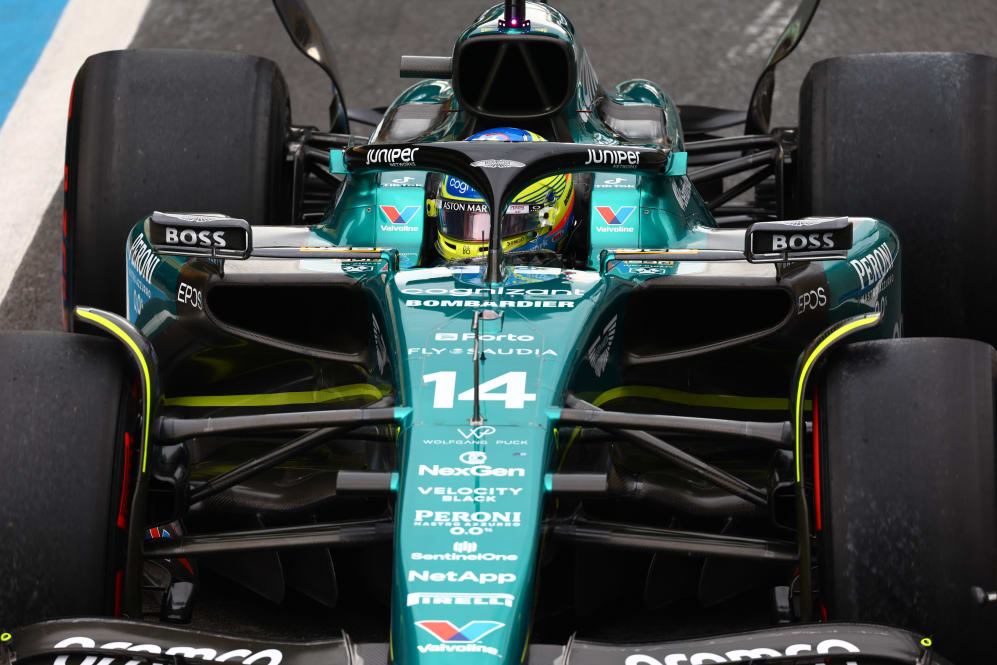 Ferrari
Ferrari ended the first day of practice hot on the heels of Red Bull, with Carlos Sainz only marginally slower than Max Verstappen. But the mixed qualifying session yielded only fourth and fifth, with McLaren pair Norris and Piastri making the most of the tricky conditions to slot ahead of the SF-23s – Charles Leclerc bouncing back from missing FP2 with a technical problem to edge out Sainz.
Charles Leclerc, 4th, 1:27.136
"A pretty good qualifying, considering that I struggled a bit in the last few races in mixed conditions on slick tyres. I felt good today, because it seems that the hard work I've put in to improve this has paid off. I didn't put the perfect lap together in Q3 as I lost grip in turn 15, so a front row position was not possible today.
"It's nice to see McLaren be so quick and I expect an exciting race tomorrow with all of us so close together. We don't have any race trim data on my side because I missed out on FP2, but we maximised every session since then and are in a decent starting position, so everything is possible tomorrow."
Carlos Sainz, 5th, 1:27.148
"It was not a bad Saturday overall after a very challenging Quali. The field was very tight and the conditions were changing all the time, so to produce a solid session like we did was not easy.
"Tomorrow we can expect a nice battle with the cars around us so I expect an intense race. We'll give absolutely everything to bring home a good result."
Frédéric Vasseur, Team Principal
"All three parts of qualifying were very exciting for the fans and spectators. It was good for Formula 1, good for the show. For our part, it was a bit so-so, even if we are in front of our direct competitors. But there was room to do better as Charles made a slight mistake in turn 15 which affected his lap time. What is important is that we are not far off the pace.
"We are still trying to be more consistent with regard to tyre degradation and we saw at the last two races, at very different tracks, that we have made a good step with this. Silverstone is a more demanding circuit in this regard and on paper, it did not look as though it would suit us, but we have been competitive and we can try and move up the order tomorrow. It's hard to know what to expect from the weather: it changes every hour and the race lasts two hours! But we are very motivated."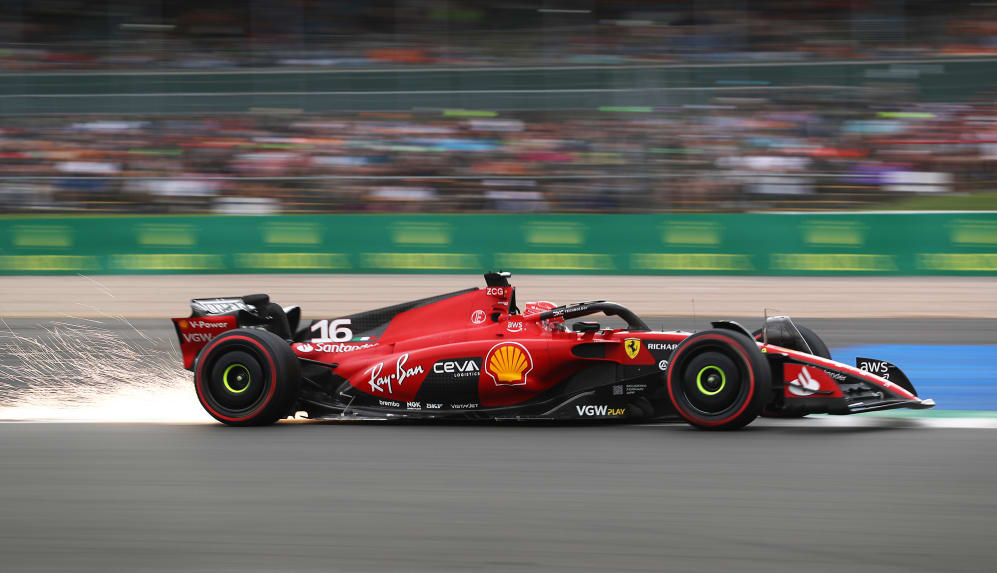 Alpine
Like Aston Martin, Alpine got one car into Q3 and saw the other eliminated in Q2. With Ocon hindered by that aforementioned incident involving the green machine of Stroll, it was Pierre Gasly who finished as the fastest of the Enstone drivers, rounding out the top 10 in the pole position shootout.
Esteban Ocon, 13th, 1:28.956
"It's been a frustrating day and a missed opportunity for us in Qualifying. It's always disappointing not to make Q3, especially as we had the pace to do so. The conditions were not easy but we had been managing it very well. In Q2, it was not an ideal start to my final push lap as I braked on the wet side of the track alongside Lance [Stroll] and then spent my lap behind Charles [Leclerc], which cost us time. There are plenty of things for us to review from today, however, I'm feeling ready to make up some ground in tomorrow's race."
Pierre Gasly, 10th, 1:27.689
"That was a very challenging Qualifying to manage with the varying conditions. That said, when it is like that it's often very exciting on-track and it certainly was enjoyable at the wheel. While I'm pleased to be in Q3 again, I'm disappointed we weren't able to qualify any higher up than tenth place. We know the areas where we are lacking performance and we have to keep pushing hard as a team to find improvements to our package. Tomorrow, we will give it our all. The start of the race is going to be critical to make up some places and I'm confident we can come away with points on the board."
Alan Permane, Sporting Director
"We're all disappointed with today's Qualifying performance as the minimum target, as always for us, is to have both cars well inside Q3. The weather and conditions proved tricky and it was all about being on track at the right time. We managed that well on both sides of the garage to advance through Q1 where all drivers found significant lap time improvement after the first red flag. Esteban did not progress further than Q2 while Pierre was able to reach Q3. There was probably a small amount of lap time left on the table for Pierre in a very tight session. We have a lot of work ahead of us if we're to have both cars inside the top ten tomorrow. It's usually a long, tough race here and we have every confidence that we can have a strong afternoon."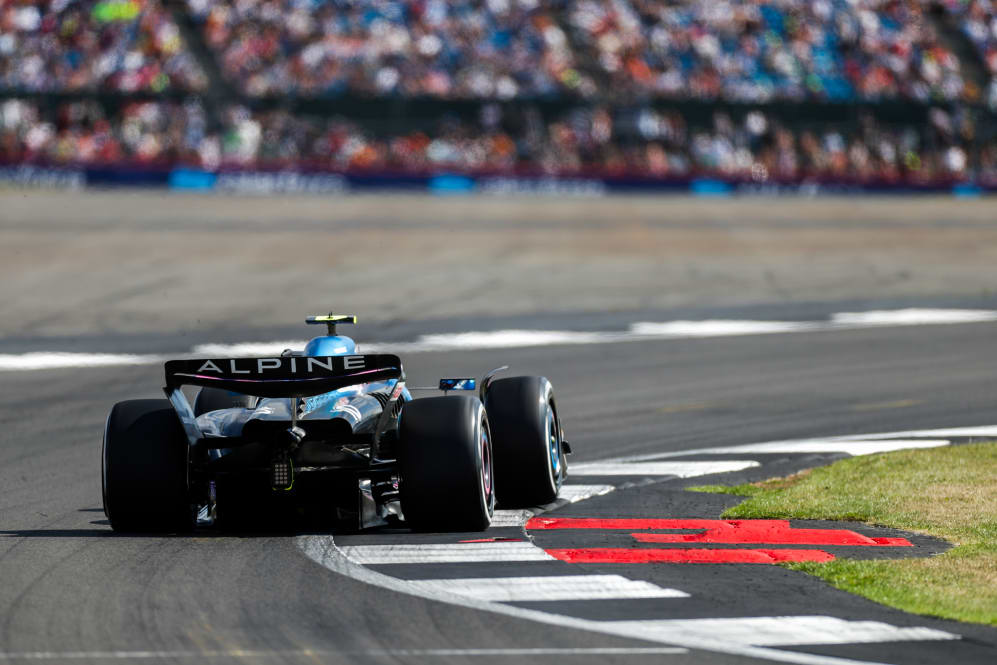 McLaren
After a tough start to the season, McLaren appeared to take a significant step forward with major updates on Lando Norris' car in Austria. With the new parts fitted to both the Briton and Oscar Piastri's chrome-liveried machines this weekend at Silverstone, they doubled down on that performance with a stunning run to second and third in qualifying, launching into contention in the mixed conditions that they have excelled in in recent times.
Lando Norris, 2nd, 1:26.961
"That was close! Two-tenths to P1 in Q3, is pretty insane. My last lap was a good lap. I could hear Zak on the radio on the in-lap, which is the best thing ever. I'm grateful. For us to achieve second and third is pretty amazing for the whole team, with all the hard work that we've been putting in, especially to do it here in Silverstone. To do that with the chrome livery at our home race, for the team, for myself, is amazing. Big thanks to the whole crowd here, they're amazing. It's been a very special day for us. I look forward to tomorrow."
Oscar Piastri, 3rd, 1:27.092
"I'm very, very, very happy. I mean, what a qualifying session. The car was a rocket ship in Q2 and Q3, I feel like I put a pretty good lap together. It's a massive result for the team and the hard work that's gone into bringing upgrades to the car. To have both of us up here is a mega result. Now we've just got to try and stay there for tomorrow. We know that will be a challenge, but we're looking forward to it."
Andrea Stella, Team Principal
"It's great to see two McLarens up towards the top of the qualifying standings here at Silverstone. P2 and P3 has been achieved in tricky conditions today: the team had to be switched-on to get us through the first two sessions. We could then capitalise on that with strong laps from Lando and Oscar in Q3. A big positive is that we could confirm the progress we saw in Austria and the further upgrades we brought here. For that, I have to thank everyone at the factory and here trackside for their hard work, commitment and dedication. We have an incredible team, and we should enjoy today and use this as extra motivation going forward. We now focus on preparing for the race and look forward to tomorrow. We are realistic for the race as we know we have quick cars around us, but we will give our best in tomorrow's British Grand Prix."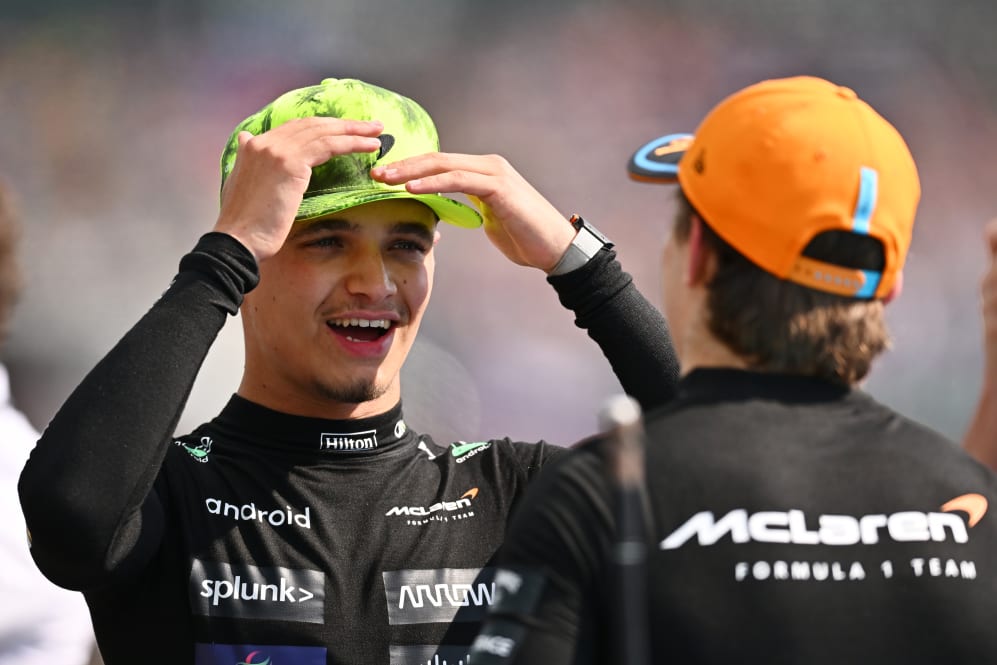 Haas
Haas came close to getting a car into Q3 with Nico Hulkenberg's run to 11th, but that was the limit for the team on an otherwise challenging day. Indeed, Kevin Magnussen wound up 20th and last after his VF-23 ground to a halt and brought out the red flags in Q1, leaving him with a lonely walk back to the pits. He will start 19th thanks to Bottas' disqualification.
Nico Hulkenberg, 11th, 1:28.896
"It was tricky obviously with the damp and wet patches, it's quite sketchy, and it can go wrong but it didn't. I think it was a good qualifying and I feel like I squeezed everything out of it. It was close with Alpine but not having DRS actually hurt us quite a bit. I think we're a bit more 'draggy' and have more downforce than other cars, so missing DRS wasn't ideal for us."
Kevin Magnussen, 19th, 1:32.378
"It just doesn't seem to be my year this one so far, but this is where you show experience, stay cool and keep fighting. Everything switched off in the car, I had no power steering, nothing, I don't know what it was in Q1. Until that point it felt good compared to the rest of the weekend, I was on a decent lap to improve there – on the one I stopped. There was still time on the clock so I don't know if that would have been the last one."
Guenther Steiner, Team Principal
"Due to the changing conditions, it was very difficult to read into FP3. We did what we wanted to do but we took no conclusions from it because of the variable conditions, between the weather, track surface, and everything else. We knew that though and we tried a few things, and they went well. We just missed out on Q3 in qualifying, just by a bit, as Nico was very close behind a car in the very fast sector and obviously that's not good, especially with our car. With Kevin, we had an issue with the oil system, we lost all the oil, but hopefully the engine isn't damaged."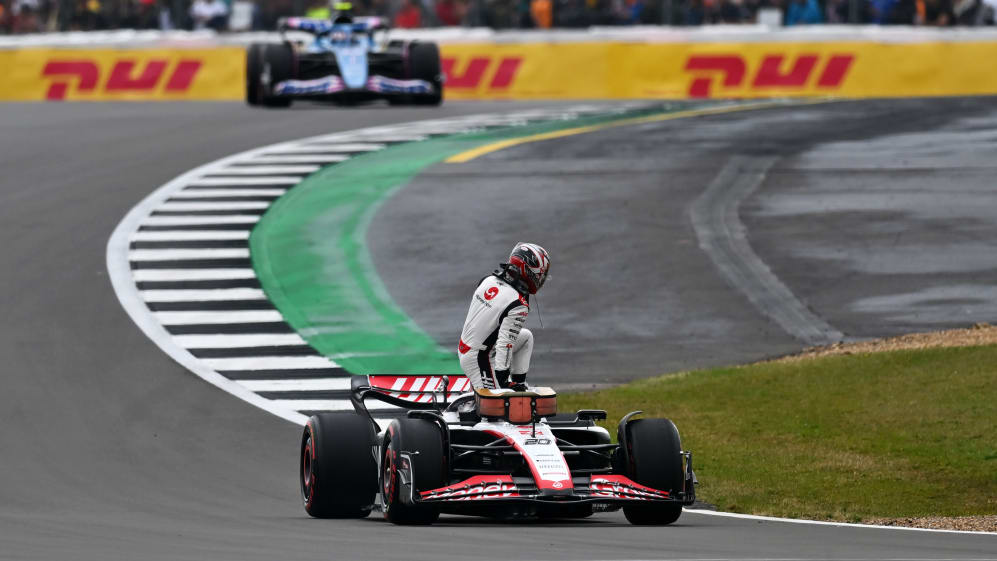 Alfa Romeo
Alfa Romeo pair Valtteri Bottas and Zhou Guanyu were encouraged by the early signs from the upgrade package the team unleashed this weekend, but they had little to celebrate after qualifying. Bottas placed 11th in Q1, but could not participate in Q2 after he parked up at the side of the track, leaving him 15th. He was later disqualified from qualified after his car couldn't provide a fuel sample, leaving him 20th. Zhou, meanwhile, could do no more than 18th on the damp track surface but was elevated a position thanks to his team mate's disqualification.
Valtteri Bottas, 20th, 1:29.798
"Today's results are very disappointing, as it seemed we actually had a real chance to make it into the top ten. I started to lose power on the final inlap, and then the engine stopped. We eventually figured out it was a technical issue with fuel in the car, and we are already working to address that and make sure it doesn't happen again. Sadly, this means we'll be starting at the back of the grid in the race, which is not where we would have deserved to be looking at our pace. Still, tomorrow will be a long day and, as always, the weather could add one more element of unpredictability: the car felt better than yesterday, and we have slightly better pace compared to previous events, so our aim will be to make the most out of it and fight as hard as we can through the field."
Zhou Guanyu, 17th, 1:30.123
"I think we had the potential to improve our performance this weekend, but unfortunately, today has been quite tricky for our team and we couldn't maximise our chances. I had no running time during the final practice session because of a technical issue that the team promptly investigated and addressed, allowing me to get back on track ahead of qualifying. There, too, my running chances were limited, and I struggled with finding enough grip, eventually getting only one timed lap which wasn't enough to make it through to Q2. We are of course disappointed not to have had an actual shot at moving forward, but our main aim now will be to regroup and come prepared ahead of tomorrow."
Alessandro Alunni Bravi, Team Representative
"We are undoubtedly disappointed, as we felt more than on previous days that we had the potential to do well. With Valtteri we showed we were comfortably into Q2, but a technical issue related to fuel forced him to stop, and to pull out of qualifying. Unfortunately, the problem meant we weren't able to submit the required fuel sample to the scrutineers, which lead to Valtteri being disqualified from the session. It's a pity as he had been doing an excellent job, and we are sorry to see his chances of a good qualifying session seriously damaged. For Zhou, it has been more difficult: he completely sat out of FP3 because of a car issue, and then wasn't able to move into Q2. It is in moments like these that the team needs to regroup and stick together, and push each other to further improve; we must aim to execute a better weekend. Tomorrow will be challenging, but we are not letting our heads down after today's result: we'll be ready to do our job, and carry out a good race to allow us to recover the ground we have lost."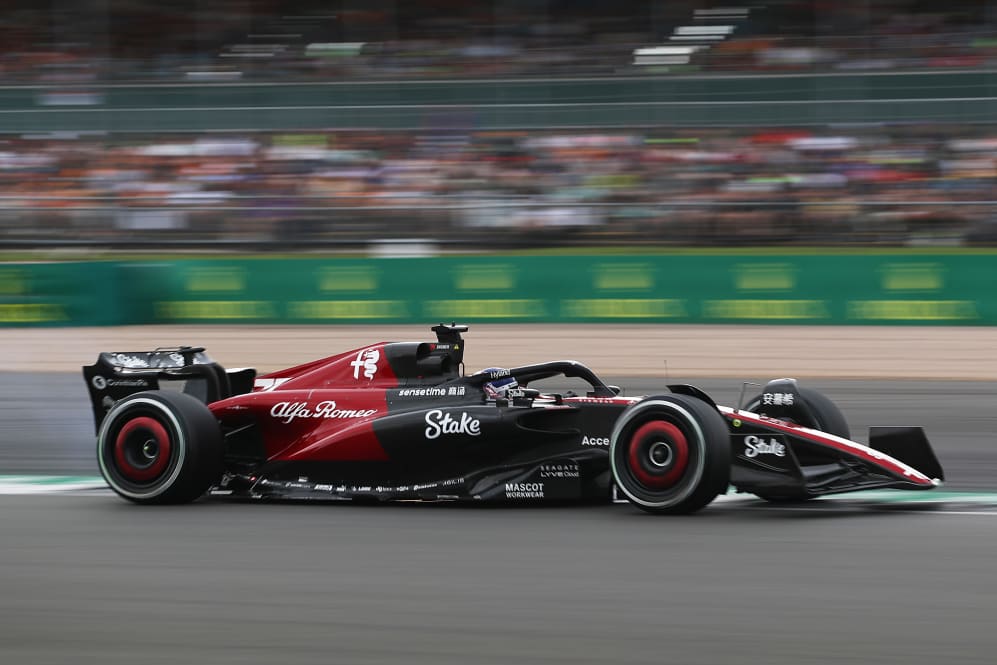 Williams
Williams showed plenty of promise on Friday and, while they moved to play down their expectations, Alex Albon converted it to take a fine eighth in qualifying – surviving an early scare in Q1 when the conditions were at their most precarious. Logan Sargeant could not join him in Q3 after seeing two of his lap times deleted during the Q2 phase for exceeding track limits.
Logan Sargeant, 14th, 1:29.031
"For me, the first goal of this weekend was to get into Q2, and I achieved that. It was a tricky session all in all. We can't catch a break from mixed conditions at the moment. We knew it was going to be a lot closer coming into qualifying than we saw in practice. It's a shame that I didn't have a new set of tyres at the end of Q2 as I think that probably cost us the chance of transferring to Q3. At the end of the day, the car was in a good place and we're making steps in the right direction. I'm happy with the steps that I'm making this weekend. I still have plenty of steps to take which is clear to me. As long as I'm moving in the right direction that's the positive part and we can build off that to have a good race tomorrow. It won't be easy starting 14th with a lot of quick cars around us but we'll do our best."
Alex Albon, 8th, 1:27.530
"It's been an amazing weekend but it's funny when you finish in Q3, with P8 and you're disappointed.We have to be realistic but it's been great so far. In Qualifying, the session was going quite smoothly but, as the track dried out, corner speeds picked up and track evolution came in. We started to get quite a bit of degradation through the lap, even front deg, so we need to go away and understand that but, by the time I got to Q3, I was struggling a little bit with those combined factors. We've been really on top of it since the start of the weekend and I got into rhythm very quickly and adapted well to the changes, so we really hit the ground running. I think we ended up where we expected to be but I think if you told us we'd be here at the beginning of the weekend, we wouldn't believe you."
Dave Robson, Head of Vehicle Performance
"Today was exceptionally difficult with mixed and varying conditions throughout the day. We timed the run on Soft tyres well in FP3; whilst this allowed us to learn quite a lot about the car, it gave us a position on the timesheet that flattered our true pace. However, both drivers were still happy with the car balance and comfortable going into qualifying.
"Qualifying was a rollercoaster with both Alex and Logan struggling to get a representative lap done around the showers in Q1. The red flag allowed us to reset and both showed excellent pace and composure to deliver very good laps under pressure. Q2 was much calmer for Alex and he was very quick in comfortably making Q3. Logan found the conditions a little more difficult and had to do his final lap on a more used set from Q1, which cost him the couple of tenths that he needed to progress. Alex was very strong on the used Soft at the beginning of Q3 but couldn't quite find the final bit of grip as the track dried. Nonetheless, it was a potentially very difficult qualifying session and we dealt with it well and have both cars in a useful position for the Grand Prix tomorrow as a result."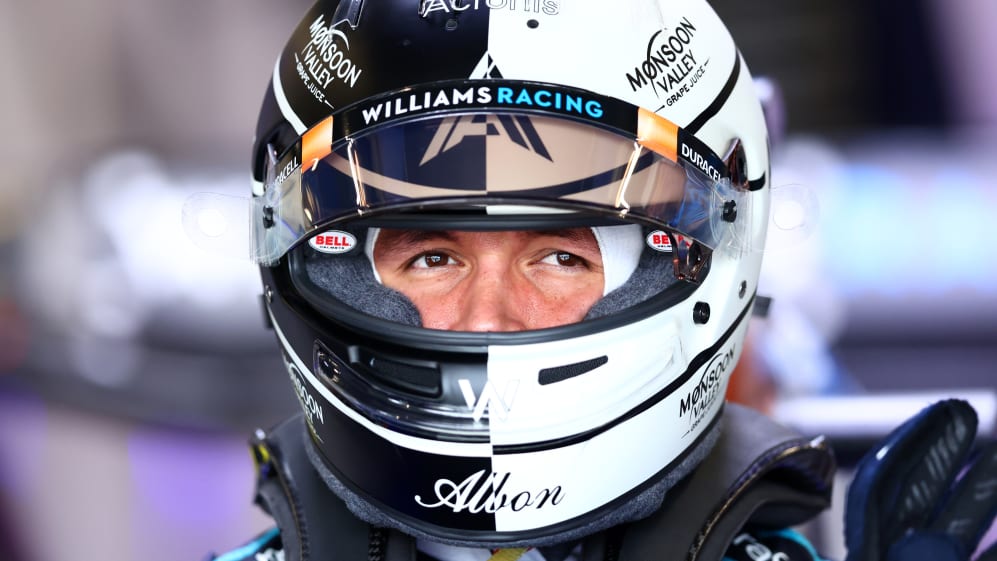 AlphaTauri
AlphaTauri were the only team to lose both cars in Q1 at Silverstone, with Yuki Tsunoda winding up 17th and Nyck de Vries placing 19th, ahead of only the sidelined Magnussen. Both moved up a place thanks to Bottas' disqualification but it leaves the Italian team – now last in the constructors' standings – with plenty of work to do if they are to claim points on Sunday.
Nyck de Vries, 18th, 1:30.513
"I ended up very close to Q2 again, it's frustrating and a shame, but I'm happy with my performance. Track evolution was high and almost fully dry in the end, but the team did a good job with the strategy. We tried many different things with the new upgrade, and compared to yesterday, the car felt better. I feel more support in the places I need, especially in the low-speed corners, and more rotation in the high-speed corners, which we were aiming for. There is room for improvement, but we're still trying to understand the car's behaviour more. I reset myself and do whatever I can tomorrow to extract as much performance from the car and finish as high as possible."
Yuki Tsunoda, 16th, 1:30.025
"Today's qualifying was a very tricky session, with changing conditions as the rain was coming. We did a decent lap at the beginning of qualifying, but towards the end, when it became a one-lap shootout, my tyres were very cold. I didn't have the confidence and temperature to push and attack as required, making a mistake in the last corner where I out braked myself and went deep, losing a lot of time there. During the session, we were more competitive and in the mix, so I feel our final lap wasn't entirely representative. In these changing conditions, we maybe didn't put it together when it mattered. We did some long runs in practice, but it's certainly not going to be easy tomorrow. A big part of the track is high-speed, so it's difficult to overtake and follow, so a little rain is welcome because it might bring some opportunities."
Jonathan Eddolls, Chief Race Engineer
"The run programme for both cars in Q1 was smooth, with the right tyres fitted, the right sequence of push and cool laps being adopted, and the timing to box for a new set sensible. However, the red flag disrupted things and unfortunately, the final runs were not good enough. Frustratingly, Yuki was very close to making the cut for Q2, but due to a snap during brake entry, he lost a little time during turn 16. Nyck was further away with his final run, so we need to look into the data to understand what happened. Our starting positions make things more difficult for the race, but we'll be fully focused on being ready to take any opportunities which allow us to move forwards with both cars tomorrow."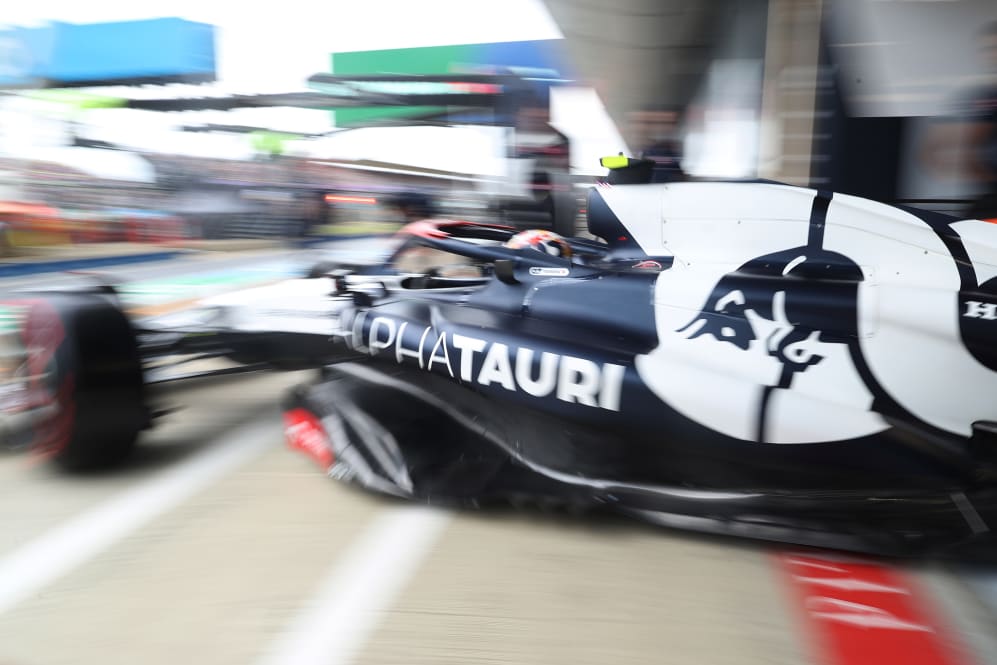 Pirelli
Mario Isola, Motorsport Director
"It was a busy, exciting and interesting day, as is often the case when track conditions keep changing rapidly. In the last free practice session, we saw drivers mainly doing laps with a low fuel load: the few who tried to gather data on tyre behaviour over a longer distance, running with more fuel on board, did not have much time to do so as the rain arrived. But this did allow them to learn more about the intermediate tyre and to calculate the crossover time to slicks (112%) on a demanding track like Silverstone and from the comments we have received from the teams and drivers, everything seems to be in line with expectations, both in terms of warm-up and car balance.
"Track conditions improved rapidly throughout qualifying as it gradually dried out, with the order changing constantly right up to the chequered flag. Everyone used the Soft tyres and the C3 proved to have excellent warm-up, even though air and track temperatures were considerably lower than yesterday's, also considering that drivers chose to wait several minutes for the green light, sitting in the fast lane in the pits, therefore without the benefit of the blankets.
"Tomorrow's race should be run in the dry, although the forecast here is traditionally a bit haphazard. In terms of strategy, the C3 presents itself more and more as a viable choice and so a two-stop is probably the quickest option. That means we can expect to see different choices between the teams leading to more excitement and uncertainty."