Feature
What the teams said - qualifying in Great Britain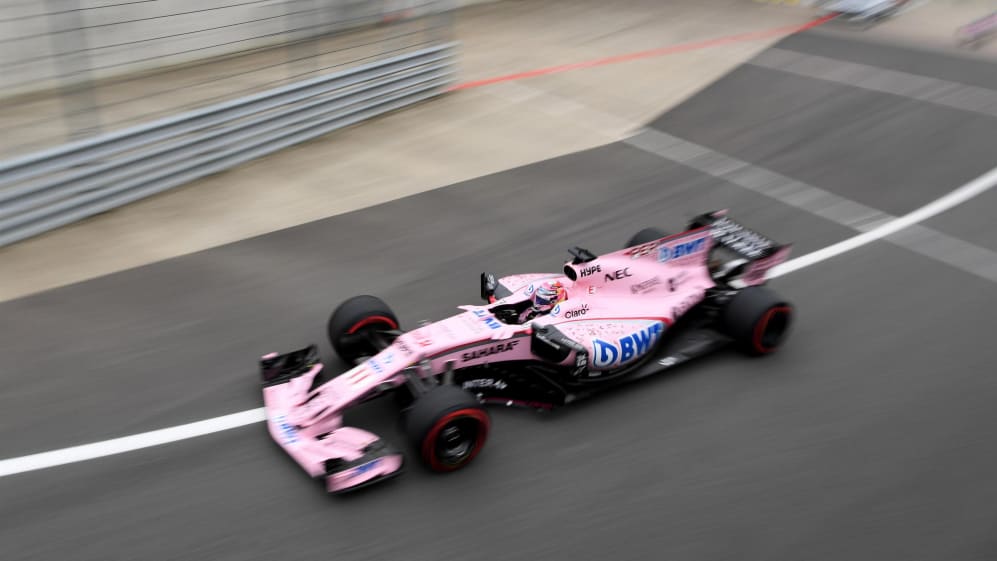 A round-up of all the action from qualifying at the 2017 Formula 1 Rolex British Grand Prix at Silverstone...
Mercedes
Bottas had shaded his team mate in Friday's practice sessions, but on Saturday it was Hamilton who came alive under the grey skies of Silverstone. He topped FP3 in mixed conditions before cruising to pole position by the biggest margin of the season. A fourth consecutive win and a chance to grab back some momentum in the title fight is tantalisingly within reach for the Briton at his home race...
Lewis Hamilton, 1st, 1:26.600
"I can't really explain in words just how good that pole feels. A fifth Silverstone pole, equal with Jim Clark, it just feels crazy to me – it's surreal to be up there with these legends. I'm so happy with how this weekend has gone. We started on the right foot straight from FP1 and we've built up from there. I loved the conditions in Q1 – it's tough but those changeable conditions are so much fun. Then it was all about pushing to the limit as the track dried out, extracting everything out of the car. Everything has just been so perfect and I knew it was a spectacular lap - I knew that had to be it. I feel like I'm driving the best I've ever driven, so I hope the results start to show that. It's been super tight recently, so to end up with a gap of seven tenths to the Ferraris is a nice surprise. I would never intentionally get in the way of anyone. I don't think I was in the way of Romain, but if I was I apologise. The home support has been incredible and I'm so proud to take pole here again. It blows me away to see all of the flags. There's nowhere else in the world where a driver gets this kind of love and support."
Valtteri Bottas, 4th, 1:27376
"Qualifying was tough. It's not ideal to be starting P9 but we start tomorrow on a different tyre to the cars ahead of us, which could offer up some good opportunities to move forward. The soft should be a good race tyre and I know anything is possible from there. I'll have to be careful to not get stuck behind traffic, but that soft tyre should give me the opportunity to move forward as others stop. The balance of the car wasn't bad, but I really struggled for grip. The lock-up at Turn 3 on the final run cost me a bit of time, but it doesn't explain the gap to the front. Lewis seemed to be able to get the heat into the tyres better than me today in the cooler conditions after the rain. I just didn't have enough grip to compete for pole as the track dried out. We'll look into that tonight. We definitely have a strong car here and we've been competitive all weekend, so I'll be pushing all out tomorrow to make up some ground."
Toto Wolff, Team Principal
"That was a really fantastic performance from Lewis. As he was on the final lap, we could hear the excitement from the crowd in the garage; I think this is the only country in the world where the grandstands cheer the sector times in qualifying! But Lewis put everything together at the right moment and delivered something really spectacular for the fans. As for Valtteri, he had a tougher job today, jumping between the tyre compounds so he could start the race on the soft tyre. It is not easy to put the laps together when you have this moving target of grip and it was particularly hard to see him lose out to Vettel by just two hundredths. But that is what it is and starting on the offset tyre compound will give him opportunities to make progress tomorrow."
James Allison, Technical Director
"That was a very intense hour in mixed conditions and it proved challenging for the team and drivers alike. It was pleasing to see that the car was very competitive in all of those different conditions, with both drivers setting competitive times in both the damp early stages and the dry at the end. In the final reckoning, it was a little bit disappointing for Valtteri that he couldn't reproduce his strong pace on the final runs, but we know that it is challenging jumping between the tyre compounds. On the other side of the garage, Lewis did an epic job. It was a flawless final run and good to see him put a decent stretch of clean water between himself and the opposition, demonstrating both his and the car's pace."
Ferrari
Ferrari took the fight to Mercedes, with Vettel splitting the Silver Arrows in the final practice session, and Raikkonen not that much further behind. They were right in the mix in qualifying but couldn't find an answer to Hamilton's blistering pace. Raikkonen pipped his team mate to a spot on the front row, with Vettel complaining that he had been released into traffic on his final run in Q3.
Kimi Raikkonen, 2nd, 1:27.147
"In qualifying the handling of my car was better than any other time this weekend and I was really happy with that. Obviously we always want to finish higher, but today we got more or less what we could. In Q1, with the intermediate tires on a damp track, the conditions were a bit tricky. It was very slippery, but it was not wet everywhere and the tires wore out very quickly. Luckily we did the last run at the right time and it was ok. After that, the track was getting better and better. My last lap felt good, but it was still a bit tricky to know where to go because it was still a bit damp here and there; so I took it quite easily at first and then decided to push a bit more. The feeling that I got with my car today was nice, so I'm looking forward to tomorrow and I hope that in the race we can improve. Usually, we are a bit stronger on Sunday".
Sebastian Vettel, 3rd, 1:27.356
"We are quite happy with the result and our performance was good. I think it will be tough tomorrow considering that Mercedes has been very quick for the whole weekend. Our car today was good and felt amazing, so overall I am happy. The track was not really wet and it was good fun to drive, I just found a bunch of cars ahead of me in my last run, but otherwise I think we improved the car a lot over the weekend, also in qualifying trim, and that's what really counts".
Williams
Stroll's lack of wet-weather F1 experience showed as he exited in Q1 at the hands of Alonso. Massa did at least make Q2, but struggled for pace. Williams might take heart from their double points finish in Austria after starting on the second to last row of the grid - by comparison, starting P14 and P15 once penalties are taken into account doesn't seem so bad...
Felipe Massa, 15th, 1:31.482
"I'm very disappointed with qualifying today. When you're fighting for the top 10 in every session and then you get to qualifying and you finish 15th, it's disappointing. I don't know if it would have been enough to get me through to Q3, but I had a lot of traffic on my last set of tyres. We were quite tight with the time and I had to do an entire lap in the tow of a Toro Rosso. Without that traffic I could have done a clean lap at the best possible time in qualifying. I am disappointed but we'll fight again tomorrow."
Lance Stroll, 16th, 1:42.573
"That was my first time in a Formula One car in the wet, and it was a really funny session with rain, drying conditions and intermediates. It was drying at the end and we had some graining on the tyres, so we couldn't really go quicker. We got bumped by guys who put on slicks in the end and went quicker. I don't really count that as a normal qualifying where our pace is where we should be. It's just disappointing. We only just missed out on Q2. We will see tomorrow what it will be like as the car is good in the dry."
Paddy Lowe, Chief Technical Officer
"It was a very tricky session for all the teams with the uncertain weather. We started Q1 on the supersofts, but it was immediately clear that there wasn't enough grip and we went to the intermediates. After the session was briefly red flagged we went out on the intermediates again and Felipe set a reasonably safe time. Lance was just in, but was dramatically knocked out by Alonso's lap on the supersofts. It was Lance's first wet qualifying in a Formula One car, so it was a tricky learning curve for him. We ran three sets of supersofts with Felipe in Q2, as conditions became virtually dry. For some reason we weren't able to show the pace we've seen throughout the weekend so far, so unfortunately, he was knocked out. We are all hugely disappointed as the strong pace of the car isn't reflected in this grid today, but the car should be good tomorrow, and we'll see what we can do from 15th and 16th."
Force India
Looking to capitalise on the grid penalties handed out to Bottas and Ricciardo, Force India once again had both drivers in the mix in Q3. They couldn't quite chase down Verstappen ahead, and will be disappointed to lose a place to Hulkenberg. Perez won the intra-team battle for the seventh race in a row.
Sergio Perez, 7th, 1:28.902
"It was a very difficult qualifying session and it was important to be on track at the right time, especially during Q1 the wet conditions. I was disappointed we didn't finish one place higher and when the gap is so small you know you had the chance to be ahead. My final lap could have been better because I lost time running over the kerbs in the final corner so there was room to improve. On the other hand, we are still starting in a great place tomorrow. We have a strong car and if the weather conditions are similar there could be the opportunity to finish even higher up. We will keep our heads down and try to deliver the perfect race."
Esteban Ocon, 8th, 1:29.074
"It's been a really tough qualifying session, so I am happy to finish in eighth place. We decided to have a very late pit stop in Q1 to put slicks on. It was a calculated risk and we only took the decision at the final corner. I had one lap to get the time and I got blocked by Ericsson, but I still managed to improve my time even though it was very much on the limit. In Q2 I had my brakes on fire and during my second run I lost all radio contact with the team. I was there, driving alone, and I had to look out for the pit board like in the old times. I'll be seventh on the grid tomorrow, which is not a bad place to start, especially considering everything that happened during this session. The conditions can be very unpredictable, like today, and if the rain comes anything can happen. We have been strong today and I am confident it can be the same tomorrow."
Vijay Mallya, Team Principal & Managing Director
"We are happy with the outcome of today's qualifying session. With the grid penalty for Bottas, it means both cars move up a position so that we will line up in sixth and seventh places for tomorrow's race. Both drivers did a good job in the damp conditions of Q1 and delivered tidy laps when it mattered in Q2 and Q3. Our race pace should be competitive tomorrow and we have the potential to pick up good points in our home race."
McLaren
A rare chance to celebrate on Alonso's side of the garage after a brave late change to slicks in Q1 saw the Spaniard finish at the top of the timing sheet, the first time McLaren have headed a qualifying segment since the Indian Grand Prix in 2013. Then it was time for the other side of the garage to crack a smile, as Vandoorne beat his team mate in qualifying for the first time this year, making Q3 to boot. In less positive news, Alonso does take a 30-place grid penalty for engine element changes into Sunday's race.
Fernando Alonso, 13th, 1:30.600
"We made the right call at the end of Q1 by switching to Option tyres. We took advantage of a track that was on the limit at that moment – and it was nice to hear people cheering. It's good for the guys in the garage as well: they deserve it as they have been working so hard these past couple of years, and, even if it's just for one moment, to be up there at the top of the time sheets feels good.
"Not making it into Q3 allows us to choose our tyres for the race. We'll start last, owing to the penalties; starting on used Q2 tyres wouldn't have been ideal, so we're relatively happy with 13th.
"Now we need to think about tomorrow. We proved today that we're quite competitive in mixed conditions, so a wet/dry chaotic race could work in our favour. Hopefully it'll stay like this tomorrow, weather-wise."
Stoffel Vandoorne, 9th, 1:29.418
"To take part in Q3 at Silverstone was a bit unexpected. But I've been working very well for the past couple of races, and we've clearly seen the improvements inside the team – in Azerbaijan, in Austria, and here at Silverstone this weekend, Fernando and I largely matched each other's pace. It's obviously a pretty good feeling to have made that extra step.
"We'd been hoping to get a rainy mixed-condition qualifying for a long time, and I think we were pretty strong in these conditions all session long. Then, when the track got drier, we maximised every chance we got.
"As usual, it's very close in the midfield pack, and we usually see that some of the others have got a little something extra for qualifying. But I think the mixed conditions really helped us today. Every time I was on track, I managed to bank a good lap-time, and I think ninth in Q3 was really the maximum we could do today."
Eric Boullier, McLaren-Honda Racing Director
"Stoffel has been very quick all weekend, and it was great to see him duly get it all hooked up so well here today.
"He drove an excellent lap in Q1 on Inters, posting the eighth-fastest time on slippery asphalt and thereby splitting the two Ferraris, and then continued his fine form on slicks in Q2, as the track dried, successfully making it through to Q3 in the process. He'll start tomorrow's race from eighth on the grid, following Valtteri's [Bottas] five-place grid penalty. Well done, Stoff!
"Fernando drove a stonking lap in Q1 on slicks to be quickest of all by the hefty margin of 1.3 seconds. It was almost too close for comfort – he nearly didn't get his Q1 lap in – but, having crossed the line just in time, he made good his opportunity by totally nailing it. It was good to see – and the crowd's cheers were great to hear, because our support here is simply fantastic. Thereafter, however, Fernando was unable to take part in Q3, but it was academic anyway, owing to his 30-place grid penalties.
"It'll be interesting to watch our drivers tomorrow. Rain or shine, they'll both be giving it their all. Fernando will surely make rapid progress in the early laps, while Stoffel will be striving to score his first world championship points of the season. Bonne chance!"
Yusuke Hasegawa, Honda R&D Co. Ltd Head of F1 Project & Executive Chief Engineer
"Today's qualifying was tricky due to the random rainy conditions. However, both drivers and the team did a great job in such a challenging situation.
"Stoffel found a good balance with his settings and he has kept strong momentum throughout the weekend. It was his second time to go to Q3 – including Monaco – and the performance he showed was very impressive.
"Although Fernando missed Q3 due to heavy traffic, his brave Q1 performance in the rain was a nice surprise not only for us but also for the fans watching from the grandstands in these chilly conditions.
"Having been able to show a good performance here in Silverstone, which is known as a power circuit, gives us some confidence regarding progress. Although we are still behind the front-runners, we are having concrete steps forward as a team.
"Tomorrow, Stoffel will start from eighth and Fernando will start from the back of the grid. But as we can expect unstable weather here in the UK, I think both drivers may have the chance to score points at our home grand prix.
"We'll continue our best effort in order to show a good race in front of the home crowd."
Red Bull
Ricciardo briefly topped the timing sheet in Q3, before pulling off track with an apparent turbo issue. As conditions improved, he could only watch as his lap time tumbled down the pecking order, leaving him in 20th. Verstappen made the most of the conditions to serenely reach Q3, but had no answer to the pace of Mercedes or Ferrari. He will leap up to the second row though, courtesy of Bottas's grid penalty.
Max Verstappen, 5th, 1:28.130
"It was a lonely qualifying for me and we ended up pretty much exactly where I expected. We were lacking the speed and therefore unable to get close to the Mercedes and Ferraris but the car still felt good so I had fun out there. Fifth was the best we could have done today and I achieved that. I'll start tomorrow in fourth which of course is better but I never like to rely on penalties for other people to help, I wish I was there just on pace. We shall wait and see what the weather brings tomorrow, hopefully some rain as I think I have a better chance of challenging for a podium in the wet. At the beginning of Qualifying it looked like it could have been a nice chance to get up front but unfortunately the track dried out. I want to be realistic and not dream so I'm hoping my luck has changed and I can have a good, fun race tomorrow and bring the car home. I am not talking about podiums or winning for now. If something happens to the cars in front then we can challenge for a better result."
Daniel Ricciardo, 20th, 1:42.966
"I'm not 100 percent sure what happened yet but it is a suspected turbo failure. I lost a bit of power down the straight and heard some weird turbo noises, I thought I could nurse it back to the pits but then it all switched off and we couldn't save it for the session. I'm just disappointed not to show more of what we could do in qualifying as these conditions should have given us a bit more of an opportunity. We were quick straight out of the box today and I was P1 before the failure, so we look pretty good on the intermediate tyre. Tomorrow is where the points are, we've got to work hard to get back in there but it is what it is. Mixed weather could hopefully help me out but I think in either these or dry conditions we can fight through the field and get inside the top ten."
Christian Horner, Team Principal
"A frustrating qualifying for Daniel with what looks like suspected turbo failure, so he'll be starting from the back of the grid together with his gearbox penalty, hopefully the race can only improve for him. Max drove a solid qualifying and I think P5 was always going to be the maximum today, which will become fourth on the grid with Bottas' penalty. Hopefully we can make the most of any opportunity, which includes some potential wet weather conditions, and be competitive in the race from there."
Renault
Hulkenberg looked on top form all day, firmly planting his R.S.17 in the mix with the top teams. He qualified best of the rest in sixth, which becomes fifth after Bottas's grid penalty. Palmer struggled by comparison, complaining of vibrations. Qualifying 11th, though, at least gives the home star free tyre choice for the start of Sunday's race.
Nico Hulkenberg, 6th, 1:28.856
"Today we had a very successful qualifying and will start the race just behind the top teams. I had a good rhythm and we had good times. The team made the right calls for the right track conditions ; there was a nice flow. I was feeling calm and confident with the car so I was able to produce a good lap. The upgrades we brought here this weekend seemed to also have played their part in our step forward. That said, tomorrow's race is the true test. Let's try and have a clean race. We'll push very hard and I'll be very happy to bring points home."
Jolyon Palmer, 11th, 1:30.193
"I had a really good feeling with the car today and I'm happy with that result. We could maybe have made up one tenth or so, but we're starting in a much better place than we have done in recent races so I hope we can make progress and score some points tomorrow. I'm pretty confident that we can have a good race. The atmosphere all weekend has been awesome with so many Union Jacks in the stands – I'm loving the support. It's good motivation and driving the track with these cars is so much fun at the moment."
Alan Permane, Sporting Director
"We are of course very happy with the result today. The aero updates used this weekend for the first time worked well and Jolyon just missed out on Q3 by the narrowest of margins. Nico is well placed for the race and Jo has a free tyre choice so we're looking forward to the start and converting the result today to points tomorrow.
"The rain came just before the start of the session so it was not an easy one to manage. We were really pleased that we got through Q1 when it was evolving quickly, and then carried this momentum through to the next two sessions. Both drivers and the team did a great job in very changeable, difficult conditions."
Sauber
Ericsson was one of many drivers to spin in wet conditions at the end of FP3, but fortunately didn't damage his C36. Thus started a tough afternoon for Sauber, who gambled on slick tyres in the damp conditions at the start of qualifying to see if they could catch any other teams napping. Unfortunately the track didn't play ball, and both drivers immediately pitted for inters. Wehrlein just pipped his team mate in qualifying by 0.04s.
Marcus Ericsson, 19th, 1:42.633
"It was a challenging qualifying due to the damp conditions. The first laps were looking good, but at the end of Q1 I had difficulties with the tyres overheating. I could not really improve on that set of tyres to make it into Q2. However, we made some progress in FP3 and closed the gap to our direct competitors. If we have similar race conditions as we did today in qualifying, we could have an interesting Grand Prix."
Pascal Wehrlein, 18th, 1:42.593
"The weather conditions definitely played a big part in how the day panned out. It was predominantly dry in the morning, and then started to rain lightly just before qualifying. Driving on intermediate tyres was good for the first few laps, but it became more and more difficult to improve the laptime as the track started to dry. In retrospect, it is a pity that we didn't have enough time left in the session to switch to supersoft tyres. We may have even had a chance to make it to Q2 then. It certainly remains interesting, and I am looking forward to tomorrow."
Toro Rosso
Not the best day for the Toro Rosso team - Sainz complained that his engine was misfiring in final practice, before a suspension issue sidelined him for much of Q2. Kvyat, meanwhile, claimed he couldn't push as he "didn't trust the car." With free tyre choice, Toro Rosso will hope for better come race day and perhaps even the possibility to salvage some points.
Daniil Kvyat, 12th, 1:30.355
"I didn't feel completely confident with the car in this morning's FP3, but I gained it back in qualifying as the car felt better. With today's tricky conditions, I'd say a P12 was the best we could do – there was maybe one or two tenths on the table but, in these conditions, you're just a bit more careful as the track is drying and you're not sure exactly where to put your wheels. For tomorrow, if the conditions are the same as today's, it will all be about being in the right place at the right time and hopefully we can move up the grid and into the points."
Carlos Sainz, 14th, 1:31.368
"How annoying… Unfortunately, we suffered a suspension failure in Q2 which meant I couldn't get back out on track until the very final minutes of the session – I'd like to thank the mechanics for being so fast in getting the car out again! I managed to do a couple of laps, but the system was still not working as it should've, the car was behaving poorly, bouncing around a lot and I had no grip at the rear… So I wasn't able to do any representative laps in Q2 really. It's a shame, because we had a very good Q1 and managed to get into the top ten on the intermediate tyres. With these tricky conditions, it's difficult to say what to expect for tomorrow, but it will for sure be exciting – we have a good opportunity if the weather stays like this, as it opens up strategy options and opportunities and I look forward to a good race!"
James Key, Technical Director
"We had a bit of work to do from yesterday to find a better split between low and high speed performance and balance. Carlos felt reasonably comfortable with his car in FP3 and concentrated initially on the soft tyre to get a little bit of experience on that after missing it in FP2 – he also did a few consecutive laps on a high-fuel load on the soft tyre. Unfortunately, at the end we just missed the window for the super-soft, as the rain came in and there was a short delay in getting his car out, so we didn't set a super-soft time with Carlos in FP3. With Daniil, the setup direction appeared to be okay but it flipped the balance too far in the other direction with the track conditions this morning, so we had to pull back a bit from that and try and find an improved solution. Sadly, he also missed out on a lap with a new set of supersoft tyres in FP3 as the rain came just as he was starting to set a time. FP3 lap times therefore didn't look too good, but in reality we were reasonably pleased with progress. Qualifying was pretty intense at the start with uncertain track conditions, being in a bit of no man's land between slick and intermediate. However, the drivers were fine with the car in wet conditions and the team did well to time the runs correctly. Unfortunately, at the end of Q1, Carlos had quite a major rear suspension issue. It was fixable, but it meant that we had to rush it through and, although we got him out at the end of Q2, the car was far from its optimum condition given the nature of the problems. Carlos did his best to run the car like that, but it was missing quite a bit of performance. I have to say the mechanics did a fantastic job to get the car out at all in Q2 given the amount of work they had to cover quickly. For Daniil, he was doing well in the initial runs of Q2, running dry tyres as the track conditions improved. Unfortunately, just at the end, we just missed Q3 by a couple of tenths. Looking back, had we gone out for a single timed lap slightly later in the session, we would've given ourselves a better chance of making it through but, with very few reference points and no real references from FP3, it was a little difficult to judge. In the end, we finished just outside the top ten but, given the number of problems we've had to solve, mid-grid is where we've ended up. Now we've got to seek a better performance tomorrow to put ourselves in the top ten as best we can."
Haas
Contrasting fortunes in the Haas garage. Magnussen was unable to hook up a lap when it mattered and exited qualifying in Q1. Grosjean, by contrast, made it all the way to Q3, but felt he was blocked by Hamilton on his flying run. The stewards decided the Mercedes man didn't have a case to answer, and as such Grosjean will start tenth.
Romain Grosjean, 10th, 1:29.549
"I'm not totally happy with P10. The first run in Q3, I got completely blocked by Lewis Hamilton on the last corner losing me at good three-tenths. It cost me a least one position. With the second run I thought it was going to be fine, but I got to turn three and out of the blue I had massive rear-lock, so I lost almost half a second. I made it back over the lap, so I think we had much more performance than we were showing. I'm very unhappy with my first attempt being completely ruined at the last corner. Apart from all that, we were doing okay and doing a good job. It's great to be in Q3 but there could've been so much more, so I'm a bit disappointed."
Kevin Magnussen, 17th, 1:42.577
"The car wasn't too far off in the wet from where we were in the dry. We are not as strong as we expected. We need to look at why that is and try and understand it. Our race pace looked much better, but in qualifying over one lap, it wasn't very competitive this weekend, which is a shame. The positive is that the race pace is good and that's what we need to be quick. We'll see what we can do."
Guenther Steiner, Team Principal
"Back to the roller coaster, back to the excitement. We had a good FP3 and we went into qualifying in good spirits. I think our car is competitive. With the rain starting it was a little bit of a lottery. One lottery we won, one we lost. Unfortunately, Kevin didn't make it out of Q1, but Romain made it into Q3. I think we were on a good roll. Then Romain got held up on his first set of tires by Lewis (Hamilton). On his second run, he had a small aero issue and locked up in turn three and that was it. We are starting 10th, which is a good place to start for points. I'm pretty confident with Kevin's skills, and the performance of the car on our long run, that we can still target points with that car as well."
Pirelli
Mario Isola - Head of Car Racing
"Strategically, the biggest interest in qualifying was from Valtteri Bottas's decision to run the soft in Q2 in order to have the option to run a different race strategy. This means that he should be able to run a longer first stint than his direct rivals tomorrow and make up track position. With track temperatures rarely above 20 degrees centigrade today and some rain dampening the track at the start of the session, the tyres faced a tough task to generate grip and heat. Nonetheless, Hamilton set an extraordinary lap that once again lowered the record for the current configuration at Silverstone. Pit strategy tomorrow could range between one and two stops, depending on the degradation rate of the supersoft."