Feature
What the teams said - qualifying in Mexico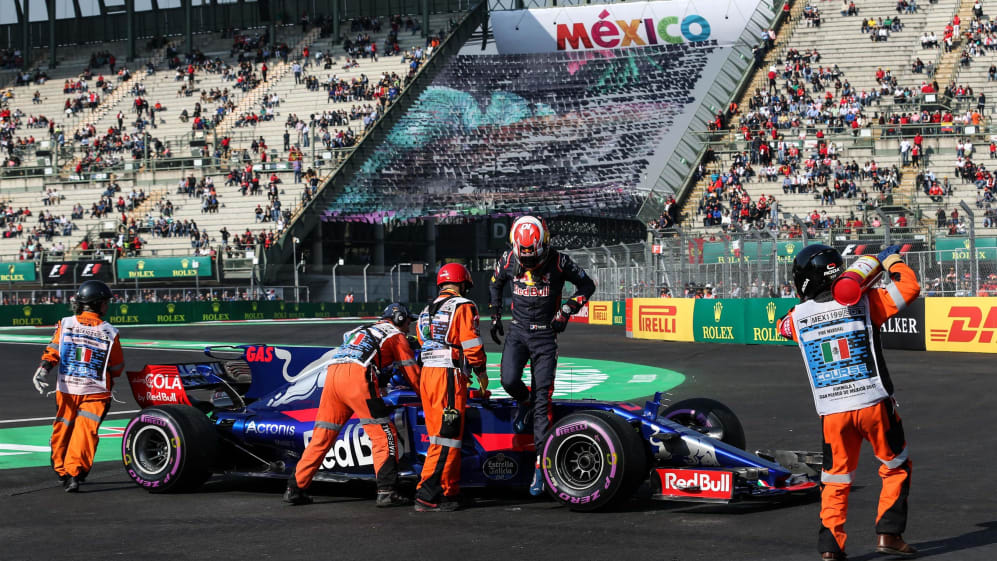 A round-up of all the action from qualifying at the Formula 1 Gran Premio de Mexico 2017 at the Autodromo Hermanos Rodriguez in Mexico City...
Ferrari
A contrasting tale in the Ferrari garage - Raikkonen struggled and was never in the fight for pole, but Vettel was right in the mix and looked to have the beating of his championship rival Hamilton. Whether he could take the fight to Verstappen was another matter, but he duly did on the final lap, navigating the Autodromo Hermanos Rodriguez in a new track record time to grab his fourth pole position of the season, and the 50th of his career.
Sebastian Vettel, 1st, 1:16.488
"Obviously I am really happy. I had a perfect lap in the end, even if the track here is difficult and very slippery. It is easy to make mistakes going over the limit here. But I thought to myself that if I could get T1 right, then I'd have a better chance. The last sector was also tricky because you know how easily you can go wide and lose a lot of time, but I managed to push and stay clean. So, I am really happy, especially because other cars were close and it's nice to hold everybody off. Yesterday the car was not where we wanted to be, but today everything was ok, and I think tomorrow we'll be quick enough. Let's see what happens at the start and after that we should have a good race. I know it's a long way to Turn 1, but overall I am confident because our starts are good. Last weekend it was tough for the whole team because it went through of a lot of work and a lot of changes. This weekend has been better, I think we deserved to get the result today and hope to have a great race tomorrow!"
Kimi Raikkonen, 5th, 1:17.238
"It was a pretty difficult qualifying and the result is far from ideal. I struggled to put a decent lap together, I was lacking grip and made mistakes here and there. In some moments it felt good, in others not so, it was very easy to make a mistake. Every time I tried to push a bit more the front end seemed to lock up, especially in the last sector. In Q3 I only tried to get a lap time without any big issues, to be able to get somewhere, but I knew I was slow. Tomorrow is another day, I'm sure it will be better. It's hard to predict what will happen, but as long as we get a good feeling and the tires are working well we should be ok. Hopefully we'll make a good start and then see what happens in the straight and in the first corner. We'll try to stay out of trouble and be in a strong position after that."
Mercedes
Hamilton complained of power drop-outs in both final practice and qualifying, and couldn't hook up a lap when it mattered. He ran wide on his final flyer and could only secure third on the grid. Bottas fared worse - he came across a slow moving Verstappen on his first attempt and had to abort the lap after locking up navigating around the Dutchman. With it all on the line he produced a solid lap for fourth, but Mercedes might be left ruing what might have been...
Lewis Hamilton, 3rd, 1:16.934
"Pole position was the goal today, but it wasn't meant to be. It was a difficult session and I think it was a difficult weekend overall. It is very slippery here; and some of the issues we have with the car are a little bit highlighted by that. I gave it everything I had, but the gap to the front was too big. Our long run pace is definitely better than our qualifying pace, so I'm not worried about that. But you need a big delta to overtake here, so track position is important. It is a long way down to Turn 1, so we should have some fun tomorrow. I'm hoping I'm able to move forward at the start. Afterwards it should be a one-stop strategy. The crowd looks incredible, there's a lot of energy. It's such a spectacle from above; I saw the camera from the helicopter. So winning here on Mexican soil would be pretty neat."
Valtteri Bottas, 4th, 1:16.958
"Our qualifying wasn't good enough; we thought we could fight for the pole. We definitely struggled a bit compared to at least one of the Ferraris and one of the Red Bulls, for some reason they found quite a bit of lap time for Q3. The incident with Max ruined my first lap in Q3; I just couldn't get back to the normal line for braking. However, I'm still optimistic for the race. We had good long runs yesterday and we'll have a strong car tomorrow. As a team, we're starting from the second row, and it's such a long run into Turn 1 here. Hopefully we can have a good start and use the slipstream to our advantage. It should be an interesting race."
Toto Wolff, Head of Mercedes-Benz Motorsport
"First of all, congratulations to Sebastian on a very impressive pole position. We have locked out the second row this afternoon and, to be honest, I'm reasonably satisfied with that. We knew that it would be difficult for us here, running at a high downforce circuit, so the result is okay with that in mind; it feels like we have taken a step forward in these conditions compared to recent races. There were big gaps between team-mates today so it is nice to see our drivers so close together, especially as Valtteri only had one opportunity to set a time in Q3. That shows he is bouncing back in the right way from a difficult run of races. Now we have to look forward to a long race tomorrow. Lewis had a promising long run during second practice, so there are still plenty of opportunities open for us to take."
James Allison, Technical Director
"Although we felt that we were in the hunt heading into qualifying, we found ourselves on the back foot in all three sessions with a car that was not quite on the same pace as the Red Bull and Ferrari. Nonetheless, Lewis and Valtteri did a strong job to put both cars on the second row of the grid. It was disappointing for Valtteri that he lost his best lap in Q3 as a result of being blocked but we know from our practice running, and from Lewis in particular, that the long run performance looks very strong. There will be all manner of opportunity tomorrow to make good on the disappointment of today."
Red Bull
Verstappen looked quick all day, and when he topped Q2 and put his RB13 on provisional pole at the start of Q3, it looked like a done deal. But Vettel just pipped him on his final lap, leaving Verstappen frustrated as his quest for a first pole position continues. Ricciardo never looked on his team mate's pace and had to settle for a disappointing seventh.
Daniel Ricciardo, 7th, 1:17.447
"We have been strong all weekend but in qualifying we just didn't have any grip. I topped the times in FP2 and Max did the same this morning so we didn't really touch the car from yesterday, but every time I left the pits today I just had no grip. We tried experimenting in Q3 and doing an extra warm-up lap to try and give the tyres something extra, but it seemed that the grip I had when I left the box, was the grip I had until the end of each run. Sometimes you get one set of tyres that you can't turn on or warm up properly and you might lose some time, but every run it seemed to be the same story. This morning the track was really cold and we were still able to post a time on the first lap, so it should have been a breeze to get the tyres up to temperature this afternoon. If we can get the car back to what we had before Qualifying then I think we can still fight for a podium tomorrow, but this is confusing and we really need to understand what happened in the last hour."
Max Verstappen 2nd, 1:16.574
"Another front row qualification so I am pretty satisfied with today's result. Q2 was really good but somehow we lost a bit in Q3 with the tyres, I couldn't get them to work and struggled for grip. I would say the Q3 lap was better but I just didn't have the grip from the previous session. The plan was to abort the first lap in both sessions and use that as a build lap. At the end of the day we are still second and on the front row so no big issue. It is always nice to get a pole position but winning the race is more important. I am confident in the race pace of the car and that we can achieve a good result but we still have to show this tomorrow. Starting on the front row with such a long run into Turn 1 means we can hopefully get away well and ahead. We are usually quicker in the race than Qualifying so I am excited for tomorrow."
Christian Horner, Team Principal
"A really exciting Qualifying in the last session with different options taken in preparing for the timed laps. Max did a build lap on his first run and produced a fantastic lap time. Unfortunately he wasn't able to improve on it on the second run, and Sebastian just snuck ahead by eight hundredths of a second, nonetheless starting the Mexican Grand Prix on the front row of the grid is a good place to be. Daniel struggled in the low-speed corners comparatively so we need to have a look at that, but we know he's a great overtaker and he'll be fighting hard tomorrow.
Haas
A poor day for Haas, with both drivers out-qualified by the Sauber pair and effectively last on the grid of those who set a time. After a torrid home race last weekend, Haas will struggle to find many positives from today's qualifying. They will at least advance a few places due to grid penalties and with free tyre choice, could opt for different strategies to try and bring their cars into play with a bit of luck later in the race.
Romain Grosjean, 19th, 1:19.473
"We have had a tough weekend. We didn't run anything yesterday, so of course there's always performance there. I had a very poor out lap at the end with a lot of traffic, so there were a few tenths in hand, but nothing that would put us where we should be. There's no excuse. We've got a 2017 Ferrari engine, which is more powerful than the Sauber one. We'll need to work, and we'll need to find a way to make the car faster at the circuits where we need extra downforce. It's going to be 71 laps with a handful of a car to drive tomorrow. Anything is possible. I don't want to be super positive saying everything's going to be great, but you never know in the race. It's a tough circuit and cooling is a problem for everyone. Brakes are going to struggle. In Singapore, we were not supposed to score points and we did. There's always hope, but definitely it's going to be a tough one."
Kevin Magnussen, 18th, 1:19.443
"We had feared this weekend would be tough. We obviously weren't very quick in qualifying. This track is like our Achilles' heel. It was kind of expected, but it's still disappointing. We just have to push on. The issues are a combination of things. I'd say with the air being so thin here, everyone has to cool their cars a lot more, open up their cooling on the brakes, engine, water, everything. When we do that, we don't have a very good top cooling when it's open. We lose out there, and it seems very bad this time. Hopefully we can stay in the fight tomorrow, and at least push and see what we can get. I hope our race pace is a bit better than our qualifying pace."
Guenther Steiner, Team Principal
"We've ended up where we were afraid to end up a few days ago. We knew we would struggle with the high altitude here with our aero setup. So, we were almost prepared for it, but it's never easy to swallow. We just need to get better."
Toro Rosso
A miserable day for the Toro Rosso team. First Gasly pulled off track after a few laps in FP3 with an apparent engine issue. His STR12 needed significant work and as such he was unable to take part in qualifying and will start the race with very few laps under his belt. Hartley did run in qualifying, making it out of Q1 and looking well placed to fight with the other midfield teams for a place in the top ten when his engine too suffered problems and left him stranded track side.
Pierre Gasly, No time set
"I've spent way too much time with the engineers on the pit wall this weekend! There is nothing we can do really. We changed the engine last night after the issue in FP2, then again after FP3 and we didn't have the time to do qualifying. It's a new track for me and I would have really liked to have pushed and to see how it drives because I've never driven with the ultra-softs. It's been a really strange weekend. It's really tough because the only thing I want is to drive and do laps with the car to get used to it, get more comfortable and learn the track as well. For sure we don't feel really prepared, the first time I'll be pushing on track will be lap one tomorrow! But that's how it is and I'm not going to change the approach, I'll keep working with the guys tonight and tomorrow to be ready for the race."
Brendon Hartley, 13th, 1:18.683
"Today was a little bit frustrating! I'm a bit disappointed as I didn't get to put everything on the line and I think we had a chance to be fairly up the pack; to be ahead of the Williams was definitely on the cards today. Braking into Turn 1 in Q2 I felt like it was spot on and I was pumped up for the lap, when the engine went bang… I don't know what happened! My confidence has been building all the time, lap after lap, and I was really looking forward to Q2 to really give it a crack. I'm feeling better and better in the car and, if Austin was a tough ask, I've come here a lot more prepared… that's for sure. Mexico's a track I really enjoy and I will give it all tomorrow to have the best possible race!"
Jody Egginton, Head of Vehicle Performance
"We thought yesterday was a difficult day, but today was no better with a number of issues on the PU side. Unfortunately for Pierre, at the start of his first timed lap in FP3 we had a turbo failure which meant that was the end of his session. We got the car back and we tried to repair it, but we realised it was more extensive than we first thought. In the end we needed to take a complete PU, however due to parts limitations the fresh PU wasn't fully built, so we didn't get the car out in time for qualifying: that meant the end of Pierre's day. Brendon had a really good FP3. We learnt a lot about the tyres and he was still building up himself lap by lap. By the end of FP3 he was really comfortable how the tyres were operating and what was required to extract the maximum performance. We went into qualifying with good expectations and I think he showed that the car was very capable, especially in Q1. In Q2 he was building on that even further and it was looking like we were going to challenge or potentially be in front of the Williams, but then unfortunately another turbo failure on the PU side cut his qualifying short. It was a challenging day, we need to understand tonight why so many power units are dying on our chassis! Unfortunately, it looks like tomorrow will be a difficult day for us. However, we will put today behind us, look ahead to tomorrow, remain positive and try to benefit from any opportunity in the race!"
Force India
Force India once again impressed, with both drivers making it through to Q3 with ease. Ocon looked particularly comfortable and delivered a stunning lap to qualify ahead of Ricciardo's Red Bull in P6. Perez made a mistake in the final sector of his flying lap to grab a slightly disappointing tenth, but the Mexican should still be able to deliver points at his home race.
Esteban Ocon, 6th, 1:17.437
"It was an awesome qualifying session. I'm really happy. The car was not so easy to drive yesterday, but the team did an amazing job overnight to find some more performance. Everybody at the track and back at the factory worked hard to make some improvements and I could really feel the difference today. They gave me a really strong car and during the session the pace just got better and better. I actually made a small mistake on my final lap in Q3 so maybe I could have been even faster and ahead of Raikkonen. Even so, I'm really pleased with this result and excited for the race. We have strong race pace, good top speed and the potential is there for a very strong result."
Sergio Perez, 10th, 1:17.807
"Today hasn't gone as I was hoping and that's very disappointing. We have been very competitive all weekend, but we couldn't achieve the result we wanted at the most important moment. I was quite satisfied in Q1 and our pace showed a lot of promise, but as the conditions changed we weren't able to respond. We changed our tyre warm-up routine and I lost all my feeling with the car. Getting the tyres in the right window was difficult and I was unhappy with the balance: it's something we will need to analyse tonight. Tomorrow's race will be challenging, but our car has very good pace. I want to give my fans something to celebrate: all weekend I have received an incredible amount of support and today they deserved a lot more. I was happy to be able to speak to all of them at the start of the session and I hope we can give them a better result tomorrow."
Robert Fernley, Deputy Team Principal
"It's been another very strong Saturday with both drivers qualifying in the top ten. We've worked extremely hard this week to dial the cars into this circuit and the engineers and mechanics deserve huge credit for giving the drivers a competitive car. The updates we brought here have certainly made a difference and taken us another step forward in terms of outright pace. Esteban's confidence continues to grow and he should be very proud of his performance today – getting ahead of a Red Bull and just two tenths shy of a Ferrari. Sergio showed great pace as well in Q1 and Q2, but his Q3 laps didn't come together and he had to settle for P10. He's received huge support from the local fans so far this week and he's determined to reward them tomorrow with a strong drive."
Williams
Stroll made a mistake on his flying lap, running over the kerbs and onto the dusty tarmac which cost him time and dropped him out in Q2. Massa had a cleaner lap, but still wasn't enough and had to settle for P11. But with free tyre choice for both cars, don't rule out a Williams fightback for the race.
Felipe Massa, 11th, 1:18.099
"I did the best lap I could in the car. It was almost a perfect lap. Unfortunately, it wasn't enough to get to Q3. I was happy with my lap. Maybe 11th is better than 10th with the clean side of the track and new tyres. Let's concentrate on the race tomorrow and see what we can get. We are in the fight and that's the most important thing."
Lance Stroll, 12th, 1:19.159
"It wasn't a perfect job. Q1 was okay, and then in Q2 the first run was good at the start of the lap but then there were the yellows. Then, on the next run I just couldn't get the tyres ready and I made many mistakes and didn't really set a lap time. I got in a lap at the end, but I think it would have been very difficult to get into Q3. We are starting 12th, it is a long race tomorrow, we are in the middle and I think we can score points. We just have to sort out a few things and have a good race. It will be tough for everyone with the altitude."
Paddy Lowe, Chief Technical Officer
"We knew from the running in FP3 this morning that it was going to be very tight to get into Q3 with the Renault's and Force India's looking particularly quick relative to our pace, and so it proved to be. We had good runs in Q1 and got safely into Q2 with both cars with two runs each. Unfortunately, our first run with both cars in Q2 was disrupted by yellow flags because of Hartley, so we aborted. We went out and had only one attempt in Q2 which got us P11 and P12. I'm happy with those positions considering how tight it is. We have a free choice of tyre and I think our race pace may play in our favour relative to the cars ahead. We're definitely in the hunt to score points with both cars in the race tomorrow."
McLaren
With large grid penalties looming over both drivers, it was unsurprising that neither opted to set a time in Q2. Alonso had produced one of the laps of the day in Q1 to put his MCL32 into P5, including a purple sector and just a couple of tenths off Hamilton in P1. That proved just how much pace the car had, but starting from the back of the pack, it might be too tall an order for Alonso and Vandoorne to fight their way up to the points-paying positions.
Fernando Alonso, 14th, 1:17.710
"I'm extremely happy with the performance of the car so far this weekend. It felt great yesterday and also today, with a lot of grip in the corners and it gave me some good feelings in the high-speed sections, too.
"In Q1 we proved how strong we are on this track. Being only two tenths off the fastest time shows what a great job McLaren is doing. I felt we had the best car out there today. It was good fun!
"Obviously saving some tyres in Q2 was the main priority today. With the straight-line deficit we have here, it's going to be difficult to overtake tomorrow, which is the key point for us. The penalty will hurt massively because starting last we will run behind traffic for the whole race, but we'll try to be aggressive and if something happens in front of us we'll take the chance."
Stoffel Vandoorne, 15th, 1:18.578
"We're taking penalties this weekend so our focus today was preparing for the race and definitely not on qualifying. Even in Q1 I was running on high fuel to prepare for the race and fine-tune the balance. After the struggles I had with the engine yesterday in FP1 and FP2 – which made it a very difficult and complicated day – today I felt a lot more comfortable in the car from the first moment of FP3, and actually our package is getting stronger and looks reasonably competitive here.
"Today was a lot more positive for me and a big step forward, and I feel like we're in a decent shape for the race tomorrow. We'll be starting from the back so it will be tough, and where we will finish is hard to say. Overtaking in a straight line will be difficult for us so we'll have to be aggressive, thoughtful and ambitious in the way we drive, and hopefully we can have a strong race.
"Qualifying was never really a priority for us today so I'm looking forward to the race."
Eric Boullier, Racing Director
"Today's running was all about preparation for tomorrow. Since both drivers have sizeable grid penalties this weekend, it made much more sense for us to focus on race set-up – saving engine mileage and valuable tyres in the process – as we look ahead to what statistically-speaking is one of the more challenging races on the calendar for us.
"I'd like to praise the team for a very efficient and productive FP3, and a perfectly-executed qualifying session that went completely according to plan. This morning we managed to complete everything we had planned with no problems, and both drivers worked hard to dial-in their cars for the race. The team has worked tirelessly overnight to improve the set-up in preparation for tomorrow, and Fernando and Stoffel both felt happier and more comfortable in the car than at any point during the weekend so far.
"In qualifying Fernando put in a monster lap to set the fifth fastest time in Q1, which was only two-tenths off P1 in that session. His second sector was the fastest of any car out there. For Stoffel, it was essential that he completed as much race preparation as possible given his limited mileage on Friday, and he drove solidly despite the higher-than-normal fuel load to get through to Q2 on this tricky circuit.
"For both drivers, qualifying positions were not what we were aiming for today. Tomorrow is the day that matters and the pace we've shown today is encouraging for tomorrow's race."
Yusuke Hasegawa, Honda R&D Co. Ltd Head of F1 Project & Executive Chief Engineer
"With penalties for both drivers in tomorrow's race, today was all about focusing on set-up rather than grid positions.
"To give us a free choice of tyres for the start of the race, our qualifying strategy was to push for Q2 and end the session there. Both of the cars reached Q2, and we're happy that we reached our goal with more performance still left in the car.
"In terms of the power unit, we had a smooth day without any issues. Coming to Mexico we expected to have limited power due to the high altitude, but I'm pleased to say the effect is much less than anticipated. I appreciate the efforts made by our colleagues back in the factory who have simulated various methods and found an effective way to minimise the power loss in the tough conditions.
"Although we have both cars starting from the back of the grid tomorrow, we will push to do our best and aim for some points."
Renault
A solid day for Renault with once again their new driver line-up looking very evenly matched. Sainz had the advantage in the final practice session, despite running over the grass at one point, but come qualifying it was Hulkenberg who pulled off the better lap to grab eighth ahead of his team mate by three-tenths of a second. Having failed to finish the last two races due to mechanical issues, the German will be hoping for better luck here tomorrow.
Nico Hulkenberg, 8th, 1:17.466
"It was a good qualifying, I got a really good lap at the end of Q3 so I'm very happy and satisfied about that. It's going to be a tight battle tomorrow but we are going to push hard and do our best."
Carlos Sainz, 9th, 1:17.794
"This is a good day for myself and for the team, we continue our progress since Austin, I am very pleased. Qualifying was tricky but we advanced a lot since yesterday and I was feeling a lot more confident with the car today. We are aiming to have a good race tomorrow."
Alan Permane, Sporting Director
"A very straightforward qualifying for us today, all runs went as planned. We aimed to get though Q1 with one set, which we did comfortably, and then two sets for each of the other sessions. It was good to see both drivers pushing each other all the way through the sessions, getting both cars into Q3 was the target. Starting eighth and ninth puts us in a good position to score some points tomorrow."
Sauber
Sauber can be pleased with their best qualifying session since Baku after their drivers managed P16 and P17, with Ericsson taking the intra-team spoils by just over a tenth of a second. Given they are set to advance when McLaren serve their grid penalties, it will be interesting to see if Sauber can keep the others at bay in the early laps...
Marcus Ericsson, 16th, 1:19.176
"It was a good day. We continued to build on the practice sessions from yesterday and took the right steps on the set-up of the car to be more competitive. It was a good effort by the team as we managed to get the maximum out of the car in qualifying. I am also satisfied with my final lap in qualifying – it was a nice one, and it was not too far off of Q2. We go into tomorrow's race with a positive feeling."
Pascal Wehrlein, 17th, 1:19.333
"Overall I am satisfied with my day. Although we had some issues with my car in FP3, the team was able to resolve them quickly which let me complete a few laps in the morning. The qualifying session went rather well. My performance was continually improving, and I had a solid chance of getting into Q2. Unfortunately, I made a small error in sector one on my final lap and did not make it. Nevertheless, this gives me confidence for tomorrow's race and I look forward to getting back in the car, and giving everything I have."
Pirelli
Mario Isola, Head of Car Racing
"Although the track had improved since yesterday, grip levels were still generally quite low – with the lack of downforce in the thin air at altitude here – leading to most drivers using ultrasoft to gain the most mechanical grip throughout qualifying. With tyre warm-up being crucial here, we sometimes saw the best performance coming after one or two flying laps in qualifying. With degradation expected to remain low, a one-stopper would appear to be the most likely strategy for the race tomorrow."