Feature
What the teams said – Qualifying in Russia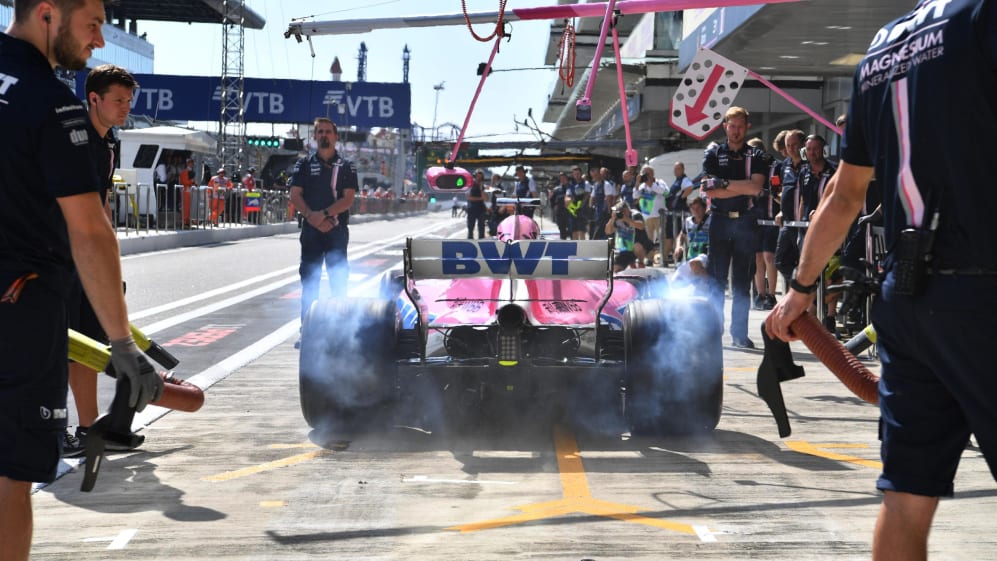 The drivers and teams report back on final practice and qualifying at the Formula 1 2018 VTB Russian Grand Prix...
Mercedes
An interesting day to be a Silver Arrows strategist. With Hamilton looking utterly dominant, and Bottas comfortably ahead of the rest of the field, hurdle number one was getting through Q2 on the ultrasoft rubber, which was ticked off easily. But then a turn up for the books – the Finn absolutely nailed both his flying laps in Q3 to grab pole from the outstretched grasp of his team mate. But was it really a surprise? Bottas has never been out qualified by a team mate here after all... but will Mercedes give him a genuine chance of victory on Sunday or ensure Hamilton's championship lead remains intact?
Lewis Hamilton, 2nd, 1:31.532
"This has never been the strongest circuit for me, but Q1 was really good. My run on the hypersoft at the end of Q2 was a great lap, but then I couldn't repeat it in Q3. I was two tenths up on my final lap but I made a mistake - I went quite wide and then the back stepped out at the next corner. I think I had the pace for pole, but Valtteri did the better job this time. It's great for the team to have a 1-2 here, we'll try and convert that tomorrow. We've made some big improvements to how we use the tyres and how we set the car up and it's showing. It's tough to overtake here, so the race will be about tyre management and who gets the best start. I'll be pushing hard; you saw Valtteri's great start last year, and I think that'll be my best shot to win."
Valtteri Bottas, 1st, 1:31.387
"It's been a long time since I last took pole in Austria this year, so this feels very good! We made some changes after FP3 and the car felt even better in qualifying. I managed to find time in almost every run in qualifying; I just had to put everything together in Q3. I was able to get a really good lap in on the second run and it was enough for pole, so I'm happy. Our pace looked good so far; on Friday, we were very close to Ferrari and Red Bull, but today we looked strong, so we should hopefully have a competitive car tomorrow. The Ferraris will be strong as well, but we should have a car that gives us the chance to fight them for win. The start will be decisive; we need to aim for a very good initial get-away. The straight into Turn 2 is so long that it's easy to overtake if the guys behind you get a better start. Today was a good start into the weekend and puts us in a good position for tomorrow, but the main day is still ahead of us and I'll give it everything to maintain the lead."
James Allison, Technical Director
"We thought yesterday went well, but you never really know for sure until qualifying comes around. It was lovely to see that the gaps of yesterday and this morning translated through into the afternoon. We are really delighted with a strong qualifying session from both drivers and particularly pleased for Valtteri who showed once again that he's something of a magician on this track. It's going to be difficult tomorrow with the long run down from the start into Turn 2 and we know from last year that P3 on the grid allowed us to catapult into the lead. So hopefully we'll get some very strong starts tomorrow and then with luck the long-run pace that we saw on Friday will also translate into the race."
Toto Wolff, Head of Mercedes-Benz Motorsport
"We can be happy and proud with the pace today, it's the achievement of a lot of hard work over the past weeks. We have a car that looks really competitive around Sochi, which is especially good after the struggles we had last year. But today is only Saturday, so while being on pole and locking out the front row is a massive satisfaction for us, we know that the slip stream around this track will play a big role tomorrow and could be decisive for the race. So we will try to have a good start to stay in front and then control the race from there. We should have the pace in the car, it's all about getting off the line well and keeping the position."
Ferrari
Ferrari looked second row contenders all day long, with never enough pace to truly challenge Mercedes ahead. At a track where slipstreaming is possible down to Turn 1, starting third and fourth really isn't a disaster for the Scuderia. But Vettel knows he needs a good result tomorrow to prevent that gap at the top of the championship growing.
Sebastian Vettel, 3rd, 1:31.943
"I think the car today was better than yesterday. The session was fine, and I think we could use our car to its full potential, there was nothing wrong with it, but we just weren't very fast enough. Nevertheless, the race is tomorrow, and if I can bring the good feeling I had towards the end of the session into the race, then I think we are in a good position. For sure, I want to do everything well and I think that there is a chance to overtake after the start. We need a good getaway - but not too good, otherwise you end up giving the other guy a tow!"
Kimi Raikkonen, 4th, 1:32.237
"Today in qualifying our car was the best we have seen this weekend. On my last attempt in Q3 I had a pretty good lap going, but then one of the Mercedes backed off in front of me and the lap did not come together. The feeling with the car was pretty good, but obviously it was not enough. Overall, it looks like we are a bit behind here, and it has been like this all weekend so far. Obviously it's not ideal, but it is what it is. This is not an easy place to overtake, but tomorrow we'll do our best and see what happens."
Red Bull
Despite dismantling and then reassembling Ricciardo's car ahead of qualifying, Red Bull had a pretty steady day. They looked quick which will help them in the race, and took part in the bare minimum of qualifying to ensure participation. The raft of grid penalties will see them start at the back – so there might be some intra-team rivalry as to who can bag the greater number of overtakes during the race... which happens to fall on Verstappen's birthday.
Daniel Ricciardo, 12th, No time set in Q2
"Knowing you're taking planned penalties before the weekend makes it easier to accept that you won't complete qualifying and then you can just focus on the race. Obviously, we are never going to know where we would have been in Q3 but we're pretty happy with the car this weekend and we've performed well on a circuit that we aren't normally that strong on. There is a lot to do tomorrow and that's when the fun really begins for us. There are a few of us out of position at the back of the grid, so let's see who can fight to the front quickest and have some fun doing it. I actually hope the tyre degradation is high, like we have seen so far this weekend, that way nobody will be cruising on an easy one-stop strategy and hopefully we can provide some real entertainment. The main thing for now is to decide which tyre to start the race on. I think the temperatures are going to be higher tomorrow as well and the long run down to Turn 2 will be interesting. If I'm honest, the main excitement today was my AFL team winning. I got up early to watch the game and it was well worth it, my voice is definitely suffering after all the shouting though. I will put it all on the line tomorrow and try to return the favour."
Max Verstappen, 11th, No time set in Q2
"We knew before qualifying that we would have to start from the back tomorrow, but I think it has all gone better than expected so far. We did a good job in Q1 which I'm happy about. The car has felt good all weekend, except for this morning, when I had some troubles, but we managed to turn it around and we are competitive again. We are closer than expected, what we lose on the straights, we can definitely make up in the corners. Even though we had good pace today, I don't think it's too painful for us to take the penalty here. We needed a new engine anyway, so it's good for upcoming races to take it now. The performance we had today shows again that we've worked very well on the set-up. From FP3 to qualifying we made some good steps forward so I'm confident about tomorrow. We just have to make sure that we have good exits out of the last few corners and keep our tyres alive, because the overtaking will not be easy on the tyres. If you follow other cars closely, it's hard on the front tyres, so we have to consider the best approach. You never know what can happen and we won't stop fighting, but from where I'm starting, I think the most realistic birthday present will be fifth."
Christian Horner, Team Principal
"Having chosen to take strategic power unit penalties this weekend at a circuit that hasn't yielded positive results for us in the past, we made the decision not to run past Q1 today. It was pleasing to see that we had more pace than expected in qualifying and looking at the times, had we chosen to run to the end of the session, we were on track to challenge Ferrari. With the cars set-up solely for the race and an open choice of tyre strategy, I know both Daniel and Max will fight hard to gain maximum points for the Team tomorrow."
McLaren
McLaren looked off the pace, and despite trying the 'tow', couldn't progress out of Q1. Alonso at least knew his fate, being set for a grid drop due to new PU components. But for Vandoorne, it was his ninth consecutive Q1 knockout and compounded a frustrating day for the Belgian. Can he recover anything tomorrow? It looks to be a long shot...
Fernando Alonso, 17th, 1:35.504
"In qualifying today we didn't use our full potential because our starting position is already fixed due to the grid penalties we'll receive.
"That meant I had two objectives this afternoon: setting a lap within the 107 per cent limit, and helping Stoffel with a tow along the straight. I didn't go for a performance run: I used the engine in safe mode.
"Much of our focus has been on our race pace: hopefully we can execute a good strategy, look after our tyres, and look to be close to the points tomorrow.
"The tyres are looking a little tricky around here as it seems to be hotter than usual. We believe the softest tyre will suffer a little bit, so hopefully we'll be in a position to benefit from that in the race."
Stoffel Vandoorne, 19th, 1:35.977
"It was always going to be difficult for us around here this weekend.
"In FP3 this morning, I think we saw that the pace of the car wasn't looking very strong. Going in to qualifying, our target was to try and get ahead of the Williamses: we managed to beat one of them today. I don't yet know where that puts us once all the penalties are applied.
"Our car is lacking performance in a number of areas. The balance isn't always perfect but it feels reasonable; we just lack general performance."
Gil de Ferran, Sporting Director
"We knew this was going to be a difficult weekend for us, but we're not hiding the fact that qualifying was a disappointing result for our team.
"Fernando was facing an engine penalty going into the weekend, so we chose to focus on race preparation rather than qualifying throughout all the practice sessions.
"Given our overall pace, unfortunately Stoffel was unable to make it out of Q1.
"On a positive note, our race pace has typically been stronger than qualifying, as our car seems to be fairly kind on the tyres, which will likely be a particularly important factor tomorrow. We will fight hard and do our best to try and bring some points home."
Force India
Force India looked to have 'best of the rest' nailed down in Q3, although Ocon was pushed uncomfortably close by Leclerc with just 0.006s separating the two. That was before Kevin Magnussen snuck in to grab P5 from under the Frenchman's nose. Sixth and eighth mean the two Force India boys start directly behind each other – and there will be stern words overnight from their boss to try and stop them tripping over each other, as they did in Singapore.
Sergio Perez, 8th, 1:33.563
"I am happy with how the car felt, but I think we could have been higher up the grid. My aim was to be in P5, but my Q3 laps were not the best and I lost a little time. Hopefully tomorrow we will be able to pick up some positions at the start. I'm optimistic for tomorrow, but it's going to be a long race. Strategy will be crucial because we are not starting on the best tyre compound and those just outside the top ten, on a harder compound, will be our main threat. Maybe we could have tried to go through Q2 on the ultrasofts, but in the end it will be the same for everyone around us. We need to make our hypersofts last and make the most of the first stint. I am sure there will be opportunities and we'll need to be there to take them."
Esteban Ocon, 6th, 1:33.413
"The car performed really well today and it's clear we've taken a good step forward during the last couple of races. I'm happy with the result – P6 – but I made a mistake on my final lap in Q3, which meant I wasn't able to really fight against Kevin Magnussen for P5. That's a shame, but starting from sixth gives us a good chance tomorrow. It will be really interesting to see how the hypersofts perform in the race and we know there will be a lot of cars further back on the ultrasofts. Let's see how the strategies unfold, but I believe we can convert our strong performance today into a good race result tomorrow."
Otmar Szafnauer, Team Principal & CEO
"In the lead up to qualifying we felt we had the fourth fastest car, but we didn't quite maximise our performance when it mattered during qualifying. Fifth and sixth places were there for the taking, but we've had to settle for sixth and eighth, which is still a good effort. The challenge now is bringing home the result and making the hypersoft work during the opening part of the race. The priority tomorrow is to have a clean race, bring both cars home and collect some important points."
Renault
Renault lost all their pace come Saturday, falling behind all their midfield rivals. They scraped through Q1 helped by a fortuitous late yellow flag, and then didn't even bother to run in Q2. However, that does guarantee them free tyre choice just outside the top 10, which as we saw from Sainz's display last time out in Singapore, can make a big difference. Points could still be on the cards despite what was, on paper, a disappointing day.
Nico Hulkenberg, 15th, No time set in Q2
"Today we ran a wise strategy. A decent qualifying position was out of reach on pure pace so we opted for the approach which means we don't have to start the race on the Hypersoft tyre. Everything we did today should help us in our battle on track tomorrow."
Carlos Sainz, 14th, No time set in Q2
"Unfortunately we saw that our pace was not strong enough to fight for P5 or P6 so opting for the free tyre choice was too appealing to ignore with the tyre allocation here. We saw the potential benefits of this strategy in Singapore and it could make for an interesting Grand Prix tomorrow. In the end, our pace will dictate our ultimate position but we've given ourselves the best chance for the race."
Alan Permane, Sporting Director
"We've seen an exceptionally close midfield here and we weren't able to be at the front of this battle on qualifying pace. This meant we looked ahead to the race and the tyre strategy options available. By not running in Q2 we will end up on the grid as the first cars with an open starting tyre choice and we're expecting this will translate to a stronger race performance. Our approach will be to gain places when those ahead of us have to pit early because of the short performance life of the Hypersoft tyres. This will benefit us early in the race however we still expect a very tight battle. We'll be looking to maximise every opportunity with points the target."
Haas
Grosjean struggled with understeer, spinning in FP3 and repeatedly asking if there was a problem with his suspension. Nonetheless, he made it through to Q3 alongside his team mate but understandably wasn't competitive. Magnussen, though, bounced back from a disappointing Singapore in style – fifth was best of the rest and sets up a really good opportunity for some big points to aid Haas in their constructors' battle with Renault.
Romain Grosjean, 9th, 1:33.704
"Unfortunately, we had too much traffic on the out lap of my last run in Q3. The tyres were really cold to start the lap and I just didn't get the grip. I couldn't repeat my lap time from Q2, which is a bit of a shame, but it happens. Some cars were really slowing down a lot in the last two corners and that created a bit of a queue. For the race, well, we're starting on hypersofts with Renault behind starting on ultrasofts. They didn't run in Q2, but with the other penalties, they're going to start 11th and 12th. I don't know what it's going to be like. We'll do our best, but P9 is definitely not where I wanted to be."
Kevin Magnussen, 5th, 1:33.181
"I'm happy. It's best of the rest, again – pole position for us. It's a good feeling. It was a good lap. It could've been better. The only place I messed up was in Turn 2. I hit the kerb and definitely when you do that, you lose time with wheelspin. I thought from there it would probably be difficult, but I kept it together and did a good rest of the lap. Luckily, it's not like the Red Bulls qualified into Q3 and then just didn't run. We have more people running the hypersoft tyre – that's a bit better for us. It would've been worse if the Force Indias or both Saubers had started just outside the top 10 with fresh tyres. That would've been tricky. I'm sure the Red Bulls will come back strong. It'll be interesting to see how far they get. There's a good chance they'll get back up, but the best of the rest is our target."
Guenther Steiner, Team Principal
"It was a good result today. Starting fifth with Kevin, it's very nice. Romain just had a little issue with the temperature of his tyres as he started his last lap, so he'll start ninth. Again, that's not perfect, but it's still not a bad position to start in. Let's see if we can get some points tomorrow."
Sauber
Sauber managed to get both cars through to Q3 for the first time since China in 2015 – with Ericsson making his first top 10 shoot out for three years. Leclerc produced a storming first flying lap and couldn't better it second time around, whilst Ericsson was short on tyres and only ran once. They will be aiming for double points come race day.
Marcus Ericsson, 10th, 1:35.196
"It is an excellent achievement for the team to have both cars finish qualifying in Q3. We have been strong all weekend, and should have a good chance to score some points tomorrow, which is great. I am confident for the race, and look forward to fighting for a good result."
Charles Leclerc, 7th, 1:33.419
"I am very happy with today. We have made a good step forward since yesterday, and I improved my driving quite a bit. It is great to see the hard work that we have put in this weekend pay off on track. P7 is my best starting position so far this season, so I look forward to the race tomorrow."
Toro Rosso
With both cars set to start from the back of the field, it was interesting to see how much of a part they would play in qualifying. Gasly looked competent in making Q2 before opting not to run again, whilst Hartley's final run in Q1 was compromised by both yellow flags and then traffic. Points here will be a tall order, especially with Honda opting to return to the previous spec engine.
Pierre Gasly, 13th, No time set in Q2
"I think it's been really positive since we introduced the new engine yesterday, there was some noticeable improvements and we decided to switch the engine back for the rest of the weekend to save some mileage for the end of the season. I'm really happy with the car, this weekend in Sochi I have a great feeling but it's a shame we need to start at the back of the grid tomorrow after the engine penalty. Looking at last year's race it seems it might be difficult to overtake here but, with the chassis the way it is, I'm still feeling confident. Tyre degradation will be key tomorrow, so hopefully we can make something with the strategy, I'll give a big push and you never know, maybe we can fight our way through for a good result!"
Brendon Hartley, 16th, 1:35.037
"We didn't put a lot of emphasis on Qualifying today because of the penalties we will incur tomorrow. Yesterday was a big exercise for Honda introducing a new power unit, but the decision was made not to use it for the rest of the weekend. It is definitely quicker, there's no question marks there, but we want it to be perfect for Japan and make sure everything works as it should. What also makes it a tough race for us is starting from the back. Our long run pace yesterday looked promising on the Soft tyre, so I think there could still be a bit to play for tomorrow. We've seen a few incidents here in the past, it's a tricky first corner because it tightens up after the long straight off the start line, so we'll see what happens tomorrow – we will still aim to do our best."
Guillaume Dezoteux, Head of Vehicle Performance
"We had a clean final practice session with both cars which allowed us to complete our programmes. Given our situation, we decided to dedicate some more time to long runs which is something we usually don't do in the Saturday practice session. This allowed both drivers to get a better understanding of their fuel and tyre management in race trim which is our main focus this weekend. Our competitiveness down the straights made a bit of a step back compared to yesterday as we reverted back on the PU specification. This is because there is still work to do in some areas of the new specification, such as calibration and matching the PU to the chassis. We fully support this decision as we will anyway start from the back of the grid here. Our Qualifying session went to plan, and it was good to see Pierre going through with his first attempt. He had a tow from the car in front which helped a bit, but generally we showed we had the pace to easily progress to Q2. We decided not to take part in Q2 as our positions on the grid are defined by the penalties anyway. Brendon's Qualifying session was a bit more complicated and unfortunately his first lap was not quick enough to pass through to Q2. In his second attempt, he got a yellow flag from Sirotkin that compromised his lap. Now we will evaluate different options for the race and we are looking forward to fight in the midfield, especially against the cars that will have to start on the softest tyre."
Toyoharu Tanabe, Honda F1 Technical Director
"We started the day reverting our newest specification Power Unit back to the older spec that's been used in previous races - meaning it's become a busy weekend so far for the Toro Rosso Honda crew. Compared to a normal Saturday, todays programme was more focused on long run set-up. However, our performance today was respectable, so we are still optimistic that we can have a good race tomorrow."
Williams
Williams struggled for pace throughout practice and the same was true in qualifying. Sirotkin managed to spin late on in Q1, doing no harm to his FW41, but bringing out the yellow flags and hampering his team mate's final lap. They will benefit when grid drops are applied, but on this form, will struggle to keep the faster cars behind for long.
Sergey Sirotkin, 18th, 1:35.612
"It was a tricky session and I'm quite disappointed with my mistake at the end. I think we've been struggling quite a bit. I don't think we really had that impressive performance today and I just tried to do more than was physically possible. I just didn't want to do another steady lap, I tried to do something special and I didn't get away with it. Unfortunately, I made a mistake which I'm very sorry and disappointed about. I wanted to do something more than just a good lap."
Lance Stroll, 20th, 1:36.437
"I did my first run but locked up so had to abort that. Then I was on a pretty good lap, but I didn't get a final run because there were yellow flags due to Sergey spinning. We are off the pace, like we have always been, so nothing has really changed. It is frustrating, but we weren't very quick. We will see what we can do tomorrow."
Paddy Lowe, Chief Technical Officer
"It's a very challenging circuit particularly with the hypersoft, trying to get a lap and the best out of the tyre around all sectors. There's a bit of a game here in that you have to leave a bit on the table in sector one to get the best time through sector three. Sergey set a reasonably good time on his first run. Unfortunately, Lance made a mistake; he improved on his second lap with the same tyre set, but this still wasn't a representative laptime. Both drivers went out for their second run and were on much improved laptimes but unfortunately Sergey spun at turn eight and this caused a yellow, disrupting Lance's lap so neither driver improved. We will benefit from a range of penalties around us and get some better grid positions than where we qualified today. Our race pace has been a bit stronger relatively than our qualifying pace so we still see some opportunity for a better outcome tomorrow."
Pirelli
Mario Isola, Head of Car Racing
"Strategy was clearly at the forefront of qualifying, so we're going to see an interesting situation tomorrow with the top four cars starting on the ultrasoft tyre, immediately followed by six cars behind them starting on the faster hypersoft. If you add in to this the number of cars starting out of position due to grid penalties, with a completely free choice of tyres, then we could see a big mix of strategies tomorrow. The ultrasoft starters can target a one-stop race, but the situation for those starting on the hypersoft is less clear cut, even though they should be much quicker off the start line."