Feature
What the teams said - qualifying in Shanghai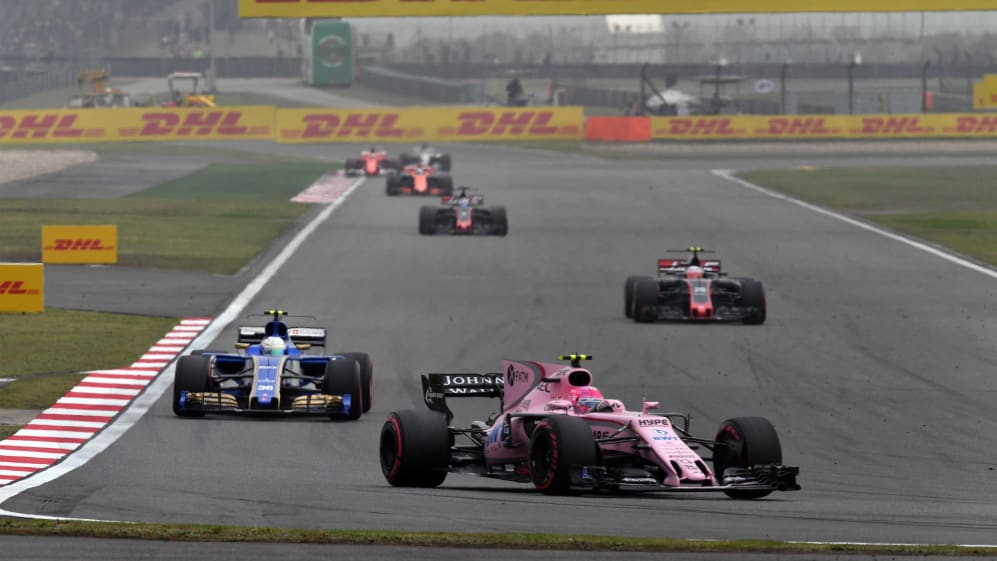 A round-up of all the action from qualifying at the 2017 Formula 1 Heineken Chinese Grand Prix at the Shanghai International Circuit...
Mercedes
After lagging behind Ferrari in final practice, Mercedes looked to have a real fight on their hands come qualifying. Vettel topped Q1 and Q2, but Hamilton pulled a brilliant lap out of the bag when it mattered, grabbing his sixth straight pole. Bottas looked to be lining up alongside his team mate before being pipped by Vettel by the smallest of margins - 0.001s or 5.9cm of track.
Lewis Hamilton, 1st, 1:31.678
"It's been an interesting weekend so far, obviously, after missing running yesterday. It's been a challenge for all of us, trying to compile a lot of yesterday's work into this morning. Ferrari have been so fast through practice and then into qualifying. We knew it was going to be close and that we'd have to pull out all the stops to beat them. I managed to just chip away at it session to session, then make my last lap my fastest lap - which is always the target but doesn't always work out that way. The lap started off not quite as well as my previous attempts. But from there it got better and better. I felt really strong coming into the final corner knowing I was up by a couple of tenths. But it's always a bit nervy going into Turn 14, as you want to brake late to gain some time but it's easy to lose more if you get it wrong. Waiting to find out what the others had done after I crossed the line was pretty tense! I'm really happy with today and super grateful for the huge effort the team had put in to keep us in the fight. It's more exciting than ever right now. We're really fighting these guys out there and that's what racing's all about. It pushed you to raise the bar every time you go out, which I love. A big thank you to all the fans too. There were a lot of British flags out there which is great to see."
Valtteri Bottas, 3rd, 1:31.865
"It's a real shame Sebastian managed to get between us. I think last time it was a couple of hundredths and now it's a thousandth. Around a lap here there are a quite a lot of places you can lose one thousandth of a second, so I will look to see where improvements can be made as always. But anyway, the race is tomorrow and we are first and third on the grid as a team, which is a good place to start. Anything can happen with the weather too. Lewis was strong today and Ferrari were very quick too. We were always expecting a close fight and I think it will be the same tomorrow. Thanks again to the team, who did a great job in the short amount of practice time we had today to get the car set up well. It was really enjoyable to drive. Let's see what tomorrow brings."
Toto Wolff, Head of Mercedes-Benz Motorsport
"Qualifying is a very different experience this year! I find it incredible that you can invent a brand new set of rules, the same for everybody; that the teams go away and do so much work; and still we end up fighting for thousandths of a second to decide positions on the front row. It was a very tense end to Q3 and with everything coming down to that final run. Both drivers improved on their final effort: Lewis did a brilliant lap to convert his provisional pole into the real thing and Valtteri found 0.4s. He had a great final sector but lost out to Vettel by one thousandth - or just under 6cm in distance. It's a great battle with Ferrari and we are putting everything on the line each time we go out on track. For tomorrow, it will be a bit of a voyage into the unknown: the conditions are predicted to be cooler, perhaps wet, and we don't have any Friday data points to work with. So we will need to see if we have anticipated things correctly."
James Allison, Technical Director
"The 75th Formula One pole for the Silver Arrows - what a great achievement for the team! We saw just how close it was in Melbourne and if there was any doubt still remaining, then today has underlined that F1 2017 is a season of very small margins. It's great to get pole position but it's a shame to miss out on a front row lockout by just one thousandth of a second. It's a helpful reminder to us that every single tiny fraction counts. Now we're looking forward to the battle tomorrow with Ferrari. We're expecting a cooler day for the race, wet in the morning before drying out in the afternoon."
Sauber
Giovinazzi was looking impressive once again, and was lying in P15 when he put a back wheel on the grass, spinning his C36 into the tyre wall on the main straight. That ended his involvement in qualifying. Ironically that helped Ericsson sneak into Q2, but didn't have the pace to challenge those ahead.
__Marcus Ericsson, 14th, 1:35.046 __
"First of all, I went to the track with very mixed feelings today, after what happened yesterday in Stockholm – terrible news. Regarding our performance, we should be satisfied with the qualifying result today. FP3 was a productive session with a busy schedule, focusing on qualifying and race preparation, after almost no running yesterday. I put in a good lap time in Q1, which again took me into Q2. P14 is an interesting starting place for the race."
Antonio Giovinazzi, 15th, 1:34.963
"For me it was a disappointing ending to qualifying. It was all good until the last corner of my final lap. I was already in Q2 and improving my lap time, but I pushed a bit too much, touched the grass in the exit of the last corner and then lost the rear of the car. I apologize to the team for what happened. Tomorrow I will do my best to put in a good performance."
Ferrari
Ferrari carried on where they left off in Melbourne, dominating FP3 and looking good at the start of qualifying. Vettel had no answer to Hamilton's pole lap though and had to settle for a share of the front row. Raikkonen lines up directly behind his team mate, after complaining about the front end of his SF70H.
Sebastian Vettel, 2nd, 1:31.864
"It was a bit closer than in Australia, so a good session overall with lots of chances for tomorrow. We'll see what the race can bring, with the different conditions and everything. Of course I would have liked to be even closer, knowing that the Mercedes would be very strong in Q3, as they proved to be. We had some luck with Valtteri, because when you're a thousand of a second apart, it could be one way or the other. I was happy with my lap, even if I braked a bit too early for the last corner, hit the kerb hard and had to wait for the car to settle. That's where I lost a bit of time, but not all the gap to Lewis. There wasn't much more I could have gained. So this result on a totally different track, with conditions significantly cooler than Melbourne, is definitely good news. The confidence is there, I trust what the car is telling me and she seems to respond to what I tell her. It's a good match but we need to improve further."
Kimi Raikkonen, 4th, 1:32.140
"I'm not that surprised from the result after strong performance in Q2, because in the end I was struggling a bit with the front end, especially in the first corners; in Turn 3 there was not much we could gain. It has been tricky to get everything right, with the limited running we had yesterday, and we're still not 100 per cent where we want to be, up there in front. There are some details in the set-up that need to be improved, and as you push more they become more apparent, but it's already better than in Melbourne. Handling-wise the car wasn't bad, even though I had experienced understeer in the beginning and then, for whatever reason, it changed to oversteer. In Q2 I made two runs, because we had tires available so why not go out and see what the other cars were doing? Conditions will be different for tomorrow and there will be a bit of guessing for everyone if it rains, so we'll see".
Haas
Grosjean had a day to forget, spinning after the final corner in an incident which led to a puncture. He did keep his car out of the barriers, though, something his engineers must be thankful for, but had to limp back to the pits. This cost him crucial running time and as such, he was one of a handful of drivers pushing towards the end of Q1 when Giovinazzi crashed. To add insult to injury, the Frenchman was later given a five-place grid drop for failing to slow sufficienctly under the resultant yellow flags. Magnussen had a quieter outing, making Q2 without looking likely to threaten the top ten.
Romain Grosjean, 17th, 1:35.223
"The first lap was looking good in qualifying, then I spun on the last corner for some unexpected reason. We need to look if I went a bit too hard on throttle on the exit. The second lap was actually really good. I was aiming for P10, but Giovinazzi crashed at the last corner and I couldn't complete my lap. It's just hard luck.
"I wasn't so happy with the car this morning in FP3. We struggled a little bit, but we made some gains with changes over lunch. As I said, the car was going to be P10, so we weren't far off chasing Q3. It was looking all good, but then I couldn't do the lap.
"Tomorrow's going to be a long race. We know the tyre degradation will be a huge thing here in the rain, and it should rain. It's a white piece of paper to start."
Kevin Magnussen, 12th, 1:34.164
"I'm fairly happy. We were about half-a-tenth from Q3 and that's the best qualifying I've had for a while. I can't be unhappy with that. It's obviously a little bit annoying not to get through when the margin is so small, but the lap wasn't bad, so it is what it is. I think the car is competitive, especially in race conditions. It's a good car. If it's raining, we have no idea how it's going to be. We'll see how it goes."
Guenther Steiner, Team Principal
"It was very eventful for us. There were good things and bad. It was better than last year, where it was a bit of a low.
"With Romain, you're never unlucky – you make your own luck – and on his first lap he maybe tried too hard. On the second lap, he got into the double yellow and had to slow down, because otherwise he would've moved on without a problem to Q2.
"Everything was possible again to go into Q3. Kevin did a good job. He progressed from Melbourne. He was solid. He qualified 12th. He's making steps, which is very good. He wasn't far off to go into Q3. He was only seven hundredths off. So, there are a lot of positives and maybe we don't see them on the result sheet. It'll be an interesting race."
Red Bull
Verstappen suffered an engine setting issue in Q1, limiting his running. When he did get out for a flying lap, it was interrupted by the waved yellows for the stricken car of Giovinazzi, meaning the Dutchman was the first big name to fall. Nevertheless, Verstappen trying to make his way through the field is a tasty prospect for the race. Ricciardo never challenged Mercedes or Ferrari ahead, but put in a clean lap to grab fifth. After his trials and tribulations in Melbourne, Saturday was a much more positive performance by the Australian.
Daniel Ricciardo, 5th, 1:35.092
"Personally I'm happy with what I was able to get out of the car this afternoon but obviously as a team and as a driver we want more. I felt like up until today we still probably hadn't got the most out of the setup but in qualifying I felt pretty comfortable with the car. I could lean on it more or less as much as I wanted but we are still missing some performance compared to Mercedes and Ferrari. However, I felt we improved the balance a lot from this morning and we made some bold changes which helped us in qualifying. You won't see me looking disappointed if it rains tomorrow as the wet conditions always create more opportunities and it will be up to me to maximise those if it happens. We hope to have a good car in the wet; downforce plays a huge role in those conditions so we will have to wait and see. Whatever happens it will certainly be an exciting race for the spectators and we will do all we can to be on the podium."
__Max Verstappen, 19th, 1:35.433 __
"Starting from nineteenth on the grid is going to be tough but I think there is rain on the way. There was something misfiring in the engine which meant we were down on power, I tried to do a lap that could at least get me through to Q2 but the issue just wouldn't let me. The guys will investigate this evening and I'm confident they can resolve it for the race. It is of course very unfortunate but these things happen and we need to move on. A bit of rain tomorrow will definitely help us but I think even in the wet it will be tough to challenge Ferrari and Mercedes. We need to concentrate on what we have and do the best we can. I will go home tonight, get some good rest and sleep, then come to the track ready to attack on what will hopefully be a wet track. If it is dry tomorrow you lose too much time starting from where I am on the grid. We will see, some good overtakes and exciting racing is what I'm hoping for."
Christian Horner, Team Principal
"A very frustrating qualifying for Max, an unfortunate issue for him that looks engine related but hopefully can be salvaged without penalty for tomorrow. I think Daniel extracted everything possible from the car today, fifth is a fair reflection on where we currently are. Hopefully tomorrow we can make some progress in the race and with the threat of some weather around that can always present some opportunities as well."
Toro Rosso
Kvyat made Q3, but couldn't quite find enough pace to challenge Perez's Force India ahead. Sainz was the unlucky driver eliminated at the end of Q2, being pushed into P11 by Stroll. Nonetheless, with free choice of tyres should the start be dry, Sainz has every chance of scoring some good points.
Daniil Kvyat, 9th, 1:33.719
"We had a lot of things to focus on today and in the end we did a good job. I'm feeling confident and we managed to put some very good laps together – I'm satisfied with my qualifying session! After not the easiest of FP3's – not having run much yesterday, this morning we struggled a bit with the balance of the car – my team of engineers and myself managed to put everything together for qualifying, which ran smoothly. We're satisfied with our performance and getting into Q3 was a nice achievement! I missed out by a tiny bit to P7, but I will try to make up for it tomorrow. If the rain does finally come during the race, it will definitely offer more opportunities, but also more threats – as we know, anything can happen in the rain and we will need to do the best job possible, stay patient and take calculated risks at times. It will be a fun race, whatever the weather!"
Carlos Sainz, 11th, 1:34.150
"It's incredible how tight the midfield is! To see two or three drivers within a tenth means that nowadays qualifying is even more important and even the smallest detail can make the difference. I'm honestly really enjoying these fights and today's has been quite an eventful qualifying session – every lap counts and I was trying to find half a tenth here, half a tenth there… It's exciting! Unfortunately I didn't make it into Q3 this afternoon, but I missed out for so little – it was quite a decent lap so I'm not worried about it. Tomorrow is the big day and we start from P11, which is the best possible result if you don't get into Q3 as we can choose our tyre strategy… If it's a dry race! If it's wet, we know have a strong chassis and I always welcome the rain, so one way or another I think we have opportunities to fight for a good result tomorrow."
James Key, Technical Director
"I'd say that what today proved to us is what we already saw in Melbourne – that its really close between all the teams around us. Unfortunately, Carlos just missed out from getting through to Q3 after not being able to get the best out of his final lap in Q2. With it all being so tight, the smallest hiccup in quali means that you can lose some places and I think this is what happened today… It would've been great for him to have got through! Having said that, he starts from P11, so we will see what we can do from there. Daniil did a great job to get through to Q3 even with what wasn't a perfect lap: he lost a bit of time in the first and second sectors, but finished off with a strong third sector to pull it together. Unfortunately, in Q3 it was again that same third sector which made the difference, but this time it affected him negatively, as he locked his rear wheels into Turn 14 and that lost him a place or two ultimately. Nonetheless, we can't complain, as we got him through and he's in the top ten to start with; it really is all down to the finest of margins in the current situation. Tomorrow could potentially be a very interesting race, given the likely weather conditions. We look forward to it."
Williams
Both cars into Q3 was a positive performance by Williams, and Massa proved there is life in the old dog yet, qualifying in sixth and beating his younger team mate by seven-tenths. Stroll impressed in making Q3 for the first time, and keeping his nose clean in the process.
Felipe Massa, 6th, 1:33.507
"I think it was a very good qualifying session for us. I'm happy with my performance, with my lap and with the balance of the car. We were able to get ahead of Hulkenberg right at the end, so I think we did the best we could today. We need to be completely open minded for tomorrow because there may be crazy weather and there may be rain. But hopefully we can fight and have a good performance like we did in Australia."
Lance Stroll, 10th, 1:34.220
"The first run in Q1 wasn't good. I was just getting into it and didn't deliver the lap I knew I could deliver. On the second set of tyres, I just kind of calmed down and it was an amazing lap; I was really happy with the car. Then moving on to Q2, we had a good session. To get into Q3 the time was a tenth slower than my Q1 lap, but I knew it was good enough. Since I had used two sets in Q1, I only had one for Q3, so I just went for it. It wasn't a good lap, but my goal was to get into Q3. Tomorrow there is a long race ahead of us, so even though Q3 wasn't as good as I think it could have been I am still very happy with the overall qualifying."
Paddy Lowe, Chief Technical Officer
"It was a good turnout in the grandstands here in Shanghai, so I'm pleased we were able to put on some exciting entertainment for the fans in the better weather conditions today. It was a solid job from Felipe; we found good speed in the car, which got us a well-deserved P6. It was encouraging to see where we lie pace-wise at this more conventional circuit; a true test of the car. And Lance was rookie of the day for me! I think he did an incredible job to get himself up to P10 so well done to him. His first time to drive in Shanghai and straight into Q3 without any Friday practice! Now we will look towards the race and see what points we can get from these positions. But overall, I'm really pleased with how everyone has worked together as a team this weekend."
Force India
Contrasting fortunes at Force India. Ocon was one of several drivers who had to slow down for waved yellows after Giovinazzi's crash, costing him a chance to improve. He lines up in P18 (gaining two places thanks to penailties for others). Perez, meanwhile, got the most out of his VJM10 to make Q3. Given they only managed 13th and 16th in FP3, Perez's performance was especially impressive.
Sergio Perez, 8th, 1:33.706
"I'm very pleased with the qualifying result today. It's probably a bit better than I expected, but the team did a fantastic job getting the car in shape for qualifying considering the lack of track time we had yesterday. All of my laps were clean and tidy and I think we maximised the performance today. It's looking like we will have a wet race, which could generate some more opportunities because there will be a lot of unknowns about how the wet tyres will perform. It will be a big challenge but the team is ready for the fight and hopefully we can come away with some more points."
Esteban Ocon, 20th, 1:35.496
"It's disappointing to go out in Q1, but I never got the chance to show the car's full potential. I was setting a good lap time, on the same pace as Sergio, and I would have easily made it into Q2, but the yellow flags for the Giovinazzi crash stopped me finishing the lap. It's a shame, but it's just the luck of the draw and today it wasn't meant to be. I'm still going to put up a fight tomorrow: the weather forecast predicts rain, so anything can happen. Nobody has raced in the wet with these tyres, so it will be a case of learning as we go and making the most of the situation. Mixed conditions should give me a chance to make up some ground and get up into the points, so I will be hoping for rain!"
Robert Fernley, Deputy Team Principal
"It's been a case of mixed fortunes today with Sergio making Q3 and Esteban losing out to the yellow flags in Q1. Sergio's eighth place on the grid represents a great team effort given how disrupted the preparation has been leading up to qualifying. It was very unfortunate that Esteban could not complete his final lap in Q1 because he was on course to comfortably make it through to Q2. Considering the limited time he has had to learn this circuit, he can be pleased with his performance today. As for the race, the forecast suggests that wet weather is on the way, which would certainly mix things up again."
McLaren
Vandoorne's last flying lap in Q1 was disrupted by Gionvinazzi's crash and he was unable to improve, qualifying 16th. His team mate, meanwhile, was once again exacting the maximum from the MCL32. Alonso might have only qualified in P13, but he wasn't holding back...
Fernando Alonso, 13th, 1:34.372
"I think I extracted the maximum from the car today – I was flat-out and pushed like an animal. We were pessimistic going into qualifying, after our FP3 performance had been very uncompetitive and we'd felt we had nothing left, but in quali the car picked up some pace and we were able to make it into Q2 and get 13th, which was a nice surprise.
"For tomorrow's race, the expected rain will help us, since in dry conditions it would be difficult to score points, but in wet conditions anything could happen. We need some chaos in the race, basically. We've raced here in those conditions in the past so we have to use that experience and take any opportunity that opens up in front of us.
"If it rains it will be a good race to watch for the fans: they'll enjoy it and for us it'll be fun too – if we can take our chances."
Stoffel Vandoorne, 16th, 1:35.023
"After practice this morning I felt quite comfortable in the car, but unfortunately it took a bit longer than expected to get out onto the track for Q1, so we had a bit of a delay and had to rush through our programme. I'm a bit disappointed as I felt the chance was definitely there to get into Q2. Having more mileage yesterday would have probably been useful today also – it always helps when you know the track a bit better – but I think our pace this morning was pretty good straight away, so we'll see what we can do tomorrow.
"We're both pushing quite hard and it's normal to try different things on track to be able to extract the maximum out of the car. Today wasn't an ideal session but every kilometre here for me is valuable, so I'm learning a lot with every lap I do. We experienced very variable conditions today – I did one run in the wet yesterday and today was completely dry – but in general I've felt pretty comfortable right from the beginning of the weekend.
"Yesterday wasn't much of a show, and the conditions are expected to be wet again tomorrow, but we'll see. A bit of a mix-up of weather conditions will always be good for us at the moment, so let's see what happens in the race. If it rains again tomorrow, it'll mix everything up for everyone, so there could be some good opportunities for us, and we intend to make the most of them."
Eric Boullier, Racing Director
"Fernando carved a banzai lap in Q1 today to blast his way through to Q2. He then drove another good 'un to end up P13: not a great result in the grand scheme of things, but not at all bad given the long straights that we'd feared might prevent our car from being capable of qualifying even that well.
"By contrast, as in Melbourne two weeks ago, Stoffel was again unlucky. His running in Q1 was unexpectedly curtailed, having been compromised through no fault of his own by the waved yellow flags triggered by Antonio's [Giovinazzi] last-corner shunt, and he was unable to improve on P16 as a result. Obviously we'll never know for certain, but the pace he'd shown so far this weekend indicates to us that he'd have had a good chance of making it through to Q2 if he'd had a clear run at it.
"Moreover, bearing in mind that he's still driven only 31 laps of the Shanghai International Circuit, and had never set his eyes on it before this weekend, I judge his performance here to be very impressive indeed.
"Tomorrow, both our drivers must expect a tough race, whatever the weather, but they'll give it their all, as always."
Yusuke Hasegawa, Honda R&D Co. Ltd Head of F1 Project & Executive Chief Engineer
"We came to China expecting to have a difficult grand prix weekend, which is reflected is our qualifying result. The Shanghai circuit is notoriously difficult on power units and is especially difficult for us with the two very long straights.
"Despite that, I'm very happy with the performances from both our drivers in tough conditions. Fernando displayed once again that he's a world class driver, and showcased his talent and experience with an excellent qualifying lap.
"Stoffel was in difficult situation today as he has barely done any running all weekend due to the weather conditions, and preparation here is key. Despite that, 16th was a great result for him.
"Tomorrow, the start will be the key to a good result, and it's important for us to get both cars to the finish of the race. We're expecting tricky weather conditions so it won't be easy, but we'll work as hard as ever with McLaren to extract the best out of our car."
Renault
Palmer exited in the first part of qualifying, another victim of unlucky timing, with Giovinazzi's last-corner crash costing him the chance to improve. To complete his bad day, Palmer was later penalised for failing to slow sufficiently under yellow flags. By contrast his team mate found a good turn of pace to not just make Q3, but lay down a very decent marker on his sole flying lap to grab seventh on the grid.
Nico Hülkenberg, 7th, 1:33.580
"When we started driving in FP3 I felt immediately positive and happy with the car and its balance. It felt better and more together than in Melbourne, and perhaps this track suits our car a little better too. I think from FP3 to qualifying, we were able to improve the car; I was happy, I was confident and it was a nice surprise when I heard the position over the radio. The forecast says rain for tomorrow, which brings its own challenges, but whatever happens I'll approach the race open minded and do my best."
__Jolyon Palmer, 18th, 1:35.279 __
"The car felt good today; I was ninth in FP3 so there's clearly pace. I then had a flat spot on the first run during Q1, which made my second run critical. That lap was going well – to comfortably put me into Q2 – when the yellow flags came out and I had to lift. It's really frustrating but at least we can see the potential is there. The car feels great but it's all to do tomorrow."
Alan Permane, Sporting Director
"We're happy with Nico's qualifying position and he extracted pretty much the maximum performance possible with the car in its current configuration with the limited about of running we've had here this weekend. It reinforces our belief that we have a good basis for ongoing development. Jolyon had a difficult qualifying session after a promising FP3. He looked to be easily into Q2 before the yellow flags came out. He has it all to do tomorrow.
"We're not as well prepared as we'd hope to be, but nor is any team after yesterday's minimal lap count. We've conducted high fuel work on two of the dry tyres today, however the weather forecast does predict a wet race. We'll adapt to whatever plays out and will be pushing all the way for a strong points haul."
Pirelli
Mario Isola - Head of Car Racing
"This morning's FP3 session was particularly important with many teams splitting their strategies to capitalise on data collection. They still headed into qualifying with limited information, but maximised all the possibilities of the 2017 tyres: pole position was a record-breaking lap, more than 3.7 seconds faster than last year. If it stays dry, a one stop strategy seems optimal, starting on the SS and then doing a longer stint on soft."