Feature
What the teams said - Qualifying in Spain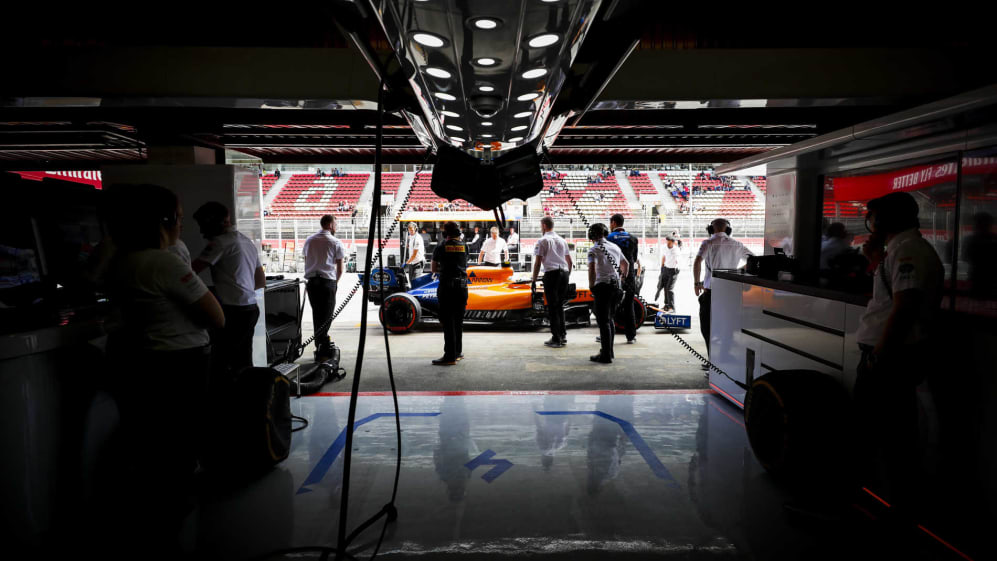 The drivers and teams report back on all the action from an eventful final practice and qualifying at the Formula 1 Emirates Gran Premio De Espana Grand Prix 2019...
Mercedes
Bottas didn't have a great start to the day, spinning into the gravel in practice and getting beached for good measure. That compromised his FP3 but come qualifying he looked back to his best. So much so he took arguably his most impressive pole yet, beating team mate Hamilton by a full six tenths of a second for his third straight pole. Hamilton admitted he had battery issues which compromised his out-lap, but ultimately couldn't compete with the flying Finn today.
Lewis Hamilton, 2nd, 1:16.040
"I wasn't quick enough today and wasn't able to extract the full potential from the car. I have been struggling with the car all weekend, so I will have to look into the details, figure out how I can improve my pace and keep working. Valtteri had a good qualifying session and did a great job, so he deserved pole. Our long-run pace looked good, so hopefully we should be strong tomorrow as well. My starts have been decent so far this year, so hopefully that will continue on Sunday as it's not that easy to overtake on this track."
Valtteri Bottas, 1st, 1:15.406
"This feels really good. In every run in Qualifying I found room for improvement, little bits here and there, and I managed to get everything together in Q3 and had a very strong first lap. I think the package we have brought to Barcelona is working very well and the car was very strong, especially in Sector 3. All the credit for that goes to the team, thank you to everyone back in Brackley and Brixworth. Our long run pace looked good on Friday, but a lot can happen on a Sunday. The start and Turn 1 will be particularly important. Tomorrow, Lewis and I both want to win, so I'm looking forward to a hard and fair fight."
Toto Wolff, Head of Mercedes-Benz Motorsport
"We've brought a number of upgrades to the car this weekend, so it's good to see that we've made a step in the right direction. Valtteri was in good form today and put in a very strong first lap in Q3 and deserves to be on pole. It was a bit of an unfortunate qualifying for Lewis; he couldn't charge the battery properly because he pitted in Q2 and therefore his first run in Q3 was compromised. None of the drivers improved in their second run, because the track temperature had dropped and there was some dirt on the track as well. It's good to start the race from the front row as it is difficult to overtake on this track. Our drivers both want to win, so I'm sure we'll see a fight at the start, but I'm convinced it will be a fair."
Andrew Shovlin, Trackside Engineering Director
"It's a great result to have taken the front row and encouraging to see such potential in the car. Everyone has been working very hard since the car first turned a wheel to solve some of the issues that we've had and it feels like we're making good progress. The car had good pace this morning but needed a bit of work to adjust to the much cooler track conditions. We were lucky to be able to get back out with Valtteri after his spin but fortunately there was no damage and he was able to complete the qualifying practice run at the end of the session. Both drivers were quite happy with the balance and we didn't need to change much going into qualifying.
"Qualifying wasn't quite plain sailing. Valtteri had a fairly clean session and put together a stunning lap for pole. Lewis was catching a bit more traffic which made it hard to get a proper feel for the car and to understand how to manage the out lap. He abandoned his final run in the second session due to a yellow flag at Turn 12, which meant the battery pack was not charged ready for the final session. We therefore put him out on track first so he could manage his own out lap, but it meant we caught a number of the cars who left late. By the final run, it seemed that the track had lost a bit of pace and there was some gravel down so few cars were able to improve. We expect it will be hotter tomorrow for the race so managing the tyres won't be easy but our long runs on Friday seemed strong so hopefully that will carry into the race tomorrow."
Ferrari
They quite simply were not quick enough today. Vettel kept the Silver Arrows honest, qualifying third for the third straight race. He tried something different on his final flying run but complained of understeer and couldn't improve. Leclerc meanwhile lost some bodywork after running over the kerbs in Q2. That meant another run was needed, cost the Monegasque driver a set of tyres and left his Q3 compromised as a result. Fifth was disappointing given he looked a match for Vettel all weekend.
Sebastian Vettel, 3rd, 1:16.272
"We are happy but we're not happy. By that, I mean that the car is well balanced and I think the updates we have brought have helped with the driveability of the car. However, it's obvious that we are still not where we want to be, because we are very quick down the straights, but we are losing too much time through the slower corners. The result of all that is that we are not in front and so we have to continue to work hard. Nevertheless, I think that having a well balanced car means we can have a good race, so I'm ready to give it my all tomorrow."
Charles Leclerc, 5th, 1:16.588
"It is not the qualifying result we hoped for. We have been working on finding the right balance, especially with the new parts we have in place. Unfortunately, we were still a bit off today. I went wide in Q2 and some parts were damaged when I went over the kerb. The team did a great job and tried to fix the car during the session to let me continue driving. After the incident, the balance was different and we have to check our data to make sure we get our car back in shape for the race tomorrow. Our competitors are strong, but we remain confident of our potential and will do our best to catch them."
Mattia Binotto, Team Principal
"It was a difficult qualifying session, as indeed has been the whole weekend so far. In Charles' case, matters were further complicated when his car was damaged in Q2. We repaired it as best we could, but it still compromised his Q3 performance, as he had to attempt two timed laps on a single set of tyres. Having said that, this weekend has highlighted the weak points on our car. We will carry out all the necessary analysis, also after the race, to get a complete picture of where we are struggling. Days like this can show you how to improve and I am sure it will see us perform better tomorrow."
Red Bull
Red Bull suffered from the timing of the red flags in FP3, failing a representative qualifying simulation run for both drivers. Underprepared, their qualifying was a success, with Verstappen in particular looking quick. He lines up alongside Vettel and will fancy his chances at the start. Gasly is directly behind in sixth, and needs a good start to keep the charged Haas boys behind.
Max Verstappen, 4th, 1:16.357
"I think we maximised qualifying today and I was very happy with how close we were to Seb and that I was able to split the Ferraris. The Mercedes cars, and especially Valtteri, were just too quick, but we recovered quite well and the car balance was a bit better than before. Of course, I would have liked to get a bit further to the front, and we still have to find some time but our pace in the long runs was good and in the race we're normally a bit more competitive so I'm positive. Mercedes are quick but I think we can fight for a podium."
Pierre Gasly, 6th, 1:16.708
"Today was pretty positive, and it was a decent qualifying with P6. We knew after FP3 it would be tough and we thought Ferrari would make a bigger step in qualifying, but Max was just a tenth behind Vettel and I was around a tenth behind Charles, so we're a bit closer than we thought. For sure Mercedes are extremely quick but I think we have a decent car and hopefully we can take the fight to Ferrari tomorrow. It could be an interesting race with the option for a one-stop or two-stop, and anything can happen at this track where we know the start is really important, so we'll try to maximise that for tomorrow. There's still a lot of work to do, but overall things are getting better and I think the work we've been doing since the beginning of the year is starting to come together and pay off. Hopefully, tomorrow we can get some good points."
Christian Horner, Team Principal
"With both drivers progressing comfortably through to Q3, the first runs proved to be quicker as the wind probably felt stronger for everybody, and Max came extremely close to snatching third from Seb. Had it not been for a snap on the exit of Turn 15 on his last run, he might have even done it. Nonetheless, to qualify on the second row is a positive, and with Pierre up there in P6 gives us confidence going into tomorrow's Grand Prix."
Haas
Haas looked quick yesterday and they picked up where they left off, getting both cars serenely into the top 10. Once there, they were comfortably best of the rest but couldn't quite take the fight to Red Bull as promised, Gasly a couple of tenths up the road. On a track where overtaking is difficult, can Haas finally bring home a double points finish for the first time this season?
Romain Grosjean, 7th, 1:16.911
"I hope we can carry this form over in the race. Here we've got the tyres to work nicely, an area we've been struggling with recently, but we're happy with today. We're not far off the Red Bulls and we're a good chunk ahead of the cars behind us. I think we can be proud of that. Everyone knows this track very well, so it's not easy to make a difference. We extracted the best from today. It's been a good day – a good qualifying."
Kevin Magnussen, 8th, 1:16.922
"We probably did the maximum we could do today. We were just two tenths of a second from one of the Red Bulls and ahead of the rest of the midfield, so I'm quite happy. We're not quite sure about race pace for tomorrow, we know it's a difficult track to overtake on. Today we were sixth tenths of a second faster than the next best in the midfield behind us, so hopefully we'll have enough to keep those guys behind. I don't think it'll be an easy race, but I think we're in a good position to score good points starting both cars in P7 and P8."
Guenther Steiner, Team Principal
"It was a good result today. The whole team came back after a hard week in Baku to qualify today in seventh and eighth. Everybody did a good job, it's fantastic. It's definitely nice to be in this position again. We're looking forward to tomorrow and hopefully scoring points."
Renault
Hulkenberg locked a wheel in Q1, which was all it took to lose control and plough through the gravel. He returned to the track under his own steam, albeit with most of his front wing under his floor. Renault did well to repair the car and get him back out sporting the old spec front wing, but he exited at the first time of asking. That left Ricciardo to fly the flag, which he did in style. He made it all the way to Q3 but it was his Q2 lap which was arguably his most impressive - nearly a second quicker than he had managed at any point this weekend. He does have a three-place grid drop awaiting, earned last time out for reversing into Kvyat.
Nico Hulkenberg, 16th, 1:18.404
"I'm quite disappointed with myself about that. I made a mistake on the first run, touched the wall slightly and we had to change the front wing and we also suffered bargeboard damage. If you make mistakes, you pay for them. We could have made Q2 at a minimum today. We're lacking a bit of pace and harmony in the car at the moment. We'll give it our best tomorrow and aim for a better result."
Daniel Ricciardo, 10th, 1:18.106
"We did a pretty good job to get into Q3 today. That was the target and I certainly felt after yesterday we had the potential to achieve that. We probably could have been slightly higher in the order for Q3 but I lost the rear out of Turn 13 on the second run and lost some time. That stopped it from being a really good session, but, in any case, it was a strong effort today. We have the penalty to add, but we'll get our heads down in the race and look for points."
Alan Permane, Sporting Director
"We have mixed emotions from today's qualifying session. We're reasonably happy with Daniel's result. We could have done a bit more and we know this isn't our favourite track. Nico had a challenging session, going off on his first lap made it difficult for him to recover. Tyre life in the race could make for interesting strategy variations and, as always, we will aim to maximise every opportunity."
Toro Rosso
Toro Rosso have looked quick all weekend, and Kvyat made the most of the conditions to make Q3 for the second straight race. Starting ninth, the Russian has a good chance of points and will be relieved that Ricciardo's grid drop means they don't share the fifth row, after their antics last time out. Albon made a small mistake on his final run to miss out but has free tyre choice and like his team mate, will be targeting some points.
Daniil Kvyat, 9th, 1:17.573
"Today was a good day and I'm really happy with how qualifying went. Since the beginning of the year, we've made big progress in qualifying and I'm very happy with my performance as well as the team's. That's two Q3 appearances in a row now, and one in Barcelona where qualifying is important to show the car and driver's capabilities. FP3 started off a bit difficult, but we were able to get everything together after understanding what both the car and I needed. The car was behaving really well today, so we'll try and do our best for the race tomorrow."
Alex Albon, 12th, 1:17.445
"Today I made too many mistakes to be honest. We were looking quite strong the whole of qualifying, but I just tried something a bit different into Turn 5 and pushed too much on the entry which led to a big snap on the exit. Since the tyres are sensitive, I was fighting the rest of the lap with the rear tyres and trying to keep them in the window, but I could tell they were sliding too much. It's frustrating because I didn't get the job done today. We knew we were in a fight for Q3, but qualifying 12th and starting P11 tomorrow, I'm still in a good position as our race pace from yesterday looks quite good."
Guillaume Dezoteux, Head of Vehicle Performance
"FP3 was smooth on both sides of the garage, and our main challenge of today was to adapt to the cooler conditions that were not really expected. We worked on the qualifying preparation and Alex was able to finish the session with a competitive lap. It was a bit more difficult for Daniil, and it seemed clear we had some more work to do to make him happier with his car. Given he made it into Q3 again I think we can say we achieved this goal. In qualifying, Daniil outpaced most of our direct competitors and Alex was not far away at all. This was again a very tight midfield and the engineers did a very good job to adapt the cars to track evolution and manage traffic during the session. For tomorrow, our strategy options are open, and we are analysing all the scenarios to convert these good grid positions into points. Our Friday long run pace was competitive and the track conditions should be similar to FP2, so there could be some good opportunities."
Toyoharu Tanabe, Honda F1 Technical Director
"All four cars ran the Spec 2 PU today as planned. Today we managed to get three of our 4 cars through to Q3, in 4th, 6th and 9th places on tomorrow's grid. Albon just missed the cut but his 11th position is not bad, as he has a free tyre choice for the start. As the long run pace looked quite good in yesterday's practice for both teams we hope to finish in good positions, with all cars seeing the chequered flag. For this race, many teams have brought updates, but our competitiveness remains relatively similar to the previous races. Obviously this is not where we aim to be, so we must continue with our development to close the gap."
McLaren
Not the result they were hoping for, with both cars exiting in Q2. Sainz made a mistake on his flying lap, while Norris just couldn't extract enough pace. It was a double blow for the Spaniard in front of his home crowd, as he was out-qualified by a team mate for the first time here. But with free tyre choice and decent race pace, all is not lost for the team...
Carlos Sainz, 13th, 1:17.599
"Today was a tricky session and we still need to analyse why. We were looking good in quali until Q2. A snap in Turn 5 in my last attempt compromised my lap so I tried to recover in sector three, pushed too hard and did a mistake. That's it.
"I'm confident with our race pace and the weekend is not over yet, so we'll prepare thoroughly for tomorrow."
Lando Norris, 11th, 1:17.338
"I'm pretty happy. I improved almost everywhere on my final push laps but maybe a small mistake cost me a couple of places and ultimately a place in Q3. We knew from yesterday quali wasn't going to be amazing but hopefully our race pace looks more promising.
"I'm looking forward to tomorrow with a free choice of tyres having qualified P11, but will move up one place due to penalties. Not a bad day but getting through to Q3 would have been better."
Andreas Seidl, Team Principal
"Our preparation for qualifying was not ideal today as the two red flags and damage on Carlos' car affecting his car balance didn't give us perfect data. We went into quali knowing that there were only a couple of positions left in the top 10 and that we would be fighting with very close competition. Overall performance was just not enough by a few hundredths to get us through to Q3. We now switch our focus to preparing for the race.
"We saw some encouraging long runs yesterday in free practice, and now we have the opportunity of a free tyre choice for the start of the race. Both put us in a good position to fight for points tomorrow."
Racing Point
Stroll's car was repaired overnight after his crash yesterday, but despite being back up and running with the latest spec parts, the Canadian couldn't escape Q1 and exited in the first segment of qualifying for the ninth straight time. Perez did make Q2 but couldn't match his exploits from Baku and wound up 15th. The team don't seem to be on the pace here and could struggle to make inroads tomorrow.
Sergio Perez, 15th, 1:17.886
"It's been a disappointing weekend so far and I don't have the answers as to why at the moment. This track demands a lot from the car - it has a bit of everything - low, medium and high-speed corners – and it's never been our best circuit over the years, so I'm not too concerned. In any case, I'm looking forward to tomorrow - that's the day the counts and hopefully we can score some points. It's going to be tough because track position is very important here, but we will try our best. I think our race pace is looking better than our qualifying speed so that's a positive. Let's see what we can do with the strategy to move forward in the race."
Lance Stroll, 17th, 1:18.471
"It is frustrating to be out in Q1. I didn't maximise the lap, but we knew this weekend would be tough. It is still very tight in the midfield and we were fighting with Renault for space in Q2, but every little detail counts when it's that close. We usually race better than we qualify so we will analyse the data overnight and see what tomorrow brings."
Otmar Szafnauer, Team Principal & CEO
"We've been a bit on the back foot throughout practice and I think that showed in the qualifying result this afternoon. It's one of those tracks where you need the drivers to be totally comfortable with the car balance and it's fair to say we haven't found the sweet spot. With such a close midfield, if you drop a tenth here and there, it's costly. We made some steps forward overnight, but it wasn't enough to get us through to Q3. I think we always knew this was going to be one of the more challenging circuits for us – as it always has been over the years – but looking at the bigger picture we are confident with the development curve of the car. Anyway, it's tomorrow that really counts so we will do our best to race well and get both cars up into contention for points."
Alfa Romeo
Raikkonen has been consistent in qualifying this season, making Q3 three times out of four. But today, the Alfa lacked pace and the wily Finn couldn't make enough of a difference to figure in the latter stages. He did reassert himself though within the team, having been out-qualified by his team mate last time out. Giovinazzi couldn't match his exploits from Baku and exited in Q1.
Kimi Raikkonen, 14th, 1:17.788
"We struggled a bit with the set up at the beginning of the weekend, but then FP3 was quite okay. Then the conditions changed and this made it difficult for us. On one hand I'm not happy, on the other hand we tried everything. We did the best lap of the weekend in qualifying but unfortunately it's not fast enough. It's not one big issue we have, it's lots of little things which we need to work on and improve."
Antonio Giovinazzi, 18th, 1:18.664
"I have been struggling with my brakes all weekend and it was no different in today's qualifying. It's quite disappointing to go out in Q1, I did a mistake in Turn 10, locked up the fronts and that probably cost me a place in Q2. Tomorrow's race will be challenging because overtaking here is not easy. We will continue working on making improvements and see what we can do in the race."
Williams
Russell crashed at the end of FP3 and needed a new gear box as a result, earning himself a five-place grid drop for his troubles. He spun in Q1 for good measure, but maturely put everything behind him to lay down a very decent lap time, the closest Williams have been to the rest of the pack all season. Kubica struggled with the balance of his FW42 and was well off the pace of his team mate.
Robert Kubica, 20th, 1:20.254
"I started the weekend with a positive feeling in FP1, but this disappeared session by session. We kept reducing front-wing and aero balance which should have given us some understeer, but we were still struggling with oversteer, especially on the last run when the track was getting better. The changes that we are making are not giving us the results, so it is a bit confusing."
George Russell, 19th, 1:19.072
"It was a good session, considering the circumstances in FP3. Thanks to the mechanics for their hard work getting the car ready after my error in practice. However, I was really pleased with my last effort in qualifying and I felt I got the most out of the car."
Dave Robson, Senior Race Engineer
"With Robert having missed his high fuel running yesterday, he was able to start FP3 early with a new set of hard tyres and experience the car in race trim. Both cars then completed a programme looking at maximising performance in qualifying in today's cooler conditions. Unfortunately, George had a spin near the end of FP3, which caused some damage to the car, and he will have to take a grid penalty as a result. The red flag also meant that Robert couldn't complete his final run in FP3.
"Our two drivers had slightly different run plans in Q1, reflecting their pool of available tyres. Robert completed three runs, and George two. The variety of strategies adopted by the field in Q1 meant that traffic was always a risk, and both George and Robert had issues in Sector Three, however, in the end, both had clear final laps. Unfortunately, Robert had some oversteer in T4 and lost time as a result. George, in contrast, enjoyed a trouble-free lap and posted a very good time."
Pirelli
Mario Isola, Head of F1 and Car Racing
"Like we thought, this was an extremely rapid qualifying session, with Bottas lowering the pole benchmark from last year by more than half a second and setting another circuit record. We thought that some drivers might attempt to get through Q2 on the medium tyre but this turned out not to be the case, which means that they are either targeting a two-stopper or they feel confident that a soft-hard strategy would work tomorrow. It's going to be interesting to see which option they choose, and whether or not an alternative strategy from outside the top 10 could challenge their thinking. Weather conditions have varied a bit today, and this could be another factor influencing tyre performance tomorrow."