Feature
What the teams said - Qualifying in the United States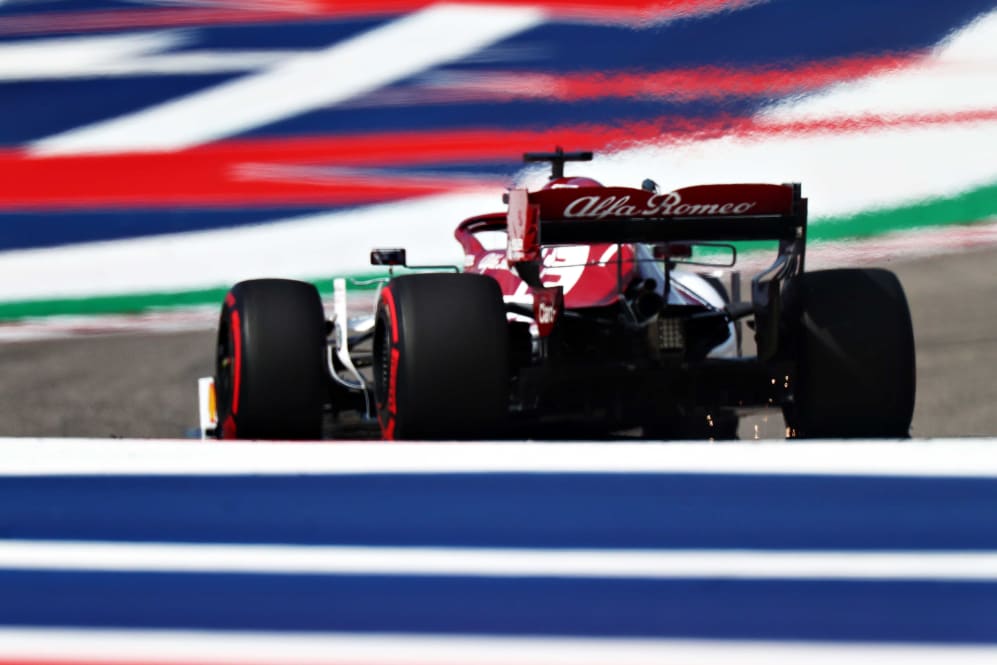 Mercedes
Mercedes picked up the pace on Saturday, and certainly looked to be in the mix for pole. They made it through Q2 on the medium compound tyre, and rolled into Q3 looking in good shape. Bottas absolutely nailed his first flying lap but Hamilton couldn't match him and wound up fifth. By the end of the segment, the track seemed to be lacking grip and with next to no improvements, Bottas was assured of a fifth pole of the season and a first in Austin. Hamilton aborted his lap, winding up rather adrift down in P5. He'll have his work cut out at the start to stay out of trouble in the middle of the pack.
Valtteri Bottas, 1st, 1:32.029
"This is very satisfying - it's been a while since we've last been on pole, so this is a great feeling. I was struggling with the car yesterday, but we've made a number of changes overnight and today the car felt much better. I knew going into qualifying that the car had the potential to fight at the front, I just had to get a good lap together. I'm very pleased with my first lap in Q3; it wasn't quite perfect, but good enough to put us on pole. It's always an advantage to start from the front; now it's up to me to try and maintain the lead at the start tomorrow. Our long runs looked good yesterday, so hopefully we can get a strong result in the race."
Lewis Hamilton, 5th, 1:32.321
"This must be one of the worst qualifying sessions I've had in a long time. Clearly the car had the capability to be on the front row, I just couldn't put the lap together. Valtteri did a great job, so congratulations to him. Now I'll have to try and figure out what went wrong today and how I can get myself to the front. It's going to be a tough challenge trying to get past two Ferraris, a Red Bull and Valtteri, but I'll continue to work at it and hope that I can do a better job tomorrow."
James Allison, Technical Director
"This is our first pole since before the summer break and what a welcome pole it was - incredibly tight, incredibly exciting and fantastic to have Valtteri put our car on the top step today. It wasn't such a happy session for Lewis and a bit of a surprise because he was very strong on the first two sessions. But I think he would be the first to say that was a bit of a messy couple of laps in Q3. He'll live to fight another day tomorrow, we had good pace in the car in the long runs on Friday and we hope that we can make that count tomorrow in the race."
Toto Wolff, Head of Mercedes-Benz Motorsport
"That was an exciting qualifying session - it was very tight, with a few cars within just a few tenths. It's been a little while since we've been on pole and it's a very good feeling to start from the front again, we've all missed it. Valtteri had a strong qualifying and put in a brilliant first lap in Q3 which was good enough to secure pole. Lewis had a trickier time, it just wasn't his qualifying session today, so we'll take a look at what happened. Tomorrow looks set to be an interesting race, it appears to be quite close between the top teams in terms of race pace. It's still all to play for from P1 and P5 on the grid, so we'll give it our all and see how it plays out."
Ferrari
Leclerc's day didn't get off to a good start - the Monegasque pulled over on his out-lap in FP3 with a smoking engine. That cost him the whole session as an oil leak was detected and as such he came into qualifying underbaked. Like their rivals, the Scuderia duo managed to get through Q2 on the medium tyre, thus negating any advantage between the rivals. Into Q3 and it was no surprise that Vettel pushed Bottas the closest, winding up just 0.012s back. Crucially he starts on the front row though, with the winner here never starting lower than second. Leclerc is fourth and will hope for a handy tow from his team mate to help his chances tomorrow.
Sebastian Vettel, 2nd, 1:32.041
"Tomorrow on the grid, I'll be eight metres behind Valtteri, which will seem strange as the gap today in qualifying was definitely smaller! 12 thousandths is really very little and so I can definitely say I was a little bit unlucky. I have to admit that, on my first run, there was maybe some room to be faster, as my aim was to set a good time and then improve on my second set of tyres.
"Unfortunately, I was a bit too aggressive and maybe the track had got a bit slower and that's where the time that might have put me on pole, escaped me.
"It's not bad being on the front row here, as was proved by Kimi's start last year. It will be important to get everything right at the start and not make any mistakes when it comes to our tyre strategy. We saw last Sunday that sometimes taking a risk can pay off, so we will study the situation very carefully before the start. Friday's race pace wasn't that strong, but I think all aspects of the car have improved today, so we will just have to see where we are in the race."
Charles Leclerc, 4th, 1:32.137
"I lost some track time this weekend, having missed half of FP1 and the whole of FP3 today, so qualifying was not so easy. It's not ideal, but it's part of racing. After Q2, I was a bit more confident in the car, but in Q3, our competitors were just too quick. I do always expect more, but I think we can be satisfied with P4 today if we take all the various factors into consideration.
"My focus has now shifted to the race. The start is always tricky here and I hope that it will present us with some opportunities. The track is quite bumpy, but I like that because it makes things interesting. The way in which you deal with the bumps affects the car balance, so it is something you can influence as a driver. Our race pace was not the best yesterday, so we have worked on the car and I am optimist that the changes we have made will pay off."
Mattia Binotto, Team Principal
"It was really tight today, which I think is good for the fight, it's good for the sport, but as Ferrari we are a little bit disappointed, because Seb was so close to the pole time.
"It was a shame that Charles was unable to take part in the morning session because of the engine problem. The lack of running meant he had no time to get a good understanding of the car following the set-up changes we had made to it overnight. I am sure he would have done a much better job with more track time.
"It's going to be a long race tomorrow and we will need a good start and a good strategy to do well. We hope there will be some exciting battles to provide a great show to the fans. It will be important for the drivers to get into a rhythm, while tyre degradation will be a key factor. I believe we have improved from yesterday and I am sure our drivers are in a position to challenge their rivals.
"It's true that we have started from the front a few times without winning, so let's see if this time we can turn things around."
Red Bull
Red Bull split strategies in Q2, as they sent Albon out on the softs but fitted Verstappen with the medium tyres. Both made it through, and it will be interesting to see how that pans out tomorrow. Verstappen managed the better lap in the top-10 shootout, coming within a tenth of the pole lap in what shows a clear improvement on one-lap pace from Red Bull. Albon could only manage a steady sixth.
Max Verstappen, 3rd, 1:32.096
"It has been a good weekend so far and for us to be this competitive on this track is very positive and it shows that the car is working really well. I think in general Q3 for everyone was a bit more tricky than Q2 because of a change in grip but to be P3 and that close to P1 is a good result and I'm happy with it. Of course, we would have liked to be P1 with that margin but this is still a good start and now we just have to hope for a competitive race. We are starting more towards the front than usual at this track, the car balance is good, I think the engine power has also improved and we are all so close. A lot will depend on the tyre life and strategy tomorrow but whatever happens it should be a good race and I'm looking forward to it."
Alex Albon, 6th, 1:32.548
"In the end I'm quite happy and I think we did a good job in qualifying had it not been for my mistake on the last lap. FP1 was pretty good but I struggled in FP2 and FP3 which were two difficult sessions. I found the rhythm again in qualifying and I was three tenths up on my final Q3 run before I ran wide and got my time deleted. I think as drivers we prefer circuits that don't allow you to break track limits because if there's something there to stop you, it will. It was my last lap in Q3 where you're always pushing for an extra couple of hundredths and it was one of those things. I think I was on for a 1:32.2 which isn't the same pace as the guys ahead but I was more or less there. We're the first to start on the soft tyre tomorrow so hopefully it gives us a launch advantage and we can overtake a couple of cars into Turn 1. We just need to avoid the carnage and then hopefully we're in the fight. I think our race pace is always pretty good and let's see what the weather does tomorrow. If it's warmer than today, my tyres will degrade quicker but then the others will have to two stop, so let's see what happens!"
Christian Horner, Team Principal
"It was a really tight qualifying today. Max is P3 and ultimately missed out on pole by just six hundredths of a second so it's ridiculously close. It's good to line-up on the second row of the grid and especially to see the cars' competitiveness at this circuit. Alex continues to make progress and is only two tenths behind Lewis, which is a good performance from him. He'll be starting the race on a different strategy tomorrow with the soft tyre which sets us up for an exciting US Grand Prix, and especially Turn 1. We've been in the top three throughout every session so it's been a positive day and it's clear we've had a competitive car here this weekend. Now we just need to build on that in the race tomorrow."
McLaren
Norris raised a few eyebrows in the paddock today – first with a P3 finish in final practice, before winding up on top of the Q1 segment for good measure. That came at the expense of a set of tyres though, and meant that in the crucial top-10 shootout, he had only one fresh set to his team mate's two. That proved influential, with Norris running his fresh rubber at the end of Q3 when the track had faded away. Thus Sainz out-qualified his team mate for the sixth straight race, but the important work needs to be done tomorrow to bounce back from a pointless race last time out.
Carlos Sainz, 7th, 1:32.847
"Great quali today! We managed to extract the absolute maximum out of the car. Two very good laps in Q3 means I'll be starting again right behind the top teams in P7. I'm expecting a challenging day tomorrow because the wind is changing again from where it was yesterday, and that can make our race trickier.
"So, heads down, good work tonight and let's make sure we finish it off tomorrow. Congratulations to the whole team again. Both cars leading the midfield is always a good sign."
Lando Norris, 8th, 1:33.175
"A reasonable qualifying. It was a decent job through Q1 and Q2. I just had some traffic on my Q1, run one laps, which meant I had to use a second set of tyres, and I only had one set for the final quali.
"I always had a better second run and so in Q3, when I only had one chance, I struggled a little bit more as everyone ahead of me had two sets of new tyres. P7 for Carlos and P8 for me is as good as we could get today."
Andreas Seidl, Team Principal
"Another well-executed qualifying session by Carlos and Lando, together with the team maximising everything we have in our cars. All here at the track pulled together with the team at home last night, making the right conclusions and finding more performance for today.
"This even allowed us, for the first time this year, to save one set of tyres for Carlos in Q1, giving him the chance for two shots in Q3. When looking at the gap to the cars in front we're definitely making progress.
"However, we still need to be cautious for tomorrow with the ambient conditions changing quickly here which may affect our car performance. Starting P7 and P8 puts us again in a very good position tomorrow to score points. We're looking forward to another exciting race."
Renault
Ricciardo had looked the pick of the two drivers yesterday and so it proved, as the Aussie made Q3 here at the expense of his team mate. It was his first top-10 shootout since Sochi in September, but comes at the expense of free tyre choice. With starting tyres proving so paramount in Mexico, will starting 11th actually prove the better position, Hulkenberg able to plan his strategy with more freedom?
Nico Hulkenberg, 11th, 1:33.815
"We weren't quite good enough for Q3 today. I was lacking a bit of pace, some harmony in the car, and I couldn't quite extract that final tenth, which meant we didn't progress to Q3. I was happy with my laps, so we'll have to take that for today. I think eleventh is a pretty good starting position, we have some freedom on strategy, which sometimes works in favour. I'll be ready to attack and fight again tomorrow."
Daniel Ricciardo, 9th, 1:33.488
"We've had a difficult few weeks in qualifying where I haven't been too happy with myself, but today was much better and I extracted more or less everything from the car. We'll give it a go tomorrow, I'll get the horns out and look to advance. We're starting on the Soft, maybe it's not the best tyre to begin the race, but it is what it is. We're on the clean side of the grid too, so we'll be looking to make some places there and get our heads down."
Alan Permane, Sporting Director
"We can be reasonably pleased with today's qualifying but, of course, our target is to always have both cars in Q3. Our Friday high fuel pace looked very strong here, as has been the case at the last few races. We're looking forward to Sunday and we'll be aiming to maximise our chances to get both cars solidly into the points."
Toro Rosso
Gasly was pushing Norris hard in the midfield supremacy battle all weekend, with both impressing today. The Frenchman always looked the pick of the Toro Rosso drivers and was the only one to make Q3 although, once there, couldn't compete with the McLarens when it mattered. As for Kvyat, he wound up 13th – but at least kept his STR14 pointing in the right direction after a couple of spins on Saturday.
Daniil Kvyat, 13th, 1:33.989
"The whole weekend I was struggling with the car, but when we got to Q2 the car felt more alive and I started to understand what the car needed to improve. I'm happy with the laps I did in Q2 as it was a good recovery from a tough weekend so far, it's a nice confidence boost to be able to find good pace when it mattered most. It's a shame my last lap got deleted as I only went off track by the smallest of margins, but rules are rules. We will do our best from P13 tomorrow and I think it can be a very strong race. I've always felt better on Sunday's this year, so I hope I can extract some good pace out of the car tomorrow."
Pierre Gasly, 10th, 1:33.601
"I've felt strong in the car this weekend and we were in the Top 10 in all of the sessions, it felt good as I could push the way I want. We've made it into Q3 for three races in a row, so we can be pleased with that. I'm satisfied with the performance today, and I like the way the team is working together. Tomorrow is the day that counts and hopefully we can continue the run of points to help us in the Constructors' Championship. Our race pace on Friday was good, but the McLarens are fast and the Renaults look strong, so I'm expecting a very tight battle tomorrow! Starting on the soft compound is clearly not ideal as it's a similar story to Mexico, but I think if we have a strong first stint we can look at scoring some points."
Jody Egginton, Technical Director
"Following a productive Friday, Saturday - although a bit tighter in terms of lap time spread across the midfield - has pretty much gone to plan for Pierre, with Q1 being navigated without any problem and the first run in Q2 being enough to get into Q3. Finishing P10 is a good result. Dany's Qualifying session was shaping up OK. However, his best Q2 time was deleted for exceeding track limits at Turn 19, which means he was demoted from P11 to P13. The focus now switches to ensuring that we are well prepared for tomorrow's race in order to maximize our opportunities in what we expect to be another exciting midfield battle."
Toyoharu Tanabe, Honda F1 Technical Director
"Verstappen, Albon and Gasly have shown good pace all weekend, to qualify third, sixth and tenth respectively. Kvyat starts from 13th on the grid and he can still finish in the points from there. Looking at the qualifying times, it looks very close throughout the field and both our teams have been very competitive. As overtaking is possible here we hope that all four cars will finish higher up the order than their starting positions."
Racing Point
Perez was never going to figure much in qualifying due to his confirmed pit lane start, and thus chose to work on long run pace today. As for Stroll, he escaped Q1 for just the sixth time this season and, starting 14th, might fancy an outside chance of points given his race pace is normally vastly superior to his qualifying pace.
Sergio Perez, 19th, 1:35.808
"After missing the weighbridge yesterday, I will have to start the race from the pit lane tomorrow. It's a big shame, but I'm determined to make up for the disappointment with a strong race. We have set up the car totally for the race so hopefully that will pay off. With a fresh power unit too, we will push to make the difference, fight hard and see what we can achieve."
Lance Stroll, 14th, 1:34.100
"Q1 went well, but in Q2 I locked up into Turn 1 and that really put me on the back foot for the rest of the lap, which is a shame. I would have liked to be in the top ten and I think that's where we deserved to be given our overall performance across all the sessions. That can happen in qualifying when you're pushing the limits, and the midfield margins are so tight that a small error can cost you a couple of places on the grid. Now we focus on the race: I'm hoping to pick some places off at the start and race for points. That's the goal for tomorrow."
Otmar Szafnauer, Team Principal & CEO
"Lance has been pretty comfortable with the car this weekend and progressed smoothly to Q2. He will start the race from P14 and, with a strong start, he has a good chance of scoring some points. The long run pace yesterday looked encouraging and there are a couple of good overtaking opportunities on this lap. He will be competitive in the race. With Sergio, we are obviously carrying the penalty from yesterday, which made qualifying a formality more than anything else. Knowing he will start from the pit lane, Sergio simply set a time to ensure he qualified for the race."
Haas
Haas were looking for a stronger qualifying at their home race than they managed last time out in Mexico, and based on final practice, looked to at least be on the fringes of the top 10. Both cars made it through to Q2 but could go no further, with Grosjean in particular irate after falling foul of traffic. He might have his work cut out from 15th, but Magnussen starts 12th and, with free tyre choice, could sneak some points to give the team something to smile about.
Romain Grosjean, 15th, 1:34.158
"I think we got the complete maximum from the car with P15 in Q1 and again in Q2. We've had a complicated weekend with a brilliant car in FP1, then in FP2 we tried a different aero package which obviously had a massive issue in high speed. I reverted to the FP1 package in FP3 and unfortunately had some rear wing issues. We had to change the rear wing to anther spec for qualifying. I think I was losing something like half a second on the straight. There wasn't much I could do. We'll see what happens tomorrow. If it's hotter it might work better for the tyres, but at the minute we're lacking a lot of top speed."
Kevin Magnussen, 12th, 1:33.979
"Not a bad afternoon, it could be worse, I guess. We're just outside the Top 10 with a free choice of tyres for tomorrow. I don't know if that's an advantage, we'll see about that. I haven't looked too much into that myself. I had the car underneath me today, I'm pretty happy with qualifying in terms of my own performance and the team's. We've built up over the weekend and we've had some fairly strict aero programs to get through – it upset the weekend a little, but we did a good job with what we had. We're in the ball park."
Guenther Steiner, Team Principal
"Not too bad of a day today. We got both cars into Q2, so compared to Mexico last week, that's a good improvement. We just need to get our strategy right tomorrow with the tyre choice. Maybe we can make some progress in the race. Maybe we can bring some points home – hopefully. That's what we're going to try to do. It's cool outside and that normally helps us. We're going to try our best to get points."
Alfa Romeo
Alfa are for consistency at the moment and, despite a decent final practice session, saw both cars eliminated in Q1 for the first time this season. Giovinazzi out-qualified his team mate for the fourth time in five races, with Raikkonen showing what a difference a year can make. From winning here last season, to what is looking at being a very long afternoon tomorrow...
Kimi Raikkonen, 17th, 1:34.369
"It's a disappointment to be out in Q1 after a good morning session. I made a mistake braking into turn 12, locked a wheel and that cost me at least three tenths, which would have placed me four or five places higher and into Q2. That was pretty much it after that – without the mistake, I would have easily made the cut. We'll have a lot of work to do to get back into this but we are going to try our best."
Antonio Giovinazzi, 16th, 1:34.226
"We were expecting a lot more today, especially after an FP3 session where we looked pretty good, but in the end I missed out on a place in Q2 for a very small margin, less than a tenth. Starting where we are, the race will be difficult. We will need to understand how to maximise our race pace, believe in ourselves and see where that takes us."
Frédéric Vasseur, Team Principal
"We had made some big steps forward this morning and were quite confident going into qualifying, but in the end we fell short. It is disappointing to lose both cars in Q1, even though the margins were so small that a single tenth of a second here or there would have placed us in Q2. It will not be easy to make up ground starting from the back, but we will try to recover what is possible and make the best use of whatever opportunity we will get."
Williams
Russell kept his qualifying record going, the only driver to still have a perfect record against a team mate this season. The gap today was half a second, with Kubica hopeful of reducing that during the race. With no adverse weather expected, it is set to be a lonely intra-team battle for those two at the back of the grid.
Robert Kubica, 20th, 1:35.889
"The track is really nice to drive and probably the best of the modern circuits. FP3 and my last quali run were good for me, but the gap to George is big. We made a few changes ahead of qualifying to help our race pace, so hopefully that will pay off tomorrow. Overall, it has been ok."
George Russell, 18th, 1:35.372
"I'm really enjoying driving the circuit and the conditions are warmer than yesterday. As the team predicted, we are further away than normal, and this track doesn't suit our car at the moment. There was slightly more time on the table and getting the tyres in the optimum window on an evolving circuit is challenging, nevertheless it was a good lap. I'll go out there tomorrow, have fun and gather more information for next year."
Dave Robson, Senior Race Engineer
"As we anticipated yesterday, the weather conditions were quite different today, helped by the relatively late sessions. The work we completed overnight was beneficial and both drivers were immediately happier with the car in FP3.
"With conditions expected to be stable from FP3 to qualifying, we made minor alterations and gave each driver a Q1 programme which maximised their track time. This gave each the best opportunity to prepare their tyres and to push the car to the limit.
"The team worked very well together to execute an excellent Q1 session and both drivers did a good job, making the most of their opportunity on this fantastic COTA track. We knew where the car would be today but, nonetheless, we worked very hard to maximise what we had. Based on high fuel running yesterday, we expect to be more competitive tomorrow and, like last weekend in Mexico, we will go into the race hoping to fight with both Haas and Alfa Romeo."
Pirelli
Mario Isola, Head of F1 and Car Racing
"Unusually, conditions in qualifying are unlikely to be completely representative of the race, as the grand prix takes place three hours earlier. Today's warmer conditions suited the tyre range better: the result being a new track record. With more rubber being laid down, we also saw a high degree of track evolution. The tactical battle has already begun with Mercedes, Ferrari and the Red Bull of Max Verstappen choosing to start the race on the medium tyre, ahead of those on the faster soft, which should make the first few laps interesting tomorrow. Theoretically, the quickest race strategy is a one-stop using soft and medium, but there's really not much in it. Finally, it was a huge honour for us to have Mario Andretti present the pole award here in America today: a genuine legend of our sport."