Feature
What the teams said - qualifying in the United States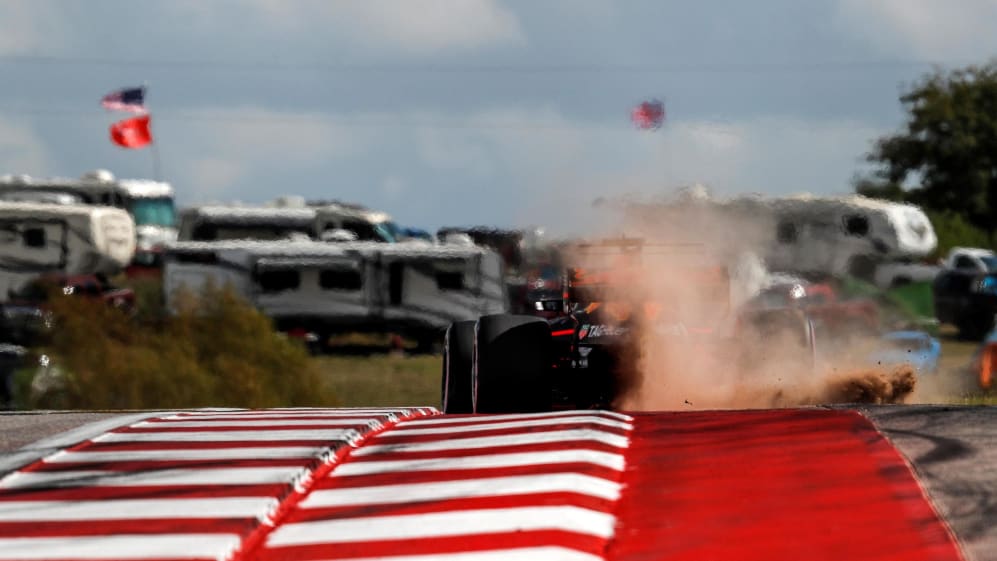 A round-up of all the action from qualifying at the 2017 Formula 1 United States Grand Prix in Austin...
Mercedes
Hamilton had led both practice sessions on Friday and continued his imperious form, topping FP3 and looking untouchable in qualifying to record his 72nd pole position. Bottas looked to have rediscovered his form and was challenging for the front row, but couldn't improve on his second flying lap in Q3 and was just pipped by Vettel. Nonetheless, with Mercedes looking to secure the constructors' title tomorrow, starting P1 and P3 is still a very solid result.
Lewis Hamilton, 1st, 1:33.108
"The team have done an exceptional job all weekend to filter the data that we have gathered and put the car in the right place. This is such a fantastic circuit - it's really challenging, you're constantly dancing with the car. I'm really happy to be on pole, but we know we're often strong through practice and qualifying and have found the races tougher this year. I'm looking forward to a nice race tomorrow with Sebastian and Valtteri. This is a track where you can follow and overtake. I remember the race in 2012 when I passed Sebastian for the win - I hope he's not that close tomorrow, but let's see."
Valtteri Bottas, 3rd, 1:33.568
"It was quite a tricky session; each lap was different because of the wind. Otherwise, it was a pretty straightforward day. We've made quite a few set-up changes over the weekend as we work to make the car quicker. There were no big mistakes; I was just lacking that extra bit of pace. I was losing most of the time in the last sector, but that's not a big surprise as that's where the slow-speed corners and technical sections are. However, anything is still possible tomorrow. Our race pace looked promising, so it should be a good fight. Three teams can win tomorrow, so we really need to give it everything we've got."
Toto Wolff, Head of Mercedes-Benz Motorsport
"That was an unusual end to the qualifying session, with neither driver improving on the final run, but we must be very happy with that pole position. Lewis has been faultless in the past few races and this was another great lap - it's a strong circuit for him and he has enjoyed a healthy advantage all weekend. Valtteri made good progress with the car overnight and was much closer in qualifying than yesterday in practice; but he couldn't make another step on the final lap, so was beaten to the front row by Vettel. This just shows the fine margins that we are working with when it comes to putting every piece of the puzzle together. However, P1 and P3 are very good starting positions to have a strong race tomorrow."
James Allison, Technical Director
"I am delighted for Lewis to have secured pole position - and the team's fourth in a row at this circuit. Any day when you start a Grand Prix from P1 and P3 is a good one. But after the metronomic progression through each round of qualifying, we were left with the feeling that there was perhaps a tenth or two more in the car on that final run, and that the front row was within our grasp. However, it would be churlish to be anything other than delighted with the result. Looking forward to the race, the combination of good grid positions and our high fuel running on Friday shows that we have a good opportunity for both cars to have a strong race."
Ferrari
Vettel and Raikkonen looked very evenly matched during qualifying, with the Finn coming out the better of the two on their first runs in Q3. Vettel pulled a perfect lap out of the bag when it mattered though to grab second and ensure he lines up alongside his championship rival come race day. Raikkonen had to settle for fifth, after recording an identical time to Ricciardo ahead but losing out on the place by dint of setting his time later in the session.
Sebastian Vettel, 2nd, 1:33.347
"My final lap in Q3 was good enough for the front row and in the end we got closer than we had expected. I am looking forward to the race, and then tomorrow we'll see what we can do. The car is good and generally we have a better pace in racing, so it should be better tomorrow. Again, the team did a splendid job in rebuilding the car around a different chassis overnight and not even breaking the curfew! For tomorrow we need a good start first of all and then we need to put pressure on our competitors. I'm not too concerned about starting on the less rubbered-in side of the track, as we've seen in the past here that you can attack. We have the car to do so and we can fight."
Kimi Raikkonen, 5th, 1:33.577
"Today the car was better than it had been so far this weekend. After the Friday session we made some changes and in qualifying I had a good feeling. We tried our best, but fifth position was the maximum we could get. I think there was more to take out of the car, but in some places it was a bit tricky to get it right. I struggled to put all the corners together, some laps were good and in some others it was more difficult. It was a decent qualifying, but for sure it could have been better, so I can't be satisfied with the result. At the start tomorrow it will be quite tight; we'll try to make a good getaway from the line and see what we can achieve at the first corner…"
Haas
Grosjean ran wide in FP3, beaching his VF-17 in the gravel and ending his session early. Luckily there was no lasting damage and he was able to take part in qualifying. He did have his second moment of drama in Q1 when he again explored the track limits only to encounter Stroll doing the exact same thing which led to the Frenchman having to make a swift foray onto the grass to avoid contact. His team mate was also having an eventful session - Magnussen was handed a three-place grid drop for blocking Perez, but given he qualified in 20th, this won't impact him much.
Romain Grosjean, 14th, 1:35.870
"It's been a tough weekend up to qualifying. I hadn't run any ultrasofts before qualifying. Yesterday we broke a part on a quali run, and today I spun in FP3 before I could try them. The incident with Lance Stroll (unnecessarily impeding another driver) was unexpected, and pretty close. I was lucky not to spin on the grass, which would've been a disaster. It would've been the end of qualifying. We went through to Q2, which was good as it was the maximum we had in the car. We pushed really hard and closed the gap from seven tenths to two tenths to the guys in front, but we still haven't really been performing well this weekend. I think it's more tire related, and that's where we've got such a strong swing of performance. We need to get on top of that. Hopefully, we can give the fans something special for tomorrow."
Kevin Magnussen, 20th, 1:37.394
"Something wasn't right. I mean, we haven't had it right all weekend, but suddenly I didn't have any grip at all and I have no idea why. I don't have any answers for why I was the slowest car on track. It's very disappointing. It felt like the tires weren't even new. It felt like a used set – it was new, but the feeling was very bad. And then, of course, I got in the way of Sergio (Perez). He was on an out lap and I didn't let him through, so I can understand if he's pretty angry with that, but I can only say it was a mistake."
Guenther Steiner, Team Principal
"Not the easiest of days for us today. It looked like Kevin just couldn't find a balance on his fast lap. Romain did the best he could do with the car to get his fast lap. With Romain starting 12th after penalties for the other guys, we'll try to get in the points tomorrow with him. It'll be more difficult for Kevin starting in the back, but with the starts he's had in these last races, you never know where he could end up by turn one. Now we get prepared for tomorrow and try to do our best."
Red Bull
Verstappen had looked to have the beating of his team mate all weekend, and with a grid drop looming for a change of power unit elements, opted to set his fastest time in Q2 on the supersoft tyres. But when the ultrasofts went on in Q3, it was Ricciardo who drove a clean lap to grab fourth, with Verstappen making a mistake and winding up in P6 before his grid drop is taken into account. Nonetheless, the prospect of the feisty youngster making his way through the field in the race is one to look forward to...
Daniel Ricciardo, 4th, 1:33.577
"I was happy when I crossed the line and could see I was fourth. But then I was only a hundredth off Valtteri so I was kind of happy but then I was like: a hundredth is nothing, but I felt with what I had that was all I could do. Q1 I was miles off the pace and even this morning in FP3 so it hasn't been the easiest weekend up until now. The wind was a big struggle for everyone today. The track is really open and the wind blows from all directions so it's quite strong. That factor combined with the track being a bit bumpy and slippery is why the lap times are not crazy fast this year. But then towards the end of Qualifying on the last lap we managed to find a little bit more so that was positive and I'm happy to end there. Second row is good enough to fight tomorrow."
Max Verstappen 6th, 1:33.658
"Today did not go as planned. The car balance was good so it was definitely possible to go quicker but I made a mistake. I'm not happy with that so I would class this as a very disappointing qualifying. In the last sector I lost a lot of lap time which is really frustrating, I think if not I could have been up with Sebastian in P3 which makes it even more disappointing. I had a new engine which felt ok; I need to check the data but everything seemed to work well. I qualified on the Supersoft so we will have to wait and see what I can do on that tomorrow. We have the car and the performance is there so even though I am starting at the back of the grid I'll try to overtake as many cars as possible and move through the field. To get back to sixth would be good and anything higher would be great. My long runs have felt strong all weekend so we will see how the degradation goes and start from there."
Christian Horner, Team Principal
"Overall, a satisfying Qualifying, particularly for Daniel, who extracted the maximum from the car in Q3 today to pip Kimi for fourth place and take a place on the second row. Max unfortunately made an error in the final sector which cost him but it is relatively immaterial knowing he will be starting towards the back of the grid for tomorrow's grand prix. COTA offers opportunity for overtaking, and our drivers are not shy of that, so we will be hopeful both drivers can make an impression on the race tomorrow."
Toro Rosso
Rookie Hartley was always up against it in his first qualifying session. He briefly looked to have done enough to scrape into Q2 before late improvements dropped him down. Kvyat did make Q2 and qualified in P12, a good effort for the Russian who was understandably pleased with his lap. With his future at the team in doubt, his description to his race engineer that he "closed his eyes and went for it" seemed particularly apt.
Daniil Kvyat, 12th, 1:35.529
"I'm very pleased with today's qualifying. We did a good job with the limited information we had and set the car up well after missing out on a lot of this morning's FP3 – I think we reached the limit of the car with my last Quali lap, so we can be happy – the engineers did a fantastic job! I feel good in the car and we'll try and turn today's P12 into points tomorrow. Anything can happen in the race so we will just need to stay cool, look after the tyres, keep the strategy open and give it our all!"
Brendon Hartley, 18th, 1:36.889
"A difficult qualifying session – still a lot to learn! – but I'm smiling! These cars are incredibly fast and awesome to drive and when you go out on low fuel and new tyres it's such a peak in performance! I didn't quite nail the session, but I can't forget that I've been thrown in the deep end here, so I'm pretty satisfied with how the weekend has gone so far. My long-run pace is pretty good – I guess that's what I know how to do well anyway from endurance racing! I feel quite confident managing tyres, so I'm looking forward to the race tomorrow. I haven't done a standing start in a long time, but hopefully I can manage a clean start and see what we can do after that. I'm really enjoying my Formula 1 debut! There'll be a few butterflies in my stomach tomorrow for sure, but I've been pretty relaxed all weekend – I'm trying to tell myself it's just another race, even though I know it's obviously not…it's really my F1 debut! But I'll sleep well tonight and push as hard as I can. I'm excited to see how far we can move up the grid tomorrow!"
Jody Egginton, Head of Vehicle Performance
"Overall today has been slightly more difficult than it should have been due to the issue with Daniil's car in FP3, but we have done a reasonable job to get him back up to speed from this setback. The set-up changes made overnight provided the expected performance improvement on both cars, however, the windy conditions have contributed to some changes in car balance and the drivers have had to adapt to this.
"Brendon made a good step in his short run performance in FP3, taking more from the two ultrasoft tyre sets and making another step with this in Qualifying. This was important as it was one of the areas which we could not manage to fully explore during Friday due to limited tyre sets and the damp conditions. Unfortunately, Daniil's FP3 ran less smoothly because of an issue with the front suspension significantly effecting car balance and, with insufficient time to resolve the issue, he was not able to set a clean baseline or run the ultrasoft.
"We elected to allow for three runs in Q1 and Daniil made the most of the final Q1 run and progressed to Q2. Brendon's progress was also good and looking at his runs it's fair to say that if he had one more run in Q1, he probably would have made the cut for Q2. Daniil's final run in Q2 was very tidy and within a tenth or so of what was possible. With penalties applied, Daniil will start ahead of his qualifying position so we are in the mix and well placed to be able to race our closest competitors. We now switch focus to the race strategy with the target to get both cars as far forward in the race as possible. In the case of Brendon, given his PU penalty, we will be investigating options for alternative race strategies which, if the opportunity presents itself, we can utilise to allow him to move forwards and gain track position. With Daniil starting ahead, the approach will be slightly different as we will need to give more consideration to potentially undercut or overcut our closest competitors in order to move forwards or consolidate track position.
"Looking ahead to the race, tyre allocation for both drivers provides a good level of flexibility so we can adapt if required. With our long run pace on Friday looking reasonable, and the basic package working in line with expectation, we have the possibility to score points if we can optimise our race. However, the midfield is super tight and even a small mistake can cost points so we need to stay focused."
Force India
Force India once again got both drivers into Q3 but it wasn't all plain sailing. Perez was impeded by Magnussen in Q1, ruining his flying lap and costing him a set of ultrasoft rubber. As a result he only had one set of fresh tyres for Q3, something he was left to rue when he could only manage tenth. Ocon was three places and four-tenths of a second ahead, and so Force India will fancy their chances of recording another double points finish.
Esteban Ocon, 7th, 1:34.647
"I'm happy with the result today. The team has done a fantastic job once again and we have been strong in every session. We have a great chance to pick up a big bunch of points tomorrow. It was not an easy qualifying session for me because I did not feel well. I had a very bad headache and problems with my stomach. So I am glad to have made it through the session with a strong result. I now need to get some rest and try to recover to be ready for the race tomorrow."
__Sergio Perez, 10th, 1:35.148 __
"It's quite disappointing to end up tenth because I know I had the pace to be at least seventh or eighth. My qualifying was compromised in Q1 when Kevin [Magnussen] blocked me. It cost me an extra set of tyres in Q1 and it meant I went into Q3 with just a single set of fresh tyres. I had to do my final lap on used tyres and had to settle for tenth place. I can't wait for the race tomorrow. I hope we can get a good start and make up for some of the ground we lost today."
Robert Fernley, Deputy Team Principal
"Another strong performance with both cars making it through to Q3 this afternoon. After the grid penalty for Verstappen, we expect to line up in sixth and ninth places tomorrow, which gives us a great opportunity to score good points. We had to work hard yesterday and this morning to dial the car into this circuit – much more so than in Malaysia and Japan – but the team did a fantastic job overnight and took the right decisions ahead of qualifying. Sergio was a bit unlucky during the session and didn't maximise the car's potential, but the race pace is very encouraging for tomorrow. Esteban was a little under the weather during the session so to qualify in seventh place is a tremendous effort."
Williams
Massa had looked to be a top ten contender through all the practice sessions, but was just pipped at the end of Q2 and qualified 11th. When grid penalties are taken into account, the Brazilian will move further forward and with free tyre choice is handily placed to bring home some points for Williams. Stroll had a tougher session - a deployment problem robbed him of power and he exited in Q1, but not before impeding Grosjean and earning himself a three-place grid drop for the race.
Felipe Massa, 11th, 1:35.155
"My lap was clean. There was little difference between three teams today but, unfortunately, we were the car behind. We need to analyse everything. My lap was clear, no mistakes, but, unfortunately, we couldn't get to Q3. I was happy and confident with the car the whole weekend, the only thing I expected was to improve more."
Lance Stroll, 17th, 1:36.868
"It was a bad day. It was a problem with the power unit not deploying its energy correctly. It cost me eight tenths of a second on the back straight and it cost me my last lap. It is just one of those things, not a human error, just an unlucky situation. With these very complicated power units this sort of thing can happen, as the energy went into a saving mode and not a qualifying mode. I am obviously very disappointed, but now we can see what we can do tomorrow as there was more pace in the car. It's another race, we are starting near the back and we will go forward."
Paddy Lowe, Chief Technical Officer
"It's disappointing not to get either car into Q3 as we felt we had the potential to do so. Lance had a problem in Q1 on his second run with the lap trigger which caused some problems with energy deployment. He lost eight tenths down the back straight, which clearly would have been more than enough to put him into Q2, but, unfortunately, he was knocked out in P17. In Felipe's case, it was a very close fought battle at the end of Q2 for the final spots in the top 10. He missed out by about half a tenth, so he finished in 11th place. We will benefit from a number of grid penalties which puts us within touch of the points tomorrow, so we look forward to seeing what we can do in the race."
McLaren
McLaren had been flirting with the top ten all weekend at a circuit that doesn't handicap the MCL32 as heavily as other tracks, and were right in the mix at the end of Q2. Vandoorne couldn't improve when it mattered, but Alonso pulled out one of his classic, faultless laps to make the final segment of qualifying. Once there he managed P9 and will hope to match his race result from last year when he came home fifth.
Fernando Alonso, 9th, 1:35.007
"We had some concerns before coming here about how competitive we could be, but we put the car on track and immediately performed quite well, being in the top 10 in every single session, and that was a nice surprise. We also brought some updates here and they are working fine.
"The car felt great today. We had difficult conditions out there – it was very hot and windy in qualifying and the grip level was lower than we expected. In those conditions our car performs extremely well, so our lap in Q2 was good and we were able to make it into Q3, with ninth place overall.
"Tomorrow we'll start eighth, due to Verstappen's penalty, so I think it's a great chance to score points.
"We know we still have a deficit on the straights compared to other teams and we'll probably be a little exposed on the first lap because we're in a group, but after the first lap has settled I think we could open up the gap in the high-speed section and maybe defend a little bit better.
"We're definitely happy to race here in front of the US fans and I think they'll see a great race tomorrow!"
Stoffel Vandoorne, 13th, 1:35.641
"The result is probably as much as we could have expected today, as I've been struggling a bit this weekend. From FP2 I haven't really felt comfortable in the car and it was quite difficult today. FP1 was good – I had a busy aero programme with a new front wing and I finished fifth in that session. We then swapped it to the other car after that, and ever since we returned to the previous spec we've been on the back foot a bit and struggling with the car balance, which has continued up to qualifying.
"I haven't really found the right balance across the corners or been able to get the car together as I've wanted it, but as I have a five-place penalty it made sense to give the front wing to Fernando as he has a better chance to finish in the points. With the penalty we're not really in an ideal position, but that's the way it is, and hopefully we can have a better day tomorrow. It's a challenging track and a long race, and hopefully with the degradation there are some opportunities to get back some positions.
"It's reassuring to see Fernando through to Q3 with the new front wing and it looks like it's performing very well. For tomorrow, we need to analyse carefully how things are developing, but I think our long-run pace is probably a bit better than our short-run pace. If you look back at the whole season it's been pretty difficult for us to overtake, but we'll have to wait and see. The start has always been quite tricky here with the wide first corner and steep uphill section, but if we have a good start we can wrestle ourselves into a better position.
"The fans are amazing here and wherever we go for the events we do they are cheering us on – it's really good to see and hopefully we can put on a good show for them tomorrow."
Eric Boullier, Racing Director
"Today both drivers did well to maximise everything they had in their armoury for qualifying. Fernando ran a newer-spec front wing than Stoffel – since he won't be penalised by grid penalties, unlike his team-mate – and we knew that on this track there was the potential in our package for him to get into Q3. He put in some great laps and pushed the car to the limit of what was possible, so we're pleased he was able to get through and qualify in ninth.
"Stoffel had a more difficult session than Fernando and he and his engineers had hoped to find a better balance in the car. From FP2 onwards he wasn't able to find the sweet spot that he found in FP1 with the updated components, but drove well under the circumstances to qualify 13th.
"Fortunately, both drivers will benefit from the penalties of others in tomorrow's race, which has mixed up the starting grid and promises a dramatic first few laps at the very least. Stoffel will only lose one place on the grid rather than five, starting 14th, and Fernando will start eighth. Although it will be more difficult for Stoffel, we'll focus our attention and preparation on the strategy for tomorrow's race in an effort to maximise every opportunity for a points-scoring result at COTA for both drivers."
Yusuke Hasegawa, Honda R&D Co. Ltd Head of F1 Project & Executive Chief Engineer
"The second day of the United States Grand Prix took place under Texas bright sunshine and boiling hot temperatures. Despite the tough conditions, our qualifying was rather positive for the team.
"As both drivers felt there was more room for improvement in terms of the set-up after yesterday's sessions, we focused on finding the best balance of the car in FP3.
"Thanks to the team's hard work, Fernando managed to advance into Q3 in qualifying once again, showing a fantastic run. It was disappointing that Stoffel missed out on Q3 but I think both drivers showed decent improvement compared to yesterday's performance.
"Our PU performance this weekend is as we expected, and I'm looking forward to tomorrow's race and hopefully scoring some points."
Renault
Hulkenberg knew he had a grid drop for the race and as such didn't come out to contest Q2, Renault opting to preserve tyres instead. Sainz needed to pull a good lap out of the bag to make Q3 which he duly did in the dying seconds. Once there, he alone opted for just the solitary run, and out-qualified a Force India and McLaren by grabbing eighth.
Nico Hulkenberg, 15th, 1:35.740
"We have a twenty-place grid penalty for the race, so regardless of where I qualified, I'll be at the back of the grid tomorrow. We opted to have flexibility on strategy as we can choose our starting tyres, and this also saves car and engine mileage through not running to the end of the session. The car felt competitive today, as we saw by my being in the top ten with a single Q1 run. It's a track where you can overtake, so tomorrow has interesting possibilities. I'm looking forward to a good bit of racing."
Carlos Sainz, 8th, 1:34.852
"There's been a lot to adapt to over this weekend but I'm incredibly proud of what we've been able to achieve; it's not a bad effort for our first qualifying together! It wasn't the easiest session with the changes in temperature and with the wind as I didn't know how the car would react to this, but we did a good job so I'm very happy. Coming to a new team late in the season was always going to be a challenge, but everyone at the team and back in the factory has made things very easy for me. I'm looking for a clean race tomorrow. There's more speed in the car and in me as I adapt further, so to finish in the top ten higher than where I start is the target."
Alan Permane, Sporting Director
"Qualifying was a little bittersweet today. First, congratulations to Carlos; he is having a fantastic first weekend so far. He went comfortably into Q3 and had a good lap for P8. Carlos will start seventh with Max Verstappen's penalty. For Nico, we specifically elected to do one run in Q1 as his penalties mean he would start from the back regardless and avoiding Q3 means a free choice on starting tyres tomorrow. We are optimistic for both drivers to get into the points on Sunday. The car is working very well here; we made some decent aero progress on Friday and we feel we've made a step forward with the car this weekend."
Sauber
Sauber have been lagging at the back of the pack in qualifying since Hungary, but looked more competitive around the Circuit of The Americas. Ericsson grabbed P16 in his best qualifying performance since Spain, and while Wehrlein couldn't match his team mate he did out-qualify Magnussen. When grid penalties are taken into account, both Saubers start in the lower midfield and with a bit of luck might even challenge for points...
Marcus Ericsson, 16th, 1:36.842
"It was a positive day for us. During FP3 this morning we made some steps forward by bringing the tyres into the right operating window. That helped us to extract the maximum out of the car. I also put in a good lap at the end of Q1. It is a satisfying result compared to the last GP weekends. We are going into the race with a good feeling."
Pascal Wehrlein, 19th, 1:37.179
"I am not satisfied with today's qualifying. Things were looking good yesterday, but today I did not feel comfortable with the car balance in FP3. At the beginning of qualifying, I started off OK but in my last lap in Q1, I went off the track. We are now looking into the data in order to make progress for tomorrow's race."
Pirelli
Mario Isola, Head of Car Racing
"The tyres behaved in line with expectations, following more consistent running in warmer conditions today after a disjointed day yesterday. Again, we've seen the lap record broken today, but long runs suggest that race pace among the frontrunners should be quite closely matched. We expect two pit stops to be the favoured strategy: however, this will very much depend on track temperatures and degradation rates. This circuit provides good overtaking opportunities, creating possibilities for teams to adopt different strategies if the race circumstances suit them. With some drivers starting out of position due to grid penalties, this means that there could be some intriguing tactics, as we already saw in qualifying."