Feature
What the teams said - race day in Abu Dhabi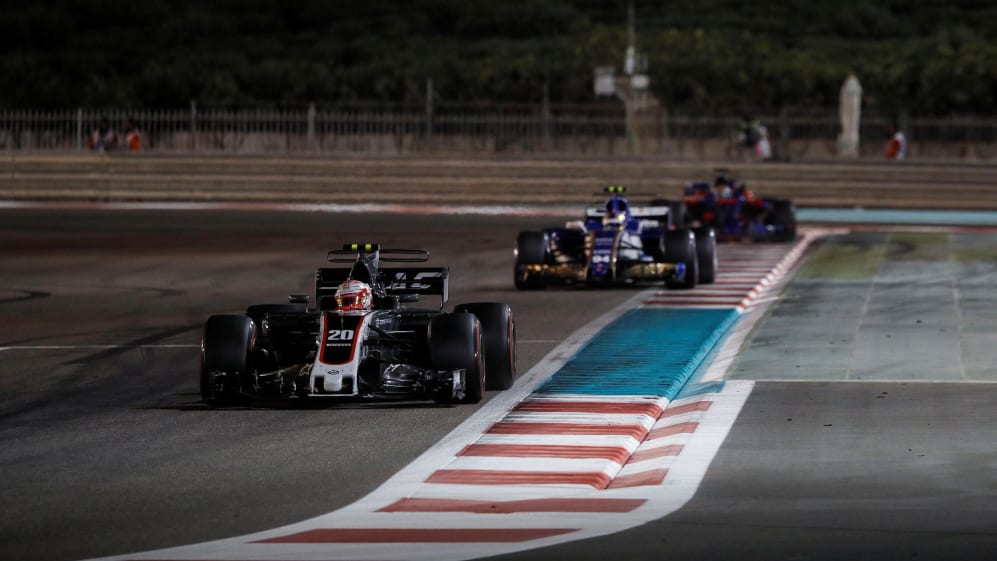 A round-up of all the action at the 2017 Formula 1 Etihad Airways Abu Dhabi Grand Prix at the Yas Marina Circuit...
Mercedes
It was a dominant final performance from Mercedes, with Bottas leading from the off to record his third victory of the season. Hamilton followed him home, having kept him honest throughout the race without ever looking likely to challenge for the lead. It wasn't enough for Bottas to sneak into second in the Drivers' Championship, but it was a timely reminder of his capabilities as the focus turns towards next season.
Lewis Hamilton, 2nd
"A great race, a great battle at the end of the season. I did the best I could, but Valtteri did a great job - very clean and no mistakes. This is one of the harder tracks to overtake; you need to be 1.4 seconds faster than the car in front to overtake. I had a lot of pace in the second stint, but as soon as I got into that window of about 1.2 seconds, I was done. But it was neat that you could push all the way on the tyre, it didn't seem to drop off that much. It's really great for Valtteri to have this win, this is a real boost for him to go into the winter with. Now I'm looking forward to some time to sit down with my family and just reminisce about the whole year. It's been such a strong year, the team have been phenomenal all year long. I'm so grateful for everyone's hard work back at the factory and for all the support from Mercedes."
Valtteri Bottas, 1st
"There was a lot of pressure from Lewis from behind throughout the entire race. I knew that one proper mistake could have ruined it. I had to keep my head down and go lap by lap. I couldn't be happier to end the season like this. Of course, it would have been nice to get the second place in the championship, but Sebastian had a good weekend as well. Looking at the overall season, I need to perform better; but I'm very pleased with how the end of the season has been going for me. I'm really happy to be part of the team that won the constructors' championship. Mercedes has given me the opportunity to win a few races and claim a few pole positions, so I'm a really proud team member. However, I was hoping for an overall better result in the drivers' point. I've learned a lot this season, so now I'm really looking forward to next year. This weekend shows that I can perform, I can be on pole and win races. So now I need to try and do it more often next year."
Toto Wolff, Head of Mercedes-Benz Motorsport
"This was a special way to end a special season: a dominant 1-2 finish in the final race of the season gives us good momentum into the winter. The car was magnificent today - quickest in qualifying and also in race conditions, on both types of tyre. I am really pleased to see the way that Valtteri has worked out of the difficult races after the summer to finish the season like this, two pole positions and the final win of the year. It was simply his race today. As for Lewis, this has been the best performance I have seen in all five years working together - he has become more rounded as a character and just as impressive as a racer. But although we had a strong result today, it's not the time to pat ourselves on the back. 2018 begins on Tuesday with tyre testing so we must be sure to do our homework well this week and to keep pushing in the factories. We will enjoy this evening - but then get our heads down, push even harder and start preparing for the next challenge."
Andrew Shovlin, Chief Race Engineer
"This has been the most incredible year and we're absolutely delighted to have finished it with such an memorable 1-2 victory. Congratulations to the whole team! It's been a battle since the lights went out in Melbourne and every single member of staff in Brixworth and Brackley has given absolutely everything to fight for both these championships. As for today; Valtteri drove a perfect race managing pressure from Lewis behind from start to finish. He finished his first season with the team in the best possible way. We were optimistic that we'd have a little margin on Ferrari and Red Bull in terms of pace and we established early on that this was the case. We were able to pull a decent gap and it meant we could extend the first stint and wait for others to make the first move. Lewis had a more difficult afternoon, it's very hard to overtake at this track and once Valtteri had successfully defended the over-cut at the stops, the opportunities for Lewis to attack were limited. Lewis was never going to give Valtteri an easy win but it's really good to see how much they enjoy racing each other and how well they work together to improve the car. Lewis can be very proud of what he has achieved this year, he has driven superbly over the whole season and has truly earned his place as one of the great champions of the sport."
Ferrari
Ferrari had no answer to the pace of their silver rivals today, with Vettel a distant third and Raikkonen fourth. The Finn had nearly passed Ricciardo at the start, before coming under pressure from the sister Red Bull behind but once the opening laps were done, Raikkonen was able to maintain a steady gap and gave Verstappen no chances. He inherited fourth when Ricciardo retired and as such was able to snatch fourth in the Drivers' Championship as well.
Sebastian Vettel, 3rd
"I was pretty lonely for most of the race, trying to save a bit of fuel in the first part of the final stint. It was not very exciting, but that's how it goes sometimes! The results have been worse than they could have been, but in the end we weren't strong enough. However, it's against the spirit of Ferrari to give up. I am sure we have a lot of things to improve and the people are very motivated. So, I am looking forward to next season. We had our chances and we took them, but we also made little mistakes here and there and I am sure they won't happen anymore. I think we didn't lose the Championship in any particular race; you just race and collect all the points, and in our case we didn't have enough. I promise to push next year and do my best together with the whole team, and then we'll see. This year we improved massively on the car; the chassis has been really strong since the first day. We made some major steps on the engine, but we still need to find some more power compared to our competitors. However, the most important thing is to focus on where we want to be as a team."
Kimi Raikkonen, 4th
"Today my car felt pretty good most of the time, but to be honest, my race was boring. I was fuel saving for most of the time. In my view this has nothing to do with racing, but rules are rules. There's nothing you can do, you keep lifting halfway through the straights, 200 meters before the braking point and the guy behind has to do the same. It's painful not able to push your car when you have the potential to do it. It looks close, but it's not a fight. I held Verstappen behind me and at the same time I was saving enough fuel to be legal. In some race tracks you have to do it more than in others and it's not very exciting. Overall this year we would have liked to do a lot better, as we had a pretty strong package; we just need to fix and minimize all the issues. Next year, it will be a different story with a different car, and we'll start from zero. We want to improve in all areas and go faster."
Maurizio Arrivabene, Team Principal
"Today's result is far from ideal, but it's worth noting that, on a track like this, the only real overtaking opportunities are at the start of the race and during pit-stops. Unfortunately, the true potential of the SF70H was only visible in the closing stages of the race. The whole team, here and at Maranello, gave its best as usual. Now we're already looking forward, with humility and determination, and we're fully focused on 2018."
Haas
Magnussen spun on the opening lap, in one of the few incidents to mar a quiet race. It would have been even quieter without the Haas boys though - Grosjean was involved in an entertaining battle with Stroll in the opening laps which he eventually won and Magnussen fought hard with Wehrlein as the Sauber closed in, swapping positions before using DRS to reclaim P13.
Romain Grosjean, 11th
"I pushed really hard. I tried my best. I think it was a superb drive, but it just wasn't good enough to get in the points. I tried everything I could. With (Lance) Stroll it was a good battle – he just had a lot of top speed and a lot of straight-line power. It was very difficult to overtake him and he was defending a lot early on. Anyway, after I passed him I could open up the gap and push. We had a good race, but we have our ideas where to work on the car for next year. It's been a good year in general, and only our second in Formula One. We've learned a lot and know where to improve for our future."
Kevin Magnussen, 13th
*"It's not been a bad year. Obviously, I'm a bit disappointed with today. It's frustrating to get so close to P7 in the constructors championship and not get it. We just weren't strong enough to do it, but we'll come back stronger next year. We can take a step forward. We've got a baseline now that we can work on over the winter. We know the weakness of the car and we want to improve it by a big margin for next year. We'll see how we go. I think we can do it." *
Guenther Steiner, Team Principal
"We didn't gain a position, but still, we finished eighth like last year. With a little bit more we could've finished sixth, but 'if' and 'when', it didn't happen. We fought to the end today and we provided a lot of the race action. I think for the sport, we did well. We were always providing entertainment. Thanks to everybody, and we're looking forward to next season."
Williams
Contrasting fortunes at Williams - Massa, in his final race, put in a superb overtake on his former team mate Alonso before losing the place during the pit stop period. Nonetheless, he came home in tenth to score a last championship point for his team. Stroll flat-spotted his tyres squabbling with Grosjean, and then failed to get the next set up to temperature. He eventually pitted three times to everyone else's one and propped up the field in a disappointing showing.
Felipe Massa, 10th
"It's a great feeling. I can say I am really proud of everything I've achieved, all 16 years and all the amazing races, and the great people I met in the paddock, racing against the best drivers in the world. To be honest, I'm very lucky to have had all of this in my life so thanks to my family and to god for all of these amazing opportunities. The race was good, I was fighting from the beginning to the end. Unfortunately, we lost the position after the pitstop but I'm really happy overall."
Lance Stroll, 18th
"First of all, I want to say a big thank you to the team for everything this year, because the highlights have been incredible, especially in Baku and Monza. We have had great races, finished in the points seven times, so it is a big thank you to them for all their hard work and I have been proud to be a part of this team. However, it was not a good race today. I hate to be negative, but nothing worked this weekend so I just couldn't get the tyres switched on and I was just lost out there. We weren't in the race today. We had three pitstops and still it didn't work. The last two weekends were ones to forget and before that, we were doing just fine. We need to understand what exactly went wrong. I know it was tyre related, but we are missing a huge chunk of lap time and it is coming from somewhere because before that I was confident in the car. Now I shall have some time off, but then get back to work and work harder than ever and come into 2018 as strong as I can possibly be and be on top of my game as much as possible."
Paddy Lowe, Chief Technical Officer
"We were determined to finish the season on a high. There was a lot of emotion in the camp around Felipe's last drive for the team after such a great career in Formula One. It was a tough race with some very competitive racing. We had a close fight with Fernando (Alonso) in the opening lap and then later on in the race around the pitstops. Unfortunately, we didn't have the pace today to stay ahead. We ran out of energy on the outlap, which is why Fernando was able to get past as they came out of the pits, but we scored a point and points is what it's all about. I'm happy for Felipe and for the team to finish that way. It was a much tougher afternoon for Lance. He didn't have the pace today. He had a good start and got up to 13th with some good opening laps but finally lost position to Grosjean after a very close fight. He then had a big lock up, so we boxed early for the first tyre change. From there the race really went backwards due to additional pitstops and two more lock-ups whilst fighting for position, so not a weekend to remember. Finally, well done to the team on securing fifth in the Constructors' Championship."
Red Bull
Ricciardo had looked assured of a solid finish before diving into the pits with a suspected puncture. Once back out on track, he complained of a 'weird' feeling and had to park his RB13 with a hydraulics issue. Verstappen was bottled up behind Raikkonen for the entire race, unable to follow closely enough to mount a serious challenge.
Max Verstappen, 5th
"For me that was a pretty boring race, if I had a pillow in the car I could have fallen asleep. I tried to follow Kimi at the start but it's so hard at this track and I couldn't find an opportunity to pass. As soon as you get within 1.5 seconds it is really tough to get close and make a pass. I was surprised at how good my pace was during the race, especially as I have struggled all weekend with the feeling of the car. Once I got caught in the blue flags and I dropped off a bit I was able to see the true pace of the car, and it was actually quite quick. It's a shame we couldn't show it and be able to fight, which also comes as bit of a surprise at this track. In all, it's been a positive end to the year. In the last two races we didn't maximise our performance but they are not strong tracks for us so we expected that. We will keep working hard to improve as we have done over the latter stages of this season and with some improvement from the engine side we should at least be close to the top guys next year."
Daniel Ricciardo, DNF
"Not a good race day for me unfortunately. At Turn 19 I felt something strange with the steering so I thought I had a flat tyre. Then just before the pit lane I said: 'I'm coming in'. We weren't supposed to pit but I feared it was a puncture. Then when we got back out the steering was still strange and it suddenly got very heavy so I could tell that I was losing hydraulic pressure. I lost the power steering and then we couldn't change gears and that was that. I'm now excited to go on holiday, really looking forward to the break and hopefully next year we'll come back stronger. Not a good last few races for me unfortunately. We had some highs this year and a lot of positive moments but it's not the nicest way to end the season, with a DNF."
Christian Horner, Team Principal
"After holding positions at the start Daniel was able to stay close to Sebastian, and likewise Max with Kimi. Max had a go at an undercut with Kimi on lap 15. Despite his fastest stop of the year it wasn't quite enough to get Max ahead of Kimi. Then shortly after that Daniel reported a strange feeling in the steering in Turn 19 which was probably the start of his issues. He pitted immediately and the boys did a great job to scramble in time to get him turned around without losing a position, but then what looks like a suspected hydraulic problem caused his retirement. Max continued to push Kimi throughout the grand prix but unfortunately on this circuit was unable to mount a challenge, finishing in fifth. It's been a season of highs and lows for us, we would obviously have liked to have finished on a higher note but, looking back, the positives we take out of the year are the three race victories and the 13 podiums for the RB13 and, of course, an awful lot of lessons with too many retirements. 2018 starts for the team tomorrow with the Test commencing the day after."
Force India
Another solid display from Force India in what is their most impressive season to date. Perez was upset after Hulkenberg passed him off-track, especially after the stewards ruled that the German didn't have to give the place back. That cost him sixth place but he had the consolation of beating his team mate home, and also in the Driver's Championship. And thankfully for the team, their drivers avoided a last on-track coming together to end the season on a high.
Sergio Perez, 7th
"It wasn't the most exciting race for me, but I had a very busy first lap battling with Nico [Hulkenberg]. I think his penalty was very strange because I was ahead of him and he just cut the corner, gaining a big advantage and a position. He had more pace and in clean air he could just go and make up enough time to make the penalty useless. He should have just given up the position, as is required and as he did later in the race with Grosjean, and he would have had to overtake me on track.
"I am happy with the result today and it was important to finish this year strongly. It's my first year at Force India without a podium, but I think we made a big step forward. I scored one point less than last year with just 20 races on the calendar instead of 21. The overall result is great: seventh in the drivers' championship and fourth in the teams' standings. I don't think we could do anything better than that this year and I hope we can continue this way into 2018."
Esteban Ocon, 8th
"It was a really quiet race with not a huge amount of things happening. The start was the busy moment when I almost got ahead of Hulkenberg, but he was on the racing line and he was able to brake later. From there I was running a different strategy compared to Checo and although I was getting closer to him at the end, I just didn't have enough laps to catch him. It's nice to end the year with another strong result and I'm really proud of what we have achieved as a team this year. The winter months ahead will involve a lot of training so that I can come back even stronger in 2018."
Robert Fernley, Deputy Team Principal
"We've ended the year as we started it with both cars firmly inside the points. Seventh and eighth places bring our points tally to 187 to sign-off our most successful season ever. As we've said before, the credit needs to go to each and every one of the 400 team members who have contributed to this achievement, as well as the support of our commercial partners. Today's race was fairly straightforward and there wasn't much to choose between the different strategies run by each car. It's nice to end the season on a positive note ahead of a busy winter finalising the new car for 2018."
Toro Rosso
Toro Rosso were up against it to out score their rivals and maintain their sixth place in the Constructors' Championship and so it proved, with both drivers trailing home towards the back of the field. Hartley ran wide and struggled for pace, whilst Gasly pushed hard but was unable to make inroads. After a season which saw many driver changes, Toro Rosso will hope for a more settled line-up for next season.
Pierre Gasly, 16th
"I'm really disappointed with the fact of not being able to keep sixth place in the Championship... This was the target – we knew it would be tough, but in the end it wasn't possible. We struggled a lot in today's race, it's been a really tough day and I'm not satisfied with I did. I pushed too much and did a mistake which cost me a lot of time. It's frustrating to end the season like this and I feel sorry for the team for not having achieved the target. On the positive, these last races with Toro Rosso have been very useful for me to gain plenty of experience and this will definitely help me to start next year on the right foot. I'm already looking forward to 2018."
Brendon Hartley, 15th
"It was always going to be an uphill struggle for us to hang on to that sixth place in the Championship and it's a real shame to lose it...I'm obviously massively disappointed. On the positive side, I have to say that during these last few weeks with the team I've learned a lot and already feel like at home – this is something very important to take into next year. Going back to this weekend, I had a pretty clean race. I was in a train of cars – a McLaren, a Haas, a Sauber, myself and Pierre behind... It's just very tricky to overtake here with these big downforce cars. It's been a massive learning curve for me during these last few weeks and I'm well overdue a holiday! I'm looking forward to recovering, having some down time, preparing well for 2018 and coming back even stronger for my first full F1 season!"
McLaren
Alonso was his customary feisty self off the line, battling hard and nearly making a move stick on Massa. He was able to pass the wily Brazilian after their pit stops, when he took advantage of Massa's colder tyres. Vandoorne struggled for grip in the early stages, and was one of the first drivers to pit but from there was unable to make his way up the field and came home 12th.
Fernando Alonso, 9th
"This was an important race for us. It was the last one of this project and we wanted to finish it in a good way. It wasn't that exciting from our position, but we had an interesting battle with [Felipe] Massa in front and Carlos [Sainz] behind. We chose to undercut Felipe and it worked quite well, but after that we were struggling with the pace and running alone for most of the time. But, we had a solid race, a good start, a good strategy and scored two points, so I'm happy.
"It has been a tough season and a tough three years for us, but I'm still feeling very proud of this project. We didn't succeed in terms of results and we delivered below expectations, but nevertheless everyone fought and worked very hard.
"Now that we are both going our separate ways, we wish the best for Honda and good luck to the McLaren Renault project also. Now it's a new chapter for both of us."
Stoffel Vandoorne, 12th
"It was a very difficult start to the race. There was some damage to the car – we were really struggling and something felt very wrong. It was a bit like driving a rally car out there! There was no grip at all, the car was sliding around a lot and it felt like a big problem, so it was very tough from the beginning. I didn't have a nice feeling in the first stint, and even after the early pit-stop to assess what was wrong, I was continuing to struggle. Gradually everything got a little bit better and we recovered a bit, but I still felt very uncomfortable in the car and the pace was nowhere near where it should have been. We need to check what exactly happened there.
"I was happy to see the chequered flag today and close off the season. I think we maximised everything we had today to see the finish and keeping the cars in the pack behind us was the best we could have done under the circumstances.
"It's been a season with a lot of ups and downs, and in terms of results it's not been the season we were hoping for. We had a lot of technical failures and grid penalties which meant we were lacking a lot of performance and track time. We're happy to come to the end of the year and we're looking forward to a fresh start next season. We're massively motivated for next year – there's a lot of work to be done but we're excited for a new challenge."
Eric Boullier, Racing Director
*"Today was a hard-fought battle for the whole team to get us both to the end of the race and the end of the season. Our drivers did a phenomenal job on a circuit where it's notoriously difficult to overtake, and to finish with a couple of points as a net result of all our efforts feels more than thoroughly well-deserved. Fernando, in his usual inimitable style, drove his heart out all race to try and aim for points, and didn't give up pushing until the final lap. He, his engineers and his mechanics did an excellent job to help him close the gap to Felipe Massa in his pit-stop and then ultimately get the job done on track with a great move past him along the back straight. *
"Stoffel had an extremely tough race and did an incredible job to maintain 12th position to the end after he was faced with a serious handling issue from the start of the race. While we still don't know exactly what caused it, we could see from his data he was suffering from a huge loss of downforce which made his car all but undriveable. He put in a sterling performance not only to keep the chasing pack of five cars behind him for the duration of the race, but bring the car home in one piece. While the team tried to ameliorate the situation by adjusting the balance of his car during an earlier than planned pit-stop, it still meant he was working hard at the wheel throughout this evening's long, hot race, and he nursed his car impressively well to bring it home across the line.
"Firstly, a huge, heartfelt thank you and well done to all the men and women at McLaren Honda, whose work ethic, dedication and passion for this team I'm quite sure is unrivalled anywhere in the pit lane. They've put everything into making our team what it is and I'm proud of the unshakeable spirit that makes us never stop fighting no matter how difficult the circumstances. For our incredible fans, we hugely appreciate their loyalty and unwavering support, and express our sincere gratitude for their incredible devotion over the past year. Thanks, too, to our partners for their faith and enthusiasm towards us throughout this season, and we look forward to a new and exciting era for us all in the near future.
"Finally, on behalf of everyone at McLaren, I'd like to offer sincere thanks to Honda for working so hard alongside us to constantly strive to learn, develop and improve. And, while nobody can deny it's been an incredibly challenging season, we end our partnership in Abu Dhabi with a stronger relationship than ever and plenty of healthy respect. There have been highs and lows over the past three years, but we have no regrets, and every member of the entire McLaren Honda team wishes each other well for the next chapter in our respective histories."
Yusuke Hasegawa, Honda R&D Co. Ltd Head of F1 Project & Executive Chief Engineer
"Today's final race as McLaren Honda was emotional for all the team, but it was also a good result on track with both cars taking the chequered flag, and Fernando scoring some more championship points.
"After making a good start, Fernando kept chasing down Williams' Felipe Massa and he succeeded to overtake into P9, utilising the team's great pit-stop strategy. Stoffel also pushed very hard and finished a strong P12 despite suffering early damage to his car. Overall, I am proud of both drivers for showing their best performance without giving up at any point during this tough season.
"We were able to show stabilised PU performance over the last few races to round out the season, which considering the tough start to our year, we can take as a positive step forward.
"The last three years have been extremely challenging, but I would like to express my sincere appreciation to the McLaren Honda drivers and team members for all of their relentless hard work. And, of course, to all our fans who have kept us going with their incredible support.
"Honda Racing F1 is now fully focused on the development for 2018 and we will make our best efforts in order to have a good start in the coming winter testing.
"Finally, we wish McLaren every success with their new partner."
Renault
Renault were hunting down sixth in the Constructors' Championship, but their race started in controversial fashion with Hulkenberg passing Perez off-track. The stewards awarded the German a time penalty, but he was able to pull out enough of a gap to negate this and from there it was plain sailing until the chequered flag. Unfortunately the same couldn't be said for Sainz - he too looked to be running strongly, but when a wheel wasn't fully attached at his only pit stop, he was forced into retirement.
Nico Hulkenberg, 6th
"It was a bit of a thriller! It was a very interesting first lap, then very interesting again after the stop when I had to get past the Haas, which was super-fast on the straights and obviously I had Checo right behind me waiting to take advantage. We managed to come out on top and it's a very decent end to the season. Sixth position in the championship is good for us and will be a morale booster for the team over the winter. We had a good package over the second half of the season, but we have had some issues so it is great to finish on a positive result and go into the winter with our chins up."
Carlos Sainz, DNF
"We were having a good race and I had made some real progress and was looking forward to the second part of the race and racing to get in the top ten. The pace was good and it's such a shame we had that issue with the wheel and I had to stop, but these things happen. I think we deserved to have both cars in the points, but let's stay with the positives. Nico got the job done for the team and we got the points we needed to finish sixth. Overall it's been a good season and a really great start for me with Renault."
Cyril Abiteboul, Managing Director
"Mission accomplished. We came here with one clear objective. At the start of the year we set out to finish fifth, which was very ambitious, but ambition is good – you have to set high targets. This season we've not made it easy for ourselves and the last three weekends have been a microcosm of this rollercoaster of a year. At times we've been too aggressive, then too conservative, but we came to Abu Dhabi with a very extreme preparation and the weekend went almost exactly to plan. Sixth was the revised goal and I'm so proud we got it. It's a milestone for the team and an achievement that goes beyond the on-track result. It's a motivation for everyone – for every team member and a fantastic reward that will count far more through the winter than any financial considerations."
Sauber
The Swiss squad ended the year with a two-car finish, though as per recent form, with neither Pascal Wehrlein nor Marcus Ericsson ever looking like challenging for points, despite some feisty battles.
Marcus Ericsson, 17th
"It was a difficult race. I had a good start, but on the first corner I ran wide and lost some time there. I was then struggling on the first stint; I couldn't really keep the pace. After the pit stop the balance of the car felt better so I was able to push again. In the second half of the race I could close the gap to the cars in front of me, but generally it is difficult to overtake on this track."
Pascal Wehrlein, 14th
"I had fun in the race today. My start was ok and I was able to maintain a steady performance and gradually advance to the midfield. I had a nice, lengthy battle with Kevin (Magnussen) ahead of me – unfortunately, I could not quite get him on the straights. It was good to have an action loaded season finale, though."
Frederic Vasseur, Team Principal
"It was a decent race today – Pascal advanced well and was competing with Kevin (Magnussen) ahead. He did a good job in overtaking, but then he lost him on the straights. Marcus' race was ok, but he seemed to be struggling with the balance of the car. Overall, we can see that we have made some improvements in the last few races. We are now focusing on 2018 and building on the progress we have made."
Pirelli
Mario Isola, Head of Car Racing
"No surprises at all for anyone during the last race of the season, with Bottas taking a deserved win from pole using a one-stop strategy. Coming into this race, we thought there would be a wide pit stop window, and this proved to be exactly the case. We saw a few teams trying to gain track position by attempting to undercut their direct rivals, but on the whole, nobody could really make this tactic stick. Our attention now focuses firmly on 2018, with drivers remaining here to test the new tyre range for the first time, which we presented on Thursday. The softer compounds will be particularly well suited to this track, and it will be very interesting to see how the new hypersoft goes: what we learn from this test will start to influence where we nominate it next year."