Feature
What the teams said – Race day in Austria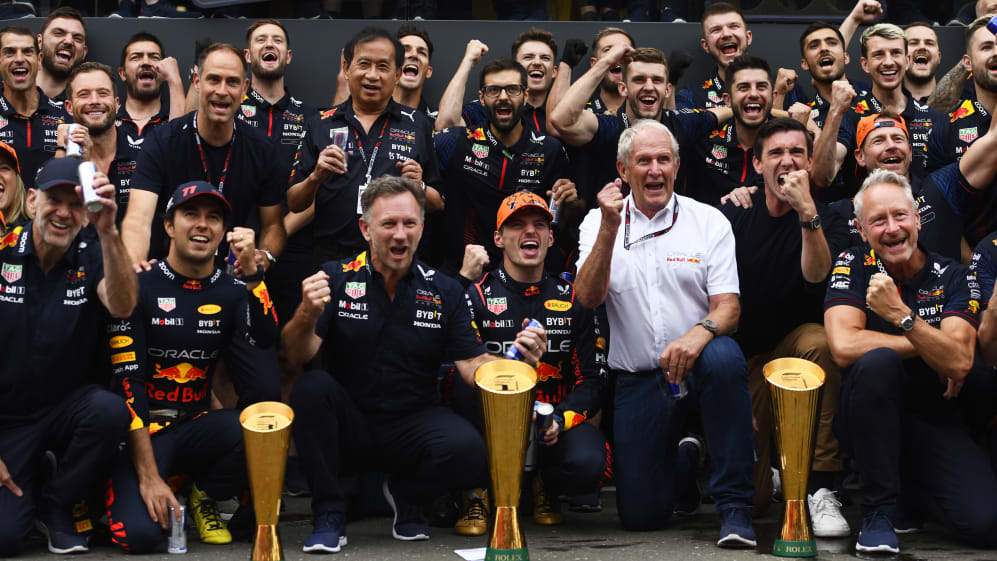 Red Bull
It was the ninth victory of the season for Red Bull, as Max Verstappen took a commanding victory in Austria. Along with that, Sergio Perez made his way up from 15th on the grid to third place, putting in some nice overtakes on George Russell and Carlos Sainz on the way. With this result, and a one-two in the Sprint, it's another dominant Red Bull weekend.
Max Verstappen, 1st
"It's been a pretty incredible weekend; it couldn't have been any better to be honest. We did everything well as a Team, from the strategy through to the pit stops. Heading into the race we all had question marks around the tyres but we were all happy with how they performed compared to our competitors. I felt really comfortable in the car all weekend and we were able to do everything that we had planned. The final pit stop was a risk of course, I think the Team could hear from my voice on the radio that I wanted to pit (laughs). From the outside it might have looked crazy but I knew we could do it, I saw there was a gap and I wanted to make the most of it."
Sergio Perez, 3rd
"It was a really good race. I think we had the pace this weekend: we showed it in the Sprint and we showed it today. It was a nice comeback and I feel really comfortable with the car, it has been really special. I think we were all racing quite hard and it is always a pleasure to battle with drivers like Carlos. We have had a tricky few races, so it has been nice to get back and have that pace and form. I am still not one hundred per cent physically, however, so now I need to look ahead and recover ahead in time for Silverstone."
Christian Horner, Team Principal
"It has been an incredible day for the Team today and a fantastic weekend. Max is obviously on exceptional form, taking qualifying, the Sprint race and now the Grand Prix is just sensational. Obviously we took a different strategy to that of our competitors, meaning he had to make the overtakes on track which led to some fantastic watching and a stunning weekend for him. We decided to go for the fastest lap on the last lap despite the risk involved in an additional pitstop, but Dietrich's mantra was always 'no risk, no fun', and the mechanics have been in such incredible form that it felt relatively low risk. Checo too had such great pace today, particularly when he got clean air. When you start down at 15th, your ability to get close to victory is obviously compromised, so his recovery from 15th to a podium was outstanding and his battle with Carlos was box-office.
"This is our best run of in-season results since 2013, the Team is operating at a level not seen in our 19-year history and we're grateful for every victory we achieve. Results like today are the work of every single department, it's not just about the race team, it's the activity that goes on behind the scenes back at the factory, from operations, manufacturing, research and development, aerodynamics, to our support functions in Finance, Marketing, Legal and HR, all of these need to come together and work as a team, and this is where we are so strong.
"This is the first time we've been back at the track since Dietrich's passing. It felt very poignant to put in such a great team performance today. Whilst not here in person, you feel his presence everywhere, his passion and spirit are the reason we're all here today and we owe him so much. This one's for Dietrich."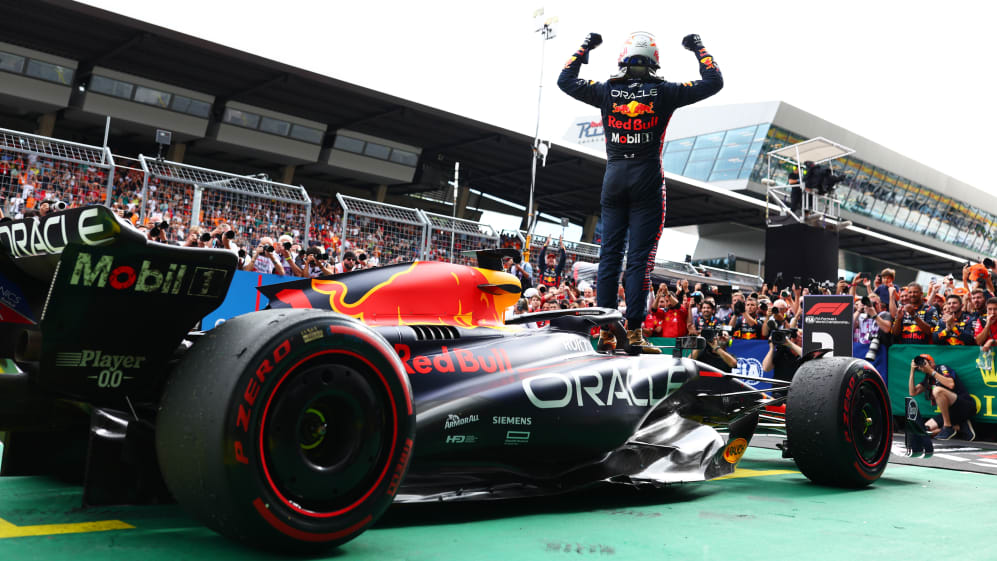 Mercedes
After Lewis Hamilton jumped Lando Norris at the start to be running fourth, things looked pretty good. But he and his team mate, George Russell, just did not have the pace to make an impact at the top of the field. Russell managed to make his way from 11th to finish in eighth, while Hamilton took seventh, in what has been a difficult weekend for Mercedes.
Lewis Hamilton, 8th
"It was not the greatest of days today. We weren't expecting to be as slow as we were and our performance this weekend was a surprise. We don't have the answer as to why just yet, but this track has highlighted several areas of improvement we need to focus on. We knew we didn't have a strong rear-end this weekend, so we took out a lot of front-wing to maintain the balance. I was really struggling into certain corners, particularly Turn 10, and sliding, which I couldn't do anything about it. That is why I was struggling with track limits. We added some front-wing at both stops and the car began to come back to us, but it was still a challenge."
George Russell, 7th
"It was really challenging today, and our pace was not as we expected. After yesterday, I was hoping for a little bit more from the Grand Prix. I am sure we will go away and get to the bottom of our performance here. We have the same car that we had in Barcelona where we were flying so we need to understand what went wrong on our side. The car certainly doesn't feel how we want it to at the moment. It's moving around a lot, and it felt a little bit worse this weekend than at other circuits; the pace was substantially worse though, so we need to get to the bottom of that. Our performance is clearly circuit dependent now. We were nowhere here but good in Montreal and Barcelona. That bodes well for Silverstone as that is a circuit more similar to Barcelona than Austria, so we're excited for next weekend's British Grand Prix. We will be aiming to come back stronger."
Toto Wolff, Head of Mercedes-Benz Motorsport
"Today was a bruising day for the Team. We've had a positive upward trajectory recently but clearly, we didn't have the pace we needed here. It's been a tough weekend overall and both drivers have struggled with the car since FP1. From Friday onwards, we have seen that we were lacking a couple of tenths and we couldn't make the car quicker. Once the tyres start sliding, either under braking or through the corner, then you have no grip. That contributed to our lack of performance, but we will have to go away and analyse it in more detail. We will take this weekend on the chin and move forward. The swings are quite interesting from circuit to circuit where sometimes we are the closest challengers to Red Bull, and at others struggling. We have a step of performance that we are bringing to Silverstone. Let's see if that circuit suits the characteristics of the car a little more and we will analyse from there."
Andrew Shovlin, Trackside Engineering Director
There's lots for us to improve on leaving here. The performance clearly hasn't been good enough; we need to understand how much is down to not landing the set-up in the right place and how much is just base performance. We've not brought any updates to the last few races, so it's also possible we're lacking development. We've got plans in place to address that but the gap to Ferrari was certainly a worry today. The situation with track limits was difficult; the notifications were coming in after the fact, so Lewis ended up with a penalty before we could do anything about it. We're happy that we've only got to wait a few days before getting back on track. We need to work hard to understand the areas that need improvement, but we're looking forward to Silverstone and putting this race behind us."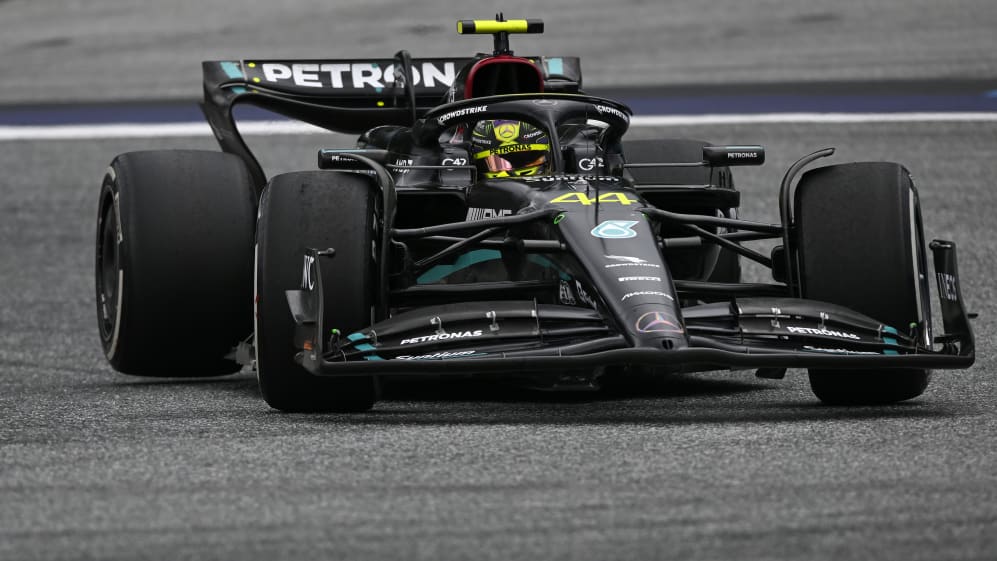 Aston Martin
It was not one of their stronger weekends this season, with Fernando Alonso finishing sixth, ahead of Lance Stroll in 10th. After their improved performance in Montreal, they just did not have the pace this weekend, but will be looking to bounce back at their home race in Silverstone.
Fernando Alonso, 5th
"I think it was more or less the maximum we could achieve today. We were very close to Lando [Norris] in terms of pace and also the Mercedes. We tried something different by starting on hards but then the VSC meant our advantage of going longer in the first stint wasn't possible anymore. This circuit didn't suit our car last year so maybe there is something for us to look into. Overall, we've scored a number of points over the Sprint weekend and we've made some ground on second position in the Constructors' Championship. It's a long season and we have our home race at Silverstone next week. It's an incredible track so we will give it our all."
Lance Stroll, 9th
"It was a tough day today, but we still come away from the weekend with some decent points for the team. We slightly mistimed our stop under the VSC this afternoon and lost several places in the pits, and that decision dictated the strategy for the rest of our race. In hindsight, we probably should have pitted during the first lap of the VSC rather than the second, so that's something we'll need to review and learn from. I had a few good battles on track while fighting back through the field; taking [Yuki] Tsunoda at Turn Three was especially fun. Our focus now shifts to Silverstone. It's one of the best tracks on the calendar, so I'm looking forward to getting back out there in a few days' time."
Mike Krack, Team Principal
"Today was not our strongest performance, but we still managed to score nine important points. The podium fight was out of reach, but there was the opportunity to finish higher up with both drivers. We lost some track position early on when we chose to pit and stack both cars just as the VSC was ending and that proved quite costly for both drivers. Lance kept his head down to recover into the points, making some important overtaking moves when it mattered. With Fernando, our race today was with Mercedes and, our pace, combined with some rapid pitstops, allowed us to come out ahead in that battle. Our attention now turns to our home race in Silverstone next week where we look forward to putting on a strong performance in front of the passionate British fans."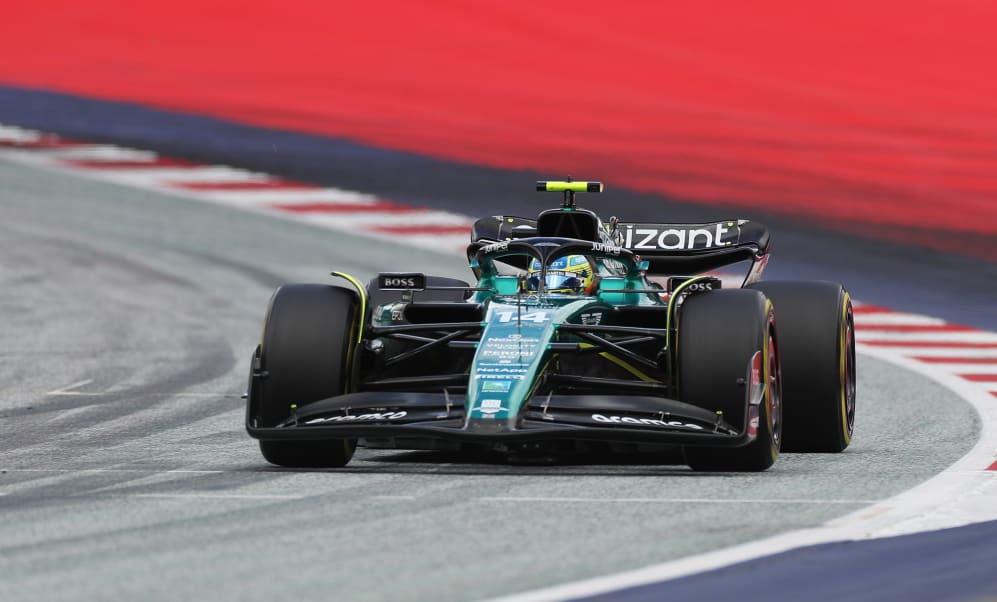 Ferrari
It was a great return to form for Ferrari with Charles Leclerc finishing on the podium for the second time this season – after finishing second in Baku. Sainz, on the other hand, narrowly lost out to Perez for third place, but put in a strong performance to take fourth.
Charles Leclerc, 2nd
"It's good to be back on the podium. Friday and today we maximised what we have and the upgrades we introduced this weekend worked well. The team has done an excellent job and we will keep pushing in this direction. I also want to thank Carlos as he made my life a bit easier by putting up a great defence against Checo. I was watching on the big screen, it was very exciting! Now we go to Silverstone which, with Spielberg, is among my favourite circuits. Hopefully we can take advantage of the new upgrades we have on the car again and offer a bit more of a challenge to Red Bull in the next round."
Carlos Sainz, 6th
"It was a very solid race even though I'm not happy with the final result, as I think we deserved a double podium today. I felt very quick and comfortable with the car but after the first stop the race was compromised as we lost time and positions. I did my best to push hard and recover, with some good overtaking, but unfortunately I received the penalty for track limits. In the end I tried absolutely everything to defend from Checo but couldn't hold on to that place on the podium. There are some things to review, but in general we have to be happy with the progress made and we need to keep pushing in this direction."
Fred Vasseur, Team Principal
"Today's strong result for the team, added to yesterday's podium with Carlos, proves we are working in the right direction. If we look back, we had a good race in Canada and today we confirmed the progress made on a completely different track layout with a different surface. We still need to make another step forward if we want to fight with Red Bull and we are working hard to achieve that. Charles drove very well today and I think he would have been probably safe from the attacks from Perez towards the end. However Carlos also played his part, fighting Checo making him lose time. Now we go immediately to Silverstone, on another completely different track on which we'll need to confirm our current form to keep fighting with Mercedes and Aston Martin. We are doing a good job both on track and in Maranello, we will bring more upgrades in the UK and we want to keep fighting in what I think will be a long battle all the way to the end of the season."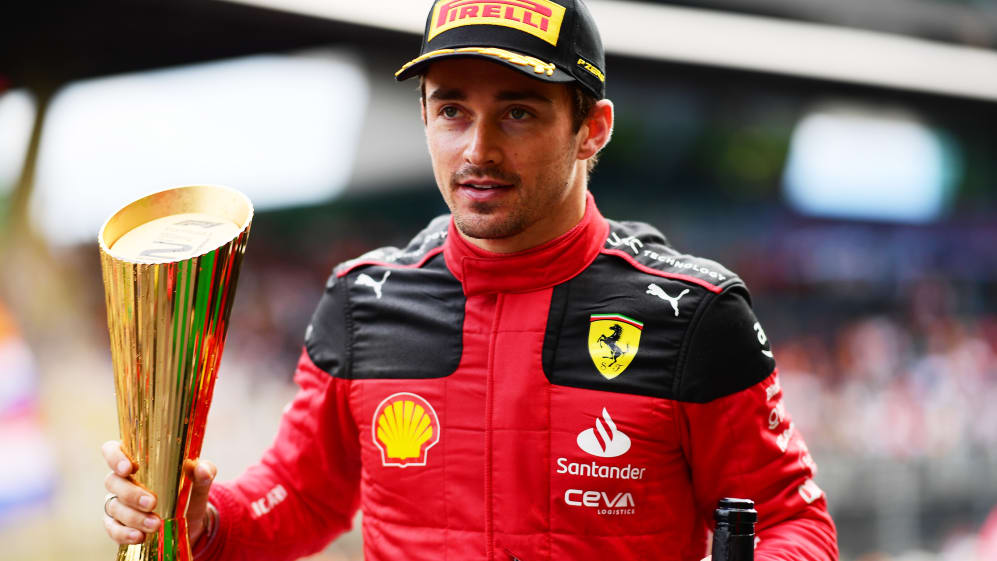 Alpine
It was another solid outing for Alpine, and while Pierre Gasly will be delighted to make a return to the points, there will be disappointment that Esteban Ocon could not follow suit. With other teams showing improved form around them, Alpine will have some work to do at Silverstone.
Esteban Ocon, 14th
"It's not been an easy race for us today. Of course, it's always disappointing to miss out on scoring points. We'll need to sit down and carefully review the race to see where we can improve and ensure we can be more competitive on Sunday next week in Silverstone. We had contact with Yuki [Tsunoda] on the first lap and sustained some damage and then we had the penalty for an unsafe release later on, so it was certainly not our day! We leave Austria knowing we had a decent Saturday with points in the bag but with more work to do to improve on Sundays. Bring on Silverstone next week."
Pierre Gasly, 10th
"I think we pretty much extracted the most we could today. While it's satisfying to be back in the points, it's not where we want to be as we aim to be much higher than ninth place. We're lacking some pace compared to our nearest rivals and that showed today. I was pushing a lot and, in the end, we received a five-second penalty for track limits, like other cars again today. It probably doesn't change the result, and only that we fought with Lance [Stroll] at the end rather than George [Russell] ahead. I'm definitely looking forward to Silverstone and I think we can have a much stronger weekend overall there for the team's home race."
Otmar Szafnauer, Team Principal
"We are not satisfied to leave Austria with four points across the weekend. This end result highlights where we are lacking especially in terms of being able to fight with our close rivals on race day who, right now, are a couple of tenths of a second ahead of us. Next week is Silverstone where we will have an upgrade on the car and we look forward to adding more performance in the coming races. This weekend was sadly marred by the tragic death of Dilano van 't Hoff in the Formula Regional European Championship by Alpine in Spa-Francorchamps. Dilano will always be in our thoughts and it serves as a reminder of the dangers we face in the sport we love. There are many discussions to be had in our collective goal to further enhance safety in racing. Right now, though, our thoughts are firmly with the family and friends of Dilano as well as the MP Motorsport team."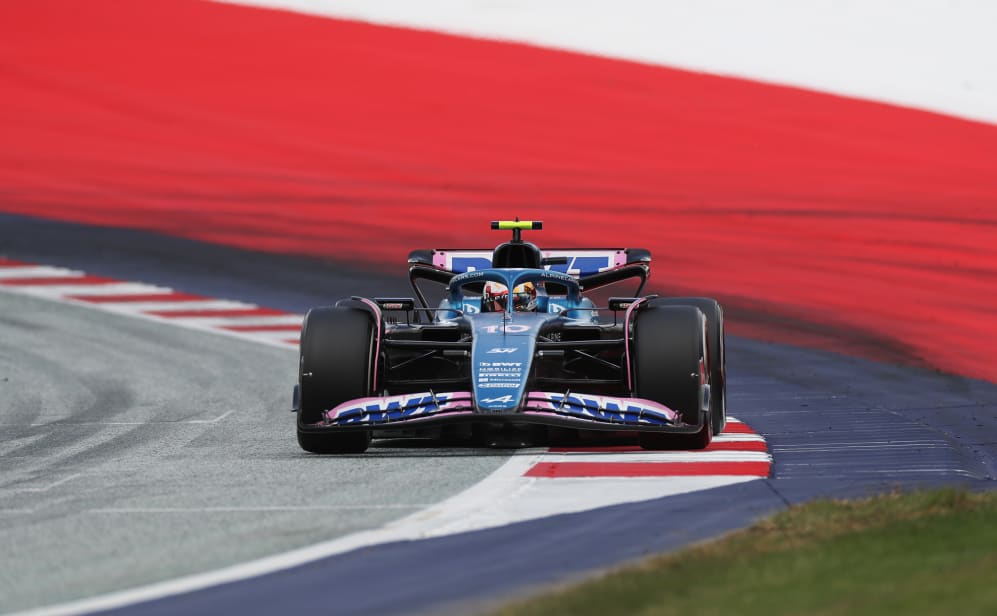 McLaren
It was a return to the top of the field for McLaren, with Lando Norris fighting amongst the top teams all weekend. He finished in a season-high fifth, although his team mate Oscar Piastri, will be bemoaning the front-wing damage he sustained that ruled him out of contention for the points.
Lando Norris, 4th
"A very good day! I was a little bit surprised we had the race pace that we did, and it was great to be fighting the Ferraris and Red Bulls. More importantly, we beat both the Astons and Mercedes, which was our main goal today. Overall, a good day and good points.
"It's one of those tracks which is easy to get punished on. We kept it on track and didn't really make any big mistakes, with some good racing at times. The team has done a great job again. Thank you to everyone back in the factory for bringing the upgrade because that definitely got us in the points today. A big cheers to them."
Oscar Piastri, 16th
"A long afternoon. I picked up some front wing damage in the middle with three cars kind of having their incident in front of me and I didn't have anywhere to go, which was unfortunate, and our pace wasn't great. Anyway, I'm looking forward to the next race. It's a home race for the team and I've got some new parts on my car, which I'm very much looking forward to. We'll see what we can do next weekend."
Andrea Stella, Team Principal
"It's been a positive result here in Spielberg. Not just the valuable points from Lando's P5 but also seeing the MCL60 fighting at the front. That's good for the team and good for our fans. We know this track is a bit of a 'Lando-Special', and he was excellent again today, but certainly some of this result is down to the upgraded aerodynamic package fitted to his car. It's been a colossal amount of work at the factory to get this upgrade here, and a good effort at the track to get the performance out of it. I'd like to take this opportunity to thank the people who made that happen, and I hope they're enjoying the result because they certainly deserve it.
"On Oscar's side, he fell out of contention after some unfortunate circumstances, but we all appreciate the spirit with which he dug in and pushed hard in a race at the back of the field. It's characteristic of Oscar – and the whole team – and we'll take that going to our home race at Silverstone. We're focused on that now and hoping for a positive result at the British Grand Prix."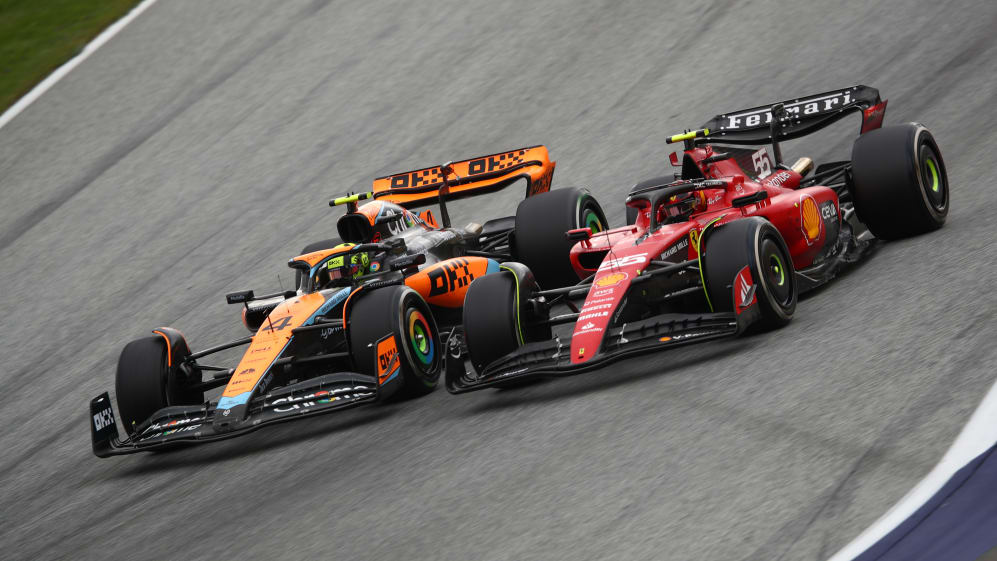 Alfa Romeo
It was a trying weekend for Alfa Romeo, with Zhou Guanyu finishing 14th, ahead of Valtteri Bottas in 16th, with the latter also sustaining wing damage. After showing improved pace in recent races, this result will be frustrating but they have an opportunity to return back to the points at Silverstone.
Valtteri Bottas, 15th
"Unfortunately, this weekend we haven't been as competitive as we wanted, and the top ten ended up being out of our reach. I had a decent start, today, and it seemed like I could've moved forward, but then the Safety Car came in just a couple of laps after I had to pit to remove a tear-off from my rear brake duct, and that ended up not helping us. Overall, our pace hasn't been the same we had showed recently. There is surely some work to do, looking into the next races, and we're also meant to bring new upgrades in Silverstone next week. Hopefully, they'll allow us to make a step forward, and improve again our place in the standings."
Zhou Guanyu, 12th
"I got some damage on the front wing in a Turn One contact, unfortunately, which made me lose ground on my first stint. That compromised the rest of my race as, with such a tight field, it was pretty much impossible to recover. Overall, we have been lacking pace this weekend, this circuit certain hasn't suited us as much as in recent races. Nevertheless, we are meant to bring new parts to Silverstone next week, and they are meant to make a difference in our performance. We have seen it with our main competitors, how upgrades have been improving their pace, and hopefully, that will be our case, too, to get back in the fight for the top ten right away."
Alessandro Alunni Bravi, Team Representative
"Today's race has, unfortunately, been in line with our performances this weekend; we have made a step back, compared to previous races, and of course we will need to analyse this over the next few days. At the same time, our focus now goes onto the next race in Silverstone, for the final leg of this back-to-back: we are bringing an important upgrade there, which can hopefully improve our performance. The fight in the field is very tight, and we have been aware of this since the beginning of the season, so every tenth can make a difference. Next weekend's race will be important for us, so we must not lose our focus: we need to keep working, and come prepared to Silverstone, in order to promptly react and get back to the positions we deserve. I want to thank all the team, as well as Ferrari, for the job done this weekend: although it has been a difficult one, everyone has been working hard all together, both trackside and back home in Hinwil, trying to maximise any chance. We need to keep pushing, and not lose our confidence: there are still several races in front of us, and we'll be ready to fight for every single point."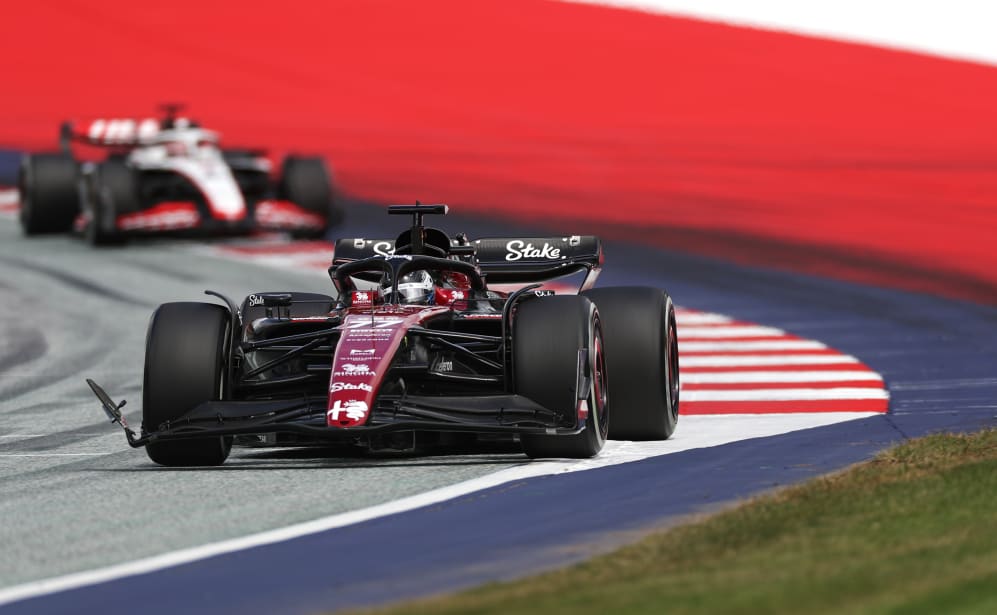 Haas
Another difficult Sunday for Haas after showing promising signs on Saturday. Hulkenberg started eighth, but his race came to a conclusion after a power unit issue saw smoke come from his car. Magnussen, on the other hand, was forced to start from the pit lane on his 150th Grand Prix, and struggled to make much of an impression on the drivers' ahead.
Nico Hulkenberg, DNF
"We don't know the full picture, but after the first stop the issue occurred and we lost power and couldn't continue. It's not ideal, it makes things more difficult going forward because we have less information, but we have to make the most of what we have. We're surrounded by quicker cars that are pushing on from behind, forcing us to go at a pace we're not necessarily able to keep up with. The positive is the two very good qualifying sessions this weekend, and obviously a very good Sprint, so at least we have that.
Kevin Magnussen, 18th
"I had very poor pace. I went into the gravel at high-speed when De Vries pushed me on at Turn 6, and I don't know if there was damage to the floor, so we'll have to check that but there was no chance today. We'll continue to work to improve as fast as we can."
Guenther Steiner, Team Principal
"Thankfully we got some points yesterday when we had the opportunity. Today has been a very disappointing day for us, another PU failure on Nico's car and obviously the car is not fast enough in dry conditions. We've got a lot of work in front of us, and we will keep on working. When we have the tools, we can get good results as we showed yesterday, we just need to do our homework."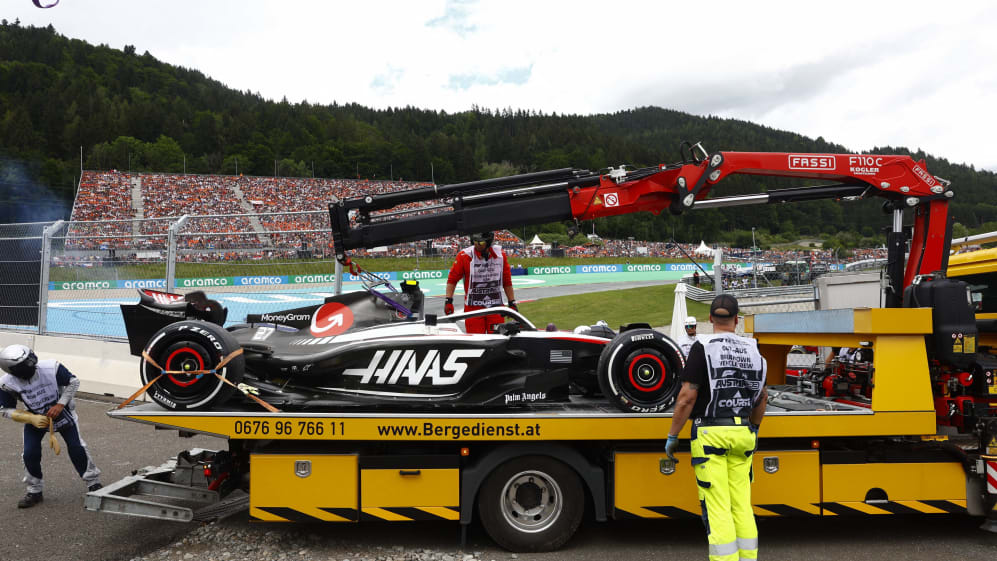 Williams
Williams will be pleased with their Sunday performance, even though they narrowly missed out on a place in the points. Albon was overtaken by Stroll, on fresher tyres, in the closing stages of the race for 10th, while Sargeant put in one of his stronger performances of his rookie campaign to finish 13th.
Logan Sargeant, 13th
"It's been tough lately, so it's great to see the progress we made today. When I don't qualify well, I leave a lot of work to do on Sunday, so to have a good one under my belt is a nice step forward. Today's race shows what we can do, and I feel like we're finally moving forward into the right direction. We have a string of European races which I'm familiar with, so hopefully this is the start of something good for us. We're heading to my favourite track next weekend but it's also a difficult one with lots of high-speed corners, which is something I need to focus on. Thanks again to the team for all the hard work in bringing the upgrades to my car and we'll now look forward to the next race."
Alex Albon, 11th
"I'm not disappointed about the race today, think it's a normal thing with the top 4 teams and top 8 cars in those positions, so there's only two points up for grabs. Lando [Norris] had a great race, as did Pierre [Gasly], so that was the remaining points and we were the next best. It was a strong weekend for us, our worst result was 13th where we were running P7 for most of it. When you think of it like that, it's frustrating but it shows we're making steps forward. Obviously, this track suited us and we were expecting a better result, which is a bit disappointing but still a great race and a good execution. I think we did a good job and with Logan having a great race, it demonstrates our steps forward."
Dave Robson, Head of Vehicle Performance
"Unfortunately, we didn't quite have the pace to get to the top 10; the other teams were quicker today but we were agonisingly close. On the positive side, the car handled well, the tyres were well managed, and Logan had a very strong race." Like Logan, Dave is already looking ahead and is also feeling positive about our home race. Next weekend in Silverstone, we will look to push the pace a bit harder again and score some points. Although this weekend was a sprint event held in mixed weather conditions, we have learned a lot about the car and there are definitely some positives to take into the British Grand Prix."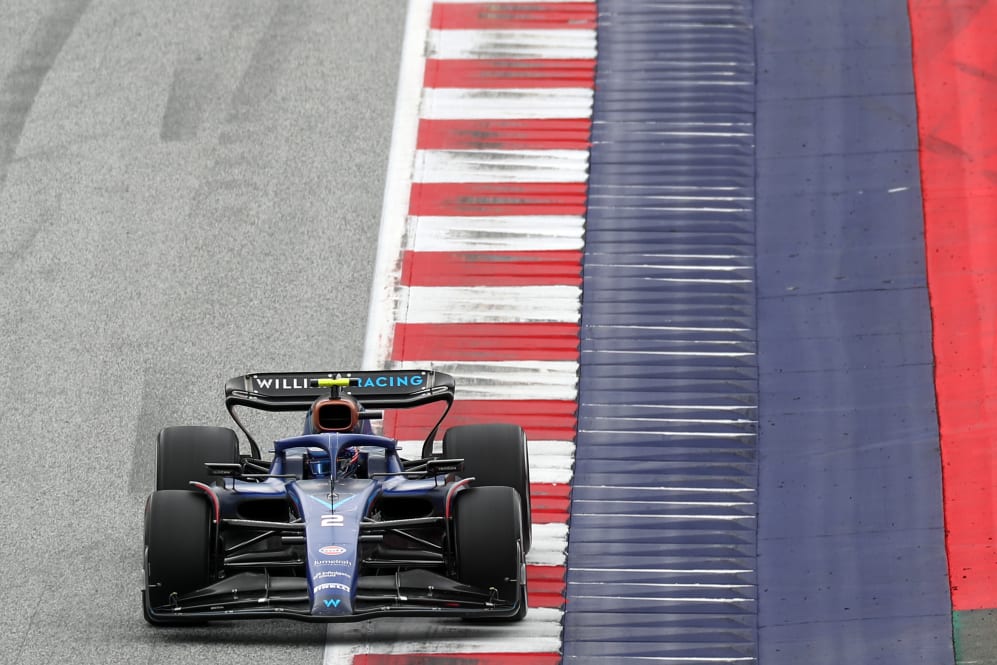 AlphaTauri
The AlphaTauri drivers were in the thick of the action in the race, with Tsunoda going off on the first lap, while De Vries was given a five-second penalty for pushing Magnussen off-track. All in all, both drivers finished outside the points, with De Vries admitting they are still lacking in pace.
Nyck de Vries, 17th
"I think it was a solid race today. We made some overnight changes to the car to find more performance, which meant we started the race from the pitlane. It certainly played out well for us as the early Virtual Safety Car closed the gap between all the cars. In terms of execution, I think we did a good job and extracted the maximum out of our package, we just lacked pace to fight further towards the top ten. I'll take the penalty that the stewards gave me, we are just trying to find the limit, but thankfully we made a sufficient gap to not lose any positions. I still have a lot to improve on, and I'm certainly not yet at the level I want to be, but collectively, we are trying to consistently improve."
Yuki Tsunoda, 19th
"At the start, I was aggressive trying to make up as many positions as possible. It could've gone well, but unfortunately, we damaged the car going into turn one and went off-track at turn four. I don't know if I sustained damage on the floor from this, but afterwards, I didn't have pace, so it was a super difficult drive. I couldn't keep the car within the track limits, and I can definitely learn from this in the future, but overall, it was just a challenging race."
Jonathan Eddolls, Chief Race Engineer
"With Nyck qualifying P20 on Friday, we elected to remove his car from Parc Ferme and make setup changes, including the rear wing level and suspension, which meant he started from the pitlane. Magnussen did the same, so we were racing with him from the pit exit at the start of the race.
"Yuki lost a large part of the front wing in turn one and subsequently ran off-track in turn four, therefore he had to pit on the first lap, which put him on the back foot. It was clear in the first stint that tyre degradation was on the high side and would result in a multi-stop race.
"Unfortunately, we pitted Nyck on lap 12, the lap before the Safety Car was deployed, while others benefitted from the opportunity and were able jump him, which was very unlucky. After the Safety Car period, Yuki struggled with understeer, which we corrected a lot at the next pit stop with a large flap adjustment, so we need to understand if there was damage on his car.
"From then on, and for both cars, it was a case of splitting up the race with pitstops to optimise tyre degradation and track position. Overall, we didn't have the pace to challenge for points. Track limits were also costly for Yuki, with him receiving a total of 15 seconds worth of penalties, which put him in P18 at the chequered flag.
"Nyck made some progress in the race and finished five places higher than he started, which is encouraging to see. Our focus now turns to Silverstone, where we are bringing a further aero update, addressing some of the weaknesses of the AT04. We will keep pushing hard and remain positive for the upcoming races."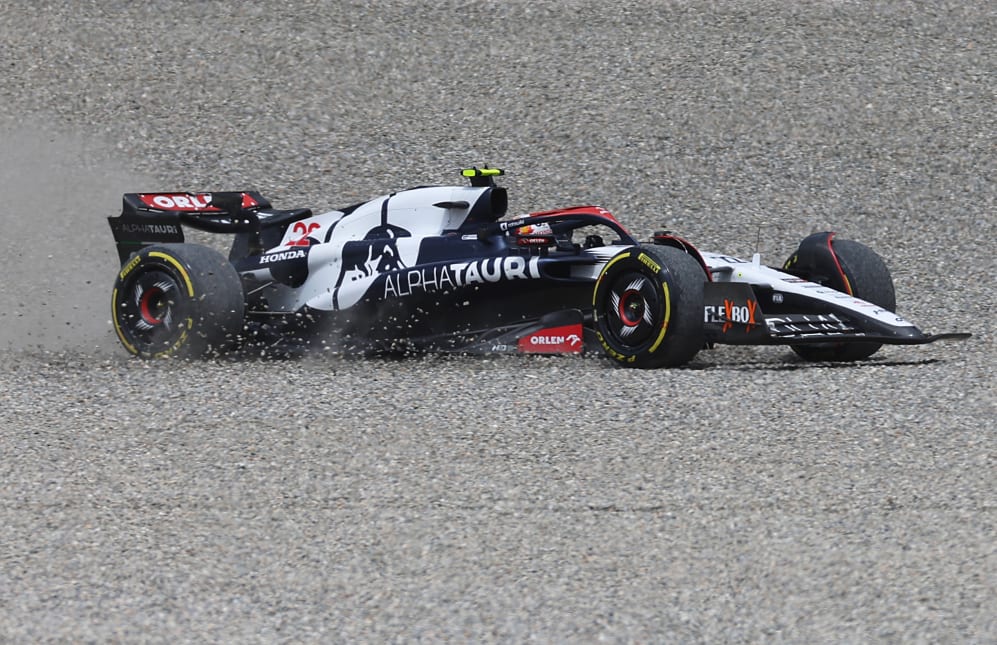 Pirelli
Mario Isola, Motorsport Director:
"One driver dominated this Grand Prix from start to finish, but there was plenty of excitement in the battles between the nineteen others. From our point of view, everything went well. Our simulations going into this race were confirmed on track, in all the changing conditions we experienced from Friday through to today. We knew the Soft would not be a suitable race tyre, but both Medium and Hard allowed those behind the wheel to push and attack when necessary, showing a sufficient differential in degradation between them, without suffering any excessive overheating. In terms of strategy too, the race went to plan. The VSC on lap 15 did not influence the number of stops, but it did open up alternative choices terms of choosing the window for the first pit stop. The top four finishers went for two Medium stints and one Hard, if we ignore Verstappen's final stop which is not relevant to this analysis, while those who from Friday had preferred to keep two sets of C3, mainly opted to use both along with a set of mediums."