Feature
What the teams said - race day in Austria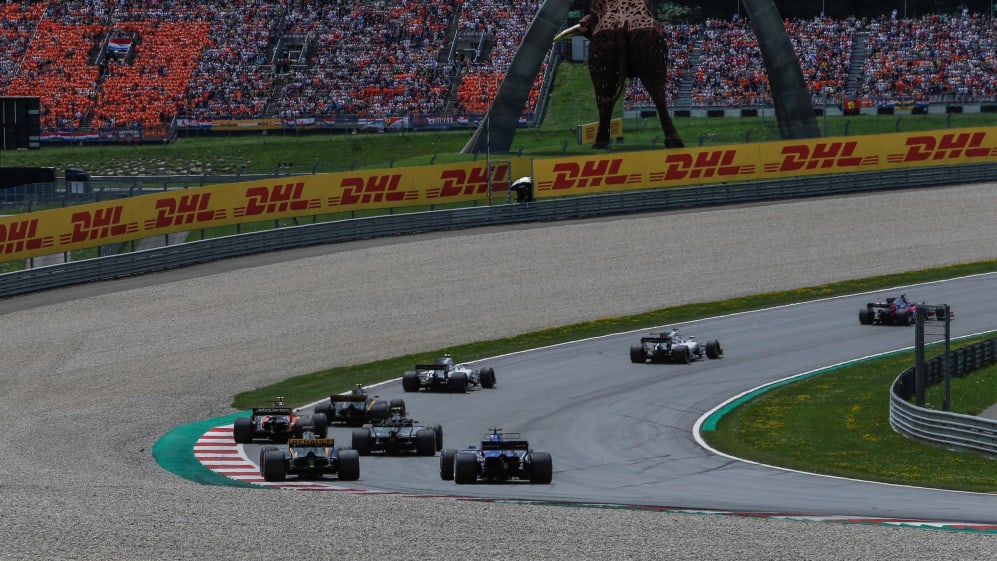 A round-up of all the action from the Formula 1 Grosser Preis von Osterreich 2017 in Spielberg...
Mercedes
Bottas drove a superbly controlled race from the front, despite coming under increasing pressure in the final laps from Vettel. He recorded his second victory of the season, to launch himself back into the championship battle. Hamilton made strides in the first few laps but got caught behind Raikkonen and on worn tyres was unable to overtake. Mercedes pitted him for a successful undercut, but he was unable to extract enough from his ultrasofts in the last stint to catch and pass Ricciardo for the final podium spot.
Valtteri Bottas, 1st
"That champagne tasted good! The first win is obviously special, but this is only my second win, so it's a great feeling to get it. It's been my best weekend yet with the pole and the win and I hope we can continue from here. The start was absolutely perfect - definitely my best start ever. And you saw how close it was with Sebastian at the end, so today I needed it. The car was so good this weekend, so I knew we could still do it. I got a massive blister on the rear-left in the second stint after just five laps, which made the car tricky to drive. I was losing more and more performance, but it wasn't my first time having to keep Sebastian behind me. I kept my focus and managed to finish the race without any mistakes. It would have been tricky to keep Sebastian behind for much longer, so it was good to see the chequered flag. I'm still in the title fight and I'm only going to get better. We're growing all the time."
Lewis Hamilton, 4th
"It's been a difficult weekend, but I can take heart that I limited the damage to Sebastian in the points and that I went forward through the field. The car was great today, I could push the entire race on the tyres and I gave it absolutely everything out there. I really don't think there was much left in the car at the end of the race, but I was probably a bit too kind in my fight with Daniel - and left him too much space. I won't do that again. We've slipped further behind Sebastian again, but there's a long way to go. I'll keep battling and I'll never give up. Valtteri did a great job all weekend and thoroughly deserves the win. He's just 15 points behind me now and he's very much in this title fight. I'm really looking forward to Silverstone - I've got a few days to put this weekend behind me. I can't wait to see the home crowd again and start with a clean slate. I hope I can use Silverstone as a springboard for the second half of my season."
Toto Wolff, Team Principal
"That was a perfect day for Valtteri. He made a sensational start - although we had a few nervous moments when we heard it was under investigation. But after that he showed great pace in the first stint, then was able to manage a blistered tyre to the finish in the perfect way on his second stint. It was the perfect result for him and also for Lewis, to score maximum points. As for Lewis, he had a glimpse of P3 on the final laps but today it wasn't quite meant to be. It was an afternoon of damage limitation for him and, in the final result, these are 12 points won and not six lost to Sebastian. He has had a tough run with the headrest problem in Baku and then the gearbox penalty here but he is still right in the fight. It's not even half time in the championship and there are 275 points still to be won. Our target will be to let him fight back in the best possible way in Silverstone."
James Allison, Technical Director
"It was a brilliant day for Valtteri whose pace in the first stint was absolutely mighty. The second half of his race was hampered by a blister but he drove with great poise to score his second win. Lewis came achingly close to the podium in the final laps, probably half a car length away from passing Ricciardo. We are sorry about the gearbox penalty he suffered but he tackled the situation as he always does: he got his head down and made the most of it. This was a good race for our Constructors' Championship position, extending our slender advantage over Ferrari, but we need to make sure we give Lewis the equipment he needs at the next races to make sure he doesn't start Sunday afternoon on the back foot."
Red Bull
Verstappen had a dreadful start due to clutch problems, and ended up in the midfield melee. He was an innocent bystander as a late-braking Kvyat ran into Alonso, who in turn spun Verstappen's Red Bull. That resulted in the Dutchman's fifth retirement in seven races. Ricciardo got away cleanly, and whilst he didn't have the pace to challenge Vettel ahead, he drove a fault-free race to grab the final spot on the podium at his team's home race.
Daniel Ricciardo, 3rd
"I do love a fight and Lewis came out of nowhere in the last few laps. It felt like the gap was stable and then within a handful of laps he was catching me pretty rapidly. I then had two laps to go and had to defend which made it a pretty exciting race for me. To have good speed around here in dry conditions was a pleasant surprise for us. I had Seb in front of me pretty much for the whole race and I know that his long runs on Friday looked quite a lot quicker than ours so we didn't really expect to have a similar race pace to him or Mercedes today. Just to hold Lewis off, have a fight, defend and come out in front was cool. Another podium is pretty sweet. I enjoyed it up there. Silverstone is going to be great with these 2017 cars so I'm looking forward to that and I'm sure we'll have a lot of Poms out there next weekend."
Max Verstappen, DNF
"We had a clutch issue at the start of the race. I could feel on the formation lap that it wasn't great and then at the start it failed which triggered the anti-stall as I tried to launch. I pulled away after losing many positions and tried to stay out of trouble in to turn one but I got hit on the rear tyre. Because of the hit the clutch over engaged, braking the bearing in the clutch, so I had no drive. The boys are all working very hard and there is no blame on anyone, we have just had a lot of bad luck recently and I have to try and stay positive. It's definitely not nice at the moment and I'm very disappointed again but it's also very important to keep pushing everyone forward as there are still many races to go. We just hope that the next race will be better. I also feel disappointed for all the Dutch fans as they have travelled a long way. I wanted to put on a show for them but I could not even complete one corner today. We will of course try to do better at Silverstone."
Christian Horner, Team Principal
"A fantastic race from Daniel after making a good start, including a good passing move on the fast starting Haas of Romain Grosjean. He then drove a very disciplined race; consistently and competitively. He came under serious challenge from Lewis in the closing laps but defended firmly and fairly and it was great to see him on the podium at our home grand prix, for his fifth consecutive podium. Max's car unfortunately went into anti-stall on the grid which caused a slow getaway. He was out of positon and then got collected after an incident between Daniil Kvyat and Fernando Alonso which turned him round at the first corner and thereafter had an issue which looks like the clutch. We'll have to get the car back to understand if it was a result of the incident or what happened off the start line. It's been great to see such a strong crowd at the Red Bull Ring supporting the Austrian Grand Prix, it looks like it's been a really enjoyable weekend for all of the fans."
Williams
After a disappointing qualifying, Williams decided to cover all bases by splitting their strategies and starting Massa on softs, Stroll on the supersoft rubber. Both made fantastic starts to jump up the field, and brought home a much needed double points finish. Massa had the upper hand on his team mate after running a longer first stint and was chasing down Ocon in the closing stages before running out of grip.
Felipe Massa, 9th
"For sure you cannot celebrate a ninth position but starting 17th it was a fantastic race for me. I had a really good start, getting through the issues that were happening in corner one, and overtaking cars. It was a fantastic first lap as the pace was great, compared to qualifying, which is something we need to work to understand so that we don't repeat starting out of position like today. At the end of the race it was a bit disappointing not to be able to pass Ocon, but I was just losing a lot of grip in the high-speed corners behind him, and he had good speed on the straight so it was quite difficult. I'm so happy with my race and it's good to have both cars in the points."
Lance Stroll, 10th
"It goes to show anything can happen in a race and it is not over on a Saturday. I am feeling very positive as I started 18th, finished 10th and picked up another point. It wasn't an easy race, although the start was good and we managed to gain some places. I knew after the start we were in a good position, so it was just a matter of staying focussed, not making any mistakes and saving the brakes and tyres towards the end of the race. First, there was Magnussen putting pressure on me and then at the end Palmer, but I just needed to defend as I know around here it is quite difficult to overtake. We just need to figure out what happened to us this weekend in qualifying and try to cure it for the next race. The next race is Silverstone, the home race for the team, so I am really looking forward to it."
Paddy Lowe, Chief Technical Officer
"A double-points finish is a great achievement for us today. Congratulations to Felipe and Lance for producing that result, especially given the fact that they started in 17th and 18th. It was a pretty eventful opening lap, which put us immediately into 10th and 11th. From there, we managed to pick up more places in overtakes and move up to ninth and 10th. Our strategy was to run for longer on the harder tyres and then finish with a shorter stint on the ultrasoft, which meant we were able to attack Esteban Ocon at the end, but we were unfortunately unable to make the position. Equally, Lance defended really well against Magnussen and Palmer to take his third points finish in a row. So overall, we certainly ended the weekend on a much better note than it felt like we would yesterday."
Force India
After intra-team incidents at the previous two races, Force India must have breathed a sigh of relief at getting both cars home cleanly. Perez finished ahead of his team mate, who drove well to hold off a charging Massa on fresher tyres. A double points finish is a good return to form ahead of the team's home race next weekend.
Sergio Perez, 7th
"Finishing seventh is a great result for the team and a nice reward considering how difficult this weekend has been for us. We struggled in practice, but come qualifying and the race we were quite strong and we came home with some good points. It wasn't the easiest of races for me. I made a good start, but I lost places to both Esteban and Lewis [Hamilton] at turn one. Thankfully I was able to pass them both at turn three and regain my starting position. I suffered from a lot of front graining in my first stint, but after the pit stop I was able to settle down into a rhythm, even though it wasn't enough to attack Grosjean. We had very similar pace to him so we couldn't get any closer. It has been a difficult weekend, but we recovered well and we can be happy with the outcome. Now our focus shifts to Silverstone. I really can't wait to try these 2017 cars on the fastest track on the calendar."
Esteban Ocon, 8th
"I'm pleased with the points we've scored today and it was a strong race for the team. I made a good start and gained a couple of positions, but I was behind Lewis [Hamilton] going into turn three and got squeezed, which meant I had to ease off and lost momentum. Then it was just a case of keeping my head down and being consistent with my laptimes. I don't think we went the right way with the strategy because I lost a lot of time to Massa after my stop and we just need to review things and see if we could have done anything differently. It's not been the easiest of weekends for us, but we've worked hard and it's satisfying to come away with good points even when things are not going perfectly. I think we showed our strength as a team."
Robert Fernley, Deputy Team Principal
"Another double points finish is just what we needed today. The team did an excellent job to convert our strong qualifying into solid points and we leave Austria feeling pretty satisfied with our performance. It was a relatively calm race from the pit wall with no significant dramas. Both drivers kept out of trouble on lap one and as the race settled down we were able to hold station with competitive race pace. These ten points consolidate our fourth place in the championship as we approach the midway point of the season."
Toro Rosso
Sainz had a slow getaway, but managed to avoid the first lap collision ahead to run comfortably in P9 before a return of the technical gremlins that had marred his weekend. He dropped down the field, before being called in to retire on lap 44. Kvyat was deemed at fault for the crash at the first corner and received a drive through penalty, which hampered any chance of competing and he ended up propping up the field as the final classified finisher, three laps down.
Daniil Kvyat, 16th
"Not the race we hoped for. Regarding the start, it was a good one, even if I had to suddenly go around my teammate. I then couldn't see too much of what was happening in front of me; I think Verstappen had a problem too, so Alonso reacted to that – he saw it, I didn't, so he took a step back while, on the other hand, I lost all my references. I tried to do my best but ended up colliding, unfortunately. It's upsetting for me and for the others for sure, but these things happen to all drivers. Now I just need a cold shower before Silverstone, have a look into it, correct what needs to be corrected and move on."
Carlos Sainz, DNF
"What a big shame! We had an issue with the engine from the moment the race started – I felt it misfiring during the whole of the first ten laps, which meant I dropped from ninth to sixteenth. We tried everything in order to get it working and for 15 laps I was playing with the switches trying to make the car work. In the end this unfortunately didn't happen, even though we managed to recover a bit of pace, and as the issues persisted in the end we had to retire the car. It's disappointing and certainly not what we needed, especially because points looked possible today. All in all, a difficult end to what I'd describe as a good weekend – qualifying yesterday was good and I was running in the points before the problem started, so there are some positives to take. I now look forward to next week's British GP at Silverstone, one of my favourite tracks and a Grand Prix we can sort of consider my 'second home race' as I live in London when I'm not in Madrid!"
Ferrari
Vettel struggled to match race leader Bottas in his first stint, but found an extra turn of pace once on the supersoft tyre to chase down the Finn. He was left ruefully wondering what might have been had the race lasted just one more lap. Raikkonen by contrast struggled for pace, losing a place to Hamilton after running a longer first stint. He came home a distant fifth.
Sebastian Vettel, 2nd
"Today I struggled in the first stint with the first set of tires, the Ultrasofts. I think they were just getting too hot. Then the clouds came in and the balance of the car improved. That's why I think we were starting to get quicker. It was a shame that we couldn't win, because we were close. We learnt more about the car in these days and there are many positive aspects regarding this race, but I feel like I could have won today and I didn't, so I am not entirely happy. At the beginning of the race I was just not quick enough. The pace was there, but the balance wasn't. I like this place, which has a lot of history and it's the place where I drove a racing car for the first time, in 2003. It's a long time ago, but I still have beautiful memories. And now I am already looking forward to going to Silverstone."
Kimi Raikkonen, 5th
"In the first part of the race we had some difficulties with the balance of the car. I struggled a little bit with the first set of tires at the beginning, but then it was getting better and better. The second set was fine: at the beginning of the last stint the car felt very good and we had good speed, but at that point we were too far behind to try to recover. As the tires were getting older we obviously started to go slower, but we were still doing good lap times and the balance was improving. Overall, though, it was not a very easy weekend."
Maurizio Arrivabene, Team Principal
"It was a very close race, which, once again showed that Ferrari is on the pace. Sebastian was able to fight for the win right to the very last corner, having produced a great drive. It was a shame for Kimi, who already on the opening lap, ran wide at turn 3 while fighting with Ricciardo. If not for that, with the car he had today, he too could have had a good race. The next race at Silverstone is just a few days away and as usual, we will be working flat out to prepare for it."
McLaren
Alonso was caught between a rock and a hard place at the start - namely an over-enthusiastic Kvyat and an unlucky Verstappen. The resultant collision ended the Spaniard's race, meaning he has yet to finish in Austria since rejoining McLaren in 2015. Vandoorne did see the chequered flag, but a drive-through penalty for not moving aside under blue flags cost him any chance of challenging for points.
Fernando Alonso, DNF
"We had a good start again, I was able to benefit from Carlos Sainz and Max Verstappen's poor getaways, so I was already up to 10th when we arrived at the first corner. But the guys behind me arrived at the turn too quickly, didn't brake enough and destroyed my race.
"I was hoping for a good race but we were just unlucky – things were out of my hands; I was just a passenger.
"We know it's always tricky to start from the middle of the pack, but it's just not necessary to gain an extra meter at the first corner. Sometimes, the guys behind risk things a bit too much."
Stoffel Vandoorne, 12th
"I'm actually a little bit disappointed with 12th – if you look at the pace we had throughout the race, I think points just might have been possible today. And that's very encouraging.
"Our weekend has generally been quite positive – we had no problems, our pace has been reasonable, and I felt very comfortable with the car. Unfortunately, I was stuck behind some cars and it was impossible to overtake – but that's how it is for us at the moment.
"I got a penalty, but we had to try something, and I don't think I really lost a lot in terms of the overall result. It's a shame we didn't score points today, but our pace all weekend has been a positive for the whole team."
Eric Boullier, McLaren Honda Racing Director
"There are always highs and lows in motor racing. Let's start by looking at the positives: Stoffel showed very solid pace all weekend, and he and his team looked to have made demonstrable progress in every session. His race was solid, although he couldn't really show the car's true potential after spending the entire race running in dirty air. We'll take his drive-through penalty on the chin – he was pushing at the time to try and have a go at [Jolyon] Palmer, and it was just an unfortunate consequence of that.
"In terms of the negatives, Fernando's race was one to forget – albeit through no fault of his own. We accept that racing is racing, but these sorts of silly incidents aren't really acceptable at this level. To be walking away with a substantially damaged car after just one lap is a bitter pill for us to swallow.
"Let's finally look to the positives again: we're set for an incredible week in the UK as we head to Silverstone for the British Grand Prix in front of our home crowd. As always, we'll be doing our very best not to disappoint them."
Yusuke Hasegawa, Honda R&D Co. Ltd Head of F1 Project & Executive Chief Engineer
"After a positive start to our Austrian grand prix weekend, I'm very disappointed with the outcome of the race today.
"Despite having some issues, the atmosphere within the team has been much more positive this weekend, and we felt we were in a strong position to score points. Both drivers qualified well and were starting the race from competitive positions, and we were happy with our set-up.
"Fernando had an incredible start and made up a number of positions off the line, but was forced into an early retirement after being caught up in an incident at Turn One.
"I think Stoffel had the pace to score his first points of the season today and looked comfortable in the car, but he fought with traffic for most of the afternoon and was unable to gain positions.
"We will soon be heading back to the UK for our first home grand prix of the season. It's one of the highlights of the year, and we are looking forward to this special weekend. We expect to have many fans, colleagues and family there, so we hope that we can show them a good race."
Renault
Hulkenberg struggled from the off on his first set of tyres, pitting early and dropping down the field as a result. Palmer had a stronger race, keeping his nose clean and pushing Stroll hard for the final point on offer. He fell an agonising 0.5s short however, leadng to his third 11th place finish in four races.
Nico Hülkenberg, 13th
"It was a difficult race for me. I had a terrible start ; I triggered the anti-stall mode where the clutch kicks in to protect a stall from the engine, because grip on the grid is quite high here. That was the beginning of the end for me. I was almost last before the first corner and from then onwards it was clear that it was going to be a difficult afternoon. We were struggling on the Supersoft tyres with overheating as well as with balance and grip. We decided to do an early first stop, putting on the Softs, but then the leaders were coming through and I had blue flags twice, losing huge amounts of time. It was pretty difficult today ; we need to review what happened and fully focus on Silverstone."
Jolyon Palmer, 11th
"We started in P16 and finished eleventh, it's my third race with an eleventh place finish, once more within touching distance of points! I had Lance Stroll in my way for just over forty laps and couldn't get past him, which is frustrating. I need to focus on qualifying better, but throughout the weekend the pace seemed improved so overall there are some positives. It's my home race coming up, and Silverstone's a great track with a lot of fast corners and it's one I really like to drive, so hopefully that can be the one that gets me in the points."
Cyril Abiteboul, Managing Director
"After Baku, the Austrian Grand Prix represents the second opportunity we missed to score points. Despite a generally good race, starting in P16 didn't give Jo the opportunity to finish in the points. Again, we need to qualify better to score on Sundays. Nico's race was very difficult - he had a bad start that needs to be investigated, in addition, we need to understand why his pace wasn't aligned with the rest of weekend. On a positive note, we see that our engine programme is heading in the right direction, allowing for a strong race pace and a new podium. We are turning the page and look forward to a quick turnaround to Silverstone. The British Grand Prix marks the beginning of a sequence of strong chassis developments. We continue to work hard to reach our targets."
Haas
Grosjean made a great start, challenging Ricciardo before being pegged back by both Raikkonen and Hamilton in the first handful of laps. His race was quieter after that, but his best finish of the season is still a cause of celebration. Magnussen was unlucky - a hydraulic issue leading to an early retirement.
Romain Grosjean, 6th
"It was a really strong race. I had a really good first lap and was enjoying the racing for a little bit. Lewis (Hamilton) and Kimi (Räikkönen) got past, but I focused on keeping Sergio (Perez) behind. We pushed hard all the way and that's the racing we like. It was a great race and a great job by all the guys. I was happy with the car all weekend long. There are a few things we need to improve, but today we were the best of the rest. We showed that when we get everything to work on the car we're strong. It's the experience of getting everything working in the window all the time that we're missing a little bit. This was only our 30th race ever, so we can't have everything. I'm looking forward to the next race. Silverstone's going to be fun."
Kevin Magnussen, DNF
"It's pretty tough when these things happen. You're in a good position, the car's working really well, and it was our strongest weekend with the most potential for a good result for both cars. I could easily have been up there with Romain and we could've had a perfect result for the team. It's just been really poor luck this weekend. I'm hoping that we can keep our form up and have other races like this where we can have top results – like we should have had today. There's only a few days to wait then we're at it again, so I'm really hoping we can do well again."
Guenther Steiner, Team Principal
"Highs and lows. The good thing here was that we showed the pace of the car and we had a good race. Unfortunately, Kevin had a hydraulic problem. We need to look into what it was, but he was racing hard. Again, we were up for having two cars in the points, but we'll get there. Fantastic from Romain – he drove a calm, solid race and it was our best result of the year. We'll have some lows after this, but we'll enjoy what we've got and keep on digging for more points."
Sauber
Wehrlein had to start from the pit lane, but nonetheless managed to catch and pass Ericsson in the latter stages of the race to grab team honours. Sauber decided to run similar strategies for both their drivers, but neither was able to catch Hulkenberg ahead.
Marcus Ericsson, 15th
"It was a difficult race for me. At the beginning I had issues with getting the tyres to work properly, so I lost ground. Overall I was struggling to keep up the pace, although some parts of the race were alright. Later on, the blue flags made it challenging to keep the tyres in the right working window. We have to focus on the next race in Silverstone, which is only a week away. It is one of my favourite tracks, so I hope that we can have a stronger race weekend there."
Pascal Wehrlein, 14th
"I started the race from the pit lane due to an engine change. During my first lap I picked up a piece of debris before reaching turn four. I was slightly worried about the condition of the car, but fortunately it turned out to be alright. I pushed hard all the way from the beginning to the end of the race, but this result was the maximum for today. I hope we are more competitive in Silverstone."
Pirelli
Mario Isola, Head of Car Racing
"With some very fast average speeds and no rain, there was a bit of blistering but this did not affect performance – with the fastest laps being set at the end of the race. Although one stop was the standard choice, there were many different variations on the one-stop strategy, with a few drivers trying something different to make up places. On the whole, the strategy options were quite aggressive throughout the field, with some long runs even on the ultrasoft. This underlines the confidence that the teams have both in the speed and durability of the tyre range."