Feature
What the teams said - Race day in Bahrain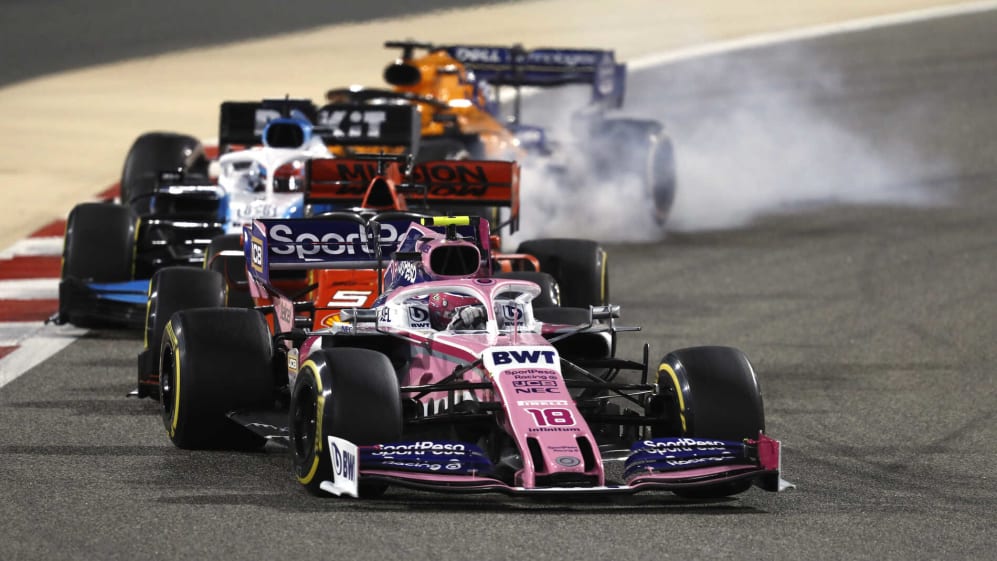 Mercedes
Mercedes backed up their emphatic victory in Australia with another one-two. Advantage Silver Arrows? Hardly – Hamilton inherited the lead when Leclerc suffered mechanical issues, with Bottas squeezing past the ailing Ferrari a few laps later. However, they did seem closer to the Italian cars on pace than they had all weekend, with Hamilton passing Vettel on merit. So in what looks to be a season-long battle for manufacturer supremacy, Mercedes have 'stolen' what could be a vital race from their rivals.
Lewis Hamilton, 1st
"It was very tricky out there today and I had to give it everything I had. We were very, very lucky to get this 1-2, Ferrari outperformed us all weekend. Ultimately you want to have a real fight and want to pass someone because you're quicker, so it feels a bit weird and you can't quite believe your luck in these scenarios. I have been in similar situations and I know how it feels, but Charles did a great job all weekend long and has a beautiful, bright future ahead of him. We've only had two races; one where we were rapid and far ahead, one where Ferrari had the upper hand. It's hard to say how the next races are going to pan out, but I anticipate that it will be a tough fight and that it will be a back and forth between the two teams. We need to keep working hard to see where we went wrong this weekend and to see where we can improve the car. But as we saw again today, reliability also plays an important role, so we need to keep working on all areas. We'll take the points we got today and move forward to China."
Valtteri Bottas, 2nd
"This was not an easy race, the car was very difficult to drive and the conditions were very tricky with the gusty winds today which made the car very unpredictable. I had a good start and managed to get to P2, but in the next lap the wind caught me up going into Turn 1, so I lost the position again and ultimately fell back to fourth after a battle with Lewis. After that it was actually a relatively lonely race for me at points, I didn't see anybody; but I think it was probably very exciting from the outside with many unexpected moments. Ferrari were very strong again in the race as they were all weekend. But luck was on our side today, which was a welcome change for me personally after all the bad luck I experienced last year. On the other hand our car was very reliable which ultimately won us the race today. It was a tough race for Charles, but he did a great job all weekend and I'm sure his time will come. We're leaving Bahrain with lots of points but also a lot of work to do for China."
Toto Wolff, Head of Mercedes-Benz Motorsport
"Charles was very unfortunate today; he was the quickest guy out there and should've won the race. But on the other side that's racing; sometimes you are lucky, sometimes you are unlucky - in my experience it all weighs out in the end. Lewis drove a strong race today. He fought a fight with a weapon that maybe wasn't on his opponents' level, but he managed to stay close to Vettel and win that battle on track, which was one of the key moments for the victory. Valtteri had a tougher day in the office, he was struggling with the tyres on the very abrasive asphalt here in Bahrain. We're walking away with 43 points from this weekend, but it is clear that we were very fortunate today and that it was our reliability, not our pace that won us the race. We are lacking straight line speed which is very important in China. So we need to stick our heads together and analyse why we were struggling with our pace both in qualifying and in the race. It's a very close fight and we need to make sure to bring our A game in order to be competitive in Shanghai."
Andrew Shovlin, Trackside Engineering Director
"We're delighted with the 1-2 today but well aware that we didn't have the fastest car this weekend and we've got some work to do to catch Ferrari. We've lacked a bit of rear grip and a bit of straight line speed this weekend and this made qualifying and the race difficult. We've got some developments to try at the test here that should help our speed in the corners; it would be nice in China if we can rely on our pace to get the win rather than good fortune. However, the team did work really well today under a lot of pressure our car has been perfectly reliable here all week which is great to see. It was really unfortunate for Charles today, he has impressed everyone with his speed and composure, so to lose the win through no fault of his own must be tough, but it looks like he won't have to wait long for the next opportunity."
Ferrari
Leclerc lost out at the start, as he struggled for grip off the line. The youngster didn't lose his cool, biding his time before overtaking Bottas and then Vettel for the lead. He proceeded to drive off into the distance, victory assured before late drama in the form of a malfunctioning power unit cost him speed, time, and ultimately two places. Vettel likewise looked to have P2 sewn up but came under pressure from Hamilton. When the Mercedes man pounced, Vettel lit up his back tyres in defense, spinning by himself before losing his front wing due to the tyre vibrations. He did well to recover to fifth in a chastening evening.
Sebastian Vettel, 5th
"Not the race we wanted. We started first and second and we didn't finish there. A disappointing evening. I had a good start but already halfway through the first lap I realised that the car was extremely difficult to drive. I think Charles struggled less as he had no difficulties in passing me. It was quite tough out there. Then we lost P2 at the pitstop but came back. In the second stint on the medium tyres maybe it was a bit better but overall we didn't have the pace we should have had today. While battling with Lewis I made a mistake at turn 4, which is one of the trickiest corners on the track. I suddenly lost the car and I spun. In doing so, I damaged the tyres so much that I had quite a lot of vibrations, which eventually led to the failure of the front wing. It was Charles' race today, he got very unlucky. I am sorry for him and for the team".
Charles Leclerc, 3rd
"It's part of motorsport, we know that. Sometimes it's not your day to win and today wasn't ours. In the final part of the race we had an issue with the power unit and I had to slow down. It's a shame because the race seemed to me to be under control. The team is disappointed and I am disappointed but there are a lot of positives to take home from this weekend. They gave me an amazing car and that is very much to their credit. The car was very easy to drive and was very good. These things happen in motorsport: we took the best out of it anyway. It's my first podium even if I'm not enjoying it as much as I wanted. It's life, it happens, we'll come back stronger".
Mattia Binotto, Team Principal
"It was a shame for Charles. He was in the lead for much of the race and showed that he was particularly comfortable here in Bahrain, also setting the race fastest lap. He deserved to win and it was only the reliability problem, which we must now investigate, which prevented him from doing so. That is something unacceptable from us and it shows how important it is to get every last detail right in order to win. With regards to Sebastian, these things can happen in racing when you are on the limit, therefore it is more important to consider the car, which today performed well. The team also did an excellent job, producing some really good pit stops. We head home with many positives on which to build for the rest of the season, such as our performance level and the way the team reacted. Clearly there are still various things that we have to learn and we will continue to work on them."
Red Bull
Verstappen struggled for pace on the soft tyre yet again, coming under pressure from Sainz. Those two collided in a racing incident, the Dutchman fortunate to escape without damage. After a lonely race, he started to hunt down the stricken Leclerc before the safety car ruined his chances of snatching a podium. Gasly kept out of trouble in the midfield, profiting from the mistakes of others to work his way into the points.
Max Verstappen, 4th
"I think we maximised the result today and it was another good point's score. To finish fourth was not too bad as we struggled with pace and rear grip, especially with the high winds. I was sliding around a lot so it was not easy and I just had to manage it, but I don't think we could have done a lot differently. I drove to the limit of the car, in Australia it was better but here it was pretty difficult. We were almost on the podium today but it would have been down to luck as we didn't have the true paceand really deserve it. Anyway, it was more unfortunate for Charles, but at least he's still on the podium and I'm not too disappointed with fourth. We still have a lot of things to learn about the car so we will go back to the factory, understand what happened here and continue to try and close the gap in China. This just wasn't our weekend."
Pierre Gasly, 8th
"It was quite a difficult race and I'm still not completely comfortable with the car. As soon as I try to push, I struggle a lot with the rear and the traction. For sure, I need to see what I can improve to get the maximum out of the car and work with the engineers to see what we can do to make me feel more confident, because at the moment I feel I cannot really push. I need to make an effort and adapt, because each car is different, and I will work with the team to find a set-up which fits my driving style better. Overall, I think there are also some positives today. After the start the car felt better, I managed to finish inside the points, and now we just need to find the areas we can improve on. We will do the work and I'll do anything I can to arrive stronger in China."
Christian Horner, Team Principal
"It was a tough race this evening in Bahrain in extremely windy conditions. We seem to have struggled to get the tyres to work at their optimum all weekend and we experienced the same challenge during the race today. Nonetheless, Max made a good recovery at the first corner and raced very hard, but we just didn't have the pace to go with Mercedes or Ferrari. He was unfortunate to miss out on what would have been an opportunistic podium following Charles Leclerc's bad luck but hopefully there will be more podiums to come soon. Pierre drove a solid race to score his first points for the Team, finishing eighth, and making good progress through the pack. He displayed his race craft with a couple of bold overtaking moves, which will be good for his confidence, but the Safety Car at the end prevented him from progressing further as he was rapidly closing in on the cars ahead."
Renault
The mysterious case of the Renault double DNF. Not the latest best-selling crime novel, but rather the story of how both cars retired on the same lap, at the same place, a handful of seconds apart with what seemed to be independent issues. Up until then it had been going well – Hulkenberg had made up six places at the start and was running what proved to be the better two-stop strategy to be best of the rest in P6. Ricciardo's one-stopper wasn't going as well but the Aussie was still in the points... Until he wasn't. Renault might have ceded the midfield advantage, but that is the least of their problems tonight.
Nico Hulkenberg, DNF
"It's definitely a hard one to swallow today. This sport can be so tough sometimes. It was a great ride out there with lots of battling on track to go from seventeenth to sixth, but unfortunately, we couldn't make it to the finish line. We'll look into what happened, but I lost power quite suddenly and that was that. It was a fun race with a crazy first lap which I had to survive and by then I had to keep my head down. The team did a great job on the two-stop strategy today and we can take positives from that. We have to be cleaner going forward and make sure we don't face anymore disappointments like this."
Daniel Ricciardo, DNF
"A lot happened in the race today. Initially it looked like we had competitive pace and we therefore committed to a one-stop strategy. As we got deeper into the first stint I could tell that the tyres were struggling a lot. In hindsight, two-stops would have been better. Towards the end, as the others were coming through, I couldn't do too much to defend. I wanted to put up more of a fight but it was not possible, sadly. At the end of the race we had an MGU-K problem. It was a very up and down weekend, a lot happened, and we will take some time to absorb everything and come back stronger."
Cyril Abiteboul, Team Principal
"After a very intense winter, it's been a very bad start to our racing season. Similar to Melbourne, our qualifying in Bahrain was massively compromised by minor electronics issues, which impacted both cars. Our race today came to a sudden stop so close to the finish. These are issues we have previously encountered but something we were unable to rectify in Bahrain. These problems are increasingly frustrating and unacceptable as both cars have shown very good competitiveness both over one-lap and race runs. Nico delivered another outstanding drive from seventeenth to sixth. Daniel is building on precious experience in the car, and despite good race pace, his strategy gamble didn't work out. Daniel will continue his familiarisation in the car during this week's test conducting performance-related work. We must react and shift our focus on reliability."
McLaren
Sainz had a great start, and looked full of running. He harried Verstappen ahead, and passed the Dutchman, before the Red Bull man turned in and they collided. The stewards called it a racing incident, and replays showed Sainz probably didn't leave his former team mate quite enough room. Nonetheless, a broken front wing sent him spiraling to the back of the pack and into retirement later on. That left Norris to fly the flag, which he did in style, picking his battles carefully and making several moves stick to come home a very impressive sixth.
Carlos Sainz, DNF
"I'm very disappointed with how things turned out today. I made a great start and had a lot of pace in the initial laps which meant I was running with the top-five cars. I attempted a move on the Red Bull, tried around the outside but was hit.
"I got the worst of it with the puncture and ended up retiring the car for a different reason, so I'm obviously very disappointed. I was up for some good points but it didn't end well. On the positive side, the car felt okay and Lando scored good points for the team, so congratulations. We'll be back in China."
Lando Norris, 6th
"I'm really happy and pleased to have scored my first points but also for McLaren after all of the team's hard work over the winter. I had a good start: a good launch, good pull-away but then some wheel-spin. I was blocked going into Turn One, then was on the outside of another car and we touched. I went off and through the gravel, losing quite a few places.
"The pace after that was really strong. I caught up pretty quickly. I struggled a bit in the DRS train that formed but as soon as someone lost DRS, I could get them. I maybe struggled a little in the final stint but managed to stay ahead of Kimi. From my side, P6 is a really good job!"
Gil De Ferran, Sporting Director
"On one hand we are elated but on the other are left wondering what could have been. What happened to Carlos, who showed very strong pace early on and throughout the race, was a real shame. The contact ruined his chances of a good result. Meanwhile Lando was nothing short of spectacular today. After getting tangled up early in the race and losing some positions, his drive to sixth place was perfectly judged with the right blend of determination, aggression, pace and tyre management.
"Today's Bahrain GP was certainly exciting and a difficult one to determine the best strategy for, as the conditions really played a part in the behaviour of the tyres, not to mention how close the competition was. We managed to execute good pit-stops and strategy to bring our first points of the season. We leave Bahrain pleased and encouraged with our result, while at the same time remaining totally focused – there still is a lot of work ahead."
Haas
Grosjean's race was over at the start - he sustained significant damage after a crash with Stroll into the first corner and retired a few of laps later, his second DNF of the season. Magnussen was running in the points before losing a handful of places after an error saw him run deep into Turn 10. He then tried an opportunistic one-stop strategy, which proved the wrong call. By the time he changed to a two-stop, the damage was done and he came home outside the points in a disappointing day for the American outfit.
Romain Grosjean, DNF
"I didn't see anything at the start, I got hit from behind, then the car was too damaged to continue ultimately, but I'd lost so much time with the initial rear puncture heading to the pits. That's always the risk when you start not where you want to start. We should have been starting eighth today, but it is what it is. I think we'll have a good test on Tuesday to understand what happened today with the pace of the car. It's obviously not performing as we want it to."
Kevin Magnussen, 13th
"I don't really know what happened. We were a little bit skeptical about our race pace after Friday, but honestly, I thought we would have corrected that with the changes we made. It's a little unbelievable to be able to qualify sixth, best-of-the-rest, then be so off in the race like we were. We need to try and understand why we were so far off in the race, having been so good in qualifying. We have some homework to do."
Guenther Steiner, Team Principal
"It was a very disappointing race, not least with Romain (Grosjean) effectively going out on the first lap, having been run into by somebody. The performance was just not good enough today to get into the points. We need to investigate why this happened, especially after a strong qualifying. We'll try to find the cause of it. On the plus side, at least we now have two days of testing here, so we can maybe try to learn what happened. We go back to square one and start afresh in China."
Alfa Romeo
Giovinazzi collided with Kvyat when the Italian tried a bold move down the inside, ironically the sort of move the Russian used to be renowned for. He was fortunate to emerge unscathed, with the stewards declaring it a racing incident. Raikkonen kept his moves cleaner, using every ounce of experience to pick his way through the field and end a difficult weekend for the Alfa Romeo team with a credible seventh.
Kimi Raikkonen, 7th
"It was a nice race, there were some good battles. In the middle of the race we had a bit of a tricky moment, with the wind and the tyres posing a challenge. By the second pitstop the car felt really good. Step by step, we will try to make everything more solid and will make more progress."
Antonio Giovinazzi, 11th
"It was a good but challenging race. I could make some good advances and had a good pace at the end of the race. Unfortunately, I couldn't challenge for 10th place because of the safety car. We were really close to the points and that is positive. Now I have to stay focused and keep working for the next race in Shanghai."
Frédéric Vasseur, Team Principal
"It was a solid race for us, with both drivers putting up a good fight. Kimi stayed steady throughout and brought home some more points for our team. Antonio showed a strong performance, gaining 5 positions and finishing in P11, very close to the points. Our pace was good and the team worked well together. It has been a positive start to the season for us and we look forward to seeing what we will achieve at the next Grand Prix in China."
Racing Point
Stroll collided with Grosjean at the start, and after limping round the whole circuit with a broken front wing, emerged from the pits well off the pace and was never going to recover. Perez, though, was another to profit from staying out of trouble. The Mexican stopped twice, benefitting from a perhaps fortuitous undercut first time around to jump up a few places and came home to grab the final point on offer.
Sergio Perez, 10th
"It's good to pick up my first point of the season. It was an unpredictable race and in that sense it's a nice surprise. We got a bit lucky with both Renaults retiring, but at the same time the Safety Car didn't help me because I was closing on Albon and I lost the opportunity to overtake him for ninth place. I made a really good start and gained a few positions, but I couldn't defend my position for long. Then, we had an issue with the brakes getting too hot and I had to pit much earlier than planned to remove some debris blocking the brake ducts. Considering everything that happened in the race we can be pleased to pick up a point."
Lance Stroll, 14th
"I haven't seen the replay yet but I think the contact with Romain [Grosjean] was a first lap racing incident. Unfortunately we touched, there was damage, and I had to pit for a new nose. We were racing wheel-to-wheel and these things happen, but it was really costly because my race was pretty much over after that. We carried on racing and pushing, but we couldn't recover after losing so much time. The wind had really picked up out there today, but everyone was in the same boat and after a few laps we got used to it. We finished the race and there is plenty to analyse, but we've got to see where we can improve before we get to China."
Otmar Szafnauer, Team Principal & CEO
"It feels good to come away with a point from a pretty tough weekend. Things didn't go our way in the early part of the race with Lance having to pit on lap one [after contact with Grosjean] and Sergio pitting on lap eight to remove debris that was causing the brakes to overheat. From that position, with our strategy compromised, recovering to the points with either car looked challenging. It was a shame because both cars made strong starts, gaining places, but all that good work was undone. As the race settled down we showed competitive race pace and just tried to recover the lost ground. We were a bit fortunate with the late retirements allowing Sergio to squeeze into the top ten, but that's all part of racing and we were there to pick up the pieces."
Toro Rosso
Kvyat was tipped into a spin by contact with Giovinazzi in the Alfa, costing him a few places. That, plus a five-second time penalty for speeding in the pit lane contributed to an underwhelming result for the Toro Rosso man. Fortunately for the team, Albon kept his head down and his nose clean to profit when others retired and come home for his first F1 points.
Daniil Kvyat, 12th
"This weekend has been a bit scrappy, starting from yesterday where we should have qualified better. At the start of the race, I had too much wheel spin which put me on the back foot on the first lap. From then onwards, you have to fight harder to make up the lost positions and, without these couple of issues, I think it would have been a better race for us. Our pace was quite good today, it's just a shame we had the spin after the contact with Giovinazzi. This weekend wasn't the strongest, but we learned some lessons from it so hopefully we can put everything together for a better weekend in China."
Alex Albon, 9th
"That was a busy race – I felt like I was always fighting with someone at some point, there was always something to do! I didn't have the best start as I was a bit shy into the first corner, but after that, I put my head down and got on with it. We had a good strategy and decent pace on the prime tyre. In the end, we got a bit lucky with the retirements, but I'll take it! It was so tricky with the wind out there and it made the car unpredictable, but we were quite strong in the race, it's just a shame about the start. It was a challenge to overtake because when you get close to another car the tyres overheat and you get a bit stuck. However, I enjoyed myself out there and it was good to get that experience. I'm very happy to pick up my first points in Formula 1 and I hope we can carry this pace into China."
Jody Egginton, Deputy Technical Director
"Tonight's race has been eventful for us and a number of other teams but everyone has worked hard and we will gladly accept the points. Both drivers did not have a fantastic start so at the end of the first lap we found ourselves towards the rear of the midfield train. From this point on, it was just a case of pushing as much as possible and managing when required, trying to move forwards. Dany's race was a bit more eventful with the contact with Giovinazzi and then paying a pitlane speeding penalty. This meant that, although his pace was quite strong, it was not possible to recover from these two incidents to get himself back into points contention. Alex worked hard and should be pleased with his race and his first points, especially in what were tricky race conditions. We now switch our thoughts to China, where we expect another close midfield battle both in qualifying and the race."
Franz Tost, Team Principal
"First of all congratulations to Alex Albon for having scored his first points in his only second race in Formula 1. He showed fantastic performance, especially in managing the tyres towards the end of the race. He did a really good job and he deserved his ninth position. Daniil was involved in a couple of incidents, first with Giovinazzi – where he spun and lost a lot of time – then he was caught speeding in the pitlane, which meant he lost another five seconds. As a consequence, he couldn't fight for points in the race. In general, during the weekend here in Bahrain, we were consistently hovering between P7 and P10 but, unfortunately, we didn't get everything together in Qualifying because of a few mistakes. However, in the race we got our speed back, which means we need to remain positive as the package is good. Now we have a quick turnaround to get ready for the 1000th Grand Prix in China."
Toyoharu Tanabe, Honda F1 Technical Director
"It was a tough race today, although it was positive that we managed to get all four of our cars to the flag, with three of them in the points. On the PU side, it was a trouble-free weekend across both teams and that played a part in our final result in Bahrain. Congratulations to Alex Albon on scoring his first points in only his second Grand Prix. He drove well, producing some good overtaking moves. Daniil Kvyat was unlucky to be involved in a collision, but he showed a good turn of speed and never gave up. We will now see what lessons we can learn from this weekend as we prepare for the next round in China."
Williams
Russell beat Kubica in the intra-team battle, with the Pole the only driver to start on the medium tyre in a bid to run a longer first stint. Despite keeping out of trouble at the start and the troubles and travails suffered by other drivers, they still wound up propping up the field in a lonely race for both drivers.
Robert Kubica, 16th
"It was a very tough race, but we expected that. The car balance issues that I am having put me in a difficult position today. Additionally, the wind didn't help so it made it more complicated, but I had a few enjoyable laps when the tyres were fresh. However, I knew what was coming so I had to take care of the rubber and ensure that I kept the FW42 on track rather than concentrating on performance."
George Russell, 15th
"We know where we are at the moment, but it was a fun race for me. I had some nice little battles with Robert so I'm thankful to the team for letting us race as it was enjoyable. It was quite a good race from a personal perspective but obviously not too enjoyable finishing in P15. We know where we are fighting for, but we brought the car home and learned some more things."
Dave Robson, Senior Race Engineer
"It has been another tough evening in Bahrain. The wind has been incredibly strong and very gusty which made driving the cars very difficult, and this was true for all drivers. We ran largely the strategy that we intended, and both cars were able to fight each other quite a lot, particularly in the first stint using DRS to attack and defend from each other. Credit to Robert and George as they drove extremely well and fought each other cleanly. Once the order settled down we continued to follow our strategy, we worked well to get both cars home, and we benefited from a few retirements at the end of the race."
Pirelli
Mario Isola, Head of F1 and Car Racing
"As Lewis Hamilton said, Charles Leclerc deserved to win today and his problems were part of a truly dramatic and unpredictable grand prix, in which tyre strategy played a key part. Both Ferrari and Mercedes timed their stops to try and undercut each other, but Leclerc's performance advantage meant that he was able to make his second stop without losing the lead. There was an ample range of strategies: in fact, only two teams ran exactly the same strategies for both their drivers. Outside the immediate frontrunners there were also some stand-out performances from drivers such as Lando Norris, who scored his first points for McLaren."