Feature
What the teams said - Race day in Brazil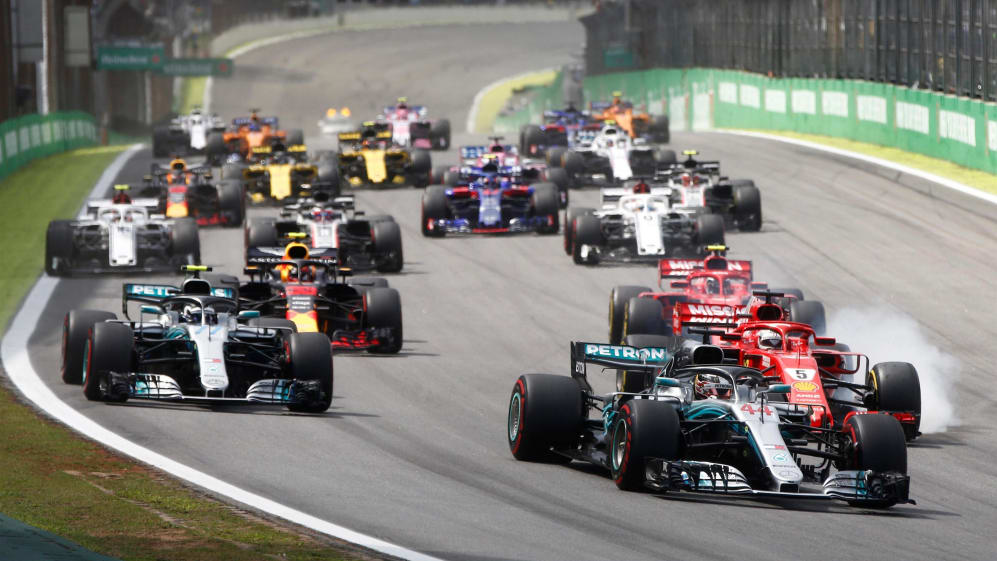 Mercedes
Hamilton got away cleanly and looked to have his hands full with a feisty Verstappen behind. He pitted early for medium tyres but was a sitting duck when Verstappen emerged just behind him on a fresher and faster compound. That was the lead gone... or was it? Hamilton capitalised when Verstappen spun ahead to grab an unlikely-looking tenth victory of the season to secure Mercedes another constructors' title. Bottas struggled with tyre wear throughout and limped home fifth, bemoaning his "s***" race on the radio.
Lewis Hamilton, 1st
"That's real history in the making for the team. If I were to stop today with Mercedes, I would always remember this day and that I was a part of it and that's so cool. This has been a seriously tough year and everyone on this team has fought so hard, harder than we've ever fought and we're the most united that we've ever been - which is not expected when you've had success in previous years and could easily drop the ball. The guys have been continuing to raise the bar. Today was such a tough race for me, but I really wanted to deliver and win this for the team. It has such a big knock-on effect; everyone on the team can now go into the last race and into the winter, knowing that they won the world title and that they're legends. I am so grateful for all the hard work - here at the track, back home at the factories, at PETRONAS and all of our partners - I'm so proud to be part of this team. I'm actually kind of nervous to go back to the factories and hear the roar - I think the atmosphere is going to be incredible. I didn't expect the Red Bulls to be in the race like that today, I thought they'd be in a similar pace to us, but they were quite a bit quicker. We struggled with the tyres in the first stint and they were able to manage the tyres better than us. In the second stint, I was on the Medium tyre and had an issue with the engine, so I was really just trying to bring the car across the line. Max passed me which was painful, but then they had an issue and all of a sudden I was back in the lead. I was on the radio, telling my engineers "I don't want to give it up, tell me what I need to do" - I was pushing so hard at the end, taking every risk to bring it home with a win. This is a high, but I want to stay on that wave and win the next race as well."
Valtteri Bottas, 5th
"I'm really happy and proud to be part of this team. This is down to hard work by every single team member, both back at the factories in Brackley and Brixworth as well as here at the race track - they really deserve this title! It's usually only a few people who are in the spotlight all the time, but there are many, many hidden heroes in our team - thank you all! We kept everything together even under immense pressure, minimised our mistakes and did a great job developing the car - huge congratulations to everyone. The race today was a bit tricky; everything went as planned at the start and we could gain the lead at the beginning, but after that it got more difficult. In the first stint, I was struggling with overheating the tyres, in the second stint, I was struggling with blistering on the Mediums, so we had to stop a second time. I think we didn't quite have the pace today. It was a slightly tougher race than I expected, I was a bit more optimistic before the race, but overall it is a great day for Mercedes."
James Allison, Technical Director
"This is an amazing, amazing group of people built up over many years. The skill and the dedication in a sport that is famously complicated - to get all those ducks lined up in a row, not just once or twice but season after season - is just incredible. What was difficult about this season is that the opposition were that quick. We came to the races not knowing if we were going to win, not having any idea whether they were going to smash us. It ebbed and flowed all through the year. We thought we had them punched down so many times - only for them to bounce back up and give us a really tough time, and it's still happening now. The fact that this year has been so desperately close shows that the difference between the teams is utterly tiny - and it was Lewis who made the difference for us this year. He keeps putting it on pole, in the races we can make mistakes and he'll recover it by doing something unlikely on the track that no-one sees coming and he's spent the whole year not making mistakes. He's just the consummate racing driver. We're very lucky with the driver partnership that we have. Valtteri had a lot of bad luck at the start of the year when he might have had some race wins and has not had the same success that Lewis has had. Valtteri has been stronger this year than he was last year, he's been a brilliant team mate to us all and a huge asset."
Toto Wolff, Head of Mercedes-Benz Motorsport
"We just wrote Championship history - but winning the fifth double World Championship feels so surreal. Who would have thought this would be possible when we embarked on this mission eight years ago? If anyone had mentioned this record back then, we would have told them they are crazy. And yet, here we are today, having just equalled the Ferrari record from the Schumacher years. It's a great honour to represent Mercedes on the track and I can't thank everyone enough for their great work, both here at the track and in Brackley and Brixworth, and also for the continued support from Daimler in Stuttgart and PETRONAS in Kuala Lumpur and Turin. None of this would have been possible without their contributions and without the hard work and the passion of everyone on the team. I had a conversation with Lewis on Sunday night in Mexico; he had just won his fifth world championship, but both of us were not fully satisfied - because our objective was to win both titles. That's why he was fighting so hard today because he wanted to finish this on a high, win the race and win the constructors' championship for the team. Valtteri had a trickier season than Lewis, but he has improved his performance this year and played a vital role for this championship success. Five consecutive titles - I'm immensely proud of this amazing achievement."
Red Bull
Verstappen will need some space to digest this one. He was faultless in pulling off some great overtakes early on, pumped in quick laps when it mattered and overtook Hamilton for the lead. He can't have imagined in lapping Ocon that anything untoward would happen... but the Frenchman tried to unlap himself, the two tangled and Verstappen lost the lead as a result. With extreme floor damage he did well to finish second, before engaging in some post-race handbags with Ocon. That will grab the headlines, but Ricciardo also had a stellar drive, managing plenty of clean overtakes to work his way from 11th up to fourth. A few more laps, and he might have grabbed a podium...
Daniel Ricciardo, 4th
"I'm happy with my race, I'm happy with all the team's efforts but still a bit disappointed to just miss out on the podium. I caught Kimi and could see the podium but unfortunately it just wasn't quite enough. The strategy was spot on once again so we can't fault ourselves at all. I had fun and some great battles, especially my pass on Bottas. I told the team on the radio I was going for it and I made it stick. The battle with Seb was cool, I think we maybe touched once or twice, but I've always respected him and the way he races. We've had some on-track battles before, at times it gets slightly heated, but I believe we know where each other's limits are. It's frustrating because every time we have a penalty we seem to have a fast car, if we started closer to the front I'm confident we could have had a really good result. It's bitter sweet I guess, we did well but if we had started where I qualified we could have done better, you can't ask for much starting start from 11th. Anyway, I have no regrets from the race, I did all I could and I know the team did, so it is what it is. With the pace we had today I really have some optimism going to Abu Dhabi. I feel like that's a stronger track for us than this, so maybe we can go there and drink some fake champagne."
Max Verstappen, 2nd
"First of all I want to thank the team. The car felt amazing all race, even with a damaged floor towards the end. The set-up, balance and strategy were perfect today. To be this competitive at a track we didn't expect to be is really positive, and makes me look forward to Abu Dhabi. We have come away with a P2, which should have been a win. This shows we were performing really well, beyond expectations. It is a real shame we didn't come away with the win due to the incident with Ocon. Of course a backmarker can un-lap himself but he took an unnecessary amount of risk, especially against the race leader. They gave him the penalty for causing a collision so I think that says enough. At the end of the day I am a passionate sportsman that wants to win, this situation is frustrating and shows emotion when competing at the highest level. It is now important to take the positives from the race and the rest of the weekend and carry on the momentum into Abu Dhabi."
Christian Horner, Team Principal
"After having fantastic pace in the race today it's incredibly disappointing to lose the victory with Max following what can only be described as irresponsible driving from a backmarker. Nevertheless, we had phenomenal pace which was demonstrated by both Max and Daniel.
"Exceptional driving and a great strategy enabled Max to take the lead following the pit stops and Daniel made swift progress from 11th on the grid with some outstanding overtakes, particularly on Bottas and Vettel. Second and fourth is a good result for the Team, but we can't help but feel that we have been robbed as it should have been more. Daniel was so close to securing the third podium spot and without the penalty who knows what he could have achieved this afternoon. The encouraging factor today was our outright pace and everyone in the Team should be proud of their performance and contribution. Congratulations to everyone at Mercedes, we know how much hard work goes into winning the Constructors' Championship. They have been the dominant team this year and let's hope we can give them a harder time next year."
Force India
Perez had a quiet race, coming home well adrift of the Haas boys but managing a point at least. But the Mexican is hardly the news story. Ocon was down at the back of the pack and had just been lapped by the race leader for a second time. He asked permission to unlap himself as he had fresher tyres. Force India said yes, he pulled up alongside Verstappen and... there wasn't enough tarmac to go round. The collision lost the Dutchman the lead and landed Ocon with a ten-second stop-and-go penalty. They blamed each other, exchanged heated words post-race and certainly won't be sharing a plane home on Friday night.... or in the future.
Sergio Perez, 10th
"I was really hoping we could get some rain this afternoon. Throughout the race I was looking at the clouds and they were getting darker, but in the end it stayed dry. I don't think we had the race pace to score more points today. I had to fuel save quite early on and for much of the afternoon it was a pretty lonely race for me. We made our strategy work as best as we could and tenth place was as much as we could achieve. It's a shame we couldn't score more and capitalise on the Renaults not scoring, but hopefully we can end the season with a better result in Abu Dhabi."
Esteban Ocon, 15th
"It's disappointing not to score when we had good pace. I had made some good overtakes throughout the race, but it all came to nothing after the contact with Max [Verstappen]. He came out of the pits, I stayed behind him for nearly two laps but I was much faster than him and the team advised me to unlap myself. I went on the outside at turn one – the same move I made on Fernando [Alonso] and on many others before, but Max didn't give me any space. Once I was beside him I couldn't just disappear, so we collided. But it was my corner and I had the right to the space. I was saddened by his behaviour after the race: he was very aggressive and the guys from the FIA had to intervene. That's not the way to handle these things."
Otmar Szafnauer, Team Principal & CEO
"Rescuing one point was realistically the only result we could achieve given our difficult Saturday. Sergio completed a good race, fighting against the Renaults in the opening stages and opening a gap. It was a fairly lonely race after that, because we couldn't close the gap on the two Haas cars in front, but given the circumstances it was a good result. Esteban had done a good job making up ground from the back of the grid and would have probably finished in P11 if it hadn't been for the clash with Verstappen. The rules state that you're allowed to unlap yourself and Esteban was much faster than Max at that stage. Unfortunately he wasn't left any space in the corner and that ruined the race for both."
Ferrari
Vettel struggled off the line on the formation lap, which foreshadowed his race. Overtaken by Bottas and Verstappen at the start, even his team mate got past as the German couldn't extract any pace from his soft tyres. He ended up two stopping on his way to a disappointing sixth. Raikkonen, though, showed a good turn of pace to overtake Bottas and grab third. He had to work hard to keep a speedy Ricciardo behind in the closing stages, but defended well to grab his 12th podium of the season in his 150th race for the Scuderia.
Sebastian Vettel, 6th
"Obviously, this was not an easy race and I am not happy with sixth place. I tried to do my best, but the car was difficult to drive and I even struggled to drive on the straights. However, I am happy that Kimi got to the podium, because it is a good result for us, even if we didn't win the Constructors' Championship. Honestly, I don't think it was an advantage for us to start on soft tyres, because the supersofts lasted longer than expected, but that's how it was. The first part of my start was going well, but then the second was not that good, as I had nowhere to go with Lewis in front of me. I think we just didn't have enough grip in the second part of the "esses", Lewis and Valtteri worked together and I had no chance. Also, Lewis was a little bit quicker on the brakes to give Valtteri the outside line and then in lap 2 or 3 Max passed us as he was faster. There's not much to say as this year Mercedes has been stronger than us and we can only congratulate them."
Kimi Raikkonen, 3rd
"It was a nice exciting race. We had good battles throughout and the car was working well during the whole race. The speed was there and we had no particular issues. The first set of tyres was very good at the start and I was really happy, but then I destroyed them a little bit trying to pass the Mercedes. Once we changed the tyres the car was absolutely fine; we kind of knew that once we pitted we could have gone past them. After that the behaviour of the car was still very good, but at that point we were a bit too late, as it had taken too long for us to get there. As for the strategy, we did what we thought was the best for us. We can always debate many things, but today we made the best of it. Obviously it is not the greatest of results, but I don't think we could have got more; we did not make any mistakes and fought hard. As for the Constructors' Championship we knew that it would have been difficult; we did our best, but unfortunately it was not enough. The best team won this year, that's how it goes."
Maurizio Arrivabene, Team Principal
"Unfortunately, even though Kimi finished on the podium today, we were unable to reach our goal, which was to keep the battle going for the Constructors' title. Right from the formation lap, we became aware of a problem with a sensor on Seb's car. This meant that, for the whole race, he had to run different settings to those we would have normally used and that made the car difficult to drive. Congratulations to Mercedes on taking the teams' title."
Sauber
Ericsson had problems before the race even began when a chunk of his diffuser flew off on his way to the grid. He then collided with Grosjean at the start, suffered more damage and dropped down the field. A spin followed before he pulled into the pits lamenting an undrivable car. Leclerc profited from his team mate's woes to inherit seventh, which he kept throughout the race, picking and choosing his battles wisely.
Marcus Ericsson, DNF
"A disappointing end to such a great weekend. I had contact with another car just after the start, and after that, the car was difficult to drive. The balance was different to the rest of the weekend and the damage became worse and worse. We had to retire from the race – a shame, especially after such a fantastic qualifying, but we will come back stronger at the final race of the season in Abu Dhabi."
Charles Leclerc, 7th
"I am very happy with the race; finishing in 7th place is a positive result that we can be satisfied with. It was fun to drive on this track and adding more points to our tally to solidify our 8th position in the Constructors' Championship is a positive feeling for the whole team. I look forward to seeing what we can do in Abu Dhabi."
Frédéric Vasseur, Team Principal
"Overall, this was a positive weekend for our team. Both drivers gave strong performances in qualifying and started the race at the top of the midfield. Charles finishing the race in 7th place is a good step forward in consolidating P8 in the championship. We do however leave Sao Paulo with mixed feelings, as Marcus had to retire from the race. After a contact with another car, there was damage to his floor and front wing, which made it impossible for him to finish. Nevertheless, our pace is good, and we are fighting for positions in the championship. Our progress continues, and this is a reward for the hard work done at the track and at the factory in Switzerland over the course of this year. I look forward to finishing the season in strong form in Abu Dhabi."
Haas
Grosjean tangled with Ericsson at the start, losing some bodywork which cost him valuable downforce. To come home eighth was impressive as a result. Magnussen closed in on his team mate but couldn't get close enough for a late move before he was told to hold station. A double points finish narrows the deficit to Renault in the constructors' although it is a tough ask to overhaul them with one race to go...
Romain Grosjean, 8th
"I'm very happy, and very happy for the team. With the damage we had on the car following lap one, I'm impressed. We lacked about a second of downforce on the car. Being able to do those lap times, I think we did an amazing job on the setup. I'm very happy with that. I think without that, being best-of-the-rest would've easily been on our side. I'm happy we finished eighth and ninth. Even if we're far from Renault in the points, double-points finishes in the two last races would be amazing going into the winter."
Kevin Magnussen, 9th
"It was tough luck on the first lap. I made a good start and I got through turns one and two very well. Then I was pushed out on turn four and I lost a few positions there. I had to get those positions back and close the gap to Romain again. We stayed put from there. I'm happy for the team to get a double-points finish again. It's good to bounce back from the tough luck we experienced yesterday when I didn't really qualify where I should have. We did some damage limitation. I'm happy we leave with points."
Guenther Steiner, Team Principal
"It was a good result to have both cars in the points. Everybody did a great job over the whole weekend, and this is what you get when you do a good job. It was fantastic to lap the Renault that's in front of us in the championship."
Renault
Hulkenberg and Sainz had an intra-team squabble on the first few laps and even barged wheels, which given their precarious position in the constructors', won't have overly pleased Renault. But soon they settled down, until Hulkenberg was pulled into the pits to retire with temperature issues. Sainz at least saw the chequered flag but came home a disappointing 12th.
Nico Hulkenberg, DNF
"It was a shame to retire from the race, but the difficult call was made to stop due to excessive engine temperatures. These aren't healthy for the Power Unit, so it wasn't worth the risk carrying on. It's disappointing as I was on a reverse strategy and that would have meant fresher tyres at the end of the race. Other than that, it was fun racing Carlos out there on a couple of occasions. It was close, but we left each other enough room and it was all fair and square. We'll reset for the finale in Abu Dhabi and we'll be giving it our all."
Carlos Sainz, 12th
"We knew coming to Brazil would be a tough weekend and ultimately we weren't quick enough for points today. We were able to gain three positions after another strong start and had some good, clean battles with Nico and other cars. When the race settled we kept pushing but we just didn't have the pace so couldn't make sufficient progress. I wanted more today, so let's work for that in Abu Dhabi."
Cyril Abiteboul, Team Principal
"After two good races it is disappointing to have a weekend like we experienced in Brazil. We struggled in qualifying and were unable to gain positions after the start. Neither car was able to harness our race pace which, although better than some of the cars ahead of us, was not sufficient to overtake them. We retired Nico as a precautionary measure due to excessive engine temperatures as we didn't want to risk losing PU elements ahead of Abu Dhabi; there was little to lose from this approach given his position on track. We tried to make the most with Carlos, however it was insufficient to get us in the points today. This race has highlighted again that we do have a variation in our competitiveness which will be a focal point for the winter. Clearly we need to be more consistent looking to the seasons ahead."
McLaren
Alonso was tetchy and scathing all through the race, and his mood wasn't improved by being overtaken by his team mate. All in all, his final Brazilian Grand Prix left all concerned disappointed and he has one chance left to finish his F1 career in style. Vandoorne did finally have something to smile about with that overtake, until he was hit with a time penalty for a blue flag infringement along with his team mate.
Fernando Alonso, 17th
"It was tough today. We gambled a little bit on the strategy, stopping very early to overtake some cars in front, but it didn't work out for us. As it turned out, the Medium tyres blistered and we weren't competitive in the second part of the race.
"Also, my pit-stop was not clean and smooth, and we lost some time there.
"Overall, we've been too slow all weekend. We just didn't have the pace to be in the top 10 so today, no matter what strategy we had done or whatever we had tried today, I think points were unreachable."
Stoffel Vandoorne, 14th
"Today was a good race from my side. I'm really happy with how everything went, even though the result today wasn't really what we were hoping for.
"It was a strong race from my side, and I felt like I maximised everything today. I had a few good overtakes and some nice fights with Fernando, and we overtook the Williams as well, so I think we did the most we could today.
"We played the strategy well. We did a good job to go a little bit longer in the first stint to make the tyres last longer than the others, came out on fresh tyres and had a good couple of battles, and from there on we did a good race. It might not look on the timing board today that it was a great race, but overall, I'm quite happy with what we did. Today, looking at where the pace has been all weekend, that was the best we could have done."
Gil de Ferran, Sporting Director
"This was a difficult race for us. Fernando had a good first lap, which put us in a better position. We decided to box him relatively early to enable him the opportunity to undercut some competitors, but unfortunately we had an issue during the pit-stop, which essentially killed his race, as any progress was marred by traffic and blue flags. However, had it not been for the experience of our pit-crew, who spotted the issue with the right rear wheel, the result could have been race-ending. Credit to the crew for their hard work, as always.
"On Stoffel's side, the beginning of his race was clouded by traffic, however, as the race went on he made steady progress, showing good pace in the closing stages, and finished in striking distance of 11th place.
"As it transpired, we didn't have the pace this weekend to fight for points. We leave Brazil obviously disappointed, but also heartened by a great Brazilian Grand Prix and all the support we felt throughout the weekend from our McLaren fans."
Toro Rosso
This could be an awkward debrief. Hartley, on fresher faster supersoft tyres, was right up behind Gasly in the fight for P11. The team told Gasly to let him by. Lap after lap went by and the Frenchman wouldn't budge whilst the Kiwi didn't attack, believing he was being let through. Both drivers were having words on the radio to their respective engineers, and the airwaves were turning increasingly blue as both drivers vented at each other. It was all in vain as neither came home inside the points but... it was an entertaining exchange, if unedifying for the team.
Pierre Gasly, 13th
"I had some good battles today, but it was a tough race. I had a good start and got to P8, but after that we clearly were suffering compared to our direct competitors. I tried to fight as much as I could but we clearly didn't have the pace for points today. We knew Brazil would be difficult, but after the performance we showed in Mexico we were a bit more optimistic, so in the end we're a bit disappointed with the way the race unfolded. Now there's one race left of the season so hopefully we can finish on a high!"
Brendon Hartley, 11th
"That was a really good race for me, it's annoying you don't get to score points as a reward, but there weren't any retirements at the front to capitalise on. I started on the harder compound so it was a bit tricky for me during the first few laps, but still I had a strong start and made some good overtakes. To make our race work, I knew I would have to keep the tyres alive as long as possible on the first stint, I had great feedback from the pit wall and the strategy worked well. I felt this was one of the best performances of my F1 career but without the reward of points. The team will work hard over the next weeks to understand why we had such good race pace in Mexico, but struggled two weeks later here in Brazil."
Franz Tost, Team Principal
"We started the race with Pierre in ninth position and finished only 13th, so it wasn't a satisfying result for us. The race pace wasn't there and we were simply too slow so we have to analyse why. Brendon started from 16th with the Medium tyre, and we pitted him very late to switch to the Supersoft which was a very good move, because he was able to increase his pace towards the end of the race. However, unfortunately we weren't able to score points today."
Toyoharu Tanabe, Honda F1 Technical Director
"Both cars finished the race, but our package wasn't quick enough to finish in the points and we were unable to make the most of Gasly's ninth place grid position. We must analyse all the data from this weekend and try to do better in the final round of the season in two weeks' time. On behalf of Honda, I offer our congratulations to Mercedes on winning the Constructors' title today."
Williams
Williams were off the pace in qualifying and couldn't get involved in the action during the race either. They tried to one-stop both cars, but Stroll couldn't make his tyres last and pitted late for a fresh set which dropped him to the back of the field. Sirotkin finished slightly higher but there aren't many positives to draw for the team with one race left to salvage something from their season.
Sergey Sirotkin, 16th
"Straight away from the beginning, it was a very difficult race. We were missing the pace of the cars around us. It was tricky during the first laps, I felt like I was dancing on ice, not just to fight but even to keep the car on track. I was trying to protect the positions and it ruined the rhythm, so it took a while to settle down. We never really had the pace to recover so all race it was about survival. It was very difficult to manage and keep everything under control for such a long stint, so very disappointed after a tricky race."
Lance Stroll, 18th
"It was a long, hard race. I had a good start and then I was just getting out of the way for blue flags and managing tyres, but ultimately that wasn't good enough as we were too slow. That is the nature of the track also, as it is very tight and there are not many corners, so it is tough to get out of the way. It was far from the most exciting race. The bottom line is we were not quick enough, and I am not sure we could have done anything with our strategy."
Paddy Lowe, Chief Technical Officer
"It was a frustrating race with lots of blue flags. We took a gamble with our strategy, stopping early to get both cars onto the prime tyre in an attempt to undercut the cars we were racing. Unfortunately, this didn't pay off due to the degradation of the prime tyre and both cars progressively lost positions. These aren't the results we were hoping for today, however both drivers drove well, within the limits of the car, and performed the necessary tyre management."
Pirelli
Mario Isola, Head of Car Racing
"As expected weather conditions were warmer today, which contributed to some cases of blistering. Brazil was definitely one of the most entertaining races of the year, where strategy was not only crucial but also very varied. Despite these extremely different approaches, the fight was very close among all the top teams and there was plenty of wheel-to-wheel racing, which is exactly the objective that we are all aiming for in Formula 1: drivers pushing hard for the win rather than managing pace. Red Bull and Max Verstappen made particularly good use of the tyres by showing consistent race-winning pace while using only the two softest compounds and stopping just once. Congratulations to Mercedes for another manufacturers' title, sealed with another victory for Lewis Hamilton."