Feature
What the teams said - race day in Brazil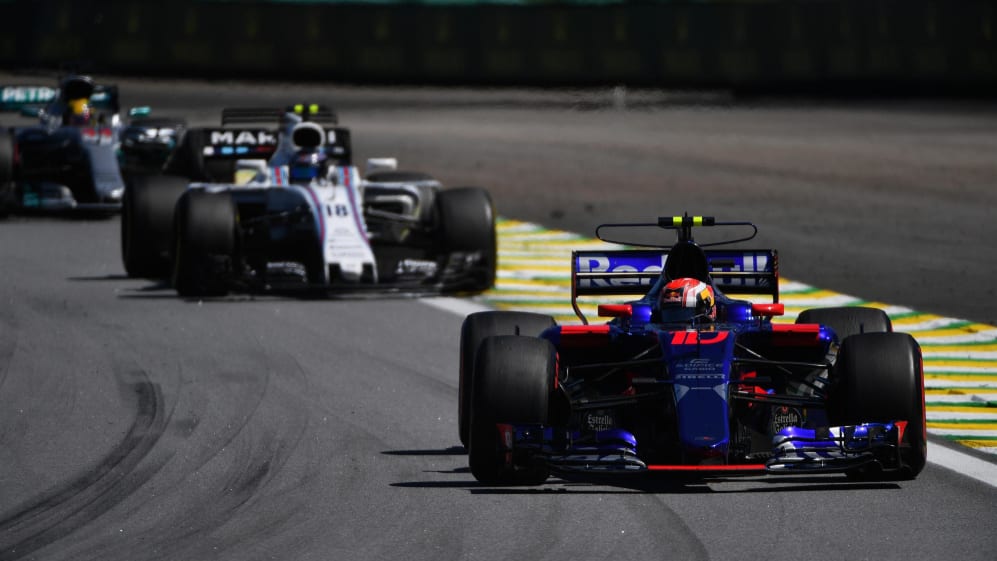 A round-up of all the action from the Formula 1 Grande Premio do Brasil 2017 at the Autodromo Jose Carlos Pace in Sao Paulo...
Ferrari
Vettel had a clean getaway and dived down the inside of Bottas to grab the lead. From there Vettel was able to control the pace, manage his tyres and record his fifth victory of the season, albeit a race too late to keep the championship alive. Raikkonen held onto third from the line and kept the pressure on Bottas ahead before coming under attack himself from Hamilton in the closing stages. The Finn too had managed his tyres and thus had enough life left in them to keep the Mercedes man at bay and grab a third straight podium.
Sebastian Vettel, 1st
"I think this was one of the most difficult races of the season, there was no time for mistakes. My start was not perfect, but enough to beat Bottas off the line. Then, Valtteri was always very close and we had the same pace, but I pushed very hard and managed to pull a gap. This win is very important for me and for the team. After such a long time it's been great to achieve it. I'm happy for the whole team, because it has been through a tough couple of weeks, with long nights, hard work and a big support from the factory. I dedicate this win to all of them, to the guys here and to those who've been working in Maranello. It's been very hard for us, but today is a great day and I want to thank my team and our tifosi. Hopefully we'll have a good race in Abu Dhabi!"
Kimi Raikkonen, 3rd
"My start was pretty average, I had some wheelspin and I was happy I did not lose any places. The first fifteen laps were a bit tricky with tires, but after the pit stop I was happy with my car. I expected that improvement, because I knew that with the soft tires I would be really strong. It was easy to keep up with the guys in front and at the same time look after my tires. At some point I tried to push and I got closer; I felt I had a lot of speed but today in these conditions there was no way to pass. It was a bit frustrating, but when Hamilton was behind me I could see him closing up, but I had a good car and I was pretty confident that if I was not making any stupid mistake I could keep him behind. I held him quite easily, he never really had a good chance to get me. Obviously we could have finished one place up, but it's a great result for the team. The car has been pretty strong all weekend. We have been strong almost everywhere this year, obviously in a few races we had some difficulties, but as a team we can be proud. We are building ourselves for next year."
Maurizio Arriabene, Team Principal
"Already yesterday, in qualifying, it was clear that the SF70H was quick and well prepared. Today, we got the confirmation that we have a very good car at our disposal. The result of this race is also down to the great job carried out by the team, both here at the track and back in Maranello, not forgetting the drivers who, on the day, know how to step up to the mark. Now we look ahead to the next challenge in Abu Dhabi, still determined to give it our all, right to the very end."
Mercedes
Bottas didn't manage the getaway from the line he would have wanted and lost out to a fast starting Vettel. From there he did everything he could to keep the German honest, but couldn't find the pace to challenge for the lead. Hamilton had a more eventful race - after starting from the pit lane, he charged through the field and right the way up into P4 where he harried Raikkonen ahead. On the faster supersoft tyre it looked like he might have enough rubber left to grab an unlikely podium but Raikkonen defended robustly to ensure that fourth was the best Hamilton could muster.
Lewis Hamilton, 4th
"I had a great time, I enjoyed the race very much. I had so much pace today, it would have been an easy win this weekend. So on the one side I am disappointed that I put myself in the worst position for today. But yesterday is behind me, today has been very positive, I had fun coming through - it felt like the go-karting days where I would always start in the back in my first year or two. My goal today was really to just try and redeem yesterday's mistake, to make the team proud and get some points back. I was trying to get back to third, I just ran out of tyres in the end. But I enjoyed the battle today and hopefully that continues to show to everyone that I still have a lot of fire in my heart and many, many more races to go."
Valtteri Bottas, 2nd
"I think we lost the race in the first corner. When I dropped the clutch at the start initially, there was less grip than I expected, so I broke the traction and got some wheel spin. Seb got a better getaway and managed to get on the inside. That is unfortunate because the race pace between us and Ferrari was very close today and we had a similar strategy. When we went for the Softs, we tried the undercut and tried to attack with the new tyres, but there was no way to get past. We wanted to attack in the very end again but, when I was trying to pick up the pace again, there was nothing left in the tyres. After the good result yesterday, I had very high hopes for today. But if you look at the positives, it has been a much better weekend for me personally than I had for a while. And it was not a bad result for us as a team looking at the position where Lewis started today, so that's good."
Toto Wolff, Head of Mercedes-Benz Motorsport
"My first words today must go to our team members. This has been a weekend of extreme and contrasting emotions for us, and then this morning the guys came in again and rebuilt Lewis' car from the ground up. It has been humbling to see their spirit, resilience and dedication this weekend. And it was matched by our two drivers: Valtteri pushed every lap of the race, hanging on to Sebastian but unable to close in quite enough to claim the lead, at a circuit where overtaking is difficult between cars of similar performance; while Lewis delivered the best fourth-place finish I have ever seen. For Valtteri, the race was decided from the start: he got wheel spin on the start which opened the door to Sebastian at Turn 1. For Lewis, he transformed a pit-lane start into a finish just five seconds off the front; it was one of his best performances of the year and showed that we had the quickest car here by a good margin. He threw everything at it today and it was a champion's drive. Now we move on to Abu Dhabi and will be aiming to finish our season on a high."
Andrew Shovlin, Chief Race Engineer
"It was a frustrating result for both of our drivers and for the team, although it's also a day that is easy to take positives from. With Valtteri the race win was decided by the smallest of margins, a little too much wheel spin off the line gave up the lead, an undercut that almost worked but in the end we were just a couple of tenths from making it happen. After a great lap to secure pole, it's always going to be disappointing to come away with anything less than a win but he has had a very solid weekend and did a good job managing the tyres on a track that was up at 60°C and showed pace in the race that looked every bit as fast as Vettel. For Lewis, to start from the back and finish just five seconds off the leader is a great achievement but also frustrating that we didn't quite make it to the podium. He drove an attacking race but to do so was pushing the tyres to the limits on both sets. We stayed out on the soft as long as we could but once we started to lose the rears, we had to come in for the super-soft and we couldn't afford to manage those, so he was pushing hard from the word go, trying to reel in the leaders. We've come into these final races with an eye on using Fridays running for 2018 development but our desire to win races hasn't diminished and it's a shame to leave here without the win. However, we can take some comfort in the fact that our car was the fastest today on what was the hottest track of the year, which shows the progress we have made with the W08. It's been a tough weekend for the team but we are good at learning from tough weekends. We are looking forward to Abu Dhabi, it's a great track that should suit our car and we'll go there looking to finish what has been a long but amazing season on a high."
Haas
The Haas pit wall didn't have an easy first lap, with both their drivers involved in separate collisions. Magnussen collided with Vandoorne, breaking his suspension and ending his race. Grosjean was able to continue after collecting Ocon's Force India, but had dropped to the back of the field and was subsequently given a ten-second penalty for causing the collision, which ended his hopes of making his way back through the field.
Romain Grosjean, 15th
"The only thing I can say about the opening lap is that I got massively hit in turn one. I believe I had a puncture on the rear left. I got to turn six and lost the car, and I think it was just the puncture. Getting a penalty on top of that – I'm not super happy with it. I want to see the footage. The positive from the race is that the last stint on the supersoft, the car felt amazing. Even though we had massive floor damage, it felt really good. We now need to understand why it felt so good and move on to Abu Dhabi."
Kevin Magnussen, DNF
*"I really need to study the replay. From my side, we were three-wide through the corner. There was contact with (Stoffel) Vandoorne who then had contact with (Daniel) Ricciardo. I broke my front suspension, so it wasn't the best. If I'd realized earlier that Ricciardo was on the outside of Vandoorne, then perhaps I'd have given more room, but by the time I saw Ricciardo it was too late. I'd already carried the speed. It's tough and very frustrating when it happens, but that's racing." *
Guenther Steiner, Team Principal
"It was a disappointing result. At the beginning, our cars and drivers were motivated enough to do better than this, but it all went down on lap one. Racing accidents happen. With Kevin, he tried to do his best, but it just happened in turn one. Romain, as well, went off, and in addition to that – after he was penalized already with the incident – he got another time penalty. I don't agree with it. Anyway, it didn't reflect in the result because we were in no position to get points. We move on to Abu Dhabi and see if we can make up for it there."
Toro Rosso
Gasly had an excellent start, making up nine places and running as high as ninth in the initial stages, before faster cars started to make their way through the field. Nonetheless it was a strong race for the Frenchman, whose overtake of Stroll was the highlight. Hartley's poor luck continued - he too kept clear of the collisions at the start but was called into the pits to retire with technical issues.
Pierre Gasly, 12th
"I think it's definitely our best race and best performance since I arrived in Malaysia. It's true that we knew it would be a difficult race starting from P19 with the penalties, but I think in the end it was really positive coming back from 19th on the grid. We knew the start was the key, after watching races from the past few years, if we wanted to have a decent race, so I went on the outside into Turn 1, which worked out pretty well. I overtook maybe three cars at Turn 1 then one at Turn 2, then after all the mess in front of me I stayed flat out and just tried to avoid everyone! In terms of performance, we extracted everything we could. At the beginning of the first stint I was staying quite close to Carlos and then after that I picked up the pace, but we were quite limited with the tyre degradation. In the end I don't think we could have done much better than what we did today."
Brendon Hartley, DNF
"It's a shame that I had to retire, but I'm happy with the part of the race I competed in – I had a really good start and that was the first box ticked. I had to get around Stroll because he sort of stalled in front of me, but all the procedures that we've been working on were really good. During the first lap I lost a place to Pierre, which was a bit annoying, but after that I think I drove a pretty good race. I lost radio communication with my engineer for a long time, so that was tricky, especially during the Safety Car restart, trying to remember all the things I had to do! It took me about ten laps to get the radio plugged in again – it was quite difficult to find the hole! I think that we could've finished the race just behind Pierre if we hadn't suffered a high oil consumption… We knew that there was a problem early on in the race, as I had to start transferring oil – I didn't want to ask, but I had the feeling that we were not going to get to the end and we didn't. Hopefully we can have a better race next time out in Abu Dhabi and close the season on a high!"
Franz Tost, Team Principal
"From the very beginning of the weekend we suffered a lot of problems as we missed the first practice session, and both of our cars had to start from the back of the grid on Sunday due to penalties. The race was quite positive for us as Pierre closed the gap to the cars in front and showed a good performance. Unfortunately, we had to call in Brendon because of a high oil consumption which we need to investigate and which unfortunately didn't enable him to finish the race. Now, we are looking forward to the last race in Abu Dhabi, where we can hopefully successfully defend our sixth position in the Constructors' Championship."
Red Bull
Verstappen was running fourth for most of the race but struggled with tyre wear. After being picked off by a charging Hamilton, he opted for a late 'free' pit stop and thus set the fastest lap of the race as he trailed home fifth. Ricciardo started out of position after a grid penalty, and was thus in a congested midfield where he appeared to be the unlucky party as Vandoorne and Magnussen tangled, tipping the Australian into a spin. He recovered from the back of the field after a series of overtakes to come home just behind his team mate in sixth.
__Max Verstappen, 5th __
"In general this is not a track that suits our car and together with the power deficit on the straights it is very hard for us. You then try and catch up on the corners, but you ask too much of the tyres and get more drop-off. Of course I hoped for more in the race but it was a difficult situation, but I think we maximised the result and that was fifth. I didn't want to drive the last ten or 15 laps with difficult tyres and at the end of the day I wasn't going to lose a position, so we decided to make a second pit stop. From there on the race was gone but I pushed for the fastest lap, I didn't get it in Mexico, so I'm really pleased to take it here."
Daniel Ricciardo, 6th
"The start was not ideal. It was quite tight and I saw a space on the outside so I tried to get as much room as I could but I knew there were two cars on the inside so there was always a risk they would have contact and then come into me. I think that's what happened but I don't regret trying. The start is an opportunity to make up a big chunk of positions and as I was nearly at the back I had to try something. Fortunately the car didn't suffer any damage. We just changed the tyres and then I could get on with the race and make some good overtakes, and it was a good race. Every time I was catching a car I passed it as soon as I could and there were some good fights. In the end, a comfortable sixth. It was nice to see the chequered flag and I felt I got the maximum out of it today."
Christian Horner, Team Principal
"A bit of a static race today. We were having to push very hard to try and keep up with the leading pack. That in turn took its toll on the tyres, then you become a little bit limited in your stint length and after Max got caught and passed by Hamilton we made a precautionary stop to get him to the finish. Daniel drove a very strong race as usual, made some great passing moves on the brakes from far back into Turn 1 and finished in P6 which, today, was probably the optimum."
Force India
Ocon had finished his first 27 races since making his debut, but his luck had to run out some time and today was the day, when he came together with Grosjean on the first lap. That resulted in two punctures for Ocon and a ten-second time penalty for his fellow Frenchman for causing a collision. Perez kept out of trouble, running in the top ten all day, and wound up at the back of the Massa-Alonso battle, eventually finishing 0.1s behind to grab ninth.
Sergio Perez, 9th
"Things got quite complicated on lap one when Alonso pushed me wide at turn two. I was on the grass and lost another position to Massa. That was very costly for my race because I spent the whole afternoon trying to recover. We certainly had the pace to finish in seventh, but the very high track temperatures made things difficult because as soon as you tried to attack you suffered with massive tyre degradation. We tried to change our strategy to overcome things, but it wasn't enough to recover the seventh place. In the final few laps I was very close to Massa and Alonso. Massa was quick in the final sector, while Alonso was fast through sector two and had the benefit of DRS to help him defend down the straights. Maybe if there had been one more lap it would have been enough to overtake them. Considering the way things unfolded, I'm happy with the result but not totally satisfied."
Esteban Ocon, DNF
"I'm not happy to retire from the race. I knew this day would come at some stage, but I wasn't expecting it to be today. It's a shame because it has been three years since my last retirement in single-seaters [in 2014]. There was nothing I could do; Romain [Grosjean] lost the car in turn six and crashed into me. He made a mistake and I suffered from it, my front wheel rim was damaged so I couldn't even drive back to the pits. It's frustrating because the car was quick and we had the pace to be fighting up there with Checo. Days like this happen but I hope it will be another three years before it happens again."
Robert Fernley, Deputy Team Principal
"It was disappointing to see Esteban's fantastic run of consecutive finishes come to an end on the opening lap. He was tapped into a spin as he was making a move on Grosjean into turn six: there was nothing he could really do to avoid the incident because he was simply the innocent victim of another driver's mistake. Being pushed wide at turn two by Alonso compromised Checo's race as both Alonso and Massa were able to come past him before the Safety Car was deployed. Checo conserved his tyres well on an alternative strategy and got very close to Alonso and Massa at the end, but ultimately wasn't able to overtake them. Despite having the fourth quickest car, we've not been able to maximise our results today so we will look ahead to Abu Dhabi, determined to end our most successful season to date on a high note."
Williams
Massa could not have hoped for a better last home race. He made a good start, overtook Alonso in what became a race-long battle and despite the Spaniard challenging him lap after lap, kept his nerve in a mistake-free drive and finished as 'best of the rest' behind the top three teams. Stroll couldn't match his team mate for pace and was circulating out of the points when his tyre delaminated late on, forcing an additional pit stop that dropped him to the back of the field.
Felipe Massa, 7th
"It's such an amazing result and such an amazing feeling to pass through all of this in my career. The race today was perfect, from beginning to end. An amazing start, overtaking a few cars, then an amazing restart after the safety car, passing Alonso. I knew it would be very important to pass him for my race and result. After that, a perfect race. I managed to keep him behind, even without tyres at the end. I'm so happy and emotional about my race today. I finish with my head held high, that's the most important thing, in this place which is amazing for me. The only thing I can say is obrigado, I will miss all of you guys."
Lance Stroll, 16th
"Everything has been bad this weekend. It was very hard for me, because with the power unit we changed to after a problem in FP3, we had no qualifying mode, so I was running the old spec power unit and was losing time, lap after lap. I then stalled at the start and just couldn't compete. I had a flat spot and I knew there was going to be a problem. I had Grosjean on old tyres, I had DRS but I didn't have enough drive to get alongside him so I had to dive and then you risk a flat spot and that is just what happened. All in all, it has been a tough weekend and now I am just looking forward to Abu Dhabi."
Paddy Lowe, Chief Technical Officer
"First of all, it was a fantastic race with amazing weather and a magnificent crowd. Felipe had a good start and got to sixth before the safety car was deployed. He made another position on the restart from Alonso and was able to execute a perfectly timed pitstop to prevent the undercut from Alonso. Alonso spent the whole race trying to come back but never made it stick, even whilst under threat from Perez who was behind. Felipe drove a perfect race, managing all of his systems, and particularly the tyres, to maintain that defence and finish very strongly as the "best of the rest" in the current competition. On Lance's side, he had a problem with his gearbox yesterday which meant we damaged his fourth power unit of the season and he had to revert to his third power unit for qualifying and the remaining races this season. That power unit is down on performance in comparison so it was never going to be easy for Lance to get points today. Starting 16th, he was having a good drive before getting stuck behind Grosjean for too long and he flat spotted a tyre trying to get out of that situation for which he paid the price later on as eventually the flat spot caused the tyre to delaminate. Lance took a final set of supersofts for the last three laps. But today was Felipe's day and the team are extremely happy that we were able to provide him with the material and support to deliver such a perfect result at his final race in Brazil. So, congratulations to him for the race today."
McLaren
Vandoorne's race was over at a very early stage after he wound up squabbling over the same piece of track as Magnussen and Ricciardo, the resulting collision damaging his MCL32 beyond repair. Alonso had his customary electric start, but lost a place to Massa after the safety car period and despite running within one second of his former team mate for most of the race, couldn't find a way past.
Fernando Alonso, 8th
"Overall, it's been a happy Brazilian GP for us. We started sixth, at the first corner we were up to fifth, and then we finished in the points – one of our best weekends.
"I had a fantastic car throughout the whole race, but, ultimately, I just could not overtake. We didn't have enough speed on the straights. I was very, very close to Felipe a couple of times at the exit of the corners, and I thought 'now is the time I can pass him,' but even though I was using the DRS, he was pulling away.
"He was very consistent and made zero mistakes. Also, being the last lap of Felipe's last-ever F1 race in Brazil, I wasn't sure how hard he would defend! I didn't have a chance to overtake him, anyway. And I had to defend from Perez behind, so I was happy when I saw the chequered flag."
Stoffel Vandoorne, DNF
"Definitely not the race I wanted to have. I actually had a really good launch off the grid, then had a good fight with Ocon and Grosjean and nearly got past them – we almost had an accident there when everyone bunched up.
"Then, in Turn Two, I got sandwiched by Magnussen and Ricciardo. There was nowhere to go. An unfortunate end to my race. From my perspective, there was nowhere I could have gone to avoid the incident.
"I definitely think today was a missed opportunity to score points. Our race pace looked really promising on Friday, and I felt that, with the track conditions being so hot today and after making a strong start, we had a good chance to finish in the points. A shame."
Eric Boullier, Racing Director
"Fernando's performance was a timely reminder of just what a competitive animal he remains. When he was given the green-light from the strategists to attack Massa, he was utterly relentless, driving each lap as if it were a qualifying lap, and narrowing the gap on a lap-by-lap basis.
"Even if pulling off an overtake might have been tricky, given the limitations of our package, that did nothing to deter him, and I'm sure he could have made it happen given a handful more laps. It was a fantastic display of controlled, hard driving, a fantastic spectacle to watch, and, I'm sure, terrific fun in the cockpit. Bravo, Fernando.
"Stoffel was incredibly unlucky. He'd made a great start, was making progress, then got side-swiped by Kevin Magnussen at the exit of Turn Two. It was a pointless collision, and Stoffel was entirely the victim. Still, he'd enjoyed a solid weekend until that moment, and will hit back in the final race in Abu Dhabi in a fortnight's time."
Yusuke Hasegawa, Honda R&D Co. Ltd Head of F1 Project & Executive Chief Engineer
"It was a good race for us today, with Fernando having some exciting on-track battles against his rivals.
"Fernando, who started the race from P6, managed his tyres well, even in the high temperatures, and maintained a consistent pace throughout the afternoon. Although it was disappointing that he was unable to overtake Massa and move further up the field, it was a great performance and he collected more points for the team.
"On the flipside, Stoffel had a very disappointing race and was unable to make it to the end of lap one, through no fault of his own. Up until then, he'd had a solid weekend.
"Overall, it was an okay weekend for us, with our package showing decent speed during each session and two more points collected as a reward for everyone's hard work.
"We have only one more race to go for this season as McLaren Honda, so we'll try our maximum to extract all the potential from our package."
Renault
Renault started with both cars in the top ten but with Hamilton and Ricciardo scything their way through the field, it was always going to be a challenge to score a double points finish. In the end it was Hulkenberg who brought a point home for the team, after seeing the chequered flag for the first time in four races. Sainz struggled with the drivability of the R.S.17 and followed his team mate home.
Nico Hulkenberg, 10th
"It's good to get my first point since Spa although it was pretty much an uneventful race. We lost places at the start and with Hamilton and Ricciardo coming through it was a tough ask to move up the order. On the one side, it's good to have finished the race, on the other side we did lack pace today. I was pushing flat out, so it's a shame we couldn't do more. My focus is now on a final flourish in Abu Dhabi."
Carlos Sainz, 11th
"I had a very good start but unfortunately I did get a bit of damage to my floor after being pushed wide by Felipe. After that, I had a super-quick pit stop from my guys but there wasn't much we could do to work up the order as it was pretty much a procession. The car felt okay today but we were lacking a bit of pace. However, I would say the race was quite positive as I made a good start and I was able to accumulate another 71 valuable laps in the car. Just one more race to go and I'll be going all out for points in Abu Dhabi as I was disappointed not to score here."
Cyril Abiteboul, Managing Director
"Our focus was on reliability for this weekend and we saw three Renault-powered cars finish in the top ten and five cross the finish line. This better reliability unfortunately came at the expense of performance, as were clearly running below our potential pace. Our race result was decided on the first lap, with both drivers losing position and then Ricciardo and Hamilton moving up the order. There were no opportunities to gain position thereafter."
Sauber
Sauber split strategies, pitting Wehrlein early under the safety car to see if the German could go to the end on his tyres. Team orders saw Ericsson let him through but when Wehrlein failed to make any headway, they reversed the positions. It was the first time since Silverstone that the Swede had beaten his team mate in a race where they both finished.
Marcus Ericsson, 13th
"It was an entertaining race. The start was quite messy, but I managed to pick my way through, gaining a few positions. Unfortunately, I struggled with the balance of the car during the first stint on soft tyres. After changing to supersoft tyres, I felt good again, as the balance of the car and the grip conditions were back to normal. My second stint was good. It is unfortunate that I got stuck behind Lance (Stroll). It was difficult to overtake him. Still, in the second half of the race we could put in a good performance."
Pascal Wehrlein, 14th
"It is a shame that we did not finish the race in better positions today. We have been making progress over the last weekends, and have been able to start competing in the lower midfield. Unfortunately, the circumstances did not allow for a better result for me today, as I struggled with my tyres, especially towards the end of the race. Regarding the overall pace, I am quite satisfied with the job I did and I hope to have better chances in Abu Dhabi."
Frédéric Vasseur, Team Principal
"The overall pace was decent. It is a shame that Pascal didn't advance more in the first lap. Unfortunately, he lost a couple of positions after the start due to the incident involving Daniel (Ricciardo) and Stoffel (Vandoorne). Then, the plan for Pascal was to reach the end of the race on the soft tyres, which was a bit optimistic perhaps. Marcus had a strong race, and he was not so far from our direct competition ahead. It seems that we are able to make improvements, which we have not seen in the results yet."
Pirelli
Mario Isola, Head of Car Racing
"Today we experienced the hottest track temperatures that we have seen so far this weekend by some margin; largely in excess of 50 degrees centigrade at the start of the race. Nonetheless, most frontrunners were able to complete the race with just one pit stop as expected, helped by an early safety car. Lewis Hamilton in particular drove an extraordinary race, setting fastest laps on old soft tyres even when surrounded by cars on newer supersofts. Red Bull also proved that an alternative strategy could work, with both cars finishing strongly despite Daniel Ricciardo being forced into an extra stop at the end of the first lap. We now remain at Interlagos for the final 2018 tyre test of the year, with McLaren on Tuesday and Wednesday, before all the teams get the chance to experience next year's tyres for the first time at Abu Dhabi after the last grand prix of the season."