Feature
What the teams said - race day in Canada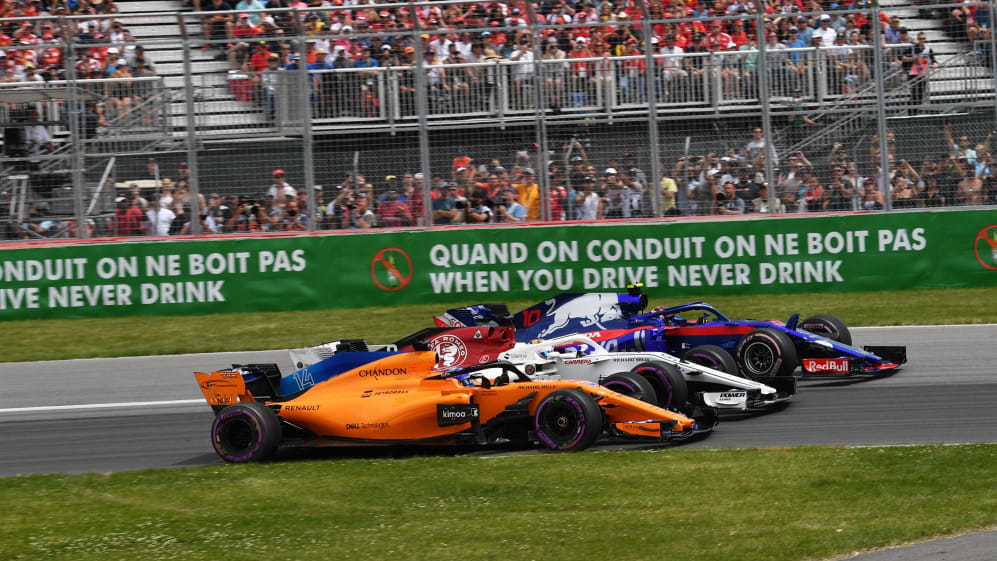 A round-up of all the action from the Formula 1 Grand Prix Heineken du Canada 2018 at the Circuit Gilles-Villeneuve...
Ferrari
Vettel was dominant from the start, managed his tyres astutely in leading every lap of the race and recorded his third victory of the season to grab the lead back in the drivers' championship. Behind Raikkonen was jumped by the hypersoft-shod Red Bull of Ricciardo. He opted to run a long first stint and nearly leapfrogged Hamilton, coming out behind the Mercedes by the narrowest of margins. His challenge faded in the remaining laps and he came home sixth.
Sebastian Vettel, 1st
"This win is very important for our tifosi and for our team, today is a special day. 40 years ago Gilles won here, then 14 years ago it was Michael and I was thinking of that today. At the start I tried to build up a margin, I was happy with my first lap and then the safety car came out and I had to start over again. During my last 10 laps I prayed that my car would not develop a problem until the end! Points are always important but today this win means a lot and not just in terms of Championship. The season is still so long and there are many races ahead. The main thing is that our car is strong and stays like that, so that we can fight."
Kimi Raikkonen, 6th
"Yesterday's mistake in qualifying did not put ourselves in a good position for the race. Overtaking was very difficult here; I tried to get ahead of Hamilton after my pit stop, but it did not work out. Then It was even difficult to get close enough to him to open the DRS. It was a surprise, because on this track you would expect to see overtaking and fights, instead it was a similar story to two weeks ago in Monaco. The race was boring and not much happened. We decided to stay out a little bit longer on our first set of tyres and I don't think that cost us any position: it was our only option to try something different."
Maurizio Arrivabene, Team Principal
"Without a doubt, today's win is down to a very good car and a great drive from Seb. The team, both at the track and back in Maranello, has worked hard and methodically, preparing the car, which right from Saturday's qualifying proved to be very quick. The tyres responded very well to the strategies we devised. It's a shame that Kimi's mistake in qualifying affected his whole race. There is still a long way to go in the championship and we have to continue giving it our all. I take this opportunity to thank our fans and customers who never fail to show us their support and our sponsors and technical partners, especially Shell, for their support in our development programme."
Mercedes
Bottas had to work hard to keep Verstappen behind at the start, going wheel to wheel around the first two corners. It was hard but fair and from there the Finn drove a composed race, pressurising Vettel ahead whilst defending from Verstappen behind. Hamilton had to work harder - after losing power in the early stages, he was forced to pit early to rectify the issue and that left the door open for Ricciardo to jump ahead. Despite harrying the Australian for a number of laps, he couldn't force a mistake and came home fifth.
Valtteri Bottas, 2nd
"We tried everything we could, but I don't think we had a chance to really fight for the win today. I had an exciting start to the race, when I was defending second place as hard as I could. I was on the outside in Turn 1, trying to carry a lot of speed to be on the inside line for Turn 2. I went wheel to wheel with Max, we fought hard, but it was all fair and I was just happy that I managed to stay ahead of him. After that I was trying to put pressure on Sebastian, but didn't have enough pace. The Ferrari was controlling the race and we just weren't quick enough today. I backed off late in the race to save some fuel which is why Max got so close. We were the only top team that didn't bring a new engine for this race, everyone else had an improved power unit. Hopefully the introduction of our new engine in France will help us in the fight with Ferrari and Red Bull."
Lewis Hamilton, 5th
"It was a tough day in the office today, but I'm just very grateful that I finished today's race and score some points. From the start I was down on power and my engine was overheating. I couldn't get the temperatures down, so I just thought it was going to fail. Every single lap I was waiting for the power to just drop away and disappear - but it kept going. I could have lost a lot more points today; fifth is not the strongest result, but it could have been a lot worse. Ferrari have been doing a slightly better job and brought a better package, but we are very close. The guys are working really hard, but each and every one of us can always do better and improve. We will just keep our heads down, keep pushing and stay positive."
Toto Wolff, Head of Mercedes-Benz Motorsport
"This has been a tricky weekend for us, with Ferrari showing they had the quickest car in qualifying and in the race. We came to Montreal expecting to perform strongly and today's result is a further lesson to us that the historic patterns of performance between the teams are not holding true this year. It is very hard to see a trend from circuit to circuit, and the race results are being decided by tight margins - which team makes the fewest mistakes, develops its chassis and power unit most effectively, finds the right balance between performance and reliability, and puts together their race weekend cleanly from Friday onwards.
"Today, the fastest laps table showed three teams within 0.15s and this is the new reality of 2018. Looking at today's race, Valtteri got a good start then defended extremely well from Verstappen in the first two corners. We never had the pace to challenge Sebastian - but that move was the basis for his P2 finish. After this, he raced hard, hardly put a foot wrong but we didn't have the pace for any more today. On Lewis' side, we had an issue with a chassis component that compromised his cooling from the opening lap. That meant the engine was running hot and we had to manage temperatures, costing performance, in the opening stint. We were able to open up the bodywork at the pit-stop to improve the situation, but also lost a place to Ricciardo that we were unable to get back during the next 50 laps.
"It has been a tough weekend for us - tougher than we expected - and this result is a wake-up call for everybody in the team. We now need to reflect in the right way, understand where we can find more performance and respond in Paul Ricard in two weeks' time."
Andrew Shovlin, Trackside Engineering Director
"We came here to win so to leave with a second and fifth falls a long way short of what we had thought we were capable of. We'd not seen what Sebastian could do on the ultrasoft or supersoft tyres during Friday running so his pace was an unknown, but almost straight away it was clear he had a little bit on Valtteri and was able to keep us at arm's length during the first stint. Not being able to put him under any pressure meant we couldn't create any opportunity for Valtteri so second was all we could play for today. Valtteri got a bit marginal on fuel towards the end of the race, having pushed hard to keep up in stint one but he managed it well and was able to defend the threat from Max who was putting in some quick laps towards the finish.
"Lewis had a tricky afternoon, from the word go we could see that we had a chassis side issue with the cooling to the power-unit that was costing us performance. We couldn't resolve this during the race but eventually found some means to contain the situation and more importantly, we were able to contain the damage and thereby manage the risk to the PU so we could complete the race. This weekend has not been ideal for either championship and we are only a third of the way into the season with a very long way still to go. We clearly need to be getting performance on the car and we will be working hard to ensure that we can perform more strongly in Paul Ricard."
Red Bull
Both Red Bulls stormed off the line as predicted on their hypersoft rubber. Ricciardo passed Raikkonen, and later gained a place in the pit stops after throwing down an impressive in-lap. He was forced to defend from Hamilton behind, but never looked like losing fourth. Verstappen came agonisingly close to passing Bottas at the start but kept the fight and his race as a whole clean to record his second podium of the season.
Max Verstappen, 3rd
"The whole weekend we were very competitive and in the race, with the tyres we had, I think we maximised our strategy and we were very happy with the result. Every single weekend you go in you try to win and here practice has been good, Qualifying has been positive and the race went well too. Of course we're very pleased with that and to come away with a podium and challenging for second at the end at this track, which is not ideal for us, is really positive. When you feel confident with the car then you can do a good job, and during the race I think we managed the car in the best way possible on the hypersoft tyres. In this kind of race you have to manage a lot, fuel first of all, then also the tyres, you have the pressure from behind, you don't want to let them into your DRS but one point I can see that I was pulling away quite comfortably so then I was challenging Valtteri at the end. So the race was in one way maybe a little bit boring but on the other hand you needed full focus on doing a good job. Seb was very fast today and I could quickly feel that we were just lacking top speed. They tyres were holding on really well at the end when I was challenging Valtteri because he was fuel saving which shows our car was working well and for sure we have a very competitive car at the moment. I don't think we can challenge for victories on every track, it just depends on how long the straights are but for now I am looking forward to the upcoming races."
Daniel Ricciardo, 4th
"It was actually a pretty good day and I don't think I could have done much more. I know it's fourth but I'm actually happy. Starting sixth I didn't know how much to expect on this track as the reality is that it's not that easy to overtake around here anymore. I'm really happy with what I did and what the team did. We went for the hypersoft knowing it was more aggressive and we knew we had to maximise the tyre at the beginning of the race which is what we did. We got Kimi on the start and then a nice overcut on Lewis, so I think we did everything we could. It wasn't the smoothest weekend on my side of the garage, we had the upgraded engine but we had a few issues trying to get it calibrated, I think that's the right word, even during the race it wasn't that easy at times to manage tyres and wheel slip, so for that I think we did the best we could. The good thing is that Max's engine seemed to be running well, so we have that as a reference moving to France. It's probably the first time in a while that we have gained really good team points so it's a good weekend from that perspective and also good for Max. I'm looking at the positives (laughs) we also took two points from Lewis so we're still in the championship, we're still there. Last thing, It's my mum's Birthday, so Happy Birthday Mum."
Christian Horner, Team Principal
"Third and fourth represents a great team result today. Max drove a very strong race finishing within a tenth of a second from Valtteri. Starting on the hypersoft he nearly managed to get ahead of him off the line but unfortunately didn't quite make it. Thereafter his pace and management of the race was very, very strong, so we are really happy with what he has achieved today and all week in Montreal. Daniel was the only car in the top six who made any progress, passing Kimi on the first lap and managing to pull off the overcut on Lewis, after a great stop from the guys in the pit crew. To achieve P3 and P4 at this type of circuit, including the fastest lap of the race once again (one of five fastest laps of the 2018 season), is a strong performance delivering valuable points to the team."
Renault
Hulkenberg struggled with the set up of his R.S.18 but nonetheless came home 'best of the rest' in seventh. Sainz tangled with Perez after the Safety Car came in, and was able to continue unscathed to come home just behind his team mate in Renault's fourth double points finish from seven races.
Nico Hulkenberg, 7th
"We executed the race well today and it was a good effort from everyone. Ten points in the Constructors' Championship is positive for us and we've extended our lead in fourth ahead of our rivals. It was a close battle today, I lost a position at the start, but I managed to get the overcut on Ocon by going two laps longer, as he was holding me up a little bit on that first stint. From then, it was about managing the tyres, which was quite tough as degradation was kicking in towards the end."
Carlos Sainz, 8th
"It was a good day for the team and ten points for the Constructors' Championship. It's another step forward and we had a good race pace compared to the rest of the midfield. We wanted to bring both cars home in the points and we'll certainly enjoy the result even though it was a largely quiet race for us! The team did a solid job yesterday and again today to jump the Force India. We thought we were going to have a lot more degradation and in the end we came back with good tyre management."
Cyril Abiteboul, Team Principal
"Today was a highly positive result with Nico and Carlos achieving the best finishes possible with the current pace of the Renault R.S.18 relative to those ahead of us. We enjoyed good judgement from the pit wall which enabled a strategy to recover from a not so perfect start. The ten points achieved today are very healthy for the Constructors' Championship. The entire weekend illustrated the beneficial teamwork between Viry and Enstone. We delivered upgrades to the Power Unit and chassis and these worked extremely well. We did have difficult moments on Friday and Saturday but the team has done an amazing job of recovering from that, including changing a turbo one hour before qualifying with all hands on deck in a magnificent display of teamwork. We now aim to build on this result by looking at what can be done to reduce the performance deficit to the top three teams."
Toro Rosso
Hartley was in the wrong place at the wrong time at the start as he collided with an oversteering Stroll, which pitched him into the barriers and into the air. The New Zealander was later given the all-clear by medics after that heavy crash. Gasly managed to gain four positions at the start and slowly worked his way through the field to finish agonisingly close to the points in P11.
Pierre Gasly, 11th
"Overall, I think it was a really good race for me. We managed to make up many positions after starting from the back row, but it's always tough when you finish so close to the points! I was pretty close to Charles a couple of times, then I damaged my front tyres so in the end it became difficult to pass. The new power unit seems to work well… we overtook multiple cars on the straight, so it looks promising for the upcoming races. Honda worked very hard to bring the upgrade to Canada and they did a fantastic job! Now we need to put everything together and find some consistency, because the next race is my home Grand Prix in Le Castellet - I'm really excited to go racing there!"
Brendon Hartley, DNF
"I'm really disappointed for Toro Rosso and Honda, because we've been quite strong all weekend with a good update from the power unit. I think we definitely had the pace to challenge for points today. I had a good start, similar to the drivers around me, but I got left a bit on the outside of Turn 2 which lost me a position. I got a good run on Lance out of Turn 4 on the outside, but he lost the car which put us both into the wall. It's very disappointing as there was room to make the overtake, and I was looking forward to a strong race. It's a frustrating way to end the Canadian Grand Prix as I've been really happy with my performance all weekend. I was delayed getting back to the circuit because I was flown to the hospital for precautionary checks. However, I'm definitely fit, healthy, and ready for the next race."
Franz Tost, Team Principal
"This was not our race weekend… our problems started in qualifying with a change of power unit on Pierre's car, and as a result he had to start from the back of the grid. Pierre drove a good race today, but unfortunately he was not in the position to score points and finished 11th in the end. After having a good start to the weekend, it's a shame Brendon retired on the first lap of the race after he was pushed into the wall by Stroll. I think we can get more out of our package than we were able to show today, and I'm confident that we can have a better performance in the upcoming race weekend in France."
Toyoharu Tanabe, Honda F1 Technical Director
"A weekend of positives and negatives: on the positive side, the PU updates we brought here delivered a noticeable increase in performance, which is a good sign for the next stage of the season. On the negative side, we had a reliability issue on Pierre's PU on Saturday and Brendon's race was very short. However, Pierre had a strong race from the back of the grid and now we will focus on ensuring both drivers can perform well, starting with Pierre's home race in two weeks' time in France."
McLaren
Alonso had his customary solid race, working his way into the points before being forced to retire with an exhaust issue - his second consecutive DNF. Vandoorne too was unlucky; he picked up a first-lap puncture and was forced into a two-stop race. He suffered technical issues throughout, which limited his power and he trailed home towards the back of the pack.
Fernando Alonso, DNF
"The race was fun at the beginning, especially after the restart, when we overtook three cars in two corners. Sergio [Perez] was on the grass sideways and came back onto the track, so it was difficult to anticipate what line he would have taken. Then halfway through the race, I felt a loss of power and was told to retire.
"It's sad, frustrating and I'm disappointed with this result. We weren't competitive this weekend. We need to find more performance in the car and a way to become competitive. Reliability is also important, as we saw at the beginning of the year how many points we scored and how many we've lost now in the last two races, by retiring today and retiring in Monaco when we were running in seventh position.
"There are a few areas of the car that we need to keep working on and improving, and we'll see what happens in the next couple of months.
"I'm flying tonight to France, as tomorrow I need to be in Le Mans. It will be a busy Monday and a new experience, and I'm definitely looking forward to it."
Stoffel Vandoorne, 16th
"I think we were extremely unlucky from the start today. We had a good launch off the grid, but with the accident that happened there was so much debris to find our way through into Turn Five, and it was impossible to avoid it. We had a front-right puncture, and we basically ran out of tyres already before we even really started the race, so it was a difficult day. A big piece of debris went under the car so we were forced to pit on the first lap and then lost a lot of time in the pit-stop as well. Before we even got into the race it was already over.
"On a personal note, on my side it's been very positive in terms of the progression we've made over the past couple of races. The disappointing thing here was our qualifying performance for the team as a whole. We knew that before coming here and unfortunately it got confirmed. We've got a lot of work ahead.
"It's hard to tell how the next few races will be for us. We don't want to make any predictions, and if you look at last year there were some races that we thought would be difficult but turned out to be alright. We have to wait and see. Paul Ricard will be a new track for everyone, and then Austria and Silverstone, so a busy couple of weeks ahead but I'm looking forward to that and hopefully we'll have some better luck."
Eric Boullier, Racing Director
"Today has been a day to forget and move on for McLaren. While both drivers did extremely well to avoid the chaos on lap one, Stoffel reported a puncture after driving over the resultant debris, and his subsequent stop lost him a lot of time under the Safety Car. From there, he was in last position, and, despite driving well to manage his strategy and pace to his nearest competitors, the unforgiving nature of the Circuit Gilles-Villeneuve meant he was unable to make significant gains on the pack ahead. To compound his struggles, he spent the final stint of the race nursing an intermittent energy management issue, which we are currently investigating. All things considered, he drove a hard-fought race to bring the car home in 16th.
"Fernando was left in a much better position than Stoffel after the first-lap chaos, and benefitted from the early Safety Car period to jump three places forward into 11th on a one-stop strategy. While we thought a points-paying result was becoming a distinct possibility, he suffered cruel luck once again and was forced to retire the car after losing boost pressure thanks to a broken charge air cooler pipe. Although very frustrating, it's an unusual problem, and one that we don't expect to affect us going forward.
"From here, the important thing is to pick ourselves up and turn our attention to our return to Europe and three back-to-back races in as many weeks. With a renewed focus, hard work and better luck, we hope an upturn in fortunes will come our way."
Sauber
Ericsson had a solid if unspectacular race towards the back of the field, but by contrast his team mate shone once again in picking up another valuable point for the team. Leclerc overtook Magnussen at the start, held off Alonso for a number of laps and kept his composure to finish tenth and make it three points finishes in the last four races.
Marcus Ericsson, 15th
"It was quite a difficult race for me. In the first half of the race, I struggled behind other cars and lost quite a bit of time. The second half was decent; we did a good job getting the tyres to last until the end of the race, which is a positive. The result is disappointing, and we have to work on improving in qualifying, as that is where I still have room for improvement at the moment. I am confident that we will find a way to improve in that area, and look forward to the next races."
Charles Leclerc, 10th
"It was a good race today. I am very happy with the result – it has now been four races that we have been doing a great job, and have been improving consistently. I am proud of the team and the work that everyone has done. It was exciting to discover this track in Montreal, and I enjoyed driving here very much. Now we have to take what we have learned here and look to continue on this positive path for the next couple of races."
Frédéric Vasseur, Team Principal
"Overall it was a good weekend for us. We had one car in Q2 (Charles Leclerc) again – it was the fourth time in a row for us. The race today was also good. Charles managed to stay ahead of his competitors and fight his way forward, scoring a point for the team again. Marcus did a good job as well, but unfortunately got stuck behind another car after his pit stop. The team did a good job with a very fast pit stop again. Everything is coming together and looking positive, and good steps are being made as a team. We have to stay focused and continue working in this direction for the upcoming races."
Force India
Not quite the result they were hoping for but Force India did well to recover some points in a topsy-turvy race. Perez was compromised after colliding with Sainz at the Safety Car re-start, running wide and pitting as a result which dropped him to the back of the field. Ocon had a slow pit stop, and lost places to the Renaults as a result, but aided by Alonso's retirement he came home ninth.
Sergio Perez, 14th
"I am very disappointed to come away from this race with no points. The start was good, although I didn't make up any places, but the restart after the Safety Car was even better and I managed to pass Carlos [Sainz]. I was very surprised when he hit me because I gave him more than enough room and I was ahead: that wasn't good enough and that's why I asked for a penalty on the radio. I was able to save the car [from crashing] but by then my race was compromised. We tried something different with the strategy – going for a two-stopper – but it wasn't enough to get back in the points. Overtaking was impossible, with these cars you can't follow another car and pass them unless you have a big advantage. It's a shame because I feel we had the pace to be mixing with the Renaults and we should have scored some good points."
Esteban Ocon, 9th
"It's good to pick up more points, but we had the potential to score even more today. I had a fantastic first lap and got ahead of Hulkenberg, which was the target, and I was running well in seventh place. Then we had a small issue at the pit stop, which cost us a couple of seconds, and it dropped me down behind both of the Renaults. From there I tried my best to fight back and I came close to catching Sainz in the final few laps, but it wasn't possible to overtake, especially after he cut the track and gained some time on the final lap when I was about to overtake him. It's a shame because the strategy should have worked really well. I will focus on the positives because it's been a strong performance by the team this weekend. We can be satisfied with what we have done here. The pace has been competitive, but we need to keep pushing."
Otmar Szafnauer, Chief Operating Officer
"To come away with just two points is a bit disappointing considering the speed we've shown across the weekend. Esteban drove well and we just unfortunately had a slow pit stop with a delay fitting the rear jack, which ultimately ended our chance of beating the Renaults. Sergio was racing very well until Sainz hit him, forcing him off the road, and dropped him outside the points. He had made the overtake so it was extremely disappointing to lose four or five places as a result. It effectively ended his afternoon. So a mixed result today, but we take encouragement from the speed we have shown in both qualifying and the race, and it's good to keep picking up important points."
Haas
Haas decided to use different strategies for their two drivers, with Grosjean running the longest opening stint of any driver. He peeled into the pits for his only stop in dramatic fashion after being squeezed onto the grass by Ocon just before the pit entry. No harm done, he returned to the track and came home a respectable 12th after starting last. Magnussen had a poor race, losing a position off the start to Leclerc and being overtaken by Gasly to come home behind his team mate in P13.
Romain Grosjean, 12th
"We didn't really know quite how long we could go. We had been planning to go long, but not as long as that. The tyres were holding quite nicely. There was only a bit of front degradation. I was happy with the pace. I was easily managing keeping up with the Renault in front and the Force India behind. If qualifying had been as I was expecting with a P7, it would've been a P7 today, for sure. Anyway, we tried to come back, but our strategy didn't quite work. When we came out of the pit we had a lot of blue flags and so on. I couldn't really come back through the field. We did our best. The car is fast and I enjoyed driving it."
Kevin Magnussen, 13th
"Not a brilliant weekend for us. We were thinking that P11 in qualifying was a good result. We thought that would be an advantage for the race – being on a different tyre from the top-10. It didn't really turn out to be that way. I didn't get a great first lap. I was overtaken by one of the Saubers. They had a really good start, and then a couple of laps after I had a Force India that spun and I couldn't get on the inside, so I was on the outside and got done by Fernando (Alonso) on the inside. Things just didn't go our way today. It's a shame. I think the car was pretty good, especially on the supersoft, the pace was good. I think we just didn't get it right today."
Guenther Steiner, Team Principal
"It was a disappointing end to a disappointing weekend. Lady Luck didn't quite go our way during the race. The only thing we can do is look forward to the next race. I'm hoping we'll get a break at some stage and show what we can do."
Williams
Stroll had a home race to forget as he crashed heavily on the first lap. After making a good start, he lost control and collected Hartley, with the two cars sliding off track and into retirement. Sirotkin did at least see the chequered flag but lacked the pace to compete and propped up the field.
Sergey Sirotkin, 17th
"It was a difficult race. The start was particularly tough in the beginning with the prime tyres compared to the much softer compounds of everybody else. Still, I was able to gain some positions at the start. However, with the safety car and an extremely poor warm up with the harder compound of tyre, it was impossible to keep up with the pace. We were the slowest car of the day and we have done our best to finish the race despite the issues we've had. That's where we are and we have to be honest with that."
Lance Stroll, DNF
"First of all I am really disappointed for the fans. I have had a great welcome here for my home race and I wanted to put on a good show for them. I had a good start, gained a few positions and got both McLarens, but I had some contact when I overtook them. Then I was side by side with Brendon going into turn five. The car got loose on me, I corrected it but there was not much room for both of us, and by the time I had corrected it we had touched. It is not ideal, but that is racing, things like that happen on the first lap as we are close and side by side, so that is how it goes sometimes."
Paddy Lowe, Chief Technical Officer
"This was a very disappointing result, especially for Lance's fans and there were many of them here today for his home race in Canada. As for the race itself, we chose to split the strategy across the two cars, with Lance starting on the ultrasoft and Sergey on the supersoft. Both cars made good starts off the line, initially gaining places. Unfortunately, Lance had an accident in turn five involving Hartley, which brought his race to a very early conclusion. On Sergey's side, due to the harder tyre slow warm up, he lost the positions he had gained at the start after the safety car. He then settled down to protecting a position ahead of Ericsson and Vandoorne. We chose a relatively early stop for the ultrasoft to go to the end, thinking that this would gain an advantage, but unfortunately, we didn't find any pace in these softer tyres, which appeared slower than the supersofts. We know we are not where we need to be and we have a lot of work to do. We are working very hard behind the scenes and intend to come back stronger as soon as we can."
Pirelli
Mario Isola, Head of Car Racing
"The strategy was really dictated by qualifying yesterday, with the early Safety Car period here also ensuring that a one-stopper became the way to go, on top of the low wear and degradation seen on this track generally. All three nominated compounds were used extensively during the race, with different thinking on strategy all the way down the grid. A number of drivers, notably Red Bull's Daniel Ricciardo and Haas driver Romain Grosjean were able to use strategy to boost their grid positions. The championship has now taken another twist, which makes it even more interesting as we head next to a completely new venue at Paul Ricard in France."