Feature
What the teams said - race day in Germany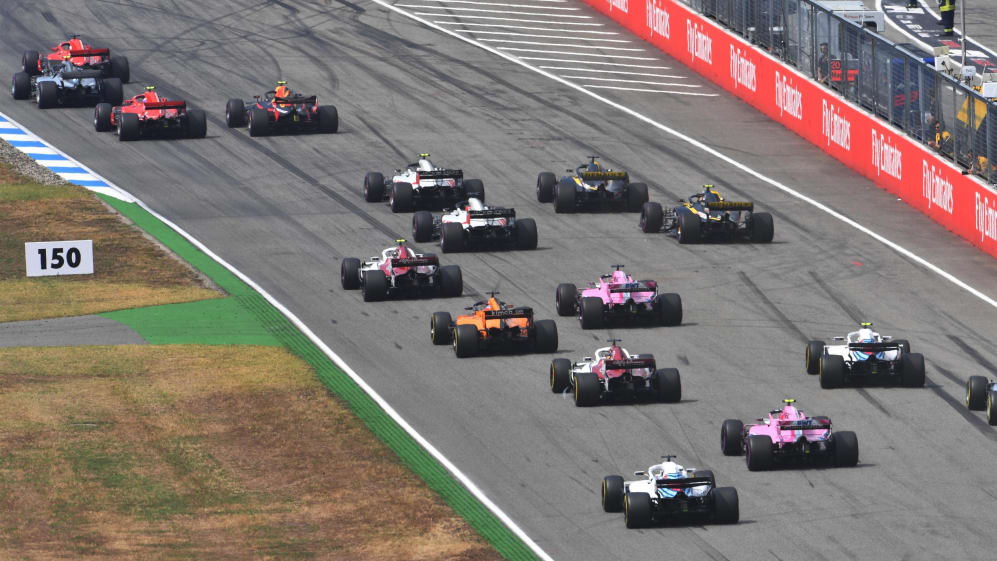 A round-up of all the action from the Formula 1 Emirates Grosser Preis von Deutschland 2018 at Hockenheim...
Ferrari
Vettel led from the start and looked to be serenely driving towards victory before a late error saw him pitch his car into the barriers in the slippery conditions, leading to a tearful apology to his team over the radio. Raikkonen did see the chequered flag, but will rue the strategy calls that left him on much older tyres than the Mercedes duo and cost him a chance of victory.
Sebastian Vettel, DNF
"There's not much to say: I made a small mistake which had a huge impact on the result. I braked just a tiny bit too late for the corner, locked the front tyres and then the rear ones, so that I couldn't turn the car anymore. I think I had managed everything right before that. We had the pace and we had been in control of the race up to that point. It was my mistake, so I am disappointed, but I don't think we still have to show what we can do. We've shown everywhere that we are competitive, so I am looking forward to Hungary next weekend."
Kimi Raikkonen, 3rd
"It was pretty difficult out there today. Surprisingly, in some corners there was decent grip and in some others there was none at all; we could feel the rain especially in Turns 2 and 6. It was hard to tell when to slow down and where the grip was. Obviously, you had to make your decision before the braking zone, knowing that if it happens to be wetter than you expected, there's not much you can do. It was not easy but we tried to make the best calls and I think we got it right. The most tricky moments were before the safety car came in; it felt like it was raining a lot, somehow we had some decent grip and suddenly quite bad grip. At one point I had a moment with some back-markers and unfortunately I lost second place. In many ways it could have been better today, but this is what we got. I think that we made the most of it, considering the situation."
Maurizio Arrivabene, Team Principal
"In what was a particularly fraught weekend for the team, it would have been important for us to bring home the win and our car had shown it was up to the job. Unfortunately, things did not go as planned. Kimi drove a great race to make it to the podium. We now head off immediately for Hungary, determined to give it our best shot, just prior to the summer break."
Mercedes
Bottas kept P2 at the start as Hamilton made easy work of the midfield runners to climb up the field. Pitting much later than the other front runners in a master stroke of strategy, Hamilton had the best tyres when the rain came and after Vettel's crash, inherited the lead when Bottas and Raikkonen were forced to pit for fresh rubber. From there he was faultless to win his fourth German Grand Prix, with Bottas a credible second after being told to hold station behind.
Lewis Hamilton, 1st
"I've never experienced a race quite like this. I knew sitting on the grid that I had to catch the guys at the front - that was my goal. I did a very long first stint, but I had to stop just before it started to rain as the tyre just couldn't hold out any longer. It rained more and more and it was so tricky out there, but I'd come so far, there was no way I was giving it up. To get the 1-2 for Mercedes, especially on a weekend when the Team showed their confidence in us by re-signing us, is tremendous. I would never have thought you could do something like that today but I just kept pushing, I kept believing and it happened. I prayed as I always do before the race, and it feels like those prayers were answered. There was a lot of negativity this weekend, but I feel like the rain has come down and washed away all of that negativity. It's been a real dream and a day I'll always remember."
Valtteri Bottas, 2nd
"I would have loved to win this race, but at the moment I'm very happy for us at the team - it's a perfect result here at the home race for Mercedes in Germany. I was fighting for the win today and things started to unfold quite nicely for me towards the end of the race. But unfortunately I was a bit unlucky as the Safety Car did not come at an ideal time for me in terms of tyre age. That's where I lost the race. Lewis had a great comeback and drove a mega race - probably one of his best. In the end he was a bit more lucky with the Safety Car timing than I was. I had a good opportunity at the re-start, Lewis and I had a great, fair battle - but he managed to stay ahead. It must have been quite exciting to watch - two of the same cars fighting it out on the track. We decided not to pit for the Intermediate tyres; it was risky, but the team was comfortable that the rain would not last long. It turned out to be exactly the right decision, so I'm glad I trusted the team. I will keep pushing hard and I'm sure my time will come."
Toto Wolff, Head of Mercedes-Benz Motorsport
"What an incredible race - here at Hockenheim, on home turf for Mercedes, and a one-two finish after all the bad luck we have had in recent races. Today it felt like that turned into good fortune for us and it was the perfect scene on the podium with our two drivers and Dr Zetsche up there. Like always, the race happens on Sunday not Saturday, and sometimes it's not the quickest car that wins; that was what happened today. But even in the joy of victory, our thoughts also remain with Sergio Marchionne and his family; although we are rivals on the track, we are friends off it and we were saddened to hear the news of his illness. It's hard to sum up a Grand Prix like this one in a few sentences but things were unfolding in an interesting way when the rain came. Valtteri was planning to make the one-stop plan work, and looked like he was in better shape with his tyres than the Ferraris ahead. Likewise, Lewis had great pace running long on the soft tyre, then was poised to hunt down the guys in front in the second part of the race.
"Things were pretty chaotic when the Safety Car came out - it was a very late call, a lot of traffic on the radio and we ended up with one car in the pits and one car out on track. In the end, this covered every option for us - then the battle was on when they went back to racing. With so much at stake, and after the misfortune of recent weeks, we took the call to tell Valtteri to hold position; it would have been the same if the cars had been the other way round, too, because we needed to protect the one-two and avoid losing one or both cars. After the drama of Silverstone and then qualifying yesterday, this is a dream result and that unpredictability is the beauty of sport. But our focus will turn quickly to Hungary, where we will have to do it all over again next weekend."
Andrew Shovlin, Trackside Engineering Director
"After yesterday we were wondering when our luck was going to change but we'd never expected today's race to go the way it did. To finish with a 1-2 at one of our home races is amazing, this weekend will be one of those that stays in your memory for ever. It's easy to underestimate how difficult it is to stay on track in those conditions on dry tyres so well done to both drivers who made today's result possible. Valtteri's race was panning out as we'd expected to Vettel. The dry situation wasn't very exciting as it was all about driving to tyre temperature limits and as a result Valtteri couldn't really put the Ferrari under pressure. The second stint was more promising, Vettel was losing time with Kimi and the traffic and it seemed like Valtteri's tyres were in better condition which helped when the rain started to fall which was helping us close further.
"Lewis's plan worked very nicely in the conditions, he did a great job of looking after his tyres in the early traffic and was able to push the stop very late. We decided to fit new Ultras on lap 42 as we could see the rain coming but wanted to be on new tyres when it came as we felt we could ride out the first shower on dries. This paid dividends as he was able to really close on the lead in the difficult conditions. The safety car created the race winning opportunity for Lewis, he had the best tyres of anyone so staying out was not an issue. Valtteri needed fresh tyres to restart so his stop was necessary. It wasn't a clean stop but luckily it didn't end up costing a position.
"After the restart we'd asked the drivers to hold position in the closing stages as the conditions were so tricky and we have to think about both championships given how close our fight is with Ferrari. It's never a nice call for a driver to hear but Valtteri showed his class and professionalism today and I hope we can see him on the top step soon."
Red Bull
Mixed conditions normally favour Red Bull with their bold strategy calls, but today was just not their day. Ricciardo made his way up through the field and into the points before retiring with an apparent PU issue. Verstappen gambled when the rain came and fitted inters, but it was the wrong call and a second stop for ultrasoft rubber cost him a chance of a podium.
Daniel Ricciardo, DNF
"The first 10 to 15 laps were really hard on the medium tyre and they were a handful. I think the race would have come to us but on the first few laps I needed to be really patient and pick cars off one by one. Once I got into clean air I was able to do some low eighteens which seemed competitive at the time but we didn't really get a chance to see what we could do today. We could have gone long on the Medium tyre and I think the strategy would have worked for us towards the end. On lap 29 I heard something strange when I was downshifting for Turn 6 and then once I accelerated out of the corner I lost power and the engine started to sound pretty sick. I got on the radio straight away and expected the team to ask me to pull over, which they did. I don't know the specifics but it was some sort of engine failure which is obviously pretty frustrating after taking the penalties today. Anyway, would have, could have, that's racing and I feel like I have been in this position too often this season. It hurts, it always does. I may not remember this race but I will remember the crowd, they all showed up today which was really nice to see and I guess they know it may be the last time we come here for a while, it's been a good show for them, but not for me. Hopefully I can go and win in a week's time before we all head off for the summer break."
Max Verstappen, 4th
"After such a chaotic race I think finishing fourth is a good result and the car felt strong throughout the race. It was a hard day for decision making due to the late changes in the weather. I had a small slide at Turn 6 when it first started to rain so I decided to pit for intermediates. As soon as I came out of the pits and got to Turn 6 it was dry again. I knew it was not going to work, it could have done but unfortunately it didn't continue raining enough. Sometimes these decisions work for you, sometimes not as we experienced today. The safety car meant it didn't impact the result but it was worth trying at the time. The heavy rain came a fraction too late in the day, perhaps we could have done more but instead we had to settle for dryer conditions. We should be in better shape to get a good result in Hungary so I'm already looking forward to next weekend."
Christian Horner, Team Principal
"Max had a good start and was able to challenge Kimi on the opening laps. Things quickly settled down as the tyres were going to be a crucial factor in the overall race strategy. Meanwhile, Daniel was making good progress from the back of the grid after incurring his engine penalties. At that point, there was a threat of rain but it was difficult to predict exactly when it would come. Unfortunately, on lap 29 Daniel's engine failed, which is particularly disappointing alongside the penalties that he had already incurred. Max was on a one stop strategy running in P4, it started to rain and with a couple of cars running wide, including Max, we decided to take a gamble and pit him for the Intermediate tyre. Unfortunately, it didn't rain enough and the inter tyre got burnt up so Max had to pit again for the Soft tyre. From the position we were in with no threat from behind, the gamble was worth taking but it didn't pay off this time.The Safety Car then bunched the field up meaning that Max crossed the line in fourth which is about where we were on pace today."
Haas
Haas saw both cars briefly squabble but keep it relatively clean on the first lap, and looked on to score strong points. Covering off Renault's switch to inters proved costly with the safety car timing and cost Magnussen his points finish. Grosjean atoned for recent errors to fight his way back up through the field, overtaking both Force Indias on the last couple of laps to grab his second points finish of the season.
Romain Grosjean, 6th
"That was good fun. It was a good end to the race. Obviously, we didn't quite get the right choice putting inters on, as the track dried really quickly for some reason. It was a bit of luck, a gamble, but we came back on slicks, and I had amazing fun through those last laps. I was just pushing it to the limit and going for it. I think we would've been quite happy to be where we were before the rain came, and then, obviously, it rained. The boys deserved a really good drive from me, and I had fun doing it."
Kevin Magnussen, 11th
"Obviously, it wasn't ideal to end up outside of the points after being P6 for the whole race. We didn't quite get the best out of the weather situation. We'll just have to learn from that and do better next time."
Guenther Steiner, Team Principal
"I think it was a case of damage limitation today. It was a very eventful race. We still need to analyse exactly what happened, what we could've done different. I don't say even better, because we don't know yet. But, we got away with eight points, so I think it was damage limitation. I think the race was an interesting one for everybody."
Renault
It seemed Renault were heading for a double points finish, but a call to put both cars onto intermediate tyres backfired for Sainz, who stopped just before the safety car period and lost places accordingly. He was then handed a 10-second time penalty for overtaking under the safety car which dropped him to P12. Hulkenberg was more fortuitous in his pit stop timings and despite having to stop again to change back onto ultrasofts, came home fifth for his best ever result on home soil.
Nico Hulkenberg, 5th
"I'm very happy with that. The first part of the race wasn't so exciting, but it was unfolding nicely towards the end, then the rain hit us. It was tricky out there trying to keep it on the road, but I enjoy those conditions and started to make some gains. It's good points for the team, our joint best finish of the season and my best finish with Renault. More crazy conditions would have been nice, but we'll take that. We made the right decisions and that's why we deserve fifth today. We've been working hard for it, so it's a nice reward for the team. We did a good job today."
Carlos Sainz, 12th
"It was a difficult race for me in the end. We made a good start off the line, but then I got squeezed and lost a little bit of momentum. The race settled after that and we were looking in a good position to score points before rain made the track quite slippery and difficult. Unfortunately, I stopped for Intermediate tyres the lap before Vettel crashed, so we were slightly unlucky with the timing. We finished in the top ten, but the penalty ended our chances of securing points, which is disappointing and we'll look at what happened there."
Cyril Abiteboul, Team Principal
"It was a very eventful race in front of an amazing crowd here at Hockenheim. It probably gave extra focus and motivation for Nico and that's what he showed today. It would have been easy to make a mistake on the track, or make the wrong tyre call in the uncertain conditions. He, Mark Slade his engineer, and the whole team did an excellent job of staying on top of the conditions and making the right calls and execute them properly. We have the feeling that Carlos could have joined the party where Nico was as well with a good start, good pace and similar stops, but it just did not go his way. He also lost two positions with the 10-second penalty post-race. We need to better understand what happened there as it was a very busy race. It's a race which again showed it's very tight between us, McLaren, Force India and Haas. There are ten more races to go, which means ten more tight and exciting battles for everyone."
Sauber
Leclerc lost places as faster cars made their way through the field, but seemed well poised to pounce should anyone retire. Instead, he made the bold call to switch to inters - which proved costly, as the switch back to slicks dropped him down the field, before a spin and then a big run-off through the gravel blotted his copybook in emphatic fashion. Ericsson meanwhile, kept his cool and benefited from staying out to grab his third points finish of the season.
Marcus Ericsson, 9th
"It is very satisfying to be back in the points. It was a difficult race, especially in terms of managing the tyres. We had a long first stint on soft tyres. After the rain started, together with the team, we decided to keep calm and stay out. It was a big challenge not to make any mistakes because the track was very slippery and demanding but I was able to manage the hectic situation. At the end of the race, there was a lot of pitting among the teams, and there were some good fights for the points. All in all, it was a fun race to drive, and it is very satisfying to finish it in P9. It is great for the team, a great boost for all of us, and we go to Budapest feeling positive."
Charles Leclerc, 15th
"It was a disappointing outcome to the race for me today. After having a good start, I was able to keep my position in the upper midfield during the first stint. The performance was good and I felt confident in the car. As the rain started to appear, I was called in for a change to intermediate tyres. As the track was only wet in a few of the corners, the tyres were destroyed after just a few laps. From that moment, the race was a struggle. I lost a lot of positions in that time, and it was a challenge to try and get the tyres to work. It is unfortunate to finish the race in this way. However, we did make good progress again this weekend. I am now focused on the next race in Hungary, and look forward to being back in the car there."
Frédéric Vasseur, Team Principal
"There were two sides to the race today. Marcus had a very positive day. He managed a demanding situation very well and had good control of the slick tyres on a wet track. He gave a strong performance and good pace from beginning to end, scoring two more points for the team. On the other hand, it was a tough race for Charles. He started in a good position and showed a strong performance. Unfortunately, we made a risky call when it started to rain. We brought him in and put him on intermediate tyres. That compromised his race. Looking at the race weekend as a whole, we made good progress and are confident that we will continue on this positive path during the upcoming Grand Prix weekend in Hungary."
Force India
Ocon opted to start on the ultrasoft rubber and it paid off as he made up positions on the first lap. In the late chaos, he stayed out which propelled him into the top 10. Perez likewise kept his race clean to run solidly, despite one late spin in the wet conditions. Force India made the right strategy calls with respect to their midfield rivals, which enabled their third double points finish in a row.
Sergio Perez, 7th
"When you come away from such a crazy afternoon with some good points you have to be happy. The whole race was very busy and I was always in the middle of the pack fighting the cars around me. I had a mega first stint, but we were unlucky with the slow pit stop, which cost us a few seconds. Then, when the rain arrived, it was very tricky and each lap was a new adventure. I spun while I was lapping Leclerc – I don't think he saw me and I just lost the rear end. To survive all these things and finish seventh is a good achievement. It's just a shame I lost a position to Grosjean on the final lap, but we did all we could today."
Esteban Ocon, 8th
"It's a great result for us after yesterday's disappointment. I made a good start and gained a few places in the opening laps, but besides that the first stint was pretty boring. It's only after the pit stop, when it started raining, that Sergio and I truly made the difference. We gained a few positions on slicks under the rain and it was really good fun. I had to evaluate the situation lap by lap, based on how much rain I could see on my visor and picking my braking points accordingly, but we never really had any doubt about staying out. To get in the points after a tough Saturday is a great result: we stayed solid, we believed in our strategy and in the end it paid off."
Otmar Szafnauer, Chief Operating Officer
"To come away from Germany with ten points represents a very good afternoon's work. We rode our luck at times, but the drivers gave excellent feedback on the conditions and we made some brave decisions from the pit wall. A bit of rain always adds some drama and keeping the car on track on slicks was a real challenge this afternoon. To complete the race with only one pit stop for each car was definitely the right strategy and the result is vindication of that. It was very close with Grosjean catching us in the closing laps with a big tyre advantage and a strong Ferrari engine, and in the end we couldn't hold him off. We worked hard for this result today and credit to the entire team for a well-executed race."
Toro Rosso
Gasly started from the back after a raft of PU changes, and then was compromised by the decision to try full wet tyres in mixed conditions. Hartley, by contrast, kept out of trouble and opted to stay on slicks, pitting for fresh rubber under the safety car to come home in the points and ensure a poor weekend for the Toro Rosso team ended on a high note.
Pierre Gasly, 14th
"We knew it was going to be difficult today starting from the back because of the tactical engine penalty, so, as we didn't have much to lose we could be bold with our strategy. The weather made things very tricky and we were unlucky gambling on our strategy when we pitted for the wet tyres as we expected more rain, but the track wasn't wet enough and the heavier rain didn't come. As the wet tyre began to overheat on the dry track, we were forced to make an additional stop to go back to the ultrasofts. This didn't help but we had to take the risk. It just didn't work today, so we will reset and focus on next week in Budapest."
Brendon Hartley, 10th
"I'm happy with how today went. I lost some time behind the Williams at the beginning but I had some fun battles out there. We definitely had good pace on the harder compound tyre, but I struggled at the end when I moved on to the ultrasoft. I was disappointed to lose a place to Grosjean but he had a lot more pace than me. I kept it clean and we made the right call to brave it and stay out when the rain came. The team and myself had great communication during the changing conditions and in the end it paid off. I also used some of my experience from endurance racing to help make the call, so I'm really happy with the race I did and to bring home one point."
Franz Tost, Team Principal
"Starting from the back of the grid was of course not an easy task. However, both drivers managed to have a reasonably good start and during the race they could show a decent performance. At the end, it was good for Brendon to be able to score a point. As for Pierre, we decided to gamble and called him in for the pit stop to the Full Wets because heavy rain was a high possibility, but unfortunately it didn't arrive. I'm sorry for Pierre, but sometimes you need to dare and this is what we opted for today. Our performance has improved during the race as we managed to do some good lap times, and this gives us confidence we'll be able to show a strong performance in Budapest."
Toyoharu Tanabe, Honda F1 Technical Director
"The arrival of rain changed the story of this race. It was good to see both our cars take the chequered flag. Brendon did a good job to work his way up from sixteenth on the grid into tenth place, to pick up a well deserved point. However, as we now look ahead to next week's Hungarian Grand Prix, we know that we have not been competitive in the past few races and we have to work hard to improve our overall performance."
McLaren
A bad day at the office - Vandoorne was called into the pits to retire after running towards the back of the field, before his apparent PU issue was rectified enough for him to continue. Alonso gambled with an early change to the inters which didn't pay off and he later did retire when running well outside the points, in conditions that seemed tailor-made for the Spaniard.
Fernando Alonso, DNF
"It was a tricky race today.
"We bet on the rain and at the first drops we pitted for Intermediate tyres, expecting that it would rain hard in the following few minutes. But, it didn't, and we were out there on a dry track with wet tyres, so we killed them and then we had to stop again to get back onto dry tyres.
"At that point, our race was compromised.
"It was difficult conditions out there, but we weren't in the points so we had to try something. Disappointingly, the bet today was the wrong one.
"At the end of the race, the team told me to retire the car, as they probably saw something on the data."
Stoffel Vandoorne, 13th
"It was a very strange race.
"We had a terrible first part, when we were almost last – as we've been most of this weekend, to be honest. Then we had an engine issue; we thought we had to retire the car but then we found some settings to make it work again, even though with a little lower power than normal, but at least it got ourselves back in the race.
"When the rain came down we took the right decision by not pitting for Intermediate tyres, which got ourselves up a few positions. Thirteenth was probably the best position we could've gained today.
"The most important thing now is changing things around on my car and arriving in Hungary with a normal car."
Gil de Ferran, Sporting Director
"A disappointing German Grand Prix for us.
"On Fernando's side we took a gamble, banking on there being some heavy rain, but unfortunately we were a little too early and the gamble didn't pay off. It's a real shame for Fernando who was actually driving a really good race at that time, fighting as he usually does.
"At the end of the race, there were some concerns over his gearbox and we had to retire his car.
"On Stoffel's side, we had a much calmer afternoon and he drove a solid race. He had an issue half way though that we are still investigating and which lost him a lot of time, but it was a solid finish in the end.
"It's unfortunate to miss an opportunity to score some good points, as the car and the drivers had enough pace to do so today. So, onwards and upwards."
Williams
Williams were running solidly, albeit outside the points, until the rain arrived. They gambled and put both cars onto the intermediate rubber, only to see both cars retire almost immediately with technical issues. Sirotkin pulled to one side of the track with smoke billowing from his FW41, before Stroll wound up in the garage with a brake problem.
Sergey Sirotkin, DNF
"It was a good race and I had to fight quite a lot at the start. I had some good fights which I won and others which I unfortunately lost as I was not in position to do so. But once the race settled down it was a good race and we managed the tyre well. The pace was reasonable and when the rain started, I was very confident and closed the gap between cars ahead of me quite quickly. When the safety car was deployed I felt it was our chance but unfortunately, I had a call to stop the car immediately."
Lance Stroll, DNF
"I had to retire as I lost brakes. Qualifying looked strong yesterday, but today the pace wasn't great. But I was happy with my race. At one stage we looked like we were in a pretty promising position, but then the rain started to come in. Looking at the results, Hartley scored a point and we were in front of him before we stopped for the inters and then obviously we had to retire with the brake failure. However, at a certain stage we were looking pretty good. It is a shame we could not be there at the end to capitalise on some of the mixed conditions."
Paddy Lowe, Chief Technical Officer
"That was a disappointing result for us today. It was a particularly tricky race with the rain and these are always a test of the race operations and the drivers' responses to rapidly changing conditions. I think we called it pretty well and would have been in comparatively good positions and possibly in the points, but both the cars broke down for entirely different reasons. This is a particular blow as if there is one thing we have achieved this year it is being significantly more reliable than last year, with only one other car related retirement this year. Sergey had an oil fire due to an oil leak somewhere in the engine circuit, but we are still investigating this, and in Lance's case he had a failure in the rear brake circuit, losing all control of the rear brakes. In both cases it was clearly necessary to stop the car straightaway."
Pirelli
Mario Isola, Head of Car Racing
"The weather conditions provided an extremely dramatic and unpredictable race. Teams had to think on their feet to counteract the constantly-changing circumstances, with only one sector of the track affected by rain while the other two remained dry. This obviously provided a very big challenge, with the ultrasoft chosen for the final stint, as this compound worked well in the mixed conditions. The six different strategies seen in the top 10 underline the difficulty of identifying the right tactics under the demanding conditions, but it's notable that despite the rain only four of the top 10 finishers used the intermediate tyres."