Feature
What the teams said - race day in Italy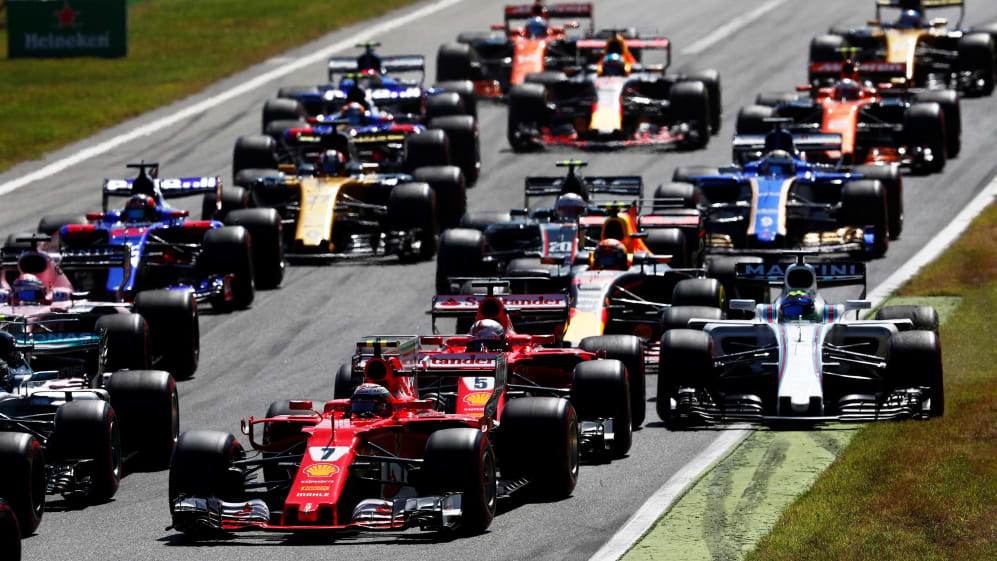 A round-up of all the action at the Formula 1 Gran Premio Heineken d'Italia 2017 in Monza...
Mercedes
Hamilton led from the start and was unchallenged through the race to record his sixth win of the season, grabbing the championship lead in the process. Bottas had to get his elbows out in the opening laps but once he had fought his way up to second, he too looked assured in bringing home the third Mercedes one-two of the season.
Lewis Hamilton, 1st
"This is obviously an incredibly exciting season; the last two races have been really strong for us as a team. The way things have come together in the second half of the season is exceptional. Today, the car felt fantastic, particularly on that first stint. As we had a bit of breathing room behind us, it was easier for us to extend the life of the tyres. Valtteri did a fantastic job to get through and get this one-two. It is amazing to have the first back-to-back wins in a long, long time and claim the lead in the championship. But the fight will continue, the Ferraris have been really quick this season, especially on the high-downforce tracks. It will continue to be really close between us, so it will be ' beast mode' all the way to the last chequered flag."
Valtteri Bottas, 2nd
"Starting fourth, finishing second – I'm quite happy with that. What I'm really happy about is the one-two for the team! From my side it was a good race, even though I lost one position at the beginning. Luckily, I got it back quite quickly and could then overtake the Williams and the Force India. After that the pace was great and I was really enjoying it – the car war so strong today. It was amazing to be on the podium. Monza is definitely one of the best – if not the best – podiums in Formula 1. It's such a great atmosphere, so much noise, so many people – I wish everyone could experience it. Looking forward, we know that we still have a lot of work to do, the races ahead will be a close battle with Ferrari."
Toto Wolff, Head of Mercedes-Benz Motorsport
"I'm absolutely delighted with a one-two finish here in Monza, at such an important and historic race. The main thing is we took 43 points for the constructors' championship and 25 points for the drivers' today – Lewis is now in the lead, but ultimately it's the positions in Abu Dhabi that count. But every bit of momentum matters, and we've had a good seven days in that respect. Lewis delivered a perfect weekend – from the impressive pole position to a faultless race drive today. As for Valtteri, he bounced back from the disappointment of Spa in a great way; racing hard against Kimi, then picking off Stroll and Ocon, before pulling away from the field for a very strong second-place finish. We have made the most of our opportunity this weekend and it was important to do so because we know Singapore will be more like a case of damage limitation for us. We will approach the next race with healthy scepticism, leave no stone unturned and aim to deliver every bit of performance that we can. If the Team delivers another perfect performance like this weekend, that will be a very good starting point."
James Allison, Technical Director
"This season has been an exhilarating rollercoaster ride and we have won races by the skin of our teeth, others where we have lost by similar margins. But this was the most comprehensive of our eight victories so far this season. It was a 1-2, flawlessly executed by the team, a dominant performance and delivered on the home turf of our main competitor; all that makes it a pretty memorable day. Aside from the emotion, though, these points count the same as any others and put us in the lead of the drivers' table for the first time as well as building our lead in the constructors' standings. We know that sterner challenges await us in the races to come, so we need to bank these points, move on and make sure that we don't relinquish either championship lead from now to Abu Dhabi."
Red Bull
Eventful races for both Red Bull drivers, who started out of position due to grid penalties. Verstappen tangled with Massa, resulting in a puncture which dropped him to last. He fought his way back up the order, ruthlessly passing Magnussen and forcing the Dane wide to grab the final points paying position. Ricciardo had an even more successful charge - he started on the harder compound, ran long and then 'overcut' the likes of Ocon and Stroll to grab fifth. From there, he pulled off the move of the day to pass Raikkonen for fourth.
Daniel Ricciardo, 4th
"I'm very, very happy about the result and loved it out there today. It was good fun. Two of my favourite races this year have been starting from the back. Silverstone and this one. Some good overtakes in the race kept me excited and I had some real pace in the end. I could see Seb and the thought of a podium was tempting me, so I was obviously trying to catch him right up to the end. The boys did the quickest pit stop and I also got the fastest lap so that's very cool. You can almost call it a perfect day. We couldn't have done much more from where we started. Of course I wanted to be up there on the podium as it looked unreal, but I believe it will come next year. Today has been a really good boost for everyone and we're looking ahead to Singapore."
Max Verstappen, 10th
"I had a good start, immediately I was between the Sauber cars and then under braking I chose quite a good line, then out of turn two I got another position and it was all looking good. On lap three I had a touch with Massa and punctured my tyre so my race was really over. I had to pit for tyres and change the front wing which meant swapping to a two-stop strategy. I tried to catch up and the car was working pretty well, so we cannot complain about that. At least we finished the race and at the end of the day I think it wasn't too bad to end up back in a point-scoring position after what happened at the start."
Christian Horner, Team Principal
"A fantastic drive by Daniel today. After an imperfect start he fought all the way through the race and had good pace, good strategy and made some fantastic overtaking moves to finish within four seconds of Sebastian, just out of a podium place and fully deserved Driver of the Day. Max was unlucky to get involved in a racing incident with Felipe (Massa) and as a result suffered a puncture. His pace was right there with Daniel's today and it's a shame that his race was compromised with that puncture on the third lap. Nonetheless he kept fighting and brought the car in the final points-scoring place."
Williams
Stroll was passed at the start by Ocon, and subsequently lost further places as the quicker cars behind reasserted their dominance. Nonetheless, he kept Ocon ahead very honest throughout. Massa collided with Verstappen but sustained less damage than the Red Bull and was able to continue. Not to be outdone by his younger team mate, he put in a series of competitive laps to get right on Stroll's tail and forced the Canadian to produce some deft defending on the final lap to keep the wily Brazilian at bay.
Lance Stroll, 7th
"I am very happy with the race and I think it was a good one. I really enjoyed myself. It was a bit of a shame at the start, as we lost position to Ocon, as Hamilton had a bad start and defended, so I had to back off. We were in P3 and then both Ferraris and the Mercedes of Bottas overtook. I then had a big flat spot at the end of the race, so started to lose time to Ocon and then was defending from Felipe. All in all, the race was very positive. I finished in P7, which was what we were expecting."
Felipe Massa, 8th
"I think it was definitely a good result for the team. It's always good to score points with both cars. Today we scored 10 points with both cars. I was happy with the race and with the fights. I just had a little touch at the end with Lance but fortunately nothing happened and we managed to finish well. I'm happy with the performance and the race. It was a good Sunday for the team."
Paddy Lowe, Chief Technical Officer
"From the start, it was a very different day than yesterday. The sun was shining and there was a big Italian crowd, so you could feel we were building up to a good race. It was quite a special feeling to be on the front row looking down the long straight into the first corner. Both drivers got good starts, but unfortunately Lance lost a position to Ocon, and the race settled down from there. I think we had slightly stronger pace than Force India today. We could have potentially got back ahead of Ocon but uncharacteristically, we had a small problem with Lance's pitstop. Lance pushed hard but wasn't able to get ahead, so in the end he finished seventh with Felipe right behind him on track in eighth. It's a valuable 10 points that we really need at this stage in the championship, so congratulations to the team who have done a great job back at the factory and at the circuit this weekend, and well done to the drivers who drove very consistent races to bring home the points for us."
Ferrari
Vettel was initially stuck behind his team mate in the opening laps, but after a DRS-assisted pass, he set about chasing down the Silver Arrows ahead. Ultimately he never had the pace and when an issue with the car robbed him of pace, he only just held off Ricciardo for third. Raikkonen had a much more eventful race, battling with Bottas, Ocon and Ricciardo at various stages. He felt he had suffered damage after running wide at the chicane early on and was off the pace from that moment onward.
Sebastian Vettel, 3rd
"Today we were not as quick as the Mercedes, but considering where we started from, we got the best result in the race. It was not ideal, but we are working very hard on what we want to achieve. The next tracks should be ok for us. We know we have to work on ourselves and where. I was happy at being back here with all our supporters, I got a lot of adrenalin from being on that podium. Of course, I wanted to win, but I am confident we are on the right way. It was not a great day for us, but at the same time it was brilliant to feel all the passion. Leading the Championship is not important as much as winning the Championship, it's where you are at the last race that counts. It is clear where we want to go, what we want to achieve."
Kimi Raikkonen, 5th
"For the whole race I kept struggling with the balance of the car. It never felt like it should have done. On some laps it was getting better, but most of the time we were lacking the grip and the pace. It was not an easy weekend, we were fighting in all conditions, in the dry and even more in the wet. This is something that we have to fix for these kinds of circuit. I'm disappointed as the result is not what we wanted. For sure if you take the pure layout of the track it's not an easy one for us, which is unfortunate at our home grand prix. I would be surprised if it's the same story at the next race, because on paper the race in Singapore should be better for us. Now we have to go there and do our best."
Maurizio Arrivabene, Team Principal
"It's been a difficult weekend at a track that definitely didn't suit the technical characteristics of the SF70H. The great crowd of our fans here at Monza supported us all the way and the entire team thanks them for that. After a far from ideal qualifying in the wet, Sebastian managed to get the better of the drivers directly ahead of him on the grid and thus make it to the podium. As for Kimi, he had a more difficult time due to the balance on his car being inconsistent. Despite the fact that everyone in the team did their utmost, we cannot be satisfied with this result. We will tackle the next race in Singapore with our feet on the ground and with our usual determination."
Toro Rosso
In dry conditions on Friday, Sainz had looked to be off the pace and so it proved again with the improved conditions on race day. Kvyat did get involved in the action, passing Hulkenberg in a competitive midfield. He had Magnussen in his sights for a while but was picked off by a fast-charging Verstappen and came home 12th.
Daniil Kvyat, 12th
"A bit of a complicated race. Our battle today was with Haas and Renault; nobody else was really in reach here, especially the Mercedes-powered teams. I managed to get past Hulkenberg, but after that I was stuck behind Magnussen for quite a long time… It's really hard to follow other cars! I kept trying to get past him but he had clean air in front of him, so it was not possible… This is all we could do today and it's now time to start thinking about Singapore, a track that suits us better. Once this said, it will still be a difficult fight to end up in the points!"
Carlos Sainz, 14th
"Not where we wanted to finish, but today we struggled simply because we don't have a good package to go racing here in Monza… It's not just about lacking a bit of power but, because of that, we needed to take out a lot of downforce, which meant that in the corners we were very slow and on the straights we were only okay, but not fast enough. We just didn't have the pace to score any points here – it's a shame, because this means that I break a statistic that I liked this year: I can't say that I've finished in the points every time I've finished a race any more. It was always going to be a very tough weekend, but now we move onto Singapore, where we should be more competitive and I look forward to fighting for points again!"
Franz Tost, Team Principal
"Because of this track's characteristics, with very long straights, we were aware from the very beginning that this was going to be a difficult race weekend for us. We simply didn't have the pace to score any points here and nothing unexpected happened in front of us – all the cars that finished ahead of us were supposed to finish where they did. Unfortunately, we were never in a position to be within the first ten cars, neither in yesterday's qualifying or in today's race. I hope that we can recover in Singapore, at a track with high downforce which should suit our car much more."
Force India
Ocon was up to second on the first lap, but soon ceded to the might of the second Mercedes. The Ferraris also fought their way past, but some good defending kept a racy Stroll behind. Perez was involved in a minor incident at the start with Massa, before running long to wind up right in the thick of things come the end, before he ran out of laps to challenge the two Williams ahead.
Esteban Ocon, 6th
"I really enjoyed the race and I'm happy with our performance. At the same time I'm a little disappointed because I really wanted to finish on the podium today. But you have to be realistic and we didn't have the pace to match Mercedes and Ferrari, so I think sixth place was the maximum we could achieve. At one stage we were racing against Raikkonen and I thought we could keep him behind, but he was just too quick. I also had a good battle with Stroll for most of the race and I had to work hard to keep him behind me. With the strong qualifying yesterday and the sixth place today, it's been a great weekend. I have to say a big thanks to the whole team for all their hard work and for giving me such a competitive car."
Sergio Perez, 9th
"First of all, I want to thank my team for the amazing job they did to change the gearbox on my car before the race. It's been a difficult weekend for us, when you consider the struggles on Friday and how missing out on Q3 yesterday made our race much more difficult. Today the car felt good and I was strong in the first stint, despite some damage picked up at turn two, but things got more difficult after the pit-stop. We had a slow stop and I got stuck in traffic: I think I lost a couple of seconds and that's what made the difference between us and Williams. We gave everything to get back to them, but we ran out of laps to pass them. Perhaps with two extra laps I would have made it, but that's racing. Even though I expected a bit more, we still rescued a few points and I am happy with this result."
Robert Fernley, Deputy Team Principal
"A successful weekend in Monza with both cars in the points. The car has been competitive across all the sessions and it's a credit to the whole team that we could convert our potential into a solid result. It was fairly clear that a one-stop strategy was the best approach today and both drivers drove strong races. Esteban ran as high as second after the start, but the pace of Mercedes and Ferrari proved too strong and he had to concentrate on fighting off the Williams' pair. Checo ran deep into the race on his supersoft tyres and in the final laps he was closing in on Massa. It was an exciting final lap, but ultimately he had to settle for ninth place. It's great to end the European part of the season on a high note and we begin the Asian fly-away races sitting in a strong fourth place in the championship."
Haas
Grosjean lost a section of front wing at the start after trying to share the same piece of track as Ricciardo. The resultant pit stop dropped him to the back of the pack and ended any chance of a competitive afternoon. Magnussen was in the thick of things, clinging on to the final point for much of the race before being passed by Verstappen. The Dane tried to fight back but had the door closed on him, resulting in him running over the chicane in a move he described as "crazy" but one which the stewards deemed a racing incident.
Romain Grosjean, 15th
"We just had that damage on the front wing in the first corner and from there our race was massively compromised. We tried a few things and we learned about the car. I don't think the pace was that bad."
Kevin Magnussen, 11th
"Stuff happened in the race today, but it didn't affect me because both Red Bulls got in front anyway. We were just not quick enough this weekend. P11 is probably the best result we could've scored. It's still annoying when you're running in the points the whole race and then you get done at the end. Max (Verstappen) was a lot faster than me. I didn't have a great chance of holding onto that point. Nonetheless, there's no reason not to try. We tried hard the whole race."
Guenther Steiner, Team Principal
"A decent end to a tough weekend. We didn't score points, but we were fighting out there. All the teams in front of us finished, so we ended up 11th, but we fought the Toro Rossos and Renaults. They didn't take advantage of it with points, so we stay in seventh position. It's completely different in Singapore. Let's see what we can do there."
McLaren
McLaren did not have a good day, with both Alonso and Vandoorne struggling for pace, especially on the straights where they both lost a handful of places. Vandoorne was eventually pulled into the pits to retire, with Alonso following a few laps later - but not before he had had a tangle with Palmer for the second race in a row. This time it was the Spaniard who was forced wide in a move which clearly riled his competitive spirit. Palmer's resultant time-penalty was described by Alonso as "karma."
Fernando Alonso, DNF
"Our bosses were here today and, unfortunately, we could not deliver a good result. It's very disappointing to have a double DNF. "I had problems with upshifting from the very early stages of the race, which at some points was costing me a lot of time – almost a second a lap. We tried to fix the issue by changing some settings, but the shifting never worked as it should have, and it hampered my race.
"Starting from the back of the grid was never going to be easy here. We made up a few places during the race, but there was little chance we could make it into the points today.
"Now we are looking forward to Singapore, which is a more suitable track for us."
Stoffel Vandoorne, DNF
"We only knew on the lap that I retired that there was any sign of a problem, as I lost power. It's a similar issue to yesterday, and it's a shame because we changed the engine overnight for a brand new one today. To have another problem in a race which was going very well is obviously frustrating. Hopefully it will be better in Singapore.
"It's pretty difficult to draw positives from a weekend like this. From my side, it had actually been a really positive weekend in terms of my driving and the performance I've put in – it's been very strong. The last few races have been very strong for me, in fact. It's just such a shame to finish with another retirement, and not have any reward for all of that. And we've had another issue today, but we have to move on.
"I guess it's possible I'll have another grid drop in Singapore, although we don't yet know exactly what the issue was today, despite it looking like a similar problem. We'll have to wait and see."
Eric Boullier, McLaren-Honda Racing Director
"Today, as we have seen so many times this season, the talent of our drivers shone, and we held onto hope that we would be able to achieve a positive result against the odds this afternoon. Once again, we were left dejected and dissatisfied. Both drivers made excellent starts and held their own in the pack for as long as they possibly could, on a track where we knew we'd be facing a tough challenge. By the end of lap six, Stoffel and Fernando were sitting in 13th and 14th positions respectively, and began progressively pushing forwards as other cars began to pit.
"Only a few laps into the race, Fernando began to struggle with gearbox issues, which we suspect derived from sensor problems. Although his engineers worked hard throughout the race to instruct Fernando with software management tools to try to rectify the issue, it became more and more difficult to monitor the gearbox remotely due to the sensor failures, so we had no choice but to retire the car as a precaution. Fernando had been on the back foot for most of the race, and had found it tough to maintain pace and momentum in a car that was tough to manage. Under the circumstances, he drove an excellent, very spirited race fraught with challenges, and it's a shame we couldn't get him to the flag.
"For Stoffel, his day ended with heartbreak. His performance all weekend has been stellar, and this afternoon he was running in the top 10 for the duration of his race – at one point as high as seventh from 18th on the grid. It's both frustrating and a huge shame that once again engine reliability issues have meant that he was not only forced to waste the opportunity to start the race in eighth place on the grid, but that all the hard work he would ultimately put in to make progress through the pack and aim for points would be rendered pointless. Like yesterday in Q3, he lost power with what we suspect is the same issue as in qualifying, and he had to retire the car.
"For the whole team – who have all worked so hard to give us a fighting chance on this most challenging of tracks – it's an utterly frustrating and disappointing way to end our Italian Grand Prix weekend and the European season."
Yusuke Hasegawa, Honda R&D Co. Ltd Head of F1 Project & Executive Chief Engineer
"We had a beautiful Italian blue sky today, the exact opposite of yesterday's cold and rainy day. Unfortunately, the on-track action didn't improve for us and the race turned out to be extremely disappointing.
"The day started with a PU change on Stoffel's car as a result of the MGU-K issue in yesterday's qualifying session. This meant Stoffel started the race from the back of grid in P18 alongside Fernando. Despite the tough circumstances, Stoffel had a good start and was having a strong race within the top ten before his retirement. Unfortunately, he lost power supply from his PU and we're investigating the cause of the issue.
"Fernando also started the race from back of the grid. He showed a consistent pace during the race, but the team eventually had to retire his car as the ability to monitor his gearbox was lost.
"Although it's disappointing we were unable to finish the race, it's still slightly positive that we showed good pace here in Monza, even though this is one of the more challenging circuits on the calendar for us.
"The next race in Singapore is on a circuit that suits the characteristics of our car, so we will focus there on pushing for much-needed championship points."
Renault
Palmer tangled with Alonso in the early stages, using the full width of the track and much of the chicane to pass, and earned the Spaniard's wrath and a five-second time penalty as well. This didn't prove costly as he was retired midway with a technical issue. Hulkenberg did see the chequered flag, but didn't have the pace to challenge for the points after complaining of poor balance.
Nico Hulkenberg, 13th
"Unfortunately we weren't able to make into the points here today as the race was a bit of a struggle. As we had anticipated, we lost out on top speed, meaning we couldn't fight with the cars ahead. I was also struggling with the balance, so overall it was a tough race. That said, I don't think we need to go crazy over today's performance. We need to look ahead to Singapore and focus on the next Grand Prix."
Jolyon Palmer, DNF
"Our strategy was promising and I was quite enjoying working up the order today. It wasn't going to be ourstrongest race, but there was potential for a decent finish. Sadly, we had a transmission component failure which led to a precautionary stop. It's a shame because I think the pace was looking quite strong with the Supersofts in the end."
Cyril Abiteboul, Managing Director
"We were expecting a difficult Italian Grand Prix. We did everything within our means to get Nico into the points. However, with the pace we had today, it wasn't possible; the balance of the car simply wasn't there throughout the weekend. Unfortunately, we had an issue with the transmission on Jolyon's car. We made the decision to stop his race, as it was dangerous to continue and risk a sudden breakage. His pace was encouraging and, unlike Nico, he felt good in the car but wouldn't have been able to score points from where he was in the race.
"Nevertheless, there are two positives to take away: among our closest rivals in the Constructor's Championship, only Williams scored points. Daniel Ricciardo's spectacular drive through the field to fourth place must be highlighted. It's the best finish for a Renault engine at Monza since the beginning of the V6 turbo hybrid era. Monza is a reference point and our progress year on year is promising. This result could have been even better if he was positioned further up on the starting grid. This shows that more than ever before, we have to continue to work hard on reliability both with the engine and the chassis. We hope that the upcoming races will play more to our strengths."
Sauber
Thanks to the penalties dished out to nine drivers, Sauber had very decent starting slots of P11 and P12. Unfortunately they didn't have the pace to stay there, and soon dropped back through the field. With only each other for company, it was inevitable that there would be an intra-team battle and it was Ericsson who collected the spoils as he barged past his team mate. But Wehrlein had the last laugh as he made it to the chequered flag after the Swede was forced to retire.
Marcus Ericsson, DNF
"It was a good start to the race from the middle of the grid. I had some good fights, but when the race settled we struggled to keep up with the competitors in front. We knew that this type of track would be difficult for us. I picked up some damage at the beginning of the race. It was quite difficult to drive the car like that – so it was not the best race for me. We need to focus and come back stronger in Singapore in two weeks."
Pascal Wehrlein, 16th
"I did my best today. We knew that this race would be difficult for us, but the whole team did a good job throughout the weekend. I am looking forward to Singapore now – it is a race that I particularly like and I hope that we will be more competitive there."
Frédéric Vasseur, Team Principal
"In comparison to the rest of the weekend, our race pace was acceptable today even though the results do not exactly show that. Pascal and Marcus both did a good job in keeping up a decent pace – bearing in mind our current situation. Unfortunately, Marcus had to retire just before the race ended after the data showed that his car was damaged. We are now heading to Singapore for the first stop of the Asian race season."
Pirelli
Mario Isola - Head of Car Racing
"After an unpredictable weekend up to now, the race turned out exactly as we expected, with nearly all the drivers completing one-stop strategies. Daniel Ricciardo made excellent use of an alternative one-stop strategy to make up 12 places, and his fastest lap shows just how much quicker the car and tyre package is this year, despite the fact that Monza is mainly dominated by straights."