Feature
What the teams said - Race day in Japan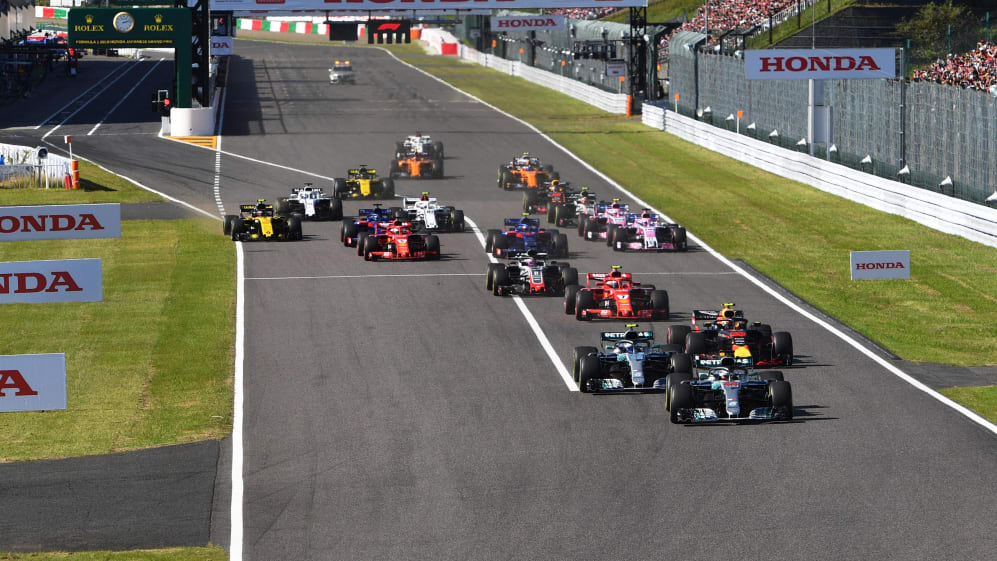 The drivers and teams report back on an incident-packed Formula 1 2018 Honda Japanese Grand Prix...
Mercedes
Hamilton was sublime on Sunday and didn't put a foot wrong in recording his ninth victory of the season, extending his lead at the top of the standings to an ominous 67 points. Behind him, Bottas came under slightly more pressure due to blistered tyres but always had enough pace to keep Verstappen at bay. A second one-two in a matter of days, the Mercedes crew will sleep easy on Sunday night.
Lewis Hamilton, 1st
"I was having so much fun driving this track. I was really able to just embrace the moment and enjoy every single lap, every single corner and the feel of the car. Suzuka is such a unique circuit, you go down a hill into Turn 1, then up-hill, you go underneath the track - it's one of my favourite circuits. The pace was really great and this is definitely the best weekend I've had here and the best feeling I've had here balance-wise, it was really lovely. Everyone at the track and back home in the factories deserves a huge thank you for their continued efforts, they just continue to push and deliver, weekend after weekend. This result was really the best way to repay all their hard work. There's still 100 points available, so we have to try and focus and never be complacent. The team has done such an amazing job the last few weekends, we need to bring the same focus and performance and keep pushing. The harmony in the team and the performance of every single individual in the team is the best it's ever been. But we've always got areas that we can improve on, collectively and for me personally, so we will keep pushing and keep raising the bar."
Valtteri Bottas, 2nd
"This is a perfect result for the team and a great reward for an amazing performance from the entire team this weekend. I'm happy that we could bring it home like this after qualifying on the front row yesterday. This was my first podium here in Suzuka which was great; I get a lot of support from the local fans, I can really feel it and it means a lot to me. My race was pretty straightforward, we actually had a bit of margin to save the engine. It probably looked much closer on TV than it actually was. I had one lockup going into the last chicane where Max got a bit closer, but otherwise I was just managing and it was all under control. The first stint on the soft tyres was a little better than the second one on the mediums, where blistering was a bit of an issue, but no drama. Overall, this was a great weekend for the team."
Toto Wolff, Head of Mercedes-Benz Motorsport
"That was a very tense Grand Prix for us. It might have looked pretty smooth from outside but within the team we were managing blisters in the tyres, some driveability issues with Lewis' power unit and very competitive Red Bulls behind us. So to take a 1-2 for the second race in a row is pretty special - not just for the trackside team here after a tough back-to-back, but for everybody back in Brackley and Brixworth who have poured their efforts into developing this car and power unit. There hasn't been a single silver bullet - just a lot of hard work, creativity and a mind set to channel the pressure of the competition and keep pushing hard to achieve our objectives. The approach will remain the same in the coming races: we will not let up one single bit when it comes to bringing more performance to the car, and keep taking everything day by day. It has been an important week for the team and we have come out of the challenges we faced even stronger than before. From here, every race is like a mini-championship and we need to keep aligning our race weekends in the same way we achieved in Sochi and Suzuka."
Andrew Shovlin, Trackside Engineering Director
"A great result and overall a really strong weekend for the team and drivers. The car has been fast and reliable which is just what we have needed over the last few races. We didn't really know what to expect going into the race as we'd not had a chance to practice in hot conditions, so in the first stint we were getting the drivers to go easy on the tyres as we weren't sure how long we were going to have to take them. The race behind us seemed to be fairly entertaining with Max and the Ferraris and after the penalty and there was a period where we weren't sure whether it would be Seb or Max would presenting the biggest threat. We were able to stay out longer than the other runners and cover off the safety car threat before coming in for the medium with both our cars. The soft seemed like the best tyre, which helped us in the first stint but allowed Max to put Valtteri under a bit of pressure in the final stint, although Valtteri seemed pretty relaxed about it after the race. This has probably been the closest we have come to perfect weekend all year, in terms of reliability, car performance the drivers and how we've worked as a team. We are taking it one race at a time at the moment and just trying to do the best job we can in each weekend so hopefully we can carry this momentum into Austin."
Red Bull
Verstappen was the man to watch. He was penalised for tangling with Raikkonen after running straight on through the chicane, before suffering floor damage after contact with Vettel when the German attempted a late overtake. Deemed blameless by most for the second incident, the Dutchman pushed hard but couldn't catch Bottas ahead. Ricciardo, meanwhile, started down in P15 but put in a superb recovery drive, cleanly passing the midfield and laying down some hot laps when it mattered to leapfrog Raikkonen in the pits and come home P4.
Daniel Ricciardo, 4th
"Surprisingly, I was able to come through the field and overtake quite easily. That's not because I thought I couldn't personally overtake, it's just not that easy on this track, but I was able to make good use of the downforce we had on the soft tyre. I knew we would be quite vulnerable on the straights as we ran very high downforce this weekend, but I could stay close enough in the corners that I could latch onto the tow of the cars ahead on the straights. It was a good set-up and the first part of the race was a lot of fun. We went on to the mediums to try and cover Kimi and fourth place was kind of written after that. I would have loved a podium and I was kinda of hoping for something to happen up front, but I feel I earned at least a fourth today. It was good to come through the field and on the grid Helmut actually said that he thought fourth place was a little optimistic and possibly out of reach today. So, fourth is like a little victory from the back on this track and it was good to see our strong pace against Ferrari. A podium would have been even sweeter but I can't complain with the result and I'm pleased for the Team. All that's left to say is, arigatooooo Japan."
Max Verstappen, 3rd
"After the penalty and incident with Seb I'm really happy to come away with another podium in Japan. The car felt good and we were able to compete at the front for the entire race, which at this track makes it even better. Judging by a few mistakes he made it looked like Bottas was pushing hard on the last few laps. It's hard to follow anyway so I just did my best hoping he would make another fault and I could be in a position to take advantage. I felt a little hard done by with the penalty I got while defending against Kimi. I was trying my best to get back onto the track as quickly as possible instead of just cutting the corner, perhaps next time I will just cut the track. The incident with Sebastian was a very similar mistake to mine in China earlier this year, I think he could have passed easier if he had waited. It shows that even the most experienced drivers can make errors when under pressure. I'm now very excited to get to Austin, we have good performance and it's a great place to visit."
Christian Horner, Team Principal
"Today was a good day for both drivers and the team. For Max to achieve a podium despite incurring a five second penalty following contact with Kimi on the opening lap was a great performance. He had a busy afternoon, with a racing incident between him and Seb on lap seven resulting in damage. Despite that, he was still able to close down Valtteri in the final stages and put him under pressure to try and claim second place and secure his third consecutive Suzuka podium. Daniel also drove a very strong Grand Prix, progressing through the field with some great overtakes and with strong pace he was able to finish fourth from fifteenth on the grid. All round, it has been a positive day getting two cars to the finish and taking home a good haul of points for the Team."
Ferrari
After Saturday's strategy mishap, Ferrari were in damage limitation mode – and it looked a reasonable start, with Vettel fighting up to fourth. But then he tried an audacious late move down the inside of Verstappen, got tagged into a spin and wound up P19. With Raikkonen getting jumped in the pit stops by Ricciardo, Ferrari were left shaking their heads as both championships seem to have slipped from their grasp.
Sebastian Vettel, 6th
"Today, I found it quite inspirational walking through the garage and watching the guys work! All the team is fired up and that certainly helps, as the last couple of weeks haven't been that easy. The spirit is unbroken despite everything. Races like this are a bit of a hand-over and we know it is difficult from where we are in the point standings, but we don't have much to lose. We have given everything so far and I believe there's still something we can learn and understand from the car. So we keep fighting and resisting and we'll see what the other races bring. As for the collision with Max, I was obviously pushing to pass, I knew he had a penalty, but I also felt that we were fast. I could see that his battery was clipping, while I had saved some energy from mine. I saw a gap and went for it on the inside, he obviously tried to defend and I couldn't go anywhere, so we touched. However, this is part of racing."
Kimi Raikkonen, 5th
"After the contact with Max I saw some parts flying off my car; it was damaged pretty badly on the left hand side. Obviously, this affected negatively the rest of my race. What happened is unfortunate and after that it was pretty difficult to drive on. I had lost a lot of downforce, but there was not much I could do. It's impossible to know what our performance would have been without that accident at the chicane; we had improved the car over the weekend, it was getting better and better, but unfortunately this is what we have got today. It's been a difficult and poor weekend overall, the result is not ideal. Now we need to look deeply on everything and hopefully we'll come back at the next race on a more normal situation where we'll be able to fight."
Maurizio Arrivabene, Team Principal
"After what happened in qualifying, today the team and the drivers fought back well. The podium could have been within our grasp, but unfortunately, damage on both cars, as a result of collisions in the race, affected the final result. Regardless of what is now a very difficult situation in terms of the championship, we will tackle the coming races giving them our best shot, maintaining concentration and determination."
Force India
A solid race for the men in pink. Perez kept it steady, and pounced on Grosjean when he saw the Frenchman struggling with his tyres after the VSC restart to claim best of the rest. It also means the Mexican lies seventh in the drivers' standings. Ocon pushed hard but couldn't do likewise and came home ninth. A double points finish is a good result with sixth in the constructors' not out of reach.
Sergio Perez, 7th
"Today we had a good result: the best I could realistically hope to achieve. After yesterday's poor qualifying we made up a lot of positions and I feel we really got the maximum from the race. Our pace was strong and the team delivered a great strategy. We knew we had to be aggressive to beat the Haas and we nearly managed to undercut Grosjean at the pit-stop, but I lost a bit of time battling with Leclerc and I just fell short. At the VSC restart I managed to get really close to Grosjean and when I saw an opportunity I went for it. I am so excited about our performance today. We had to push hard and make some good overtakes: it was a fantastic race."
Esteban Ocon, 9th
"The team scored some good points today, but I'm not totally happy because our final result was dictated by the penalty yesterday. We have shown great speed all weekend – as the fourth quickest team – but if we don't start higher up it's difficult to show it in the race. There were some fun moments today and I had to make a lot of overtaking moves. When you had fresh tyres there was a big pace advantage and our strategy paid off in the end. I was close to catching Grosjean during the final few laps, but there wasn't a chance to make a move."
Otmar Szafnauer, Team Principal & CEO
"I think we made the most of our opportunities this afternoon. We had to fight all the way to the flag to score eight important points. Our strategy required both cars to pull off various overtaking moves to come back through the field, but it worked out well. Sergio made a fantastic move on Grosjean to finish as the 'best of the rest'. Considering our starting positions, we recovered well today and the team did an excellent job with the strategy calls. We have unlocked some significant performance recently and we just need to keep up this points-scoring momentum in the final few races."
Renault
Hulkenberg tried to play the long game, starting on the medium tyres but wound up retiring with technical issues. Sainz likewise seemed to lack speed initially but found himself with warmer tyres after the VSC restart and used them to good effect to close down Gasly and steal the final point on offer. With Haas looking strong, every little helps in the championship at this late stage of the season.
Nico Hulkenberg, DNF
"We tried a different strategy today, starting from sixteenth on the medium tyre. We were able to show respectable pace relative to the others on softer tyres, but it was always going to be a tough battle starting from where we did. We thought we could make the medium last a little bit longer than it did, and then it was unfortunate that I had to retire the car as something didn't feel right at the rear after the pit stop. Whilst there were no points for me today, Carlos and the team had a great race so it was a good effort at a crucial time in the championship battle. We know we have a lot of hard work ahead of us until the end of the season, but we're still fighting hard."
Carlos Sainz, 10th
"It was good fun out there today and a very positive race from the team. We made a decent start to be on the brink of the points and then we had to do some overtaking at the end. For us, a point here is the best we could achieve starting from P13, so that's a very strong result for us. The team executed everything very well; the strategy, the pit-stop, it all worked. We knew we were up against it this weekend, so it's great value to score and now we need to build on this in the final four races."
Cyril Abiteboul, Team Principal
"Today is an important result for the team. After Sochi, it is further evidence that our race pace is competitive at this stage of our development. We've also shown that the power unit is capable of doing great things in race conditions at high-power sensitive circuits, like Suzuka, with Red Bull Racing fighting for second place in these track conditions. Carlos drove strongly throughout and never relented for that final point, whilst Nico unfortunately had to retire. It's clear what needs to be fixed and that's improving our qualifying pace. We've seen that small differences can play a huge role in starting between seventh or fourteenth. We absolutely need to get on top of this and get the car back where it belongs at circuits which should be better for us."
Haas
Magnussen moved late when defending from Leclerc at the start and wound up with a puncture for his troubles. After a three-wheeled tour of Suzuka, he was forced to retire with car damage. That left Grosjean carrying the flag which he did with aplomb before being left furious at the end of the race by a VSC mix up. He had a comfortable gap to Perez at the start of the VSC and next to no gap at the end – the Mexican pounced, the Frenchman fumed and Haas were left scratching their heads...
Romain Grosjean, 8th
"We need to analyse what happened with the Virtual Safety Car restart. I was right on my delta time and Perez, when the gap was 2.4 seconds before, overtook me straight away. We need to check and see if there is not a problem in the system there. I thought I had done the job on my side. We did our best. We had a few technical issues on the car, which didn't make our life easy. I think without those, we clearly had the pace to be in front of all those guys. Onto the next one."
Kevin Magnussen, DNF
"Well, I passed Charles (Leclerc) around the outside of 130R, then through the last chicane he kept close and slipstreamed down the main straight. I went to the right, I think he followed for a bit and then went back to the left and clipped my left-rear tyre, causing the puncture. It's unfortunate, but that's what happens sometimes. The tyre delaminated and ripped all the floor. It damaged the rear wing, the brake ducts etc. so we had to retire."
Guenther Steiner, Team Principal
"Not the best of our days. The incident with Kevin, where Leclerc ran straight into him, took him out of the race, so we were one car down. Grosjean had a few issues with the car, with the telemetry, and with the handling of it. The car was pulling on the straights. At one point we thought he had a puncture, but luckily we didn't. Then we had the incident with Perez overtaking us at the Virtual Safety Car, which we still need to look into. The good side is we closed the gap to Renault by three points, and I hope we make the rest up in the next four races."
Sauber
When it's not your day in F1... it's really not your day. Leclerc had to pit early for a new front wing after hitting Magnussen, although the jury is out as to who was to blame for that one. He managed to continue, before being hit from behind by Ericsson at the Safety Car restart. With a badly damaged C37, the youngster bumped over the grass to retire when something "broke." Ericsson kept his head down after the embarrassment of hitting his team mate and limped home a distant 12th.
Marcus Ericsson, 12th
"We knew that it would be a difficult race, but taking our starting position P20 into consideration, finishing in P12 is a result we can be satisfied with. We had a good pace and the car also felt quite good. I drove on the same set of tyres for the majority of the race, which required a lot of management from my side. It is a bit of a shame not to have started the race from a better position, because points could have been possible. Nevertheless, it was a positive day, and I look forward to our next chance in Austin."
Charles Leclerc, DNF
"It was a fun race, despite not ending the way we would have liked it to. The start was busy – I was fighting with some of the cars around me but eventually had to back off. I lost some places there but fought hard to recover them later on during the race. On the second lap, I was involved in an incident. We made a pit stop shortly after that and changed the nose on my car. We knew that it was not ideal to pit so early, but we had to do that to have a chance to fight for points. After that, it went quite well. I was able to recover some positions, but, unfortunately, I had to retire from the race because of a mechanical problem on my car. It is a shame not to finish the race, but I look forward to the next one where I hope to fight for some points again."
Frédéric Vasseur, Team Principal
"It was a tough day. Charles' race was compromised by the incident with Kevin Magnussen. It was a very dangerous move on his part and Charles' car was quite damaged after that. We had to change the nose during the pitstop. He did a good job recovering positions, but in the end, he had to retire from the race because of a mechanical issue. Marcus gave a good performance. Finishing in P12 after starting in P20 is a solid job done and he managed the tyres well. We can see that we have a good pace overall, and look forward to the next opportunity for points in the United States."
McLaren
Alonso was barged wide by Stroll at the start, and forced to run over the grass. He was penalised for gaining an advantage, although what advantage can be gained from using a high performance vehicle as a lawn mower is a mystery. Back on track, the Spaniard got involved in a number of battles but lacked the pace to make inroads. Vandoorne likewise at least finished ahead of the Williams but blamed a lack of power for the failure to climb any higher.
Fernando Alonso, 14th
"In spite of the poor result, I did enjoy driving around this track today. The first lap was quite good and intense, and in the Esses especially we were overtaking each other inside and outside and we recovered a few places. In the last couple of laps there was also a good battle with the Williams and [Marcus] Ericsson who were struggling on old tyres, so we had to fight a little bit.
"Even though we were too slow all weekend, in the end it was an enjoyable race.
"Unfortunately, the five-second penalty I received in the first part of the race dropped me down several positions. It wasn't a big drama, because we were out of the points anyway, but it's difficult to understand the stewards' decision as I had nowhere to go but off the track when Lance [Stroll] came across not having seen me, as he said."
Stoffel Vandoorne, 15th
"It wasn't a great race for us. It was pretty difficult at the beginning, and there wasn't really any possibility to resist the quicker cars. We were more or less passengers on the straights.
"At least the race turned out a little bit better towards the end, and we managed to beat a few cars on pace. With the tyre degradation, we were able to make them last and make a one-stop work, catch up with some cars and hold some other cars behind us.
"I think that was more or less the maximum possible today."
Gil de Ferran, Sporting Director
"Despite our lowly starting position, Fernando's penalty and the fact that we come away with no points, it's fair to say that today was still positive.
"Stoffel struggled a little in the first stint, but finished quite strongly to elevate himself to the fight immediately ahead.
"Fernando had a brilliant first lap, and strong pace throughout the race, showing his customary inimitable race-craft. We sit here wondering what could have been, nevertheless we go home with a better feeling, given that we genuinely beat cars that started ahead of us. In addition, our race pace once again proved to be stronger than qualifying.
"On a cheerful note, I'm glad the great Japanese fans were rewarded with a very exciting Japanese Grand Prix that was full of overtakes. I can't wait to return to Suzuka in 2019."
Toro Rosso
With both cars starting in the top 10, expectations were high. Hartley got a poor start, dropping four places and from there was always going to struggle in a congested midfield to return to the points. Gasly though ran a solid P6 for much of the race before pitting later than his rivals. That enabled most of them to 'undercut' the Frenchman and he was left in possession of the final point before worn tyres contributed to Sainz sweeping past.
Pierre Gasly, 11th
"It was a good start as I managed to overtake Brendon and the first stint was great. I felt good with the car behind Romain and I was pretty close to him, but then we went too long on the first stint as we didn't want to pit into traffic but then several cars undercut us. We put the soft tyres on during the pit stop and I enjoyed the battles and overtakes on the first few laps, but then I started to have massive blisters on the rear tyres and I was trying to survive at the end. It could have been better today so we need to analyse more deeply what happened. We probably didn't make the best decisions, but that happens sometimes, it's easy to say in hindsight that we could have made different choices. It's just a shame after such a good qualifying yesterday, it would have been great to reward the team and Honda here in Japan for their home race with some points today."
Brendon Hartley, 13th
"I don't feel like I did too much wrong at the start of the race, but I just couldn't get the power down. For the whole first stint I didn't have much grip and poor traction cost me a lot of time. Then on the second set I found myself in traffic, I made a couple of overtakes on both of the Williams but in the end I got stuck behind Marcus. It's a real shame that both cars are outside the points after such a promising result in qualifying yesterday."
Toyoharu Tanabe, Honda F1 Technical Director
"Today's result was disappointing, given our excellent showing in qualifying yesterday. Pierre ran in the points for much of the race, so it was unfortunate that he was unable to fight off Sainz in the closing stages and dropped down to eleventh. Since we arrived in Suzuka, we have had fantastic support from the Toro Rosso Honda fans, which was a great boost for all of us. So it was a shame that we were unable to repay them with a point or two. However, the frustration we all feel at the lack of points will be turned into motivation as we carry on working for the final four races and, at this point of the year, even looking to 2019."
Williams
Both drivers were in the thick of the action – Stroll got his elbows out with Alonso, pushing the McLaren onto the grass and getting a penalty for his pains. Sirotkin too banged wheels with Sainz but to no avail. Williams opted to two-stop both cars but they were too far back to make use of the quick supersofts at the end.
Sergey Sirotkin, 17th
"Today was a difficult day. We had to turn our strategy around to a two-stop, which in the end looked like it could be the quickest strategy to the flag. However, with traffic and other things happening on the track, we didn't really get chance to fully exploit it, so it was a difficult race. We were able to avoid some of the trouble on the track and gain some positions here and there, so it's been good in these terms, but at the end of the day we didn't finish as high as we probably wanted. A very difficult race but I think we as a team did the absolute maximum from what we could today. With our situation, none of us could do any better, so with this in mind I'm very proud of all the boys effort."
Lance Stroll, 16th
"With Fernando, I just went around the outside of 130R, I got on the grass and then back on the racing line, we made some contact and then he just went straight on, so we both got penalties. It was just a typical first lap racing incident when things get heated. I just wanted to say to him I didn't push him intentionally or anything like that. After that, the race was quite bad. Nothing went our way today, as races go, it was just a really bad one."
Paddy Lowe, Chief Technical Officer
"A disappointing day. We had the pace and grid positions to beat some cars today, but we didn't manage to do so overall not the result we hoped for. We had good reliability with both cars coming home. Lance received a penalty for an incident at turn 16, and on top of that in his second stint, which needed to be a good, long stint, he flat spotted one of his tyres, so effectively that ruined his opportunity today. On Sergey's side, he lost quite a few places in the opening laps, therefore, we chose to gamble with an earlier stop, but for various reasons that didn't work out, so we had to make a second stop."
Pirelli
Mario Isola, Head of Car Racing
"With temperatures being so much warmer than they have been up to now, we knew that there would be some additional challenges at this very demanding track. This was indeed the case, especially in the closing stages of the race, but it did not compromise the action at all, as the many impressive fightbacks showed. Thanks also to an early safety car most drivers were able to make just one stop, and we also saw some very long stints on all three compounds. Many chose to finish the grand prix on the medium – the equivalent of last year's soft – despite the fact that this tyre wasn't used extensively in free practice, and not at all in these warm conditions."