Feature
What the teams said - race day in Japan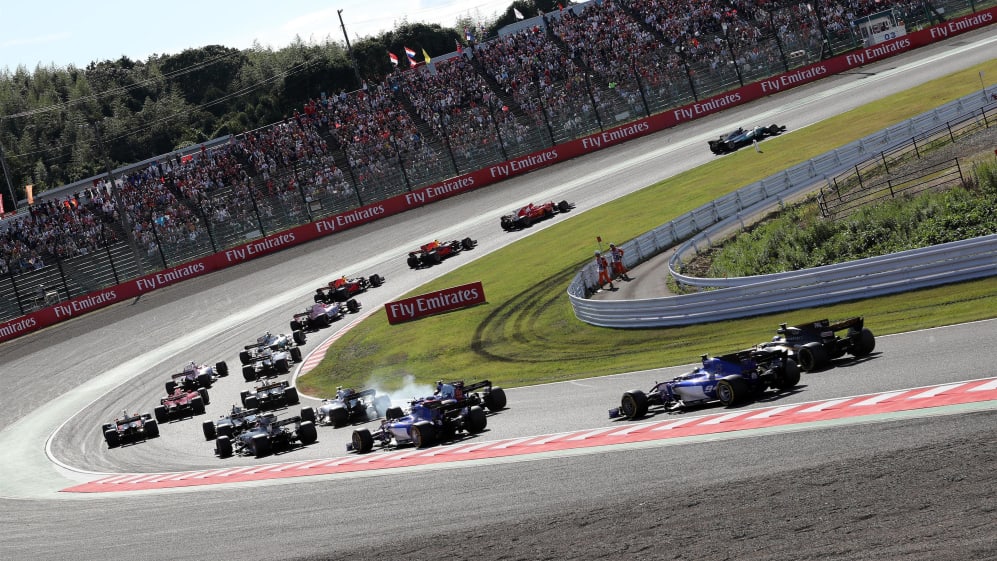 A round-up of all the action at the 2017 Formula 1 Japanese Grand Prix...
Mercedes
Hamilton capped a perfect weekend when he made a clean getaway at the start and despite coming under pressure from Verstappen in the closing laps, recorded his fourth race win out of the last five to extend his lead at the top of the championship. Bottas had a harder afternoon after starting P6 due to a gearbox penalty. He passed Ocon and Vettel in the early stages and ran a long opening stint on the soft tyres. Switching to the faster supersofts, he closed down Ricciardo in front but ran out of laps to attack for a podium place.
Lewis Hamilton, 1st
"The start was okay, although the initial getaway was not spectacularly good, I had a bit of wheel spin. But from then on I had a good start and it was pretty much under control from there. I was trying to manage the pace and the tyres; it was a long way to go, it was the hottest the track had been all weekend, so that was really crucial. With the VSC towards the end, I lost a lot of temperatures in the tyres and waking them up was not so easy. I got stuck behind traffic, I was losing so much time and Max' car was so big in my mirror. It was very close for a couple laps, but I was able to keep it together. It was not an easy walk in the park today, it was a win that I had to work very hard for. Great race by Max, I enjoyed racing him. It's almost unbelievable to think we are where we are in the championship. I was excited to race Sebastian today, but he was obviously very unfortunate. It's still a long way to go, there are still a hundred points. I'm just going to keep my head down and hopefully will continue to be in a form like this."
Valtteri Bottas, 4th
"It was a close fight; especially in the end I was getting closer to Daniel, but there just was not enough time anymore and the VSC didn't help either. The pace seemed to be okay, but coming to this race we always knew that overtaking is tricky. The strategy was good for me today. It created a good opportunity in the end, otherwise it would have been really difficult to even get close. The race was close to our game plan, but it would have been nice to be on the podium. We went through all of the scenarios before the race, so when Lewis caught up to me after his pit stop, of course I tried to help him win. I've definitely learned a lot again from this weekend. I now want to focus on the last few races, make the most out of them and see where we end up this year. I'm looking forward to Austin. I enjoy the track very much; it's where I got my first points in Formula One and I always love going back there."
Toto Wolff, Head of Mercedes-Benz Motorsport
"This was another perfect performance from Lewis. He controlled the race from start to finish, taking nothing more out of the tyres and engine than he needed to at any point. It got close with Max at a few points, especially in the closing laps when they came up on traffic and were struggling for tyre temperature, but he kept cool and brought it home to the flag. As for Valtteri, he recovered well from the gearbox penalty to claim P4 and come within a few tenths of a second of the podium. He had strong pace today and never gave up pushing to the end, it was a real battling drive. One look at the points standings might give us some brief comfort but there are still four races to go, 100 points to win in the drivers' title and, if the past weeks have shown us anything at all, it's that anything can happen in motorsport. We take no prisoners in how we claim our points - but we are all conscious that we have benefited from our rivals' misfortune and reliability woes in recent weeks. So nothing changes in our approach: we must take the next races one at a time, push to better understand the car and keep our humble attitude. That is the approach that has worked for us so far and the way we will continue until the final race in Abu Dhabi."
James Allison, Technical Director
"Having departed Sepang with a good result but in poor spirits because of a tricky weekend, and having arrived here under a bit of a cloud regarding the performance of our car, it is nice to be leaving this weekend with an even stronger result and also off the back of a fine performance in qualifying and the race. This was welcome on many levels: first, for both championships; second, because we were able to categorically answer the questions regarding the development direction of our car; third because this was the vindication of a team that, even when it takes a blow, can spring right back up and apply itself to the challenge with fresh vigour. We have not exorcised all of our Sepang demons but every result like that is an opportunity to learn and improve. We have seen some of that learning applied here in Suzuka and we will continue to do the same for the remainder of the year."
Ferrari
Ferrari detected a spark plug issue on Vettel's car on the grid pre-race. The German did start but soon started to drop places, complaining of no power. The dreaded call to box and retire the car came after only a few laps and it remains to be seen whether that will be the defining moment in the championship battle. Raikkonen was forced wide by Hulkenberg at the start, losing a handful of places, but had the pace to fight back up through the field, pulling off a series of overtakes to grab P5.
Sebastian Vettel, DNF
"I don't know if this situation has much to do with reliability. But we didn't finish the race, so there is a problem. I think it was a small issue causing a big one. We didn't have power already at the start and we tried to reset everything getting the power back, but something didn't work. Of course now the Championship is more difficult and not finishing the race doesn't help. I also said to the guys to get back home and have some rest because it's been a tough week with a lot of changes. Then we'll come back with a better package to do well for the last four races and then we'll see. Overall, I believe the team is in a good way. We are improving race by race and there are positive aspects too. But, of course, today you can't look too much at positive things."
Kimi Raikkonen, 5th
"Our starting position today was not ideal. I did a decent start on the soft tyres and in the first lap I tried to gain some positions, but when I attempted to pass a Renault I ran wide and lost some places; so I had to make them back. The feeling in the car was a little bit tricky all the way through the race, not the nicest balance; some laps were ok, some others a bit more difficult. It's quite tricky to follow other cars on this track; we did a fairly good job out of overtaking people but we were too far from those at the front. Obviously, the final result is far from being the best possible. As for Sebastian, I don't know what happened; we have made a lot of improvements over the last few years as a team, but now, for whatever reason, we suddenly seem to have technical issues coming out from nothing. It's kind of weird, our cars are running perfectly and suddenly on Sunday there is an problem that nobody expects. There is some work to be done on that side. Then we are going to push until the last lap of the last race and we'll see where we end up."
Maurizio Arrivabene, Team Principal
"Once again, despite our car clearly having great potential, things did not go to plan. The problem that stopped Seb was down to a broken spark plug. We spotted that something was not right on the lap to the grid and we tried our best to fix the problem. Seb got a great start, but shortly afterwards we had to call him back to the garage prior to retiring the car. Kimi's race was compromised by his less than ideal start position, which came about because of the penalty he had to take for a change of gearbox following his accident in P3. From there, he was able to move up the order as far as fifth place. As I've said before, we know that the car, the drivers and the team are all on the pace. That is why we will tackle the coming races with great effort and even more determination. Right up to the last corner of the last Grand Prix."
Red Bull
Verstappen jumped his team mate at the start and set about keeping Hamilton ahead honest. As the Briton struggled with vibrations towards the end of the race Verstappen tried to attack, but traffic on the final lap enabled Hamilton to pull away. Ricciardo had dropped behind Ocon at the start but pulled out a good move round the outside into Turn 1 to wrestle control of third place, which he kept hold of despite late pressure from Bottas to record his first Suzuka podium.
Daniel Ricciardo, 3rd
"Overall the race today was a thumbs up for me. At the start of the weekend I said I wanted to get a podium in Suzuka and I got it. I can't go back on what I said and wish for more, but I need to look back at the start and the actual getaway as that was what cost me the place to Max and Ocon. The first 100 metres could have been better but otherwise the race was pretty lonely in third place. As fun as this track is on one lap it's tricky to do much in the race and very hard to follow another car. In the end it was actually nice to have some pressure from Valtteri to keep me pushing all the way to the finish. I felt confident I could keep third place in the closing laps if I drove cleanly and hit all the apexes, which is what I did. I'm happy to spray some more champagne, it's my ninth podium of the season which is a new record for me and to be in the position that we are now makes me pretty happy. It's really encouraging for the team to have another double podium, both cars are getting to the finish reliably now and we are also quick. We should be able to put up a good fight in Austin and Mexico and if we can keep this rolling into 2018 then absolutely we should be looking pretty good. All I have to say now is arigatooooooooo Japan."
Max Verstappen, 2nd
"This is my second year in a row on the podium here at Suzuka; it seems like Japan is a good place for me! Our car was very competitive in the corners but it meant we lost a bit on the straights and weren't ever really able to have a proper go at it. The degradation on the soft was really good and the balance felt good throughout the race, which is really positive in terms of finishing the season strongly. Lewis had some difficulties when he had traffic in front but at the end of the day he was controlling it. The traffic gave me a bit of a chance to close up and potentially have a chance to take him. It was a bit of a shame the back-markers came into play but I don't think it made a big difference, once Lewis had clean air I would have struggled to pass him. It just seems that the Mercedes struggle when following other cars closely. In the race it seems we are always more competitive than Qualifying, so I'm looking ahead to Austin and hoping we can carry this form on and get another podium. Two podiums in two weeks means I leave Asia extremely satisfied and excited to get back in the car in the US and try and extend this streak."
Christian Horner, Team Principal
"Great drives by both Max and Daniel today. After a good start Daniel unfortunately lost out to Esteban Ocon on the first lap but made a fantastic pass around the outside of Turn 1after the safety car restart and from there onwards we looked as if we had very good pace this afternoon and Max was able to stick with Lewis pretty comfortably in what turned out to be a one-stop grand prix. Towards the end of the race we saw a blister begin to appear on the inside of Max's front left tyre; despite having to manage that he was still able to catch Lewis and put pressure on him. It was unfortunate that there was a back-marker on the last lap that allowed Lewis off the hook or else it might have been a very interesting finish. Nonetheless a fantastic performance by both Max and Daniel to finish second and third here in Suzuka and achieve our first back to back double podium in the hybrid era."
McLaren
Vandoorne had contact at the start, which dropped him down the field and from there his race was compromised by an inability to get past Stroll's Williams. Alonso ran a long opening stint on the supersoft tyres and worked his way back up the field after starting last. He was pressurising Massa for the final point on offer, but with the race leader coming through had to yield to blue flags - albeit a little too slowly for the stewards' liking - and lost the opportunity to pass.
Fernando Alonso, 11th
"We started 20th and we finished 11th, with a good recovery, with only one pit-stop, and starting on a used set of tyres. That was a pretty huge effort from everyone on the team. After the penalty on Friday night, due to the engine change, I think we deserved that one point – we fought hard for it.
"It was an unlucky situation with Felipe towards the end of the race. He was struggling a lot with his tyres when the Virtual Safety Car came out. That meant he could breathe a little bit during those laps. Then, in the last two laps, the leaders of the race caught up with us, and Felipe again missed out on an attack, and ultimately took the point for 10th place.
"We'll try again in Austin. Hopefully with no penalties. And from our usual grid position. And with some better luck…" Stoffel Vandoorne, 14th
"We've had a couple of good races; but today's was one to forget, really.
"I made a reasonable start, then, as we went into Turn Two, and everyone was trying to find some space, I got hit by Kimi. I don't think it was intentional, it was just cars being in the wrong places at the wrong time.
"My afternoon was compromised from that point – I fell to the back, and drove my own race to the flag. Nonetheless Suzuka is a very special place, so it's just a shame we couldn't get a good result for all the thousands of fans in the grandstands today.
"The team deserves a bit of a break after this tough Asian triple-header. They've done a fantastic job in the past three races, now it's time to go back to Europe and hit back hard in the final four races."
Eric Boullier, Racing Director
"Today was just not our day, despite two strong and relentless drives from Fernando and Stoffel. After the difficulties of qualifying, Fernando drove with fearsome commitment today, but was unlucky to walk away without a point, despite a stirring chase of Felipe.
"Stoffel's race was compromised at Turn Two, when he was pushed down the order after being hit by Kimi. But that's what happens in racing, sometimes, and he too pushed hard for the remainder of the afternoon.
"Still, on the whole, this Asian triple-header has been a positive one for the whole team. We've scored some useful points, and I certainly think that we come out of it stronger as a team than when we went in. We'll definitely put that momentum to good use in the final four races.
"Finally, I want to pay tribute to two important groups of people.
"First, to the whole team for their indefatigable spirit and hard work over five gruelling weeks overseas. Theirs has been a tremendous effort, and I am remarkably grateful for their sheer effort and commitment.
"Second, I want to pay my regards, as ever, to the remarkable Suzuka fans. Their spirit, and enthusiasm is incredibly inspiring, and, while we couldn't reward them with a strong result today, we're grateful for their support, their passion for McLaren Honda, and for Formula 1 as a whole.
"We'll push hard in these final four races with a renewed momentum and confidence."
Yusuke Hasegawa, Honda R&D Co. Ltd Head of F1 Project & Executive Chief Engineer
"It was disappointing that we were unable to finish in the points in our final home grand prix as McLaren Honda.
"Fernando started his race from the back of the grid but he maintained a competitive pace with the cars running ahead. He just narrowly missed out on 10th place after chasing down Massa in the closing laps. I think he had the pace to score points today, so it's a shame.
"Stoffel started his race from ninth but he lost his position due to an unfortunate incident at Turn Two immediately after the start of the race. Luckily, he didn't have any significant damage and was able to continue on, but it was a difficult race and very much damage-limitation for the remaining laps.
"This is our home grand prix, so we obviously have very strong feelings for this race. I want to say a huge thank-you to all of the fans that turned out to support us and also to the team who worked tirelessly throughout the weekend – it is a shame they weren't rewarded with any points, but we still have four races left this season and we'll continue to battle to the end."
Toro Rosso
Sainz's final race for Toro Rosso - for now at least - ended swiftly, as the Spaniard carried too much speed into the Esses and lost his STR12 into the barriers. Gasly did at least make the finish, and was in the hunt for the final point on offer until a late flat spot meant an extra pit stop. That cost him a couple of positions and he came home in P13, an improvement of one place from his debut race last weekend.
Pierre Gasly, 13th
"It was quite a difficult race, I'm a bit disappointed. The overall pace was not great today, and I was struggling quite a bit with the car. I still tried to do my best and, at one point, I was doing well to keep behind a Haas, but as soon as I started to close the gap it became too difficult to stay behind or try to overtake. Then, after a massive lock-up, we had to pit earlier than expected… so definitely not an easy one, that's for sure, but we'll keep pushing! We now have to analyse today's race and try to improve the overall performance."
Carlos Sainz, DNF
"How disappointing, this wasn't the way I wanted to end my time with Toro Rosso, that's for sure! I'd like to say sorry to the whole team for retiring on the first lap… I was trying to risk everything at the start to try and gain some positions, so I went around the outside at Turn 6 and I found a lot more dust on the track than I was expecting, and lost it; as simple as that. It's a shame, because I was really looking forward to finishing on a high here in Suzuka with the team but I'm going to remain positive: these three years here have been absolutely amazing – it's been an ideal preparation for me; the driver I am today, compared to the driver I was in 2015, is a more complete and better one, and this is thanks to Toro Rosso, who are a great group of professionals who have helped me a lot to become the driver I am today. It's going to be quite emotional leaving the track tonight…"
Franz Tost, Team Principal
"A very frustrating and difficult weekend for us. Carlos had to start today's race from the back of the grid because we had to change the complete Power Unit. He then went off half-way through the first lap and this meant that his race was over, unfortunately. Pierre started from P14 and was close to scoring a point, but we had to end up doing an extra pit-stop, which meant that, in the end, he finished in P13. The positive is that he finished the race and continued to gain experience at the wheel of the car. Generally, our pace over the weekend was not at the level we expected but, hopefully, we can improve in the next couple of back-to-back races in two weeks' time."
Force India
A 13th double points finish for Force India in 16 races was a solid result, with Ocon coming home ahead of his team mate in sixth. It could have been much better after the Frenchman muscled his way up to third on the opening laps, but he struggled after the safety-car period, losing places to Ricciardo and Bottas. Perez also wanted the chance to attack, but after several incidents this season the new team orders put paid to that and the Mexican had to settle for tailing his team mate home.
Sergio Perez, 7th
"I am very happy for the team with this great result, which was definitely the maximum we could achieve today. It was a relatively easy race: we had a strong qualifying session and we had good race pace, so we spent a lot of time on our own. I felt I was quicker than Esteban in the second stint and I had an opportunity to overtake him at the final restart, but we followed the team's instructions. We knew this would be the case so it wasn't a surprise, and swapping us wouldn't have made a difference in terms of points for the team, so I understand the team's perspective. In the end, Esteban did a great job during the whole weekend. The last two races have been really strong for us and I am very pleased with the results we have achieved. The 'Fuerza Mexico' message on the podium before the race meant a lot to me and I'd like to say 'thank you' to everyone in the paddock. The support my country has received in the last few weeks has been incredible and I hope we can keep helping, especially as we get ready for the race in Mexico later this month."
Esteban Ocon, 6th
"It was a great race, especially the start and the opening laps, and I was running third for a long time. We are still missing a little bit of pace to keep the big guys behind, but it was great fun fighting at the front. I tried my best to keep Ricciardo and Bottas behind, but they were just too quick and I had to let them go and focus on my race. The main challenge today was managing my pace because it was a one-stop race and it was important to look after the tyres so they would be strong at the end. I was running ahead of Checo, we had nothing to gain from the cars ahead and a comfortable margin to the cars behind. So the priority was to bring the car home and score the big points. It's been an awesome weekend and it feels as though we achieved the maximum, which is why this result is so enjoyable. We also learned a lot about the car, which will make us stronger in Austin, so that we can hopefully close the gap on the teams ahead of us."
Robert Fernley, Deputy Team Principal
"The entire team can be proud of our performance this weekend. We've had the fourth quickest car yet again and took the fight to the teams ahead of us. Esteban's opening lap was magnificent as he muscled his way ahead of Ricciardo and ran as high as third in the early stages of the race. Sergio pretty much shadowed Esteban all afternoon and, once the pit stops were completed, we asked the drivers to hold station and bring home the points. We take further encouragement from the speed we have shown here, which has taken us a step closer to confirming fourth place in the championship."
Haas
Haas were in the hunt for points all race, with Grosjean bottled up behind his team mate despite several pleas to be let through. In the end, Magnussen did the Frenchman a favour when he barged his way past Massa in a typically aggressive move which forced the Brazilian wide and enabled Grosjean to sneak through for the team's second double points finish of the season.
Romain Grosjean, 9th
"It's our second double-score for the team, so that's pretty awesome. I'm very happy for the team. I knew yesterday I had some great pace in the car. I couldn't show it as I was always behind Kevin all race long, but I had much more pace in the car. I wish I could've been ahead. I think I could've fought with the Force Indias, so that's pretty good. We figured out how to get the tires to work a little bit better. It's clearly the key. When they work, it's so much faster. When they don't, you just struggle. We still need to improve that, but I felt much better in the car. I was happy with the brakes, everything went well. It's going to be great heading to Austin now for our second race there. It's such a cool track. I'm looking forward to seeing all the fans welcoming us and, hopefully, getting some more points there, as well."
Kevin Magnusen, 8th
"I enjoyed my race. We maximized our potential as a team getting P8 and P9 and scoring points. I don't think we could've hoped for better, so I'm happy for us. I feel I've had some good races lately, but just haven't had that bit of luck that I needed to get the points. Today, it worked out. Hopefully, I can keep this going and score more points over the last bit of the season. Results like today are definitely not easy to get. You need to get everything right, and I think we did today, so well done to the team."
Guenther Steiner, Team Principal
"It's a great result for the team. It's our second time with two cars in the points. Both drivers drove a great race. It was flawless. It's the best we can do and we did it. I'm very proud of everybody. It was a weekend that started badly. It was complex, but it ended well and that's all that counts."
Williams
Stroll struggled in the early stages after contact with Magnussen caused him to run wide before opting for an early pit stop. That dropped him down the field, from where he couldn't recover. His race ended in spectacular fashion, when a front puncture sent him - sparks flying - across the gravel at Turn 3 and into retirement. Massa had a quieter race until he started to struggle for pace late on and came under pressure from the Haas boys. Some wheel banging with Magnussen ensued, which pushed Massa out of position and allowed Grosjean to sneak past too. The small consolation was the final point did go to the Brazilian.
Felipe Massa, 10th
"It was a very difficult race for us today. I was struggling with the degradation of the tyres with both sets. The other cars had better pace than us today and it's difficult to understand why. At the end, I lost positions to both Haas in a move that was a little bit tricky, but they were much quicker than me anyway. If they didn't pass me there, I think they could have passed me afterwards with the pace difference. I'm not happy with the pace today, but looking at the problems we had, we still finished in front of Renault and Toro Rosso, and one point is better than nothing."
Lance Stroll, DNF
"I had a really good start and was up to 11th, but then I made a mistake in Turn 11, hit Magnussen and I think something went on the car. I had to box really early as I thought something was broken or I had a puncture. Then I had a long stint on the soft tyre, working my way back up, but we were out of the points at that stage. I then felt there was something a bit strange at the front end, and then had a puncture. It is always surprising when you get a puncture, as it is very much unexpected and unfortunate at the same time. I was very close to Ricciardo when I came back on the circuit, but I managed to brake without anything happening. Now we just have to turn the page, as it wasn't a lucky weekend for me, and look forward to Austin."
Paddy Lowe, Chief Technical Officer
"We had two very good starts, with Felipe retaining eighth and Lance doing very well to move up to 11th on the first lap. But very early on, Lance suspected he had a puncture, so we stopped to put on another set of tyres. This committed him to a two-stop race, which he executed with good pace, but very near the end he had a car failure which caused a puncture in the Esses and threw him off the circuit. On Felipe's side, he was going fine on a one-stop strategy but took a lot of damage on his car during the race. As he got towards half way, the pace degraded considerably. He lost two places from eighth, but was able to defend 10th and a single point from Alonso in a very tense finish. It was a tough race for both drivers. Even though it was only one point, it feels like one of the more difficult points we've scored, so well done to the team, and to Felipe and Lance, for all they've done this weekend."
Renault
Renault opted to start both drivers on the soft tyres and run long opening stints. That strategy put Hulkenberg on the quicker rubber later on and he immediately went on the attack, passing Gasly and looking like challenging for the final point on offer. Unfortunately his DRS then failed, forcing him to retire. Palmer had a quieter afternoon - he too pitted late in his final race for Renault, but was too far back to challenge.
Nico Hulkenberg, DNF
"That was frustrating as a good points haul was possible today. I had fresh Supersoft tyres for a short final stint. I was able to overtake a Toro Rosso straight after my pit stop to then set about attacking the HAAS. It's a shame, but a small metal component broke on the DRS mechanism which left it stuck open. We'll look at why it broke as we missed a good opportunity. I'm sure we can fight back, the car was pretty decent in the race today and there's plenty more to come from us in the final four Grands Prix."
Jolyon Palmer, 12th
"We had a solid last race, we started from the back and with one more lap, I think we could have had tenth. It's been a tough season but the team and I have been through a lot, I've been here since the start of this new era for the team. We've come a long way and I've enjoyed it. I wish the team all the best in the future."
Cyril Abiteboul, Managing Director
"Today was Jolyon's last race. It was particularly challenging as he had to start near the back due to grid penalties, but thanks to a good strategy and a solid race, he was able to move up six position and finish twelfth. His performance is another demonstration of his professionalism and his loyalty, and a very good way to bid farewell to the Renault family. We sincerely wish him the best. Nico was also having a strong race, he had a good start, making up positions and the strategy was playing out very nicely. Unfortunately, shortly after his pit stop, when he was in a good position to move up, we had to retire the car. It is very frustrating as reliability has been our weakness this season. Overall we've had disappointing back to back races without any points. We are in a tight battle in the Constructors' Championship and we need to make the most of each of the last four races. We will regroup before we head to Austin and come back with a renewed dynamic.
"I'd like to congratulate Red Bull Racing for their double-podium finish. They were very strong here again at Suzuka, which is a power sensitive track and demonstrates once again that on Sundays, the Renault engine works."
Sauber
Ericsson has never been out-qualified at Suzuka by a team mate and always performs well at this track - but that optimism ended quite soon when he out-braked himself and parked his C36 in the barriers at Degner 2. Wehrlein tried a different strategy - pitting behind the safety car twice in two laps to use both tyre compounds, he then attempted to run the softs until the end of the race. But after complaining of a lack of grip, had to pit a third time and came home last.
Marcus Ericsson, DNF
"A disappointing outcome to the race for me at Suzuka. The beginning of the race was looking quite good, as I was able to gain some positions shortly after the start. Unfortunately, I went off the track at turn nine and hit the barriers. I am now shifting my focus to the next race at Austin, and look forward to getting back in the car soon."
Pascal Wehrlein, 15th
"I can not be satisfied with today's race. I had issues with the balance of the car from the beginning of the race. I was not able to push as much as I would have done under normal circumstances. We are now looking at our data and trying to find the causes. Overall, a disappointing race for me here at Suzuka."
Pirelli
Mario Isola, Head of Car Racing
"Both compounds performed in line with our expectations, although track and air temperatures were a lot higher than they had been previously during the weekend. Combined with the shortage of running in free practice due to weather and red flags, this meant that teams were slightly lacking in information about the conditions and strategy heading into this race. Despite this, and the fact that we brought a softer compound than previous years, the majority of drivers were able to complete the grand prix with just one pit stop – while the drivers who started out of position on the grid were able to use the alternative soft-supersoft strategy to make up some places."