Feature
What the teams said - Race day in Melbourne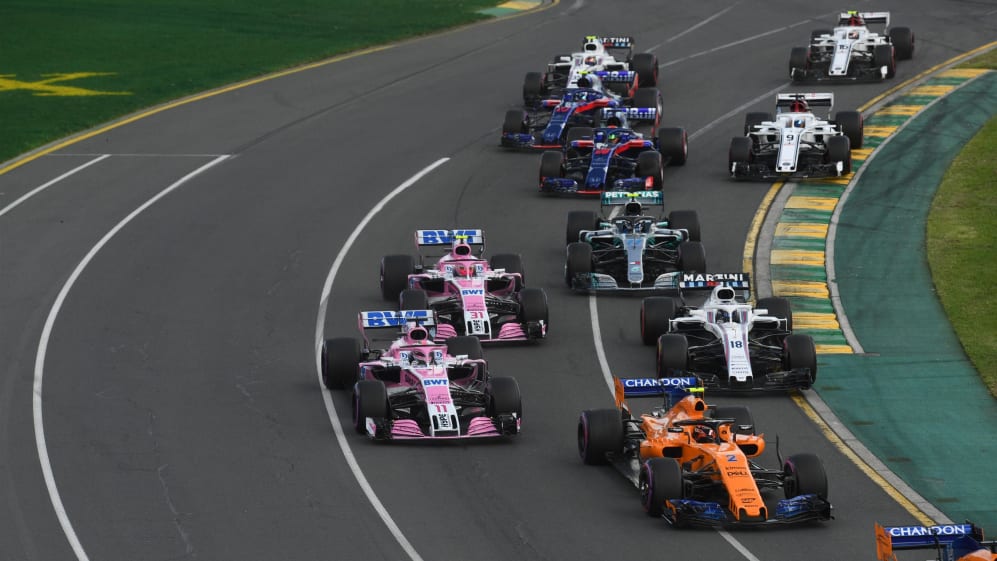 A round-up of all the action from the Formula 1 2018 Rolex Australian Grand Prix at Albert Park...
Mercedes
Hamilton led from the off and controlled the pace in the early stages. He shadowed Raikkonen's pit stop and seemed to be serenely heading to victory before a mid-race safety car enabled Vettel to pit and jump into the lead. Although Hamilton put his foot down and got within DRS range, he was unable to force a mistake from his German rival and mount a serious overtake challenge. Bottas, meanwhile, made his way from 15th on the grid into the points, and was responsible for much of the overtaking action after passing both Force Indias and Vandoorne on track to atone for yesterday's qualifying error.
Lewis Hamilton, 2nd
"I did everything I could today, but it's not what anyone expected to happen. I'm still in a little bit of disbelief as I don't really understand what happened yet. Once I get back with my engineers they'll do a debrief and obviously I'll find out why. This weekend there was so much talk about party mode or if Ferrari would be quick enough. I don't think the gap was as big as it seemed yesterday, it's just that I had a good lap and maybe Sebastian didn't have a good lap. But today they were very, very quick. I put up a bit of a fight towards the end but they were within a tenth of us today. At least in my heart I know that I gave everything this weekend. I'm sure the team is feeling pain right now but we will regroup and we'll work on it."
Valtteri Bottas, 8th
"It was a bit of a frustrating day. I got some points, but not as many as I was hoping for, even starting 15th on the grid. We had a good car, it felt just like in qualifying, the team did a really good job on that. Unfortunately, we just couldn't make anything out of it because it is so difficult to overtake on this track. I also struggled a bit with overheating issues on the engine when I was following other cars, so I had to back off many times. It's been a disappointing weekend and certainly not an ideal first race, but we still have 20 races to go. We need to learn from this weekend and try again in two weeks in Bahrain."
Toto Wolff, Head of Mercedes-Benz Motorsport
"This was one that got away and it's a bitter pill for us all to swallow. Following Lewis' pit stop, we believed that we had the scenarios of both the Safety Car and the Virtual Safety Car covered, so that Sebastian could not pit and come out ahead of Lewis on track. We should have been several seconds safe, then suddenly saw on the TV screens that we were not. Of course, under the VSC sometimes you benefit and sometimes you lose out - but it was clearly a problem on our side and we need to analyse that to understand what happened and correct it. It's all the more frustrating because we had the pace today to win. Lewis was in control through the opening stint, then after the pit stop as well, and looked on course for a strong victory but it wasn't to be. On Valtteri's side, we knew this would be a tough race to make up much ground. The margins between teams are closing up and this is one of the most difficult circuits to overtake on in the entire season. He made three passes on track, and benefited from the VSC too, but then was stuck in a DRS train in the final laps. Congratulations to Ferrari on their win today; for us, it's a tough one to take, but there are lots of lessons to be learned so we can come back stronger next time."
James Allison, Technical Director
"Having come to Melbourne with high hopes, it will be a long journey home for us, knowing that we under-delivered as a team. The pace we saw during the weekend was promising for the season ahead but it counts for nothing if you don't handle correctly the cards that the race can deal to you - and, today, we didn't. We need to analyse our mistakes, correct them and we look forward to getting to the next race and starting to put things right."
Ferrari
Ferrari held station from the start, with Raikkonen keeping Hamilton honest and Vettel trailing slightly further behind. Splitting strategies, the Scuderia left the German out after pitting Raikkonen and it proved a masterstroke as he was able to leapfrog both his team mate and Hamilton into the lead when the Virtual Safety Car was deployed. Vettel drove a faultless race from there to grab the championship initiative, with Raikkonen resisting late pressure from Ricciardo to also finish on the podium.
Sebastian Vettel, 1st
"Today has been our day. The Safety Car helped of course, but apart from that, I think we did everything we could do as a team. So when something happened, we were ready to react. We did our job before the race, evaluating different scenarios, and then in the race we had the pace as well. Lewis was under pressure, he was fast, but not as much as he needed. As for me, I need a little bit more of confidence with the car, which is not where we want it to be yet. There is a lot of work to do, but it is great to have both cars on the podium today. Yesterday in qualifying the car came alive, but it was still a little bit tricky, so we have some homework to do. I still need to drive around the issues more than I want to. I know exactly what I want, and we need to work on it. I believe the car has the potential we need."
Kimi Raikkonen, 3rd
"A win with two cars on the podium is a very good start of the season for the team. Maybe I have been a bit unlucky today, but at least the luck came to our team. Third place it's not exactly the result we wanted, but it's only the first race and the big picture is not too bad. So I happily take the third place. Overall I was pretty happy with my car today, the speed was there all day. It's nice to have a good feeling. For sure there are things to improve, but if the feeling stays like this we'll have all the tools to fight. And this is the most important thing. This is a quite special track in many ways, so let's see what happens in the next race. Bahrain it's not very straightforward either; from year to year we have seen that the hot conditions don't give a 100 percent true picture. We need to be patient and do our best wherever we go."
Maurizio Arrivabene, Team Principal
"A nice win and a great job from the team, both back in Maranello and here at the track, which led to a fine Sunday for all of us, our drivers and our fans. We have picked up a significant number of points in both the Drivers' and Constructors' championships. There is still a long way to go this season, but today we can be happy, knowing that each and everyone of us has done their very best, according to his role, to achieve this result. Now we will start to prepare for the next race, aware there is plenty to do; work which we will tackle with humility and determination."
Sergio Marchionne, Ferrari Chairman
"There could have been no better start for Ferrari in this championship. Listening to Italy's national anthem echo around Melbourne was an emotional moment for us all, and for every fan of the Scuderia. It's the best possible reward for the team, which built a competitive car and used a perfect strategy to take advantage of the way the race evolved. Congratulations to Sebastian and Kimi, both drove a great race. Of course there's still a long way to go in the series, with 20 more Grands Prix. So it would be wrong to celebrate too much. We know that we still have a lot of work ahead of us, but the first step has been taken in the right direction."
Force India
Force India had lacked pace relative to their midfield rivals on Saturday, and come race day they started too far back to make serious inroads. Unable to keep a charging Bottas behind, Perez came close to the points as he hunted down an ailing Sainz, but ran out of laps to pressure the Renault driver ahead.
Sergio Perez, 11th
"It was quite an unlucky weekend for us, but there are still positives to take from this race. We came close to bringing home a point although it was just out of reach. I was pushing throughout the whole race and especially chasing Sainz in the final laps. I got really close to him, but it wasn't enough. Overtaking in Melbourne is very difficult – you could see the same with Bottas who couldn't pass me during the first stint. The Virtual Safety Car also didn't help us at all, but that's just how things go sometimes. I am still happy with my performance and the job we did as a team. We will need to move on and keep improving, but I believe we will soon be in a position to battle for points. Hopefully our improvements will come as early as Bahrain. It's a race where you can overtake and strategy plays a bigger part compared to Melbourne."
Esteban Ocon, 12th
"Not an easy race today. It was very difficult to overtake and even though I managed to jump ahead of Lance [Stroll] on the first lap, everybody quickly spread out until the safety car. I had a fight with Bottas for a while and after the safety car restart I was close to making a move on Sergio. We certainly had better race pace compared to our qualifying pace, but we are just missing some performance to be up there in the top ten at the moment. Things can turn around quickly in Formula 1 and we will keep pushing over the next two weeks to bring something extra to Bahrain."
Robert Fernley, Deputy Team Principal
"Ultimately we didn't have the pace this weekend to fight in the top ten and so we've ended our day on the cusp of the points. It's early days in the season and with twenty races to go there will be plenty of opportunities to develop this car and show our strengths. As I said yesterday, we're on a learning curve with the developments we introduced this weekend and there's more in the pipeline for Bahrain. Both drivers drove well today, but the luck didn't play into our hands with the timing of the safety car, for example. Following other cars closely was tough and Sergiom n was right on the tail of Sainz in the final few laps but there was no way to overtake. We will work hard to be stronger at the next race in Bahrain."
Haas
What might have been. Magnussen made the dream start, jumping Verstappen, and with Grosjean a solid sixth it looked like being the team's best ever race. But first the Dane pitted and pulled over on his out-lap with an incorrectly fitted wheel, before the exact same thing happened a couple of laps later to Grosjean. To add insult to injury, Haas were duly found guilty of an unsafe release for each car and fined accordingly.
Romain Grosjean, DNF
"We had a good car all weekend. I was happy with our low- and high-fuel pace. I had great pace today, and I'm sure I could have stayed a bit more with the front runners if I'd been in front of Kevin early in the race. We'll now analyse everything and work out what happened exactly. We'll come back stronger as we always do. It's a lot of points lost today, but if we can repeat that performance over and over, we're going to forget this very quickly."
Kevin Magnussen, DNF
"It's a very tough one to swallow for the whole team. To have both cars not finishing – having been in such good positions and with so much anticipation – it's just heartbreaking to finish like that. We'll get on top again. We'll fight back. I'm beyond disappointed right now, but we'll get over it."
Guenther Steiner, Team Principal
"It was a disappointing end to a very promising weekend. We had two failures on the pit stops – didn't tie the wheels on correctly, so we had to stop the cars. As much as you don't want to say it, it's racing. It happens, even though it shouldn't. It's almost unbelievable to have this in one race, and on two cars, while running fourth and fifth. It's very disappointing. The good thing we can take away from this is that the car is competitive. We just need to get our heads up again, to get well prepared for Bahrain. We'll focus on that one and get our pit stops sorted out."
Red Bull
Verstappen lost a place to Magnussen at the start, and in a bid to correct the error, pushed too hard and spun his RB14. He was lucky to stay on-track, but did lose three places and marred his race as a result. Ricciardo benefited as one of the drivers to squeeze past, but despite clearly having decent pace, couldn't find a way to overtake an obdurate Raikkonen in the fight for the final podium spot. The home hero had to settle for fourth.
Daniel Ricciardo, 4th
"I woke up this morning happy because it's race day and it's been too long since we raced so, already before the race I was just happy and smiling. It's a long wait and in the week leading up to this race, you talk so much about the race and it's like, let's just do it. I'm happy with the way I drove today and we had a very fast race car. It's not often I sit behind someone for most of the race but it's a tight track and one of the more tricky ones for passing. There were a couple of times I had a look at turn three but Kimi was wise to that and could see what I was planning. Towards the end I applied more pressure on him but he was able to up the pace as well. I think we're pretty close with Ferrari and our race pace is strong, which I thought would be the case, so we just need to get a few more tenths out of Qualifying and then we should be looking good. Being so close to the podium and getting fastest lap is definitely an encouraging way to start the season. I want to thank all the fans for coming out and supporting us today and now it's definitely time to go and put my feet up for a couple of days after a busy week!"
Max Verstappen, 6th
"The start was ok but I got a bit unfortunate at turn one and ended up in the wrong position so lost out on fourth. I tried to follow as best I could but experienced a few issues with the feeling of the car. I think at about lap four or five I sustained a bit of damage on the car, I'm not sure what from as I didn't have any contact or hit any curbs hard. When I jumped out of the car I could see some damage and I also think something broke off so we need to investigate what that was. The issue made it hard to hold on mid corner which eventually led to me spinning and then struggling for the rest of the race. Luckily I didn't lose too many positions due to the spin and still managed to have a battle to the end. It is still really hard to get past the cars ahead as soon as you are within a second. This track is hard to overtake also but when you have limited grip it is extra hard. The car has been running and feeling really good all weekend so it's a shame to have the damage and then the bad feeling during the race. We are happy to score some points considering the circumstances, as soon as we had clean air the pace was good. Looking ahead I think if we can have a good Qualifying and clean start then everything else should sort itself out in the race and we can be competitive."
Christian Horner, Team Principal
"A strong recovery from Daniel from P8 on the grid to P4 at a track that is incredibly difficult to pass on. I think the only pass of the entire Grand Prix was the one he made on Nico Hulkenberg. What we could see in the closing stages of the race was that he was pushing Kimi very hard and he had very good pace, demonstrated by posting the fastest lap, which is encouraging for the season ahead. Max's afternoon was a frustrating one for him. He made a good start initially but then got boxed in on the right hand side and dropped a place to the Haas. He picked up some damage to the floor on lap four or five that compromised the performance of his car quite significantly but he kept pushing and, despite a spin, was able to bring the car home in sixth place, having fought with Fernando for over 20 laps. He was always within a second but had no opportunity to overtake. We also saw some fantastic work from the pit crew, starting the 2018 season as they mean to go on and scoring the fastest pit-stop of the Grand Prix."
Toro Rosso
Hartley locked up into the first corner, flat-spotting his tyres and pitting as a result. From there, his race was too compromised to be recoverable. He did at least finish, unlike his team mate who pulled into the pits in the first half of the race with technical issues.
Brendon Hartley, 15th
"It wasn't a great race for me today, I locked the brakes into Turn 1 at the start and flat-spotted the tyres, so I had no choice but to pit because it was probably the biggest flat spot I've ever had. Then on the second stint I had a puncture, so it was game over from that point onwards and I think I had a little bit of damage on the rear from that, so I was driving around by myself all day. It was always going to be tough to get into the points today."
Pierre Gasly, DNF
"It wasn't a great start to the season for me. After Turn 12 the engine just switched off, it came back on again but I was really slow and I couldn't upshift. I tried to return to the pits and then I was told to stop. It's a shame, especially since we didn't have anything go wrong in testing. I think everyone in the team is disappointed to have an issue at the first race but we need to look at the positives and learn from the negatives to come back stronger in Bahrain."
Franz Tost, Team Principal
"As we had a successful test in Barcelona, we expected of course a much better race result in Melbourne, but for various reasons we couldn't get it together. For sure it didn't help that it was raining in FP3, because we would have needed a dry track to evaluate the tyres and to find out if our set up changes were going in the right direction. As for Qualifying, Brendon did a reasonable job but Pierre had a problem in Turn 3 so today we had to start from the back of the grid. Pierre had a good start and gained some positions, but unfortunately we faced a power unit issue that forced him to retire. As for Brendon, he locked the front tyres in braking for the first corner - he got a flat spot and we had to call him in to change the tyres and from then onwards he was at the back of the field. Now we can put behind a disappointing weekend - we have a lot of work to do to hopefully achieve a better result in Bahrain."
Toyoharu Tanabe, Honda F1 Technical Director
"It is disappointing that Pierre Gasly had to retire on lap 15 with an MGU-H problem. We now have to investigate the precise cause and then we have a few days of hard work to ensure we do not have a repeat of the problem at the next race. As for Brendon, after his early pit stop, because of a flat spotted tyre, he raced consistently, but with the difficulty of overtaking here he was unable to move up the order. It was a tough start to the season, however we have to move on from this and keep a positive frame of mind as we immediately start preparing for the second round of the championship."
Renault
With both cars starting towards the front of a field, Renault would have been hoping for a double points finish and so it proved, with Hulkenberg keeping a charging Bottas at bay and Sainz grabbing the last point on offer. It was a close run thing, though, as the Spaniard was suffering with nausea and stomach cramps and lost lap time as a result, but had enough in hand to come home ahead of the Force India duo.
Nico Hulkenberg, 7th
"We should be pretty happy with today. The pace of the car was strong and competitive, but we know we still have a lot of work to do. I'm happy with how the weekend has progressed, Friday wasn't great for me, but we've turned it into a decent result and a satisfying Sunday. We got lucky with retirements, but also unlucky with the safety car, but that's racing and taking six points home is a just reward for the team's hard work."
Carlos Sainz, 10th
"It's a positive start for the team and I'm very happy with the performance of the car. It's a good job to take home a strong haul of points and we have something to build on ahead of Bahrain. Personally, I struggled a bit out there as I had a drinks bottle issue, the result of which was making me feel pretty unwell. The first stint was also a bit difficult with too much oversteer on the car, especially as there was a lot of wind out there today. We keep learning and we'll be putting the work in ahead of Bahrain."
Cyril Abiteboul, Managing Director
"It's a satisfying result, not perfect by any means, but it shows we're in line with our targets of making progress. Clearly, for a good result, everything must be smooth, from pit-stops to reliability and this double top-ten finish illustrates a solid start to the season. We're pleased with today and the result gives us something to build on. In the race, the safety car hurt us slightly, but that's racing and sometimes these things benefit you. Our focus on reliability has been illustrated with all Renault-powered cars finishing inside the top ten today, which is a good positive. We know it's going to be extra tight in the midfield battle, and that motivates us to keep working hard."
McLaren
Both Alonso and Vandoorne pitted later than the drivers around them and that proved advantageous with the timing of the safety car periods. Alonso in particular benefited as he came out just ahead of Verstappen - and some solid defensive driving kept the Dutchman behind for the rest of the race. A double points finish is as much as McLaren could hope for and the dream start to their new partnership with Renault.
Fernando Alonso, 5th
"It was a good race today, especially considering where we started.
"The last couple of years have been difficult, and I think the winter has been difficult as well. We switched to the Renault engine quite late and the team had to react very quickly to redesign some of the parts at the rear end, and now we've come here and both cars have scored points – one in the top five.
"We should be proud of that, but I think there's a lot more to come from McLaren. We didn't maximise the full potential nor squeeze everything out of the package today. This is only our first race together with Renault, and some updates will come in the next few races. We can start to look ahead a little bit and Red Bull will be the next target.
"As I said before, this race is probably our lowest performance of this season as things are going to get better and better.
"Obviously, today we got lucky with the two Haas cars retiring, Carlos' [Sainz] problem in turn nine, and then overtaking [Max] Verstappen under the Safety Car. Let's say four positions came thanks to some favourable conditions, but we made no mistakes and we capitalised on everything. A perfect job from the team."
Stoffel Vandoorne, 9th
"It's a great result for the team to have both cars in the points today. It's a big contrast from last year, and I think there's massive potential for the future. From my side, I was a little bit unlucky with the Virtual Safety Car, as I think we could have finished even higher up, but for the opening race I think we can be very happy.
"I'm very optimistic for the rest of the year. We know there is more to come from us this season, and the partnership with Renault is still very new. This was our first race, we know that there are new parts coming over the next couple of grands prix, and I really hope we can show that on track too. The baseline is good, we have something to work with and now we need to keep improving and deliver more performance, and ultimately points.
"Our performance in the race was pretty good – we were fighting with the Renault and Red Bull cars which is positive, and we think there is definitely some margin for progression. "It's a great start to the season, and after this race I feel there's a lot of potential for the future. We need to be ambitious as a team, and I'm looking forward to seeing what's around the corner."
Eric Boullier, Racing Director
"A good result for us today. We benefitted from every opportunity that was thrown at us – the first being Haas' double retirement. We really feel for them because we know what this is like; a double DNF is hard to take, but this is racing.
"As we said yesterday, we knew we had some potential and further speed to unlock from the car today. We took every chance we could and both drivers drove superbly. We showed good pace, enjoyed some good fights, and we completed two decent pit stops which helped us keep our strategy on track.
"I want to say a huge thank you to the whole team, here and back in Woking, not only because we're encouraged by the potential our car has shown in the first race of the season, but also reliability-wise we had a trouble-free weekend, which is a relief after the issues we had in winter testing. It's all thanks to a huge amount of hard work from everyone in the team, who have done a remarkable job since Barcelona.
"Now we need to keep pushing, and work on readying the upgrades we have in the pipeline as soon as possible. Our priority is to get closer to our nearest competitors in front, especially those who have the same engine in the back of their car."
Sauber
Ericsson complained of a loss of power in the moments before pitting and parking his C37. His rookie team mate had a better afternoon by contrast - as well as finishing, Leclerc kept his cool to stay out of trouble and finish ahead of Stroll and Hartley in a competent first race.
Marcus Ericsson, DNF
"It was a disappointing race for me after the good job done during the race weekend. I had a solid start and the car felt really good – really strong and I was ready for the fight. Unfortunately, on lap six I had a hydraulic issue on my car and I had to retire from the race. Now, the team will analyse all the data. We were in the fight and this is positive so all I can do is to look forward to Bahrain."
Charles Leclerc, 13th
"I am very happy about my day. The start was not ideal – I had to catch up with the competitors ahead of me and slowly work my way forward. We maximised our potential and had a consistently good pace. I was able to overtake some of the cars, which was fun. Overall, it has been a positive weekend. We have made good progress since Friday and are at a good starting point. I have learned a lot and feel confident going into the next round in Bahrain."
Frederic Vasseur, Team Principal
"The balance of the whole race weekend is positive, especially considering the good progress we have made since Friday. Regarding the race we have mixed feelings because Marcus was doing an impressive job after a good start. We will now analyse all the data. Congratulations to Charles for his first race in Formula 1. It was important for him to finish and he did a great job with tyre management and fuel saving. All in all, it's a good feeling for the team and we are very motivated as we look forward to Bahrain."
Williams
Sirotkin kept out of trouble in the opening laps, but his debut race ended at an early stage when he was forced to retire with brake issues. Stroll did see the chequered flag, but after pitting twice lost too much time to feature at the cutting end.
Lance Stroll, 14th
"We were in the wrong mode on the first lap and that is the reason Ocon got me. We also have none of the extra power we need for the safety car restart which is where I lost the place to Leclerc. We are just basically trying to get the car to the end of the race instead of racing. There was a lot going on today with big issues that cost us a lot of race time. I hope we can find the solution before Bahrain."
Sergey Sirotkin, DNF
"It didn't go as expected and I'm not even talking in terms of the results, which we obviously wanted to achieve but didn't. I'm talking about the learning, which we didn't get. It's a bit of a shame and I'm quite disappointed with that because it's not ideal and it was not the easiest weekend for me. It was quite important to do a good race. Preparing for the Bahrain weekend, at least I know I have a good chance so we're looking forward. In just two weeks we'll be back at the track and we'll work harder than ever. I'm sure we'll get to where we deserve to be."
Paddy Lowe, Chief Technical Officer
"That wasn't an afternoon to remember. Firstly, for Sergey, very early in the race he had a failure of the rear brakes. Our provisional analysis is that a plastic bag has been collected on the circuit, completely blocking the brake cooling, so that the right rear corner caught fire and eventually failed the hydraulics circuit. His brake pedal went to the floor and he had to go down the escape lane. That was the end of his race which is very unfortunate because it was his first F1 race and what he really needed to do was get some distance behind him so he could come back for the second event with race experience our objective, which we didn't achieve for him today. In Lance's case, we were struggling a lot with pace throughout the afternoon. Like a number of other teams, we're managing fuel consumption. Our fight was for 13th and unfortunately Lance lost the position to Leclerc under the safety car restart. He had a number of attempts to retake the position but with managing temperatures we had to drop back two or three times and we never made it stick."
Pirelli
Mario Isola, Head of Car Racing
"There were effectively two halves to this Grand Prix, before and after the safety car, which helped to decide the outcome thanks to a clever pit strategy from Ferrari. In the end, we saw a very close race to the finish, with the top five places fiercely contested all the way to the final lap. Most drivers opted for a one-stop strategy, with the quite long safety car period mid-race also helping these tactics by minimising wear and degradation. The behaviour of all three compounds – each used as race tyres – was definitely positive. Two cars even finished the race on a one-stop strategy without using the hardest compound available."