Feature
What the teams said - Race day in Mexico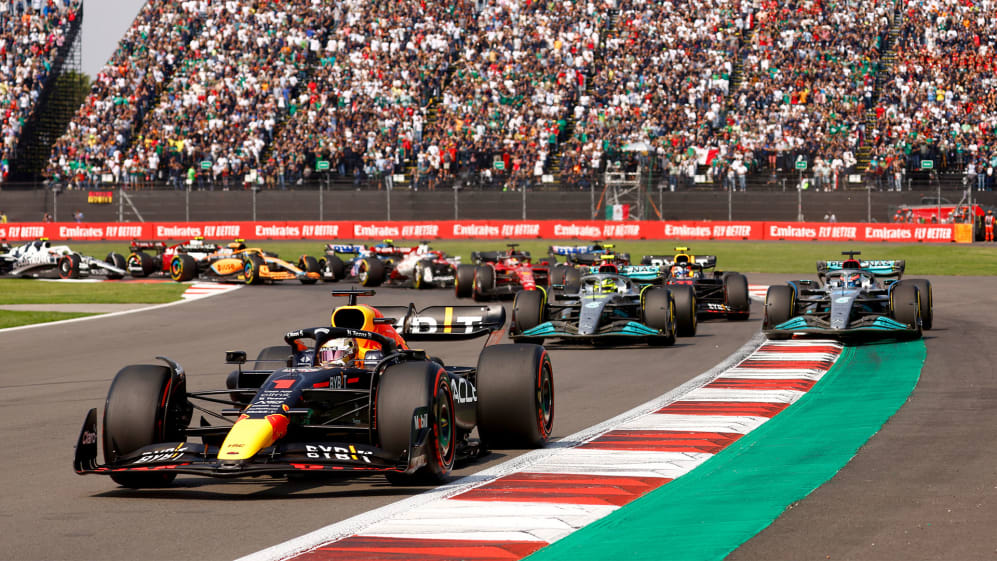 Red Bull
Verstappen got a great start on the softs and wasn't troubled through the first few corners, managing his first stint to perfection. Perez also did well off the line, harrying both Hamilton and Russell and winding up in third. They both had to pit relatively early to get rid of the softs, but Perez's stop was slow which meant he couldn't come close to undercutting Hamilton. From there, both drivers were able to manage their mediums, didn't need a second stop and came home for a double podium. Verstappen has now broken the outright wins record in a season on a dominant day for the Dutchman.
Max Verstappen, 1st
"The first stint of the race was critical today and we managed to stay in the lead after turn one. We were obviously on a different strategy to the cars around us and we had to look after our tyres a lot. We had quite good pace on the soft tyre even though it wears a bit more, we then drove the medium to the end. Winning 14 races in a season is incredible, we're having an amazing year as a Team and that's the most important thing. We keep on pushing and we want to win as many races as possible, it's really special what we are all achieving together this year."
Sergio Perez, 3rd
"It feels good to be on the podium but I wanted more today, I am a little bit disappointed. We could have finished second definitely but we had a poor pitstop, which really prevented us doing the undercut and being closer to Lewis. The hard tyre didn't work for him initially but once he got them going it just didn't work for me, then I was looking after my tyres and there was no more in them. We were planning to do a two-stop race but degradation was better than expected. This place in unbelievable, it is an amazing crowd here and I will never forget these moments because of the people. It is certainly, if not the best, one of the best crowds in Formula One - I am very privileged to have this support. I just want to go and win the next two races now, we have had the pace in the last few races, so now I just want to put it all together, cut out the small problems and then I believe we can do that."
Christian Horner, Team Principal
"Both drivers were impeccable today and we got our strategy absolutely right. The soft and medium tyres were definitely the quickest. After both drivers' first pitstop, we saw that the tyres were in really good shape so it was a no brainer to put on the mediums. Checo had a little bit of trouble with his pitstop, but his recovery was phenomenal and to see both drivers on the podium is incredible. We are pleased we got it right today and of course, Max was truly remarkable. Frankly, Max is racing to another level, he's raised the bar so high all season and to break the record with 14 race wins is extraordinary, especially with a couple of races still to go. He deserves all the plaudits that are coming his way and his drive today demonstrates his maturity and ability to read a race and control it in a very convincing manner."
Mercedes
Hamilton managed to pick off his team mate off the line as Russell got wide into Turn 2 and lost time riding over the kerbs. From there they were running second and fourth, but on the mediums to Red Bull's softs. When the Bulls had to pit early, it was all about how much longer they could extend their first stint but Mercedes called both drivers in relatively soon after for the hard tyre. It proved to be the wrong compound, as the gamble that Red Bull would have to two-stop after putting on the mediums proved unfounded. Still no win, but they are getting closer.
Lewis Hamilton, 2nd
"It was a good race for me today, although we didn't choose the right tyre strategy in hindsight. Nonetheless, to be this close to Red Bull makes me very proud of my team and I'm very grateful to them for the hard work they've put in to keep on moving us forward. The race pace generally was quite good, but we were offset on tyres for most of the race. Maybe we should have started on the soft, but obviously we went for the medium, then took the hard to make the one stop work; it looked pretty good on the first stint, but then the Red Bull was just too quick for us - and had the better tyre strategy today as well. Congratulations to Max on his win and it feels great to be back up on the podium here in Mexico. We're getting closer to the front, and we will continue to push. The last couple of races, we've taken a big step forward with the car and I hope we will continue like this for the final two."
George Russell, 4th
"I had a good start but lost two positions in the first lap and our strategy with medium - hard was not the right one in hindsight. I couldn't get the hard tyre working as there was just no grip. Red Bull and Ferrari both started on the softs and we need to understand why the other teams opted for the soft as that looked like the right strategy for this race. So that's clearly our learning for today, as we might have been able to get closer, being on the same strategy. Nevertheless, as a team we're making progress and I'm very happy about that. I'm intrigued to see how Brazil goes, although I don't think we will be quite as competitive as in Mexico, but still a huge positive takeaway from this weekend and a great job by the whole team."
Toto Wolff, Head of Mercedes-Benz Motorsport
"Lewis and George did an amazing job today. We discussed whether the soft-hard was a viable strategy, but we didn't really have the soft-medium strategy on our radar going into the race. So, we just got it wrong today in hindsight, but we still showed strong performance and secured valuable points. Our performance gap to Red Bull today was small, and we had a good margin to Ferrari - however, we need to be careful about jumping to quick conclusions about the latter and wait to see what happens in Brazil. Our goals are still to win a race and fight for second in the constructors' championship: we want to demonstrate that our car is fast and the whole team put just so much work into upgrading the car, it would be fantastic for them if we can make it happen for one of the last two remaining races this year."
Andrew Shovlin, Trackside Engineering Director
"It's a peculiar mix of emotions after a weekend like this; we are demonstrating progress with the car and the update that we brought to Austin has clearly delivered a good step in performance. The team in Brixworth can also be very satisfied with the work they had done preparing and optimising the power unit for what is a very difficult track, given the altitude; this has been one of our strongest performances of the season, so it's clear that they have done a great job on that side. We also can't fault the commitment of the drivers and the whole team towards the end of what has been a very long and very tough season, even when giving everything each weekend still isn't quite enough to deliver a win. If we could run the race again, we'd have started on the soft tyre; we knew that a soft-medium one stop was a possibility, but we did not expect it to be quite so comfortable. Our strategy relied on their mediums dropping towards the end of the race, but that simply didn't happen. On a positive note, we have closed the gap to Ferrari, and we'll keep chasing them until the flag drops in Abu Dhabi. So, we have two races to go, a few days to regroup before the sprint race in Brazil, and still plenty to work for."
Ferrari
Just not to be. Leclerc picked off Bottas off the line, but from there they were in a race of their own – comfortably ahead of the midfield, but way off the pace of Mercedes and Red Bull. It was a surprisingly lacklustre performance from the Scuderia, who saw Mercedes eat into their advantage in the constructors' championship as well.
Charles Leclerc, 6th
"It was a lonely race. Carlos and I were lapping together, too quick for the midfield but too slow for the front runners. We stuck to our strategy, focused on ourselves and got the most out of our package, but we were just too far off and we have to understand why so that we can work on being more consistent. As always, it was amazing to see so many fans around the track in Mexico City and to feel their passion."
Carlos Sainz, 5th
"Today we did everything we could to get the best result possible, but unfortunately the pace was not there, so P5 was the maximum we could aim for. From my side, despite the overall picture, I had a good race and the feeling inside the car was positive this weekend. We will try to build on that ahead of Brazil and make sure we are ready for the last two races."
Mattia Binotto, Team Principal
"It was a very difficult weekend for us and it was clear that we were already struggling yesterday in qualifying and that was accentuated even more in today's race. There is a lot that needs to improve, but when faced with a difficult weekend like this, it is essential to bring the cars home and pick up as many points as possible. Charles and Carlos did the best they could and the way they tackled the first few corners after the start was exemplary. It is vitally important that we improve in the last two races so as to end the season to the best of our ability."
McLaren
Norris lost two places off the line and from there, followed the strategy of those around him to come home in the points. But Ricciardo had a much more interesting race, running the second longest stint of anyone on the mediums to mean he could bolt on the softs for his second stint. He was rapid, but a collision with Tsunoda fighting for position earned him a 10-second time penalty. Unperturbed, he set about picking off Bottas and both Alpine cars to rise to seventh and then pulled out enough time on Ocon to keep hold of the place once the penalty was applied.
Lando Norris, 9th
"Today was a good race. I lost a couple of places at the start. It wasn't a bad launch, but it wasn't the best, and it's a long run down to Turn One. I had to box when I did to cover Yuki, going onto the Hard tyres but they weren't the tyres to be on! I lost a lot of time compared to Daniel who went onto the Softs, which was a much, much quicker strategy in the end. I'm still happy because I think we did a good job and got the most out of it that we could. The team scored some good points and we out-scored Alpine, which is the goal. We'll head back to the factory to work hard ahead of Brazil in two weeks' time."
Daniel Ricciardo, 7th
"It was a rollercoaster of a race. Ultimately, I'm happy. I wish it was more of a smooth race in terms of you never want to have contact, and you never want to receive a penalty. So that's a little bit of a cloud over what was otherwise a good day, but ultimately it still didn't change the outcome for us. "I think the penalty was more than enough. I saw a replay and I'll still take the majority of the responsibility, but it isn't like I came in sideways and locked-up, I was just there. All he had to do was just miss the apex a bit and we would both get through that corner. I'll take it but I don't think it's something I need to beat myself up over. I was pretty down when Tom [Stallard] came on the radio to tell me I had a 10 second penalty because it's the one race where we had pace and I had a chance, but I still felt that I had pace on the Soft so I just got my head down and got on with it. Lando let me by, so that let me keep attacking, and when I saw the Alpines right in front of me, I was like 'alright, it's game-on here'. I knew if I kept George [Russell] behind me and didn't lose the few seconds to the blue flag, I had a real chance. That was tense for a few laps – but then he pulled in for fastest lap and that gave me a bit of breathing space. All-in-all, very happy and huge shout out to the team, especially the pit crew for the 1.98-second pitstop – the fastest of the season!"
Andreas Seidl, Team Principal
"This was an intense Sunday for our team at the Autódromo Hermanos Rodríguez. After losing positions at the start, a great job from the drivers, excellent pitstops and brave strategy calls got us back into a competitive position, eventually finishing P7 and P9. Important points in our battle with Alpine for fourth place in the Constructors' Championship.
"A special mention to Daniel – Driver of the Day – who had a very strong weekend after a tough time in Austin. He's been more comfortable in the car from the first run here in Mexico, and put in a great final stint which, combined with an aggressive strategy, produced an impressive result.
"Also, another fantastic job by the pit crew to record the two fastest stops of the race, with our 1.98-second stop for Daniel being the fastest of any team so far this season.
"Thanks to the entire team – those here at the track, back at the factory and our colleagues at Mercedes HPP – for producing a reliable car for these unique conditions and managing a very complex race. We've got a short rest now and then we go again into the last double-header of 2022."
Alpine
Alpine were another team to gamble on the hard compound tyres for their second stint but it didn't prove to be the best way to the flag. Both drivers were picked off by Ricciardo, before worse was to come as Alonso pulled over after an engine cylinder gave way. Not to be for him as reliability found the Spaniard once again, but Ocon at least finished in the points.
Esteban Ocon, 8th
"It was a tough race for the team today. We were on for an important, double points finish before Fernando's unfortunate retirement. On my side, we were struggling with cooling issues towards the latter half of the race and we had to manage that, which meant we couldn't match the pace of the McLarens at the end, narrowly missing out on catching Daniel's [Ricciardo] time penalty. We come away with some points, but we need to ensure these issues don't happen again if we are to stay fourth in the championship."
Fernando Alonso, DNF
"Unfortunately we couldn't finish the race today after a strong start, good stints, which meant we looked set to score some good points. I felt very fast in both stints, first on the Mediums and then with the Hard tyres. However, we lost a cylinder on the engine with 18 laps to go, which eventually forced us to stop the car despite our best efforts. Austin and Mexico were two very good weekends for me, and it's a pity we didn't score the points we deserved. We have two more race weekends to go, and we need to make sure we score more points in our battle for fourth position."
Otmar Szafnauer, Team Principal
"This race was always going to prove challenging with the unique conditions in Mexico City and we leave here disappointed in the fact we only had one car see the chequered flag. Unfortunately, Fernando suffered a cylinder failure on lap 52 and he was having to manage on five cylinders – meaning a significant lack of power - to try and remain inside the points. Eventually the problem was not sustainable, and he had to retire the car. Esteban faced a challenge with some cooling issues from quite early on in the race where he had to lift and coast and therefore, he sacrificed significant lap time. He did well to bring the car home in eighth place and score some valuable points for the team. We know reliability is going to be the key in our championship battle and it's something that has let us down after showing such a strong level of performance in recent races. I'm confident we can rectify these issues going into the final two races of the season."
Alfa Romeo
Bottas didn't get a dream start but managed to hold on to a top 10 slot for the first stint. Pitting late, it was a surprise when he bolted on the hard tyres over the softs, but he did manage to extract some pace from them and wound up in some entertaining fights in the midfield. Zhou likewise had a solid race, but starting down the field he couldn't quite get up high enough to challenge for points.
FACTS AND STATS: Verstappen sets new season records for points and wins
Valtteri Bottas, 10th
"We got one point out of this race, and this is a positive, but we expected more today. We were doing okay until the second stint: when we switched to the hard tyre, we just couldn't get them to work. I never got them up to temperature and it was a bit of a struggle until the end. We thought the hards would be a good race tyre, but it wasn't to be. It's a shame as in the first stint we were on the pace with the cars around us, but at least we have something to show for it today and we increased our advantage in the championship."
Zhou Guanyu, 13th
"The beginning of the race was quite fun, and the extended stint was looking good, but we ended up in traffic after the pit stop and that compromised my race a little bit. The second part of the race was trickier: making progress turned out to be quite difficult on this track, which of course is not easy, and it has definitely been one of the toughest one for me as a rookie to get used to. I was happy to see Valtteri get a point for the team and I hope some of my battles helped with this. In general, this weekend we have been consistent, and we did do a step up: we just need to keep working on our race performances to finish this season well."
Frédéric Vasseur, Team Principal
"A point is always valuable, especially when it allows us to extend the gap on our championship rivals; of course, when starting in P6 and with the pace we showed throughout the weekend, the hopes and expectations were for more, but in the end the race didn't really go our way. We seemed to have the pace to be at the front of the chasing pack, just behind the three leading teams, during our first stint, but we weren't able to make the most of the hard tyres after Valtteri's stop and we slowly dropped off. Zhou was on an alternative strategy, but also seemed to struggle in the second part of the race and wasn't able to make back the places he had before the stop. We'll analyse this race and see what can be done better; in the meantime, we will keep building on the speed we've shown on Friday and Saturday, aiming to make the most of the final two weekends of the season to finish the job properly."
AlphaTauri
Tsunoda was the first driver out of the race, as he fell victim to a collision with Ricciardo, which damaged his sidepod and front wing. The Japanese racer wasn't best pleased when his rival tried to send one up the inside, bouncing up and over the front tyre of the McLaren before limping back to the pits and out of the race. As for Gasly, he fought hard but came home just outside the points.
Pierre Gasly, 11th
"It's a real shame, but we knew it would be difficult starting from P14. I gave everything I could today, and we were close to finishing in the top 10, if we'd had one more lap I think we could've been in it. The atmosphere has been insane, as always in Mexico, so that's been great, I'm just disappointed we've come away without points."
Yuki Tsunoda, DNF
"It's such a shame about today's result. My tyre management had been really good in the race up until that point, and I was feeling confident in that final stint, so I'm very disappointed that it ended with such a silly mistake. Daniel was on a different strategy and would've easily made it past later on, so for such an experienced driver to try to overtake in an area that it's just not possible to is so annoying. We were close to being able to finish in the points, which are so valuable to us right now. There are some positives to take away from this weekend, but for now I just need to go away and reset, then come back stronger for Brazil."
Claudio Balestri, Chief Engineer - Vehicle Performance
"As our two cars were close together on the grid today, we decided to start with different compounds, with the target of maximising the possibility to score points. Yuki started on new Softs and was immediately able to gain some positions in the first lap, he was P11 between the two McLarens who were both on Mediums, with Norris in front and Riccardo behind. Yuki's first stint was good, he was able to produce consistent lap times, manage tyre and brake temperatures, and the tyres were working properly for the entire stint. For the rest of his race, he continued to fight the two McLarens, so in the second stint we decided to fit Mediums and the pace was again good, allowing him to follow Norris and stay in front of Ricciardo. However, Ricciardo tried to overtake Yuki, which destroyed our car and our race. The contact left Yuki's car with a lot of damage, and we had to retire. Pierre's race was a bit different. By the end of lap one he had lost some positions and was P17, racing on the Mediums, behind the two Astons that were slower than him. During the first stint, Pierre was able to gain one position, overtaking Stroll, who was on the same compound, but during this manoeuvre he got a five second penalty. This was served at our second pit stop and our race became a bit more complicated. When he re-joined the track he was behind Albon. Pierre's pace with the soft compound was good and we were able to overtake him and close the gap with the cars in front, who were on different strategies. Pierre finished just behind Bottas, just outside the points in P11. It is a shame, because the pace wasn't bad today. Now we need to switch our thoughts to the preparation for our next race in Brazil."
Aston Martin
Stroll had a rapid start, making up five places to run 15th. But then he started struggling with his tyres and had to pit first of the field. He couldn't make his second set last much longer, pitting again and coming home down the field. As for Vettel, he made his soft tyres last far longer than expected in his first stint but it was all for nothing in the end as he finished just ahead of his team mate.
Sebastian Vettel, 14th
"Overall, we were just a little bit too slow today. At the start of the race, I could hold on to the cars in front of me, but then I was a bit unlucky to get tangled up with Yuki [Tsunoda]. His car was damaged, and he came back onto the track right in front of me – I lost too much time and was an easy target for the others. The car did not feel too great and the afternoon was a bit of a struggle – but, luckily, we did not lose too much ground in the fight for sixth in the Constructors' Championship."
Lance Stroll, 15th
"The start was great; it was definitely the highlight of the race. On the move with Pierre [Gasly], he braked late, passed me but did not give me any room. However, it would not have really changed our day if that had not happened. There were fun moments out there passing other cars, but we struggled a lot with our pace and the tyres. We will try to understand this dip in performance and see how we can make progress to maximise the final two races of the season."
Mike Krack, Team Principal
"This is a race where you need to skilfully manage the brakes and tyres. And, despite the best efforts of our drivers and engineers to do just that, we were never really in a position to capitalise. Lance drove another typically charging opening lap to jump five places, and Sebastian was precise and clinical all afternoon – but he just did not have the pace to fend off a gaggle of faster cars. In the battle for sixth in the Constructors' Championship, this was an afternoon of damage limitation – we will pick up the fight again in Brazil next month."
Haas
Magnussen's day didn't get off to the best of starts, a gearbox issue on the way to the grid causing a few moments of panic before the team managed to identify and sort the problem. Haas then split their strategies, with Schumacher starting on the softs and Magnussen the mediums. But it was to no avail, with neither driver able to extract enough pace to make much progress.
Kevin Magnussen, 17th
"We just didn't have good pace today. I had the medium and then soft tyre on for the race, which could've given us some opportunities, but we were a bit too far off to really do much. There are so many opportunities, we scored points in the last race but today isn't what we wanted, so we'll move on to the next one."
Mick Schumacher, 16th
"We saw in FP3 that once the track gets colder, it seemed that others were performing a bit better than us. We knew the pace was there yesterday but it wasn't there today, there wasn't anything wrong with the strategy or anything in that sense. That was our pace and we have to live with it today. I'm sure that in Brazil, things might look very different again."
Guenther Steiner, Team Principal
"Today, our car just didn't have the speed and therefore we ended up where we ended up. Hopefully Brazil suits our car better and we can get back to where we want to be."
Williams
Latifi has a quiet race at the back of the field, although he was the first to bolt on the hard compound, which set about a chain reaction through the rest of the field. Albon was more involved, making his way up to 12th but he didn't quite have the pace to challenge for the top 10 on a day on which there were just two retirements.
Nicholas Latifi, 18th
"We had some car damage from early on in the race which was confirmed by the team. At the beginning it didn't seem too bad but as the race went on our pace seemed to deteriorate. We need to see what the damage specifically was but unfortunately, we had no pace today. Even at the end, I was two or three seconds a lap slower on new Soft tyres compared to people on older Softs. Overall a very lonely day but we'll look to bounce back in Brazil."
Alex Albon, 12th
"Honestly, I'm really happy with today and it feels like our pace was relatively strong from where it was on Friday. We had a tricky start so we dropped to 19th and despite a few retirements, we overtook everyone else, so I think it was a good race from us. It was a thermal race with the dirty air making the brakes hot and then the tyres hot, so we did well with our strategy to find the gaps of clean air. It was really close today and I'm feeling good with a lot of positives to take away. I think we're getting better at solving the weaknesses in the car and at a circuit that doesn't suit us we were able to set up the car and compete with those around us."
Dave Robson, Head of Vehicle Performance
"Following a frustrating day yesterday, we can be very pleased with how we performed today. Racing in Mexico City is always challenging but we were able to get the car into a pretty good place such that it was easily managed and had good pace relative to our competitors.
"We pitted Nicholas early for the Hard tyre but unfortunately this was a poor tyre today and, coupled with some car damage, it harmed Nicky's race. We were able to leave Alex out on his Medium tyre whilst we monitored the performance of the cars that started the race on Soft. Once it became clear that a Medium-Soft one-stop was possible we were able to commit to this with Alex. Once again, he drove very well to battle aggressively with Gasly, Vettel, Zhou and Bottas. To finish so close to the Alfa Romeo which qualified 6th, especially after a tricky race start, was very satisfying but also hints at what might have been possible with a better grid position.
"It has been a hard couple of weeks racing in the USA and Mexico, but we can be pleased with what we achieved and how we coped with the conditions."
Pirelli
Mario Isola, Motorsport Director
"Seeing how all three compounds gave the drivers and teams the chance to approach the race in a sort of strategic chess game on the track and the pit wall is obviously a source of satisfaction for us. There were different strategies, which were all based on individual capabilities to optimise the tyres, with the mediums being a protagonist and the hard and the soft too playing a fundamental role, showing strong performance and limited wear. It all came down to a strategic duel between the two teams that had managed to get the most out of the tyres all weekend. This is particularly significant for us, especially following 15 intense days that took in two tests of the 2023 prototype tyres to collect data on both the hard and the soft compounds in Austin and Mexico City respectively, as well as the comments of the real stars – the drivers – who showed enthusiasm and real engagement when it came to analysing all the topics that emerged, right up to the Friday night of the second test. Congratulations to Red Bull and Max Verstappen for their victory and a new record of 14 wins in one season, in front of Mexico's unique crowd."
HIGHLIGHTS: Watch as Verstappen dominates to take historic win in the 2022 Mexico City Grand Prix