Feature
What the teams said - race day in Mexico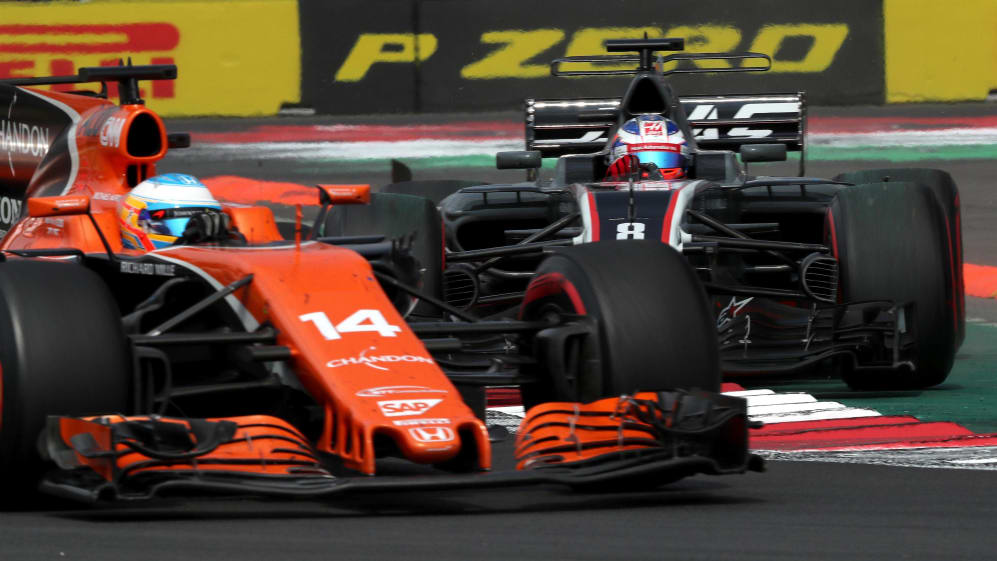 A round-up of all the action from the Formula 1 Gran Premio de Mexico 2017 at the Autodromo Hermanos Rodriguez in Mexico City...
Red Bull
Verstappen was typically feisty off the start line, muscling past Vettel and into a lead he didn't relinquish for the duration of the race. His third victory was his easiest so far. Ricciardo, starting out of position due to grid penalties, also made an electric start and had made up nine places after a handful of laps before pulling into the pit lane with a suspected turbo issue. While Verstappen had the worst of the reliability in the first half of the season, the bad luck seems to have transferred itself to the Australian's side of the garage in recent races.
__Max Verstappen, 1st __
"A great win and a fun podium, a Dutch DJ and Dutch driver, what a combination. The start of the race itself was not great but this allowed me to tuck in and get a tow from Sebastian, I had to be a bit aggressive but managed to get around the outside at turn one and from then on I was just doing my own race. I would go as far to say this was one of the easiest races of my career. I felt I missed out on pole yesterday so I had a lot of motivation to get the result I wanted today. To get not just a podium but the win is awesome. We calmed the pace and turned down the engine to make sure we brought the car home so I was just cruising towards the end. I was confident the car was going to be good today after studying the long run pace we have shown this weekend. This track with low speed and low grip suits our car, but even in Austin we had the balance and pace, I just had to come from way down the grid. Once we had got the balance of the car right it was easy for us to do quick lap times and sustain them. I think if we keep working this way and have a better start to the season next year we can look forward to achieving great things. The podium here in Mexico is special to be on as the fans are so passionate and being in the stadium section means the atmosphere is like nowhere else, it definitely made up for missing it last year. Like I said in the car on lap 1, it was simply, simply lovely."
Daniel Ricciardo, DNF
"At the start I did what I could, it was pretty close and there was a lot going on, but I thought I made quick progress. I told Helmut this morning that I would get up to seventh by the end of the first lap, I was a couple of laps off, but I got there and it was all looking pretty good. I think it was lap six when the turbo started to sound strange and then I had no power. I was able to limp back to the pits but that was obviously race over. Friday looked good, things went bad yesterday afternoon and then got worse today. We put the new power unit in last night and now we have a suspected MGU-H failure. There seems to be something fundamental going on with the engines, we've been coming here for the last couple of years so there shouldn't have been any surprises. I guess the altitude and temperatures have been really hard to stay on top of and it's been a pretty grim weekend for some of us. It's a shame to be out so early again, I guess this is a little bit of what Max experienced at the start of the year and it's not so fun. I just hope now that we won't have to take more penalties in Brazil. I don't know how I'm smiling and I'm definitely hurting inside but what can I do, I can't change the situation."
Christian Horner, Team Principal
"Firstly huge congratulations to Lewis Hamilton and his Mercedes team, four times world champion; we know how difficult that is to achieve. He's now the most successful British driver of all time; but today belonged to Max. After a good start he braved it out at the first couple of turns and after some good, close racing he emerged in the lead and from there onwards he was totally dominant and controlled the race to score his third grand prix victory quite comfortably. Conversely it was very disappointing for Daniel today, we took the penalty to avoid just that scenario and unfortunately he had what looks like an MGU-H failure. He had managed to get up to P7 before having to retire and for sure would have been on the podium. So that's our only frustration, but we will certainly savour the moment with Max's victory here in Mexico City."
Mercedes
Hamilton spied an opportunity at the start after Verstappen and Vettel squabbled, but as he dived round the outside, Vettel clipped his rear tyre resulting in a puncture, a pit stop and last position. He fought back through the pack into the points and in the end that proved more than enough for the Briton to seal his fourth drivers' world championship crown. Bottas profited from keeping out of trouble at the start to run comfortably in second, but never had the pace to take the fight to Verstappen ahead.
Lewis Hamilton, 9th
"To be honest, this fourth world title is not even registering right now. There is all this energy from the people around you, but it takes a while for it to really sink in. I am incredibly grateful when I think about everything that was going on this year and everything that had to be in place to produce this result. I didn't do this on my own, there are over a thousand people back in Brackley and Brixworth who have created this beast that has given me the opportunity to exploit my abilities. I have received such great support from around the world, and I want to thank all of you that believed in me. To do this on Mexican soil, to shine a positive light on a country that has been through such a difficult time over the past few months, makes this really special. It doesn't matter what happened in the race today. I carry 'Still I Rise' on the back of my helmet - it means when you get knocked down, you get back up again and keep pushing as hard as you can. I never gave up, and I kept pushing. Four is a great number - but I want number five now!"
Valtteri Bottas, 2nd
"The right man won the title this year, Lewis absolutely deserves this! He's my team mate, so I know he's not only talented, but also a hard worker, and a really nice guy. So even though we're competing, I'm also happy for him - but I still want to beat him next year. The race today was pretty straightforward after the start. I saw in Turn 2 that Max and Sebastian were side-by-side, and one of them went a bit wide, so I knew Turn 3 was going to be a mess. So I decided to go inside and cut the corner and get a good exit. After that there was not much happening. Unfortunately, we couldn't challenge Max today, so I drove it home. We saw we didn't have the pace to win the race, so we have a lot of things to learn. But overall, it was not a bad day for us - I felt I got the most out of the car, it was good to be on the podium after such a long time, and of course Lewis won the title."
Toto Wolff, Head of Mercedes-Benz Motorsport
"This was the hardest championship ever, but it was also extremely well deserved. We had quite some up and downs this season with the new cars and tyres. We had to accept the fact that this is the reality now, and to progress was very difficult for the team and really took the maximum out of us. Lewis probably showed the best and most constant performance of his entire career this season, he has made a step forward in every respect and there is no doubt whatsoever that today the right man was crowned world champion today. While the result was good, the race was not what we had hoped for. But I'd like to just look at the positives today and not dig into a controversy that is not necessary at this stage - Lewis won the championship!"
James Allison, Technical Director
"We knew that the championship arithmetic favoured us going into this race. But that didn't mean that it was a comfortable afternoon after the melee of the first corner - either for us sitting on the pit wall with all the information at our fingertips but much more for Lewis who had the lonely task of picking his way back through the field from stone-cold last. In truth, as long as the front stayed reliable, this looked like Lewis was safe throughout, especially since Valtteri drove very capably, holding down a very assured second place. But you can't rely on that and so we were very keen to get Lewis up into 9th place and it was an amazing achievement for him to do that at this track which is so difficult to overtake at. It's a great feeling for us after sealing up the Constructors' Championship last week to come here and finish the championship that the rest of the world really cares about and to make sure that Lewis was crowned champion for the fourth time. It's hard to imagine a season where the champion has more richly deserved the spoils. It's been a brilliant, competitive, inspiring year of motorsport and Lewis has been the one constant throughout. We couldn't be happier for him."
Ferrari
Vettel led from the start but under pressure from Verstappen, came together with both the Dutchman and Hamilton to boot. A pit stop for a new nose dropped him to 19th but a series of overtakes saw him come tantalisingly close to keeping the drivers' championship alive, but ultimately he fell just short and came home in fourth. Raikkonen was bottled up behind the Force India of Ocon but the Virtual Safety Car came at the just the right time and allowed him to jump the Frenchman and grab a second straight podium.
Sebastian Vettel, 4th
"I know the team has been working hard, doing their best, but we didn't achieve what we wanted to. It's hard to cross the line realizing that you are not in the fight anymore. I fought to the end, giving everything I had. Then obviously in the last laps, when I had a big gap to Kimi, it would have been difficult for me to close it without something happening, like a Safety Car, but I was still believing. But in the end it didn't happen. For sure it is not a great day for us, but it's not about us today, it's about Lewis and I congratulate him. Tomorrow you wake up and it will be a different day. The team is growing, and there are many positive aspects. Overall, I think we are on the right path."
Kimi Raikkonen, 3rd
"After yesterday's difficulties in qualifying, third place is not too bad, but obviously it is not what we were looking for. The start was not too bad, but then I moved to the left and lost the tow. I found myself blocked and lost many places in the first two corners. Then I had to wait for the cars in front to stop, to be able to push and gain positions. My car was a bit better than yesterday and we had decent speed. Once I was third, I could try to catch up, but I was too far from Valtteri and there was nothing I could really do. I focused on finishing the race and on keeping my position. This year we have made a good step forward from last season, but obviously we still have a few small things to improve. I think that in this season we've had a good and solid car. Lately we've had some issues, but the speed has been there. Obviously too many DNFs cost us a lot in the Championship. For next year we have to minimize those issues, improve things and learn from this season."
Maurizio Arriabene, Team Principal
"Once again today, the result of the race does not reflect the true potential of the SF70H. We saw that potential yesterday with pole position and again this afternoon, with several overtaking moves and the race fastest lap. Unfortunately, the collision at the first corner compromised the entire race. Right to the very end, the team fought for the chance of winning this world championship. We will now continue to do our very best in the two remaining Grands Prix, tackling them with the same level of concentration and determination. Congratulations to Lewis on his world championship title."
Williams
Massa was forced to pit early due to a slow puncture, but he ran until the end on a set of soft tyres and in doing so managed to come tantilisingly close to the points. Stroll was more fortunate - a clean start had him running in the top ten and the Virtual Safety Car came at the perfect moment for the Canadian to make his stop, helping him to jump Perez. From there, he had a clean, mistake-free race to record his best result since Baku - and on his birthday to boot.
Lance Stroll, 6th
"I think it was a very controlled race. I had a really good start, but then lost some positions as I was on the outside. There were some technical issues and crashes and so I gained some places due to that. We had a good idea all along, assuming I was going to stay in one piece and everything was going to continue along smoothly, we could have a good race. I had a great first stint, a great second stint and in the end I wasn't quite close enough to get into the DRS zone to pass Ocon. I was really managing the tyres and the car was balanced very well, so a big thanks to the team. It was a great day, a great result and a great birthday present. Big congratulations to Lewis, he is the king of Formula One, there is no doubt about it. It is incredible what he has accomplished. He is a big inspiration for young drivers like me."
Felipe Massa, 11th
"I'm really disappointed. It was a shame to stop so soon with the puncture at the beginning of the race. The car was good, competitive and I'm sure it would have been a completely different situation if we didn't have the puncture. That's the way it is sometimes. I'm happy for the team as we scored more points than Renault with two races to go but it was really a shame for me to have another unlucky moment."
Paddy Lowe, Chief Technical Officer
"We had a good start and both cars got into reasonably good positions, apparently without damage, but that proved not to be the case. Felipe had a slow puncture from some minor contact in the first corner and we had to box him on the second lap. We fitted prime tyres to go the end. We were reasonably confident that tyre would go the distance and Felipe managed it very well. He had good pace throughout the entire race and if not for Vettel and Hamilton coming through from the back, he would have perhaps got a point or two. So it was a shame for Felipe because the car was there to get points today and he drove extremely well. On Lance's side, he showed strong pace and ran a great first stint on the ultrasoft tyre. He had some good fortune with the Virtual Safety Car which actually gained him a place over Perez. We were also able to fit the supersoft tyre at that stage to go to the end, so we had the tyre life and compound advantage over the two Force Indias. At one point it looked possible he could have taken the position off Ocon but it was just out of reach. It was a great sixth place finish though so Happy Birthday to Lance and well done for a great achievement today! We've taken some further advantage in our fifth place in the Constructors' Championship and well done to the team for getting two cars home and in good shape to go into the final two races. Finally, congratulations to Lewis for his fourth World Championship, he drove a terrific season and it's very well deserved."
Haas
Magnussen had a strong start and was lucky that he pitted just as the Virtual Safety Car was called and therefore didn't lose out to those around him. In the top ten, the Dane drove a sensible race, keeping out of the way of cars who ultimately had more pace but driving defensively to keep others who he was genuinely battling behind. Grosjean was less circumspect - he earned himself a five-second penalty for gaining an unfair advantage after running straight on when battling Alonso, and then lost a chunk of bodywork when Alonso got his elbows out. From there, his race was compromised and he trailed home last.
Romain Grosjean, 15th
"It wasn't to be today. We started on supersofts and it was tough to follow the ultrasofts, initially. The contact with Fernando (Alonso) damaged my car. I haven't seen the footage so I don't know, but it was at turn one and I lost half of the floor. From that point it was almost over. I just tried to hang in there. Good job from Kevin and I'm happy for the team. We just need to sort our race pace a little bit. The next track, Brazil, is one I like, so I'll be hoping for more. Hopefully, we'll get a good race and try to get Renault back, and Toro Rosso is not that far either."
Kevin Magnussen, 8th
"That was like a victory. It was incredible, and a great way to reward everyone for their hard work. It was a perfect race. It couldn't have gone better. We could easily have given up and just thrown the towel into the ring yesterday – it was a very tough day for us all. Nobody gave up, and everyone knows we're not the worst team, or meant to be on the last row. We're meant to be in the points, fighting in the midfield and getting into the top-10. We pushed on and I'm very proud of the team for that. We're going to continue to fight. It's not going to be easy, we can see that, but we'll continue to push in the constructors championship and have fun all the way to the end."
Guenther Steiner, Team Principal
"What can I say? We bounced back. Did we expect this? No, but I think we deserved it. Everybody fought hard after the disappointments of the last two days. Kevin did a magnificent job. Unfortunately for Romain, it didn't work out as well. We are very happy for the team to have scored points again."
Toro Rosso
With both drivers starting towards the back of the grid due to penalties, the race was always looking a tall order for Toro Rosso and so it proved. Hartley ran strongly in his second race before pulling over with an apparent engine failure. WIth virtually no running at all in pratice or qualifying, Gasly had a solid if unspectacular outing, making a few overtakes but being unable to keep faster cars at bay and came home well outside the points.
Pierre Gasly, 13th
"It was good to finally drive on this track after a very tough weekend where I completed very few laps before today! Unfortunately, the race wasn't as good as we wanted it to be – it took me a couple of laps to get used to the track and the car, but at least I continued to gain experience in the car, which was very useful, and go to the end of the race. We will now need to work hard and keep on improving for the next race weekend in Brazil."
Brendon Hartley, DNF
"It's always disappointing not to finish a race, so I'm not the happiest man today but I'm still smiling because I've made progress compared to last week in Austin. It's just a shame that the race was cut short and it's been quite a tough weekend: issues on Friday, I then couldn't make progress in yesterday's Q2 once the engine went and in today's race I lost power at the end of the straight line, then saw the white smoke and was asked to stop… It would've been good to get to the end of the race because I was enjoying all the battles! I now look forward to the next couple of races, hopefully things will go smoother than today, get to the end of the race and see where we end up!"
Franz Tost, Team Principal
"First of all, I'd like to congratulate Max and Red Bull for this fantastic victory here in Mexico. Regarding our weekend, it's been a difficult one for us, as we didn't have any trouble-free practice sessions. We had Power Unit failures every day and therefore we couldn't prepare the cars in a proper way. With all the penalties, we had to start from the back of the grid and from there it's very difficult to overtake and score points. Nevertheless, I must say that both Brendon and Pierre have done a good job – we have to take into consideration that they are new to the team and they were not able to complete as many laps as we had planned at the start of the weekend…They definitely made the best out of this situation! Regarding Brendon's retirement, we spotted a very high oil consumption and, actually, some oil went into the exhaust, causing its failure. Let's now think of the next round in Brazil, where we hope to have an easier weekend."
Force India
A case of what might have been. Ocon steered clear of the early collisions to run third and for a while it looked like a first podium for the Frenchman could be on the cards. However, he was jumped by Raikkonen in the pit stops and ultimately lost out to Vettel's Ferrari too. Perez too was running strongly, but likewise lost a place during the pit stops, and was unable to keep Vettel at bay. Despite a late free stop for the faster ultrasoft rubber, the Mexican was unable to track down Stroll or his team mate ahead in the closing stages. Nonetheless another double points finish secured fourth place in the constructors' championship for the team, matching their achievement from last year.
Esteban Ocon, 5th
"It's a great day for the team. Fifth place in the race and securing fourth place in the championship is a fantastic achievement after a strong season. For a while I believed the podium was possible because I was sitting in third place for so long. I made a great start and then I pushed as hard as I could in the free air. Sadly the Virtual Safety Car gave Kimi an advantage during the pit stops and he was able to overtake us. The final few laps of the race with Stroll behind me were not easy. He had fresher tyres and managed to catch me, so I had to give it everything to stay ahead. When you work so hard for a result it feels very satisfying so I look forward to celebrating tonight."
Sergio Perez, 7th
"Despite the poor qualifying yesterday, we came back stronger today and managed to have a really good race with competitive pace. It's just a shame that the Virtual Safety Car happened at the wrong moment because it allowed Stroll to jump ahead of me. Otherwise I think we could have finished in sixth. The main objective of the weekend was to confirm fourth place in the championship so I'm extremely happy that we have done this with two races to spare. It's been another special weekend with so much support from the fans and I have to say a huge thank you to all of them for the energy they have given me."
Robert Fernley, Deputy Team Principal
"It's fantastic to confirm fourth place in the championship with a competitive race in front of so much support from the Mexican fans. For a while the podium looked to be within reach for Esteban until the Virtual Safety Car handed the advantage to Raikkonen and also brought Stroll into play. Esteban had to work hard for the final 20 laps fending off the Williams and did a fantastic job despite being on older tyres. Sergio made a late pit stop for some new ultra-soft tyres and was catching Stroll quickly, but we just ran out of laps. This result is another demonstration of the progress we have made this season and fourth place in the championship for the second year in a row is a wonderful reward for the entire team."
McLaren
Vandoorne made up six places at the start, but during the race struggled to match his team mate for pace. As such Alonso was allowed through to attack those in front and try to claim some points for McLaren. Despite a heavy tangle with Grosjean which led to bodywork flying in all directions, Alonso's pace wasn't compromised and he showed his true mettle as he went wheel-to-wheel with Hamilton through a number of corners, keeping the Briton at bay before the superior Mercedes eventually forced its way past. Tenth place and one point was the consolation for the Spaniard.
Fernando Alonso, 10th
"Overall it was a good race, considering we started at the back of the grid, and we finished in the points. The car felt very nice all weekend – strong in the corners, and we had good handling and good balance throughout the race.
"We lacked a little bit of straight-line speed to attack or defend, so we were stuck behind a Sauber for half of the race and then we could not pass [Kevin] Magnussen for many laps. As soon as we lost the DRS with him we became very vulnerable, so in the end I think there was nothing we could do to keep Lewis [Hamilton] behind.
"We fought hard, trying to brake a little bit later every time and defend the position, but we couldn't manage to keep ninth place and save that point. It was a good battle but it's hard when you don't have the same car.
"We now head to Brazil – let's try to score some more points."
Stoffel Vandoorne, 12th
"We had an amazing start today – we were 13th after the first lap – but we've seen today how much we are missing in a straight line. We couldn't even keep a Sauber behind and we couldn't really overtake after that, so we lost ground. But our pace in clean air was very positive, the car felt very good, and starting from the back we knew it was always going to be tough for us.
"The end of the race got very exciting with a few cars coming close together, but it still shows that our straight-line speed is not good enough. It was a difficult race for us – there were definitely points on the cards today, but we were just too compromised because of our speed and losing time in the pitstop with the late VSC call. The positives we can take away are that our pace was really strong and we made it to the end, but our deficit on the straights is still too big.
"Massive congratulations to Lewis [Hamilton] today – it's a great achievement and it was a strong fight from him this season."
Eric Boullier, Racing Director
"Today was an extremely tough race for both our drivers, who drove incredibly well given the limitations of our car on a circuit that is well-known for its challenges, namely its power-sensitivity and its complex configuration, which make it almost impossible to overtake.
"Both Fernando and Stoffel showed strong pace and made a number of excruciatingly close attempts to overtake, but with little reward for their efforts. We can certainly see the potential in our package – both drivers made incredible starts from 18th and 19th on the grid – and it's frustrating to only have one point from 10th and 12th to show for it. Nevertheless, I think both of them should be proud of the performance they put in today on track, knowing as they do the challenges they face with every race, and it was positive to see us putting up a solid fight against the much less power-sensitive cars around us.
"A positive we can take from Mexico is that both cars made it to the end of the race despite the technical challenges this circuit poses in its altitude and cooling issues. We now look ahead to Brazil which should be a circuit much more sympathetic to our package, and we'll keep pushing hard to improve our chassis as we continue our development into next year.
"I'd also like to take the opportunity to congratulate our former teammate Lewis [Hamilton] on a very well-deserved fourth championship. Today was a taste of what we hope will be more to come, and we look forward to more exciting battles with him on track next year."
Yusuke Hasegawa, Honda R&D Co. Ltd Head of F1 Project & Executive Chief Engineer
"Despite having both cars starting from the back of the grid, it was a great result for the team that we were able to grab a point in the end. Both Fernando and Stoffel made brilliant starts, and fought around tenth place throughout the race.
"Fernando, who has had a good feeling in the car all weekend, drove a superb, dogged race to eventually snatch the final point. His drive today was full of passion and showed what an incredibly skilled driver he is, and I think he deserves to be praised. Stoffel had an incredible start and pushed hard all race long, therefore it is disappointing that he was unable to reach the points.
"Regarding our PU, despite having a tough challenge at high altitude here in Mexico, both cars finished the race and we had decent speed. I think we can come away from this weekend with some positivity. The team also did a good job with strategy and everyone worked incredibly hard today. Obviously we have only two more races to go as McLaren Honda, and we will continue to work together and finish in the best position we can.
"Finally, I would also like to congratulate Lewis [Hamilton] and Mercedes for their world championship wins. Both Lewis and the team have done an incredible job this season."
Renault
Renault had both cars running well in the top ten, but early optimism soon petered out. First Sainz was forced to pit with a flat-spotted tyre and dropped to the back of the field. Hulkenberg then suffered an ERS issue and had to park his R.S.17 track side and exit the cockpit very carefully. Sainz too subsequently retired after complaining his car was pulling to the right on the straights. All in all, a race to forget for the Renault team.
Nico Hulkenberg, DNF
"It was a very frustrating race today, I'm disappointed. We were doing well and a very good result slipped through our fingers. We have some work to do on reliability because we lost some potential points today. It's a shame but this is racing."
Carlos Sainz, DNF
"It was a difficult day for the team. We had a very good start, but in the first two laps I wasn't very comfortable and had a strange feeling with the car. I had a high-speed spin and flat-spotted my tyres and had to box early. From then on, although our pace was ok, I was at the back and couldn't do much to re-join the cars in the points. In the end, my retirement was due to a mechanical issue with the steering."
Cyril Abiteboul, Managing Director
"The Mexican Grand prix was a difficult one for us with multiple incidents throughout the weekend. Both Nico's retirement and one of our partner teams' car is a reminder that reliability remains an issue and the consequences weigh heavily on us and our customer teams. Being in high altitude, we recognise the inevitable challenges this circuit brings. It's about finding performance without compromising reliability. This weekend, we had performance, qualifying was very good for many of the different Renault-powered cars. However, the balance between performance and reliability was not good. Max Verstappen's win confirms the engine's potential and I want to congratulate him and his team for this great race. I'd also like to congratulate Lewis Hamilton who entered our sport's history today. As a team, we need to stay motivated for the last two races and focus on our objectives."
Sauber
Ericsson had a good start, kept out of trouble and ran in the top ten. After pitting he was P12 and looking likely to fight for the last point on offer before pulling into the pit lane with smoke billowing out the back of his C36, and with that his race was done. Wehrlein opted to pit in the early stages and had a quiet afternoon towards the back of the field.
Marcus Ericsson, DNF
"The start into the race was good. The first stint was also good and competitive, so I was able to run in the top 10. It was looking promising and I felt comfortable in the car. We were unlucky with the virtual safety car phase then, as it came two laps after I had boxed. It was a shame because I lost a couple of positions there. After having an overall positive weekend, I could unfortunately not finish the race as I had to retire the car."
Pascal Wehrlein, 14th
"I did the best possible job that I could during the race today. It was challenging to try and catch my direct competition as the majority ahead of me were running on softer compounds. Despite that, I am satisfied with the consistency of my performance today. It gives me confidence that better results are possible in the upcoming races."
Frédéric Vasseur, Team Principal
"We had a decent pace throughout the race. Marcus did a good job fighting with our direct competitors in the midfield during the first stint. A shame, that he was not able to finish the race due to a technical issue. As for Pascal, he also put in a good performance, even though he was on a different tyre strategy."
Ericsson had a good start, kept out of trouble and ran in the top ten. After pitting he was P12 and looking likely to fight for the last point on offer before pulling into the pit lane with smoke billowing out the back of his C36, and with that his race was done. Wehrlein opted to pit in the early stages and had a quiet afternoon towards the back of the field.
Marcus Ericsson, DNF
"The start into the race was good. The first stint was also good and competitive, so I was able to run in the top 10. It was looking promising and I felt comfortable in the car. We were unlucky with the virtual safety car phase then, as it came two laps after I had boxed. It was a shame because I lost a couple of positions there. After having an overall positive weekend, I could unfortunately not finish the race as I had to retire the car."
Pascal Wehrlein, 14th
"I did the best possible job that I could during the race today. It was challenging to try and catch my direct competition as the majority ahead of me were running on softer compounds. Despite that, I am satisfied with the consistency of my performance today. It gives me confidence that better results are possible in the upcoming races."
Frédéric Vasseur, Team Principal
"We had a decent pace throughout the race. Marcus did a good job fighting with our direct competitors in the midfield during the first stint. A shame, that he was not able to finish the race due to a technical issue. As for Pascal, he also put in a good performance, even though he was on a different tyre strategy."
Pirelli
Mario Isola, Head of Car Racing
"The collision on the opening lap and the virtual safety car meant that Hamilton and Vettel both had to diverge from the expected one-stop strategy, adding an extra tactical element to this race. Keeping the tyres within the correct operating window was essential, with low degradation, minimal downforce in the thin air, and a slippery surface in Mexico, but Verstappen managed this perfectly to seal a textbook victory. We saw all three compounds used during the race, with teams implementing different strategies to react to the changing circumstances of this fascinating grand prix, and no issues whatsoever from the tyres. Congratulations to Lewis Hamilton for a well-deserved fourth driver's title, following a stunning season."