Feature
What the teams said – Race day in Miami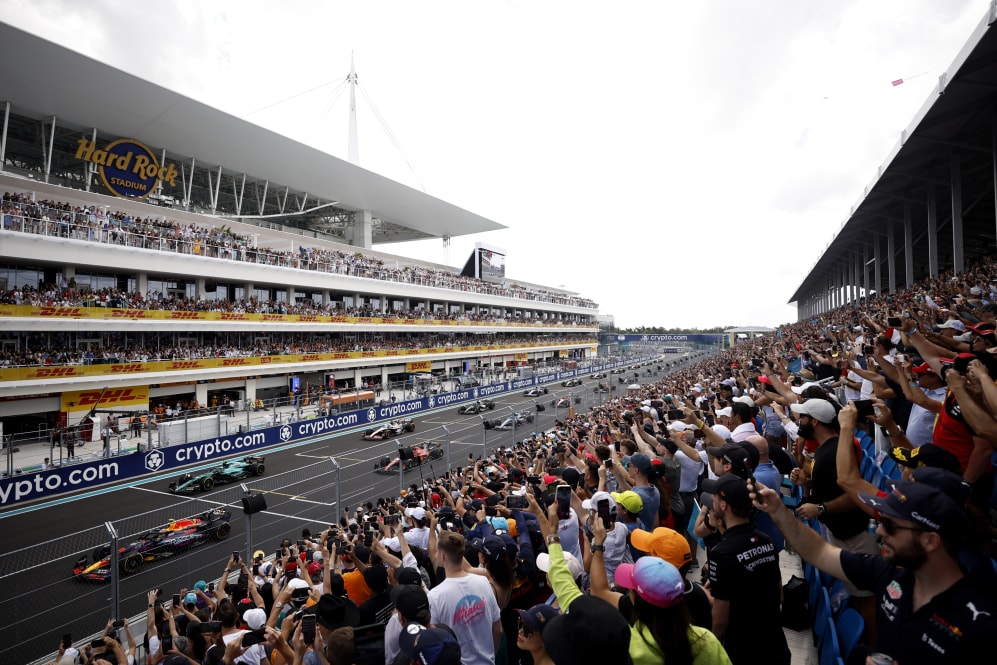 Red Bull
Perez led off the line and looked comfortable. But he started on the medium tyre, which wasn't performing well under heavy fuel loads. By comparison, Verstappen was on the hards and making very swift progress back through the field from ninth. He inherited the lead when Perez pitted, and was able to pull out a sizable gap. As such, when the Dutchman pitted for the mediums, he came out just behind his team mate on ailing tyres. Verstappen was able to easily pass for a brilliant win, grabbing the bonus point for good measure.
READ MORE: 'It's very satisfying' – Verstappen highlights the factor that 'made the difference' during his mega Miami comeback
Max Verstappen, 1st
"Today was a good day, I stayed out of trouble at the beginning and I had a smooth race, I picked the cars off one by one. I had a good stint on the hard tyres which I think was integral to the win today. I had a good battle with Checo towards the end there too. I of course had the advantage with the new tyres but I think that's what we like to see, we are free to race. Yesterday was a bit of a setback, today we kept it calm and clean, and winning the race from P9 was very satisfying."
Sergio Perez, 2nd
"Well done to Max, he had a tremendous race and deserved to win, I am really happy for him. It is not always nice when you lead the race and end up second, certainly I didn't have the pace of Max and it is something we are going to analyse to see how we can do better. When I saw how strong Max was coming through the field and I was struggling a bit, I thought 'this isn't looking too good'. It would have been a gamble on strategy to start on the hard tyre from pole position. Of course, I wanted to win but I knew early on the race was looking tricky for us. This is one to learn from because clearly Max had the fastest pace. I think the performance Max showed today was not reachable for me, so I have to understand why. I think some was tyre related but equally, overall, he was the stronger driver today. There was maybe a bit more we could have done; it is a bit of a shame really but in general, on a tough weekend P2 is not a bad result. We will review the weekend. I want to get back strong for Imola and get back to our normal level."
Christian Horner, Team Principal
"Another fantastic performance from the Team. It was a big win for the second time here in Miami, our 5th victory and our 4th 1-2 of the year – all from 1st and 9th on the grid – a huge performance. Max starting on the hard tyre was a risk. Our simulators were telling us it would prove a slower race than on the mediums. He wanted to take that chance and he made it work, particularly from lap 20 to lap 42. His pace on that worn tyre was superior. He was able to match and sometimes better Checo's pace. Sergio drove a brilliant race and he knew that 19.8 was the magic number to keep Max behind, but with Max then switching to the softs, with the extra grip and the phenomenal pace he has been carrying all weekend, he was away. The two of them raced hard and raced fairly which is what we asked of them. They both gave it their all as did everyone both here and back at Milton Keynes. It was a fantastic Team effort."
Aston Martin
Alonso got away well and kept Perez honest in the early stages, but couldn't keep Verstappen at bay when the Dutchman appeared after a handful of laps. From there it was a lonely race for the Spaniard who was comfortably ahead of the rest but couldn't stay with the Red Bulls. Stroll started on the hards down the field, and showed just how good the pace of the Aston Martin is by climbing up to 12th, running out of laps to make it to the points.
READ MORE: 'After 4 podiums we obviously want more' says Alonso after taking P3 in Miami
Fernando Alonso, 3rd
"I had a bit of a lonely afternoon out there, but I enjoyed my race. There was nothing I could really do against Max [Verstappen] and Sergio [Perez] but, happily, there was no pressure today from behind, so we'll take this result. We've taken four podium finishes from the first five races – and only missed out on a podium in Baku by eight tenths of a second – so it's been a fantastic start to our season. One day, when there's an opportunity to win, we need to make sure we're in the best position to capitalise. And that's exactly what we're doing right now."
Lance Stroll, 12th
"It was a tough race today and we found it difficult to make a huge amount of progress from 18th on the grid. The car felt good, but I was stuck in a DRS train with a lot of traffic around me. We opted for a long stint on the Hard tyres and managed those well; it was then just a case of deciding when to pit to make sure there were enough laps left to maximise the pace of the Medium compound. I had some fun overtaking Alex [Albon] into Turn One but, in hindsight, we could have boxed a few laps earlier to try and catch 10th position. It's been a weekend to learn from – which we'll do – and I'm looking forward to getting back out in Imola."
Tom McCullough, Performance Director
"This was a tricky race to manage. Both Lance and Fernando drove faultlessly and maximised every opportunity – for Fernando, that resulted in a third-place finish and some valuable points; for Lance, it was difficult trying to cut through the traffic, but he pulled off some fantastic passes. It was frustrating to just miss out on a points-scoring position at the end. Fernando's race was all about managing the strategy from the Medium to the Hard tyre. It worked out well for him: Ferrari went for the undercut with Carlos [Sainz] but we elected to balance the stints and overtake him on track. After that, Fernando was able to consolidate third place and pull comfortably clear of the cars behind. With no DNFs and no Safety Cars, it was difficult for Lance to make progress through the field. Add low degradation to the mix and it became even trickier – because a lot of cars were able to run at a similar pace. But he managed his race extremely well, was typically brave on the brakes and made up plenty of places to finish 12th. We conclude this double-header having scored 37 points and maintained second position in the Constructors' Championship. A huge thanks to the whole team for their incredible efforts over the past few weeks. We will regroup and come back just as strong for the triple-header, which kicks off later this month."
Mercedes
Hamilton from P13 on the hard tyres had a dreadful start, making contact on the first lap which cost him some time. Stuck in a DRS train, the race seemed to be going away from him. But he was on the preferential strategy and running a longer first stint proved crucial as he had good tyres late on to attack with, climbing back through the field. As for Russell, he kept his head down and raced well, pulling off moves on Ocon and Sainz to grab a very decent fourth.
Lewis Hamilton, 6th
"Today was a good race and I am happy we moved forwards. Saturday was difficult, but I always try to turn negatives into positives. Going from P13 to P6 is decent and I had a lot of fun making my way through; it was great to have several battles, so I enjoyed it. It wasn't spectacular at the start as we were stuck in a DRS train and struggling to overtake. I had to bide my time and then eventually, I was able to start attacking. The car was much better on the medium tyre and came alive midway through the race.
"It's good points for the Team and I want to say a big thank you to all of them. They are keeping their heads down and working hard to improve. We're not where we want to be, but the morale is still great."
George Russell, 4th
"That was a really satisfying race for us today. After the challenges in Qualifying, it felt like a more normal day for us. To finish P4 on merit and finish ahead of the Ferraris was the maximum we could have achieved. The battle with Carlos (Sainz) was really enjoyable. I made a good move that needed a lot of commitment as the track is so dirty off-line. Thanks to Lewis for letting me by too and enabling me to get on with my race as we were in different battles today. We've got a really good relationship and we only want what is best for the Team. That's what we are working towards.
"We know where we are at the moment, and the car is still challenging to drive. We hope to have some updates on the car in Imola; they are not going to change the world for us but hopefully it will be a step in the right direction. Despite today's positives, we know we've still got a lot of work to do and need to make significant improvements to close the gap to Red Bull."
Toto Wolff, Head of Mercedes-Benz Motorsport
"Two years ago, we wouldn't have been as pleased with a P4 and a P6 as we are today. We know we have a difficult car though and clearly Qualifying was a real challenge. The car improved in the race, and we were able to achieve a solid result. Both drivers drove superbly today. It's difficult to pass if you start P13 and are on the same strategy as everybody else, so we opted to start Lewis on the hard tyre. Others ahead chose to do the same and, after not gaining any positions at the start, it looked like it may be slightly diminished. We got there in the end though and maximised the result. It was also fantastic to see the way him and George worked together. They are both incredible drivers, but it is so straightforward with them. That is so good for us in this difficult moment.
"We move on to Imola next and I hope that we will take a step in our understanding of the car. We are glass half empty people here at Mercedes; I don't believe we will go there and be in the middle of the fight for victory. We are focused on understanding the upgrades we bring and establishing a good baseline."
Andrew Shovlin, Trackside Engineering Director
"We can be satisfied with the result today considering our start positions. Our Qualifying performance yesterday meant that the podium places were out of reach for George, and Lewis had a real mountain to climb from 13th. Nevertheless, through great overtaking and fine teamwork, with Lewis allowing George through to attack cars ahead, we maximised our performance and points. We've therefore had a decent day in the championship; we're in a close fight with Aston Martin and Ferrari and we've gained some ground.
"We know we're still not quick enough though and we're working hard to rectify that as fast as we can. We will go back from here and try and understand why our single lap performance has been such a challenge."
Ferrari
A tough day at the Miami International Autodrome for the Scuderia. Having crashed in qualifying on Saturday, Leclerc made no net progress from P7 on the grid, while he also suffered from bottoming on the straights. Sainz booked himself a P3 berth on the grid, and looked punchy early on – but the Spaniard ultimately fell behind Alonso and Russell on a day where once again, Ferrari's race pace couldn't match their quali prowess.
Charles Leclerc, 7th
"I struggled with the car bottoming at high speed, which I hadn't experienced so far this weekend. I had to just focus on bringing the car home, so overall it was not a great race. We have to work on understanding why we are so competitive in qualifying and off the pace in the race. We will keep pushing and hopefully, with the upgrades we have coming, we can make a step forward."
Carlos Sainz, 5th
"It was a tough race for us. My first stint on the Medium was good, but we tried to undercut Fernando early and I had to push the Hards too much immediately after coming out of the pits in order to get through the traffic. I think we paid the price for that a bit, but in general we clearly struggle with race pace. It's frustrating, but we'll keep working on a solution and I'm confident that we can progress as a team for the next races."
Frederic Vasseur, Team Principal
"Once again today, the significant difference between the SF-23's performance level in qualifying and the race was clear to see. Both Carlos and Charles found the car hard to drive and that is reflected in the result. Carlos was competitive in the first stint but then struggled quite a lot to run at a consistent pace after switching to the Hards, while Charles found it difficult on the Medium in the opening laps and only got into a good rhythm in the final stages.
"Therefore, finding some consistency in the car's performance has to be our number one priority, especially in terms of tyre management, so that the confidence the drivers have in qualifying can be replicated in the race.
"We will now be continuing to work flat out in Maranello on developing updates as well as on optimising the car package, with the aim of already getting more out of it at the next race in front of our tifosi in Imola."
Alpine
Alpine opted to split strategies, starting Gasly on the mediums and Ocon on the hards. Both had to work hard to make those work, with Gasly pitting earlier and needing to fight his way back to the points, while Ocon went for a very long first stint, running as high as second at one point. When he pitted, he dropped back down the field but still managed to come home in the points as the team finally put two very tricky last races behind them.
Esteban Ocon, 9th
"It's good to be back in the points with both cars after a decent race for the team today. We opted for the more aggressive strategy by going long on Hard tyres in the first stint and it did not quite pay off in the end. We had some good battles with Ferrari and Mercedes with a couple of good overtakes throughout. Our pace was strong so that is encouraging going forward. We are satisfied with our job today as I don't think we could have done much more. Of course, there are things for us to review and improve but it's a long season and I'm looking forward to the upcoming triple header in Europe where we need to string together three positive races."
Pierre Gasly, 8th
"I'm very pleased with the outcome of today's race, even if we dropped back from our grid position. It was always going to be a tough task to keep behind some of the faster cars like Max [Verstappen] and Charles [Leclerc] but to be fighting with the Ferrari and Mercedes right to the end of the race is definitely encouraging. We had to fuel save quite a bit in the second half of the race so the fact we were so close to that top six is a step in the right direction. After two challenging races for the team, it was important for us to score double points so credit to everyone for this result here in Miami. We'll analyse everything, see where we can improve and arrive in Imola ready to keep battling and closing the gap to our rivals ahead."
Otmar Szafnauer, Team Principal
"We can take some satisfaction from our weekend performance here in Miami, culminating with a double points finish after two fine race drives from Pierre and Esteban. Our race pace looked strong, we managed the tyres well to fight with cars around us and we come away from here with points on the board. It's clear we have gained on some rival teams from last season with Pierre close to holding off the Ferrari and Mercedes at the end and Esteban going long on his first stint very much on the pace of some of the leading cars. That said, today's race has also highlighted the areas where we must make immediate improvements. It's continuous gains we must find and with some further upgrades in the pipeline for Imola and the following races, we can look forward to taking that fight to our immediate competitors. It's been a busy two weeks for the team and we look forward to returning to Viry and Enstone where will analyse the past two races before turning our attention to the triple header."
Haas
Magnussen had a terrible getaway from fourth on the grid and dropped down immediately. But he put his head down from there and had to work very hard to claim the final point on offer, keeping plenty of quick cars at bay in the closing stages. He had multiple tussles with Leclerc that livened up the race, never giving the Ferrari man any freebies. As for Hulkenberg, he ran a long opening stint to wind up in the top 10, but his late pit stop dropped him down the order for the second straight race.
Nico Hulkenberg, 15th
"It was a tricky, difficult race and it didn't quite pan out the way we wanted. The start was alright, but I think we were having difficulties in traffic. When we're surrounded by other cars we were struggling for consistency and for grip, which made it quite difficult for me today. That also translates to higher degradation so maybe not a good one but I still feel some valuable lessons were learned and good data collected."
Kevin Magnussen, 10th
"I was dreaming of a little more than one point but still, it's what we came here to do – to get points and finish in the top 10. I don't think it was an easy race to get points in because all the big teams finished up there and P10 is more or less the best we could've hoped for in terms of the pace we had. I think the pace was good, but we had a little bit more degradation than the rest of the field. It was a strong weekend, bringing something good to the car and getting a point at home."
Guenther Steiner, Team Principal
"We scored points again, three times out of five this year and that's good, but it's a tough crowd out there. We're there or abouts and if nothing happens at the front then we're fighting for the last points which are leftover, and we got them this weekend after a very good qualifying. The race started very well, in the middle of the race we fell back a little, but we took a point home. All in all, it's still positive. It's tough and every point counts this year, and we need to be around when there are big points being dished out. I think we are always around so that day will come, but we've taken something away from our first home race."
AlphaTauri
De Vries collided with Norris off the line after missing his braking point into Turn 1, and was lucky not to sustain more damage than he did. Tsunoda though started on the hards and came into contention late on when running the mediums on lower fuel. He picked off Bottas and ran out of laps to challenge for a third straight point, instead having to settle for a return back to P11.
Nyck de Vries, 18th
"After lap one, I was on the back foot. It was my mistake, I locked up and Norris and I touched. This compromised our first stint a little because there were a lot of vibrations on the right front which affected our pace. When you're so behind and out of DRS range, you lose so much time on the straights that it's tough to catch up. I was at the back, alone, so it naturally becomes easier when you're not fighting as hard as in the middle of the pack when every moment counts. The weekend went a little up and down and started difficult; yesterday we had a better day and today was a shame that we lost so many positions on the first lap. We are bringing updates to Imola, so hopefully we can improve and go again."
Yuki Tsunoda, 11th
"It was a good race, effort and recovery from the team and myself. I felt like I was able to extract the most out of the car. It's a shame I couldn't score any points, I gave it my all, but I am happy with my performance. It was a tough race mentally; there weren't many breaks because there was always someone either in front of or behind me. I didn't expect our race pace to be that strong, but it's encouraging to see for the races to come. I felt confident with the brakes, which is why I was able to overtake quite a lot by sending it into the corner. We've got upgrades coming to Imola, so we hope they go well to allow us to score points consistently."
Guillaume Dezoteux, Head of Vehicle Performance
"We can be very happy with the eleventh position that Yuki brought home. He finished only 1.3s behind Magnussen, who started on the second row and he managed to keep Stroll behind until the chequered flag. Obviously, we would have liked a point to reward such a solid race, but with everybody finishing the race, we knew that from P17 on the grid it would have been extremely difficult. In the first stint on hard tyres, Yuki was consistent and patient, and his good tyre management allowed him to go long. After pitting on lap 37, he was in front of Hulkenberg and made some great overtaking manoeuvres on Albon and Bottas.
"Nyck's race was more difficult. After a big front lock at the start, he had a lot of vibrations from his tyres which affected his pace. Moving onto the hard tyres the balance and performance improved, so he managed to overtake Piastri on track after many laps battling with him.
"This race is encouraging for the team. The car keeps improving race by race but the midfield remains tight, which makes finishing in the points challenging. We have another significant aero update coming to Imola and we hope it will help us improve further, to become regular point finishers."
Franz Tost, Team Principal
"I'd firstly like to thank the organisers for this fantastic venue and event, and to all the fans who came to watch. I think they saw an interesting race, especially with Max Verstappen starting out of position and fighting his way back, for another impressive win.
"As for our race weekend, we have been struggling from the beginning and we qualified only P15 with Nyck and P17 with Yuki. We chose two different strategies for this race; Yuki started on the hard tyre and Nyck started on the medium. Yuki made a strong start and overtook some cars on the first lap, then he drove a very good and competitive race. He overtook Albon twice, he passed Hulkenberg and Bottas and finished in P11, just 1.3 seconds behind Magnussen. Yuki also defended well against Stroll in the last few laps, and I must say that in the race our car showed a much better performance than in qualifying. We now have to analyse what we can do to optimise our qualifying pace. Nyck's start was good, but in the first corner he crashed into Norris by breaking a bit too late, which caused a flat spot on his tyres and then some vibrations. We brought him in to change from the medium tyre to the hard, and the rest of the afternoon was ok for him, but he lost his race with the contact at the beginning. Both drivers had good tyre management, which was also important for the overall performance of the car."
Alfa Romeo
Bottas made a great start and gained a couple of places off the line, but he pitted quite early and it didn't help as traffic cost him too much time. Zhou had a quieter race from further down the field, without the pace to make progress despite being on what proved to be the preferred strategy.
Valtteri Bottas, 13th
"There are some positives to take from this weekend, although there is still a lot of work to do to be fighting in the top ten. The start of my race was quite good: we made up a few places and were well into the points. I tried my best to keep up the fight and defend my position; unfortunately, we didn't quite have the pace we showed yesterday, when we had managed to be competitive on the single lap. I think our finishing position reflects where we stand at the moment, and we must keep working to improve. Our main focus now needs to be on making that extra step forward to be competitive again. We will bring new parts in Imola, and hopefully they will allow us to progress and get back in the fight for points. I am confident in the work we are doing as a team, and I am looking forward to the next rounds."
Zhou Guanyu, 16th
"We made a step forward this weekend, especially in qualifying, but we still need to work hard to get back into the top ten on Sunday. Today, it was very difficult to break the DRS train and it was only as the race progressed that I found a bit more speed and space. We take the positive from Saturday and we look ahead: I know everyone is working hard back at base to make progress. I am looking forward to the upgrades we will have in Imola, and also to racing on a permanent racetrack – it feels those suit our package a bit better at the moment. We keep our head up and we keep working hard."
Alessandro Alunni Bravi, Team Representative
"We saw some real signs of improvement this weekend, especially in qualifying, which had been a weaker point earlier this season. We take this as an encouragement and as a spur to keep working hard. We may not have scored points today, but we have a foundation on which to build – starting tonight, back in Hinwil, where the team is already at work, analysing today's race and producing the upgrades that will make their debut in Imola. Today's race saw us fight for a place in the top ten for a large part of the afternoon: in a race with no retirements, this was as far as we could go. The season remains long, and we're motivated to make another step forward next time around: everyone is pushing for it and I'm confident we will keep moving in the right direction."
Williams
Not to be Sargeant at his home race. Early damage meant a first lap pit stop for a new front wing, leaving him trailing half a lap behind the rest from where he just couldn't recover. Albon was more involved, keeping Hamilton at bay in the opening stages for lap after lap. He couldn't keep the Mercedes behind forever, and struggled late on as his hard tyres began to lose grip.
Logan Sargeant, 20th
"I put the car in a place I shouldn't have in Lap 1 and took my front wing off. From there it was a difficult afternoon. Sorry to the team for my mistake. Once we went back out for the long stint on the Hard tyre, I felt like I managed it quite well. The tyres were struggling by the end but that was to be expected. On a normal strategy our pace would've been pretty solid all things consider. Despite today, I still loved the weekend."
Alex Albon, 14th
"It was quite a tricky race; we just didn't have the pace today. I think we went into it thinking we were the ninth quickest car and today we probably were. We were managing the front and rear tyres but I didn't really have grip, so was sliding around. The tracks coming up don't tend to suit our car and there's a few upgrades coming from other teams, so we just need to get on top of it so they don't pull away from us. There's some positives to take from the weekend but races like today expose us a little bit and show where we really are."
Dave Robson, Head of Vehicle Performance
"We didn't quite have the pace today to challenge the top ten. We thought that we had enjoyed a good day yesterday and were probably starting the race with Alex a few places higher than the FW45's natural pace. In a rare race with no retirements, no rain, and no flags or safety cars, we weren't able to hold our position. Nonetheless, Alex had a good race with Valtteri and Nico and for a while it looked like he would beat both of them. Alex drove well and pushed the car hard trying to hold position and this led to some tyre degradation.
"Logan was ambitious on the opening lap and damaged his front wing in a minor contact with Lance. We took the opportunity to pit him, change his wing and get into some free air. He had a lonely race from there but still showed some decent pace, despite some floor damage, during a very long stint on the Hard tyre. He can still take a lot from today and can take that learning into a tricky triple-header, starting in Imola in two weeks' time."
McLaren
Just not to be for McLaren. Norris was hit from behind by an AlphaTauri at the start, and skated wide as a result. That wrecked his strategy – the team had started both drivers on the softs in a bid to make up places at the start. But that compound just didn't last and early pit stops for both dropped them down the field, from where they just couldn't recover.
WATCH: Lando Norris takes Michelle Rodriguez on a Fast and Furious Pirelli Hot Lap in Miami
Lando Norris, 17th
"Tough day. We just struggled with pace. I had a good start, but we got hit from behind into turn one, which then put us at the back. We had tried a different strategy, which required something exciting to happen during the race, but it didn't work. We'll go back to MTC, reset and keep pushing hard for a better result in the next one."
Oscar Piastri, 19th
"I had a lot of issues on the car in the race. We had a failure six or seven laps in on the brake-by-wire system. I was managing a lot of issues after that. I had a really good lap one, where I managed to pass five cars and that was the highlight of the weekend. Otherwise, a frustrating afternoon, trying to drive around all of the issues. We'll now get our heads down and focus on having a better weekend in Imola."
Andrea Stella, Team Principal
"Given our grid positions, we needed a good start, an eventful race and high tyre degradation in order to climb into the points. Unfortunately, none of these conditions materialised and the race was a bit of a procession at the back for us. At the first corner, Lando was hit from behind after he had gained some positions, resulting in damage costing 2-3 tenths per lap, as well as relegating him to the back. Oscar had a race-long brake-by-wire problem and did an incredible job to cope with that through a minimising the consequences and keeping decent pace.
"Our main takeaway from Miami is that we were not quick enough this weekend. After scoring points in Baku, this weekend serves as a reality check on how much work we have ahead of us. The plan doesn't change: we have good developments coming, we keep our heads down, regroup and go again in Imola."
Pirelli
Mario Isola, Motorsport Director
"The Miami Autodrome race was intense, with Red Bull claiming a fifth consecutive win since the start of the season. Pirelli tyres played an important role in the duel between Max Verstappen and Sergio Perez right from the start, with differing tyre choices from the two team mates: Perez going for the expected medium from pole position while Verstappen, halfway down the grid, opted for the hard. At the chequered flag Verstappen led Perez home by five seconds, underlining how the range of compounds brought to Miami allowed for different strategies that were nonetheless quite close in terms of overall race time. It's no coincidence that a total of seven out of 10 teams chose to split the tyre choices between their two drivers. The hard (C2) tyre showed practically no degradation, allowing the drivers to push hard right to the end of long and hard-fought stints on it. This was ably demonstrated by Verstappen, who did 45 laps on the hard tyre – with plenty of overtaking – before stopping for the medium. The medium tyre also worked well, especially in terms of graining, which wasn't as much of a limiting factor as expected, especially in view of the rain that fell overnight. Fernando Alonso's long initial stint of 24 laps on this compound, for example, was one of the keys to his fourth podium from five races."
HIGHLIGHTS: Watch as Verstappen eclipses team mate Perez to win Miami Grand Prix