Feature
What the teams said - race day in Monaco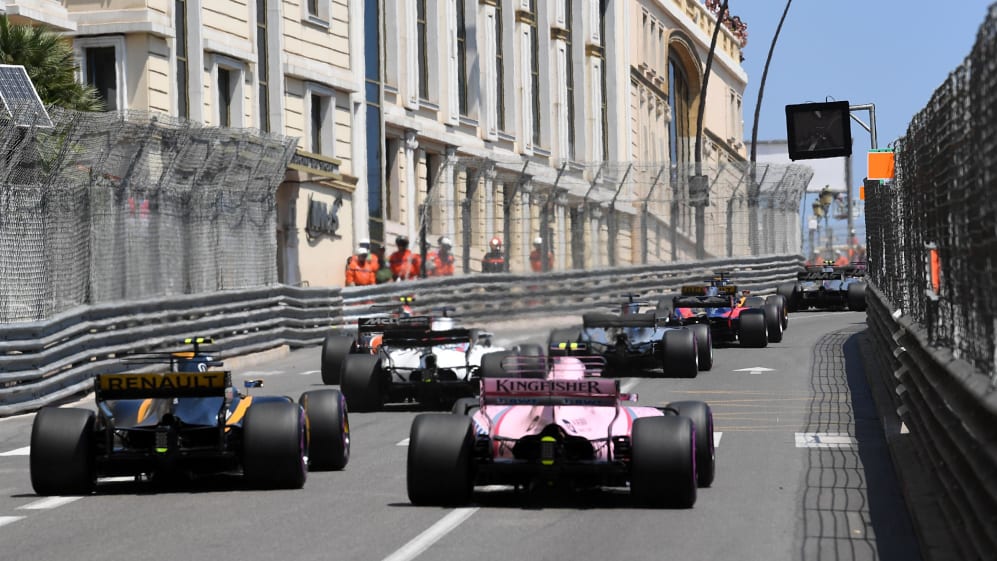 A round-up of all the action at the Formula 1 Grand Prix de Monaco 2017 in Monte Carlo...
Ferrari
A first one-two in Monaco since 2001, but in contrast to yesterday it was Vettel who pipped his team mate and came home in front. Raikkonen had led from the start and was looking comfortable ahead of the first and only round of pit stops, but Ferrari opted to pit the Finn first, leaving Vettel out. With clear track ahead of him, the German put in a series of blistering laps to build enough margin to pit and retain the lead. From there, the race victory was sealed.
Sebastian Vettel, 1st
"It's an incredible day. In the laps before my pit-stop I was surprised by my own pace because earlier on Kimi and I were both struggling with the rear tires. Those laps I did today were comparatively better than the ones I did in qualifying yesterday. It was impossible for me to predict how fast I could go today. At one point I thought a second, maybe half a second, but then it turned out it was more than that, which was obviously crucial to grant me first place out of the box. It was fantastic to be in the lead and win the race. There was a lot of adrenaline during those laps but in general I could control the race. It sure helps to be the leading car, without any traffic, so that you get better into the rhythm. Once I had new tires, again I was able to control the position. We had the chance this weekend to finish first and second and that's what the team did. It's great to see what we were able to do. Today the team gained a lot of points. It's been a while since Ferrari won here so it's a great day. I really enjoyed driving for the team. It is great to work together, we try to push each other and the best thing is to see that the team keeps growing."
Kimi Raikkonen, 2nd
"To finish first and second is what we wanted, a very good result for the whole team. Obviously right now I'm not very happy, because second place is not what I was looking for, but that's how it goes. When you have done most of the hard work and you finish second it's not bad, but we expected a bit more. When I came out after the pit stop I got stuck behind lapped cars and that was not ideal, but this was out of my control. At the next track in Canada the layout is completely different from here: it's hard to predict what will happen, but let's see."
Maurizio Arrivabene, Team Principal
"Today's one-two is a great result for the entire team, on a track that highlights the qualities of the car and the person driving it. Both our drivers performed like champions. Starting from pole, Kimi led the race up until his pit stop, which took place on the planned lap. Seb stayed out for a few more laps to cover Ricciardo. Vettel's times were exceptional on Ultrasofts that had done a lot of laps, which confirms the quality of the Pirelli product. As for Kimi, unfortunately he lost a bit too much time behind a backmarker. The most important aspect of today is that all the hard work carried out by the guys at the track was rewarded, as was the fact that our car was so well conceived back in Maranello. Now, it's already time for us to think of the forthcoming Grand Prix in Canada."
Mattia Binotto, Chief Technical Officer
"Today's result was built on the front row we secured yesterday in qualifying. It shows that the SF70H was well suited to all the conditions we encountered over the weekend at a circuit that requires maximum aerodynamic downforce. But in fact, we can claim that, so far, our car has behaved very well on all types of track. Now we look ahead, one step at a time, aware of the importance of upcoming developments."
Haas
A first double points finish for Haas seemed unlikely when Magnussen had to pit for a second time after picking up a puncture. The Dane was the fortunate recipient of a solitary point after Kvyat's late retirement. Grosjean had a much less eventful day, and despite losing a place to Hamilton in the pit stop window, kept his nose clean to come home in eighth.
Romain Grosjean, 8th
"It's the first time we've had two cars in the top-10, so that's really good, especially in Monaco. It was a tough race. We didn't have the pace to stay with the first few guys. Unfortunately, nothing was happening at the front, it was all behind me. Every time a car retired it was behind me. Lewis (Hamilton) had some free air, and then managed to jump us at the pit stop. It's great to have the two cars in the points. We managed to stay out of trouble and I drove as fast as I could. There's a lot more we need to analyze and understand, but we're growing as a team."
Kevin Magnussen, 10th
*"Personally, I had a very disappointing race. I had a puncture, but to still finish in the points with both cars is a really good job from the team. They really deserve this. I'm happy we got it. Even though it's just one point, it could've been a lot more. I feel like I've had the most unlucky season of my life, but at least today we got both cars in the points and I'm proud of the team for that. It's Monaco, and a lot of things can happen. There's no reason to give up, you still push, and that's what I did. I kept pushing." *
Guenther Steiner, Team Principal
"A first time with two cars in the points is something we wanted to achieve this year. We achieved it in race six. We wanted it before then, but race six is not too bad. Like I said after qualifying, everybody did a good job. We fell out of the points and we got back in after the puncture, so I think we can be pretty happy and content with what we did here. Everybody executed. We never lost our cool. We always stayed on top of it. We got unlucky, but then we got lucky again at the end, so we're fine. We're maturing. It takes time to mature and I think, now, we see some results. There will still be ups and downs, but we're always making steps. Sometimes you don't see them because we're not in the points, so nobody realizes, but the team has not just made a magic step today. We've made improvements over the last six months."
McLaren
Vandoorne was running solidly in the midfield for much of the race and looked set to score McLaren's first points of the season. Sadly it wasn't to be - a bold Perez dived down the inside into Ste Devote and Vandoorne, with cold tyres after the safety car period, simply slid into the barriers. Button was bottled up behind Wehrlein for the entire afternoon. He was another to try an ambitious overtake, but his dive down the inside at Portier wasn't pre-empted by Wehrlein - the resulting collision pitching the Sauber onto its side against the barriers. Wehrlein was fortunately able to walk away, while Button backed into retirement.
Stoffel Vandoorne, DNF
"It's a shame we haven't come away with any points this weekend. I think we'd all hoped to get a little bit more out of the weekend.
"Towards the end of the race, I knew it would be difficult at the restart. It's always difficult to heat up the Supersofts, and we knew we wouldn't be able to cover Sergio [Perez] and Felipe [Massa], who'd switched to the Option behind the Safety Car. That wasn't an option for us – when you're in the top 10, you've got to keep your position. It was hard to get the tyres and brakes up to temperature, and I just had nowhere to go at Turn One, unfortunately.
"So, this isn't the result we wanted this weekend, but there are still positives to take away from Monaco: we may still be lacking overall performance, but we've made some useful steps forward this weekend.
"There's still a lot of work to do – but I remain optimistic."
Jenson Button, DNF
"Today was a disappointing day and one where we couldn't make any progress. The race was made very difficult from lap one, and then obviously the incident happened with Pascal [Wehrlein]. His tyres were completely gone from lap one – I know because I had the same set of tyres on from the start of the race after I pitted just after the start.
"I had a lot more traction coming out of the previous corner, because when these tyres go on the marbles they have no grip. I thought I was a long way up the inside and then I looked across and saw that he hadn't seen me, so I tried to back out, but obviously it was too late by then.
"You do struggle to see in these cars, but you don't think in that moment that the guy's not going to see me when you go up the inside. I gave it a go and thought it was a fair enough judgment, but it didn't work out. You never like seeing a car tip over because you don't know if his head's going to hit anything, but the most important thing is that Pascal is okay – I spoke to him and he's a bit shaken of course but the best thing is he walked out okay.
"Today was a bit frustrating, but, as a racing driver, it's difficult to just drive around at the back and not get to have a go. I had a go, and thought it was a fair enough judgement, but it didn't work out. I'm sorry to the team for even more damage this weekend. I enjoyed some laps today too, but obviously I never want to damage that car, and it's not something I do very often. Yesterday was awesome – I loved it – and I'll take away lots of good memories.
"I hope Fernando has a good safe race this afternoon and we're all looking forward to it."
Eric Boullier, McLaren-Honda Racing Director
"Sometimes you visit the Monte-Carlo casino and hit the jackpot; other times you walk away empty-handed. For us, this was just one of those unfortunate days when the luck didn't go our way.
"We always knew that Jenson would start the race on the back-foot, but it was unfortunate that our attempts to run him in clean air came to nothing after Sauber attempted the very same strategy. It was cruel luck for Jenson that, despite the unsafe release of Wehrlein's car, the penalty did nothing to tip the odds in Jenson's favour. The collision was just one of those things, but I'm pleased that both drivers were able to walk away.
"With our focus now turned solely towards Stoffel, we looked set for a decent result. He'd been running on the fringes of the top 10 for the whole race, and his pace on the Option was very promising. Following a switch to the Prime, he still looked set for a points finish, but, on cold tyres and with cold brakes, he understeered into the tyre wall at Turn One when the race restarted after the Safety Car.
"Still, there are positives: I think it's fair to say that Stoffel has really taken a step forward this weekend, both in terms of his driving and his confidence level with the car; and Jenson showed us all that he is still a great champion and a fantastic ambassador for the sport of Formula 1.
"Finally, to Fernando and our friends and colleagues racing at the Indy 500, I say bonne chance."
Yusuke Hasegawa, Honda R&D Co. Ltd Head of F1 Project & Executive Chief Engineer
"Today's race ended in disappointment, missing out on a potential first point of the season for the team.
"Although Stoffel had to start from 12th, we knew he was competitive this weekend. In fact, he moved up to 10th after his pit-stop with his brilliant performance and a good strategy from the team. I think the performance he showed today was very encouraging and therefore it's regrettable that he had to end the race having such an unfortunate accident and no points to his name.
"Jenson's race also had potential, but at Monaco it is notoriously difficult to overtake and he was unable to really push. The accident he had was disappointing; however, he brought great enthusiasm and a cheerful personality with him this weekend, and I think all the members of the team enjoyed racing with him.
"Next up is Montreal, but of course even before then we will be glued to our TV screens to watch Fernando's Indy 500 challenge."
Mercedes
Hamilton's race was always one of damage limitation after starting in 13th. He made up one place at the start, ran a long first stint and made up enough time to remain in the points after his sole pit stop. Bottas was jumped by Ricciardo in the pit stops after the Red Bull driver attempted the 'overcut' but he was able to successfully defend his fourth place from a charging Verstappen behind.
Valtteri Bottas, 4th
"Missing out on a first Monaco podium is painful. It's been a long week and we've worked so hard, so it's disappointing to miss out. I was stuck in the traffic while Daniel (Ricciardo) was running in free air and ultimately, that cost me a place on the podium. It's been a really tough weekend for us and we've just been missing pace. Ferrari were very strong this weekend and for whatever reason, their car seems easier to operate, so we have work to do. We have to learn from this, but there's a long year ahead. Hopefully this will be our worst weekend this season. Canada should be a different story."
Lewis Hamilton, 7th
"I'm really, really happy that I was able to fight back to seventh. The strategists said P10 was probably the maximum today, so it feels great to have beaten that target. To score six points, considering where I was on the grid after a disastrous day on Saturday is a good recovery. Today it was impossible to overtake and I tried everything to get past Carlos [Sainz] at the end! I'm just grateful to have ended up in P7. I went on the radio at the end there to make sure the team know that this battle isn't over. We'll be sure to push those red cars hard next time out in Canada. We've got a real fight on our hands, but there are still 14 races to go."
Toto Wolff, Head of Mercedes-Benz Motorsport
"Ferrari dominated the race today and first of all we must congratulate them for that performance. But our job is to analyse what happened to us this weekend and then to understand it. Today was a day of damage limitation and the drivers did that as well as they possibly could have done. Valtteri drove a controlled and consistent race. He was unfortunate to lose P3 at the pit stops but, with two cars, Red Bull had the chance to pincer him and they made that work. We successfully covered Verstappen but then Riccardo was able to unleash some lap times that we just couldn't match. As for Lewis, he did a great job to take every opportunity that came his way and climb to P7, which was the maximum of our expectations for him today. There were also glimpses of competitive lap times during the later part of the race on the super soft tyre. But the reality is that we were in and out of the working window of the tyres this weekend and that made our performance too inconsistent overall. We have limited the damage and need to work hard to understand our weakness and come back much stronger in Montreal in two weeks' time."
James Allison, Technical Director
"Both drivers did their utmost today to gather as many valuable points as possible for the championship ahead. But it is clear that this weekend we didn't give them the equipment necessary to do better. This has been a tough week for us and we now need to go back to the factory and make sure we do everything in our power to ensure it remains our weakest result of the year - and that we can return to form in Canada."
Williams
Lacking pace, both Stroll and Massa seemed to be having a long afternoon. Stroll admitted to struggling with brake and tyre temperatures behind the safety car, before pulling into the pits and retiring. Massa proved to be Mr Reliable once more, and safely negotiated all the late drama to capitalise on retirements and bring home two points for his team.
Felipe Massa, 9th
"I'm happy with the result and scoring points today. We had brake issues from the start and I had to manage them from the very first lap. I've never had to do that before in my career! At the end, I could see Perez trying to pass me on his fresh tyres and I thought 'stay here and just try to get some points', which is exactly what happened. My experience as a driver definitely helped me to get points today, so I'm very happy."
Lance Stroll, DNF
"I was driving OK but then we had an issue at the end so we had to stop. Unfortunately, these things happen, especially at Monaco. There were several incidents, which meant that the tyres lost temperature and it was really hard to get that back. But the next race is my home event and I'm feeling positive going into that. It's going to be very special to go home and to know that our car can be strong there."
Paddy Lowe, Chief Technical Officer
"It was always going to be a difficult race starting from 14th and 17th. We planned to deploy our strategy tactically and take advantage of safety cars if there was an opportunity to make up positions. As is usually the case in Monaco, it was an eventful race in the end. Felipe was able to benefit from this as he managed to secure two points for the team. Lance drove a solid race but, unfortunately, we had to retire him on lap 72 due to a problem with his left front brake system, which appears to have been caused by debris being picked up that blocked the cooling system. Overall, we're happy to have collected some points, but our car wasn't quick enough today. We'll learn from this to ensure we come back stronger next time."
Force India
Ocon was unlikely to get into the points after starting towards the back, and his race was further hampered by an unlucky puncture at Turn 1. Perez meanwhile seemed destined for a 16th consecutive points finish but damage to the front wing of his VJM10 sustained at the start meant a lengthy pit stop. Despite a warning from his engineers to cool the engine, the Mexican seemed determined to grab what he could round the street circuit and managed to get past Vandoorne into Turn 1. A similarly ambitious move a few laps later on Kvyat at Rascasse proved his undoing however, with the collision effectively scuppering both men's races.
Esteban Ocon, 12th
"It has been a difficult day and a tough weekend overall. Things just didn't work out for us in the race, which is a shame because we had strong pace and should have finished in the points. I was fighting with Felipe [Massa] in the early part of the race and we managed to undercut him during the pit stops, but then I picked up a puncture – probably from debris – and had to make an extra pit stop. That really compromised my race. So there was some bad luck, but I want to focus on the positives. The car felt good in clean air and the team made all the right decisions. We were just missing the luck today."
Sergio Perez, 13th
"It's disappointing to come away from here with no points. Our race was compromised on the first lap, when I made contact with Sainz and damaged my front wing. We had to stop early and ended up in traffic, and it was always going to be difficult to recover to the points. We had a lot of pace in the car, but overtaking is always a challenge, even when you are much faster than the cars in front. After the Safety Car, with the field bunched up, I was on fresh tyres and all the cars ahead were struggling. I had a big opportunity to make up a few positions, but in Monaco there is no way to overtake without taking risks. I wasn't any more aggressive than when I passed Palmer, Vandoorne or Stroll earlier in the race, but with Daniil [Kvyat] he didn't give me enough space and we touched. It wasn't a big hit but it was enough to ruin both our races. Even though I missed out on points, I am proud of my race because I gave everything I could. I feel really sorry for my team because we deserved more from this weekend and our string of good results is over, but we can take a lot of positives from today and build on them for the rest of the season."
Robert Fernley, Deputy Team Principal
"A day of unrealised potential on both sides of the garage. Sergio's contact with Sainz on lap one proved very costly with the early pit stop to change the nose. For Esteban, it was always going to be difficult to battle through from P15 on the grid, but the race was coming to us until he picked up a puncture. It cost Esteban a handful of points and that was a real shame. So it was one of those days when things didn't go our way – as can often be the case in Monaco. We will dust ourselves down and look to come back strongly in Montreal in two weeks' time."
Red Bull
Red Bull held station from the start, despite a typically feisty Verstappen pushing Bottas close. When those two pitted within a lap of each other, Ricciardo was released and in clean air was able to build a decent gap, and 'overcut' the pair to leapfrog into third. Despite brushing the barriers out of Ste Devote after the safety car came in, the Australian was able to keep both Bottas and Verstappen behind to grab a podium.
Daniel Ricciardo, 3rd
"I'm much happier today. I can't obviously complain how it worked out and I have to thank the team. It was cool to show some pace today and we had that clear track. I didn't think the tyres had that much more but I just got into that rhythm, was able to punch out some good times. I knew the pace was right, my engineer was encouraging me on the radio saying: "Pace is really good. Keep going, keep going!" That was certainly motivating and my thanks to the homies. After the safety car it was pretty unexpected when I touched the wall as I didn't brake late or anything, I felt I was quite cautious, but then when I turned I thought the car isn't turning, I then hit the wall and thought I damaged the front wing or something but in the end it was okay. I'm just happy to be back on the podium to be honest. That was definitely the icing on the cake and is a reward for myself and the team."
__Max Verstappen, 5th __
"It is very disappointing after such a clean weekend where everything has gone really well to then feel I lost out on a podium, but I guess that is racing. I tried everything I could to get close to Bottas, you can say we stopped too early or should have gone longer but that is always easy to think after the race. Even after the safety car, I was on fresh, softer rubber but with the wide cars and dirty air you can't make a move and I had no real chance of overtaking here. I think I did 77 laps in traffic today, that isn't much fun and I couldn't push but at least we finished the race which is the biggest positive from the day."
Christian Horner, Team Principal
"A very strong drive by Daniel Ricciardo in the grand prix, after feeling slightly frustrated yesterday things went his way today, getting on to the podium in third place. But what really made the race for him were his laps in free air around the pit stop. We'd elected to try for the undercut on (Valtteri) Bottas with Max and we were within a whisper of achieving that, which Valtterri covered. And that in turn gave Daniel free air which he used to great effect, and that was where he obtained the podium finish. Even after surviving a brush with the wall at the re-start after the safety car, he achieved everything possible today. To get both cars to the finish and a podium on merit is a very satisfactory result here in Monaco. The cars took another step forward here in Monaco and we thank the team at ExxonMobil for bringing an engine oil upgrade here for us, another incremental gain in performance, and we now look forward to Montreal. Our congratulations are with Ferrari on winning this grand prix again after 16 years."
Toro Rosso
Toro Rosso had decent pace all weekend, so it was no surprise to see their drivers running in the top-ten for much of the race. Sainz defended well to keep a keen Hamilton behind him and grab sixth. Kvyat was less fortunate: after holding off a freshly-shod Perez for a series of laps, the Mexican tried an ambitious overtake and collided with the Russian, who was pitched out of the race.
Carlos Sainz, 6th
"What a result, what a perfect weekend! We need to enjoy this moment, because it's not usual to achieve a faultless Grand Prix on the streets of Monaco – and this time we did! We put in good laps in practice, in yesterday's qualifying session and, in today's race, we were able to keep a World Champion in a faster car behind and finish P6 – it definitely feels so good! We've also been quicker than the rest of the midfield throughout the whole weekend and I'd like to thank the whole team for this, they gave me a very good car to drive! I really enjoyed today's race – now it's time to celebrate this well-deserved result with the team before starting to think about the Canadian GP, which is up next!"
Daniil Kvyat, DNF
"How annoying! Unfortunately, Perez just drove into me, trying a very desperate move, and he ruined our race. It's even more frustrating because I was feeling good in the car, it was just getting better and better and until that moment I was fighting for points, running in P9. It's been a challenging weekend, but it could've ended up with a positive outcome if the crash hadn't happened – every time we were in free air we were very competitive! Let's hope we have a better end to the race next time out in Canada."
Franz Tost, Team Principal
"We had a very competitive package from the very start of the race weekend here in Monaco and our drivers have been showing a very good pace since Thursday. On Saturday, Carlos did a very strong qualifying, finishing in P6. Daniil, on the other hand, was a bit unlucky because of the yellow flag caused by Vandoorne's crash – this happened during Daniil's fastest lap and therefore he had to slow down and qualified only P11. In the end, he started the race from P9 because both McLarens got a penalty. Unfortunately, his start was not the best, losing two positions to Hulkenberg and Magnussen. Later on, he had a competitive race and whenever he was in free air he did very competitive lap times. Unfortunately, his race was over because of a crash with Perez, which was, in my opinion, the Force India driver's fault because you cannot overtake in that part of the track. Regarding Carlos, he did a fantastic job. He had a great start, defended his position well and performed a very competitive race. He resisted well against the pressure from Hamilton, without making any mistakes, and he definitely deserves this sixth place finish! The team is still in fifth position in the Constructors' Championship by scoring another eight points here – we have now a total of 29 and are nine ahead of Williams. This is very positive and I'd like to thank everyone – the engineers for setting the cars up well and the mechanics for more fast and precise pit-stops! We will now focus our attention to the next race in Canada… Let's see what we are capable of there."
Sauber
Wehrlein was penalised for an unsafe release early on after electing to stop at the end of the first lap to ditch his supersoft tyres. That release kept him ahead of Button though - and he stayed there until the Briton attempted a lunge late which upended Wehrlein into the barriers, ending his race in extreme fashion. He was followed into retirement a few laps later by Ericsson, who was attempting to un-lap himself behind the safety car and misjudged the first corner.
Marcus Ericsson, DNF
"It has been a very tough weekend from the start to the end. With the pace we have had this weekend, the race was decent from my side. Unfortunately, I then had some issues with the brakes overheating behind the safety car. I tried to bring the brake temperature down, but at the same time I had to keep the tyres in the right working window. The combination of overheating brakes and cold tyres made me struggle a lot to stop the car, so I could not avoid sliding into the barriers."
Pascal Wehrlein, DNF
"I am feeling okay after the accident. I could get out of the car by myself and went for the usual medical examination. As my head touched the barriers, it will be decided within the coming days if I need another medical investigation, also because of the previous thoracic vertebra injury. I am very upset as this is a result of an unneccesary overtaking manoeuvre, bearing in mind that Jenson and I were both on a similar strategy with the pit stop in the first lap, far off from points; an annoying incident which should not have happened."
Monisha Kaltenborn, Team Principal
"A very disappointing weekend. Since the practice sessions we had difficulties getting the tyres to work and were not able to technically resolve the issues. If the pace is not there, no strategy can help. Nevertheless, we are glad that nothing serious happened to Pascal. For Marcus it is also a pity that he was not able to finish the race."
Renault
A race to forget for Hulkenberg, who pulled over in the early stages after a gearbox failure, which Renault feared might break. Palmer at least made it to the finish, but was unable to muster enough pace to challenge for points.
Nico Hülkenberg, DNF
"I think a few points were possible today. We were comfortable in P10 and there was definitely potential to make some places. The thing about Monaco is you have to stay in the game and I think ninth or even eighth was possible had we been able to do that. It was pretty sudden. I saw smoke coming out from the back of the car and the team told me to stop the car; diagnosis, gearbox failure. As a driver it's disappointing but it certainly doesn't detract from our potential. We'll bounce back in Montréal."
Jolyon Palmer, 11th
"I'm happy with the race, the pace was pretty good and there were no mistakes. I enjoyed it; to hustle the car around Monaco for 78 laps was great and the tyres were hanging on, so you could really push the whole way through, which was stellar. It's pretty hard to overtake here, so eleventh from P16 was it, and just one second away from getting the first point of the year! It felt much better than P11 and we can take this momentum to Canada."
Cyril Abiteboul, Managing Director
"Generally speaking it was a disappointing weekend at the end of this Monaco Grand Prix where we really wanted to continue our strong run of progression in the Championship. The team did a lot of work on Friday that allowed us to address a challenging situation after Thursday practice and to assure two respectable positons on the grid. Our analysis showed there was a risk with Nico's gearbox, but we chose to keep it in the car to avoid a penalty if we made a change. To score points at our current level, you have to take risks. That is motor racing and today it didn't pay off. It is frustrating because Nico had good pace. Joylon drove a good race and made no mistakes, which is good for his confidence. Now this confidence should see him qualify better in order to be in a position to score points on Sunday."
Pirelli
Mario Isola - Head of Car Racing
"Although it was always clear that a one-stop strategy would be optimal, there was a very wide range of possibilities as to when the drivers could stop, clearly seen throughout the race. As expected, wear and degradation were low, which allowed for long stints even on the ultrasoft, even though track temperatures were quite high for Monaco. Congratulations to Ferrari for sealing a historic one-two at this very special circuit."