Feature
What the teams said - Saturday in Mexico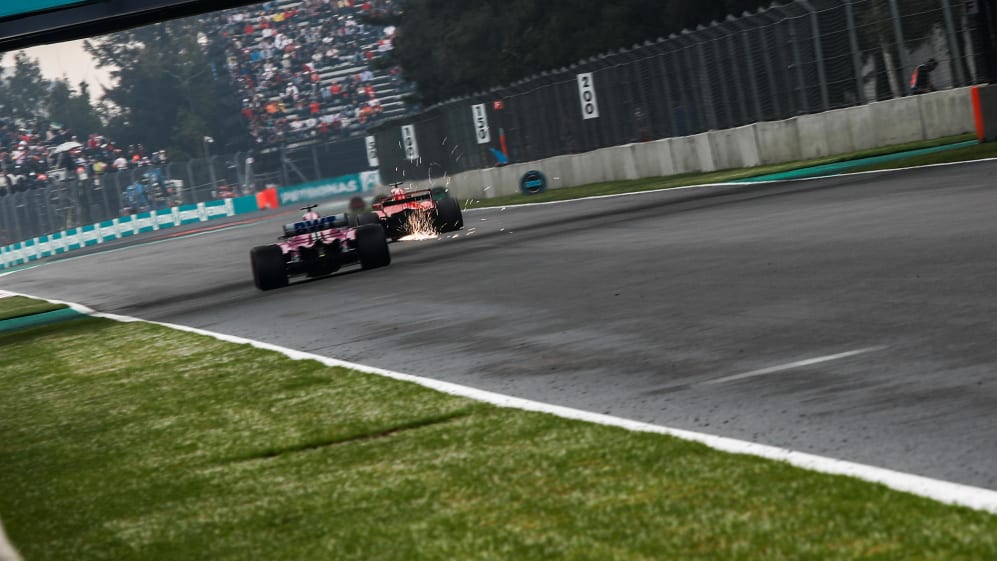 The drivers and teams report back on final practice and qualifying at the Formula 1 Gran Premio De Mexico 2018...
Red Bull
All eyes on Max. Could he become the youngster ever pole-sitter? After topping all three practice session he looked a shoe-in but it was shoeys ahoy instead as Ricciardo came from nowhere to grab his second pole of the year. The Aussie found time on his final flying lap which the Dutchman couldn't manage to do due to apparent car issues, much to his chagrin. Nonetheless, Red Bull's first front-row lock-out in five years is an impressive feat considering the recent dominance of their rivals.
Daniel Ricciardo, 1st, 1:14.759
"As you can probably tell, I'm pretty happy right now. I know it's only qualifying but actually it's pretty special and this is only the third time in my career that I've been on pole. Every other time was Monaco, it starts with an M but this time it's Mexico. Putting the lap together right at the very end, when Max had dominated in practice and then Mercedes came on so strong made it even more exciting. I don't think anyone expected me to do it but I knew there was some extra speed in me and I'm happy to have found it. I knew I could clean up my first lap in Q3 and the first sector on my second lap was still average, but in the second sector I was building and I was pretty pumped up by the third. It feels awesome to be back at the front and it feels right. It's been a challenging year and I've been wanting to finish on a high with Red Bull, so hopefully my run of poor fortune has come to an end and we can deliver what we all want tomorrow. This is the first front row lockout for the Team since 2013 so it's a really big day for us all. I don't think it will be a straightforward race and it will certainly be interesting, but hopefully it will be interesting for all the right reasons. It's going to be a good fight with Max, Lewis and Seb but if we can convert a double front row into a double podium then the entire Team will leave Mexico very happy."
Max Verstappen, 2nd, 1:14.785
"It's really disappointing to be consistently the fastest all weekend, and then not when it counts. I felt comfortable going into qualifying but I soon experienced similar issues that I had felt in FP2, the rear was locking while I was off throttle during cornering. I felt like I couldn't push the car to its limit, which you need to do in Q3 as it is the most important session. I was surprised to be on top of the time sheet at the start of Q3 but in the end it wasn't enough to take the pole. The issue should be less influential tomorrow which means we can both have a good race. Given today's frustration we are still in really strong shape going into Sunday, it's just a shame to miss the pole. The fact we have locked out the front row for the first time in years is a brilliant result for the Team, you can't beat first and second."
Christian Horner, Team Principal
"Amazing! An incredible last lap from Daniel which really seemed to come from nowhere. On the last run to be able to string together a perfect lap was a mighty performance. Another great lap from Max, who has looked so competitive all weekend meant we locked out the front row for the first time since Austin 2013, a phenomenal team performance. Our priority now has to be to try and convert these fantastic grid positions into a haul of points tomorrow. The Team has worked very hard for this so it is crucial that we now make the most of it."
Mercedes
Mercedes were well off the pace on Friday and their mood didn't improve when Bottas pulled over in final practice with a hydraulics issue. They just about got the Finn turned around in time for qualifying, and made it through Q2 on the ultrasoft tyres, which was mission one, but come Q3 looked to be lagging behind Ferrari and Red Bull. Hamilton isn't a renowned one-lap master for nothing though and he managed to drag a slightly uncompetitive car – relatively speaking - into P3 and looks to have a great chance of closing out the title on Sunday.
Lewis Hamilton, 3rd, 1:14.894
"I want to say thank you to everyone at the factory and the team here at the race track, everyone has worked really hard to get the car to where it was today. Red Bull were really fast in the middle sector, the Renault engine seems to be working well in the high altitude and so does their high-downforce package. I think they were probably in a league of their own today, so I'm happy to be as close as I am. Our race pace was not bad on Friday, but again Red Bull seemed to have the upper hand. We were able to improve quite a bit since yesterday, so I'm hoping that we will be able to fight them and maybe gain some ground at the start. Mexico is a great place to be and a great place to race, so I'm looking forward to tomorrow. Game on!"
Valtteri Bottas, 5th, 1:15.160
"The entire team did a really good job last night and today. It didn't look great for us yesterday, but the car felt a lot better today; we were able to recover a lot of our performance. I also want to say thank you to our mechanics, they did an amazing job. In less than one and a half hours, they managed to take the car apart and change the engine - and the car worked well afterwards. Qualifying was pretty straightforward after the car was fixed, but I didn't get a perfect lap together in Q3. It never felt as good as it did in the previous qualifying runs, but at least we're a lot closer to the front than we were on Friday. The first row was probably out of reach for us today, but at least our times were very close to those of Ferrari. There's a long straight here at the start, so not starting from the front might actually be an advantage if we manage to get a tow from the cars in front of us. The race tomorrow should be good fun."
James Allison, Technical Director
"This team has set some high standards in recent seasons, so it's unusual to feel pretty jubilant with P3 and P5 in qualifying. But after our troubles yesterday and Valtteri's issue in FP3, this result represents an excellent recovery. Overnight, we did good work on the engine side to post a competitive level of power in the thin air, while the chassis engineering team recovered the slow corner competitiveness that was missing yesterday. We're under no illusions that it will be anything other than a tough race tomorrow, with Red Bull enjoying a very strong weekend and Ferrari neck and neck on outright pace. The top three teams are all starting on the preferred UltraSoft tyre and we have every intention of giving it our best shot to win."
Toto Wolff, Head of Mercedes-Benz Motorsport
"A fantastic qualifying session with the top three teams covered by two tenths of a second - and congratulations to Daniel, who has had a tough time in recent races. As a team, we can be happy with how we recovered - we were nowhere on Friday but in the ballpark today. Starting from the second row with Lewis may not be the worst thing tomorrow with the long straight, certainly he will have opportunities on the way to Turn One. From the constructors' perspective, it's good to have each of our cars ahead of a Ferrari on the grid; but they are once again so fast on the straights that keeping them behind won't be easy. It's certainly going to be a very exciting run to the first corner..."
Ferrari
The Scuderia managed to get their tyres working better than Friday, but still didn't quite have enough pace to take the fight to Red Bull. Raikkonen faded on his final run to line up sixth, while Vettel couldn't improve second time around and was pipped by Hamilton. With the slipstream in play though, the second row isn't necessarily a bad place to start for the German...
Sebastian Vettel, 4th, 1:14.970
"I was pretty happy with my first run in Q3, but I knew that in order to beat the Red Bulls I would have needed probably a couple of tenths more. So I tried to push harder in my last attempt and it didn't work, the lap was not so far away from the previous one but not a very clean one, either, and I lost a bit of time in some places. This is a track in which aerodynamic efficiency is probably not so important, you try to throw in all the downforce you can, and I could see that we were fast in the first sector but losing out elsewhere. Anyway, it will be a long race tomorrow, and again I think strategy and tyre management will be the key to succeed."
Kimi Raikkonen, 6th, 1:15.330
"Today, the overall feeling with the car was better than yesterday; we improved and that's a positive fact. In qualifying some laps were pretty good in some places and in the next one they were better in other places, so it was hard to put the lap together. In the cooler conditions of this morning it seemed to be much easier. For sure it was not the easiest qualifying, but this is how it goes sometimes. It's going to be a long and difficult race for sure. The top three teams start with the same tyres, so we'll see how it pans out. There's a long run down the straight to the first corner; we'll try to make a good start and stay out of any issue. The first corner is usually quite hectic and tight: if you manage to get a good tow, it makes a massive difference. Then we'll see what happens in the race. The tyre management will be the key."
Renault
Renault had a splendid Friday and despite obvious improvements to Mercedes and Ferrari on Saturday morning, were still comfortably 'best of the rest' ahead of their midfield rivals. Seventh and eighth was their best qualifying since Germany back in July, but can they back it up with a double points finish? They are starting on the unfavoured hypersoft rubber, but at least have a buffer of the similarly-shod Sauber duo behind.
Nico Hulkenberg, 7th, 1:15.827
"It's fun to be fighting inside the top ten for a good position and I'm happy with the way we got the most out of the car. I'm pleased and happy with my laps in what was a pretty intense qualifying session. The car seems to work well with the circuit characteristics we have in Mexico, and I've no concerns about any different weather conditions we could face in the race. It's another day with another big job to do tomorrow."
Carlos Sainz, 8th, 1:16.084
"It was a very good qualifying for the team today. We've confirmed we're in a better place than in previous races and we've found a bit more performance in the car, so we can be happy with that. From a personal point of view, qualifying could have gone better as I was fighting the balance of the car and I had a lot of oversteer. I wasn't feeling so happy in the car, but we still made Q3. We always want more, so we'll be fighting tomorrow to ensure it's another successful team result with double points."
Alan Permane, Sporting Director
"We're happy with today's qualifying performance as it reinforces our result in Austin and gives us a strong position for tomorrow's race. The car has been very well behaved here meaning both drivers have been able to deliver its potential. The fourth row of the grid is the best we can achieve in pure pace, so it's good to be there in front of our closest championship competitors.
"It won't be an easy race tomorrow. Our battle is with our championship position rivals so we're not trying to be too clever for tomorrow's race, we just need to out-score them and with the evidence we've seen so far this weekend we're well-placed to achieve this; we just need a clean race."
Force India
Force India played the tactics game on Saturday – using the supersoft and ultrasoft rubber in Q2 instead of the faster hypersofts. That sent them tumbling out, but crucially means free tyre choice for the race. Do the Pink Panthers believe they have the pace to pick off the Sauber and Renault boys ahead who must start on the hypersoft rubber? That is what they have gambled on...
Sergio Perez, 13th, 1:17.167
"We had the pace to go into Q3 with the hypersoft tyres, but we didn't think it was worth the risk to start on those tyres. We knew it would be hard to make it into the top ten on the ultrasofts, but starting on a harder compound should give us an advantage tomorrow – we basically chose a better strategy over grid position. My only regret is that Fernando [Alonso] is ahead of me: I lacked a bit of grip in the final part of my Q2 lap and he was able to be ahead of me on hypersofts. I am confident about our chances tomorrow. We believe our strategy is the correct one and we can move forward in the race."
Esteban Ocon, 11th, 1:16.844
"P11 is an interesting place to start the race. We went into qualifying knowing that we really didn't want to start the race on the hypersoft tyres and that's why we ran on the harder compound [the ultrasoft] during Q2. Being P11 means I can choose my tyres for the start of the race and we have more flexibility with our strategy. So I hope our approach to qualifying will pay us back tomorrow. We could have been higher up the grid if we had used the hypersofts, but I am happy with the way we approached the session. It's going to be a big fight tomorrow against the Renaults and the Saubers, but they will be starting on hypersofts and they should run a different strategy compared to us. Let's see how things play out tomorrow."
Otmar Szafnauer, Team Principal & CEO
"We chose to play the long game in today's qualifying session being well aware that it's the final result tomorrow that counts. We've seen very high degradation on the hypersoft tyres during practice and we were keen to avoid starting the race on them. So we ran the harder compounds, knowing that it would be more difficult to make Q3, but also aware that it should help us in the race. As we didn't progress to Q3, both cars will start the race with a free choice of tyres. When the strategies play out tomorrow, we hope to move into the top ten and score good points."
Sauber
Leclerc looked to have speed to burn in FP3, regularly topping the timing sheet and winding up sixth. As normal service resumed in qualifying, he had to hold a rather temperamental C37 in check to scrape through to Q2, but then made it to Q3 with ease – backed up by his team mate. Starting ninth and tenth but on the hypersoft cars, will making Q3 prove a help or a hindrance for the Swiss outfit?
Marcus Ericsson, 10th, 1:16.513
"After having a difficult day yesterday, we worked hard overnight to improve for qualifying. Today's results show a great team effort, by both the team at the track as well as in the factory. We made quite a few changes for today, and they paid off. The car felt much better and we could already see the improvements in FP3. Qualifying was great, and it felt good to make it to Q3. It was a good effort and we should have good chances for a good result tomorrow, staring in the top 10 with both cars."
Charles Leclerc, 9th, 1:16.189
"I am happy about qualifying today – ninth place, another Q3. Our performance looks strong, and we made a good recovery since yesterday. It will be a challenge to keep our competitors behind us, as we are starting on the hypersoft tyres which we qualified on. We will make the best of it and hopefully will be able to score some points after being less lucky in the last two races."
Haas
Haas were off the pace on Friday, hard on their tyres and lacking answers. They didn't find any magic overnight – instead, Magnussen sat out most of final practice with an intercooler change, leaving him woefully underprepared for qualifying. His exit in Q1 wasn't a surprise – Grosjean's was though, as the Frenchman at least looked likely to make Q2. With a three-place grid-drop for his troubles, it will be near the back of the field for both drivers and a long afternoon to come.
Romain Grosjean, 16th, 1:16.911
"We got better, but not enough. The midfield is just super tight, with two tenths the difference to P10. Three runs in Q1 on the hypersofts – to maximize our chances – just didn't work. We need to analyze what we can do better and why we're just not good here. There's obviously something that happens here at this circuit. We've been competitive everywhere this year, but here, every year, it's complicated. We're not giving up. It's a tough race for the engines, brakes, drivers, everything. Hopefully we can get it good tomorrow."
Kevin Magnussen, 18th, 1:17.599
"Both cars out of qualifying in Q1 is very disappointing. We just couldn't make the tires work. Every time we went out on a new tire, it was completely different. You try to correct every time you go out, to fine tune the balance, but then you go out and find something completely different. It was just impossible. Other people have made a better job of it today with the tires than we have, so we need to go away and improve on that. Anything can happen on a Sunday – we know that – but, of course, it's disappointing for today. It doesn't put you in a great mindset for tomorrow, but we'll do everything we can to maximize things for the race."
Guenther Steiner, Team Principal
"It was a tough day. We couldn't get the tyres to work, but everybody else did. Tomorrow there will be different tire strategies, so maybe we can still move forward, but points will be difficult."
McLaren
Vandoorne struggled and exited in Q1 for the 14th straight race. Alonso seemed to also be in trouble after having his best lap time deleted for running wide – despite the fact that he was avoiding his team mate who was on a slow lap, rather than gaining time. The Spaniard's next effort was within track limits and quick enough for Q2. Starting 12th and with free tyre choice, he is at least reasonably far ahead of the backmarkers, who didn't overly impress Alonso last time out...
Fernando Alonso, 12th, 1:16.871
"My qualifying lap wasn't perfect today. I had a little bit of understeer in the high-speed corners with the last set of tyres, so I wasn't totally happy or proud of my lap. We made a few mistakes here and there and lost a couple of tenths, so when I crossed the line and they told me over the radio I was P12, realistically speaking, it was much better than we thought. After being out of Q1 in the last four races, the position we achieved today is nice, and points are a little bit closer than at previous grands prix.
"The Renault engine is working well here. It's not suffering maybe as much as the others with the altitude, and our good long-run pace yesterday leaves us quite optimistic for tomorrow.
"It's going to be an emotional race tomorrow, as we have a lot of fans here and a lot of support. It's going to be special!"
Stoffel Vandoorne, 17th, 1:16.966
"It was actually a pretty decent qualifying effort. The times were extremely close and it's a shame to miss out on Q2 by a couple of hundredths, but it just shows how close the field is. It's a bit colder today which made it a little bit easier on the tyres. We'll see tomorrow what the race will bring – hopefully tyre degradation will continue to be a big factor, and we'll see how that pans out in the race.
"There's always a little bit you can improve – it's tricky around here because of the altitude, but it's the same for everyone. In general, I was reasonably happy with my lap and I think it was pretty close to the maximum possible today.
"We've probably been a little bit closer here this weekend than expected and I hope we can show that tomorrow. I think it gives us opportunities, especially if the tyre degradation continues as we've seen this week.
"We're going to have to be a bit lucky in order to bring home some good results. There's always chaos here on the opening laps with all those tight corners. I remember I started last here last year and I think I made up eight places on lap one, so a lot can happen and I'll try to do the same tomorrow!"
Gil de Ferran, Sporting Director
"I think we can be relatively satisfied with our qualifying today. Of course, while you always want to occupy the front row, we do feel that this weekend we've taken a small step forward in competitiveness. The times were very close today, and a small improvement could have seen us in Q3.
"Track conditions have been quite variable throughout the weekend, and tyre degradation will be a key factor in the race tomorrow. With this in mind, I feel both our starting positions and tyre allocation put us in good stead for a strong race."
Toro Rosso
Gasly knew he was starting at the back thanks to grid penalties, so took minimal part in qualifying. Hartley, though, seemed to have a great shot at the top 10 but made a mistake on his final flying lap in Q2. Running off-track, he exited a lowly 14th with little to show for those new aero parts that looked so promising on Friday.
Pierre Gasly, 15th, No time set in Q2
"I think our Qualifying today was good, but our main focus was on tomorrow's race after the penalty we have. I was really happy with Q1, I did a good lap which could have been better if Stroll didn't make a mistake. To get through to Q2 was great but it was frustrating not to be able to compete. As we saw high degradation on Friday, the tyre management will be key tomorrow, and we have to be smart with our strategy. I felt good with the car, and starting last tomorrow I hope I can have some exciting battles on track."
Brendon Hartley, 14th, 1:17.184
"I think today we definitely had the pace to go through to Q3, but I'm disappointed with that last lap. I had been really happy with the car all weekend and Q1 was great, I was P10 and I think that was representative to where we could have been at the end of Q2. We only had one set of new Hypersofts left for Q2, and in the last run we didn't get the aero balance on the track evolution. I locked the brakes into Turn 12 on my last lap, went off the track and lost enough time to just miss out on Q3 - in Qualifying we are always pushing it to the limit! As for the race, the tyres will be a big topic tomorrow. I need a good first lap like I had in Austin. We scored points last week from P20, so from P14 tomorrow it must be possible! We've been strong all weekend, so I hope to bring home some more points."
Jonathan Eddolls, Chief Race Engineer
"First of all congratulations to Aston Martin Red Bull Racing Team for the fantastic front row lock out today – really well done! As for us, the overnight rain came as expected, and with the cold track temperatures the FP3 session started with a wet track. It was too dry to run on intermediates - particularly as these are our Qualifying and Race sets - but at the same time it was too wet to run on the dry compound, so it was an uneventful first half to FP3. The positive was the track temperature was much cooler, which generally improves the stability and balance of the car.
"Given his lack of running on Friday, we decided to be one of the first out on the Hypersoft with Pierre and complete a sustainable run to further increase our tyre understanding for tomorrow. The tyre graining was still there although it was slightly improved compared to Friday. Pierre put in a great performance in his Qualifying simulation which was helped by a tow in Sector 1, as well as the overnight changes made to the car. Brendon caught the VSC on his out lap of his first run, so this compromised the tyre temperatures for his push lap and he then made a couple of mistakes on his second tyre.
"Moving into Qualifying, we knew that we wouldn't take part in Q2 with Pierre, so he used the three new Hypersofts in his allocation in Q1. His final run was looking strong, but he got traffic in the middle sector which cost at least 0.2s. Brendon had an excellent Q1, easily making it through on only two new sets of Hypersofts, but wasn't able to match his time again in Q2, which was unfortunate, as he had the pace in the car to make it through to Q3. The race will be tough on the tyres and getting the strategy right to avoid graining, so we have a lot to go through tonight to ensure we have the best plan for tomorrow."
Toyoharu Tanabe, Honda F1 Technical Director
"In today's changing track conditions during FP3 we looked quite competitive and in qualifying, both drivers got through to Q2. However, Brendon was unable to improve on his final run in that session and had to settle for 14th place. With Pierre, because of the grid penalties for PU and gearbox changes, there was no point in him setting a time in Q2. The forecast for tomorrow is uncertain, we have to be prepared for anything and do our best to get a good result."
Williams
Stroll was busy – in between driving duties he had to trot back and forth to the stewards to explain why he rejoined the track incorrectly after running wide. Wrist slapped, the Canadian managed to win the intra-team battle by two tenths but the team will have their work cut out on Saturday from near the back of the field.
Sergey Sirotkin, 20th, 1:17.886
"It was a very difficult session, all the way through the day it was warming up and getting hotter, making it tougher for us. I drove a very bad lap which I take full responsibility for and I am disappointed with that. I couldn't maximise the performance the car could potentially allow us, so a very disappointing day."
Lance Stroll, 19th, 1:17.689
"I was on a good lap on my second run and I thought we could improve half a second or something with the track improvement, but I made a mistake in turn seven and had to run wide. Maybe another position was possible, but we had a seven tenths gap. We were quite a bit off the pace and far from being competitive this weekend. Realistically it is going to be challenging in the race, but we will see what we can do."
Paddy Lowe, Chief Technical Officer
"It was a very disappointing day, as at times during practice we looked like we had the potential to get some good laps and get our cars closer to Q2. Overall it seemed quite a tight grid. Everything went to plan in Q1, but unfortunately, neither driver secured a good lap on their final run, so it will be a difficult race tomorrow."
Pirelli
Mario Isola, Head of Car Racing
"With damp conditions earlier today, the circuit effectively reset itself, providing a new challenge. The key strategic element was the tyre choice for Q2, determining the start tyres for tomorrow. With no real advantage in starting on the hypersoft, given the expected levels of degradation, the top six drivers all qualified on the ultrasoft. A wide mixture of strategies are available for the race, with a two-stopper fastest but a onestopper just about possible too, if the hypersoft is carefully managed. Nonetheless, with the variable conditions we have seen so far posing a few open questions, it could be helpful to keep the strategy plans flexible. All three compounds have a role to play; it was interesting to see the supersoft even in Q2, as two drivers tried to see if they could qualify on it in the top 10."