Feature
What the teams said - Sprint day in the United States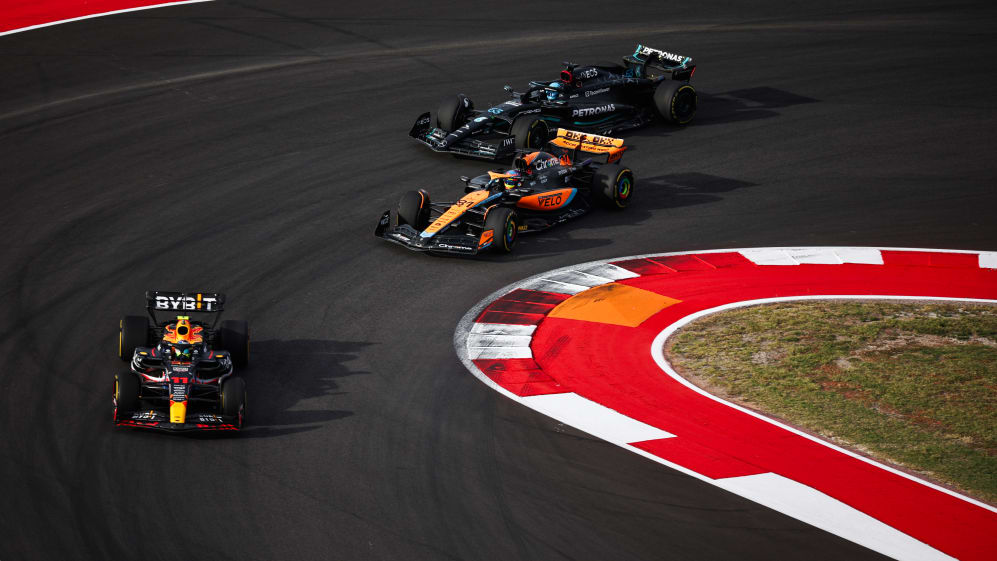 Red Bull
Verstappen more than made up for his mistake in qualifying yesterday by grabbing P1 in the Shootout, and following that up with Sprint victory. Bar a slightly hairy first corner when he had to fend off Leclerc's Ferrari, it was plain sailing for the Dutchman who came home with a comfortable margin over the field. As for Perez, he started seventh but soon picked off Piastri and made short work of Sainz too to climb to a fairly decent fifth at the flag.
READ MORE: Verstappen hopes Red Bull's pace will be 'even better' for United States GP as he takes 'straightforward' Sprint win
Max Verstappen, 1st
"We had a strong day out there today. It was quite tight at the start with Charles but after that we could focus on our own race. The pace of the car was really good, a bit better than we expected, we looked after our tyres quite well. Starting in P6 tomorrow will be interesting, we'll try and stay out of trouble on the first lap and then we'll take it step by step making our way through the field. Hopefully we can have some fun out there tomorrow."
Sergio Perez, 5th
"I took off quicker than I thought I was going to and unfortunately that did hurt us a bit. We started well and had some good pace but we the degradation was a bit higher than I ideally wanted, so we were not able to push how we would have wanted to and got caught in a lot of dirty air. We need to sort the degradation issues for the race because that will be important, we may be doing things that are hurting us there. We have to make sure we understand where we can improve the balance come tomorrow too and work hard overnight, we need more pace than we showed today. We have some tricks we can do and have some good directions to go in. Tomorrow will be an interesting one, with a lot of interesting battles out there."
Christian Horner, Team Principal
"It was a strong sprint race for us and will provide a lot of data around performance of the tyres and our opponents. Max drove a well controlled race and equally, it was a good performance from Checo. This sets us up well for tomorrow. Yes we are starting further down the grid than we would usually like but you can overtake here, there are opportunities and we look forward to seeing what's to come."
Mercedes
Hamilton qualified third for the Sprint but used the slipstream off the line to launch an attack on Leclerc through Turn 2, managing to get past the Ferrari as the duo battled side by side for several corners. From there he pushed Verstappen close in the opening stages, before tyre degradation saw him fall off the pace. Russell had picked up a three-place grid drop for impeding in the Shootout, but from P11 made a strong getaway to climb into the points. He then picked up his second penalty of the day for passing Piastri off-track and couldn't fight his way past Sainz. Seventh at the flag became eighth by only a few tenths of a second.
FACTS AND STATS: Hamilton's best Sprint result for over two years as the Mercedes man takes second
Lewis Hamilton, 2nd
"That was a fun race! I made a good start into turn one and had a really good battle with Charles (Leclerc). Running in second, I was then focused on trying to get closer to Max (Verstappen) in those early stages. Their pace at the moment is undeniable though so I wasn't able to get close enough to challenge him. We've still got a long way to go to equal the pace he showed throughout the Sprint. Nonetheless, I'm really happy to be back on the podium."
"Starting ahead of Max tomorrow is helpful. Ultimately, I think he will be breathing down our necks before too long given the pace that he had today. I think that will open up a good fight though between ourselves, the Ferraris and the McLarens. We're all quite similar in pace this weekend by the looks of it so I hope we get to have a good battle tomorrow. Keeping Max behind would be awesome but if not, we'll do everything we can to finish on the podium and bring home good points."
George Russell, 8th
"It's been a bit of a scrappy day for me. Both penalties that I received today were fair. I was unable to give the position back to Piastri in the Sprint as Gasly had already passed him. If I let Piastri past, I would have had to let Gasly past too. It was a bit of a shame as it was an optimistic move from myself. Ultimately though, there aren't a huge amount of points up for grabs on a Saturday.
"We're in a good place to fight for a podium from P5 tomorrow. It's going to be an interesting race. The tyres felt good in the Sprint but that was helped by the cloudy conditions and the temperature dropping a little. It will be close between a one and a two-stop tomorrow and we're going to have to be dynamic in order to react to the situation. We should have a good fight with the Ferraris and the McLaren of Norris. We may have the speed on them, but they are starting ahead so we will see what we can do."
Toto Wolff, Head of Mercedes-Benz Motorsport
"We can be carefully optimistic with how the weekend has gone so far and how our updates have performed. We didn't think this would be a track where we would be anywhere near the front. There are a lot of fast corners that are not usually our strength, so we've made a good step. That has proved key in putting us in a position to score solid points today.
"After a tougher Sprint Shootout, both drivers showed strong pace in the Sprint itself. Lewis pressured Max early on but ultimately his speed proved too strong. We know we've still got a lot of work to catch up to the very front, but we can be encouraged by our first sprint podium of the season. George did everything he could today and bringing a point home having started P11 is useful for the team. His penalty was completely justified, and we should have given the position back. That was my fault as I thought we had more pace to get further ahead than five seconds. If we play the strategy well tomorrow, we should be racing for a solid podium position."
Andrew Shovlin, Trackside Engineering Director
"There's lots of encouragement we can take away from today, even if we could have walked away with a few more points if everything had gone our way. Lewis had good pace in the Sprint Shootout. We were 0.139s off pole on Friday but 0.069s today. That's a good sign that the update has moved us in right direction. George didn't have a new set of soft tyres for his final run which is costly here, so he was never going to be able to trouble the front rows.
"In the F1 Sprint, George did a good job to pick up positions. It's a shame to drop a place with the penalty but it's good to have got into the points. Lewis meanwhile did a great job. Second was the best that the car had in it today, but it was encouraging to see how much pace he had over Leclerc. That's another sign that we are moving in the right direction. We've now got some good data to review overnight as part of our preparations for the race. The longer race opens up some options on strategy, so hopefully we'll be able to make progress with both drivers. Max was able to keep us at arm's length today, but it looked like we had the pace to challenge everyone else. Our stretch target for tomorrow therefore has to be a double podium."
Ferrari
Leclerc qualified on the front row and did his utmost to wrestle the lead from Verstappen into Turn 1. But instead, he opened the door for Hamilton, who needed no second invitation to pull alongside and past the Ferrari. Leclerc remained third for the duration of the Sprint, fortunate it wasn't any longer as he had Norris breathing down his neck in the closing stages. Sainz had arguably the more interesting race as the only driver to start on softs. That gave him pace off the line as he got past both McLarens to run fourth, but his tyres faded late on, and he only just clung on to sixth in the end.
Charles Leclerc, 3rd
"There was an opportunity at the start so I went for it and tried to overtake Max [Verstappen] in the first corner. I lost a position to Lewis [Hamilton] there, Mercedes were a bit stronger in terms of race pace than we expected and so now we have to work on being a step ahead for the race.
"We have quite a lot of data available for analysis, as we ran our two cars on different strategies, which helped us to gain an insight into the behaviour of the Soft compound. Hopefully this will give us an advantage tomorrow and we will do everything we can to bring home the win."
Carlos Sainz, 6th
"Those 19 laps were tough. Choosing the Soft was a risk that we opted to take, even though we knew we would struggle with pace and degradation at the end. I started well and some good overtaking took us to P4 in the first laps, but from then on came the difficult part, all about tyre management and defending. Keeping Lando [Norris] and Sergio [Perez] behind was very tough and the battle with George [Russell] wasn't easy at all, but we managed to bring it home and score some points.
"Now we focus on tomorrow, we've got much more info to analyse and we'll try to maximise our Sunday."
Fred Vasseur, Team Principal
"We can't be completely satisfied with today's race but these 19 laps were above all useful to give us a clearer picture of the situation, of where the teams stand and our options when we line up on the grid tomorrow. We split the strategies between the two cars to get as much information as possible regarding tyre behaviour over a long run.
"Carlos struggled in the middle of the race, but managed to defend from the Mercedes. Charles suffered a bit as a result of what happened at the start, but he still scored plenty of points. We start with him on pole tomorrow, but it's still going to be a very hard challenge. We have to look at improving our race pace, getting all the potential out of our package."
McLaren
Norris finished the Sprint where he started, but that didn't tell the whole story. He dropped behind Sainz at the start and had to work hard to get back past the Ferrari. Despite Leclerc having disappeared up the road, Norris reeled in nearly eight seconds on the Monegasque driver and wound up crossing the line a few tenths back, which bodes well for McLaren's race pace in the Grand Prix. But Piastri struggled by comparison, overheating his tyres early on and dropping backwards as a result. He'll need to find some answers if he's to be competitive tomorrow.
Lando Norris, 4th
"That was a good race, despite the tough beginning. With Carlos starting on Softs it took a few laps to get past him, but when I did, the pace looked very, very strong. A lot better than the Ferrari. One lap more and we would have had Charles and P3. There's a lot of positive signs for tomorrow. A good day, and good preparation for tomorrow's Grand Prix."
Oscar Piastri, 10th
"Not an ideal Sprint. We had a lot of battles at the start. I went through the tyres extremely quickly and they had overheated a lot. So, not quite the result we wanted, but on the positive side we've learned a lot for the race tomorrow, which is where the majority of points are earned. We'll switch focus to the Grand Prix now and aim to move forward tomorrow."
Andrea Stella, Team Principal
"We scored good points today with Lando, who showed strong pace in this Sprint race. The car behaved consistently in the stint, which is promising for tomorrow, looking ahead to the race. On Oscar's side, the pace was not enough to remain in the points. We can see that the tyres overheated rapidly after the start and we know that he engaged in battles with cars that were on slightly less used tyres than his starting set. After the race we also saw that he picked up some light damage to the front wing, which will have also had an impact. The positive is that we can gain the learning for tomorrow, when more points are at stake. We look forward to scoring well with both cars in the United States Grand Prix."
Alpine
Ocon couldn't back up his Q3 qualifying berth from yesterday, starting down the order and thus never in the reckoning for points in the Sprint. Gasly though, started 9th and picked off Albon early on before also passing Piastri midway through the Sprint. As such, he found himself eighth and, although he couldn't stay close enough to Russell to make a move, he didn't have to with the Mercedes man's penalty incoming. That lifted Gasly not just to P7 in the Sprint, but P10 in the championship too.
Esteban Ocon, 11th
"It's not been the smoothest of days on our side here in Austin. The Sprint Shootout started strongly and we were comfortably through SQ1. We did not have enough to reach the top ten and we will look into the reasons why as that would have put us in a much stronger position to compete for points in the Sprint Race. We started the Race well, made some positions at the start but, after that, we could not go much further and points were out of reach. We certainly have many things to review and some learnings to take forward for tomorrow. We are in a good position for the race, it will be a long one, and we will do our best to come away with a good result."
Pierre Gasly, 7th
"I'm really happy today. We had a strong race from ninth, passed Alex [Albon] straight away and then I did a nice move on Oscar [Piastri] for eighth. After that, I had to try to keep up with George [Russell] and Carlos [Sainz] ahead knowing George had a penalty and that I needed to keep a five-second gap. The pace was good in general, even if we had a bit of tyre degradation towards the end. There is definitely some good things for us to analyse from the race today and the two points is a nice bonus. The hard work will continue ahead of tomorrow and we will see how we can put ourselves in the mix for strong points. Right now, I'm pleased with our pace, and I'm fully focused on tomorrow's race."
Williams
A brilliant Shootout saw Albon make it all the way to the top 10, and he then inherited an extra place thanks to Russell's grid drop. Knowing that today was a much better chance to grab points than in the Grand Prix, he bolted on some fresh medium tyres and threw everything he could at the race, eating into the gap to Russell ahead late on to try and finish within five seconds of the Mercedes. In the end he came up an agonising 0.317s short. Sargeant started down the order, and struggled for tyre wear in the Sprint.
READ MORE: Sargeant has had it tough in his rookie F1 season – but can he deliver in the remaining races?
Alex Albon, 9th
"We went for it in the Sprint, as we were looking much stronger than yesterday, so we gave ourselves the biggest opportunity to score points. It's so tight out there and to just miss out is frustrating but at the same time, it was a good race and we can't discredit that.
"Obviously to finish P9, just outside of the points is what makes it frustrating. The tyres are interesting here and if I were to do it over, I would do things a bit differently, but this track can be difficult and my tyres started to deg, then came back at the end allowing us to push and try close the gap.
"We have race pace, so starting P18 tomorrow, hopefully we can fight the cars around us."
Logan Sargeant, 19th
"It was always going to be difficult starting where we did. We're still quite disconnected from high to low speed and that's been a bit of a challenge. I struggled to be quick in the place I needed to be quick to have the chance for an overtake. I'm still in search for a bit more pace.
"The main takeaway is getting a taste of what the car is going to be like on a long run and which direction we need to try to move in. We'll see what we can take from today and try to get in a better position for tomorrow."
Dave Robson, Head of Vehicle Performance
"We had a much stronger day today. In contrast to yesterday, and perhaps helped by the mandated use of the Medium compound this morning, we were on the right side of the fine margins and Alex was able to progress through to the final stage of Sprint Shootout.
"Logan found it a little more difficult and couldn't get the second lap on the tyres in Sprint Shootout 1.
"In the Sprint race, Alex was able to race hard and still manage his degradation well. It was a shame that he lost a couple of places on the opening lap as it meant we couldn't quite score a point once George's penalty was applied. The car performed well today, and we should be able to transform that into a good race performance tomorrow.
"Given our starting position, achieving a strong result will be difficult but we'll be pushing hard to achieve everything possible."
AlphaTauri
Ricciardo made up for his disappointing qualifying by managing to grab P11 in the Shootout, which became P10 thanks to Russell's penalty. But a poor getaway cost him a place, and from there he couldn't make inroads to climb up the order. Tsunoda started way back, after mistiming his last run in the Shootout and missing the opportunity to cross the line. As such, his afternoon was more about testing tyre degradation for the Grand Prix.
Daniel Ricciardo, 12th
"I'm happy with my lap in SQ2 today. With the position we're in, Q3 is a big achievement for us, and when we get so close, it's a big tease. I'm really happy with the progress I made from SQ1 to SQ2, given we can't really change the car from yesterday. We did some homework and played around with some things, which allowed me to push more confidently. It was good to be able to race today and again tomorrow, I really enjoyed being back competing, it's a nice feeling. As for my driving, there were things I was happy about from the race and others I wasn't so happy with, which are things I know I can improve on for tomorrow. With the temperatures and the way the tyres are, the grip feels low, and especially with the mix between old and new asphalt at different corners, it affects how the car behaves. However, it was encouraging that we had some pace at the end, so let's see how it goes tomorrow."
Yuki Tsunoda, 14th
"I wasn't able to do a second push lap in SQ1 because the chequered flag came just before I crossed the line. It's frustrating because the opportunity to get to SQ2 was lost. Our car felt good, and the potential was there, so it's a shame. The pace in today's Sprint race was good, I overtook some cars and enjoyed it out there. Most importantly, we learned a lot about our long-run pace and have a lot of information to prepare for tomorrow, so tonight will be about fine-tuning our package. We're starting towards the top ten for the race, and if we continue this pace into tomorrow, points are possible."
Jody Egginton, Technical Director
"The day was a mixed one in terms of outcomes and results, but as a team, we're left feeling there was potentially more to be taken from today. Overnight, we made some useful steps on Daniel's side of the garage, allowing him to put in a strong Sprint qualifying and stay in the midfield fight in the Sprint race, with a very strong final few laps. Frustratingly, an error with the timing of Yuki's out lap in his last Sprint qualifying run led to him ending up well out of position in P19. This meant that even with the good pace and overtaking he showed in the Sprint race, he didn't have the chance to fight for the positions his pace would've allowed. We take away a good amount of data regarding the medium compound tyre, so the task is to use this as part of the strategy planning to see what we can extract for tomorrow, with the target being to maximise any opportunities we have to score points."
Aston Martin
Aston Martin at least improved on yesterday's qualifying, seeing both cars make it to SQ2 in the Shootout. But they couldn't get close to the top 10, and their race pace didn't look much more competitive than their one-lap speed. Alonso had a dreadful first lap which dropped him backwards, and while Stroll looked tidy in the first half of the Sprint, his tyres dropped off and that combined with brake issues saw him retire with a couple of laps to go.
HIGHLIGHTS: Catch the action from the Sprint in Austin as Verstappen takes victory
Fernando Alonso, 13th
"We were uncompetitive today in the Sprint and we haven't been able to optimise our package all weekend. We need to keep looking at what we can learn from this weekend and try to score some points tomorrow. The whole Campus has worked flat out to bring the upgrade here to Austin, but the biggest problem so far this weekend was the challenging FP1 session where we had such limited time and laps to test the upgraded car out."
Lance Stroll, DNF
SPRINT DNF "It was a good start to the race; I made up a couple of places during the opening laps and I was happy with my overtake on Daniel [Ricciardo]. After that my tyres were beginning to fall away and I began losing the feeling with the brakes, so we had to retire and investigate. We'll regroup tonight – with the benefit of having had some more running – and prepare to go again tomorrow."
Mike Krack, Team Principal
"We did not have the pace to compete for points today, but we continue to learn about our updated AMR23 – which is not easy during a Sprint weekend. We saw both drivers enjoy some good battles out there today, especially on Lap One, but managing tyre life was the story of the Sprint for all teams. There are certainly some learnings that will help us going forward and we will take that knowledge into tomorrow's Grand Prix."
Haas
Haas still couldn't quite unlock the performance that should be in their new package, seeing both cars exit in SQ1 in the Shootout. As such, the Sprint became more of a data gathering exercise for the team, at least until both drivers decided to get their elbows out and enjoy some overtaking. They had battles with the Alfa Romeos and Aston Martins – all of which makes the prospect of plenty of overtaking in the Grand Prix even more exciting.
Nico Hulkenberg, 15th
"It feels like the first real running with the car to be honest because in practice there's so many things going on. Then, there were just two qualifying sessions which were also short, just two runs each time, or less. It's good to get some proper mileage with it, some long-run data and some feel for it. Obviously, it doesn't look too good right now, but there's more for us to analyse and understand, and more to discover with this package. At a Sprint weekend it's difficult to explore that and unlock it."
Kevin Magnussen, 18th
"It wasn't a great Sprint, the pace dropped off a lot, so we'll investigate tonight and assess what we think. We can't change anything for tomorrow, so it is what it is, and we'll see what we can do. I got a decent start and a decent first lap, then stayed there for a few laps before the well-known cycle of getting overtaken and the tyres dropping off started."
Guenther Steiner, Team Principal
"It didn't go to plan today. We've got more work to do but initially we're not very happy with what's happened, so we have to see how we tackle tomorrow. We found a few things and went in the wrong direction, but it's difficult to jump to a conclusion after one practice, two qualifying sessions and one short race. But at the moment, we have to find more as the upgrade's not done what we expected."
Alfa Romeo
Alfa Romeo couldn't extract the same performance over one lap that they managed yesterday, and thus found themselves with fairly low starting berths for the Sprint. It was always going to be difficult from there, especially with both drivers on heavily used medium tyres. So it proved, but they will hope their data now stands them in good stead when it comes to the Grand Prix itself. Zhou picked up a time penalty for leaving the track and gaining an advantage when battling Magnussen, so at least knows what not to do tomorrow.
Valtteri Bottas, 16th
"As a positive to take from today, we gathered a good amount of data about how the medium compound performed, information that will help us ahead of tomorrow. I think our main issue today has been the Shootout earlier this morning, where we haven't been able to get a single clean lap; I already felt more competitive during the Sprint and managed to put up some battles with the cars around me, eventually gaining a couple of places. I felt better in the long run and felt our pace had improved as well. Tomorrow, we will be starting from more favourable positions: I am confident that, if we do our homework right, we will have an actual chance to gain places and get back into the top 10."
Zhou Guanyu, 17th
"Although it was effectively a standalone day, today has been a tricky one; we generally lacked pace, and on top of that, I had an issue on the gear sync at the start, which immediately cost me some ground. Still, we had opted to use today's race as a session to better learn and understand our performance ahead of tomorrow, and indeed we gathered useful data which we will analyse tonight. We seemed to struggle a bit compared to our main rivals in terms of race pace, and we'll be looking into that as well in order to quickly bounce back. I am confident we can still fight for points tomorrow, we definitely had potential on Friday, and with better grid placements, we can hopefully build something useful in the race."
Alessandro Alunni Bravi, Team Representative
"Undoubtedly, our performance today hasn't been on the same level as Friday, as we haven't been able to match our direct competitors during the Sprint. Both our drivers found themselves unable to properly battle their way up the field. We will thoroughly analyse how today unfolded, to figure exactly what we were missing in terms of performance and in order to get back to where we were yesterday. There is a good amount of tyre data to assess overnight, to come back in competitive form for tomorrow's main race. With better starting positions, we remain confident that we'll be able to score points: with a good strategy, and by extracting everything from our package, we have a proper chance to do well."
Pirelli
Mario Isola, Motorsport Director
"It was an action-packed Saturday, as is always the case with the Sprint format. Unlike what we saw in Qatar a fortnight ago, the compound choice for the short race was almost unanimous, with just Sainz going it alone, eschewing the Medium in favour of the Soft. The Spaniard went on to finish in the same position from which he had started but apart from that, his race allowed us and his Ferrari team to acquire important information about the behaviour of the C4 over a long run, which had not been possible in yesterday's free practice.
Looking ahead to tomorrow's race, we can say that a two stop will be the favourite strategy, running a combination of Medium and Hard, depending on how many sets of the two compounds each driver has available. Looking at the starting grid, we can definitely expect a good battle at the front and, who knows, maybe a few surprises!"