Feature
What the teams said - Thursday in Monaco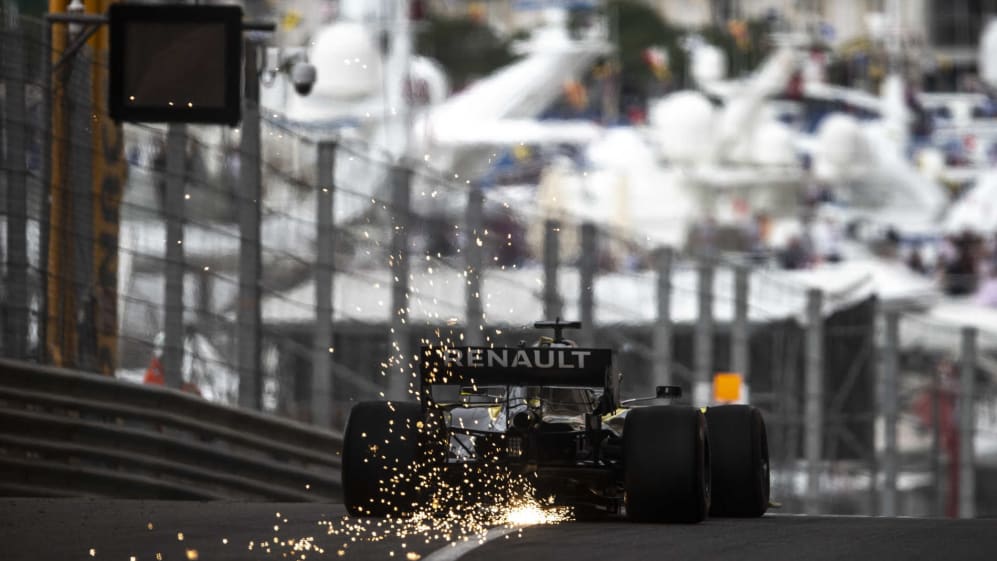 The drivers and teams report back on all the action from an eventful Thursday practice at the Formula 1 Grand Prix de Monaco 2019...
Mercedes
Would Mercedes continue their season-long advantage around the tight and twisty Monaco circuit, which has traditionally favoured their rivals in recent years? Based on Thursday's running, the answer is yes. The two Silver Arrows traded fastest laps, with Hamilton coming out on top in both sessions. Bottas wasn't far behind though and it looks like a very tight intra-team battle for pole come Saturday. Both were on the ragged edge at times in the fight for supremacy, knowing just hoe important it will be to grab that pole ahead of their title rival...
Lewis Hamilton - FP1: 1:12.106, P1; FP2: 1:11.118, P1
"It's the dream for every driver to come to Monaco and have a car that you can exploit and utilise your abilities with. I'm really proud of the team and naturally our goal is to try and do something really positive this weekend. We've made some small tweaks over the two sessions and during the sessions as well, but I've been quite happy with the set-up. Every year we come back here, it gets faster and you really notice it when you're going past the barriers. Coming into Turn 12, you carry so much speed into that corner, and then there's just the wall in front of you; going up the hill to Casino it's the same thing. It's incredibly intense out there and you have to be so focused."
Valtteri Bottas - FP1: 1:12.178, P3; FP2: 1:11.199, P2
"It's been a good day for us on track. In previous years, the car felt sometimes difficult to drive, but today it was very driveable, responsive and enjoyable. You need to find the limits on this track and I felt comfortable to push towards the limit, which is a good sign. Now we need to fine tune the set-up and make sure we keep going in the right direction. I think we've started the weekend on the right foot, but we're in Monaco and anything can happen."
Andrew Shovlin, Trackside Engineering Director
"As far as Monaco free practice sessions go, today's was fairly smooth. The first session was good, we were trying to run in the quiet parts of the session and were able to give the drivers a lot of time in clear air. We even managed to fit some higher fuel work in towards the end. The car was quite well-balanced once we got the tyres up to temperature.
"Over the break, we expected the track to gain a bit of grip, so the changes were fairly modest. We started the second session on the medium tyre, expecting it to be a bit of a handful but actually it was working quite nicely. We still seemed to have problems getting lap one out of the soft, despite the hotter track temperatures in the afternoon. On the long runs we were suffering with an incredible amount of traffic and the drivers struggled to put two clear laps together. That has meant we've not got quite the level of information we'd like going into the race.
"Monaco is unusual in that we have an extra day between the practice sessions so it gives us more time to look at data and understand the issues. Our number one concern is getting the soft tyre to work on the first lap; our headline times were good today but it took us a lot of laps to get there and qualifying is so important at this track. We've got Esteban in the simulator this evening and tomorrow so hopefully he can help with some of that learning."
Red Bull
A mixed day - Gasly showed a good deal of fortune and talent in keeping his RB15 out of the barriers in FP1 after taking a big chunk of kerb through the chicane. He kept his laps cleaner in second practice and was rewarded with P4. Verstappen looked quick enough to trouble the Mercedes boys in first practice, but was hampered by mechanical issues in FP2 and lost running as a result. If he can nail his set up, he could be in the mix come qualifying.
Max Verstappen - FP1: 1:12.165, P2; FP2: 1:12.052, P6
"Today was ok and I'm pretty happy with the balance of the car. In FP2 when everyone went onto a second set of tyres we had a water leak after some debris flew into the air box and damaged one of the radiators. We had to fix it which lost us some time on track but in general, we look alright and the pace was pretty good. I got enough laps in to feel confident with the car, we tried lots of set-up changes in both sessions and I'm happy with what we have. Mercedes is still very strong and I don't think we can fight them for pole, but there is a big gap between second and third which we should be able to fill in qualifying tomorrow."
Pierre Gasly - FP1: 1:13.170, P6; FP2: 1:11.938, P4
"It was a good day and I'm really happy. FP1 was a little difficult, but we made some changes for FP2 and I felt a lot better in the car, even in the long runs. As we expected, Mercedes are really fast and quite a long way ahead of us, but we can see we're in a fight with Ferrari. If it's raining on Saturday then anyone has a chance, but the Team is usually pretty strong here. There is still some work to do but hopefully we can find even more performance for Saturday, when it's all about qualifying and getting a good starting position. We'll do everything we can."
Ferrari
Leclerc started strongly, narrowly piping his team mate in first practice. The Monegasque driver failed to set a representative lap time in FP2 after locking up on his flying run, but certainly looks in the mix at the front. Vettel meanwhile also locked up on several occasions, narrowly avoiding a trip into the barriers. With their engine mode turned up on Saturday, will they be able to close the pace advantage to Mercedes out front?
Sebastian Vettel - FP1: 1:12.823, P5; FP2: 1:11.881, P3
"I decided to use a helmet dedicated to Niki. Being a tribute to him, as a person and to his career, the design is based on his last Ferrari helmet. I thought that maybe it was nice to take him along for a final couple of laps around Monaco.
"Talking about our performance we are struggling a bit, we are lacking some pace compared to our main rivals. We are still not happy with how the tyres work. I think we have a bit of work ahead of us.
"In terms of balance we can still improve on everything. We will work in order to have a car that is more predictable. I am sure on Saturday the situation should improve and maybe it will be also warmer, which could help us."
Charles Leclerc - FP1: 1:12.467, P4; FP2: 1:12.350, P10
"We have some work to do before returning to the track on Saturday. The first session was ok and I felt quite comfortable in the car. It was more difficult to put the car and the tyres in the right window in the afternoon, and we were also held up by traffic.
"Nevertheless, our competitors are strong and we have to push to close the gap in qualifying. We will give it everything and I can't wait to be back in the car."
Haas
Haas lost telemetry to their drivers and unable to call them into the pits, resorted to asking the FIA to black flag the pair. Once in the garage, they set to work fixing the issue and managed to get both back out on track. Both Grosjean and Magnussen looked solid and seem to be in the mix for the top 10, and tantalisingly are still allowed to race after their coming together last time out.
Romain Grosjean - FP1: 1:13.379, P10; FP2: 1:12.392, P11
"It's been a good day. We didn't really know what to expect coming here – obviously, last year here, it wasn't our strongest race. I was open-minded to what we could get. I'm quite happy with the way the car was. We possibly didn't quite choose the right set-up for FP2, but we tried something which was interesting. Now we can analyse all the data for Saturday. I think we should be in the mix for a good qualifying."
Kevin Magnussen - FP1: 1:13.232, P8; FP2: 1:12.174, P7
"We lost a bit of running in FP1 due to a telemetry problem, but got running again, and got all our low-fuel work done. That allowed me to get a good feeling for the car. We missed out on a few high-fuel laps, but we got them in FP2, so it wasn't too bad of a Thursday. Between us we also ran on all the tyre compounds today, so that's good. The car feels good in low-fuel, so we'll see what we can do for tyre management. It's a tough track to overtake on, so it's not the main priority, but of course we want to be fast in race runs. So far everything's going okay, and hopefully Q3's a possibility."
Guenther Steiner, Team Principal
"It's been an interesting and eventful day for us. This morning we had some issues with our IT equipment and we couldn't run for a while. It was all sorted, but a lot of people read a lot more into the black flags than there actually was. We still managed to get out with about 20 minutes left in FP1. FP2 was pretty good. We ran a lot of laps, we didn't have any issues. Everything was up and running again. The car seems to be competitive. So, let's see what happens Saturday, and hopefully we can repeat our result from today and have a good qualifying – which means having a good race on Sunday."
Alfa Romeo
Alfa started the season well before suffering a slight dip in form. But based on the running today, they are right up there on a track that suits both their drivers. Raikkonen is an old hand here, having won back in 2005 and showed his experience, albeit tempered by frustration at traffic. Giovinazzi was quieter, efficient and the match of his team mate. Can they convert a strong practice into qualifying results though?
Kimi Raikkonen - FP1: 1:13.363, P9; FP2: 1:12.342, P9
"I am not unhappy with the first two practice sessions. It was better than expected, but we still have a lot of work to do to get the best out of the car."
Antonio Giovinazzi - FP1: 1:13.437, P12; FP2: 1:12.239, P8
"I am happy about today's work. The first time in an F1 car around Monaco can be a bit daunting, but I got into a rhythm quickly and was able to enjoy the sessions. There isn't a lot between all the teams so we will need to make some more improvement tonight to stay in the top 10."
Frédéric Vasseur, Team Principal
"It's good to start in Monaco with two clean session, as track time is essential to build confidence around this track. We are satisfied with the work we did today but we are not getting carried away. Finding some extra performance is crucial if we want to target two places in Q3, which is our objective."
Renault
Head scratching time down at Renault. The team produced a solid performance in FP1, with both drivers around the top 10 and looking to have rediscovered some form. Both in second practice it was a different story, with tyre wear the biggest issue. Neither Hulkenberg nor Ricciardo were happy with their Pirelli rubber, complaining about graining, loss of temperature and a lack of grip amongst other things. They might have talented drivers but Q3 looks a distant possibility and at a track where overtaking is tricky, it is not boding well for the team on current form.
Nico Hulkenberg - FP1: 1:13.227, P7; FP2: 1:12.872, P16
"Today seemed to go okay, especially in the morning session. In the afternoon, on my short run on the soft tyre, we were interrupted with a lot of traffic so there was certainly more left in that. Monaco is always interesting and different to the usual race weekend and it's good to have a day off tomorrow to go through all the data and find the best set-up for the next couple of days. I'm feeling comfortable, the base feels good, but there's work to do here and there."
Daniel Ricciardo - FP1: 1:13.413, P11; FP2: 1:12.888, P17
"I felt relatively comfortable in the morning and I was pleased that we got up to speed quite quickly. However, we didn't make the step we needed in the afternoon. We did make some changes, but maybe they didn't help as well as we'd have liked. Following the afternoon session, we have a bit more homework to do to really find that extra bit. As ever around Monaco, it's awesome to be back driving a Formula 1 car on these streets. That's always special."
Nick Chester, Chassis Technical Director
"We were reasonably happy after the first session; we put a lot of laps in, the drivers felt comfortable and the balance didn't seem too bad. In the afternoon, we weren't as quick. We'll see what we did with set-up changes and look how we get the pace back for FP3 on Saturday. We know we have work to do for a better day on Saturday, but we have tomorrow to go over everything and make the right changes."
McLaren
Sainz was confined to the garage for most of first practice with mechanical problems. Considering he effectively had just the one session, P13 is a decent result and gives the team something to build on. Norris had a solid day - while he didn't trouble the top 10, he did manage a full programme in FP2 after missing some time in first practice, and kept out of the barriers, which is always a good sign for a rookie.
Carlos Sainz - FP1: 2:00.670, P20; FP2: 1:12.419, P13
"Well, obviously it hasn't been an ideal Thursday in Monaco. Missing out the whole of FP1 isn't the way you want to start a Monaco Grand Prix, but the mechanics made a great effort to change the ES pack and get me back out at the end of the session, just to do one lap and see how everything felt.
"FP2 went better but obviously I am 30-40 laps behind my competitors and there are things to improve on the car. It's important to get up to speed little-by-little, so we need to be intelligent when recovering the time lost. Quali is what really matters and there is still margin to work and improve."
Lando Norris - FP1: 1:14.278, P15; FP2: 1:12.393, P12
"Overall not a bad day, not perfect and a bit messy. I had a lock up in FP1 which made me lose quite a few laps and I couldn't do all the running we'd planned, but we still maximised the session and did some aero runs instead.
"We made a decent improvement between sessions and FP2 was much better, so I'm happy with what we achieved. But there's still a lot of work to do, and we need to make sure we make some more positive changes so that we can be at the front of the midfield."
James Key, Technical Director
"It's been an eventful day, as expected, here at Monaco. We tried some new parts on both cars. Unfortunately for Carlos he had a powertrain related issue in FP1 which restricted his running. It was Lando's first time here in an F1 car and he settled in very well.
"Good work between the sessions saw us achieve a better balance with both cars in FP2. Lando suffered some stoppage time due to a bit of damage from kerbing. Getting into Q3 is likely to be extremely tight, a matter of tenths or even hundredths. We'll continue to work our way forwards."
Toro Rosso
Albon beat both the Ferraris on his first flying run in second practice, and when the field bolted on another set of Pirelli rubber, still managed a credible fifth. The rookie managed a full programme for the team with plenty of vital data and will fancy his chances of making it to Q3. Kvyat had his flying run disrupted by traffic and will want to get back on par with his team mate first and foremost in FP3.
Daniil Kvyat - FP1: 1:13.731, P13; FP2: 1:12.577, P14
"I think from my side today was quite good. We completed everything we had planned for the day, but I think there's still something missing and there's quite a bit of time left to find. We will work hard to understand what we can do to improve so we're in the fight for Saturday."
Alex Albon - FP1: 1:13.827, P14; FP2: 1:12.031, P5
"It was a good day for us, it's really fun out there and I like the track a lot. I think we got the car in the right window, now we just need to study what we've learnt from today, so we can fine-tune the car and get ready for Saturday. We made a couple of adjustments for the afternoon session and I like how the car feels. We're cautious that other teams will improve for Saturday but finishing in the top five is a nice feeling."
Jonathan Eddolls, Chief Race Engineer
"Overall, the team had a successful Thursday in Monte Carlo, given it was the first time here for Alex in F1 and with Daniil missing 2018. One of the main objectives was to give the drivers as many laps as possible with a consistent car to build up the pace and their confidence, which is key to a quick lap here. Both drivers got up to speed very quickly in FP1 on the Option tyre and the STR14 was looking competitive, even though the general grip was low and the balance not perfect.
"Our usage of tyres was quite different to most, as we elected to use our only Free Practice Prime tyre during FP1, which we used for the second run. The warm-up on this tyre was not as expected, with both drivers finding it very difficult to get it working over the short run, particularly for Daniil. Both drivers managed to get the C4 working after several sustainable laps in the long run at the end of the session, although neither driver was completely happy with the car on this tyre. Since we used our Prime in FP1, it left us two Option tyres to use in FP2, so a good opportunity for Quali practice and to get a read on the tyres over a longer run, particularly the graining sensitivity of this tyre, which we expected could be a challenge.
"Daniil struggled with the car balance on the first run, so he aborted early to leave time to make the necessary setup changes for the second run – these changes helped but he still didn't have as good a balance in the car as Alex had. Alex's second run was very clean and this is reflected in his lap time, finishing the session in P5.
"We closed the session with long runs, where we saw that the Option tyre was robust, even though it showed general degradation. In summary, the car is looking competitive here, as demonstrated by Alex, but there is work to do by the engineers tonight and tomorrow to give Daniil a car that suits him on Saturday. We are confident we will be able to make improvements and challenge in Qualifying!"
Toyoharu Tanabe, Honda F1 Technical Director
"We ran a normal "Friday" programme today to optimise our PU settings. Everything went smoothly on the PU front with our two teams. I think both teams had a good start today overall. We now have plenty of time to analyse the data and decide how to set up the PUs for qualifying in two days' time and the race on Sunday."
Racing Point
Racing Point were the only team to run the hard compound tyre in first practice and Stroll in particular struggled to get it working at its optimum. Roll on second practice and the team didn't fare much better, with both men earning the wrath of their fellow drivers for dawdling on the racing line. Can they find some pace to get into the midfield mix before Saturday?
Sergio Perez - FP1: 1:14.566, P16; FP2: 1:12.752, P15
"We completed lots of laps today, but I haven't found the Monaco rhythm just yet and I think that shows in our performance today. We need to find a good step if we want to be in the fight for Q3 so there's a big night ahead of us and we need to make good use of the extra day tomorrow. The car doesn't feel too bad – the balance is okay, but we are still on the back foot. With some fine-tuning we can definitely make things better. Understanding the data and making good decisions is a real strength of this team so I'm confident we can be in a better position by Saturday afternoon"
Lance Stroll - FP1: 1:16.135, P19; FP2: 1:14.558, P18
"It's not been the easiest day. We took things steady this morning and tried to build up our speed gradually, but the car isn't where we need it to be just yet. We're missing some speed so we need to work hard tonight and tomorrow to understand where we can make some improvements."
Otmar Szafnauer, Team Principal & CEO
"Thursdays in Monaco are always tricky because the track is dirty and constantly evolves. The priority was getting the drivers in the groove so that they built their confidence and felt comfortable in the car. Sergio was happier than Lance, but we're still chasing a better set-up on both cars and that's where we will focus our energy over the next 24 hours. It's a race where qualifying performance often dictates your race result so that's where we need to concentrate. We have the luxury of an extra day to crunch all the numbers and find the best solution for Saturday."
Williams
Kubica lost the rear of his FW42 coming out of Casino Square, pitching sideways across the track and tagging the barriers. He made it back tot he pits under his own steam but didn't come back out on track in first practice. Russell also lost running after locking up in FP2, flat spotting his tyres in the process. He looked to have the measure of his team mate in the running he did manage, which doesn't bode well for the Pole in qualifying...
Robert Kubica - FP1: 1:15.514, P18; FP2: 1:15.146, P20
"I was looking forward to getting back into the car in Monaco. Of course, with the lack of grip and struggling with general downforce, the streets are not the easiest to drive. The positive from returning here after nine years was that I jumped into the car and the opening laps were not too bad. However, when the pace picks up, it will be more difficult for us. We have to balance risk with keeping it tidy and steady."
George Russell - FP1: 1:15.115, P17; FP2: 1:15.052, P19
"Today was pretty cool and such a thrill to be driving around these streets in a Formula One car. I had fun out there especially on the low fuel, trying to get the most out of it was good experience. The car is not in the perfect window, on a track like this it punishes you a bit more. Monaco is a very unique place and we knew it was going to be tricky."
Dave Robson, Senior Race Engineer
"As is usually the case in Monaco, normal Free Practice testing is largely put on hold whilst we spend time acclimatising to the unique nature of Monaco. Our programme in FP1 centred on giving the drivers enough track time to build-up their confidence in the car, and allowing the engineers to check that we have the temperatures of the car under control. In FP2, with the track starting to offer more grip, we were able to look at tyre management in preparation for both qualifying and the race. We now have the additional day to view today's data before committing to the car set-up for FP3.
"Both drivers did a good job today with only a minor spin for Robert this morning and a tyre flat-spot for George this afternoon causing us to make slight changes to the programme. The team back in Grove have done a good job to supply us with some Monaco-specific items and they all seem to be performing well."
Pirelli
Mario Isola, Head of F1 and Car Racing
"It was a fairly typical Monaco Thursday, although with slightly cooler conditions than is often the case, and no lengthy stoppages. We saw most drivers on the soft tyres all day, which are similar to last year's hypersoft here, but with extra durability. As a result, the drivers have been able to push harder for longer: already at the end of Thursday we are not far from the pole time from last year. Although there are some question marks about the weather still, we'd expect the tyre strategy for qualifying and the race to be reasonably straightforward, with the teams having gathered plenty of information today."