What tyres will the teams and drivers have for the 2023 Japanese Grand Prix?
Formula 1 heads from Singapore to Japan this weekend, and the fast, flowing Suzuka circuit, with tyre supplier Pirelli confirming the compounds that will be in play.
Pirelli have brought some of the hardest tyres in their 2023 range to the historic venue, the C1, C2 and C3, to account for the "very significant lateral and vertical loads" throughout the lap.
IT'S RACE WEEK: 5 storylines we're excited about ahead of the 2023 Japanese Grand Prix
The C1 will be marked with a white sidewall, the C2 with a yellow sidewall and the C3 with a red sidewall, while the green intermediate tyre and the blue full wets are available if needed.
On Friday, all teams will get the chance to test a new version of the C2 compound, with a view to homologating it for next season. For the first two free practice sessions, each driver will have two additional sets of tyres, compared to the usual 13 sets per weekend.
"The Japanese Grand Prix takes place on one of the most fascinating and demanding tracks in Formula 1 history: Suzuka, with its unique figure of eight layout," said Pirelli Motorsport Director Mario Isola.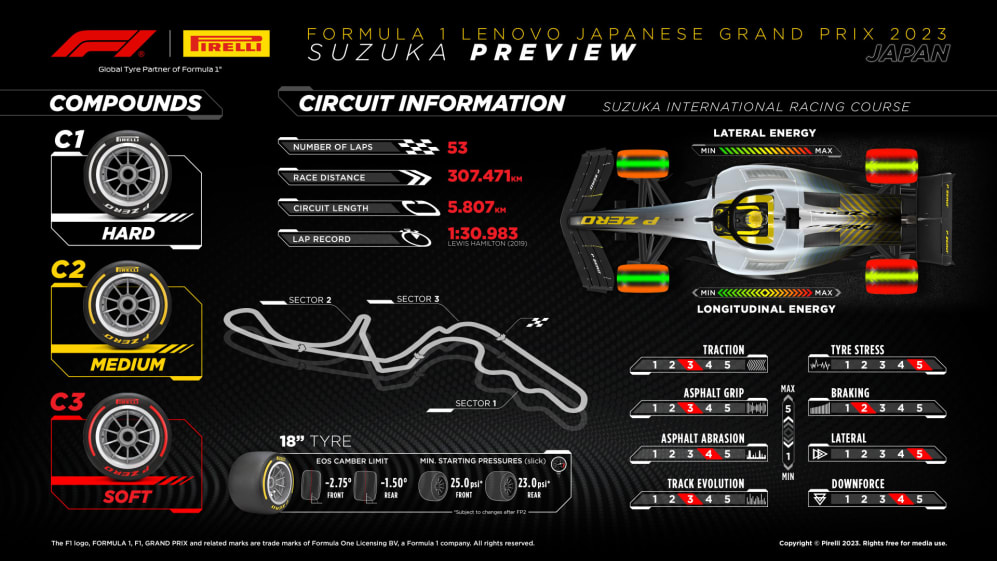 "This historic venue is a drivers' favourite, being absolutely thrilling to drive in today's ultra-competitive single-seaters.
"With its very significant lateral and vertical loads, Suzuka is as demanding on tyres as it is on drivers. These demands are equally distributed across all four wheels, with 10 right-handers and eight left-handers throughout the six-kilometre lap.
WATCH: Five great Japanese Grand Prix battles from the F1 archive
"As a result of these challenging characteristics, we bring some of the hardest tyres in the 2023 range to Japan: C1, C2, and C3. This is only nominally the same as last year's selection on account of the new C1 compound, which was introduced this season to slot in between the C2 and former C1 (now called C0)."
For more information about Pirelli's F1 tyres, visit pirelli.com.