Feature
IT'S RACE WEEK: 5 storylines we're excited about ahead of the 2023 Japanese Grand Prix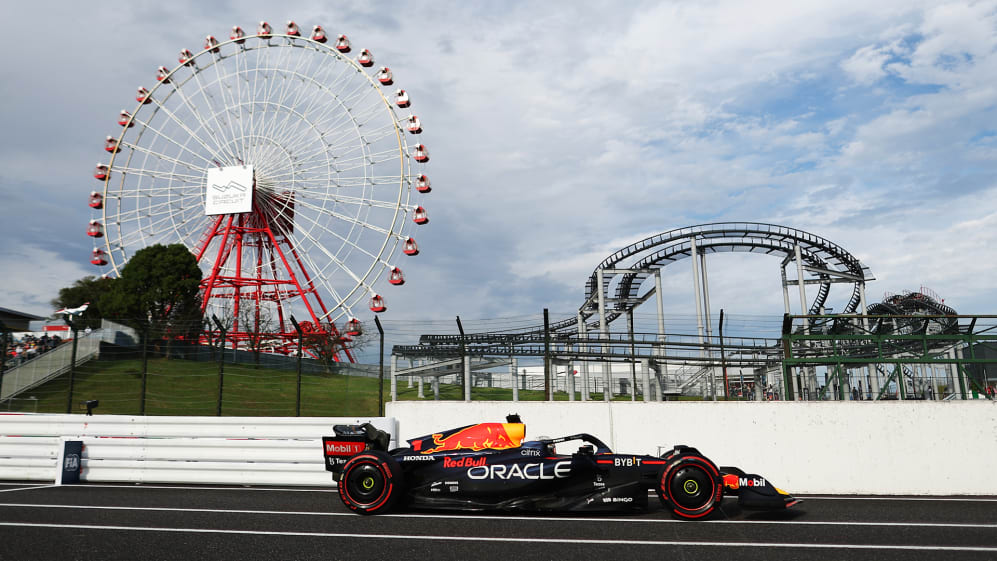 The quest for a clean sweep of victories is over but Red Bull still stand on the verge of a special achievement following the race in Singapore. After the thrilling fight for the win on Sunday it's a very different challenge this weekend, so here are some of the talking points heading to Suzuka.
How will Red Bull respond?
I'm not saying we called it in last week's feature, but we kind of did… At the very least Red Bull had been talking down their chances of winning in Singapore as they expected a stern challenge from other teams and that's exactly what happened as Max Verstappen had to settle for fifth place and Carlos Sainz won an edge-of-your-seat race ahead of Lando Norris and Lewis Hamilton.
READ MORE: 5 Winners and 5 Losers from Singapore – Who impressed under the lights at Marina Bay?
Neither Red Bull driver made it through to Q2 in Singapore but expect to be far more competitive at Suzuka, where the circuit should really suit the RB19 thanks to a number of long, high-speed corners.
Red Bull will want to put the last race behind them quickly, partly just because of the nature of the calendar meaning they need to be on form from the start of FP1 on Friday, but also because Japan provides them with their first chance to win the constructors' championship this year.
It would be fair to say that it's an inevitability, so even if it doesn't quite work out this weekend it will hardly be a disaster for the defending champions. They only need to extend their advantage over Mercedes by one point – or lose no more than 23 points compared to Ferrari – to take the title.
The challengers looking to keep the pressure on
Red Bull might be on the verge of another championship but they have come under real pressure at times this season, including across the last two races.
Prior to Carlos Sainz's victory in Singapore, Ferrari had also been a threat to Red Bull at Monza, where Sainz also started from pole position and led early on before Verstappen and Sergio Perez finally found their way past.
READ MORE: Sainz credits key 'Carlando' moment for preventing him being 'dead meat' on his way to Singapore victory
Ferrari Team Principal Frederic Vasseur attributes the recent performances to work done at Zandvoort after the summer break, and then Sainz being able to hit the ground running from the very first lap of FP1 at each of the last two venues.
Whether a similarly smooth start to the Suzuka weekend will allow the pressure to remain on Red Bull remains to be seen, but you can be sure that Ferrari can't let their standards drop given the threat from Mercedes, McLaren and Aston Martin.
And while Red Bull close in on the constructors' title, the fight for second place is only getting more intense, with Mercedes now just 24 points ahead of Ferrari.
Aston Martin have slipped 72 points adrift in that battle and will have half an eye on McLaren's progress, with the gap between the two teams 78 points but McLaren having outscored Aston by 59 points (122 to 63) since introducing an upgraded car in Austria. That was seven races ago, and there are seven races remaining this season.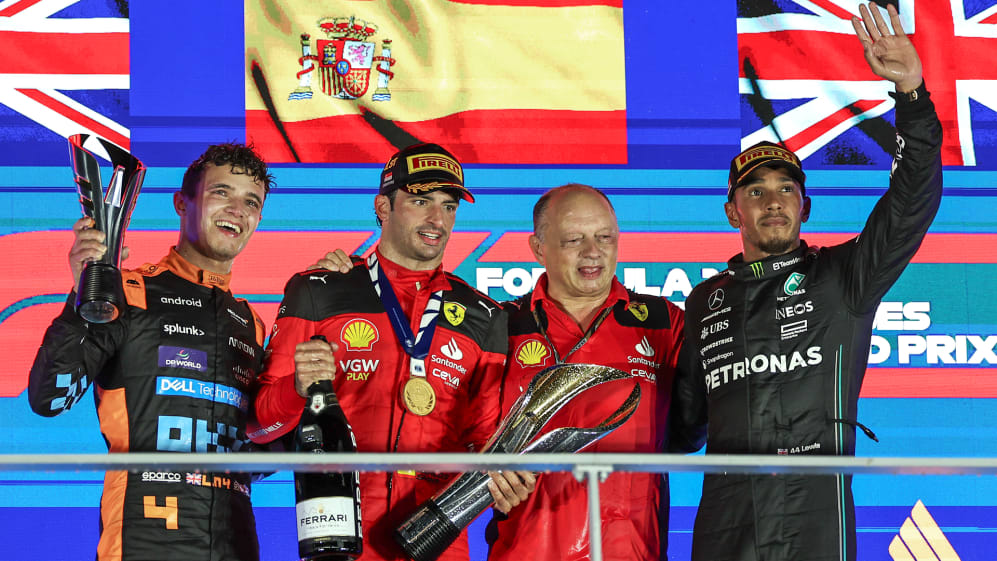 Lance Stroll's return
If Aston Martin want to ensure McLaren don't become a major threat for fourth in the constructors' championship, then they will need both drivers scoring points as often as possible.
For the first time this season, Aston Martin failed to score at all in Singapore, as Lance Stroll didn't race and Fernando Alonso then endured a tough evening with tyre temperatures and a delayed pit stop due to the rear jack failing during the Virtual Safety Car period.
READ MORE: Stroll to miss Singapore Grand Prix following qualifying crash
In hindsight, it likely means Stroll's decision to focus on being fully fit for Japan and not attempting to drive despite feeling the effects of his heavy crash in qualifying was a sensible one, with limited rewards on offer.
But Stroll's performance will be an area of focus after his big hit on Saturday, with the Canadian set to jump back in at one of the most iconic venues on the calendar that will also punish mistakes, particularly in the high-speed sections.
Liam Lawson's second home
Liam Lawson has been one of the standout drivers of the past three race weekends, and now has a great chance to build further on that.
Back in the summer break if you had said that he would be the lead Red Bull driver on the grid in Singapore, you'd have probably got some very strange looks, but he duly reached Q3 for the first time and then drove a controlled race in tough physical conditions to score two points.
READ MORE: Lawson hails 'fantastic' first F1 points scoring outing after finishing ninth in Singapore
That return came at a track that can prove very tough for rookies – from both a lack of experience and the fitness demands – but now Lawson heads to a venue he is more familiar with. The New Zealander has been racing in Japan's Super Formula championship this season and currently sits second in the standings with one round to go.
He's already raced at Suzuka in Super Formula and is set to do so again in October's title decider, so it's a track he has the most recent knowledge of outside of F1.
Lawson is also likely to get a large amount of support given his local exploits and the fact he's driving for a Honda-affiliated team, which perhaps means he now faces his first weekend with a form of expectation on his shoulders.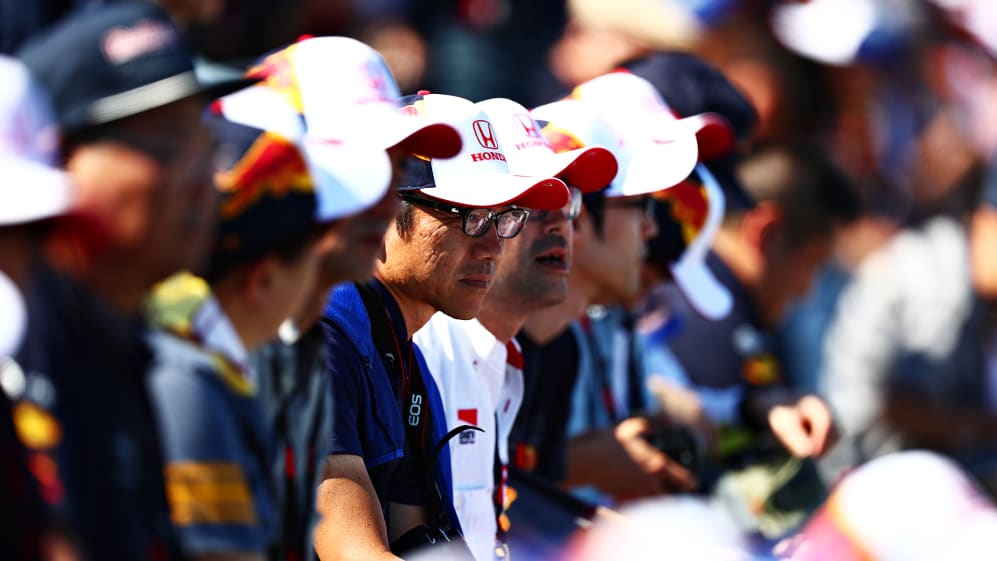 A special atmosphere
One of the most incredible sights on the Formula 1 calendar is a full main grandstand at Suzuka long after dark on a Thursday. It just serves as a reminder before the track action kicks off as to how passionate and excited the Japanese fans are to have the sport racing at the iconic venue.
And what a track it is, with the high-speed changes of direction through the opening sector added to by the Degner curves, Spoon and 130R, that all test an F1 car's performance to its limits.
F1 NATION: A Carlos Sainz smooth operation and George Russell's heartbreak – it's our Singapore GP review
This year, fans will have the chance to get even closer to the sport courtesy of the Tokyo fan festivals that are happening on Wednesday at both Tokyu Kabukicho Tower and Kabukicho Cine City Square, featuring the likes of Max Verstappen, Sergio Perez, Esteban Ocon, Fred Vasseur and Stefano Domenicali.
Other big names who are set to appear include James Vowles, Jean Alesi and Shinji Nakano, with the Red Bull RB19 and the AlphaTauri AT02 from 2021 on display.
Yuki Tsunoda will also be present ahead of his home Grand Prix, and his presence will certainly make AlphaTauri a popular team this weekend, as the Japanese driver looks to deliver on his promising performances this season with points after two frustrating endings to his past two outings in Monza and Singapore.