What tyres will the teams and drivers have for the 2023 Singapore Grand Prix?
Pirelli have announced which tyres they will be bringing to this weekend's Singapore Grand Prix, as the drivers and teams get set to go racing under the lights at the Marina Bay Circuit.
F1's official tyre supplier has revealed it will once again be bringing the three softest tyres in their range to Singapore, with the drivers able to call upon the C3 (hard tyre), C4 (medium tyre) and the C5 (soft tyre) as they did in Monza.
F1 NATION: Spectacular Singapore awaits as Verstappen's rivals try to halt his unbroken run
Following the Alternative Tyre Allocation (ATA) last time out in Monza – where the teams were given 11 tyres – the drivers will revert to normal and be given two sets of the hard tyre (marked white), three sets of the medium tyre (marked yellow), and eight sets of the soft tyre (marked red), as well as the green intermediate tyre and the blue full wets, if required.
"The closing stages of this long season, taking Formula 1 to three continents and 16 different time zones, kicks off in Singapore this weekend," said Pirelli's Motorsport Director Mario Isola. "This was the first race to take place under artificial light: an idea that was later followed, in varying degrees, by other venues.
"From a technical point of view, Marina Bay is a typical street circuit: very twisty (with 19 corners, many of them 90-degree) and little run off. As a result, even a small mistake can be costly, while the track layout also means that the cars run a high level of downforce.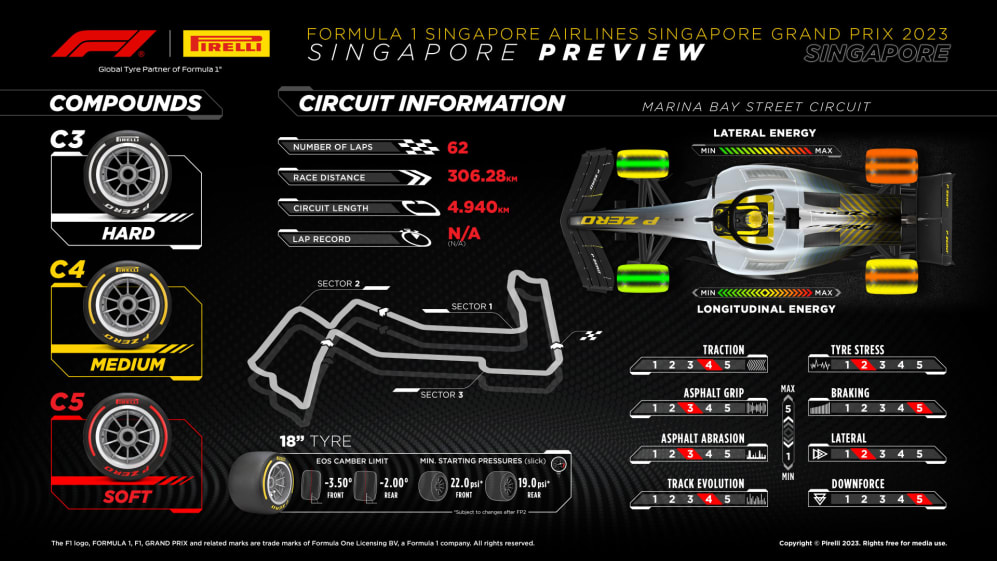 "This year, the lap takes on a new look due to some building work in the Marina Bay area: the part of the track that was previously turns 16 to 19 is now just a single straight, which is nearly 400 metres long.
"This change will make the track faster; firstly, because the total lap length is now less than five kilometres and secondly because the layout has become a lot more flowing. We'll wait to see if this change has an effect on strategies, because in theory at least it could create an overtaking opportunity – with passing notoriously difficult unless you have a much faster car."
IT'S RACE WEEK: 5 storylines we're excited about ahead of the 2023 Singapore Grand Prix
He added: "This track doesn't place particular stress on the tyres in terms of loading, but the rear tyres need to be carefully managed during the traction phase when exiting slow corners.
"Temperatures are usually consistently high, as Singapore is only about 150 kilometres from the equator. This increases the risk of overheating: not just for tyres but also everything else, including the mechanicals and of course the driver."
For more information about Pirelli's F1 tyres, visit pirelli.com.