What's new on F1 TV for 2020 – including early bird discounts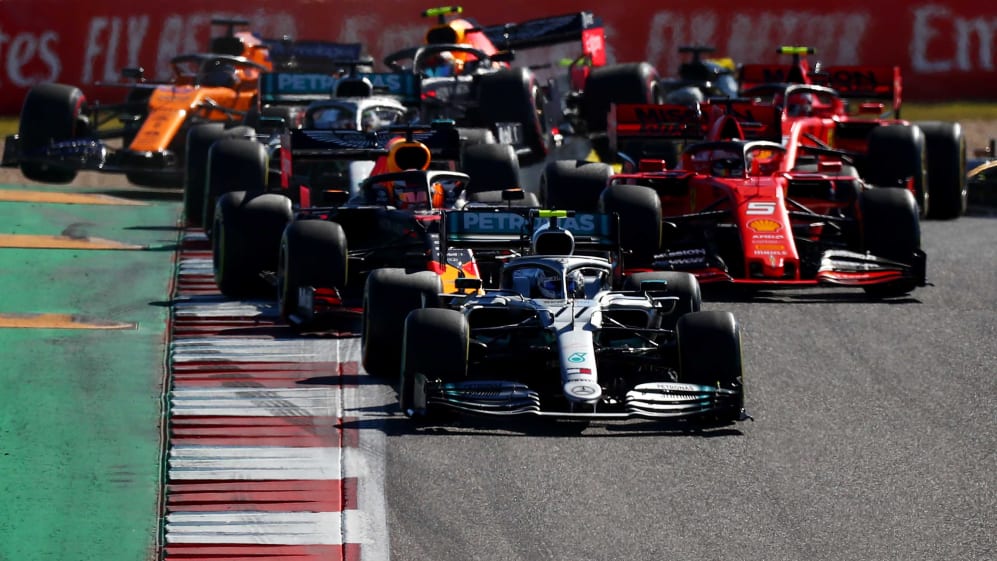 Pre-season testing is now just a day away, and we recently announced that F1 TV Pro subscribers can watch all six days from Barcelona. However, there are plenty more reasons to sign up to our premium OTT service for 2020 – including early bird discount offers...
For a limited time only, new subscribers can save 25% on an annual F1 TV Subscription with Code EARLYBIRD25 *Offer valid for web orders until February 28th 2020 (not available to Canada region)
Don't miss a minute of pre-season testing
Subscribers to F1 TV Pro (as well as Sky F1 UK and Sky F1 Italia viewers) will be able to tune into live coverage of the tests at the Circuit de Barcelona-Catalunya from 0900 to 1300 CET and then again from 1400 to 1800 each day – that's February 19-21 and February 26-28 – as the teams descend on the Spanish track to get their first look at the pecking order for the 2020 season.
F1 TV Pro will also host a daily Tech Talk show – analysing the latest innovations the teams are trialling for 2020 – as well as full coverage of the new lunchtime press conferences, due to be held daily across testing. Sky F1 UK's round-up show will also be available on F1 TV Pro.
Bigger and better content
As well as live coverage of every session over Grand Prix weekends, F1 TV Pro subscribers get access to our new and exclusive pre-race and Tech Talk shows, and the post-race show. F1 have also recently launched an series of exclusive F1-produced content for F1 TV, including the five-part docuseries that takes you behind the scenes of the 2019 FIA Formula 2: "F2: Chasing the Dream". Look out for more exclusive content being released throughout the year.
Improved pit lane channel
Once the season is under way and all the cars are wired, F1 TV Pro will allow users to access all onboard cameras and hear unedited team radios, as well as watch the upgraded multi-screen Pit Lane channel. The Pit Lane channel covers multiple battles at once, gives you more insights with additional graphics, additional angles, additional expert commentary to make sure you are never missing out on the action and strategies.
The main upgrades on the Pit Lane channel are:
• Improved commentary: in addition to Alex Jacques we will have another commentator and special guests
• New camera angles with Pit wall and pit box cameras
• Live reporting from the paddock and pit lane
Available on F1 TV Pro only
Roku brings better US coverage
F1 TV has made its North American debut on the Roku platform with both the Pro and Access subscription plans now available in the Roku Channel Store in the US.
This is the first time F1 TV will be available to watch on a large screen format. Formula 1 fans (US only for now) will now be able to enjoy a set of complimentary features to those already offered by F1 TV on their desktops and mobile devices and watch them on any screen they choose.
Improved live timing
All F1 TV subscribers will have access to a much richer Live Timing features on the official F1 app this year, with more data than what the F1 teams get on the pit lane with:
• The new lap segment feature, enabling fans to see beyond the traditional sector times
• The ability to compare drivers' lap times against one another
• All the data is contextual so fans can tailor their view of live timing and dig deeper in the strategies
Live timing features are available on both F1 TV Pro and F1 TV Access.
Even more territories
For 2020 F1 TV Pro is now available in no less than 77 territories – check out the new ones in bold in the list at the foot of this page, or find more details here.
F1 TV Pro is available in the following 77 territories – check out the new ones in bold...
Angola, Argentina, Anguilla, Antigua and Barbuda, Aruba, Austria, Azerbaijan, Bahamas, Barbados, Belgium, Bosnia, Botswana, British Virgin Islands, Bulgaria, Caribbean Netherlands, Cayman Islands, Chile, Colombia, Costa Rica, Croatia, Curaçao, Cyprus, Denmark, Dominica, Dominican Republic, Ecuador, France (new lower price), Ghana, Germany, Greece, Grenada, Guadeloupe, Guatemala, Haiti, Honduras, Hungary, Jamaica, Kenya, Luxembourg, Malta, Martinique, Mexico, Monaco, Montserrat, Mozambique, Namibia, Netherlands, Nicaragua, Nigeria, Norway, Paraguay, Peru, Poland, Portugal, Romania, Saint Barthélemy, Saint Kitts and Nevis, Saint Lucia, Saint Martin, Saint Vincent and the Grenadines, Serbia, Sint Maarten, Slovenia, South Africa, South Tyrol, Sweden, Switzerland, Trinidad and Tobago, Turkey, Turks and Caicos Islands, Uganda, Ukraine, United States Virgin Islands, Uruguay, USA, Venezuela, Zambia, Zimbabwe.