Feature
Whats the teams said - Qualifying in Monaco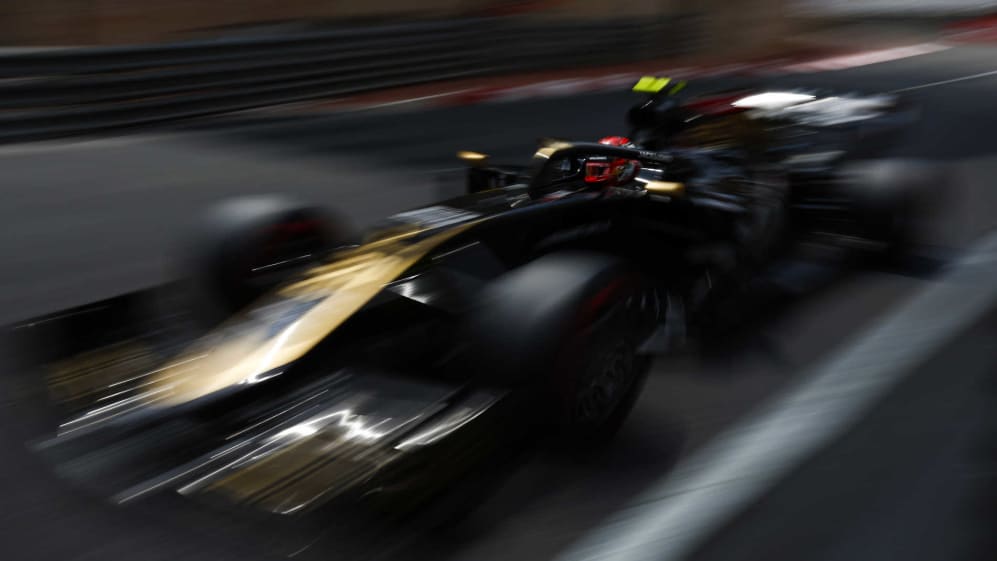 Mercedes
Despite a Ferrari topping the timing sheets in FP3, it looked like Mercedes had plenty in hand come qualifying and so it proved. But who would take pole? Bottas was comfortably ahead in Q1 and Q2 and set a scintillating lap at the start of Q3. Enter Hamilton - on the ragged edge, almost sideways through Rascasse and yet kept it together to halt his team mate's momentum. A second pole of the year for Hamilton, a fifth one-two for the team this year. But who will get the better start when it counts tomorrow?
Lewis Hamilton, 1st, 1:10.166
"This is one of the best poles I can remember. We've had a lot of success over the years, but I can't really remember a pole that means as much as this one. It's been such a difficult week for the whole team and me personally. It's amazing that we've turned up here as a team, continuing to take strides forward together collectively, get stronger and improve our performance weekend in, weekend out. I'm just so proud of everyone. We have a cloud over us this weekend, so we're really trying to lift each other up and we're trying to deliver for Niki. I have not had a huge amount of success in Monaco over the years, I never quite got that perfect lap, but I think today was as close as I can get to it. This one is for Niki."
Valtteri Bottas, 2nd, 1:10.252
"I definitely felt like I had the speed to take pole today. My first run in Q3 was quick, but I had two or three tenths in my pocket. I was stuck in traffic on my final out lap in Q3, so my tyres weren't warm enough for the second run. As soon as I started the lap I could feel that they weren't gripping and I saw during the lap on the screens that Lewis took pole. For me personally that's annoying, but for the team it's another incredible result. We have a long race ahead of us and anything can happen tomorrow. The run into Turn 1 is very short in Monaco, so it's tricky to make a difference there, but I will keep pushing and use every opportunity that might come up."
Toto Wolff, Head of Mercedes-Benz Motorsport
"I'm really happy. We struggled a bit to understand how to best prep the tyre to warm them up and get them into the temperature window. We had to decide between two laps or one lap to prepare them, but in the end we found the right formula. Valtteri had a sensational first lap in Q3, but he hit some traffic on the out lap for his second run, so his tyres were a bit too cold and he didn't have enough grip. Lewis put in a fantastic second lap and managed to get pole. It's a shame for Charles; I think he had it in him for to fight for front row in his home race. The weather forecast keeps changing, but the latest I heard was that there's a 60 percent chance for rain in the race, so it should be exciting tomorrow."
Andrew Shovlin, Trackside Engineering Director
"Well done to the team on another front row and to Lewis on a great lap for pole. I'm fairly sure that it would have looked more straightforward from the outside than it really was. The soft compound is not easy to get going here and we'd realised on Thursday that we would need a fast out lap; which in Monaco means an out lap in free air. Everyone seemed to run early in the first qualifying session, so we were too cold starting the first lap, both cars were then struggling to get clean laps until much later in the run when the tyres were well past their best.
"The second session is always a bit more straightforward with fewer cars on track and Valtteri started to put some really nice laps in. Lewis was finding it hard to get the tyres to work for lap one, his second session was a bit messy. We hadn't quite decided what we were doing by the final session, Lewis trying lap two, Valtteri lap one, but the time Valtteri put in made it clear we needed to go for the first lap.
"The final lap in qualifying is so important here and so it proved today. Lewis was able to get the tyres into the right range and put together a good lap for pole, Valtteri was held up on the out lap by the cars around him and started the lap a bit cool, which ultimately meant he couldn't improve. Whilst the front row is important here, it's also Monaco and anything can happen. The tyres are also quite marginal for a one stop so we're not assuming that we will have an easy time tomorrow and will work hard overnight to make sure we are as well prepared as we can be."
Ferrari
Leclerc topped the timing sheet in final practice and looked the pick of the Ferrari drivers today. But a strategic error left the youngster in the pits at the end of Q1 as others improved, knocking him out in what was a colossal error of judgement given how hard it is to overtake here. Vettel fared only slightly better - he rearranged his car's front wing in FP3, losing plenty of running and then clipped the wall twice in qualifying in a scrappy display. Fourth was the best the German could manage.
Sebastian Vettel, 4th, 1:10.947
"It was a difficult day for the whole team. I ended up in the barrier in the third free practice session, but the guys did a great job to fix the car and get me out for qualifying. Unfortunately, we struggled to get the tyres to work properly in Q1 and that meant I had to use an extra set. I managed to get through, but Charles didn't while he was in 15thplace, which would have been good enough. Unfortunately, these things can happen in Monaco, if you don't have a margin, you have to take risks and it doesn't always go the way you want. We were not as competitive as we would have liked to be in qualifying, but the race is a different matter and in Monaco, anything can happen."
Charles Leclerc, 16th, 1:12.149
"It's easy to understand how disappointing was this qualifying, as it significantly compromises my home race. The team was convinced that the time I'd done was good enough to get me into Q2, which would mean saving one more set of tyres, but unfortunately I was the first of those knocked out. It's a real shame because I think that today I could have got a good result. Clearly it will be very difficult to recover in the race, because it's almost impossible to overtake here. There's a chance of rain and that would make the race more unpredictable: that could give me a slightly better chance."

Mattia Binotto, Team Principal
"Definitely not a good day. In Q1 we made an error of judgement. We thought Charles' time would have been good enough to get into the next part of the session and so we kept him in the garage, sending out just Sebastian who, at that moment, was one of those who was excluded. Track conditions evolved more than we expected the drivers were finding more grip on track. This meant many of them improved their times and as a result, Charles was eliminated. It's a real shame and I am very disappointed for him, especially as it's his home race. Sebastian managed to qualify on the second row and that means he can aim for a good result in the race."
Red Bull
Verstappen's car was in pieces before qualifying, his mechanics doing well to get the Dutchman out on time. Both cars comfortably made Q3 and once there looked competitive, with Verstappen in particular giving the Silver Arrows a run for their money. He had to abort his last final lap after struggling for tyre warm up in a case of what might have been. Gasly meanwhile was be in trouble after impeding Grosjean in Q2 and had to visit the stewards to explain himself. He was given a three-place grid drop for tomorrow's race.
Max Verstappen, 3rd, 1:10.641
"It was an exciting qualifying and I'm happy to be starting third as I think it was the maximum we could do today. Everyone in the Team works so hard at this race so hopefully they can also be happy with this and my mechanics did a great job. Of course, as a driver and a racer you always want to be on pole but you also have to be realistic. In Q2 it looked pretty good but I knew that they (Mercedes) were coming and that they still had some margin. In Q3 we didn't quite have the tyre temperature that we wanted on the final run, which cost us a bit of lap time, but I still don't think we had enough for the front row. Overall, I feel good in the car and we keep pushing hard to improve. It is of course hard to overtake here so it will be very challenging to move forwards in the race, but if we are able to stay close then who knows what can be done with strategy. Whatever happens, I will be pushing as hard as always for the best result."
Pierre Gasly, 5th, 1:11.041
"It was a good qualifying and fifth is pretty good. I would have liked to have jumped Seb who was just a tenth faster in P4, but I wasn't super satisfied with my lap and I struggled to put all the sectors together. You can see things are getting better but for sure there is still more performance to come. It's all about continuing to work with the engineers to try and find a balance that helps me extract the maximum from myself. There's a chance of some rain tomorrow which I wouldn't mind, especially on this track as it would make things pretty interesting. I think we're pretty good in the long run, but the main chance for us will be at the start where hopefully we can make up some places."
Christian Horner, Team Principal
"Third and fifth are decent grid positions for tomorrow and it's our best qualifying of the season to date. Max was extremely impressive in Q1 and quickest in Q2. Unfortunately, it wasn't the cleanest Q3 for us with traffic on his preparation lap. But nonetheless, the second row here on the clean side of the grid is a great place to be starting the Monaco Grand Prix. Pierre has had an impressive weekend so far, qualifying a close fifth. This strong performance represents his best ever qualifying result in F1. The forecast also looks a little bit variable for tomorrow so that could spice things up."
Haas
Haas looked solid Q3 contenders and Magnussen made it all the way for the team, winding up in the coveted 'best of the rest' position of sixth. His team mate wasn't so lucky, Grosjean being impeded by Gasly in the closing moments of Q2. That certainly cost the Frenchman the chance to progress and he turned the air waves blue with frustration. One tiny silver lining for the team though - their cars are comfortably apart on the starting grid after their coming together last time out and thus unlikely to be repeating the incident...
Romain Grosjean, 13th, 1:12.027
"At the end, traffic cost us the chance to move into Q3. I was clearly going to crash into Pierre (Gasly). It's not his fault, we can't see anything with these mirrors, we rely on the radio – and I don't think he was warned on the radio by Red Bull. The same happened to me in Bahrain with Lando Norris. I'm obviously unhappy, and even though Gasly was penalised, it's not his fault, and it's not going to change my qualifying – I'll start where I am, and for tomorrow, that's a bad thing. It's Monaco, there's not much we can hope for as qualifying is key."
Kevin Magnussen, 6th, 1:11.109
"It was a really good session. I had a really good car, I could push, I felt comfortable. I put a lot of stress on the guys in Q2 with the damage to the front wing in the session after I kissed the wall, they did a fantastic job to turn it around, fix it, and send me out again. I got into Q3 with a good lap, then did another one there. We know how important qualifying is at this track, so to get P6 at the front of the midfield again – the fake pole position, I'm extremely happy with it. It was a perfect job from the whole team, not just me – it was a team effort." Guenther Steiner, Team Principal
"A very good day on one side of the garage. Kevin (Magnussen) did a fantastic job. We couldn't have done anything better. The team was fantastic in reacting to when he had the damaged front wing. Everything was smooth, so I'm very happy and proud of that one, as can the guys. Romain (Grosjean) was impeded by Gasly – it was the wrong moment, at the wrong time, at the wrong place. He was pushed out of getting into Q3 by that, otherwise I think he would have made it in easily to Q3. Overall, I think we're happier today than upset. We start P5 tomorrow with Kevin, because Gasly was penalized, and we just need to deliver a clean race, and get as many points as possible so we can build on our tally from Spain."
Toro Rosso
Albon made Q3 for the first time, and was joined there by his team mate in a strong showing from Toro Rosso. Both drivers had to run with used tyres first time around which didn't help their chances, but nonetheless eighth for the Russian and P10 for the rookie was a good result. Can the team manage their first double points finish of the year?
Daniil Kvyat, 8th, 1:11.271
"I'm very satisfied with qualifying today. I think it was great teamwork between my engineers and myself. We did a good job analysing where I felt uncomfortable on Thursday and they gave me exactly what I asked for, as soon as I get the setup I want I know I can deliver a good performance. That's three Q3s in a row now, so I'm happy with how I'm performing - I hope we can do a good job tomorrow and score some points to capitalise on a good qualifying."
Alex Albon, 10th, 1:11.653
"I'm happy to make it to my first Q3, although it wasn't easy out there as I couldn't find a good rhythm - it wasn't as good as Thursday. I was on the back foot for most of the session trying to get the tyres to work. It was also a matter of getting confidence: you arrive at Turn 1, the tyres are really cold as you've spent Sector 3 going at pedestrian pace, and you get to the first corner not knowing exactly what's going to happen! However, we can be happy with P10 in Monaco as it can always lead to something good."
Jody Egginton, Technical Director
"Overall, today has been pretty satisfactory. The drivers and the team have done a good job to extract performance from our cars resulting in a successful qualifying and reasonable starting positions for tomorrow's race. The set up changes made to Dany's car since Thursday provided him with a more consistent package and, as a result, he has been able to extract more lap time, improve his consistency and we have been rewarded with Dany making to Q3 and qualifying P8. On the other side of the garage, Alex was not totally happy with his car's balance during FP3, so further changes were made to address this during the morning session and also ahead of qualifying, which had some effect, allowing Alex to also progress to Q3 and qualify P10.
"We are now fully focused on race preparations in order to take advantage of the good work done today. Our target is simply to finish the job and secure points with both cars."
Toyoharu Tanabe, Honda F1 Technical Director
"Today's qualifying performance puts us in a strong position for tomorrow's race. It was the first time this year that we have had all four of our cars in the top ten. Well done to all the drivers and to the teams for producing competitive cars. On the PU side, we found the right settings in terms of driveability, which is one of the most important requirements for this track. It will be a long race tomorrow and anything can happen over the 78 laps of this tight street circuit, therefore we must make sure we are ready to deal with any situation that might arise."
McLaren
Considering how much running he lost on Thursday, and how much he predicted that would impact his weekend, making Q3 was a big achievement for Sainz. The Spaniard wound up an impressive ninth and will be looking for his third points finish in a row. Norris missed out on Q3 for the second straight race, but has had a tidy weekend and could capitalise on the mistakes of others come race day.
Carlos Sainz, 9th, 1:11.417
"Very happy with this quali and back to Q3! After missing the whole of FP1 and a very difficult FP3 where we didn't get it right on the set up, finishing P9 today is a great turnaround of the weekend. I managed to put together very good laps, improving consistently to finish with that 1m11.4s which I think was the maximum we could extract today.
"I always enjoy qualifying around these streets, but the job is not done quite yet. Thank you to the team for a good analysis and a perfectly well-executed quali in the garage."
Lando Norris, 12th, 1:11.724
"Overall I think it was a decent quali considering it was my first time here in Monaco in F1. I struggled in FP3, perhaps we went in slightly the wrong direction, so went back to what we had on Thursday. It was a little bit of an unknown in terms of how the car was going to change but I had an idea from Thursday.
"I made a small mistake in Turn 1 on my final push lap which effectively cost me going in to Q3. I didn't do it when it counted and that was my mistake. We made good improvements and maybe I wasn't as confident compared to at some other tracks."
Andreas Seidl, Team Principal
"Well done to the team and our drivers for recovering well from FP3 which didn't look that great. With the changes we made to our cars from FP2 to FP3, we somehow lost ground to our rivals in terms of pace. Both drivers struggled with grip and traction and weren't happy with the balance of the car. The engineers did a great job staying calm, reverting back to settings from Thursday and adjusting the car to the different track conditions for quali. The car gave our two drivers a lot more confidence in quali and allowed them to push throughout, ending up in P9 and P12.
"In his first ever Monaco F1 qualifying, Lando unfortunately missed Q3 by just over a tenth, which is the nature of the game with the midfield being so tight. Carlos went through to Q3 in Monaco for the fifth time, which is quite remarkable this time considering he lost the entire FP1 session on Thursday. We now switch our focus to preparing for the race. We had good long-run pace in FP2, which should allow us to fight for good points tomorrow."
Renault
Renault were off the pace on Thursday, but looked to have recovered somewhat in final practice with both drivers on the fringe of the top 10. Come qualifying, it was Ricciardo who shone at a track where he has history. The Aussie made it all the way to Q3, was the only driver to run just the once and popped his R.S.19 into seventh - his joint-best qualifying of the year. Hulkenberg was unlucky to just miss out on Q3 and has the silver lining of free tyre choice for the race.
Nico Hulkenberg, 11th, 1:11.670
"I felt the car had the potential for Q3 today, so it's a little disappointing to just miss out in eleventh place. It was very tight out there. Maybe I was pushing too hard, overdriving the car in places here and there, but that's only little things. I started in eleventh last year and we still managed to score decent points so we can be encouraged by that. We'll bring the biggest boxing gloves we have and aim to have a fight tomorrow! We have some options on strategy with the free tyre choice so we'll see and go from there."
Daniel Ricciardo, 7th, 1:11.218
"I'm happy with the end result, especially with where we started on Thursday. We made some brave changes to the car even after FP3, but that worked and going that extra mile has paid off. The team made a strong recovery today and we can be pleased with that. We got into a good rhythm from Q1 all the way through to Q3, which is so important here as qualifying is so significant. Some variables tomorrow could make it interesting and I wouldn't be disappointed if I wake up to rain! But, wet or dry, I'll be ready."
Alan Permane, Sporting Director
"We can be very pleased with P7, but in some respects, it's a little bittersweet as we felt we had the pace to get both cars through to Q3. Nico only just missed out; he had some locking into Turn 8 and Turn 10, but it is difficult to get the perfect lap in Monaco. It was a very good turnaround from the drivers and their respective engineering teams to get back on the pace after a disappointing Thursday. We will be keeping one eye on the weather tomorrow as it may well rain, but we will hope for a clean race to get both cars into the points."
Alfa Romeo
Alfa looked like making the top 10 all weekend, but lacked the pace when it mattered with both drivers failing to progress from Q2. As if that wasn't bad enough at a track where overtaking is tricky to say the least, Giovinazzi looked to be in a spot of bother after impeding Hulkenberg in Q1. The stewards had a look and handed the Italian a three-place grid drop for the race.
Kimi Raikkonen, 14th, 1:12.115
"We were just not fast enough, it's as simple as that. We managed to do our fastest lap of the weekend in qualifying, but the other cars improved a lot more than we did. We struggled with the balance of the car. When I had grip at the front, the rear went and when I sorted out the rear then I wasn't comfortable with the front."
Antonio Giovinazzi, 15th, 1:12.185
"I don't really know what happened in qualifying. We had showed our potential with P6 in FP3 and we didn't change anything on the car. The grip just was not there and we don't know why. It is really disappointing because we were very strong in all sessions and now we are P15. It is quite difficult to overtake around here but the weather can be unpredictable, so we will see."
Frédéric Vasseur, Team Principal
"It's not what we've expected, especially after we had been near or at the front of the midfield until this afternoon. We made a step forward after FP3, Q1 was also quite good, but then other teams clearly found something more, so we need to understand how to close the gap in the race. Overtaking is hard around here and we are starting in a difficult position. We will need to find a strategy to make up some ground and hope other things go our way. The weather could be a surprise and we need to keep our noses clean and make the most of every opportunity."
Racing Point
The team in pink were off the pace on Thursday, and couldn't find that magic formula to get in the mix today. Both cars were eliminated in Q1 for the first time in Monaco in over a decade, with Perez earning the intra-team spoils by six tenths of a second to keep his record of out-qualifying his team mate at every race this year intact. For Stroll, it was a chastising tenth Q1 exit in a row, and leaves the team with an uphill battle tomorrow.
Sergio Perez, 17th, 1:12.233
"We have struggled for pace this weekend and going into qualifying we knew it wasn't going to be easy. In the end we needed a tenth or two to make the difference and progress to Q2, but we just missed out. In that sense it's been a frustrating day because we know how important qualifying is in Monaco and it's usually a race all about track position. The margins were small today, but it means we have a difficult job tomorrow. Considering where we will be starting the race, we have to hope for some rain to come and mix things up, otherwise it's going to be difficult to score points. At the same time, Monaco can sometimes be unpredictable, so we will be ready to try and maximise those opportunities tomorrow."
Lance Stroll, 18th, 1:12.846
"It hasn't been easy in the lead up to qualifying. We've been missing pace in practice and, even with the changes made to the car since Thursday, we still struggled today. It wasn't made easier by such a busy track in Q1 and finding space for a clean lap was difficult – it's always the case in Monaco. I didn't get a clean run on my second attempt and that ended any chance to make Q2. It's going to be tough to score points, but let's see what we can do, and see if the weather changes tomorrow. I think we just have to remember that Monaco is a one-off race and I don't believe our performance today is a true reflection of the speed we have in the car. Anyway, let's see what happens tomorrow and try and make the most of those situations that come up in the race."
Otmar Szafnauer, Team Principal & CEO
"The margins continue to be really close across all the midfield teams and we were just the wrong side of that margin today. A few tenths would have made a big difference, but instead we end the day feeling disappointed. Lance had traffic during his second run and we know how difficult Q1 is with 20 cars on track jockeying for space. Sergio had a cleaner run, but missed the cut by just over a tenth. It's given us a big task tomorrow, but you never know what can happen in Monaco, so we will keep working hard tonight and see what the strategy options are for the race."
Williams
At the back of the field once more, at least both their drivers had a clean day after Kubica's spin and Russell's big lock up on Thursday. In the intra-team battle it is a worrying clean sweep for Russell so far, with three tenths separating the two on this occasion.
Robert Kubica, 20th, 1:13.751
"The conditions today were better in terms of the feeling and the grip, but that was the case for everybody. From a driving and operational point of view we did everything that we could, but we were unlucky with traffic when we left the garage. All in all, it was a smooth session and tomorrow will be difficult race."
George Russell, 19th, 1:13.477
"I felt like we maximised qualifying. I was pleased with my lap at the end, I put it all on the line and got the most out of the car. It was pretty fun and a thrill to complete a lap like that around the streets of Monaco. For the race, I need to keep it on the black stuff, out of the walls and pick up the pieces from other people's mistakes."
Dave Robson, Senior Race Engineer
"The performance of the car is still disappointing but nonetheless today's running has gone well. Both drivers carried on from their running on Thursday and again made no mistakes. The car has worked reliably throughout the practice sessions, and this has allowed us to make steady progress this weekend. The engineers both trackside and in Grove worked hard yesterday to improve the car setup and tyre preparation. The team operated seamlessly this afternoon to produce a well-executed Q1 session. Robert and George enjoyed clear runs throughout and were able to push the car to its limits. Unfortunately, the pure pace of the car was not good enough today to challenge the teams ahead. With no yellow flags, or major mistakes by other drivers, we weren't presented with any opportunity to outperform the underlying pace of the car."
Pirelli
Mario Isola, Head of F1 and Car Racing
"The soft tyre was used from start to finish of qualifying – held in slightly warmer conditions compared to previous days – and we should see a one-stop race tomorrow unless something unexpected happens, or there is more degradation than anticipated on the soft tyre. Depending on which strategy the drivers choose, there might be some degree of tyre management: with a long opening stint on the soft, or a long second stint on the medium, for example. The strategy here is often influenced by the safety car, so as always this could turn out to be decisive".