What's the weather forecast for the 2020 Eifel Grand Prix at the Nurburgring?
The Nurburgring returns to the F1 calendar this year for the first time since 2013, and the weather looks like it could play a key role this weekend when the Eifel Grand Prix gets underway. It will be cool all weekend, and there's a high chance rain may be on the horizon – scroll down for the full forecast...
It's not quite the 'Green Hell' - Jackie Stewart's nickname for the full 22.8km Nordschleife track - but the Nurburgring's modern Grand Prix circuit still makes for a challenging lap, and rain could spice things up even further at this weekend's race.
WATCH: Romain Grosjean takes us on a flying lap of the Nurburgring ahead of the Eifel GP
Downpours aren't guaranteed in Germany but it certainly looks likely, while there will be low temperatures too. The uncertainty means the teams may have some tough decisions to make regarding tyre choice this weekend.
Those lucky fans in the stands, and there will be 20,000 of them in attendance, will have to prepare accordingly too. So will it be wet-weather tyres and umbrellas all round? Scroll down to see Friday, Saturday, and Sunday's forecasts.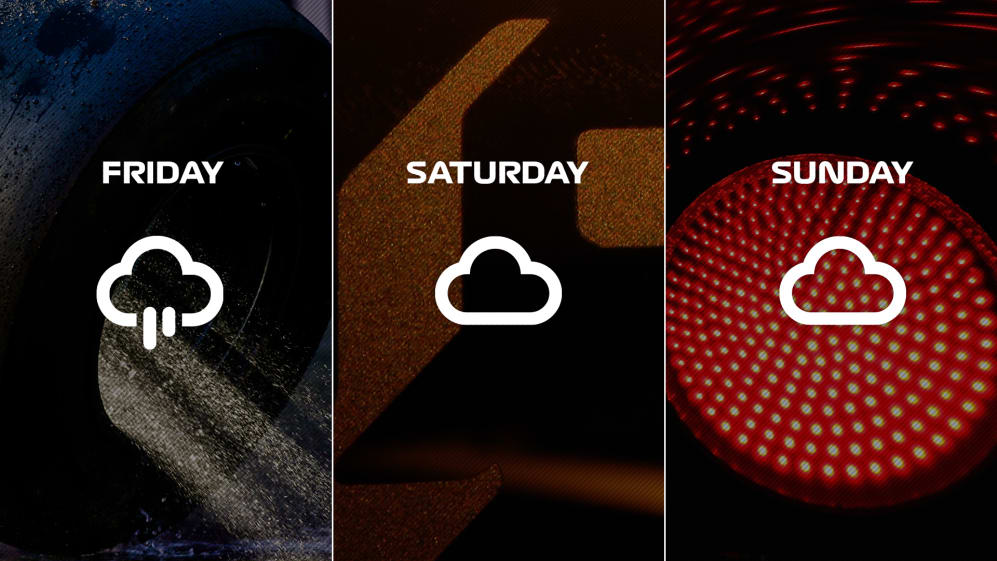 2020 Eifel Grand Prix weather forecast
FRIDAY, OCTOBER 9 - FP1 & FP2 WEATHER
Conditions: Overcast and wet with a high chance of frequent drizzle during the day.
Maximum temperature expected: 14 Celsius
Chance of rain: 80%
SATURDAY, OCTOBER 10 - FP3 & QUALIFYING WEATHER
Conditions: Cloudy start with a moderate chance of rain, then progressively scattered during the afternoon.
Maximum temperature expected: 11 Celsius
Chance of rain: 60%
SUNDAY, OCTOBER 11 - RACE WEATHER
Conditions: Chilly morning and scattered clouds all day long. Increasing chance of rain during the afternoon.
Maximum temperature expected: 9 Celsius
Chance of rain: 60%
For more information on the Eifel GP, visit our race hub here.