Feature
Who's Hot and Who's Not after Day 1 in Italy?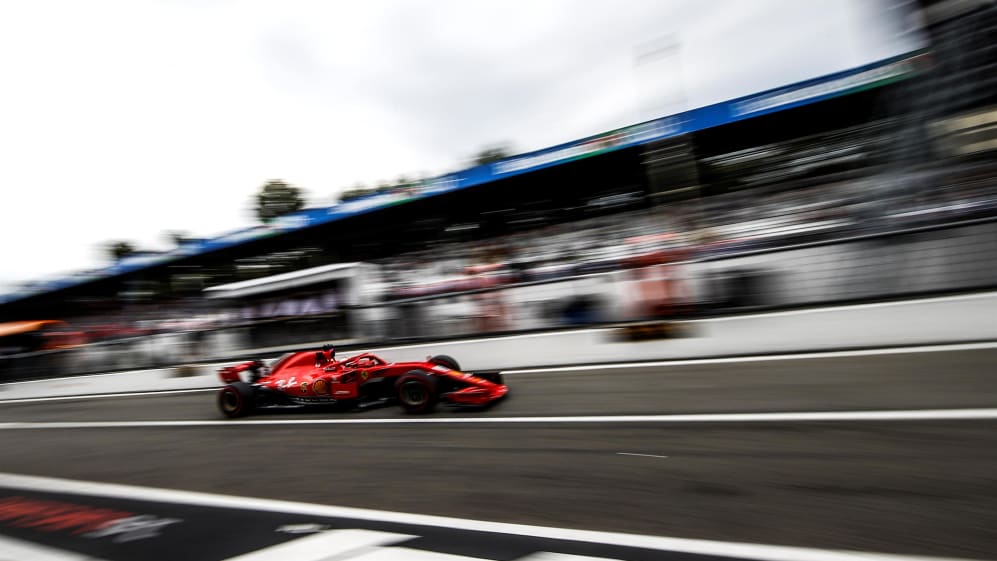 Ferrari have not won on the hallowed asphalt of Monza since 2010. But their antics on the low-downforce Circuit Gilles-Villeneuve and Spa-Francorchamps this season, where Sebastian Vettel won both races, have marked them out as favourites to end that barren run. After Friday's practice sessions, is that still the case? Lawrence Barretto delves into the data...
Sebastian Vettel has won at Monza in Toro Rosso colours and Red Bull colours, but he's keen to do it draped head to toe in red. The German was a brilliant force at Spa, coasting past Mercedes title rival Lewis Hamilton as if he wasn't even there on his way to victory.
Ferrari's loyal Tifosi expect the Prancing Horse to win every time F1 rolls into town at Monza. But this year, there's an added bounce in their step, their chants a few decibels louder. Their two boys look quick, very quick. In fact, the machine that they're piloting – the SF17H – is leader of the pack.
With Friday's first practice session essentially a washout, it's FP2 that will tell the story of how things currently stack up. And on paper, it's looking very, very good for Vettel and team mate Kimi Raikkonen. But it wasn't as straightforward as the timesheets suggest...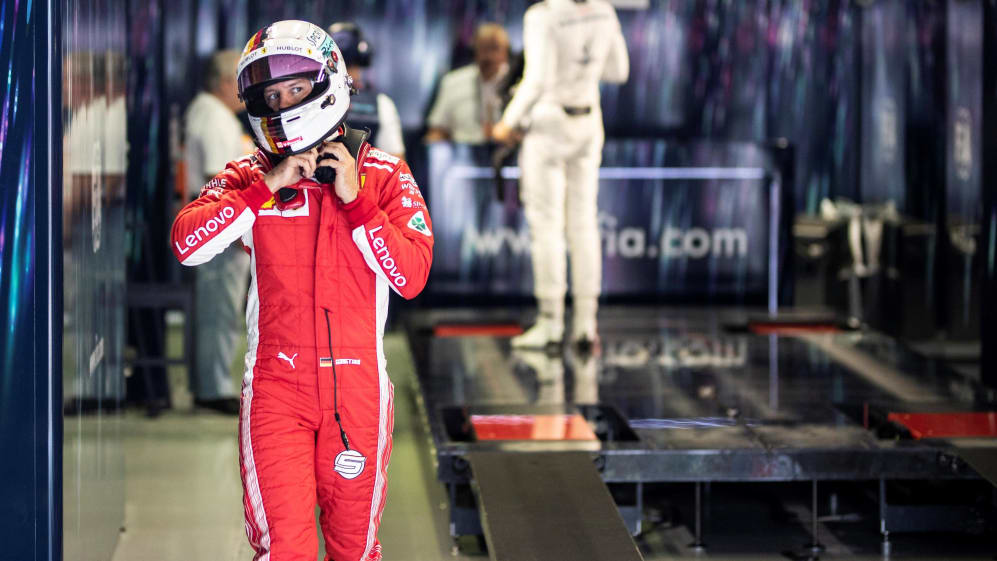 ONE-LAP PACE
There been a change of tactics at Ferrari of late. Typically, the Prancing Horse would play a good poker game, revealing little of their true pace on Friday this season, before unleashing a massive step forward the next day following a near-sleepless night in the pursuit of gains.
But since Hungary, they've not hidden from view. Instead, they've gone aggressive, looking quick straight out of the box – and you'd have to argue the new gameplan is working. In Italy, Vettel and Raikkonen were comfortably top of the pile. Raikkonen had the edge first, but he was soon usurped by his more decorated team mate Vettel at Autodromo Nazionale Monza.
A perfect day for Vettel, you might think. But not quite. A gearbox issue in morning practice limited his running to just four laps. Fortunately, it was just a Friday gearbox so there will be no grid penalty while the running that others did was unrepresentative.
In second practice, it was all going majestically until he got it wrong at Parabolica, sliding off into the gravel and clipping the barrier, which in turn damaged the rear wing. Again, he was fortunate in that he could escape the gravel trap and retreat to the pits, minimising the loss of running.
"I am not entirely happy yet, but I know we can still improve because our car has big potential," he said. "I think we can do better tomorrow as the package is good, so we'll see. We'll keep doing our homework."
Ominous for his rivals, in particular Mercedes, who simply didn't have the pace to challenge. Mercedes chief Toto Wolff said he was curious to see how the Silver Arrows would fair at Monza, considering they have won the last four editions of this race – but the early form makes grim reading. Both Lewis Hamilton and Valtteri Bottas made mistakes on their first runs, but when they got it together second time around, they couldn't get closer than a quarter of a second.
"We are lacking a tenth and a half, something like, almost two tenths," admitted Hamilton. "Of course when you going into the session and you're hopeful you're doing good laps and you realise Ferrari are doing better laps it's difficult for us all, but that's the fight and that's what we are working towards."
It will likely be a long night for the championship leaders.
Best single lap (combined sessions, all supersoft)
1 Ferrari (Sebastian Vettel) 1:21.105s
2 Mercedes (Lewis Hamilton) 1:21.392s +0.287s
3 Red Bull (Max Verstappen) 1:22.154s + 1.049s
4 Force India (Esteban Ocon) 1:22.930s +1.825s
5 Sauber (Charles Leclerc) 1:22.965s +1.860s
6 Renault (Nico Hulkenberg) 1:23.063s +1.958s
7 Haas (Romain Grosjean) 1:23.077s +1.972s
8 Toro Rosso (Pierre Gasly) 1:23.402s +2.297s
9 Williams (Sergey Sirotkin) 1:23.514s +2.409s
10 McLaren (Fernando Alonso) 1:23.741s +2.636s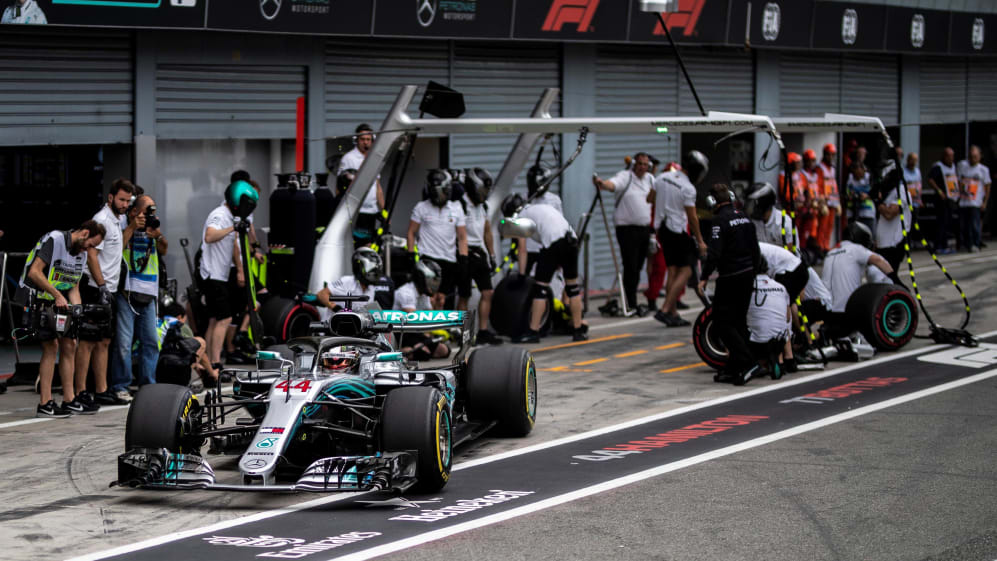 Red Bull took up their customary position in no-man's land. They lack the pace to challenge Ferrari and Mercedes but are comfortably clear of the chasing pack. Max Verstappen admitted they are "too slow" in qualifying conditions with fifth the best he's likely to get tomorrow – unless rain intervenes.
His team mate Daniel Ricciardo will have to squint to see the lights, though, as he'll be starting from the rear part of the field for the second successive year thanks to more engine penalties. He does have the benefit of the new Spec C Renault engine – the other Renault-powered cars opted not to risk it for reliability reasons – and he described the early feeling as "OK".
With Ricciardo out of the picture, there's a third-row slot up for grabs – and it's Force India who have put their hand up for that. The Silverstone-based team have a habit of producing cars that excel on the low-downforce Spa and Monza and this year seems to be no different.
"The car has been quick all day, but there are some areas where we can improve and I think there is more to come," said Esteban Ocon. The pink cars will face stiff competition from Sauber, though, based on the data, with Charles Leclerc popping in a supersoft run late on to vault up the times.
It was a difficult day for the Swiss team, with Marcus Ericsson crashing heavily at the start of FP2, which red-flagged the session temporarily. The Swede emerged unscathed and was given the all-clear by the FIA doctors.
Team Principal Fred Vasseur said after the session that it was a DRS issue, which led to the device staying open when he hit the brakes. The same problem occurred on Leclerc's car and a fix was put into place. If they can recover in FP3, both cars have the potential to get into Q3.
Renault are just over a tenth further back, but Nico Hulkenberg's engine change – plus 10-place grid penalty for triggering the first-lap crash at Spa – will confine him to the back of the pack. His team mate Carlos Sainz should have a sniff at a top 10 start, though.
They're closely matched by their chief rivals for fourth place in the constructors' championship, Haas. Romain Grosjean has driven beautifully since his breakthrough race in Austria and was once again the leading light in the American team. The battle for the bottom five places in Q3 will be intense.
There was some hope for Williams, who have spent most of their season glued to the bottom of the timesheets both on one-lap and race pace. But there's a new challenger for the wooden spoon in the form of McLaren and it was they who clinched the unwanted accolade at Monza on Friday.
Will it get any better as the weekend progresses? "I don't think there'll be any miracles here for us this weekend," said McLaren's Stoffel Vandoorne.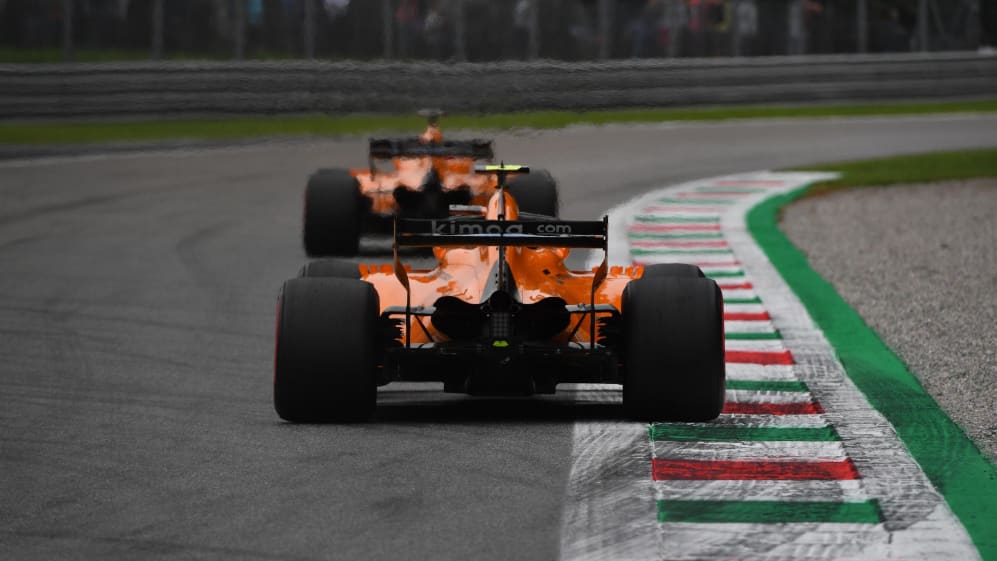 ULTIMATE LAP
Ever wondered what a driver's true pace would be if he managed to hook up his best three sectors? Well we've crunched the numbers for Monza – and all but four drivers could have improved...
1 Sebastian Vettel 1:20.912s +0.193s
2 Kimi Raikkonen 1:21.331s +0.044s
3 Lewis Hamilton 1:21.379s +0.013s
4 Valtteri Bottas 1:21.78ss +0.015s
5 Max Verstappen 1:22.125s +0.029s
6 Daniel Ricciardo 1:22.296s +0
7 Sergio Perez 1:22.861s +0.081s
8 Esteban Ocon 1:22.871s +0.059s
9 Romain Grosjean 1:22.887s +0.190s
10 Charles Leclerc 1:22.942s +0.023s
11 Nico Hulkenberg 1:23.059s +0.004s
12 Kevin Magnussen 1:23.064s +0.169s
13 Carlos Sainz 1:23.1932s +0
14 Pierre Gasly 1:23.402s +0
15 Sergey Sirotkin 1:23.422s +0.092s
16 Lance Stroll 1:23.446s +0.120s
17 Brendon Hartley 1:23.496s +0.035s
18 Fernando Alonso 1:23.568s +0.173s
19 Stoffel Vandoorne 1:24.084s +0
20 Marcus Ericsson 1:37.533 +0.257s (set in wet conditions)
THE PERFECT LAP – 1:20.912s
Worryingly for his rivals, Vettel leads the way on the ideal lap charts by more than four-tenths of a second – with the German 0.193s off his ultimate pace.
Aside from Ericsson, whose time is erroneous because it comes from the wet FP1 session by virtue of the fact he didn't complete a lap on dry-weather tyres, Vettel has the most to gain – and he's confident there's plenty more to come as the weekend progresses.
Vandoorne has spent a lot of time at the bottom of the timesheets of late. He managed to put his best three sectors together, but he would be half a second off the pace of team mate Alonso if the Spaniard had hooked up his best efforts.
Not ideal when the Belgian is trying to prove he belongs in F1 beyond the end of this season.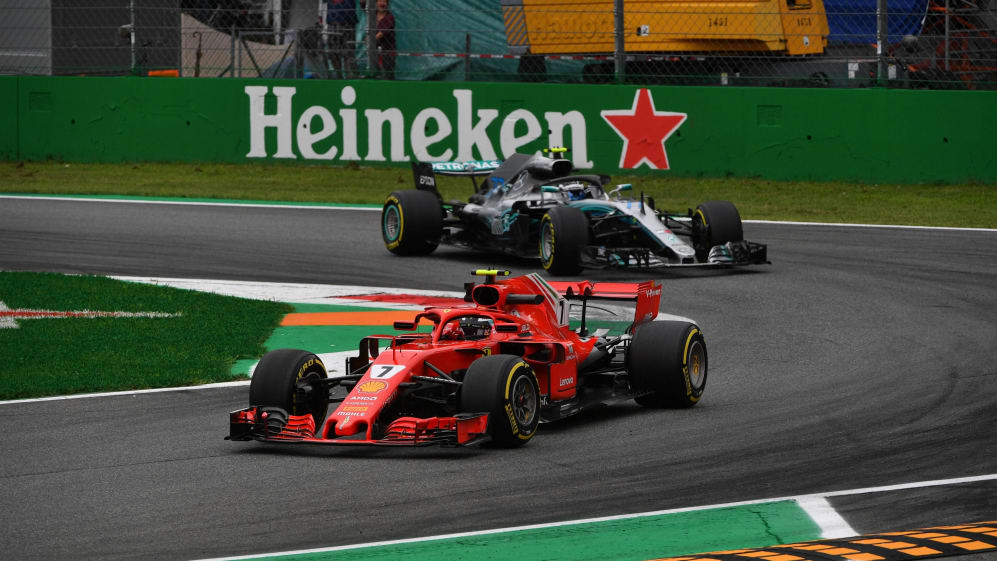 RACE PACE
Race pace data should always be taken with a pinch of salt, as we don't know the relative fuel loads, but it does at least give a rough read as to who is strong and who is struggling. This weekend's numbers are further caveated by the fact that first practice was a washout, which meant the potential for long-run intel was limited.
Sauber, for example, didn't even manage to gather any, so disrupted was their Friday running. But in doing the best with what we have, Ferrari have emerged as the runaway leaders, holding a healthy 0.4s/lap advantage over their nearest rivals Mercedes. If that becomes reality on Sunday, and both cars stay reliable, the Tifosi should be set to gather under the iconic podium with their boys 1-2.
There are some bright spots for Mercedes. Both cars ran faultlessly throughout while Bottas said the W09 felt better in the slow corners, compared to Spa. And the threat of rain for Saturday would bring the Silver Arrows back into play, as their advantage over Ferrari in those conditions remains.
Long-run pace deficit (seconds per lap)
1 Ferrari
2 Mercedes +0.4
3 Red Bull +1
4 Force India +1.2
5 Renault +1.4
6 Toro Rosso +1.6
7 Haas +1.8
8 Williams +1.9
9 McLaren +2
10 Sauber N/A
Red Bull are third overall. Verstappen said their long-run pace "looks a lot more positive" than their short-run pace but he doesn't think "it's going to be enough to really fight" Ferrari and Mercedes come Sunday afternoon. A lonely drive to fifth probably awaits, then.
Force India are only a couple of tenths further back, with the pink cars, Renault, Toro Rosso, Haas, Williams and McLaren separated by just eight-tenths of a second per lap. Depending on how much ground Ricciardo and Hulkenberg can make up from the back of the grid, the lower end of the points are likely fought out between Force India, Haas, Sainz and possibly Sauber if they can catch up on their programme with some long runs in final practice on Saturday morning.
VERDICT
If everything plays out as per the data, there's going to be one hell of a party at Monza – and across Italy – on Sunday afternoon. Ferrari look good on one-lap and race pace. It's the Holy Grail. But there's still work to do.
Vettel has not completed any running on the soft tyre, which emerged as the most competitive compound on Friday, with the medium almost exclusively disregarded by teams. And he may not get any pre-race if rain comes tomorrow.
Pirelli say they didn't have enough data to give accurate gaps between the compounds, which in turn adds an air of unpredictability to proceedings. And should rain hit qualifying for the second successive race, someone might get caught out.
But come race day, conditions are expected to be dry and stable. And a one-stopper is the quickest option - only once in the last decade has the winner stopped more than once at Monza – and that'll allow the Prancing Horse to stretch their legs at the front, or at least provide some entertainment as they fight through the pack to the front if qualifying goes pear-shaped.
Either way, it's looking like they'll need to clear some more shelf space in the trophy cabinet at Maranello…
Fantasy F1 – get in the game!
Have you picked your Fantasy F1 team yet? If not, don't panic – you have until just before qualifying to get involved and try to win some amazing prizes.
It's free to play. Click here to sign up!
Watch full F1 Race replays *or Highlights on F1 TV Access. Sign up now. *Only available in certain regions (view full F1 TV Content Schedule here)