Feature
Who's Hot and Who's Not After Day 1 in Japan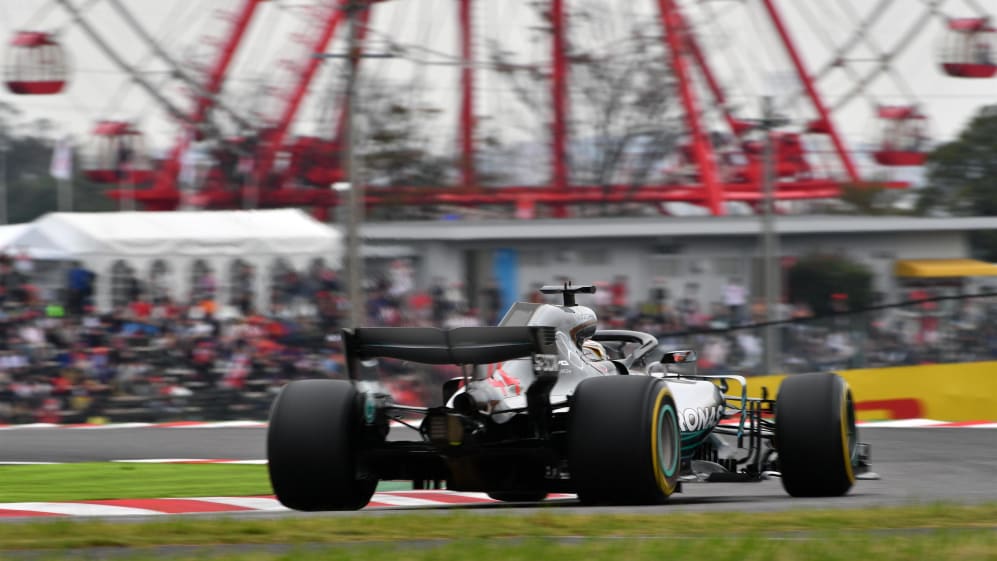 "The circuit is a lot of fun to drive, a proper drivers' circuit where our ability and skill are put to the test". It's fair to say Carlos Sainz's sentiment is echoed by all the Formula 1 stars, with the high-speed Suzuka Circuit remaining one of the ultimate driving challenges. So who had the strongest first day in Japan? And who has some work to do? We dive into the data to take a closer look…
It's Mercedes who have enjoyed recent success at the Japanese Grand Prix, winning the last four editions of this race – with Lewis Hamilton claiming three of those triumphs. The Brit is on a mission to earn his fifth Japanese win this weekend, with the overall aim of increasing his lead at the top of the championship.
That's not to say it'll be easy though, with Ferrari's Sebastian Vettel desperate to get his title bid back on track. The German, a four-time winner in Japan, trails Hamilton by 50 points with just five races to go, and knows a Hamilton win on Sunday will further dampen his hopes of a fifth drivers' crown. So how did the two title protagonists get on? Let's find out…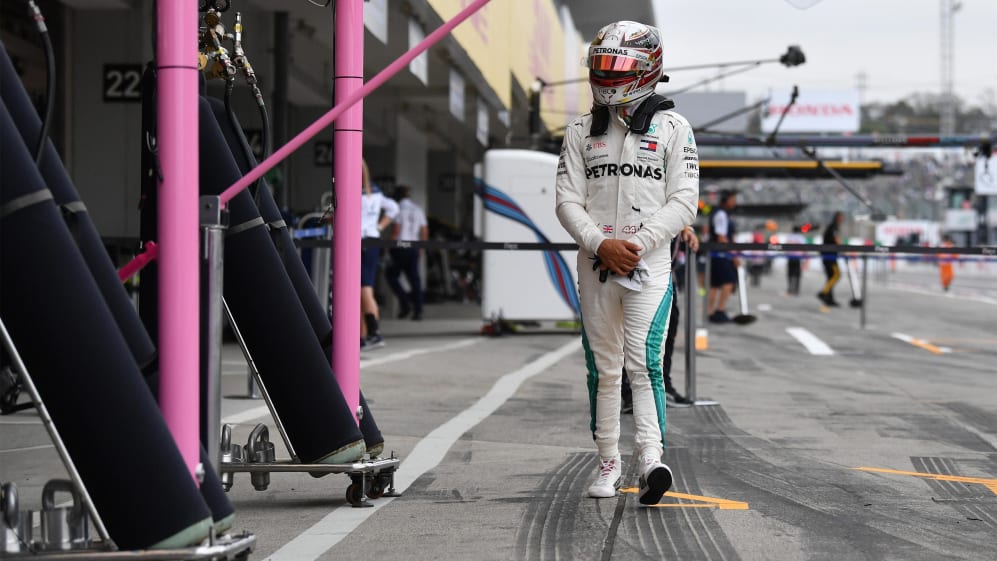 ONE-LAP PACE
Hamilton has made a habit of getting the best out of his W09 challenger this year, and Friday practice was the perfect example of that, with the reigning world champion bettering of his rivals in both sessions. And as perfect days go, that was up there for Hamilton, with his best lap on Pirelli's supersoft rubber some way ahead of his competitors.
The Briton looked in imperious form from the off, with his 1m 28.691s in FP1 – the quickest lap of that practice - on the harder, soft compound suggesting his Silver Arrows squad are the team to beat this weekend. He was understandably delighted with his performance at a track he describes as a 'rollercoaster ride'.
"Every time we come to Suzuka, particularly over the last few years, the cars just get faster and faster, it's incredible," said Hamilton following Friday practice. "Suzuka has to be one of my favourite circuits, if not the favourite one, it's very cool. Especially the first and second sectors are insane, the first section is the best rollercoaster ride that I've felt in a Formula 1 car.
"Every year I come back, there are always areas that I can improve, so I was like 'There are two or three corners where I know that I need to kill it this year' and I got straight up to it. I was much better than I had ever been through those particular corners. Now I just have to stay on it, keep working; my team and I, we're working so well together in fine-tuning this car."
While Hamilton may have appeared to blow his rivals away, his Team Principal Toto Wolff seems to think Ferrari were holding some performance back on Friday. Even so, Vettel's best lap was 0.833s slower, and the Italian squad know they need to improve on Saturday if they're to challenge for victory this weekend.
Best single lap (combined sessions)
1 Mercedes (Lewis Hamilton) 1:28.217s
2 Ferrari (Sebastian Vettel) 1:29.050s +0.833s
3 Red Bull (Max Verstappen) 1:29.257s +1.040s
4 Force India (Esteban Ocon) 1:30.035s +1.818s
5 Haas (Romain Grosjean) 1:30.440s +2.223s
6 Sauber (Marcus Ericsson) 1:30.478s +2.261s
7 Toro Rosso (Brendon Hartley) 1:30.502s +2.285s
8 Renault (Nico Hulkenberg) 1:30.644s +2.427s
9 McLaren (Fernando Alonso) 1:30.988s +2.771s
10 Williams (Sergey Sirotkin) 1:31.087s +2.870s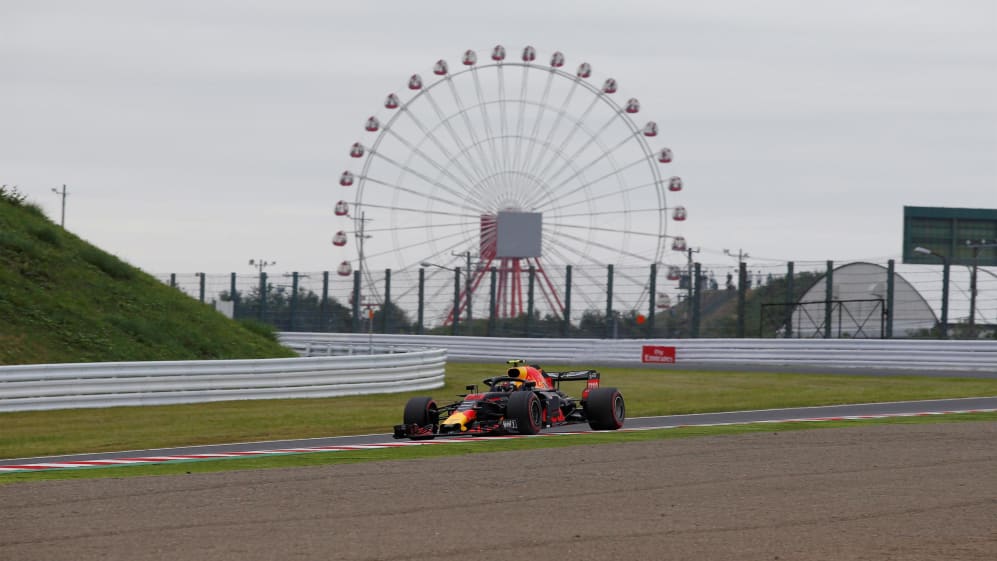 For Red Bull, it was Max Verstappen – fresh from his incredible drive in Sochi last weekend – who led their charge on Friday. However the Dutchman couldn't get within a second of Hamilton in Japan, and he previously said on Thursday that his Milton Keynes squad will need luck on their side if they're to challenge for a podium on Sunday.
It seems that view hasn't changed after Friday practice. "We have some work to do ahead of tomorrow as I wasn't totally satisfied with the feeling in the car today," he said. "Both short and long runs didn't feel ideal, it may look closer on paper but I know we can improve.
"It's only Friday so we have time to make the changes and find a good balance ahead of qualifying. I think we can get close to Ferrari and challenge during the race but Mercedes seem too far ahead at the moment."
Though the top three teams are some way ahead of the rest of the field, it's been an enthralling tussle for the 'best of the rest' mantle this season. It would perhaps take a miracle for Force India to finish fourth in the constructors' standings, but they're not giving up on finishing as high as possible and Esteban Ocon duly finished seventh in both sessions.
His nearest challenger was Romain Grosjean, one spot behind his fellow Frenchman in both sessions – albeit four-tenths slower than the Force India driver in FP2. Grosjean was another driver seemingly content with his opening-day performance. "The car seems to be working pretty well, on low fuel and high fuel," he said. "We have a few bits and pieces to adapt for tomorrow to make sure we get a bit of extra performance but, generally, I'm happy with the day."
While Charles Leclerc has often spearheaded Sauber's success this season, it was Marcus Ericsson who got the best out of his C37 on Friday. And similarly over at Toro Rosso, it was Brendon Hartley and not the usually-consistent Pierre Gasly who produced the goods for his team.
Nico Hulkenberg recently claimed that his current Renault package is 'not competitive enough at the moment', and the Anglo-French team appeared to struggle out there in Suzuka. They were only the eighth fastest team on Friday, with their qualifying runs not enough to put them in the top ten in FP2.
McLaren and Williams have both endured troublesome seasons, so it's no surprise to see them bottom of the pace charts in Japan. Fernando Alonso and Sergey Sirotkin led the way for their respective teams, but their pace suggests they have some work to do to climb out of Q1 on Saturday...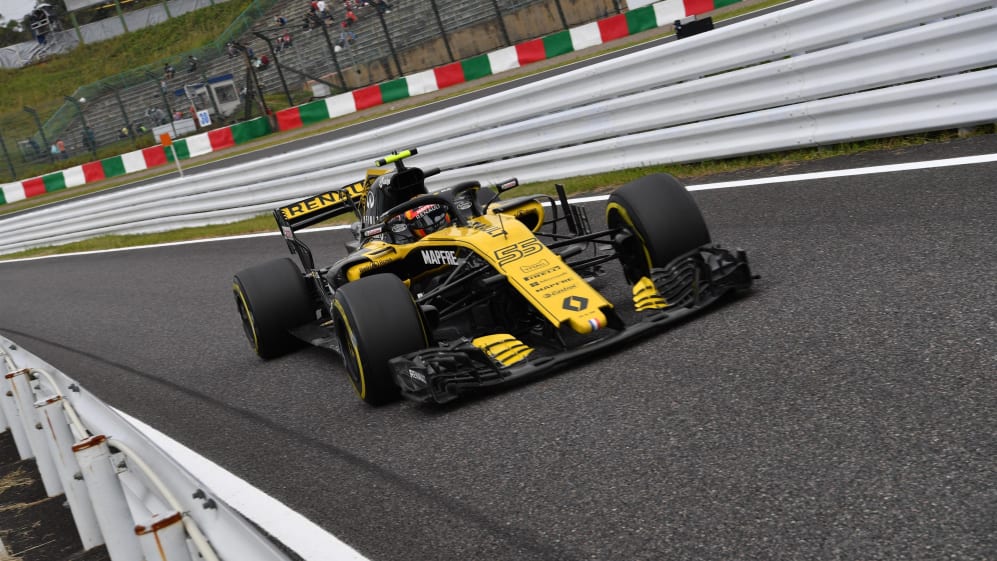 ULTIMATE LAP
Ever wondered what a driver's true pace would be if he managed to hook up his best three sectors? Well we've crunched the numbers for Suzuka...
1 Lewis Hamilton 1:28.217s +0
2 Valtteri Bottas 1:28.632s +0.046s
3 Sebastian Vettel 1:29.023 +0.027s
4 Max Verstappen 1:29.257s +0
5 Daniel Ricciardo 1:29.267s +0.246s
6 Kimi Raikkonen 1:29.412s +0.086s
7 Esteban Ocon 1:30.035s +0
8 Brendon Hartley 1:30.430s +0.072s
9 Romain Grosjean 1:30.440s +0
10 Marcus Ericsson 1:30.478s +0
11 Sergio Perez 1:30.507s +0.003s
12 Charles Leclerc 1:30.524s +0.382s
13 Nico Hulkenberg 1:30.636s +0.008s
14 Kevin Magnussen 1:30.789s +0.167s
15 Pierre Gasly 1:30.795s +0
16 Carlos Sainz 1:30.858s +0.046s
17 Fernando Alonso 1:30.915s + 0.073s
18 Sergey Sirotkin 1:31.087s +0
19 Lance Stroll 1:31.215s +0
20 Stoffel Vandoorne 1:31.981s +0
THE PERFECT LAP – 1:28.173s
Lewis Hamilton mastered the Suzuka Circuit on Friday, but he wasn't the only one. In fact, a remarkable nine drivers managed to achieve their perfect laps in Japan, including Verstappen and Ocon.
Daniel Ricciardo and Charles Leclerc, on the other hand, missed out on vital time. Had Ricciardo put together all three of his best sectors on his best lap, he'd have improved his time by 0.246s, while Leclerc would have notched a 1m 30.524s - +0.382s quicker than his best lap.
Incidentally, to get that perfect lap of 1:28.173s you'd need the first sector and third sectors of Hamilton, and the second sector of Bottas. Further proof that Mercedes were certainly on form on Friday…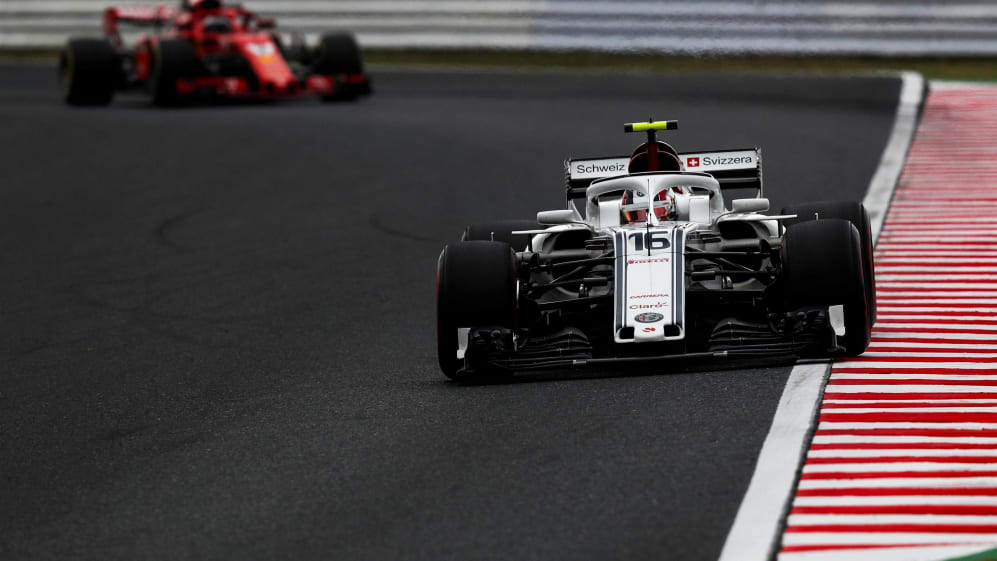 RACE PACE
Before we dig into the numbers, remember that this data is calculated without the knowledge of the relative fuel loads but gives as good an indication as we can get. And that indication is that Mercedes look strong this weekend – not only did they steal a march on their rivals over one lap, but their long-run pace was better than the rest of the field too.
Ferrari, however, aren't too far behind. So should the Italian squad make improvements overnight and secure a front-row spot on the grid, then we could certainly be in for an entertaining race on Sunday.
Red Bull were also a lot closer to their two rivals in the battle, with the Milton Keynes squad just 0.4s/lap slower than the Silver Arrows. Verstappen demonstrated their long-run pace last weekend in Russia – and how he will be hoping for a repeat this weekend.
Long-run pace deficit (seconds per lap)
1 Mercedes
2 Ferrari +0.2s
3 Red Bull 0.4s
4= Sauber 1.s
4= Force India 1s
6 Haas 1.2s
7= Toro Rosso 1.4s
7= Renault 1.4s
9 Williams 1.5s
10 McLaren 1.6s
What's fascinating about this data is just how close the midfield battle was. The fact Force India, tied with Sauber, were the fourth fastest in these rankings suggests they have the best package of the midfield teams this weekend. Their one-lap and long-run pace is better than their rivals, so they just need to keep their noses clean (remember Singapore?) and a good result could well go their way.
Haas, meanwhile, can take confidence from their high-fuel runs too, especially given the fact that Renault – who currently lead the American squad by 11 points in the battle for P4 in the standings – were 0.2s/lap slower than them, while Toro Rosso were level with the Anglo-French team.
Williams weren't bottom of the pile this time – that went to McLaren. "Since Hungary, we have basically been using Friday sessions to do some tests to ensure that the car for next season works in the right way," revealed Alonso after practice.
"This means it's a little bit more frustrating in terms of finding the best performance this weekend, but it's good information for the team – and we'll see tomorrow where we are."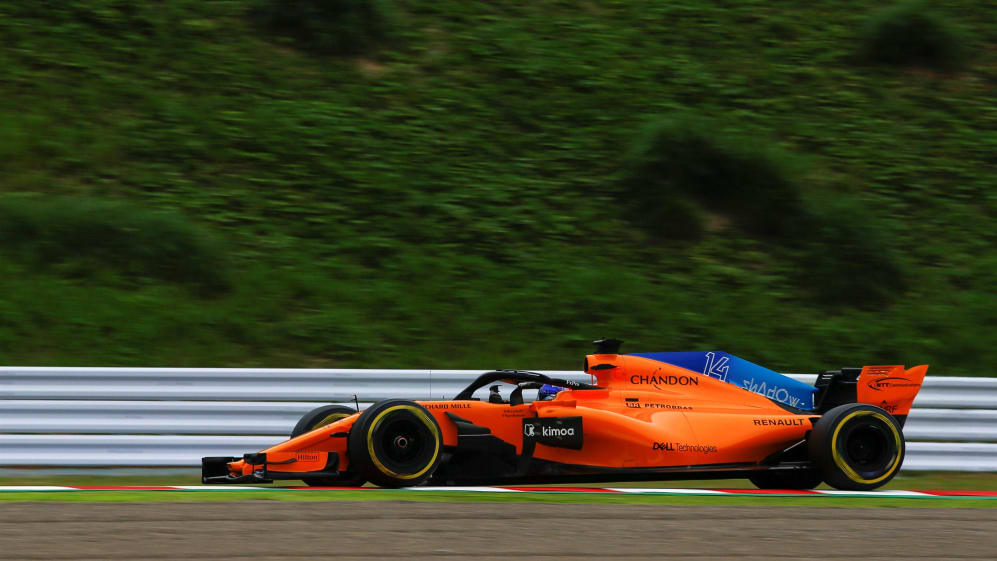 VERDICT
Mercedes look strong in Japan – Friday's data proves that. But that's not to say Ferrari can't mount a challenge for a victory, and they really need to if they're to keep both championship quests alive. While Hamilton seemingly got the best out of his car, Vettel has more to give – and he knows it.
"You can always do something, the question is whether it works," he said. "Obviously you don't want to commit suicide. If we attack, we will still try to be reasonable. I think it's a long race. Today we were probably both sliding a bit too much and therefore damaging the tyres a bit more than others.
"I think overall it's been okay, a clean Friday. No interruptions, no issues with the car or anything. So we can focus on our work. Now we try to squeeze out everything that is left in the car for tomorrow."
Hamilton clearly has the upper hand, having dominated both sessions, but you can't write off Vettel and Ferrari. The German famously came from a long way back to win his maiden world championship in 2010 – and there's still time for him to repeat those exploits eight years later…