Feature
Who's Hot and Who's Not on Day 1 in the United States after rain renders practice a washout?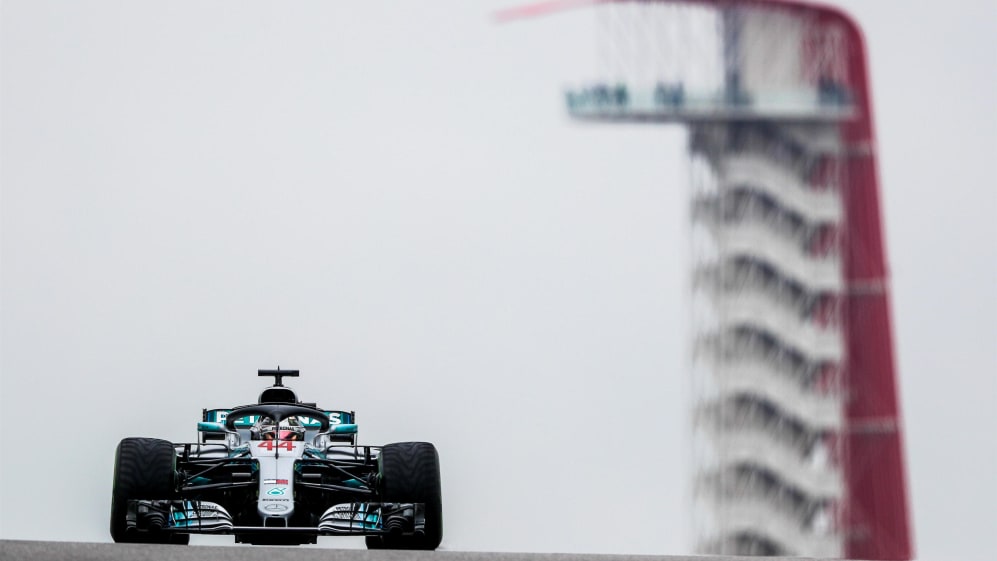 Wet weather tyres were the order of the day at the Circuit of The Americas on Friday as persistent rain drenched Austin and rendered practice a washout. With more wet weather expected on Saturday, the race could well be the first time the drivers get to drive in the dry. As a result, Red Bull's Daniel Ricciardo reckons the race may be a "lottery"…
Austin is Lewis Hamilton's playground. The Briton has won every race in the V6 era at the venue (2014-17). That bodes pretty well for his title chances, with the Mercedes driver needing to finish only eight points clear of title rival Sebastian Vettel in the Ferrari to clinch a fifth world title.
So what are the chances of him continuing his domination of Austin with a fifth successive win? Well, unclear given we didn't see any dry running during Friday's two 90-minute practice sessions.
Heavy rain eased just before first practice but the conditions never improved enough for the drivers to swap intermediates for the soft, supersoft or ultrasoft dry tyres. The rain got worse for FP2, with only Toro Rosso managing to achieve a better time than they managed in the morning's session.
However, we do know life will be even more difficult for Vettel, who trails Hamilton by 67 points with only 100 remaining, after he was slapped with a three-place grid penalty for failing to slow down sufficiently under red-flag conditions in FP1.
What can we expect in qualifying?
This is usually the section where we assess one-lap pace, with an eye on qualifying. But there was no dry running and with the rain varying in intensity across the two sessions, it's tricky to make any direct comparisons.
That said, with qualifying expected to be wet, there is still something we can learn - and that is that Hamilton remains phenomenally quick when the rain falls at a Grand Prix track.
However, a caveat is that Hamilton did a handful of shorter runs while Ferrari's Vettel and Kimi Raikkonen opted to do longer runs, which may go some way to explaining the sizeable gap – almost two seconds – between F1's two leading teams. For what it's worth, below is how they look in terms of one-lap pace.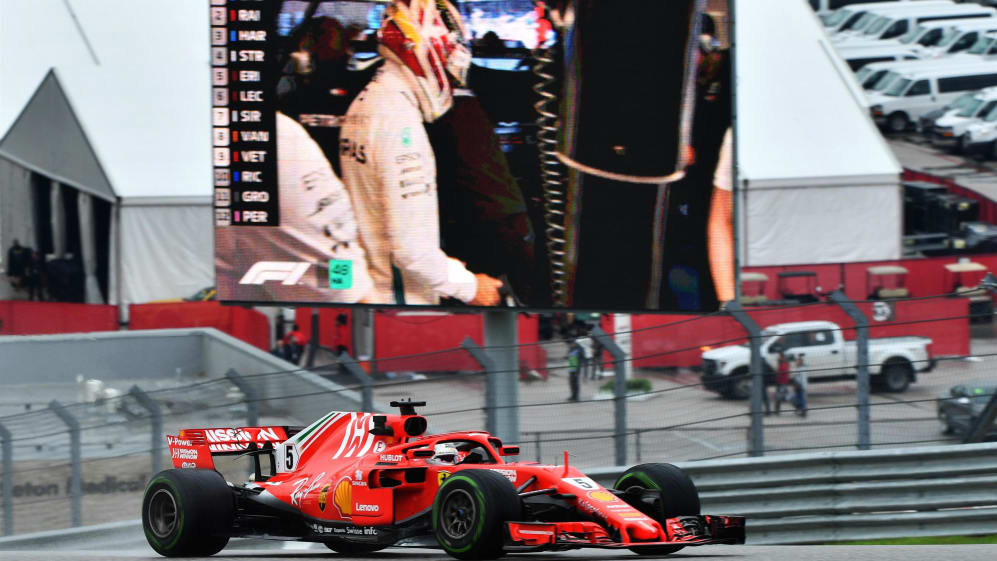 Best single lap (combined sessions, all intermediates)
1 Mercedes (Lewis Hamilton) 1:47.502s
2 Red Bull (Max Verstappen) 1:48.847s +1.345s
3 Ferrari (Sebastian Vettel) 1:49.489s +1.987s
4 Toro Rosso (Pierre Gasly) 1:49.728s +2.214s
5 Renault (Carlos Sainz) 1:50.665s +3.163s
6 Haas (Romain Grosjean) 1:50.821s +3.319s
7 Sauber (Charles Leclerc) 1:50.961s +3.459s
8 McLaren (Fernando Alonso) 1:51.036s +3.534s
9 Force India (Sergio Perez) 1:51.459s +3.957s
10 Williams (Sergey Sirotkin) 1:51.589s +4.087s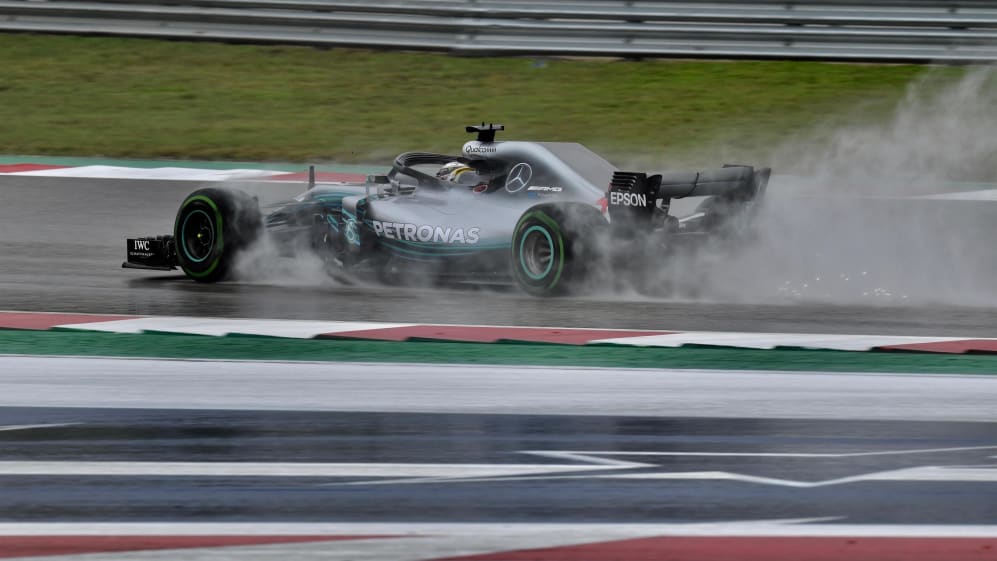 Lack of tyres equals lack of running
A limitation on the number of sets of intermediate tyres each driver can use over the course of the weekend and with rain forecast for qualifying, it meant that very little running was completed on Friday.
Hamilton, for example, did just nine laps across the two sessions. Ferrari, who are running a new floor at Austin, did a bit more, with Vettel and Raikkonen clocking up 26 and 27 laps respectively. In FP2, four drivers didn't even run.
"It's a bit of a shame that we couldn't go out in the afternoon [as we were] saving tyres for tomorrow," said Grosjean. "The weather is very uncertain for qualifying and therefore we want to keep all our new sets of tyres ready to do that."
Hamilton added: "In FP1 I only did a few laps because we need the tyres to last until FP3 and there's very little to learn in the rain. In FP2 I waited to the end before I went out to see if the track had changed or the tyres had dropped off a little bit for the next run from my previous laps."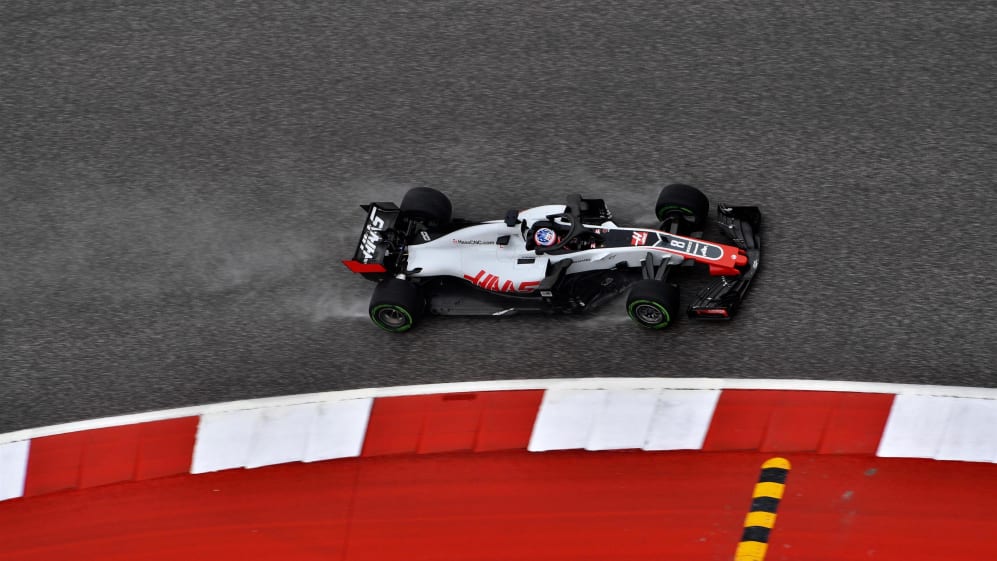 Is Sunday's race really a lottery?
With dry running at a premium, teams are likely to head into Sunday's race without the reams of data in which to make conclusions about the direction they will take on areas such as set-up and race strategy. Instead, they will have to rely on simulations and information from previous years.
"The set-up for tomorrow and Sunday will be tricky given that no one was able to run the dry tyres yet, but I guess that's when we will see how good our simulations are as our entire set-up will have to be based on simulations and all the hard work back at the factory, but not on on-track running," said Bottas.
"We have different tyres compared to last year, the asphalt changed as well, so there are many question marks that will make finding the right race set-up and strategy difficult. So even if we get a good qualifying, there are no guarantees for Sunday - which makes the weekend really interesting."
Grosjean said it's always "very difficult to guess the set-up" when you haven't done any running in the dry while Hamilton doesn't see it as a "gamble" and is instead excited about the unknowns heading into the race. "That means you've not done any dry running, not done any high fuel running," he said.
"I can't make set-up changes through these two sessions really because the wet set-up doesn't really correlate to a dry set-up. We'd arrive on Sunday morning, get in the car and it would be all new to us, which in some respects is exciting."
Friday may have been a washout but, as Hamilton said, the lack of running may actually have a positive impact on Sunday's race. And that can only be a good thing.