Interview
Why Haas are no 'one-year wonders' - Guenther Steiner Q&A
In only their second season of F1 racing, American team Haas are continuing to prove themselves as serious midfield players - even if the start of their 2017 campaign didn't quite live up to their dream debut of last year. In an exclusive interview, team principal Guenther Steiner considers their progress, their new driver line-up, and their prospects for the next round in Russia following this week's Bahrain test…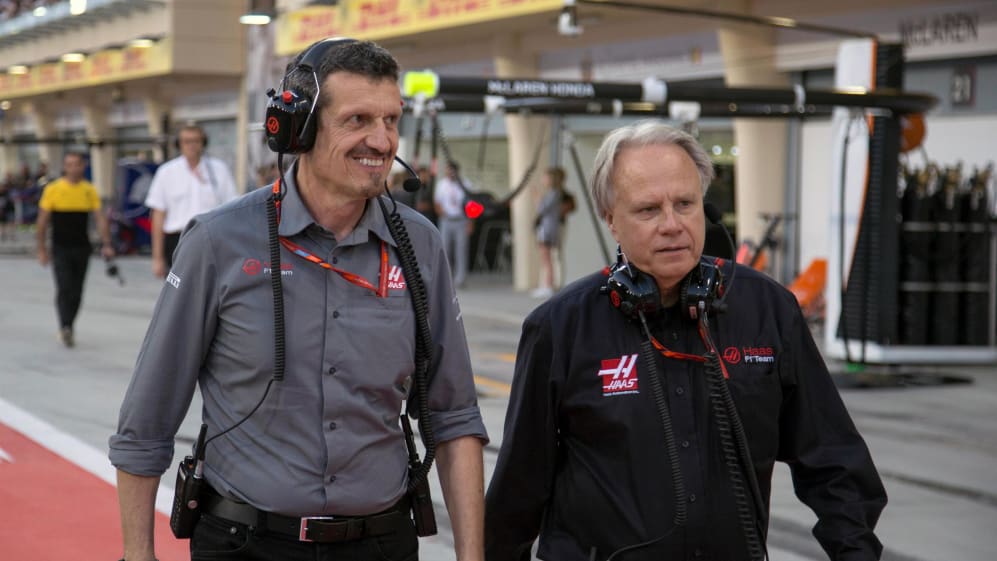 There is the American saying: 'What makes you suffer makes you tougher!'
Q: Guenther, there was no Haas miracle in Melbourne this year - instead neither car finished. Was that a shocking start to the new season?
Guenther Steiner: Ha, there was no big miracle in the race, but a small miracle in qualifying with finishing P6 - behind the three frontrunner teams. That was also pretty cool! (Laughs) True, the first year is the first year and your first race is your first race and will always be a special moment in the team's history. This year it was a bit sad retiring from seventh position, but what we understand is that we can carry over the momentum from last year – and that we are not a 'one-year wonder' but a serious long-term race team.
Q: Last year you always expressed your satisfaction with both your drivers, Romain (Grosjean) and Esteban (Guttierez). Then before we knew it Esteban was out and Kevin (Magnussen) was in. Why did that happen?
GS: Why that happened? Very simply, you try to improve. And Esteban didn't score any points last year - and it was also important for us to see if it was the driver or us not delivering. That's why we decided that we need a change. There are not too many drivers in the league of Kevin - and we knew Kevin already, as we had spoken with him already the year before. So we talked again and it didn't take long to come to an agreement.
Q: Now you have two drivers who - to put it mildly - had a troubled start into their F1 career: shunts, being side-lined, changing teams, etc. There must be a reason behind that line-up. Are you hoping that their 'troubles' are now behind them?
GS: Yes, I agree that both had some troubles in the past, but difficulties make you better - and both are still in F1, so there must be more to it. But to be fair, we never really investigated why they had to leave teams - we took them as individuals who would suit our mentality at a time when they were free and we wanted them. I think they fit pretty well into our team - maybe we are a bit troubled as well! There is the American saying: 'What makes you suffer makes you tougher!' (Laughs)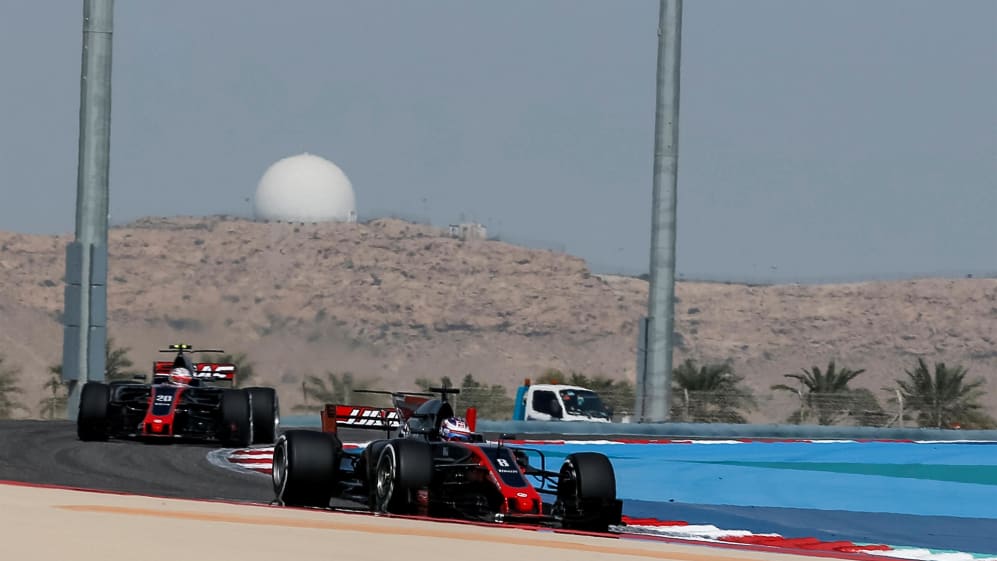 From what the test suggests it looks pretty promising!
Q: Australia was a race to forget, but China with Kevin's P8 and Bahrain with Romain's P8 must have tasted pretty sweet after a rather disappointing start to the season. What went so wrong in Melbourne - and right in Shanghai and Bahrain?
GS: Yes, Australia didn't end well for us, so Shanghai and Bahrain were pretty sweet. Very welcome results as we have been in the points two races in a row. That doesn't say that we can't get better! (Laughs)
Q: Everybody has been talking about the gaps getting smaller with the new cars, but the fact is that in Melbourne the car in P7 was lapped, and in Shanghai the car in P8. Only Bahrain was better, with P11. How do you explain that?
GS: Well, the big teams, especially Mercedes and Ferrari - I think Red Bull is a bit behind - are pretty much ahead of the rest. The four midfield teams are pretty close together. But yes, there is a significant gap to the big three - take the qualifying times, multiply the gap by the number of race laps and there you are. Will that change? I hope so - but my fear is that it will stay that way for the whole season.
Q: In all three races so far this year strategy has played a huge part in the results. Is strategy now even more important than before?
GS: Well, for all the teams that are pretty close together, strategy is a differentiator. You see that with Ferrari and Mercedes, but also in the midfield sector. In China it was the conditions and the safety car. In Bahrain, again the safety car - one virtual and one real. So whoever gets it right in these unforeseeable situations is at the front in the end. And there strategy plays a huge part. In a normal race with only one pit stop, the race result is, of course, more predictable. But we haven't had such a 'simple' race so far. That is good news.
Q: So you also agree when people say that the racing has become more interesting?
GS: Yes, because the cars deliver what they should deliver.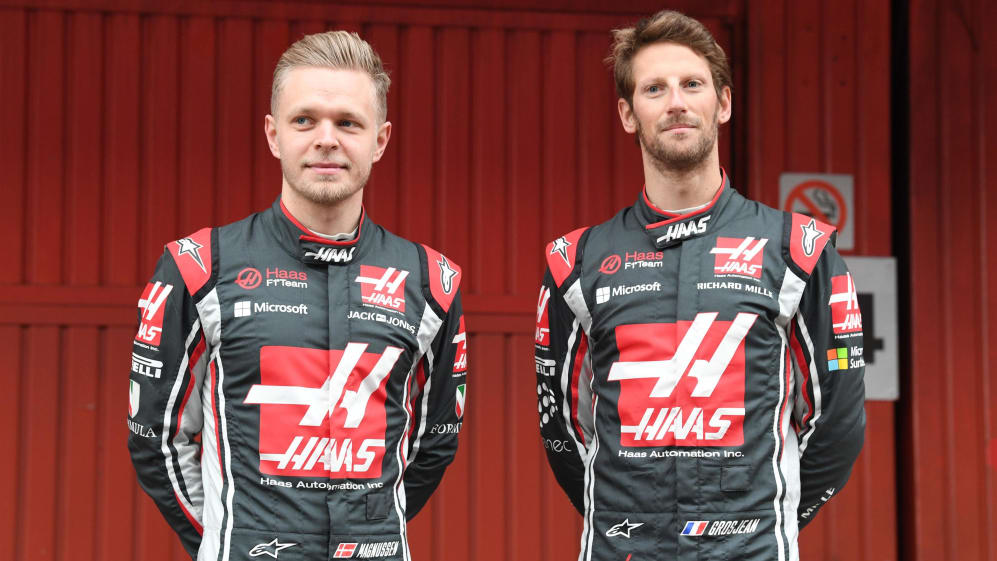 We took them as individuals who would suit our mentality - I think they fit pretty well into our team
Q: Last year, as the new kids on the block, you suffered a bit on the development side - you had to concentrate on 2017 and didn't want to plough good money into a car that would be out-dated in a couple of months. What can we expect from your development speed this year?
GS: I don't know what the other teams are doing, but we have a good plan. In reality I think we are in the range of our midfield opponents in terms of quantity - then, of course, you have to make sure that the quality also delivers. That is called competition! (Laughs)
Q: When are your major development steps coming?
GS: We will have a substantial upgrade for Barcelona - and the next step is still in the wind tunnel! Once we find the gains we will start producing. There is a good plan in place. And of course bits and pieces we will bring at any other race.
Q: Last year in Bahrain you bagged 10 points. Alas, this year it was only four…
GS: Well, but we have been in the points. Our internal target was to get both cars into the points. Unfortunately it was not meant to be as Kevin's car suddenly stopped for unknown reasons and we've had two test days to find out why. So we will postpone that target to the next race in Russia - and from what the test suggests it looks pretty promising!