Feature
Why McLaren have put their faith in another rookie for 2019
Mature. Speak to McLaren Racing CEO Zak Brown or Sporting Director Gil de Ferran and that word comes up a lot when discussing Lando Norris, the British rookie who will make his Formula 1 debut next year. That'll be an important character trait as, along with team mate Carlos Sainz, he bids to help revive McLaren's on-track fortunes. And it is just one of the reasons why McLaren chose to promote him from reserve to a race seat…
It's Sunday night at Monza. Norris is packing his stuff up when Brown calls him into his office for a word. This isn't unusual. The two know each other well. But this meeting was to be different. Brown didn't hang about. "Well done Lando, you're driving for us next year." Norris thanked him, they spoke briefly, then shook hands and Norris made a dash for the airport.
"When I told him he had got the ride, he didn't jump up and down," Brown tells Formula1.com. "He was cool and measured. That's Lando. He's very mature. He's very genuine. There's a shyness to him that I'm sure over time will evolve.
"He wasn't any different in the garage getting ready to do FP1 in a McLaren against Fernando Alonso than he was when I saw him on the grid of a Formula Renault race. He's very comfortable with the team, the team is comfortable with him. He's got a lot of work ahead of him, but I think he's got a good head on his shoulders."
Norris was more interested in motorsport of a two-wheel variety (MotoGP) growing up but fell in love with four-wheels when he drove a kart for the first time aged seven for a birthday present.
"Since then, he has had a glittering junior career. Dominate the national kart scene? Check. Win everything that is important at world and European level? Check. Win the European F3 title at the first attempt? Check.
The latter achievement led to an invitation to join McLaren's junior programme – and from there, he hasn't put a foot wrong. Each time he has had the chance to carry out simulator work, or in-season testing duties or gathering data in an FP1 session, Norris has delivered. He's tackled each with relentless commitment. And not once as he appeared fazed by the enormity of the situation.
"He's got almost a little bit of naivety about how much pressure is on him inside and outside of the car, which I think is good," says Brown.
"It's healthy, innocent. It's almost good he doesn't realise everyone is staring at the stopwatch to see how he is going to do every single sector. I think that's one of the reasons why he's so cool. He doesn't get worked up over that stuff."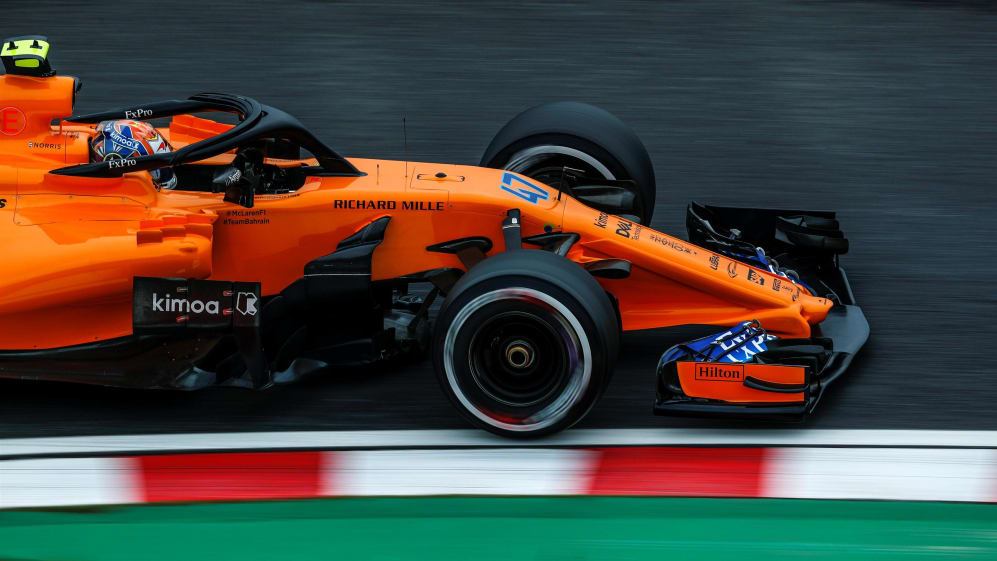 Taking a chance on youth
McLaren have form employing youth – take legends Gilles Villeneuve and Alain Prost for example. But since the creation of their junior programme, they have had mixed success when promoting.
There's the obvious success with Lewis Hamilton, who just missed out on the title in his first season in dramatic fashion, then made up for that disappointment, amid more drama, the following year. But Kevin Magnussen and Stoffel Vandoorne are at the other end of the spectrum having not fared anywhere near as well with the team.
De Ferran was drafted in as a consultant earlier this year, with part of his role to help the team work with young drivers, before being taken on as Sporting Director full-time. So why did McLaren give Norris, currently third in the F2 championship standings, the green light?
"In short, he's a supreme talent," he tells Formula1.com. "I heard of him before I got here, he had a great reputation and an impeccable track record, throughout his young career. Feels like he's been racing forever – and he's only 18. I was aware of his success.
"Every time he got in our car, he adapted himself very quickly, in very unfamiliar situations. That was very apparent to me, watching his F2 season, he's had quite a bit of success, but it hasn't been all plain sailing.
"It's been interesting to watch him battle through the field many times. He's shown a lot of maturity in this season, in the way he has raced himself away from difficult scenarios, by good, mature decision-making.
"When you step back and look at him, it's like wow, he's already a very polished item at such a young age. We think he has a tremendous amount of potential. We're taking a long term view on this, work together and help him and support him as much as we can. It's very much a long term project in many ways."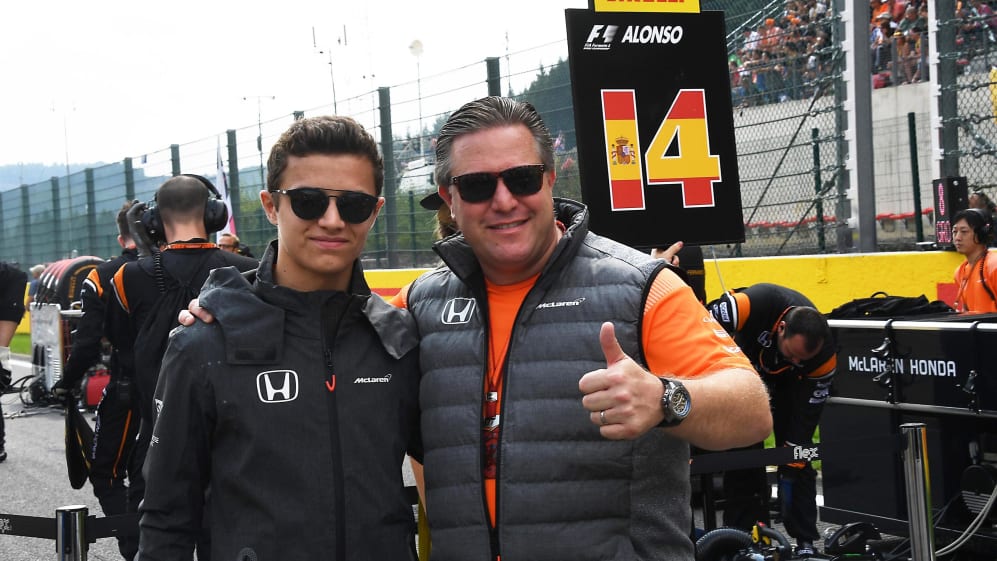 Advice from Alonso
McLaren may be struggling for performance, but they are at a point of rebuilding and in many ways that makes it a good time for Norris to join.
While Hamilton had a car that was capable of winning races and had to deal with the subsequent pressure that came with it, Norris knows he hasn't been blessed with the same scenario and can instead focus on doing the best job he can and help the team grow.
He also does not have Alonso in the other car, which is a pressure in itself, but has had the benefit of spending time with him through his role as reserve driver this season as well as when he shared a car with him during the Daytona 24 Hours at the start of this year.
"I've been pretty close Fernando, we've been kind of friends, especially since Daytona earlier this year," said Norris. "We have always tended to get along pretty good since then. The same with Stoff [Vandoorne]. I've got to know him more and more. I never really knew him too well before this year.
"I've spent a bit more time with Fernando compared to Stoff. On the race weekends, he's helped me – said watch out for this, watch out for that. And he has said what you might struggle with, what the problems have been with the car over the last few weeks.
"It's been advice in terms of a couple of things driving, it's not been anything about what to do off track. He has been very helpful in giving this advice.
"I don't think many people would have done in F1. Having a good relationship with him has definitely helped me. Although it has not been a huge amount of advice, the little things he has said have helped."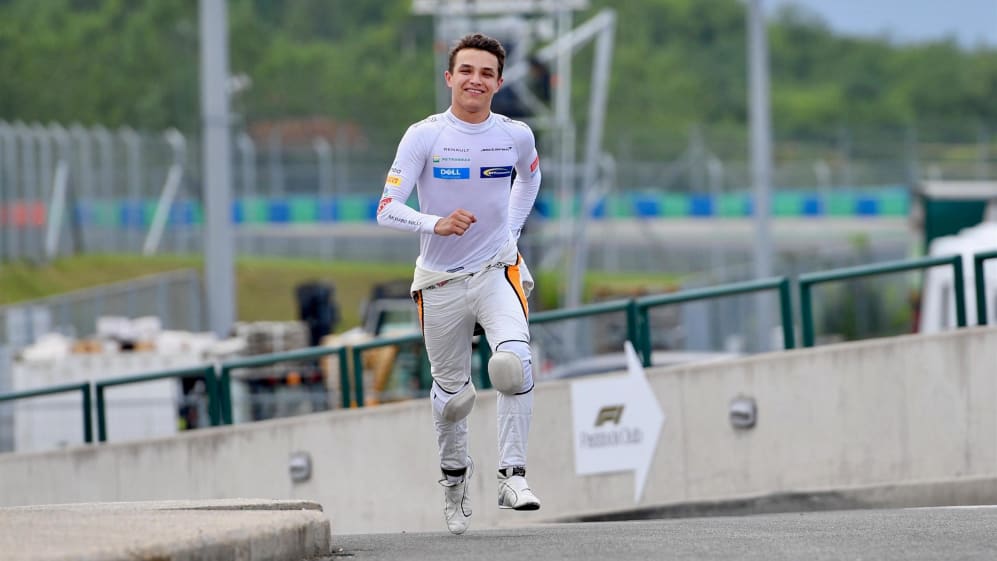 Learning lessons from the past
It's still going to be a challenge and Norris is all too aware of how those before him have struggled. Magnussen only managed one full season at the team. Vandoorne got two before he was shown the door.
So how does he plan to learn from those scenarios and avoid the same fate? "The main thing is to speak to the engineers, Zak, Gil, whoever and just ask what things I need to make sure I work on, what things other people haven't done so well which has led to them leaving the team, and just try and be stronger in those areas and not let them be weaknesses," he says.
"Just speaking to a few guys around the team and seeing what the main things they want from me as a driver and what are the weak things from other drivers – so I need to focus on them.
"I'm a different driver, I'll do the best job I can to have not anything happen and try and stay with McLaren but on top of that it's speaking to the guys."
A mature response. There's that word again. Stick with that approach and deliver the pace and performance he has shown in junior formulae and the future is very bright. It's not hard to see why McLaren have opted to take another chance on youth.