Why Tsunoda was 'really mad' after Azerbaijan GP despite his best finish of the season
Even a seventh place and his best result in Formula 1 so far could not prevent Yuki Tsunoda from being angry at the end of the race in Baku.
Tsunoda secured his highest F1 grid slot so far with seventh after a strong run in qualifying, although he crashed at the end of Q3 and was unable to try and improve his time. He maintained position for much of the race and was sixth at the restart with two laps to go, but was unhappy to drop behind Lando Norris and Fernando Alonso as both pulled moves around the outside on the first lap of racing.
"I can't do anything!" he said on team radio. "Like, I can't do anything else in that situation! What?! How?! Even if I try to go back and think about the start I don't know how to avoid that to be honest."
RACE HIGHLIGHTS: See all the action from an extraordinary win for Perez in the Azerbaijan GP
Definitely there were positives, but I'm really mad at the last lap
And asked after the race if he was happy with his seventh place – getting a spot back after Lewis Hamilton's error – and how the afternoon went, Tsunoda replied: "No not at all.
"Until the red flag it was quite good, but after the restart, the start was okay but the track positioning was all wrong – I tried my best and I went aggressive but I couldn't avoid dropping two places to be honest. I don't know how to avoid it. But congratulations to my team mate who got a P3 and a podium.
"Overall if I take all the positives from the race weekend definitely there were positives, but I'm really mad at the last lap."
READ MORE: Gasly says he had to take 'big risks' to seal podium after being slowed by engine issues
Tsunoda might have been angry, but his performance throughout the weekend impressed one of the people he really needs to keep happy in the form of Team Principal Franz Tost.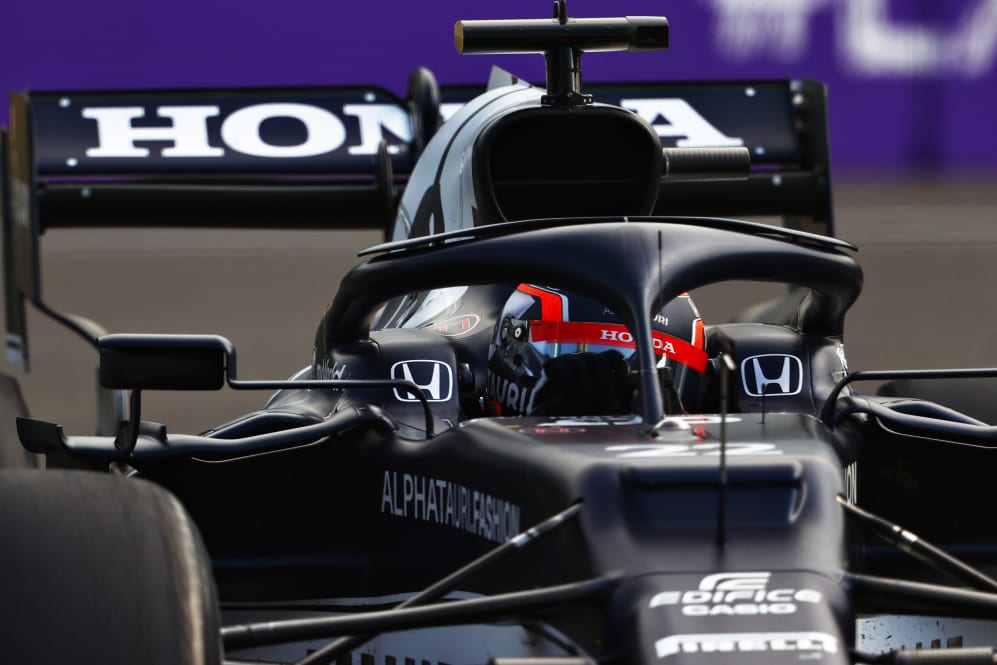 "Yuki did a fantastic job I must say," Tost said. "Okay he had the small incident [in qualifying] but it was in qualifying three and it can happen – it happened to more experienced drivers. And then his race pace sometimes was unbelievable. I was really worried that something was going to happen because he was really fast.
"He's on a very good way and I think that he will come up with some good results in the second half of the season where he gets a little bit more experience, especially on racetracks that he knows.
READ MORE: What the teams said – Race day in Azerbaijan
"We must not forget that it was his first time in Baku. Of course in Bahrain he scored two points when he finished ninth but he knew the track quite well from Formula 2, we tested there and we could find a good set up. But we came here to Baku and he didn't know the track and he immediately got quite familiar with it and started from seventh place and finished seventh.
"For me it was a really fantastic job from his side, a fantastic performance. We have to work on some things – we know this – but I am confident that we will get everything together because he is a super talent."