Williams duo say 'audacious strategy' attempt contributed to Qatar GP tyre issues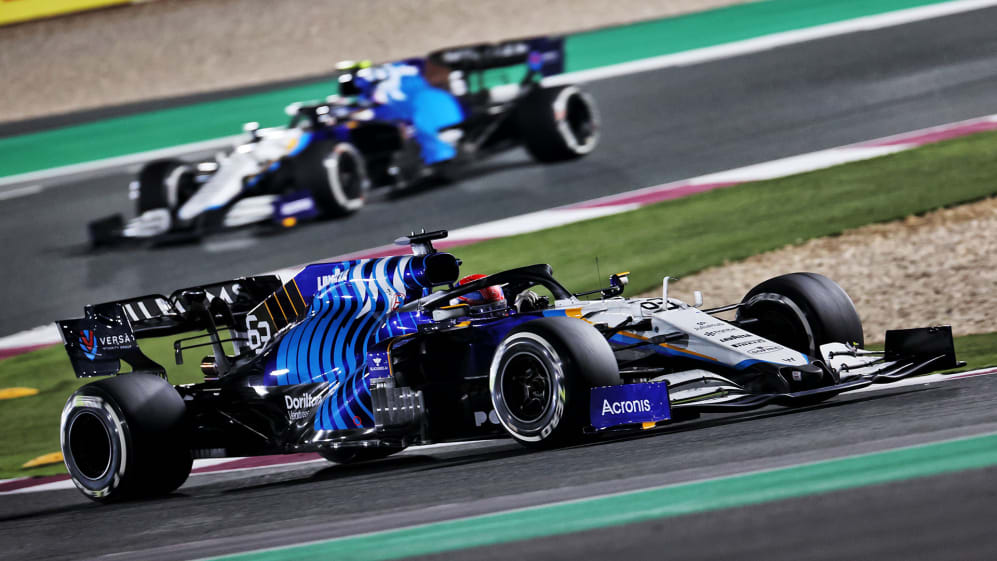 Both Williams racers George Russell and Nicholas Latifi suffered late punctures in the Qatar Grand Prix, with the duo citing an "audacious strategy" designed to try and best rivals Alfa Romeo for contributing to their tyre woes.
Following on from Mercedes driver Valtteri Bottas' front-left puncture on Lap 33 of 57, first Russell on Lap 50 then Latifi on Lap 52 suffered seemingly the same issue as the Finn. But with Williams having been attempting to out-strategise Alfa Romeo by going for a one-stop to their rivals' two-stop, Russell said they'd paid the price for their gamble.
READ MORE: Pirelli boss Isola explains Qatar tyre issues that saw Bottas, Russell and Latifi suffer punctures
"I guess you never want to end the race with three wheels on the wagon," said Russell, "but we went for quite an audacious strategy, trying to push that one-stop quite aggressively, pitting early.
"We knew early on that Alfa were going for the two-stop," added Russell. "If we converted to a two-stop we'd have conceded the position so that made no sense; we had to go for the one-stop but we just didn't have enough speed today."
Latifi was ultimately forced to retire his Williams FW43B after his puncture, with the Canadian saying that his tyre issues had felt more sudden than the slew of issues that hit drivers at the 2020 British Grand Prix.
"I didn't expect it," said Latifi, "everything felt under control. If we go back to the feelings we had in Silverstone [in 2020] with all the tyre issues there, I mean you feel like a massive vibration coming on and getting worse and worse, you feel like the tyre and car is going to explode. Whereas this, everything felt okay.
READ MORE: 'They woke up the lion' – Wolff says Hamilton showing his 'superhero powers' after pair of crushing wins
"Even after George's puncture – at first I wasn't sure what it was, I was like, is it even a puncture because we knew we were going to be taking the tyres to the limit trying to make the one-stop work and I said, 'Yeah, mine feels fine, I'm not even limited with that front left-tyre, I'm more rear-left limited than front-left limited.'
"So yeah, it was surprising but I think we had nothing to lose trying to make that one-stop work, especially when the Alfas came out behind us, just to try and prevent them getting anything more. I mean the result is obviously bad but we did our part in trying to race the Alfas, so I guess we couldn't really expect much more."
More concerning to Russell, meanwhile, was Williams' lack of pace in Qatar, meaning that after their flurry of mid-season points – enough to put them 12 points clear of Alfa Romeo currently – no Williams driver has now scored since the Russian Grand Prix back in September.
"We just didn't have the pace this weekend," said Russell, who finished down in P17, although neither Alfa Romeo driver scored in Qatar either. "The corners you had to save to look after this [front-left] tyre were the corners leading onto the straights, and unfortunately our competitors were already right behind us leading into those corners, so if you save through there you may as well let them by.
Monday Morning Debrief: Did Qatar grid penalties actually aid Verstappen's title chances?
"It was a tricky one, I think we just need to look at the overall aspect of why we weren't on the pace this weekend when we maybe expected a little bit more. But at the end of the day, nothing gained, nothing lost versus Alfa who are our main rivals at the moment."
2021
The fight at the bottom of the constructors'
POSITION
POINTS

8

Williams

23

9

Alfa Romeo Racing

11

10

Haas F1 Team