Williams Esports secure first pick in 2018 F1 Esports Pro Draft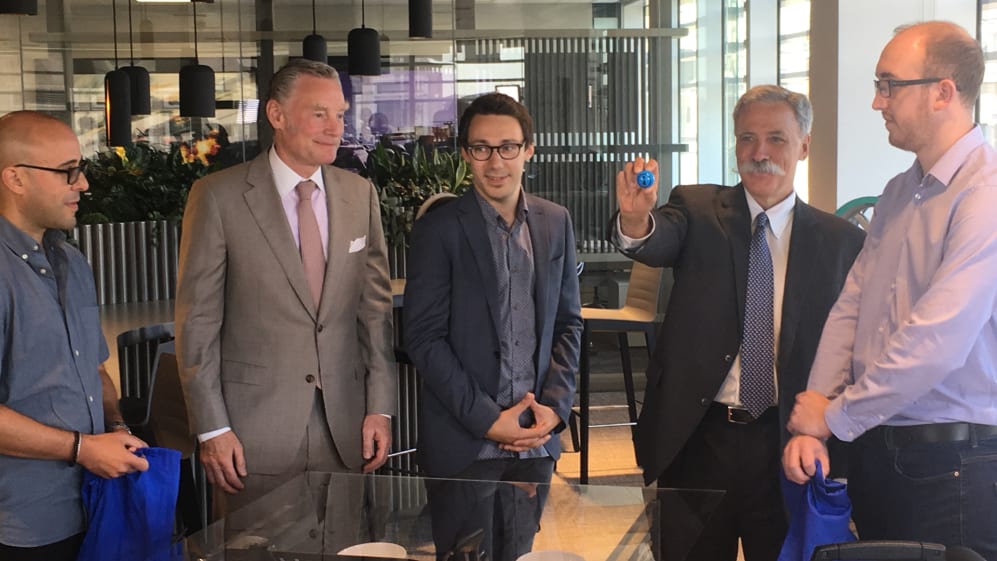 The Williams Esports team will pick first in the 2018 F1 Esports Pro Draft, following Tuesday's draw at F1 HQ in London. Chase Carey, Chairman and CEO, and Sean Bratches, Managing Director – Commercial Operations, at Formula One Management Ltd, were on hand to conduct the draw and finalise the positions.
The Draft itself, during which the best drivers from F1 Esports qualifying will be selected to represent real F1 teams, takes place on the evening of Monday 9 July, following British Grand Prix weekend at Silverstone.
"Fans around the world have really engaged with the F1 Esports Series," said Chase Carey (second right above). "I think some of the racing has been fabulous and we're very excited to take the Series into Year Two."
"We're very encouraged by the fact that F1 teams are participating in the Series this year," said Sean Bratches (second left above). "We're looking forward to a great year."
Before the Draft itself, the top drivers from 2018 F1 Esports Series qualifying will be put through their paces at a driver 'boot camp' at Silverstone during the week leading up to the British Grand Prix. They will undergo a series of tests and assessments under the watchful eyes of team scouts, who will then decide which drivers top their lists ahead of the Draft. The drivers will then attend the British Grand Prix, before heading to London for the Pro Draft. The order for the first round will be reversed in the second, meaning the team with the ninth and final pick gets to choose first in the second wave of selections,.
And once Draft day arrives, it will be Williams Esports who will have the pick of all the drivers thanks to them landing first position in the order. Which driver will become the first draft pick in the history of the F1 Esports Series? All will be revealed on Monday 9 July!
FULL PRO DRAFT ORDER: FIRST ROUND
WILLIAMS ESPORTS
HYPE ENERGY EFORCE INDIA
HAAS F1
MERCEDES AMG PETRONAS MOTORSPORT
RENAULT SPORT TEAM VITALITY
SAUBER
TORO ROSSO
MCLAREN
RED BULL RACING ESPORTS
Don't forget to watch out for the livestream on F1Esports.com and Facebook at 7pm, on Monday 9th July. For more info, visit www.f1esports.com