Williams struggling "a bit everywhere" – Stroll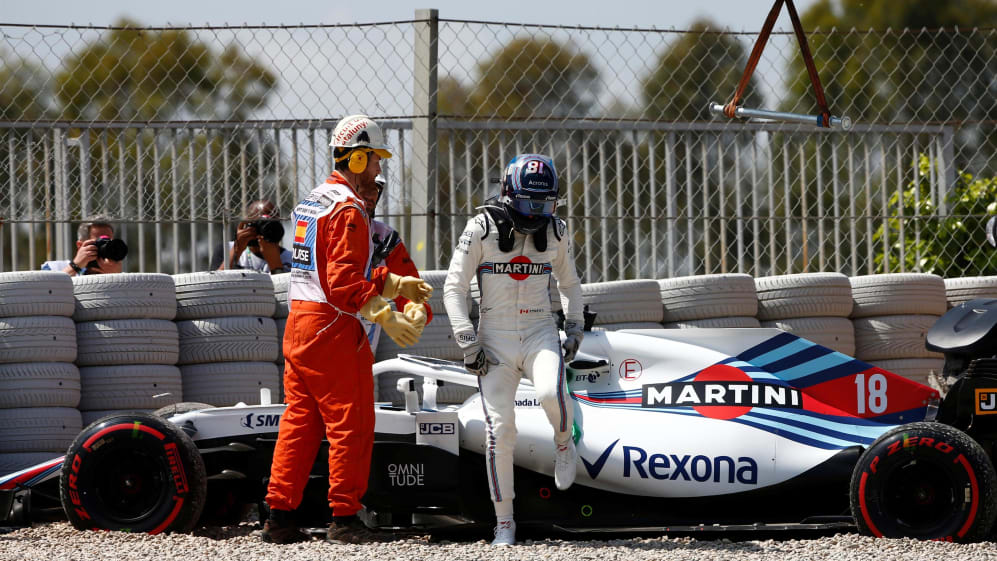 Friday's practice timesheet from Spain made for grim reading for Williams. Lance Stroll and Sergey Sirotkin were rooted to the bottom of the pile, more than three seconds off the pace. Where are Williams struggling? "A bit everywhere," reckons Stroll…
Williams reserve driver Robert Kubica got behind the wheel of the Williams on Friday morning and admitted the FW41 was not enjoyable to drive as they struggled to get a good balance. The race drivers echoed that sentiment.
"The car is pretty slow," said Stroll, who lost control and beached his car in the gravel in FP1 (see video above).
"I would [agree with Kubica]. It's definitely not the balance a racing driver wants to feel.
"We are where we are. We have got to understand what to do so we can be better. [We are struggling] a bit everywhere - it adds up."
Sirotkin was the one to make way for Kubica in FP1, meaning he had just 90 minutes to get a feel for the car around the Circuit Barcelona de Catalunya.
"It's tricky to drive," said Sirotkin. "Mentally, it really makes you concentrate on every single thing. It was tricky in the morning, cars going off. It takes a lot of energy from you just to drive it."
The Russian said Williams had anticipated a difficult weekend, having struggled for pace in pre-season testing at the venue, while he says most of their upgrades won't hit the car until next week during in-season testing.
"Those conditions - the way they related from winter testing is kind of the worst possible scenario for us to find," he said.
"We didn't expect it to be easy. Most of our new bits coming on the car are waiting for testing. So it's not that we knew we had something different.
"If I knew one particular place that I could choose to improve it would be easy. It's just the overall trend. You would say in lap time, it's more sector three.
"It's not because it's just that sector, which is opening more of our weak points. It's more because it's the sector where you have most of the corners.
"And you come there with rear tyres being in the end of the life towards the end of the lap and that's not the strongest situation for us. It's the global trend, really."
Williams are one of only two teams – Sauber being the other – not to have made it to Q3 in 2018. Based on their form on Friday, it looks likely that streak will continue...