Feature
Winners and Losers - Abu Dhabi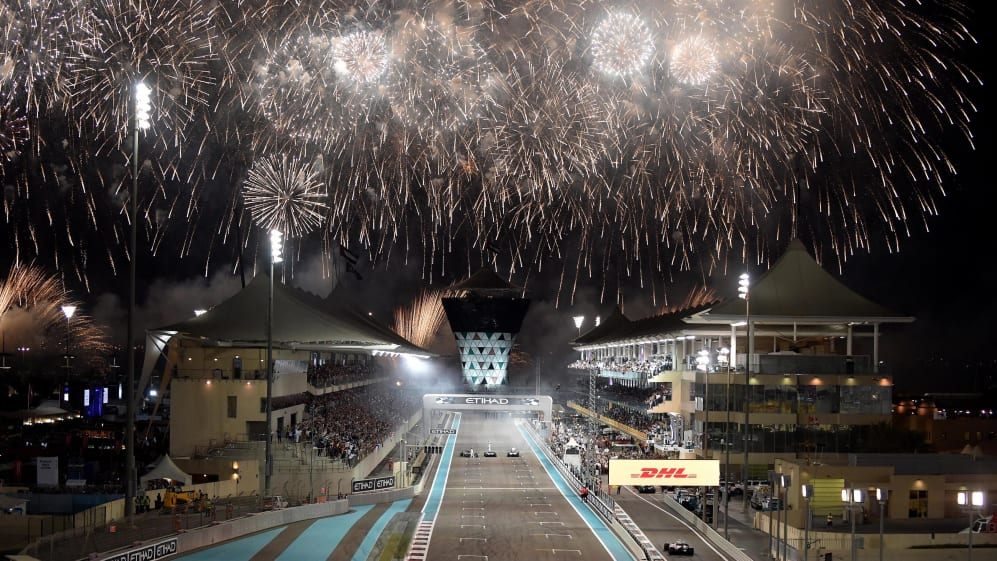 A spectacular fireworks display marked the end of the 2017 season on Abu Dhabi on Sunday, but who saw their fortunes rocket at Yas Marina, and who closed out the year a damp squib? We bring you some answers…
The Winners
Bottas signs off in style
Since Mexico there had been signs that Valtteri Bottas was making progress again, and in Abu Dhabi he took pole position and then resisted everything that the new four-time world champion Lewis Hamilton could throw at him for the whole 55 laps, barely making a mistake as he controlled the race throughout.
"He did a great job this weekend, and also this year," Hamilton admitted, clearly very happy for his team mate. "It was great to have the race we had today. I think we each had one mistake, me with a lock-up in Turn 17, and him in Turn 5, so with that pressure he did exceptionally well."
"I knew Lewis was always going to be struggling when he got to sector three behind me," Bottas grinned.
He had the edge on the ultrasoft Pirelli tyres during their opening stints, and by the time he pitted for supersofts after 22 laps he had built a lead of 2.5s. Hamilton led then pitted two laps later, and was stronger on the supersofts. The gap shrank to 1.1s on lap 29, then to half a second on the 49th as they came up to lap Fernando Alonso's McLaren. But Bottas rode out that storm too, and pulled away again to win by 3.8s after setting two fastest laps to confirm his domination.
A year ago, he had retired his Williams here with suspension failure after six laps, and Nico Rosberg was celebrating his world championship. Then Rosberg quit, and suddenly Bottas found himself propelled into the vacated Mercedes seat. Now here he was, winning.
"It has been a bit crazy," he admitted in his shy way. "But life is. This has been an incredible season for me, and I have learned so much with Lewis and been able to find something every single race. I don't say I know yet how to win the title because I have never done that, but it was a good performance in qualifying yesterday and again today, so I'm really looking forward to next year to see what it brings."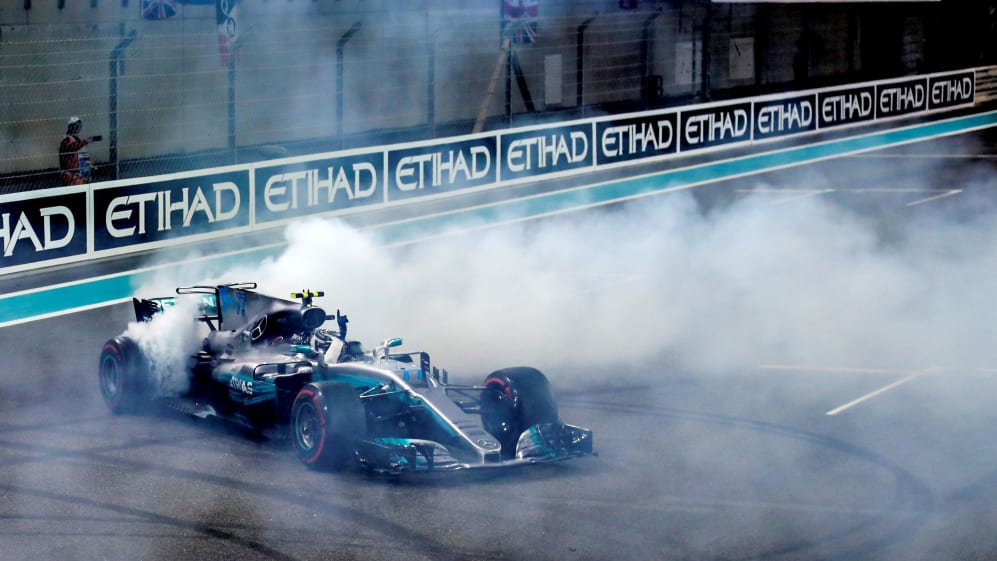 Renault seize sixth (the hard way)
Nico Hulkenberg had to serve a five-second penalty for gaining advantage over Sergio Perez by going off track early in the race on the exit to Turn 8. That was a little bit naughty because it put him well ahead of the Force India in seventh place as he straight-lined the corner, but it was the smart strategy to take the penalty rather than lose momentum and track position handing back the place.
When he served the penalty in his tyre stop on the 17th lap there was nearly a disaster, however, as it proved difficult to remove the right rear wheel. So when he resumed he had dropped from fifth to 11th. But he got a place back from Ricciardo's demise, made others when rivals pitted, and passed Romain Grosjean's Haas the hard way – twice. So he was able to secure sixth place ahead of the Force Indias and thus garner the points Renault needed to move up to sixth overall in the standings at Toro Rosso's expense. Altogether, it was a neat job by Renault.
"It was a bit of a thriller!" he admitted. "It was a very interesting first lap, then very interesting again after the stop when I had to get past the Haas, which was super-fast on the straights, and obviously I had Checo right behind me waiting to take advantage. We managed to come out on top and it's a very decent end to the season.
"Sixth position in the championship is good for us and will be a morale booster - we go into the winter with our chins up."
The result was a massive relief to managing director Cyril Abiteboul and the rest of the team. You only had to see the expression on Renault Sport Racing President Jerome Stoll's face when Carlos Sainz had a wheel work loose on the sister car, ending the Spaniard's chance of scoring, to appreciate the strain they were under.
"Mission accomplished," he said. "We came here with one clear objective. At the start of the year we set out to finish fifth, which was very ambitious, but ambition is good – you have to set high targets. This season we've not made it easy for ourselves and the last three weekends have been a microcosm of this rollercoaster of a year. At times we've been too aggressive, then too conservative, but we came to Abu Dhabi with a very extreme preparation and the weekend went almost exactly to plan. Sixth was the revised goal and I'm so proud we got it. It's a milestone for the team and an achievement that goes beyond the on-track result.
"It's a motivation for everyone – for every team member and a fantastic reward that will count far more through the winter than any financial considerations."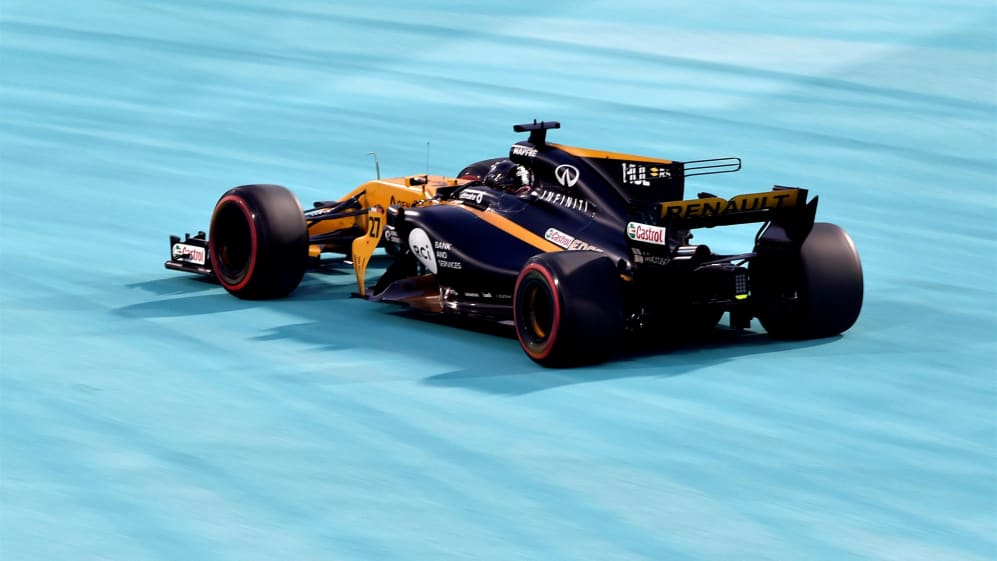 Massa makes his farewell point
Felipe Massa celebrated his final Grand Prix with a solid run to 10th and the final point, joining the victorious Mercedes in making happy donuts on his slow-down lap.
"It's a great feeling," the Brazilian said. "I can say I am really proud of everything I've achieved, all 16 years and all the amazing races, and the great people I met in the paddock, racing against the best drivers in the world. To be honest, I'm very lucky to have had all of this in my life so thanks to my family and to god for all of these amazing opportunities.
"The race was good, I was fighting from the beginning to the end. Unfortunately, we lost the position after the pit stop, but I'm really happy overall."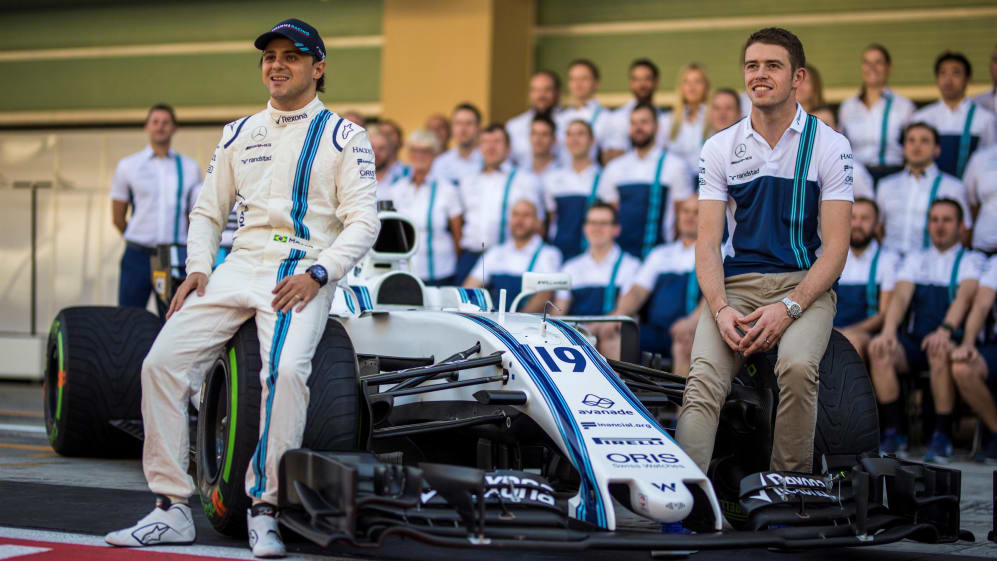 Vettel, Raikkonen and their prancing horses
The first non-Mercedes driver to clinch a top two championship berth since the start of the turbo era. Singapore may have ultimately undone his championship hopes, but 2017 was a clear step forward for the four-time champion and the Scuderia.
As for Raikkonen, fortune smiled on his bid to overhaul Daniel Ricciardo for fourth in the drivers' championship. For the second time in three years Ferrari therefore got both drivers into the top four - before 2015, they hadn't achieved that since 2008.
It wasn't all positive for Ferrari however - read on...
The Losers
Hamilton has no answer
Hamilton said that he threw everything he had at chasing down his team mate. He closed the gap to 1.1s on the 29th lap, then right down to half a second on the 49th as they came up to lap Fernando Alonso. But by the 49th it was back to 1.2s and the game was up.
"I was better in the first two sectors, but Valtteri was stronger in the third," he explained. "That was partly set-up, but this is a very difficult circuit on which to follow. The car was great today, the balance was spot-on, but I felt he maybe had a little more in the last sector. This is a great, great track, but doesn't suit the cars very well. I don't know if it's exiting for you guys to watch, but for us it's one of the worst in that you need a car advantage of 1.4s in order to be able to overtake, and the difference between us was a couple of tenths."
He thus finished second, 3.8s adrift by the chequered flag.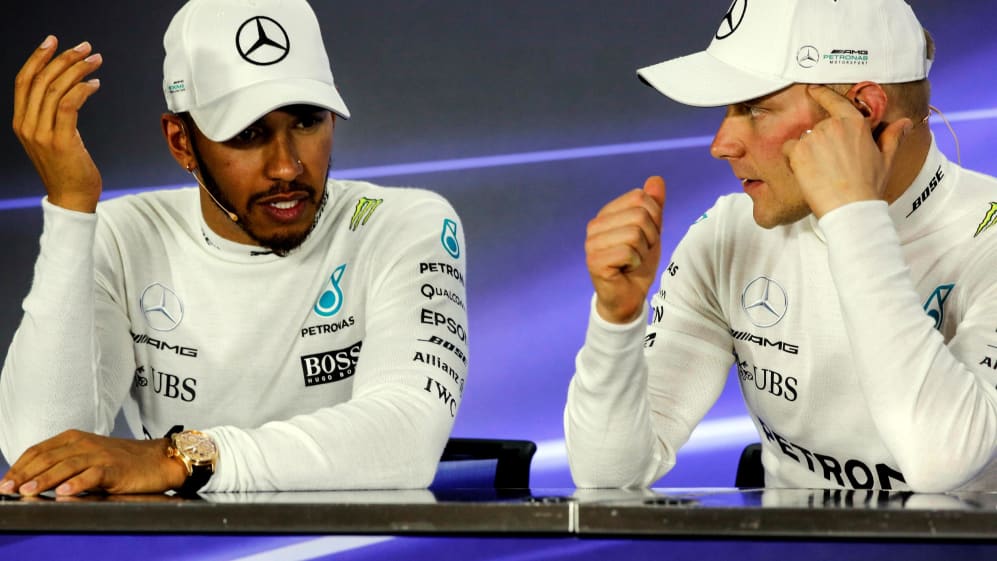 Ferrari floored by Silver Arrows
Sebastian Vettel said that he had a lonely race, in which the second stint was better than the first, when he lost what chance he felt Ferrari had to stay with the Mercedes. By the flag he was 19.3s behind the winner.
"You saw today we weren't quick enough," he said. "It was a lonely race, and after I tried hard at the start I locked up and flat-spotted my first set of tyres and after the first three, four, five laps I realised I couldn't go any faster and the Mercedes pulled away. In the second stint I got into my rhythm and had stronger pace, but not good enough for these guys.
"We would have liked be a bit more in the fight today and put those two under pressure, but we have to be happy with a podium. Overall, it's been a good day."
Ricciardo's misfortune enabled Kimi Raikkonen in the second Ferrari to finish fourth, 25s behind Vettel, and to take the place overall by five points, 205 to 200. But he did not enjoy his race.
"The car was most of the time pretty good, but to be honest it was not a lot to do with racing because the fuel saving was a lot," he said. "I tried to keep the guys behind, but tried to be on the limits that you're allowed to use, so it was a kind of boring race. But this is what the rules are and some races it's more and others not. It shouldn't be like that. As racers, nobody's happy because we want to race. As Max Verstappen and I were close to each other it looks okay, but if you look closely you were lifting off 200 metres before the corners."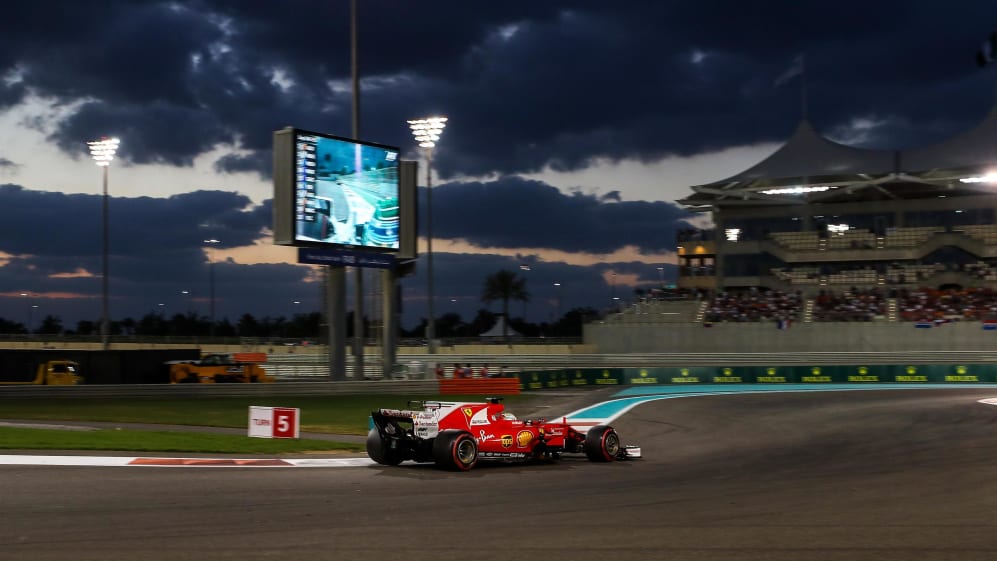 Red Bull not so bullish
Daniel Ricciardo lost fourth place in the race and the driver rankings when he dropped out after 21 laps with suspected hydraulic power steering problems.
"Not a good race day for me, unfortunately," he said. "At Turn 19 I felt something strange with the steering so I thought I had a flat tyre. Then just before the pit lane I said: 'I'm coming in'. We weren't supposed to pit but I feared it was a puncture. Then when we got back out the steering was still strange and it suddenly got very heavy so I could tell that I was losing hydraulic pressure. I lost the power steering and then we couldn't change gears and that was that."
By the flag, team mate Max Verstappen got within eight-tenths of Raikkonen's Ferrari, but their respective positions were never in serious doubt.
"For me that was a pretty boring race, if I had a pillow in the car I could have fallen asleep," the Dutchman said. "I tried to follow Kimi at the start but it's so hard at this track and I couldn't find an opportunity to pass. As soon as you get within 1.5 seconds it is really tough to get close and make a pass. I was surprised at how good my pace was during the race, especially as I have struggled all weekend with the feeling of the car. Once I got caught in the blue flags and I dropped off a bit I was able to see the true pace of the car, and it was actually quite quick. It's a shame we couldn't show it and be able to fight, which also comes as bit of a surprise at this track."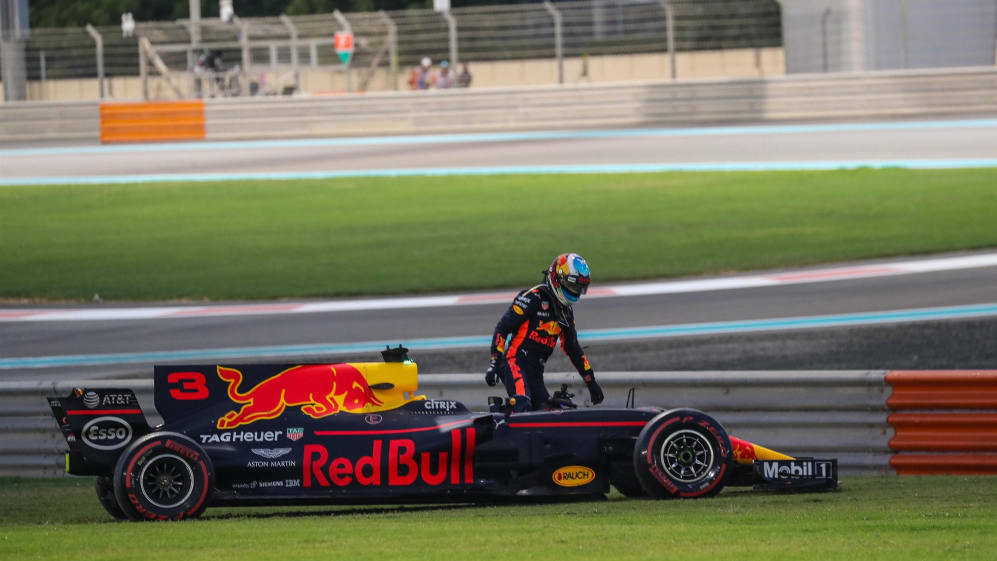 Toro Rosso take the drop
Going into the race, Toro Rosso held a four-point lead over Renault and sixth place overall in the world championship for constructors.
But as rookies Brendon Hartley and Pierre Gasly could only muster 15th and 16th places, Renault scored another eight points courtesy of Nico Hulkenberg's sixth place, leaving Renault to snatch that sixth place by four points at the 11th hour.