Winners and Losers - Australia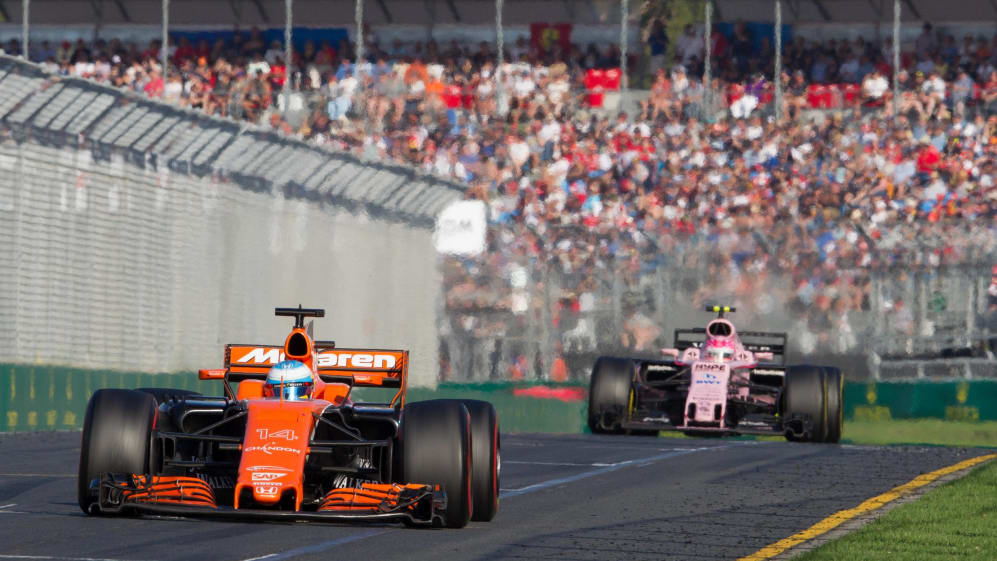 Ferrari back on top, a highly impressive debut for their reserve driver Antonio Giovinazzi, and a maiden point for Esteban Ocon. These were just some of the highs in Sunday's 2017 Formula 1 Rolex Australian Grand Prix. But there were a fair few lows as well…
The Winners
A rejuvenated Ferrari
All through practice and qualifying it was very hard to say whether Mercedes or Ferrari really had the upper hand, such was the convergence of their performance. But come the race it soon became clear that Lewis Hamilton wasn't going to run away from Sebastian Vettel. He got 1.8s ahead at one stage, but Vettel soon pegged that back as the Englishman ran out of tyres.
The Mercedes driver's early pit stop left him behind Max Verstappen, which in turn helped Vettel to pit later and get back out while still ahead, and that was sufficient to turn the tide in Ferrari's favour.
"It was about time," Ferrari chairman Sergio Marchionne said. "I am delighted for the team and for our tifosi who stood by us throughout this whole period. We've been waiting for this victory for almost a year and a half. Hearing the Italian national anthem again was very moving.
"Sebastian delivered a great race and I am sure Kimi will be soon up there battling alongside his team mate. Of course, this victory is something to share with the entire team, both at the circuit and back in Maranello, because teamwork is the only way to achieve major goals."
"We did a very good race. I'm very happy with the calls today," Vettel said. "It worked brilliantly and as I said, big thanks to the team. We say this all the time but I think if you're not part of the team I think it's difficult to realise but what this team has done in the last six months has been really tough, rough as well, not easy to manage."
But manage it they did, and this was a well-deserved success - their first in a season opener since 2010. Now we wait to see whether it was a one-off, or a harbinger of what's to come.
Force India's flying Frenchman
Esteban Ocon scored his first world championship point after a pulsating race-long duel with no less doughty a fighter than Fernando Alonso. The Spaniard had driven at his peerless best in the McLaren, yet the young Frenchman never gave up and finally found his way by on the 51st lap, taking his chance with a brave move.
"Scoring my first point in Melbourne is a very nice reward after what has been quite a tough weekend," he said, after coming of age with such a fine performance in just his 10th F1 race.
"I spent almost the entire race fighting against Fernando because we were side-by-side for the first lap of the race. He was able to stay ahead and I had to chase him for the rest of the afternoon. It was a hard fight because he is a tough opponent and it was so difficult to get close and overtake.
"Eventually I found a gap in the last few laps and took my chance going into Turn 1. It was a big moment for my race and took me into the points. I'm happy with the result and I feel I've learned a huge amount from my first race weekend with this team. I hope this is the first point of many this season."
On Sunday's form, that's a given.
Fernando the fighter
Despite the brutal disappointment of technical retirement within sight of an unexpected point, having held 10th place from lap 14 to 51, Fernando Alonso was upbeat and described his race in glowing terms.
"It was probably the best race of my life until that moment," the McLaren driver surmised. "There are few times I've had such an uncompetitive car, without any winter preparation, having to save fuel in a brutal way - I think we had to lift about a second per lap - and even so we were in the points.
"It was a pretty big surprise, what we were doing, but in the end we couldn't complete it. But it was probably one of the best races I've had."
Regardless of the lack of a result, he was a winner all the way.
Sauber's rookie stand-in
Antonio Giovinazzi didn't even know he was going to compete in Australia until Saturday, yet the Ferrari reserve completed an excellent debut for Sauber (standing in for Pascal Wehrlein) by taking a composed 12th place ahead of a struggling Stoffel Vandoorne.
"It was a good race, and I am happy with my performance today," the Italian said after doing just about everything right, including being scrupulously polite in letting faster cars through, as he became the first Italian to compete in a Grand Prix since Tonio Liuzzi and Jarno Trulli at Interlagos in 2011.
"My objective was to gain more experience and collect mileage in the car. I will sit together with my engineers to analyse areas where I can improve. I want to thank the Sauber F1 Team and Scuderia Ferrari again for this opportunity. It was an amazing race weekend for me."
It was indeed. And team boss Monisha Kaltenborn liked what she saw.
"A very impressive performance from Antonio during his first Formula One race," she observed. "He showed his potential as well as what the car is capable of. The lap times were quite satisfying."
The question is, with Wehrlein due back in China, will Giovinazzi now get another race opportunity before the season is out?
The Losers
The Silver Arrows
It's hard to criticise any team who take a double podium in the first race of the season, but after taking pole, courtesy of Lewis Hamilton, and then leading initially, Mercedes lost the race when their W08 used its ultrasoft Pirellis faster than did the Ferrari. That was what put Hamilton on to his back foot and, crucially, behind Max Verstappen's Red Bull.
At the same time, Valtteri Bottas lacked pace in the opening stages to challenge the Ferrari.
But the truth, as the Finn and Toto Wolff attested, was that Ferrari were faster here, simple as that.
That doesn't mean that Ferrari are the new Mercedes, but round Albert Park, in the weather conditions that pertained during the Australian Grand Prix, they had the upper hand.
Now there's food for thought...
Off-colour Red Bulls
Red Bull knew they were going to be in trouble in Melbourne as, curiously, there was no last-minute aero update to turn the RB13 into the 'wonder car' that everyone had been expecting from Adrian Newey.
Neither practice or qualifying went at all smoothly for Max Verstappen and Daniel Ricciardo, and overall the new car simply lacked the one thing everyone thought it would have in spades: downforce.
Then Ricciardo had his race-day tribulations (see below), and Verstappen, try as he might, just didn't have the pace to challenge even the tardy Kimi Raikkonen. Fifth was not a great result for a team expecting to challenge for the title this year.
The home favourite
There was drama and disappointment for the home fans even before the start, when Daniel Ricciardo's Red Bull rolled to a halt out on the track on his grid formation lap, after a faulty sensor jammed it in sixth gear. The team somehow managed to get the local hero's RB13 back to the pits in time for him to join the race on the second lap, but inevitably he ran at the back until some team software stopped the Renault engine at Turn 3 at half distance.
"Not the weekend I wanted," he said. "For all these things to happen at my home race, that's probably the most frustrating thing. We were on the back foot already after the crash in qualifying and then today we had an issue during the warm-up lap followed by a second issue in the race. On both occasions the car just came to a stop, so I couldn't do anything else."
A bounce back weekend in China is the least Ricciardo will expect.
Last year's Australia heroes
Romain Grosjean's retirement with a water leak after only 13 laps was a bitter blow to Haas. In their second season they appear to have bucked the trend that says it is always more difficult than the first, and to have produced a very nice car. The Frenchman qualified the VF-17 a remarkable sixth, and though he lost a place to Felipe Massa at the start he was looking good in seventh when disaster struck.
With Kevin Magnussen throwing his car into Marcus Ericsson's Sauber on the opening lap, and later retiring with suspension damage as a result, it was a brutal day for the team that shocked the world with their stunning debut at the same track 12 months ago.