Feature
WINNERS AND LOSERS - Bahrain GP edition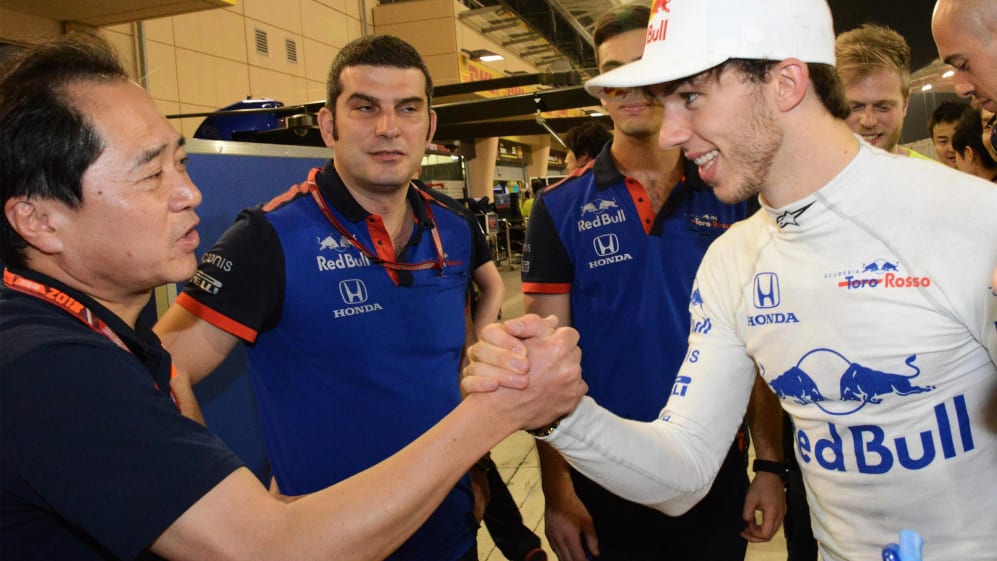 A wealth of overtaking, a young driver delivers a breakthrough performance and a miserable birthday present for Paddy Lowe. The Bahrain Grand Prix had action everywhere you looked from lights to flag
THE WINNERS
Honda employees
Poor performance, unreliability and constant pressure from former partners McLaren has made life pretty miserable for Honda employees since the Japanese manufacturer returned to F1 in 2015.
But their unrelenting dedication in pursuit of success was rewarded in Bahrain as Pierre Gasly guided the Honda-powered Toro Rosso team to fourth place in the desert.
The result was better than anything Honda achieved with McLaren in three years together, in what was only its second race with Toro Rosso.
It was also a good recovery from Gasly after a frustrating opening race in Australia, when he suffered a power unit failure.
The team at Sakura and Milton Keynes found the fix and turned round a modified MGU-H and turbocharger that proved to be robust in the Sakhir heat.
That, too, is like a victory and while they are likely to still have bumps in the road this season, the strong result will have a massive effect on confidence and morale.
Vettel proves title credentials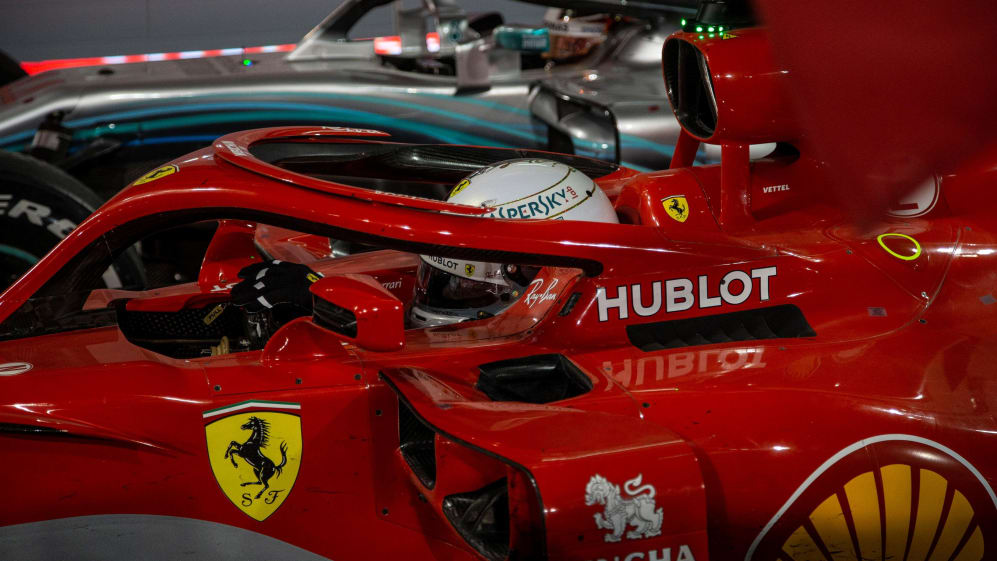 If his Australian Grand Prix victory involved a massive stroke of luck, Sebastian Vettel's triumph in Bahrain was the result of pure performance and good tyre management.
The German delivered when it mattered in qualifying to secure pole and was then faultless in the race. The decision to move to 'plan B' and try and make a one-stop work was brave.
But Vettel made it work, completing 39 laps of the 57-lap race on the soft tyres and absorbing pressure from the chasing Valtteri Bottas, who was on fresher mediums.
Victory gave him a 17-point lead in the drivers' championship. The omens look good, too, as no driver has won the opening two races without winning the title since Alain Prost in 1982.
There are still 19 races to go, of course, but it looks like we've got a real title fight on our hands.
Red Bull faith in Youth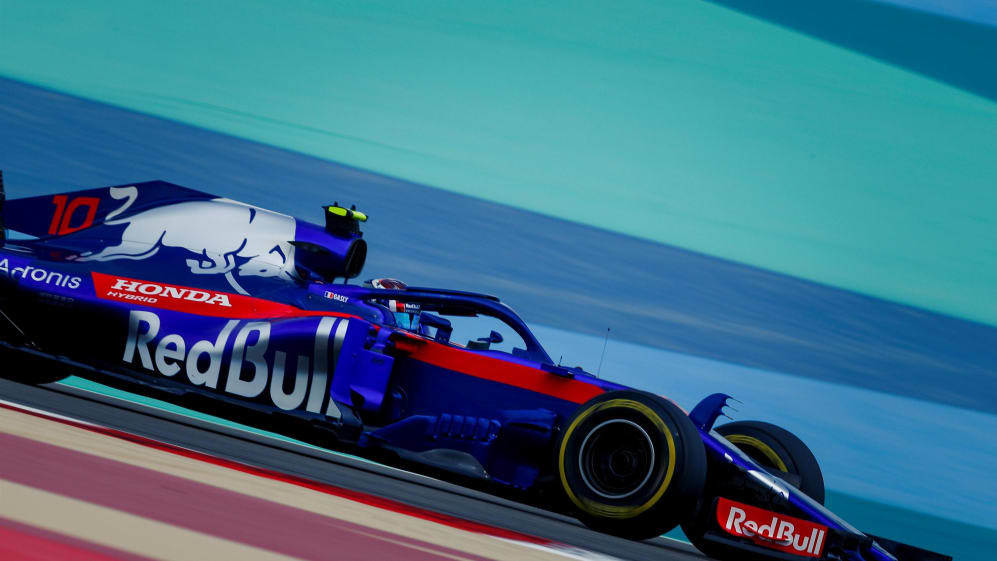 Pierre Gasly was overlooked by Red Bull for a seat in 2017, despite winning the GP2 championship the previous season, leaving him frustrated and publicly questioning the decision.
But Red Bull retained faith in their young charge, drafting him towards the end of last season and throwing an arm around his shoulder in preparing him for his first full campaign.
Gasly has repaid their faith with aplomb, bouncing back from a retirement in Australia to consistently deliver across the Bahrain Grand Prix weekend.
His feedback, outright speed and consistency was praised by his Team Principal Franz Tost and rightly so.
With Daniel Ricciardo uncertain as to whether he'll stay at Red Bull next season, Gasly has put himself firmly in the window to step up to the senior team when required.
For both driver and team, Gasly's performance was a win-win.
Sauber belief in Ericsson rewarded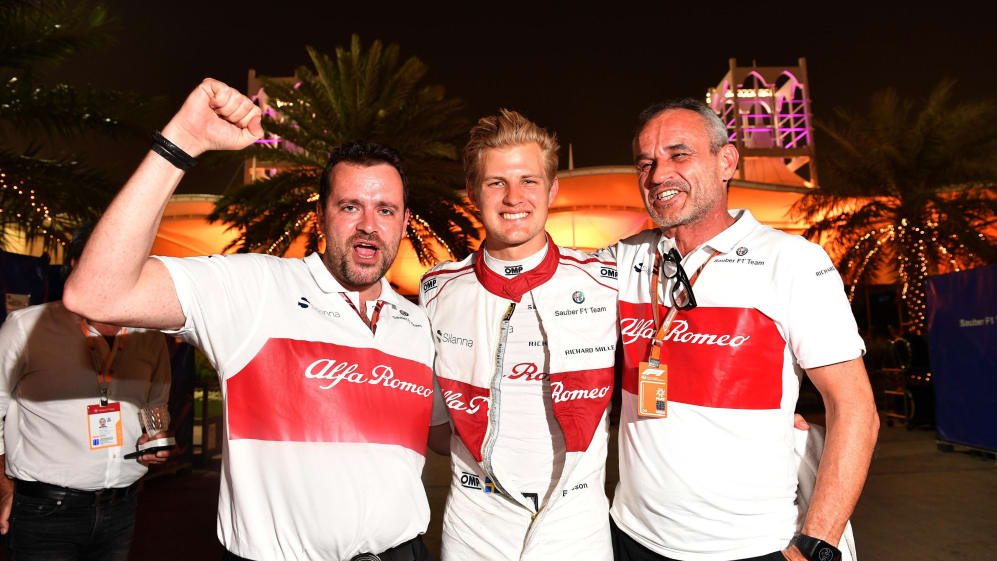 Marcus Ericsson has had a tough time of late. He was outperformed by team mate Pascal Wehrlein last year, in terms of points at least, and then risked losing his seat for this campaign.
Even when he was re-signed for a fourth season, the spotlight was on his team mate and Ferrari protégé Charles Leclerc.
But Ericsson put in a huge effort over the winter to prove that he was capable of delivering and has earned praise, unprompted, from Team Principal Frederic Vasseur for his form so far this year.
In a car that is not a nailed on points-scorer, the Swede got everything out of the package on race day and his commitment to trying to save his career finally started to pay off.
Ninth in Bahrain means he ends a 50-race streak without scoring points – and it could be the foundation he needs to kick on.
Bahrain GP circuit layout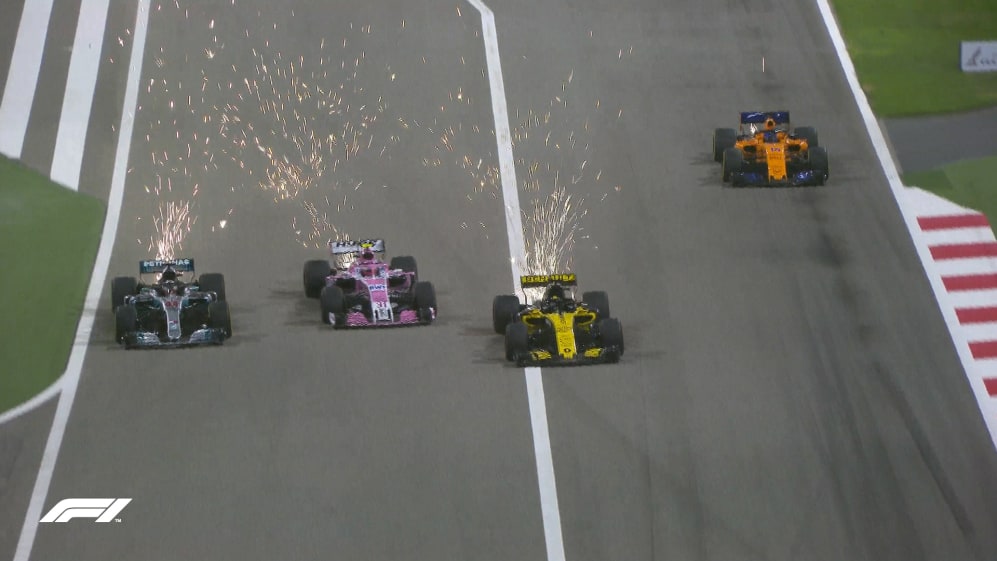 After the lack of overtakes in Australia, we were treated to a plethora of passes in Bahrain this weekend, with Lewis Hamilton's stunning three-car move the obvious highlight.
The Bahrain International Circuit may be criticised for having plenty of run-off, but it excels in in terms of overtaking, with opportunities at Turns 1, 4 and 11.
The F1 field made full use of those this year, and while some didn't always get it right – Max Verstappen on Hamilton is a good example – at least they had more chances to try.
It was the shot in the arm F1 needed after Australia and created a racing spectacle that contributed to one of the most thrilling Grands Prix in recent memory. Bring on next year's race.
THE LOSERS
A devastating two laps for Red Bull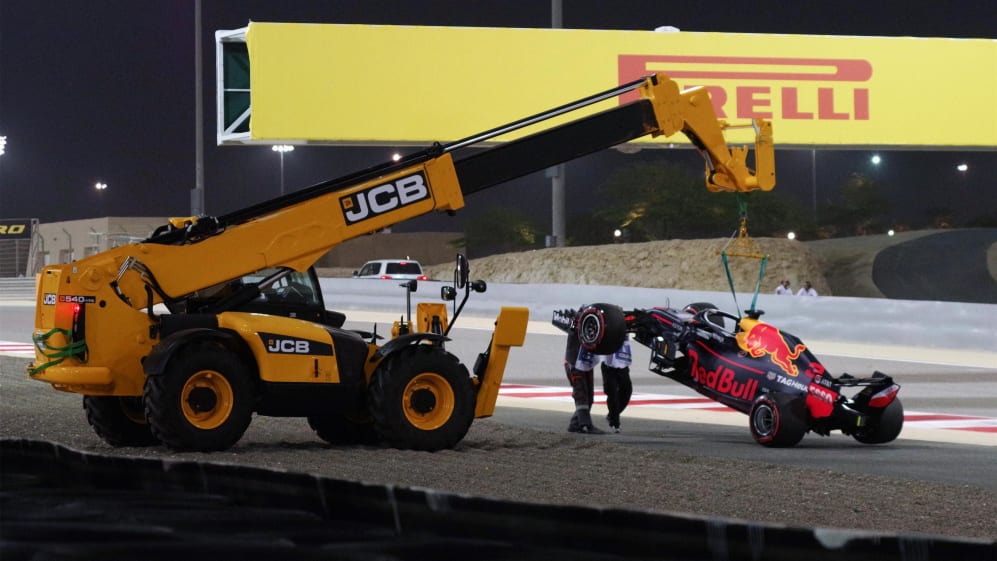 Red Bull had high hopes of contending at the sharp end on race day in Bahrain – but those hopes were extinguished after just three laps.
Daniel Ricciardo was running fourth when he lost all power and the car switched off without warning. Early indications suggest an energy store failure.
The Australian is on a bad run, with his Bahrain DNF his fourth in six Grands Prix. Not ideal when he's weighing up his future beyond this season.
Team mate Max Verstappen got a puncture when he collided with Lewis Hamilton. He damaged the transmission as he tried to recover to the pits and ultimately retired.
It meant Red Bull suffered a double retirement for the first time since the 2010 Korean Grand Prix. Their 38 race points streak – which was the longest active one in F1 – also ends.
Paddy Lowe's worst birthday present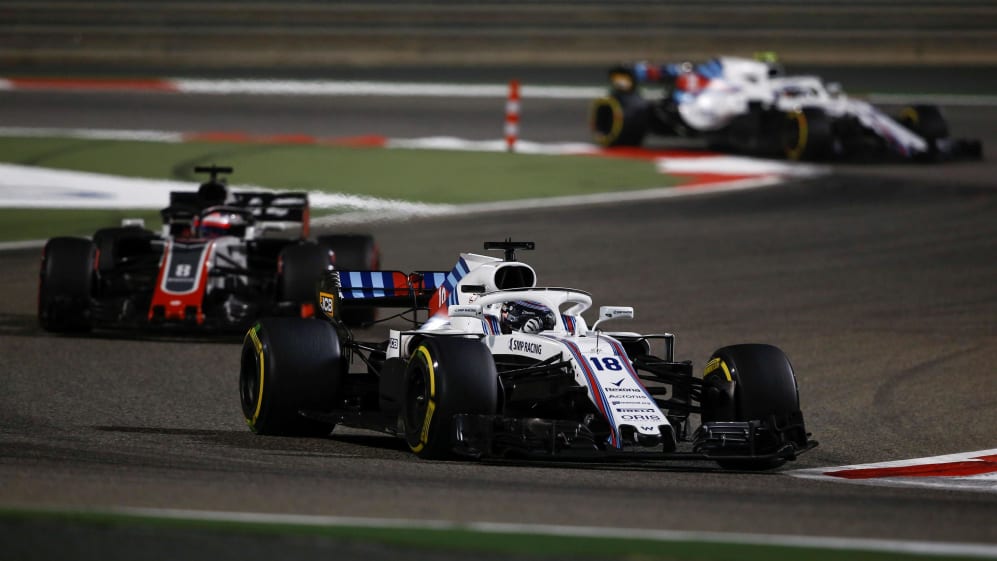 The sound of Daniel Powter's record Bad Day emanating from the Williams garage as they packed up after the Bahrain Grand Prix was apt.
Williams were anticipating a tricky weekend in Sakhir, but probably not as tricky as it turned out.
Sergey Sirotkin and Lance Stroll failed to get out of Q1. Then in the race, you would have hardly known they were even there.
"We didn't have the pace today to compete with any other cars except ourselves," said Chief Technical Officer Paddy Lowe. "We have clearly got to go away and look deeply into what has affected our pace, even relative to where we were in Melbourne just two weeks ago."
Stroll and Sirotkin were the last finishers at the flag on what was Lowe's birthday and the team is the only one yet to have scored a point this season.
Hartley's afternoon to forget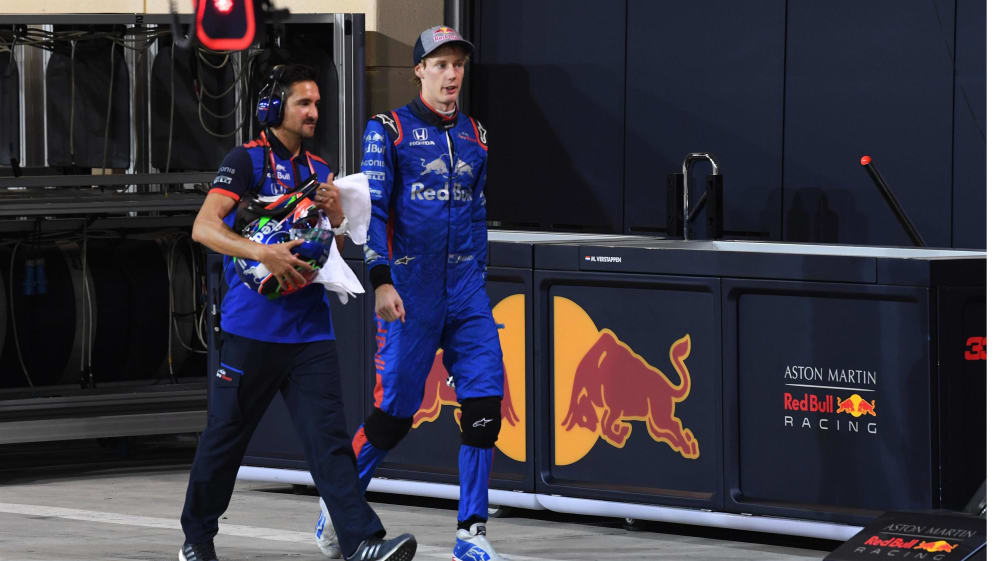 Brendon Hartley was unlucky to miss out on Q3, having been compromised earlier in the session when he hit a bird, but his weekend went downhill from there.
He got his braking all wrong into Turn 4, clattering into Sergio Perez and tipping the Force India driver into a spin while incurring front wing damage himself.
The stewards took a dim view of the incident and handed him a 10-second time penalty (and two penalty points), dropping him out of the points and ending all hopes of returning.
He was also handed a further time penalty and a further two penalty points after the race for dropping behind Perez on the formation lap and failing to retake it before the safety car line.
Given Toro Rosso's pace this weekend and team mate Gasly's stunning fourth place, it was an unfortunate time for Hartley to have an off-weekend. The pressure is on.
Ferrari's pit crew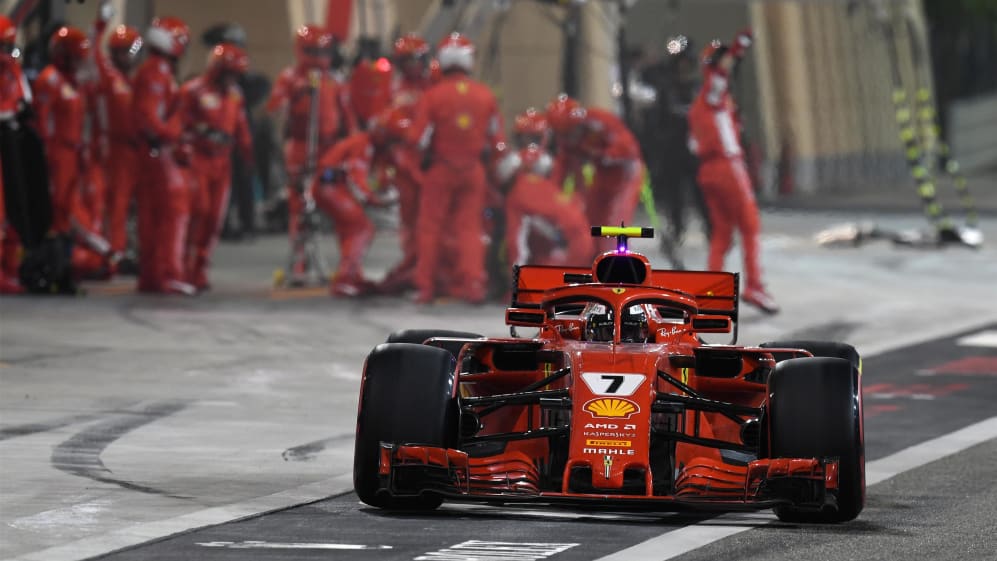 The high of Sebastian Vettel maintaining his 100% record in 2018 was punctuated by the low of a botched pit stop for Kimi Raikkonen that left one of Ferrari's mechanics with a broken leg.
Raikkonen's car was dropped from the jack before the left-rear tyre had been changed and as the Finn exited, he knocked into a mechanic before stopping a few metres further on and retiring.
Raikkonen, who was running third, threw his steering wheel into the cockpit in frustration before walking back into the garage. The mechanic was taken to hospital, where he had surgery after suffering a double leg fracture.
It was the second time Ferrari and Raikkonen encountered an unsafe release during the Bahrain Grand Prix weekend. The FIA stewards responded sternly by slapping the team with a €50,000 fine for the Sunday incident.
As of last night, Ferrari were still investigating what happened, with the Italian team only left with a few days before this coming weekend's race in China.
Fans of last-lap passes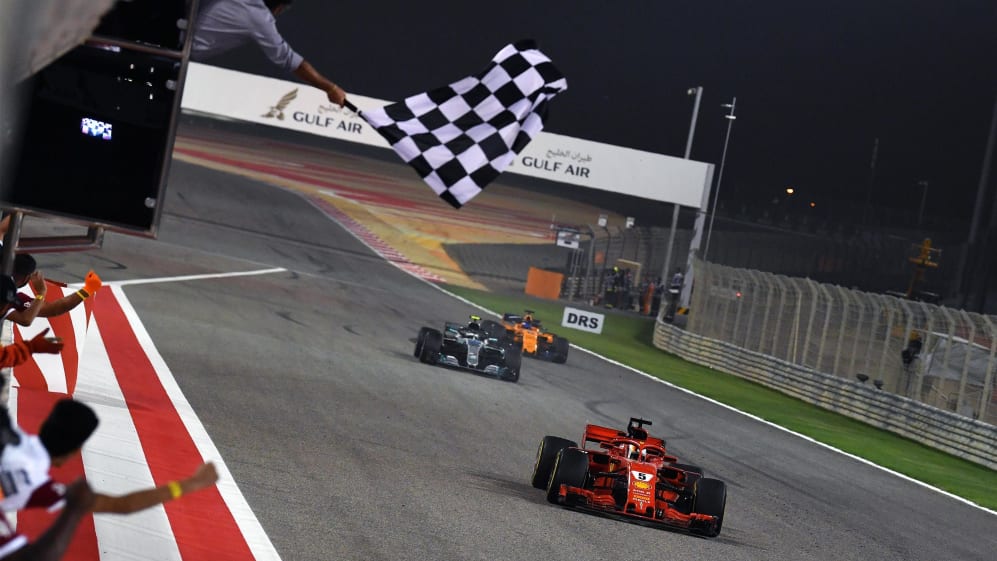 Verstappen delivered a dramatic late pass on Raikkonen in last year's United States Grand Prix for the final podium spot, only to lose the position after stewards deemed he went off track.
It became clear with around 16 laps to go that we could be treated to similar drama in Bahrain, only this time for the win, as Bottas chased down Vettel.
The Finn got within DRS range with two laps to go, but a half-move at Turn 1 on the final lap was as good as it got, with Vettel hanging on to victory and spectators robbed of a dramatic finish.