Feature
Winners and Losers - Bahrain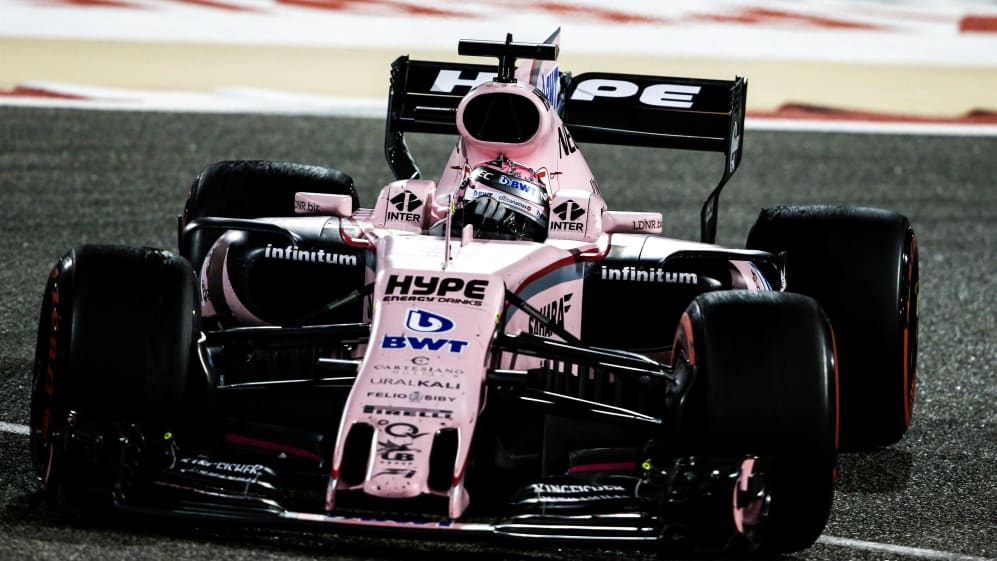 Valtteri Bottas stole the show on Saturday as he captured his first F1 pole - but come Sunday it was all about Sebastian Vettel and Ferrari. So who leaves Sakhir smiling from ear to ear - and who needs to make moves in Sochi?
The Winners
Ferrari's decisiveness
A second victory in three races gives Sebastian Vettel an extended championship lead, and also ensures the Scuderia of their best start to a season for nearly a decade.
It was very nearly a different story however. Vettel felt he was in a winning car from the moment the race started, and his cause was aided by jumping Hamilton on the run to Turn 1 – but he was then clearly trapped behind a struggling Bottas. Ferrari's response was swift and decisive, gambling on the undercut from as early as the 10th lap. The German fell to 13th, but with the intervention of the safety car three laps later the German hit the front – and once there, he never looked back, unflappable even with Hamilton's late attack.
With Kimi Raikkonen taking fourth, the Scuderia also jumped Mercedes to lead the constructors' standings once more.
As Hamilton remarked afterward, Ferrari are now the clear team to beat.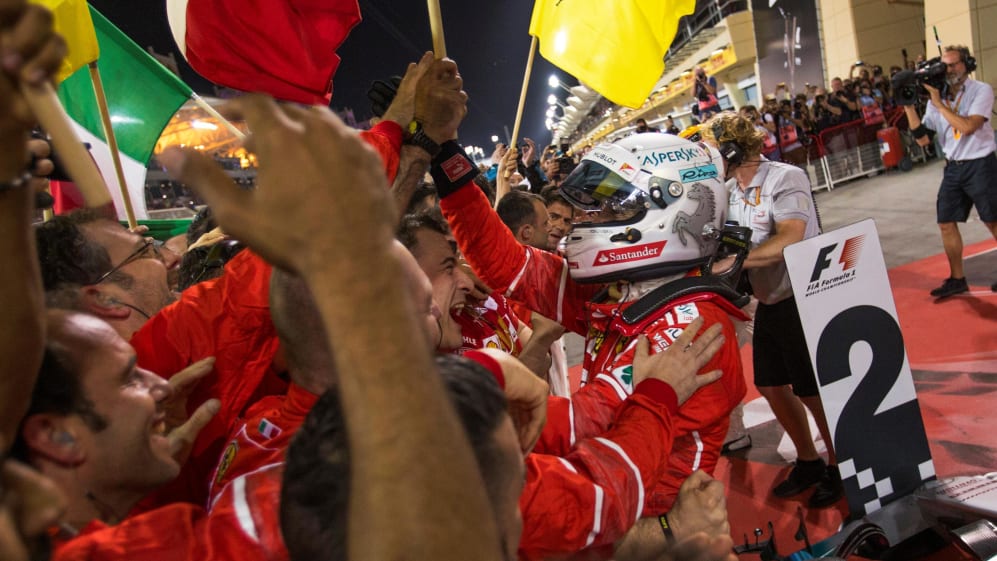 Force India's fightback
In hallowed company as one of only three teams – alongside Ferrari and Mercedes – to score with both drivers in every race so far this season.
In Bahrain, they had to do it the hard way. Even some team insiders expected to struggle after winding up 14th and 18th in qualifying – Perez exiting in Q1 after lucking out with Carlos Sainz's yellow flags. But the race was a different ballgame entirely – Perez put in a stunning drive to take seventh, while Ocon finished 10th for the third race in a row.
"I'm very proud of my team today," Checo said. "To finish seventh after starting from P18 is an amazing recovery and we can be very happy tonight.
"I think we made the most of every opportunity and the whole team – the engineers and the mechanics – played their part in executing a perfect race. We showed, once again, that we never give up on Sundays and we can come back strong after a difficult qualifying."
Just as impressively, this was Perez's 13th consecutive points finish in a row – the Mexican's best ever run, and also the best on the current grid. Indeed only 10 drivers in history have ever managed more. Hallowed company indeed…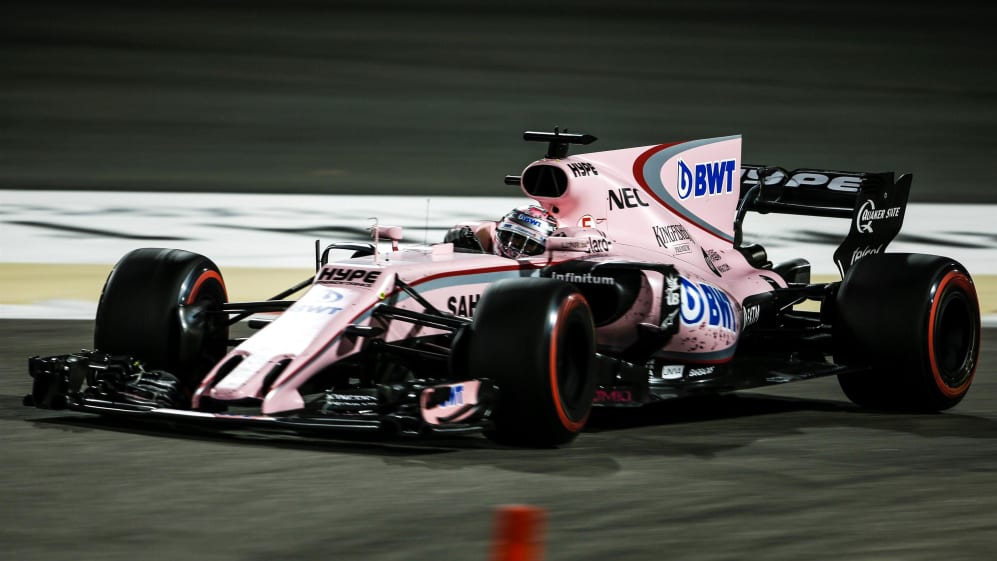 Wehrlein silences his doubters
There have been plenty of headlines written about Wehrlein in recent weeks, and none of them for his on-track ability – the German's ongoing absence due to injury instead becoming centre of attention. Bahrain was a perfect tonic.
On his full return, and his first race weekend with Sauber, the German was on top of his game all weekend. He qualified an excellent 13th and drove a terrific race, especially his pass on a surprised Daniil Kvyat right at the end which won him 11th place. In truth, he would have deserved the final point.
"I'm very satisfied with how the weekend went – being in P13 in qualifying and now finishing the race in P11 is the maximum that we could have achieved. It's obviously a pity that we have missed this point by only one position. Nevertheless, I'm already looking forward to the next Grand Prix."
It was a performance to silence critics, and end speculation about the reasons for his incapacitation.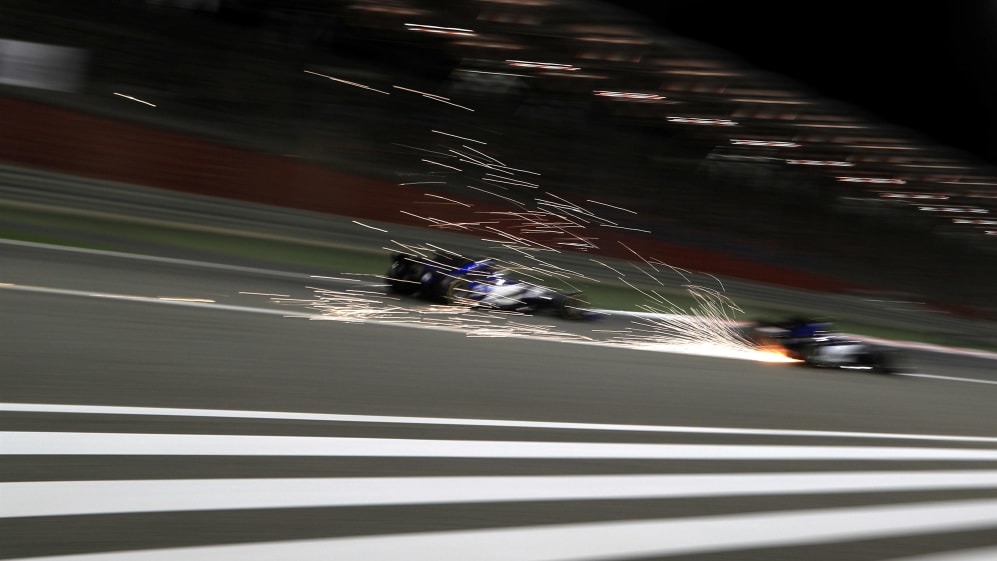 Williams' pit lane prowess
With clockwork-like efficiency and speed, Williams' pit crew have become one of the most dominant forces in F1. Felipe Massa was once again the main beneficiary – although the role he too plays in the process should be noted, given the complications caused by missing your marks when stopping. A turnaround of 2.34s matches the fastest seen in the new era, and also gives Massa the quickest stop in all three races this year – the only area where one man still has a perfect score...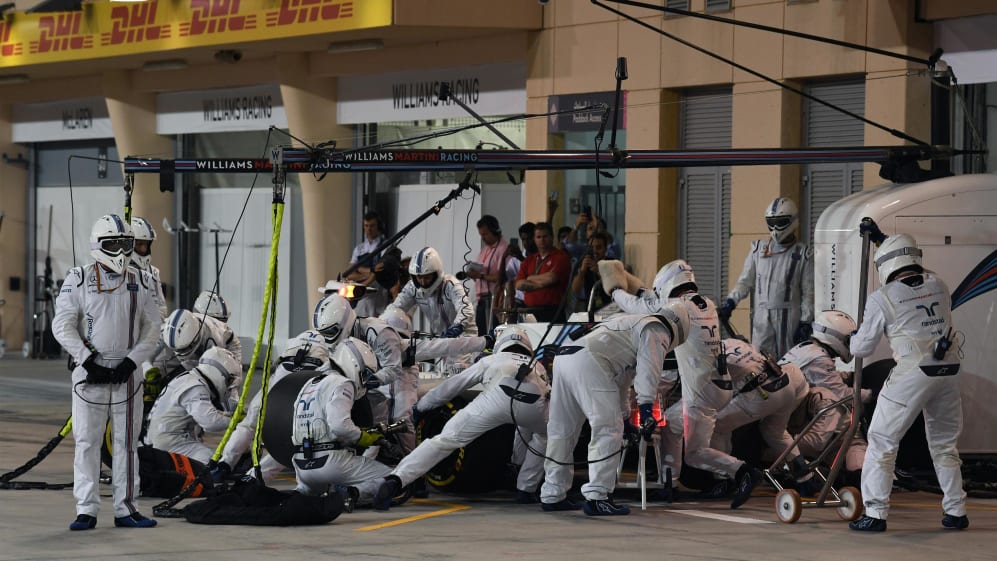 Hamilton the history maker
His bid to match Ayrton Senna's eight consecutive poles might have come to an end in Sakhir, but Hamilton still had an impact in the history books as he moved on to 107 Grand Prix podiums – now once clear of Alain Prost for second all-time. Michael Schumacher is now the only man ahead of the Briton.
Bottas makes his mark
Under pressure following his self-labelled 'amateur' error behind the safety car in China, Bottas produced the perfect response in Bahrain by capturing his first ever pole - proof, if it were needed, that he really does belong at this level.
Race fans
Three races is admittedly a small sample set, but an early template has been laid: Mercedes have an advantage over a single lap still, but Ferrari can match them stride for stride – and may even be faster – over a full distance. That has made every race so far this year wonderfully tense, as the Silver Arrows come under increasing pressure from the Prancing Horses. Long may such battles continue.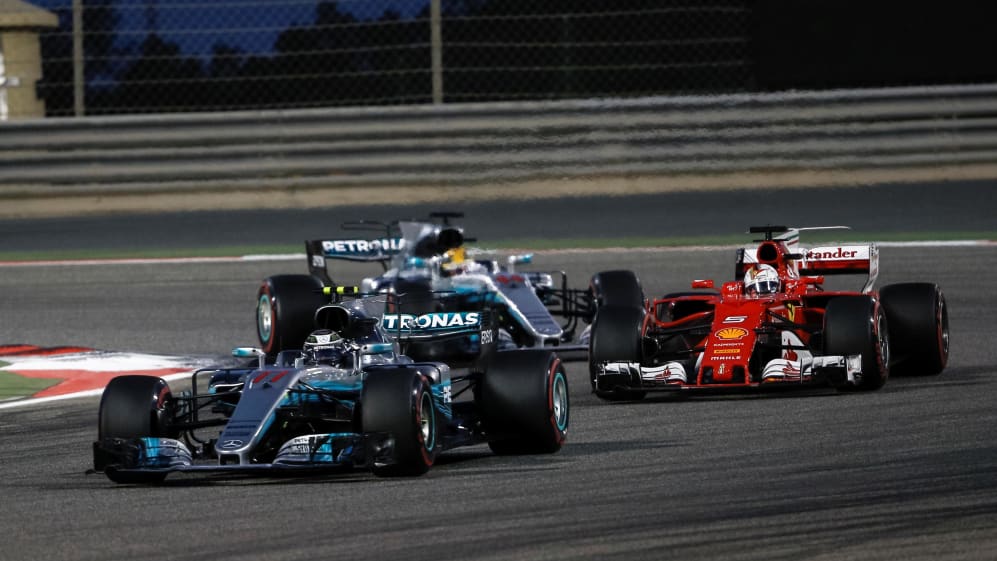 The Losers
Mercedes on the back foot
With both Valtteri Bottas and Lewis Hamilton more than four tenths clear of Sebastian Vettel in qualifying, the Silver Arrows had reason for cheer on Saturday. But 24 hours later, a bid to convert that dominant front-row lockout into victory slipped through their grasp…
Problems with Bottas's tyre pressures meant the Finn struggled early on, and encouraged Ferrari to go for the undercut with an early first stop. When that worked, Mercedes were on the back foot and unable to find an answer – especially after Hamilton was penalised five seconds for holding up Ricciardo heading into the pits.
Inevitable questions about Mercedes' strategy followed. Bottas's problems, it transpired, were down to having too much air in his tyres before the start. Doomed to struggle, the team asked him to make way for Hamilton twice - which he dutifully did, admitting afterward that it is one of the hardest things to do as a driver.
Hamilton's charge meanwhile reduced a 19s gap to 5.8s, but he never seriously got close enough to worry Vettel. And that's the point: with so little now to choose between Mercedes and Ferrari, every detail can have an impact. Mercedes didn't err so much as do a slightly less impressive job than Ferrari – and that cost them both a potential victory and the lead in the constructors' championship.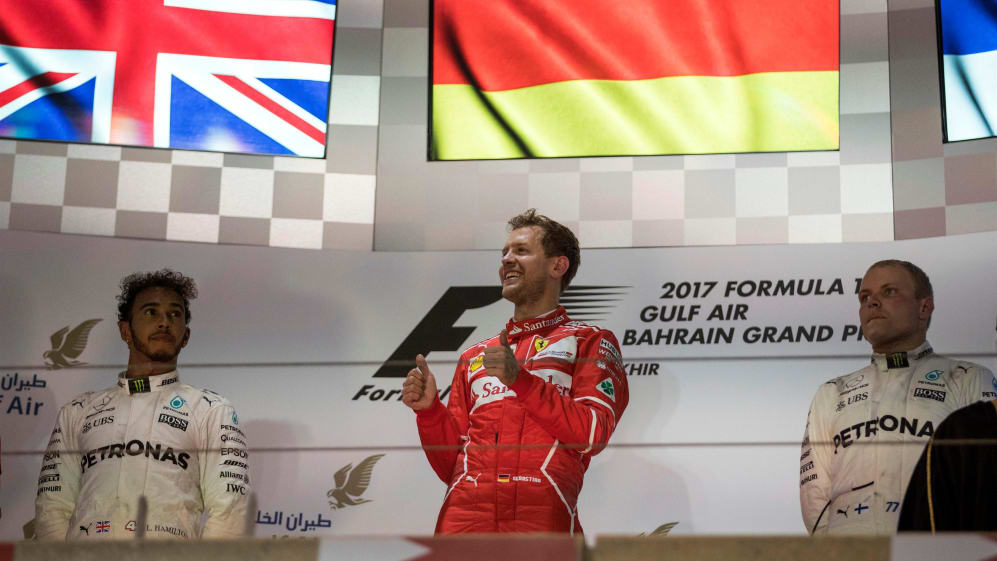 The heat is on for the Iceman
Kimi Raikkonen is yet to head team mate Vettel in a single qualifying or race this year. Bahrain would have been a welcome place to try and redress that balance – Raikkonen after all has more podiums here than any other man in history – but once again he found himself unable to replicate his team mate's performances. As Vettel claimed a second win in three races, Raikkonen could only watch from the sidelines.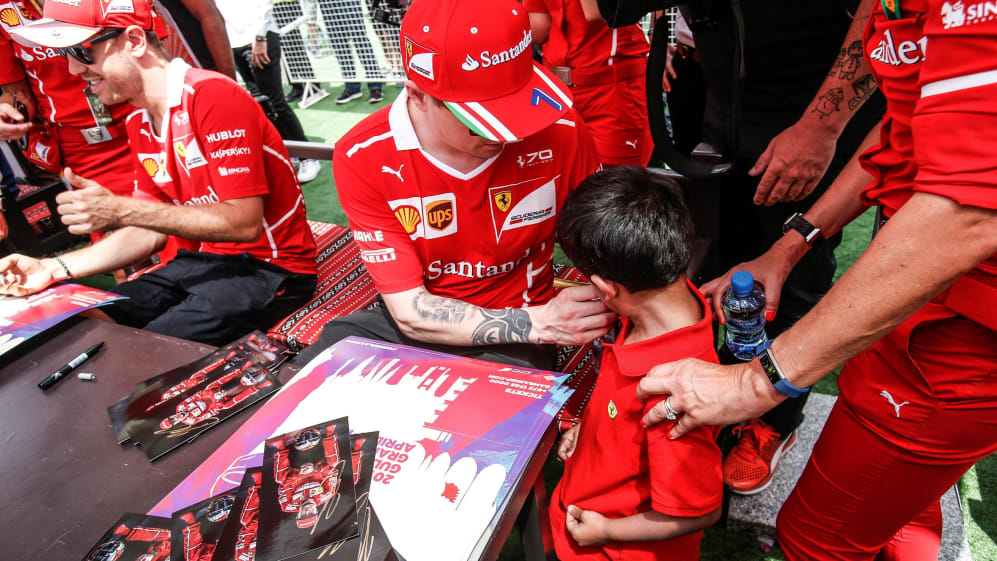 Red Bull's thwarted ambition
Daniel Ricciardo entertained thoughts of possible victory as he was the rear gunner in the initial Bottas, Vettel, Hamilton, Verstappen follow-my-leader train, and felt that his Red Bull was running better than any of the cars ahead of him.
"At the beginning of the race I genuinely thought we had a chance to win," he said.
"That stint was looking very competitive and I could see Valtteri was struggling. I was at the tail end of the front pack and I could see everyone else in front of me. They were sliding and looked like they were struggling more. It was quite easy for me to stay there and I was looking after my tyres, so at that point I was thinking it could be on today, not only for a podium but for a win."
The safety Car also worked in his favour, Hamilton's tactics notwithstanding, as he jumped the Mercedes for third. But the RB13 didn't work on the soft tyres, and he plunged for a while until the team put him back on a set of supersofts. Thus fifth was the best he could hope for.
As for Verstappen, his race unravelled in even more dramatic circumstances. A blistering start and early undercut had put him in a very strong position, only for rear brake failure to pitch him off track on lap 11. He was fortunately unhurt, but understandably unimpressed.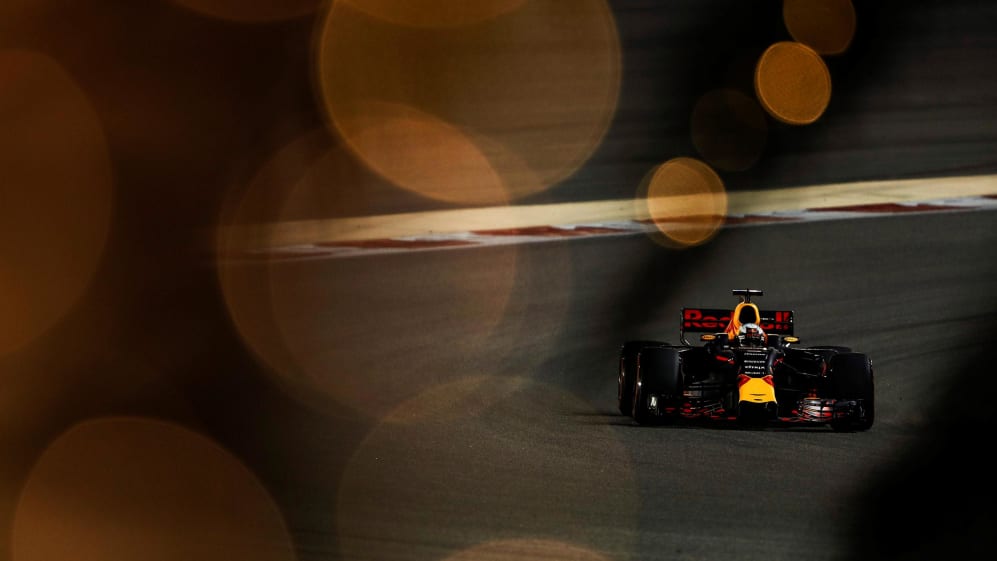 McLaren and déjà vu
McLaren suffered a litany of Honda technical problems all weekend, including repeat MGU-H failures for Stoffel Vandoorne and an engine breakage for Fernando Alonso.
And they were in trouble even before the start when the Belgian's car suffered another failure on the grid formation lap and was unable to start.
In his race Alonso battled mightily with Jolyon Palmer's Renault and Daniil Kvyat's Toro Rosso, but complained bitterly of having never raced with less power, a 2017 version of his infamous 'GP2 engine' outburst from Japan 2015. Adding insult to injury, he stopped his car three laps from home. No reason was vouchsafed for that.
"It's frustrating," Alonso said afterward. "When the red lights go off you're motivated and you start fighting, but you're so behind on the straights that there's no way you can defend your position. You fight in a fair way with everyone, but you don't enjoy the battle."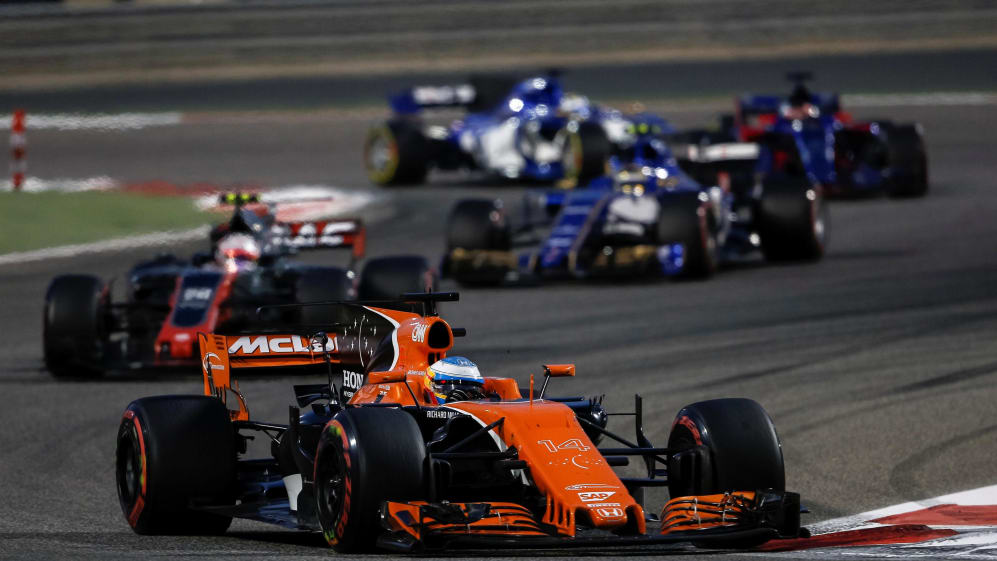 Stroll's baptism of fire
"Lance Stroll's rookie start continues to tread a challenging path," we wrote after China, when the Canadian had completed just 40 racing laps in two races. Fast forward to Bahrain, and it's now 52 from three - two laps fewer than Pascal Wehrlein has managed despite missing two races. There's no suggestion that his exit in Sakhir was his own fault – indeed Sainz was penalised for the contact – but the Canadian is in dire need of catching a break.