Feature
Winners and Losers - Belgium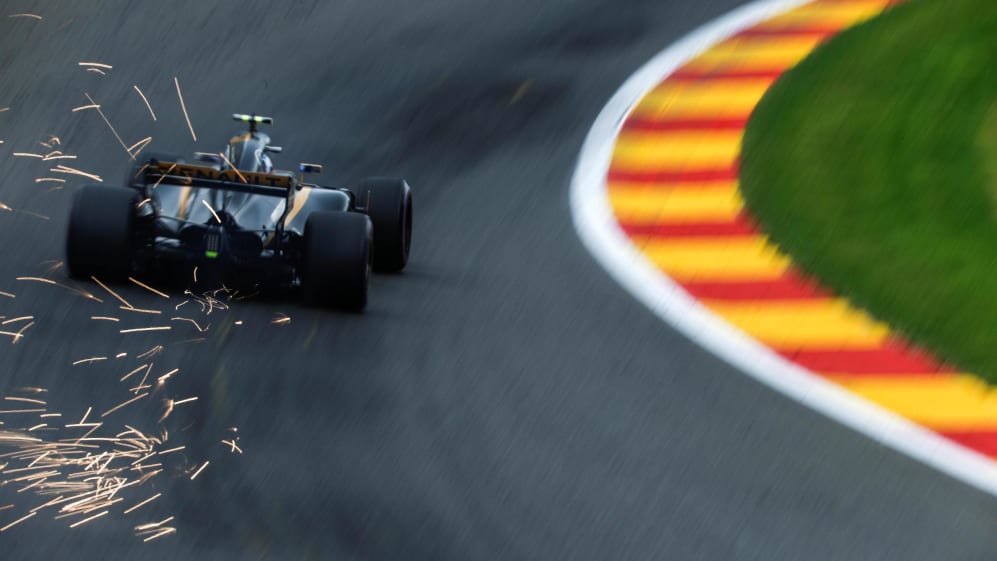 Sunday's race in Belgium brought with it a pressure-filled battle for victory, heartbreaking disappoint and team mate controversy. But who left the Ardennes Forest with their head held high, and who travels to Monza looking to make amends?
The Winners
Hamilton and dealing with pressure
Ferrari had the faster car - at least according to Hamilton - and yet the Briton won the race. It was his 200th Grand Prix, and his 58th success, and it came the day after he equalled Michael Schumacher's long-standing record of 68 pole positions. Oh, and it reduced the points deficit to Sebastian Vettel to seven points with eight races remaining.
All in all, Spa was a great triumph for the man who said that was exactly what he went there to do.
And it owed a lot to some tactical brilliance from the Briton too, as he fought off Vettel despite the four-time champion having the benefit of a tow - a massive factor at Spa - following the safety car restart.
"Initially I got a very good start when we were on the back straight, I got a real good pull away," he said. "I was able to catch him out, as I did in Baku on the three or four starts with the Safety Car. I broke away, but didn't have the right power mode. I pulled away initially, and then he started catching me up.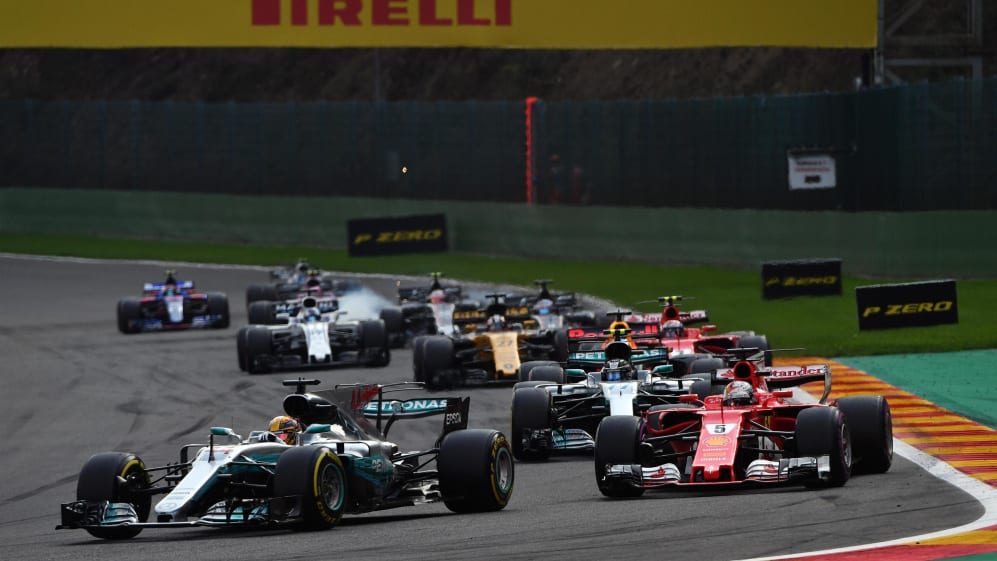 "It felt like that was a mistake, but in actual fact it was actually a really good thing, because if I came out of the last corner with that gap, he would have had the momentum, being three or four car lengths behind, to really propel and really get a good tow and slip past me. It worked out perfectly.
"I ran wide in Turn 1 with a small lock-up because my front tyres still weren't up to temperature, and I could hear him get on the gas sooner than I did. And then as we were going down that straight I didn't keep it fully lit the whole way, I was at 90% throttle, just to keep him as close as possible.
"I knew he wasn't going to come by, because he knows I would overtake him then at the top part with the tow.
"As we were going up Eau Rouge, that's where I really gave it maximum power. We got to the top and he had no space to really propel himself, so he just pulled out alongside but couldn't pass. I was really happy with that."
That, and the fact that he didn't make a single mistake under the most intense pressure.
Ferrari and defying expectations
Ferrari finished second and fourth, right? So how does that make them a winner?
Well, because Spa-Francorchamps should have been one of Mercedes stronger tracks, with its requirement for low downforce. But despite Mercedes bringing an engine upgrade, Ferrari's update made the SF70H very quick - possibly even faster than Mercedes, at least in race trim.
Vettel said in Hungary that the team had identified the areas in which it believed the SF70H to be weak, and they brought a comprehensive update to Spa.
In order to optimise ride height and rake angle, both critical aerodynamic factors, they introduced a new front suspension, which was complemented by a revised floor and wings, front and rear.
The changes seem to have worked extremely well, and though he got outfoxed by Hamilton, Vettel said he was very happy all weekend with his car's performance.
"The positive thing is that we had very good race pace," he said. "Overall the car was very good. We haven't changed too much since Silverstone, which was just a bad weekend, but we have improved the car too. If we were to go back to Silverstone now, we would be a lot better. It is a big step, so I'm very, very happy."
And ominously for Mercedes, he added: "I don't think we have a circuit which we should fear coming from now."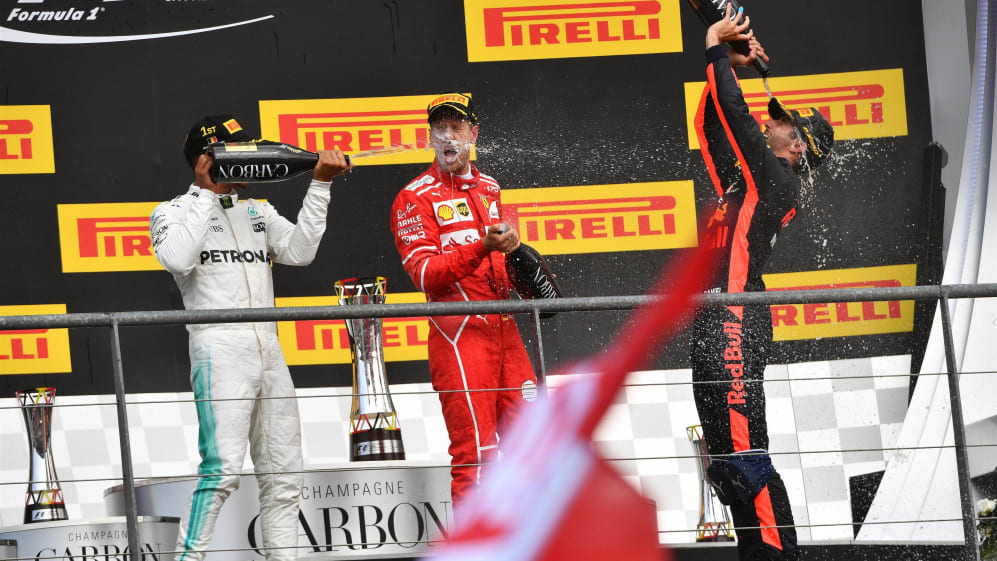 The Honey Badger lives up to his moniker
Fortune smiled on Daniel Ricciardo at Red Bull once more in Spa. Once again, the Australian took full advantage.
In the early going his RB13 displayed all its usual dislikes for high-speed, low-downforce tracks, blistering its ultrasoft Pirellis. But the safety car restart gave him an unexpected chance to attack, and he did just that, picking off Valtteri Bottas to capture an unlikely third.
The hard work wasn't done: Raikkonen and Bottas had the faster cars and plenty of time to attack. But Ricciardo was inch perfect, and a masterful drive to the flag ensured he never truly came under attack.
"Obviously I was focused on Valtteri but I was aware Kimi was there," he said. "I was getting a good tow from Valtteri but we know the Ferrari has a bit more straightline speed than us so I was using Valtteri's pace but also knew that Kimi was probably going to get a double tow. I saw Valtteri cover the inside so I went to the outside but then I was thinking 'I don't know if he's seen Kimi, maybe Kimi's going to get to the inside,' so did Kimi go to the inside in the end? Yeah.
"I don't know but all I could do was focus on Valtteri and to be honest, in the braking zone it was still blind. I knew I was maybe in front but you get to a point you can't really see so I gave enough room in case he was still there, and you just kind of hold on and hope for no-one to come in the side of you and then by the time you get to turning left for Turn Six I knew I had done it and I saw Kimi in the mirror.
"I figured it probably felt nice on TV; it felt good. It puts me back up here so I'm happy."
The Australian now has six podiums - and one victory - to his credit in 2017, and almost double the points of team mate Verstappen (more on that below). Other factors are in play there, but one theme is consistent - given even half a sniff, Ricciardo rarely mises the chance to maximise his performances.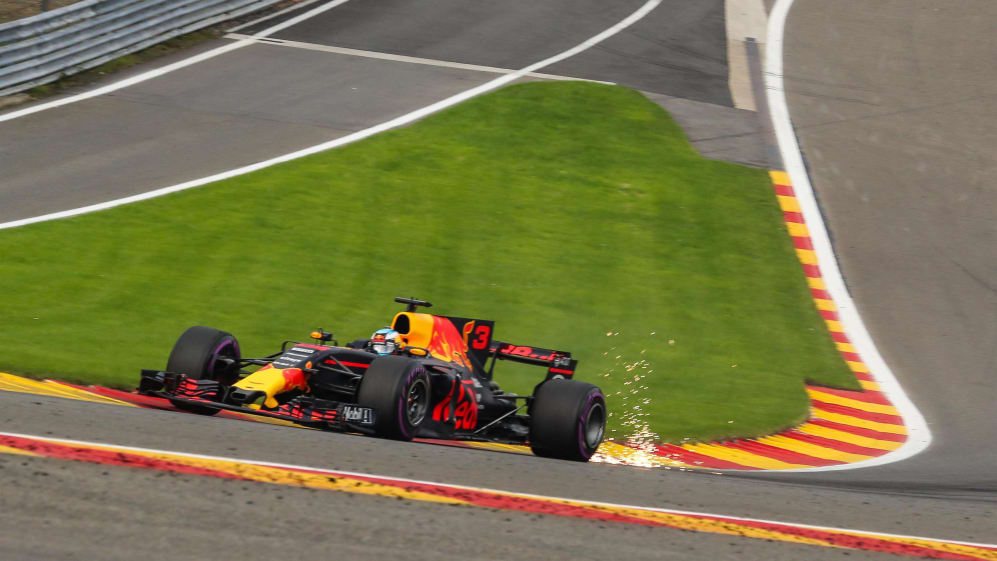 The Hulk gets pumped up
Nico Hulkenberg was once again in sensational form for Renault, delivering a strong result that helped them close on Williams, Toro Rosso and Haas ahead. Force India and fourth remain some way up the road, but Hulk's second sixth-place in three races gives Renault great cause for optimism.
"It was a solid day," he said. "I'm happy and pleasantly surprised. I had a poor start but was able to rectify it at the first corner with a move down the inside to have a great run on Checo through Eau Rouge. The car felt better than yesterday and we were the fourth quickest team out there again which allowed us to finish in the top six.
"I had some great fighting with Fernando. It was pretty hairy getting three abreast with him and Esteban. Fernando was making a move with DRS and a big tow, then Esteban had a massive overshoot so for a moment I thought 'Oh gosh, it's not going to end well,' but fortunately it was great racing and I'm sure great to watch from the outside.
"I've definitely got good confidence heading to Monza."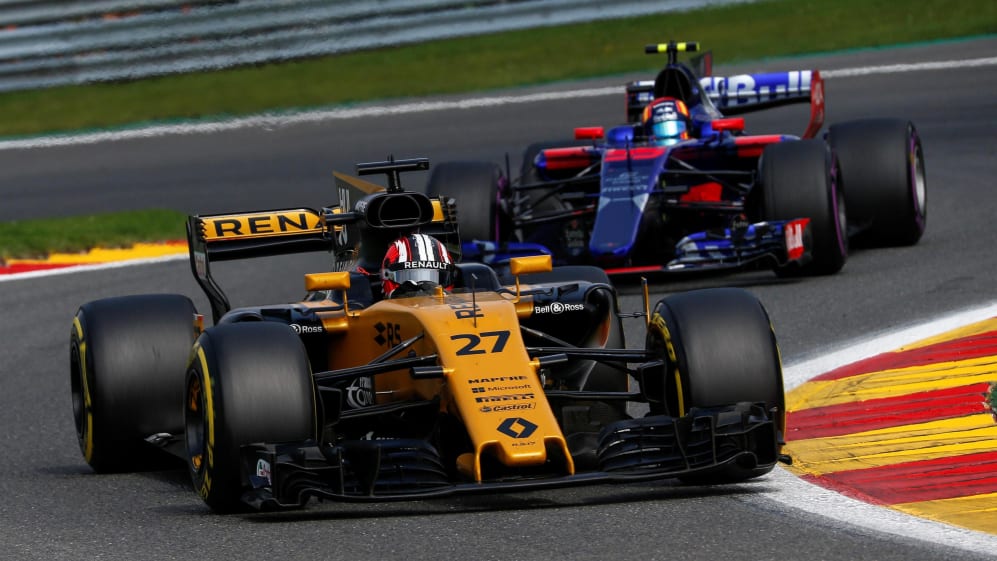 F1 and unpredictability
Twelve races in, and we're yet to see a back-to-back winner in 2017, a season where momentum and form continue to swing - sometimes wildly - between F1's championship hopefuls.
That sort of trend shouldn't be overlooked: it's only the second time since 1986 that no one has taken consecutive victories. The only other example? 2012, which also featured seven different winners in the opening seven races.
Eventually Vettel took that season by the scruff of the neck - can he do likewise this year, and capture a fifth championship crown as a result?
Spa is rocking
A record 265,000 fans flooded Spa-Francorchamps over the weekend, creating a carnival of noise, colour and energy that seeped into every part of the weekend. They had two home drivers to cheer on of course - Stoffel Vandoorne and Belgian-born Max Verstappen. And while neither had the chance to truly shine, the fans were irrepressible, celebrating to the end and creating one of the greatest atmospheres Spa has ever seen.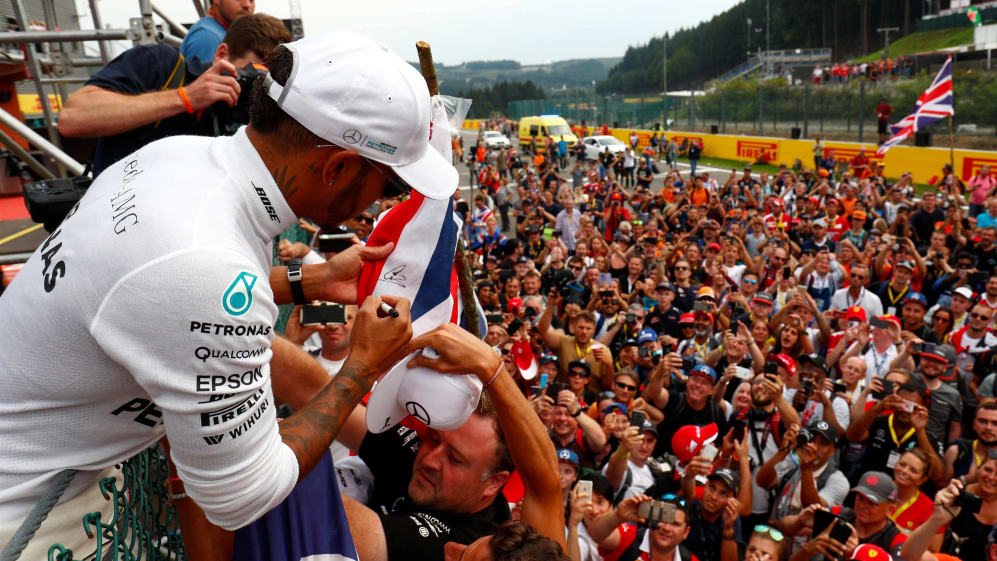 The Losers
Verstappen's unlucky half-dozen
As Hamilton and Vettel ran away in their own private battle, their respective team mates Valtteri Bottas and Kimi Raikkonen initially led the Red Bulls of Max Verstappen and Daniel Ricciardo until the luckless Dutchman cruised to a halt with power loss at Kemmel on the eighth lap, much to the dismay of the thousands of fans who had flocked into the track.
He sat shaking his head for a long time, rueing yet another retirement, then said: "Unbelievable. I cannot believe this.
"It's now 50% of the races in retirement. It's unbelievable, like I said on the radio. I just can't believe that those things happen.
"Of course, in the beginning, you say maybe it's just bad luck or whatever, but I'm actually competing against Fernando in terms of retirements.
"I'm not happy at all. I am very disappointed for retiring and the fans who buy an expensive ticket to watch and I retire after eight laps. No words."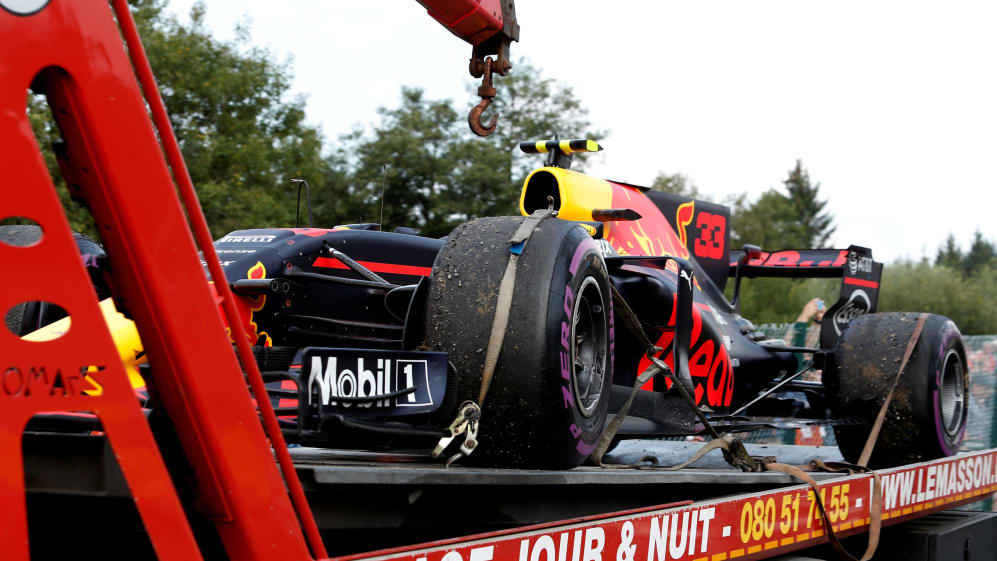 Force India and managing tensions
Esteban Ocon and Sergio Perez collided yet again on the opening lap, but it was more of a brush as the Mexican, in the middle of the track, didn't see his team mate to his right because he was engaged in a fight with Nico Hulkenberg's Renault to his left. They were both lucky to get away with it.
Which made their second collision all the more astounding.
A five-second penalty had left Perez playing catch up, but he used the undercut to leapfrog Ocon - something the Frenchman was determined to put right. On lap 29 Ocon launched his attack coming out of La Source - only for Perez to move across and defend the line.
In an almost carbon copy of lap one, the pair made contact on the run to Eau Rouge - only this time Ocon suffered a broken front wing, and Perez a punctured rear.
The angry radio messages that followed were inevitable - this after all was a high-speed clash between team mates that already have history. But it didn't stop there, with Ocon decrying Perez's tactics on social media - and the team stepping in to say the pair would no longer be free to race. Somehow, that seems unlikely to completely put out the fire...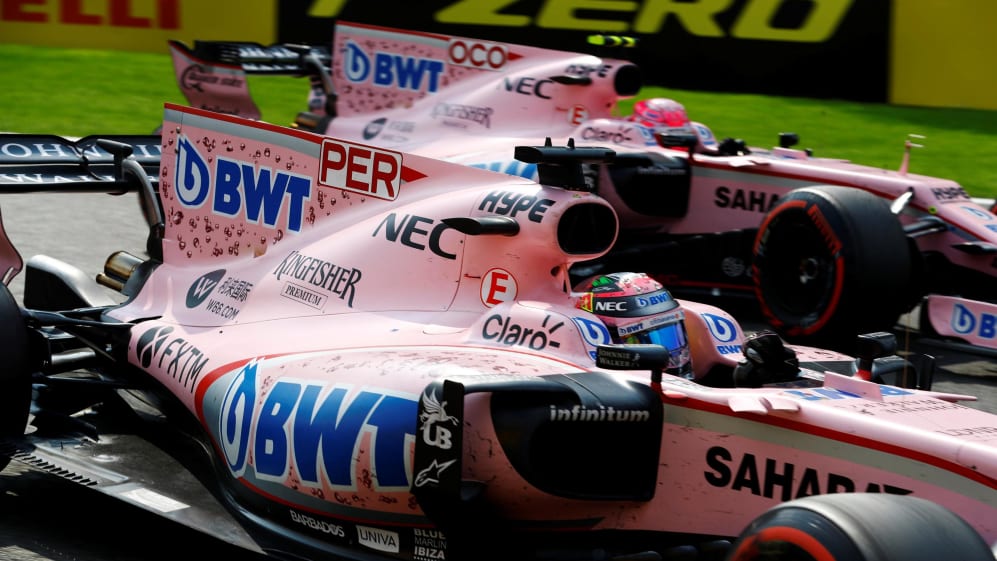 Unlucky 13 for Palmer
Palmer is the only driver yet to out-qualify his team mate in 2017, but Spa should have been the moment to end that run. The Briton had the edge on Hulkenberg throughout the build up, and again in Q1 and Q2 - only for Lady Luck to deal him a cruel blow and force him out. A gearbox penalty followed, leading to a grid drop - and Palmer was suddenly 14th.
That dropped him down into the tricky midfield, and denied him the chance to show what his newfound turn of speed might have reaped with a cleaner race.
His afternoon thus included being squeezed off the track at Rivage by Fernando Alonso, but also a beautiful pass in the Bus Stop on Daniil Kvyat's Toro Rosso. Somehow 13th at the flag almost seemed fitting.
"I think the race could have gone better," he said with British understatement. "We knew that taking a penalty would mean starting on used tyres with everyone around me on fresh sets and that was always going to put us on the back-foot. Despite that, I had a decent start and the car was much better once we changed tyres.
"It was just a case of being stuck in traffic for much of the race. I had some good fights though, they were fun, but it's a shame not to have anything to show for it. Had we started seventh, points would have definitely been achievable today."