Feature
Winners and Losers - Brazil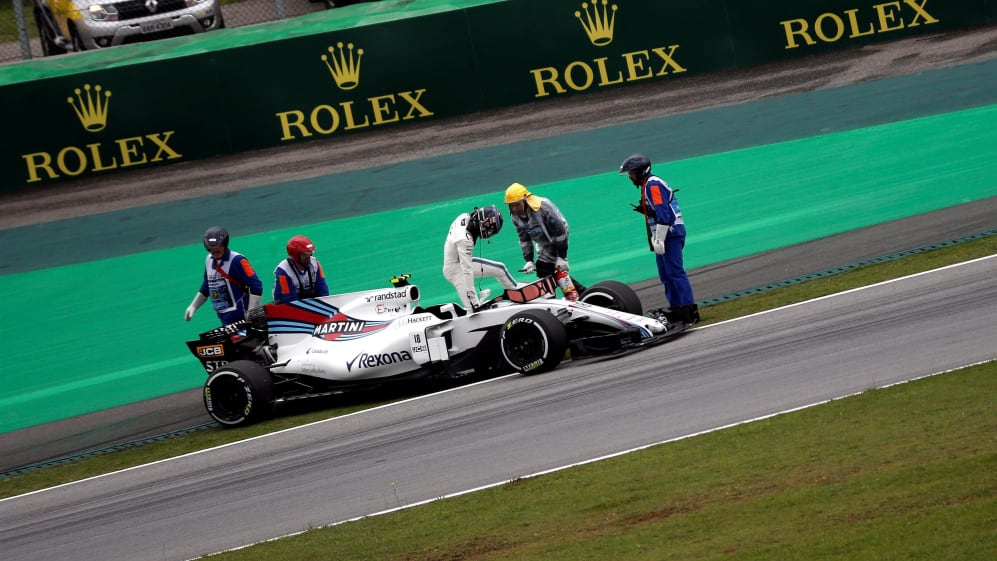 Sunday's Brazilian Grand Prix featured first-lap dramas and late-race tension - with plenty of excitement inbetween. But who left Sao Paulo on a high, and who had a weekend to forget?
The Winners
Vettel rediscovers that victory feeling
Sebastian Vettel admitted it was a huge relief finally to win again, after the catalogue of disaster that has befallen Ferrari since he last won in Hungary, back in August.
The four-time champion got the job done at the start, beating Valtteri Bottas' Mercedes off the line, handled the safety-car restart perfectly, and thereafter controlled the race to win by 2.7s, despite race-long pressure from the Finn.
"I think overall we had less straight-line speed than Mercedes this weekend and it was tough," he said, "always seeing Valtteri in the mirrors in the race and seeing that he was closing, especially in the first and last sector. So I really had to nail the middle sector every single time. At the end it was I think at the limit with the tyres. Obviously, I tried to manage the gap but to be honest it was very much flat out all the time and I had to push to stay ahead and try and keep control with one or two or three seconds in the end.
"It's been a tough few weeks for us, so I'm really happy for all guys in the team back at Maranello, and it's nice to get the win at last and have both cars up here."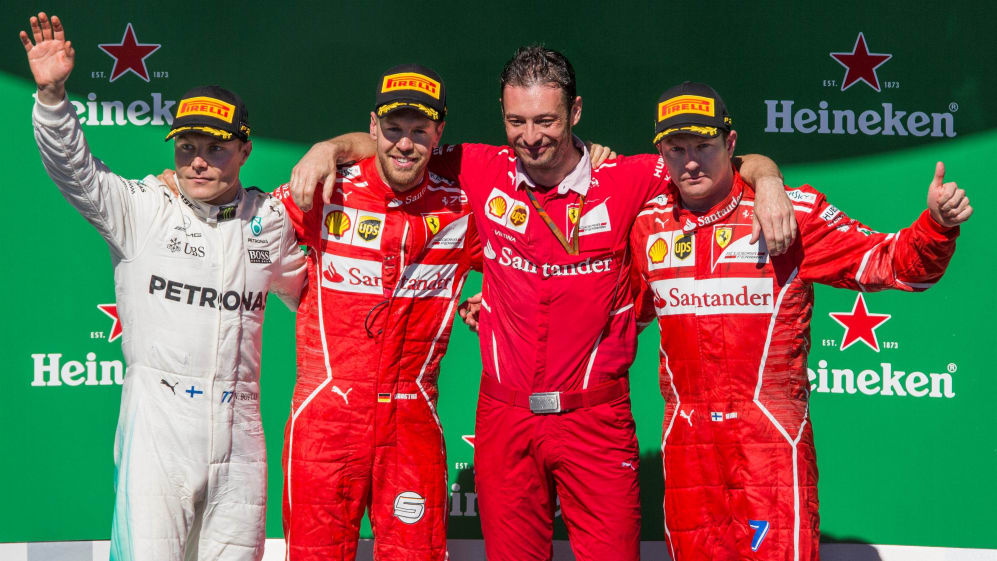 Emotional Massa
This was, of course, the popular Brazilian's last appearance in a Grand Prix in his homeland – no, really, this time it is. And he so wanted to do well in front of his countrymen. Well, he did. He overtook Fernando Alonso's McLaren on the sixth lap, ran fifth for some time, and only thereafter lost places to Lewis Hamilton and Daniel Ricciardo. And he withstood massive pressure when his old Ferrari Nemesis Alonso launched a counter-attack in the closing laps which brought the McLaren on to his tail. He didn't crack under the pressure, and was still 0.4s ahead when they reached the finish line. Given their past moments as team mates at Ferrari, especially Hockenheim 2010, that must have been hugely satisfying.
The man who had held back the tears here nine years ago when for 38 seconds he thought that he was world champion only to discover that Hamilton had actually pipped him by a point, did not attempt to stem the flow this time as he paid tribute to his fans.
"I'm really emotional today because of all of you guys," he said. "Thank you for everything we've done together. All the support. There was all the energy I felt today for making the best race I could. To be honest I'm so happy for my race; I did the best with what the car could achieve. Even the people I didn't work together with, I love you guys, thank you so much."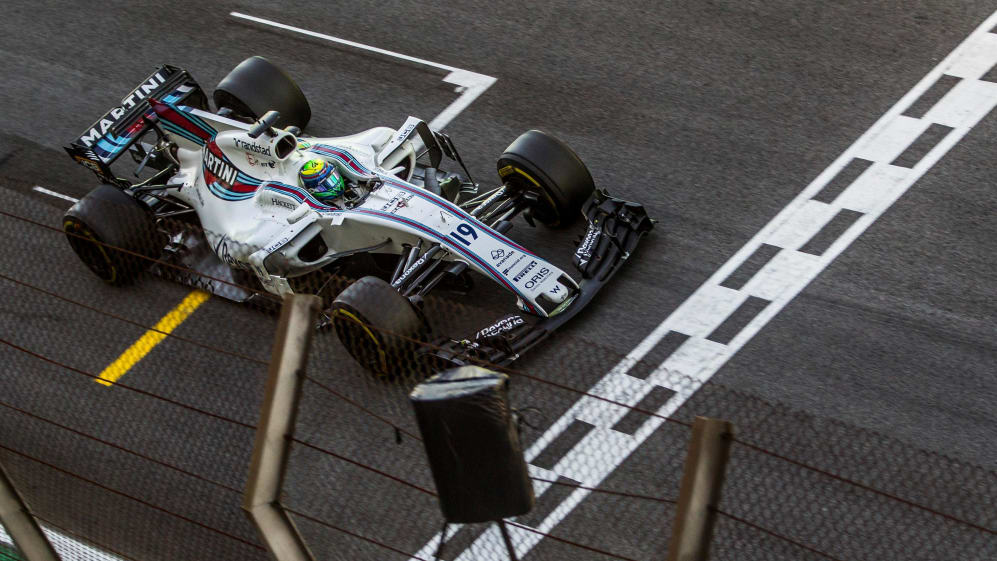 Hamilton makes amends
On the one hand you could argue that the new world champion was a loser in Brazil. He hadn't made any serious errors all season – until the first lap of Q1 when he pushed just a bit too much and paid a high price as he went off in Turn 6. That condemned him to a pit-lane start, as Mercedes took the opportunity to run a fifth engine and associated components, and to his second consecutive race fighting through from the back.
That's where the winner in him shined through, as he battled his way up the order until he was hounding Kimi Raikkonen for the final podium slot. Unfortunately for him, that used up the supersoft tyres he was running, and he failed by just 0.8s to get it.
"It's tough when you make mistakes," he admitted, after giving it his all and enlivening the race. "You make it difficult for you and the team. But I was quicker than everyone today! That's the positive and I take it into the next race. I can't wait to battle Sebastian at the next race.
"I made a couple changes to the car, but not really a huge amount. I didn't get a lot of laps. It was different with temperatures. I changed the balance. I had good pace on the long runs on Friday, particularly on the softs. I think I was half a second quicker. I had a different aero package. I had pace. But today I was 110 percent the whole way.
"It was so much fun. Like when I was kid, with not a great go kart, and started at the back. Obviously I had a good car but I was able to do something special. But my tyres let go right when I got to Kimi. I had nothing left!"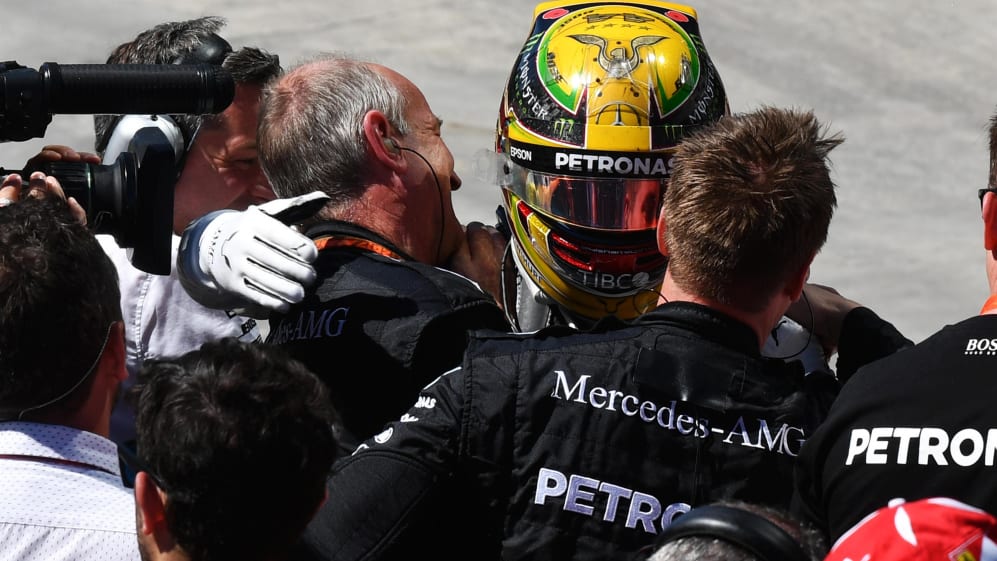 Wehrlein's Sauber super-stint
On the face of it, Pascal Wehrlein finished 14th, 8.8s behind his Sauber team mate Marcus Ericsson. But bare statistics did not tell the full story of his race.
He made a pit stop on the opening lap to switch from supersoft Pirelli tyres to softs, and then did his next 69 laps on that set. By any standard, that was a terrific achievement.
"It is a shame that we did not finish the race in better positions today," he said modestly. "We have been making progress over the last weekends, and have been able to start competing in the lower midfield. Unfortunately, the circumstances did not allow for a better result for me today, as I struggled with my tyres, especially towards the end of the race."
Even he didn't tell the full story.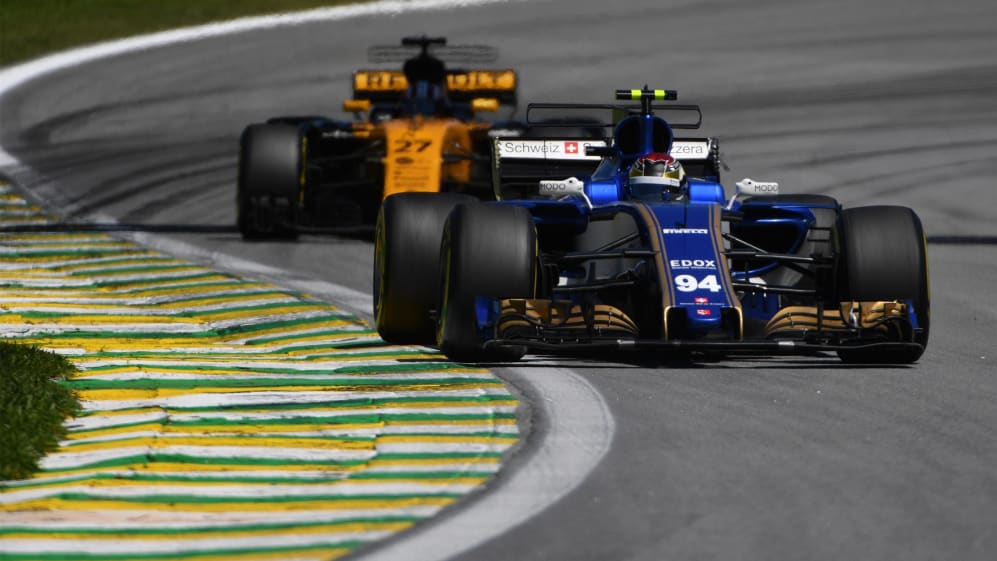 The Losers
Bottas and Mercedes beaten from the start
A better getaway from the grid would probably have seen Valtteri Bottas able to keep Vettel at bay, but it was not to be.
Both drivers wrestled with wheelspin, but it was the more aggressive Ferrari driver who made the first corner his, with Bottas cautiously opting to cede position rather than try to tough it out around the outside.
It proved the decisive moment, and the Finn could be kicking himself for not being more ruthless. Thereafter he kept at it, getting the gap below two seconds more than once, but he never quite got the chance to take the result that was there for whichever one made the better start.
"After that I think, pace-wise, it was very, very close," Bottas said. "I think we were trying to put a lot of pressure on Seb and trying to keep up, get close, especially around the pit stop. Once I was getting a little bit closer we decided to stop, trying to undercut but it was not quite enough. I got pretty close after he came out from the pits but just not quite enough to try to overtake.
"So, yeah, definitely disappointed after a good day yesterday, and obviously not so good for me on the battle we have for the second place of the championship. He's got quite a good lead now so we need some miracles in Abu Dhabi."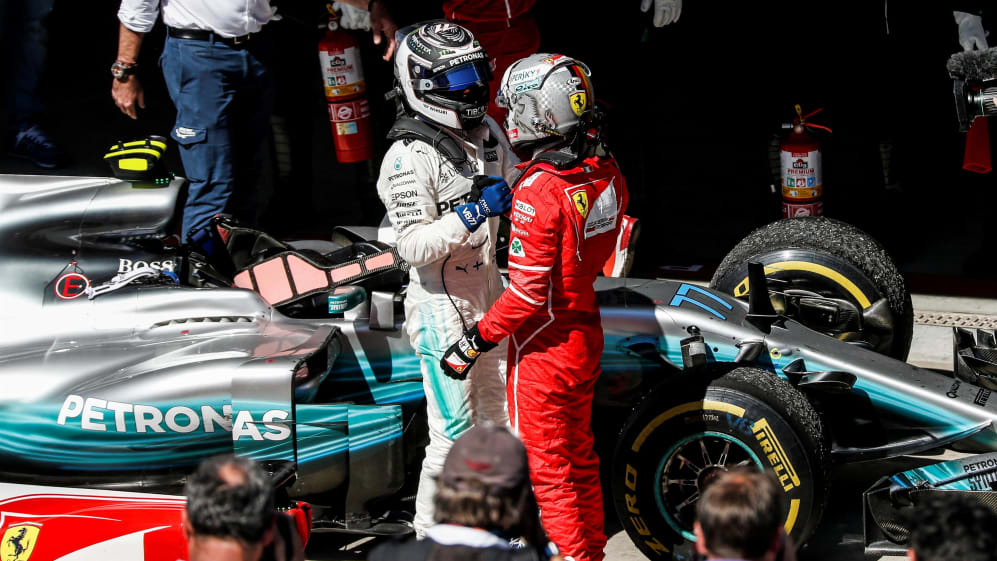 The end of 'Oconsistency'
Here's a fact: up until this weekend, Esteban Ocon had finished every one of his Grands Prix. And indeed, the Force India star's last retirement in a single-seater was back in 2014! But the Turn 6 incident with Romain Grosjean on the opening lap, which saw the Haas driver given a 10-second time penalty, put paid to that.
"I'm not happy to retire," said Ocon, whose team mate Sergio Perez went on to finish ninth. "I knew this day would come at some stage, but I wasn't expecting it to be today. There was nothing I could do; Romain lost the car and crashed into me. He made a mistake and I suffered from it, my front wheel rim was damaged so I couldn't even drive back to the pits. It's frustrating because the car was quick and we had the pace to be fighting up there with Checo.
"Days like this happen, but I hope it will be another three years before it happens again."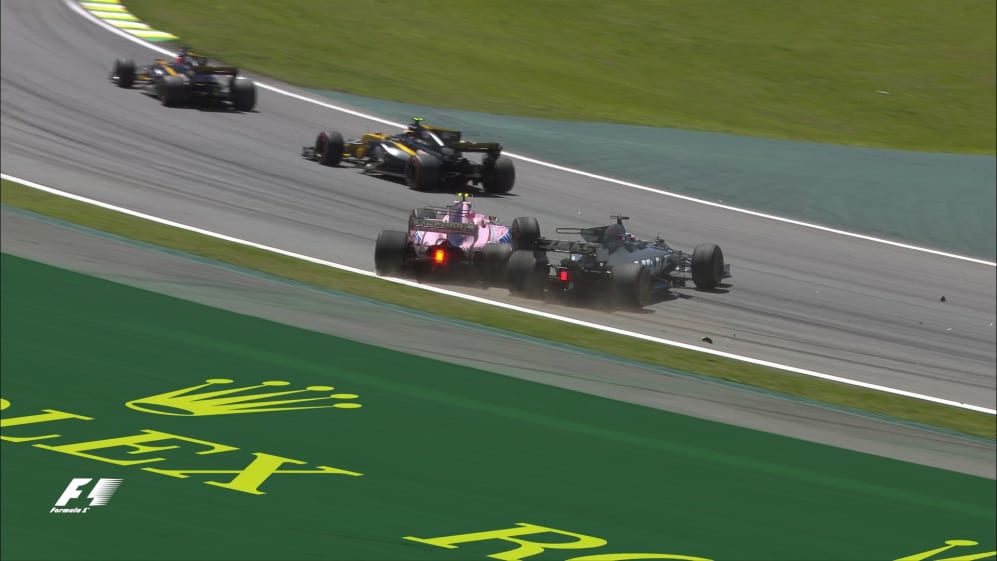 Double dis-Haas-ter for Magnussen and Grosjean
It was not a good afternoon for Haas. First Kevin Magnussen controversially tangled with McLaren's Stoffel Vandoorne – the stewards decided that neither driver was predominantly to blame, but it was an instant DNF for the Dane.
Then just seconds later Romain Grosjean came together with Ocon at Turn 6, putting his compatriot out of the race.
"The only thing I can say about the opening lap is that I got massively hit in Turn 1," said Grosjean. "I believe I had a puncture on the rear left. I got to Turn 6 and lost the car, and I think it was just the puncture."
The team chose to delay telling their driver about his 10-second time penalty for causing the collision, and he was none too happy when they did, responding with "You must be kidding me" when he was told to box.
Haas's only consolation was the mysteriously strong performance of Grosjean's battle-scarred machine over the latter part of the race.
"That the last stint on the supersoft, the car felt amazing," said Grosjean. "Even though we had massive floor damage, it felt really good. We now need to understand why it felt so good and move on to Abu Dhabi."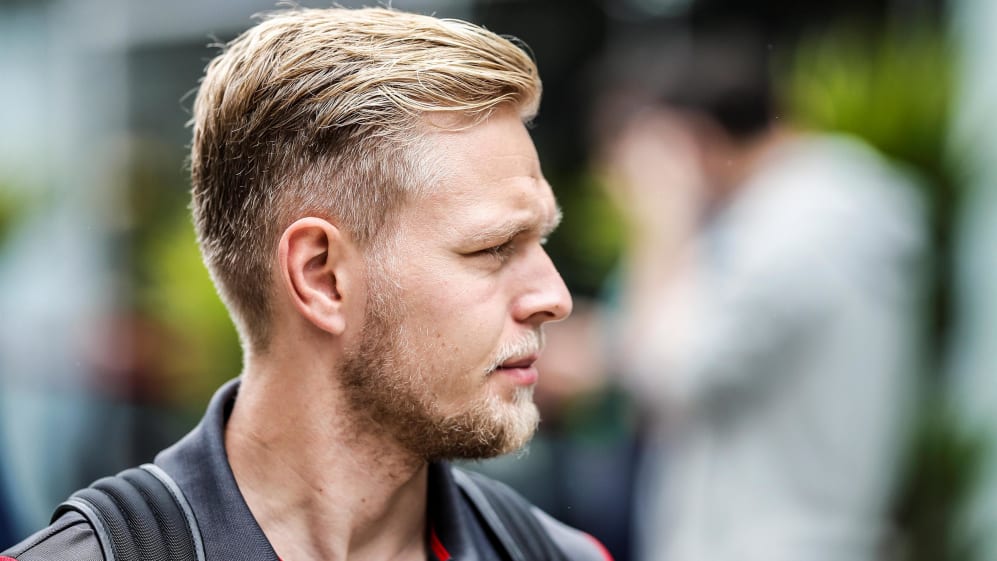 Stroll struggles in Sao Paulo
Brazil proved a tough meeting for the Williams rookie, on one the few F1 tracks he was unfamiliar with. After an average Friday, things started to go awry on Saturday morning when his gearbox failed very early in FP3. The team chose to change both box and engine, putting Stroll on the backfoot since they only just got the car readied in time for qualifying, where he failed to progress beyond Q1, not helped by his replacement power unit being of an older spec with less performance.
In the race he stalled at the start, instantly falling from 16th to last, and later flat-spotted his front-left tyre so badly in his bid to pass Grosjean that it started to delaminate, forcing him to make an extra stop.
At the end of it all he came home last, nine places and two laps behind team mate Massa, losing his tenth place in the overall standings to the Brazilian in the process.
All in all, not a weekend to remember for the Canadian youngster.