Feature
WINNERS AND LOSERS - French Grand Prix edition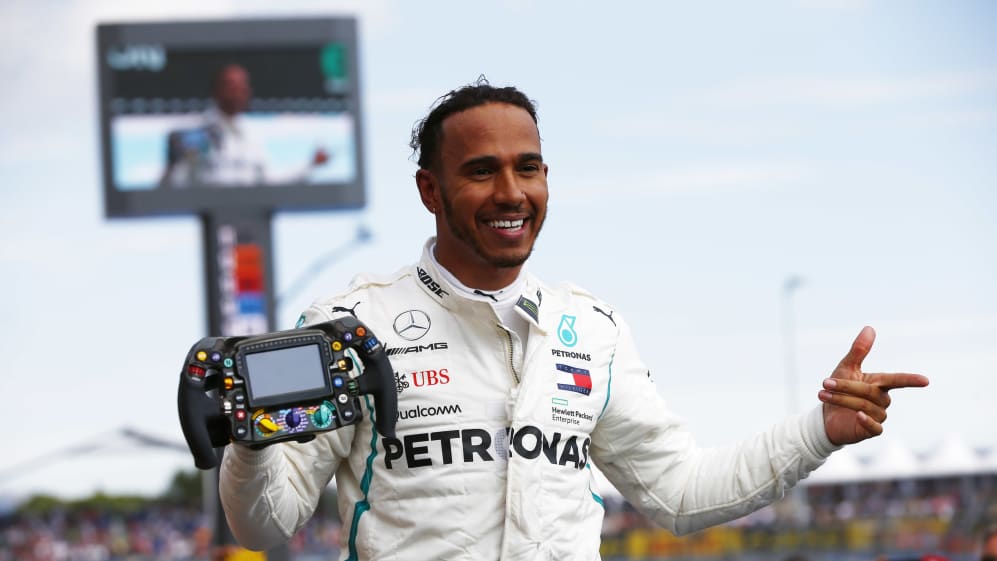 Contrasting fortunes for F1's leading protagonists Lewis Hamilton and Sebastian Vettel, frustration for French drivers on home soil and more pain for two of F1's most famous names McLaren and Williams. France's return to the F1 calendar for the first time in a decade was great for some, less so for others…
THE WINNERS
Hamilton regains the initiative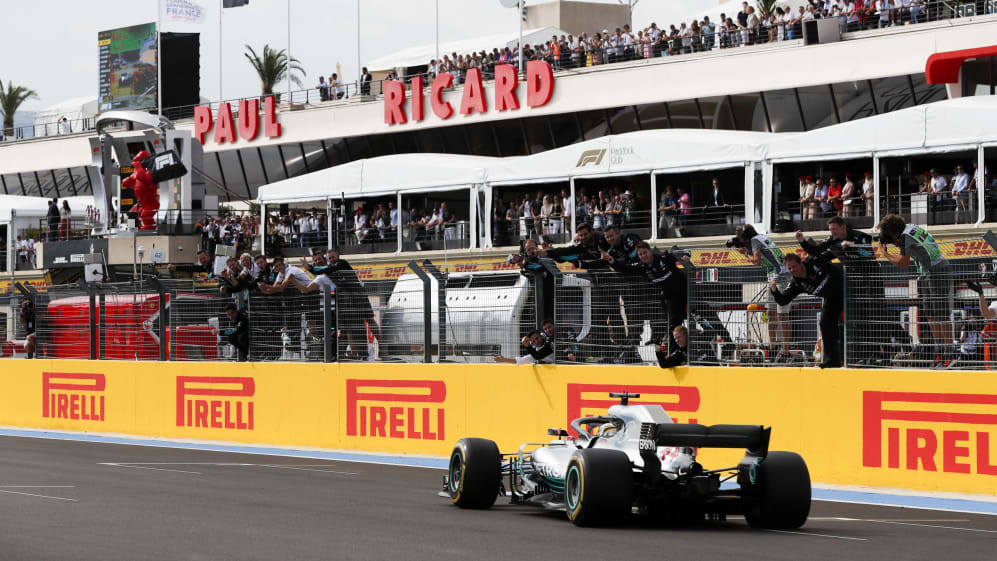 Dominant. That's one way to describe Hamilton's performance at the returning French Grand Prix. The reigning world champion was in a class of his own in Friday practice, finishing the second session seven tenths clear of anyone else. In qualifying, he was untouchable in each of the three segments and described the session as "simple".
Come race day, he cruised to victory and only lost the lead briefly when he pitted for fresh tyres. And this was after he arrived at Paul Ricard having not turned a single lap of the venue on the simulator, unlike many of his rivals.
In a season where he has not had it all his own way, this was a drive where Hamilton seized the opportunity to maximise the points – something rival Vettel could not do - and he even admitted to being able to turn his engine down for long periods.
The Briton extends his recprd points-scoring streak to 33 races, eight short of the all-time consecutive finishes record of 41 held by Nick Heidfeld while also helping him turn a one-point deficit into a 14-point lead in the drivers' standings. Hamilton's only gripe? That team mate Bottas was taken out of contention for a Mercedes one-two, but more on that below...
Verstappen comeback gathers momentum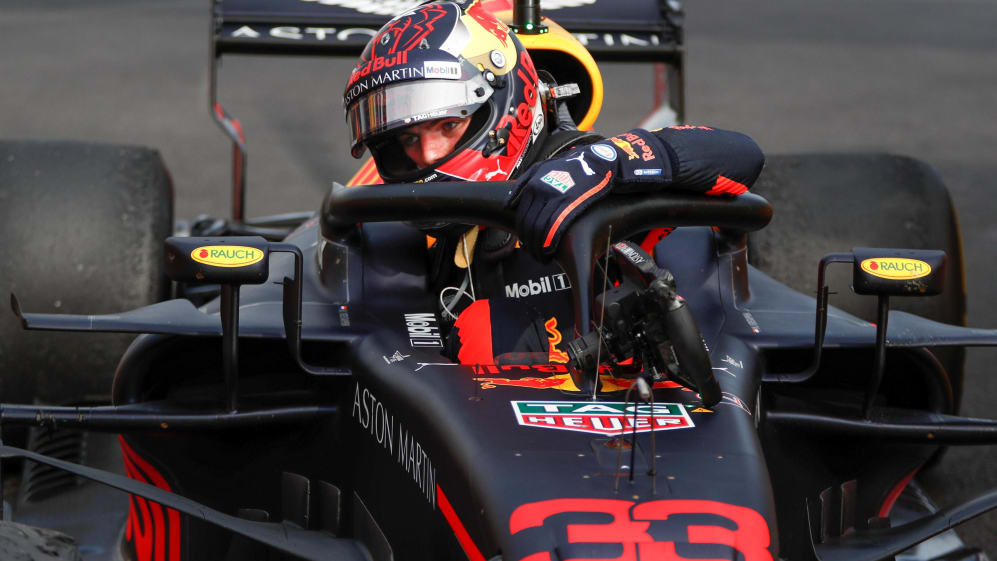 Max Verstappen came in for some heavy criticism early in the season after a series of collisions, incidents and mistakes. But the Red Bull driver has turned things around in impressive fashion.
In France, he had the edge over team mate Daniel Ricciardo all weekend with his lower downforce set-up working better than the Australian's, who went in the other direction.
Out-qualifying one Ferrari in Kimi Raikkonen was impressive and he kept his nose clean during a chaotic start. He then had plenty of pace to maintain second position and score his third podium in four races.
Not bad considering last year, he took just one podium in the first 14 races, before scoring two victories and being the equal-top points-scorer with Lewis Hamilton in the final six Grands Prix of the season. The momentum at Red Bull is now firmly with him ahead of the team's home race in Austria.
Leclerc star shines bright once more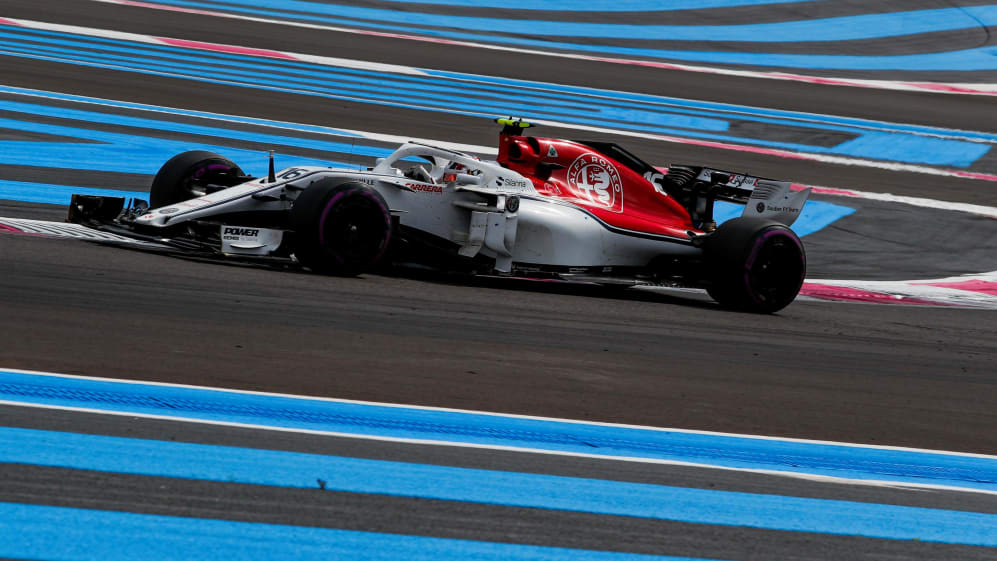 On a weekend where he was linked to a move to Ferrari by Autosport, Charles Leclerc lived up to his reputation as one of F1's brightest young stars with another sensational drive - and yet another appearance in our 'winners' list. Tenth and a point may not look like much success – but Leclerc achieved that in a car that isn't capable of such a result on outright pace.
His performance relative to team mate Marcus Ericsson has been staggering. In qualifying, he was eight tenths of a second clear of the experienced Swede as he progressed to Q3 for the first time. In the race, he ran as high as sixth early on and showed he had the performance to compete with the Haas of Kevin Magnussen before a small mistake dropped him back.
A fourth points finish in five races is impressive, particularly when you consider he has contributed the bulk of Sauber's total tally that now exceeds what they scored in 2016 and 2017 combined.
Raikkonen shows he's not done yet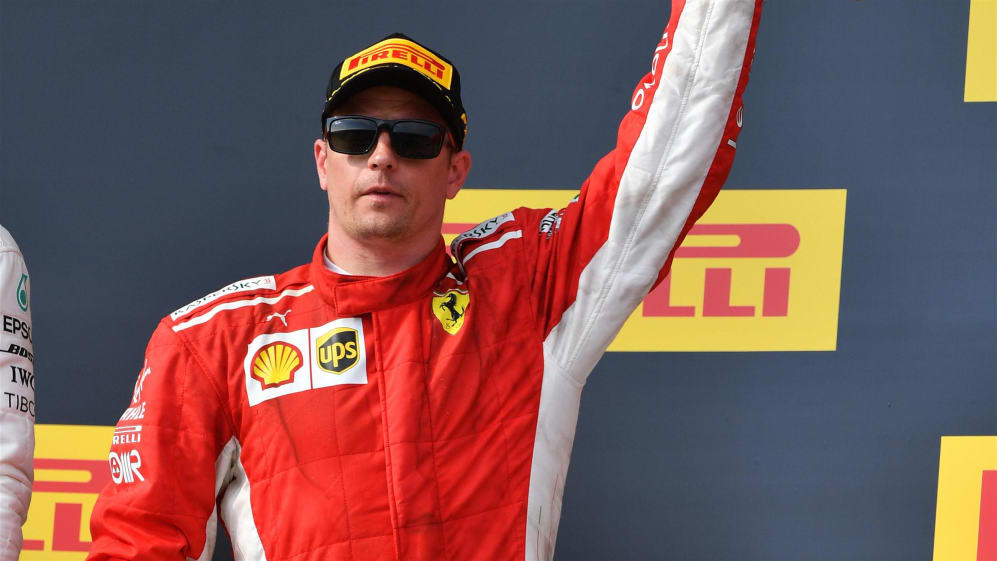 If Kimi Raikkonen is under pressure to retain his seat in F1, as usual, he's showing no signs of it. The Finn is arguably driving at his highest level since rejoining Ferrari. However, a series of little mistakes at every race this season have meant he's been unable to match team mate and genuine title contender Vettel.
In France, there was more of the same. Quicker than Vettel in Friday practice, but ultimately undone by a scrappy qualifying that left him sixth. However, he still makes our winners list by virtue of a much more solid race performance in which he took advantage of fresher tyres, having run deep into the race, and the fact Vettel and Valtteri Bottas had dropped back to climb through the field.
The ailing Ricciardo was easy pickings for the podium, but Raikkonen still had to do the lap times and make the pass stick. In finishing third, he becomes the first driver to score 25 podium finishes in F1 without scoring a win during that period. Incidentally, it was also his 102nd start without a win. His last triumph was the 2013 Australian GP which feels an awfully long time ago now...
But perhaps the most telling statistic is that the Iceman has now finished on the podium in four of the eight races - the same number as Vettel and Bottas. Last year he managed seven in total, so is well on the way to bettering that with two thirds of the season still to go.
France shows it has appetite for F1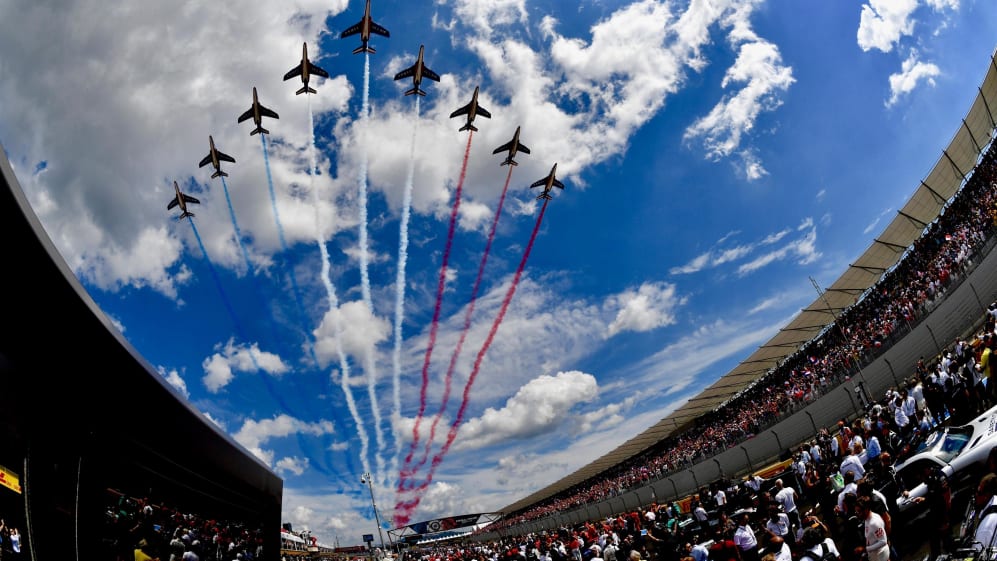 Rarely does a new race event go off without a hitch and there were niggles that need ironing out as France returned to the calendar. But if there's one thing that's certain – there's definitely an appetite for F1 in the country, with the grandstands along the main straight packed.
Flags were waved as the national anthem was played out ahead of the race, moments before a stunning flyover from the French Air Force. Most drivers expected overtaking to be difficult – but there was plenty of it in the race, helped, as Vettel pointed out, by several drivers including himself being out of position.
That delivered a pretty decent show, particularly after Monaco and Canada. F1 is about passion and there was plenty of it at Paul Ricard.
THE LOSERS
French drivers suffer on home soil
Last time F1 cars raced at Paul Ricard in 1990, French fans were rewarded with a home winner in the form of Alain Prost. But there was to be no such joy on the country's return to the calendar for the first time in a decade.
In fact, two of the three home hopes were eliminated in a matter of seconds of the start. Pierre Gasly collided with countryman Esteban Ocon into Turn 3, with both suffering irreparable damage.
That left Romain Grosjean - who'd already banged into Ocon - to carry the hopes of a nation. He made it to the finish, which is something, but after a penalty he was a lap down and just outside the points in 11th. That extends his pointless streak to 12 races.
Ocon is having a rough time of it, too. That was his third retirement in the last five races, having only previously retired once in the rest of his career.
Bottas the victim in first lap collision
What has Bottas got to do to get some luck, eh? After a lacklustre opening race, the Finn has been in sparkling form but a victory still eludes him. He looked quick at Paul Ricard, pushing team mate Hamilton close in qualifying and ensuring Mercedes locked out the front row for only the second time this season.
But his chances of a podium went out the window when he was tagged into a spin at Turn 1 by Vettel. Bottas limped back to the pits with a puncture and recovered to seventh, his worst finish from a front-row start. It was scant reward for another strong weekend that should have at the very least yielded a fifth podium in eight races.
As it is, he drops to 53 points – more than two race wins – behind championship leader Hamilton, and drops a position to Ricciardo, leaving his title ambitions on thin ice.
Podium frustration for Ricciardo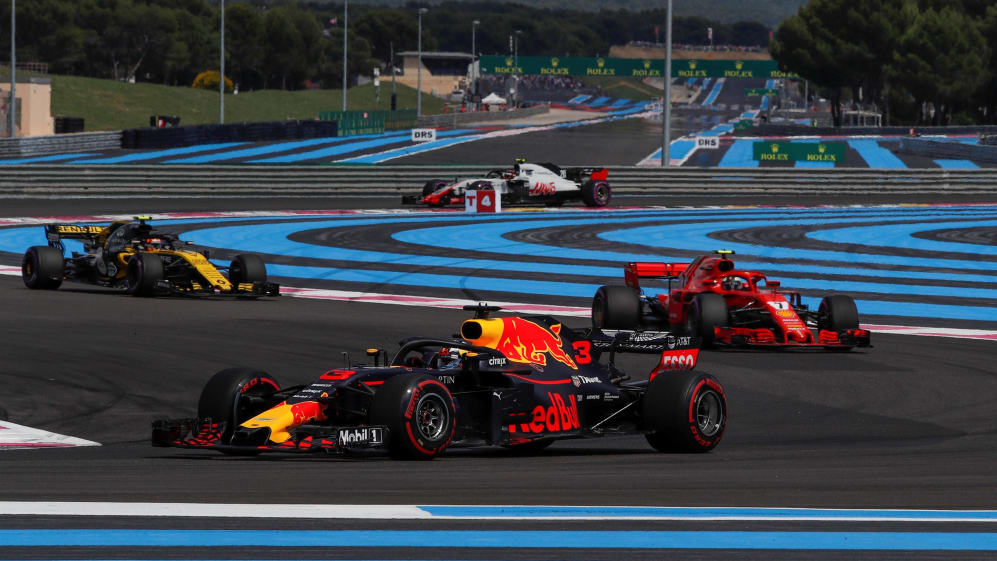 Fourth is nothing to be ashamed off. But Ricciardo wanted a podium – and for the most part looked like he was going to get it. The Honey Badger proved he had the pace for at least third, and at one stage was catching Verstappen for second as he showed brilliant pace on the supersofts.
But he picked up front-wing damage before his pit stop and that got worse later in the race. The loss of downforce meant the car started to understeer, which in turn hurt the tyres. He was a sitting duck for Raikkonen on softer and fresher tyres. But he held on to fourth and that was enough to lift him back above Bottas into third in the drivers' standings.
McLaren's misery hits new low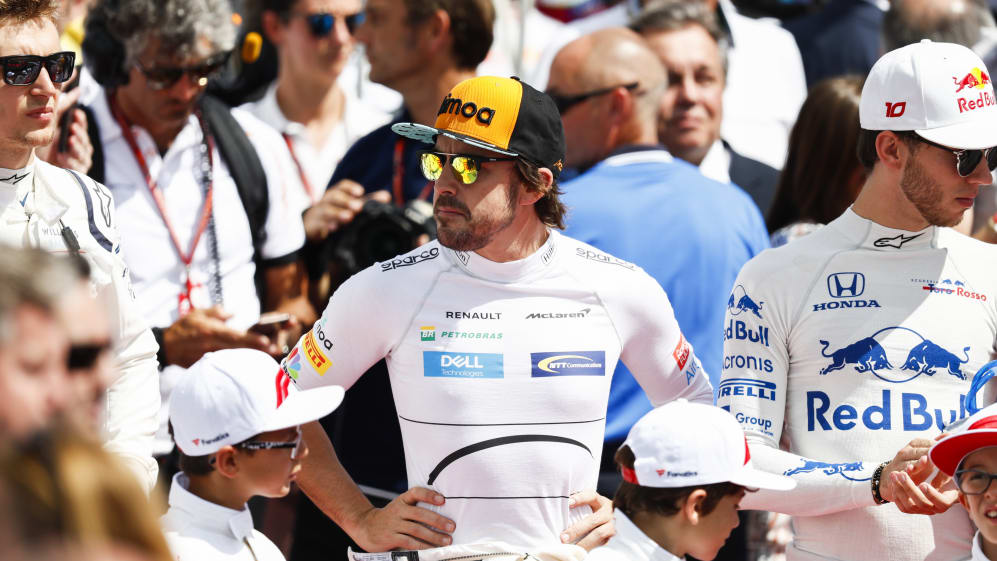 This was not McLaren's finest weekend. The British team revealed earlier in the weekend that they have been unable to identify the aerodynamic weaknesses of their MCL33 in the wind tunnel, which means they have to find answers at the track. That goes some way to explaining their alarming drop-off in performance in recent races.
Having scored strongly in the first five races, the orange and blue cars have faded badly. In France, they suffered their worst qualifying performance of the season with Fernando Alonso and Stoffel Vandoorne 16th and 18th respectively.
Then it got worse in the race with both cars woefully off the pace. Alonso was running last when he pitted with a rear suspension problem, meaning he's now not seen the chequered flag for three successive races. Vandoorne, meanwhile, finished a lap down in 12th. Austria can't come soon enough...
More pain for Williams
If things at McLaren are bad, they're worse further up the pit lane at Williams. The iconic British team is second in the all-time list of most constructors' championships behind Ferrari.
But that success is a distant memory. Right now, they are scrapping around at the back of the field. They were comfortably the slowest in qualifying and they were nowhere in the race. Both drivers tried to do almost a full distance on the soft tyre, after pitting when the Safety Car was called into action.
Sergey Sirotkin managed to do it – but Lance Stroll couldn't repeat the trick. The Canadian picked up a flatspot but continued and his tyre ultimately gave way on the penultimate lap. With immediate rivals Sauber scoring again, for the fourth time in five races no less, the Swiss team move nine points clear in the standings, cutting Williams adrift. Sad times at Grove.