Feature
Winners and Losers - Japan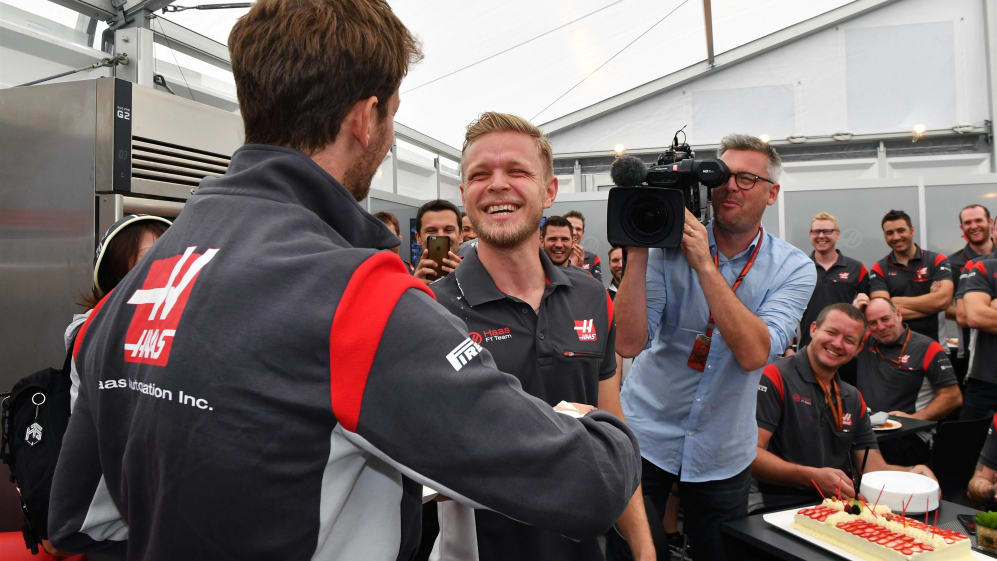 The Winners
Hamilton and Mercedes turn it around
Prior to the Japanese Grand Prix Lewis Hamilton had described his Mercedes as capricious, a diva and stubborn. But at Suzuka it performed like a lady throughout.
After the tribulations of Malaysia, this weekend Mercedes got their set-up pretty much spot-on from the start, despite the disjointed nature of the three practice sessions, and to the team's huge relief their latest aero upgrade could be made to work well here.
"It got close towards the end," Lewis revealed as he looked back on his 61st career victory and his eighth of the season. As usual, he had made it look relatively easy, but as ever he'd had to work for this one.
While the F1 W08 had the advantage over Max Verstappen's Red Bull on the supersoft Pirelli tyres on which both started, that swung in the Milton Keynes team's cars' favour when they switched to softs on laps 21 and 22.
"I had a comfortable gap to the pit stop, then Max did the undercut and gained time stopping before me," Hamilton said. "I took it easy on my out lap, he closed the gap to 1.2s before I got it out to three and was controlling the pace, but the second VSC [Virtual Safety Car] lost me a lot of temperature in the tyres and waking them up wasn't easy, so I was losing so much time. His car was so big in my mirrors! Once I got by Fernando (Alonso) and then Felipe (Massa) it was okay, but it wasn't any easy walk in the park, we had to work very hard."
Reviewing his huge points lead – big enough that he could clinch the title next time out in Austin – he put it down to the team.
"I could only have dreamed of having this kind of gap. Ferrari has put on such a great challenge all year long. All I can really say is that I have to put it down to my team. They've done a phenomenal job, reliability has really been on point. They are just so meticulous and that's really why we have the reliability we have and the results we have been having."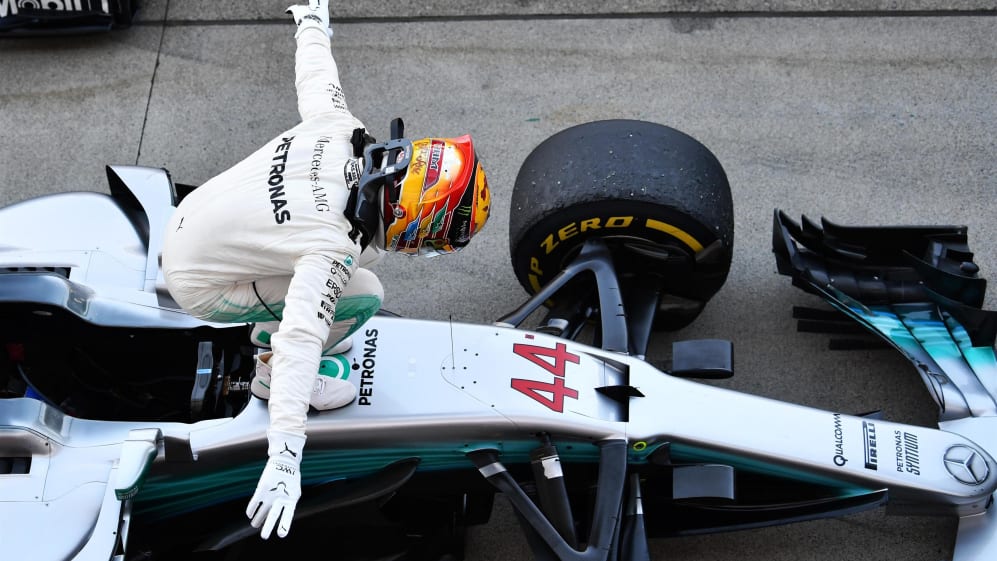 The Red Bull run continues…
If you look at how Red Bull started the year, their recent results are indication of huge progress. They were in the hunt all afternoon in Suzuka, and second and third brought another big haul of points and their first 'double' double since 2013.
"The start for me was very crucial," runner-up Max Verstappen said. "From there on I could basically do my own race. Once I got past Seb (Vettel) in the Hairpin, the first stint was all right. I think Lewis was just a little bit faster and then after the pit stop we had great balance on the soft tyres and I just managed to keep the gap around 2.5-3s. I didn't want to close-up more because then you destroy the front tyres.
In the end, he and Hamilton were separated by only 1.2s, but at one stage the gap had been a lot smaller than that.
"I think the car lately in the race has been really competitive. We have a bit more wing, so we are quite competitive through the corners. Of course, then on the straight we have an even bigger deficit than normal but it seems to work for us in the races so far. Of course I'm happy to be here on the podium again. It seems like Suzuka is pretty good to me."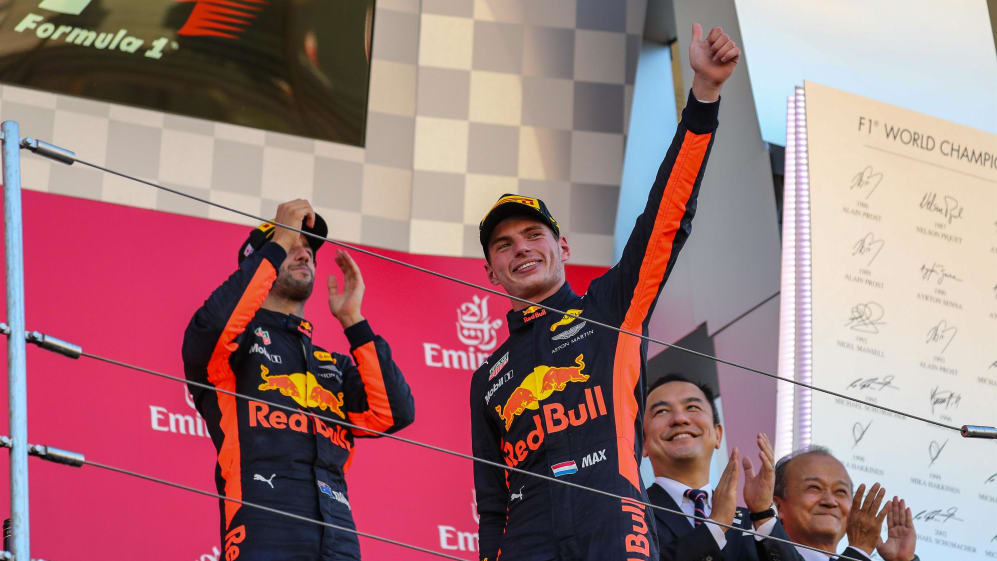 …with mission accomplished for Ricciardo
Having lost out to his team mate at the start, Daniel Ricciardo hung on to get the Suzuka podium he's always wanted, resisting heavy attack late in the race from Valtteri Bottas who had started his Mercedes on softs and switched late to supersofts and was less than a second behind at the flag.
"The race was pretty lonely after the start," Ricciardo admitted. "And then it was a little bit like last week, I lost touch with Max and Lewis and then it was just trying to do my pace. It was a bit lonely and then actually Valtteri coming at the end actually made it a bit more exciting for me. But for sure I'm happy to be on the podium. I said from the start of the weekend I wanted my first Suzuka podium, and I got it."
Ricciardo now has nine podiums in 2017 - the most he's scored in a single season in his career.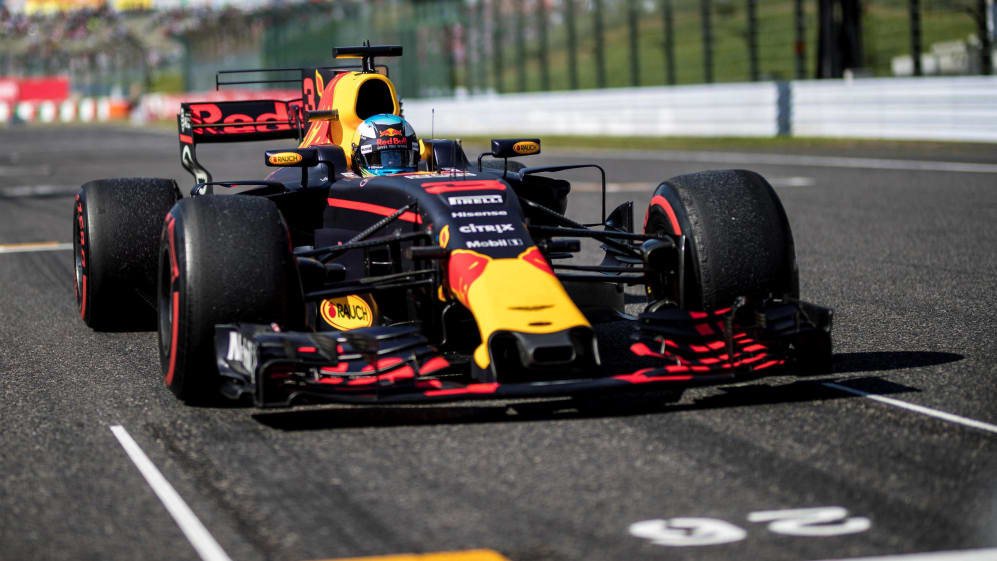 Ocon's 'awesome weekend'
Fifth on the grid, Ocon made a superb start and grabbed third from the troubled Vettel at the start of the second lap. He kept that, under pressure from Ricciardo and Bottas, during the Sainz safety-car intervention and appeared to be holding his own, but then the VSC for Marcus Ericsson's crash ensured that he quickly lost places to his two pursuers on the run down to Turn 1 on laps 11 and 12.
Nevertheless, he impressed hugely in a great drive as he spent the rest of the race keeping just ahead of team mate Sergio Perez, who asked for but was refused permission to challenge him for sixth place. Yet again, Force India pocketed a decent haul of 14 points.
"It was a great race, especially the start and the opening laps, and I was running third for a long time," said Ocon. "We are still missing a little bit of pace to keep the big guys behind, but it was great fun fighting at the front. I tried my best to keep Ricciardo and Bottas behind, but they were just too quick and I had to let them go and focus on my race.
"The main challenge today was managing my pace because it was a one-stop race and it was important to look after the tyres so they would be strong at the end. I was running ahead of Checo, we had nothing to gain from the cars ahead and a comfortable margin to the cars behind. So the priority was to bring the car home and score the big points.
"It's been an awesome weekend and it feels as though we achieved the maximum, which is why this result is so enjoyable. We also learned a lot about the car, which will make us stronger in Austin."
Unbelievably, Ocon maintains his record of having scored points in all but one race this season. He also keeps up the remarkable run of having reached the chequered flag in every race from the start of his career.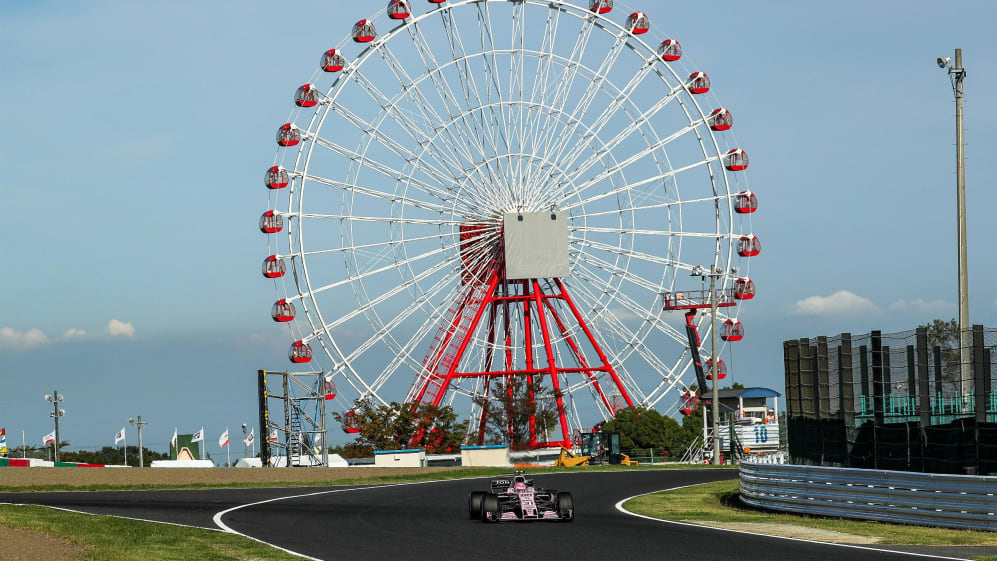 Magnussen makes it happen for Haas
Haas have had a tough time in the last two races, with Romain Grosjean having two hefty accidents. But they had a great day in Suzuka as Kevin Magnussen – who celebrated his 25th birthday over the weekend – and Grosjean finished eighth and ninth and scored the six extra points that were sufficient to move the team into seventh place in the overall standings, one ahead of Renault and just nine behind Toro Rosso.
The crucial moment came on the 42nd lap when a superb, opportunistic move from Magnussen saw the Dane force inside Felipe Massa going into Turn 2. Both grey cars had been trapped behind the Williams, but now not just one but both were suddenly liberated as Grosjean was able to follow through too.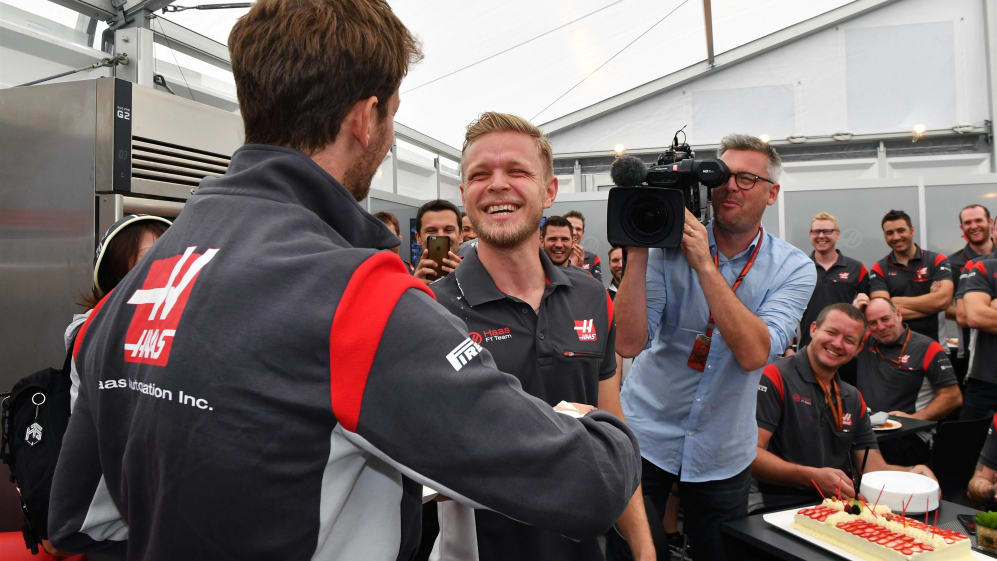 The Losers
Ferrari's disastrous deja vu
In a horrible echo of Sepang the previous weekend, when Kimi Raikkonen hit trouble even before the race, Ferrari mechanics were inspecting Sebastian Vettel's engine on the grid. Of all things, a spark plug was playing up.
Initially it seemed the problem was okay. Vettel got off the line second to Hamilton, but by the hairpin Verstappen had seen he was in trouble and pounced for second place. A lap later, Ocon and Ricciardo demoted the Ferrari to fifth going down to Turn 1, and Bottas cheekily blew past, too.
After two laps in sixth place, Vettel was told to pit and retire the car.
"Of course it hurts, and we're all disappointed," he said, taking the massive disappointment of his nightmare race much better than might reasonably have been expected. "But now we need to get back, get some rest and then go flat out for the last four races and see what happens.
"We still have a chance, but obviously it's not as much in our control as we'd like. Overall the team is in a good way and we are improving race by race. We've gone a lot further than people thought. So, there's also some positives. But, now you don't look at the positives, because it's not the day to look at positives."
In the course of three races, as Hamilton and Mercedes have battled back to competitive pitch, Ferrari's challenge has literally fallen apart, leaving it a mountain to climb in the final four events. And just to rub salt in the wound he received a reprimand for missing the national anthem and thus risks a grid penalty if he commits one more driving offence before the year is over.
Oh, and while he is now 59 points adrift of Hamilton (having six weeks ago been ahead), he has the other Mercedes of Bottas only 15 points adrift. What it means is that should Hamilton win the next race in Austin, Vettel must finish at least fifth there to keep his meagre title hopes alive.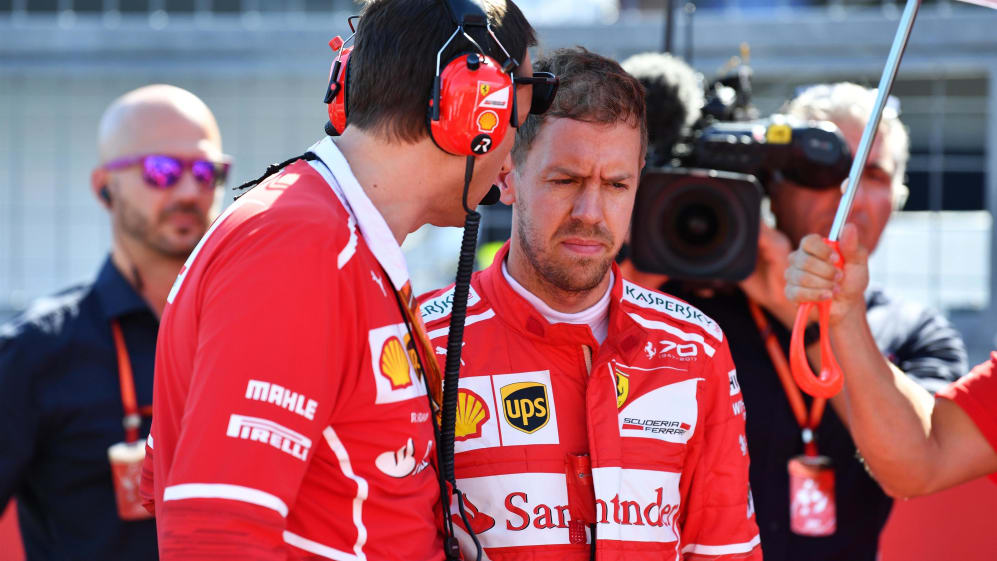 Sainz's unfortunate farewell
After the news that he would, after all, be joining Renault before the season was over, Carlos Sainz really wanted to go out with a bang in his last race for Toro Rosso. But not literally. Instead, he clobbered the wall at Turn 7 on the opening lap, and that was it.
"This wasn't the way I wanted to end my time with Toro Rosso, that's for sure!" he rued. "I'd like to say sorry to the whole team for retiring on the first lap. I was trying to risk everything at the start to try and gain some positions, so I went around the outside at Turn 6 and I found a lot more dust on the track than I was expecting, and lost it; as simple as that.
"It's a shame, because I was really looking forward to finishing on a high here in Suzuka with the team. But these three years here have been absolutely amazing – it's been an ideal preparation for me; the driver I am today, compared to the driver I was in 2015, is a more complete and better one, and this is thanks to Toro Rosso."
Sainz, who has racked up the second-most starts in Toro Rosso's history, leaves the Italian team as their all-time record points scorer.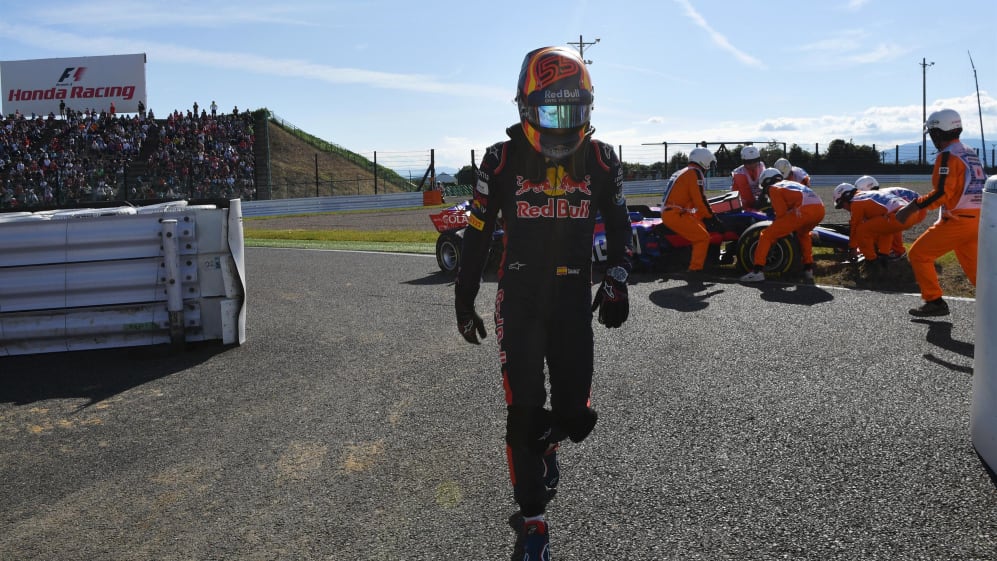 Palmer bows out early
The news on Saturday night that the Briton would be standing down at Renault following the race took many people by surprise. Accepted paddock wisdom suggested that a deal for financial compensation was probably finally realised, triggering the change.
On a horrible day for the French team which saw it drop from seventh to eighth place overall as Haas moved up, and Nico Hulkenberg retired from points contention with a DRS problem, Palmer hauled himself from 18th on the grid to 12th, only 1.4s off Massa and sixth-tenths down on Fernando Alonso.
"We had a solid last race, we started from the back and with one more lap, I think we could have had 10th," he said. "It's been a tough season but the team and I have been through a lot, I've been here since the start of this new era. We've come a long way and I've enjoyed it. I wish the team all the best in the future."
With so few 2018 seats remaining – and with the market for them so crowded – as things stand, it looks like his F1 career could well be over.